Scaleup hub OneEleven to expand Toronto office space
Scale up community OneEleven is expanding. The expansion will make the Toronto location of the global scaleup hub one of the largest in the world.
This September, OneEleven will expand its 325 Front. St. West location by taking over another floor in the building, bringing its total Toronto footprint to 100,000 sq. ft. The expansion will allow OneEleven to support more deserving scaleups in the region.
Room to scale
35 of the city's fastest-growing technology companies currently use OneEleven's space. The added 50,000 sq. ft. of space will allows for an additional 13 offices, to accommodate teams ranging between 30 to 50 people, along with open plan seating for smaller companies.
In a press release, OneEleven founding partner and CEO of OMERS Ventures John Ruffolo spoke to the benefits of the added space at the Toronto location:
"There are few alternatives available to companies in this phase of growth beyond mentorship, word of mouth, and experience. We believe that OneEleven is well-positioned to build the number one scaleup ecosystem in the world by expanding its existing Toronto footprint and replicating the success of its headquarters in the world's top startup ecosystems."
As well as expanding in Toronto, OneEleven is opening a space Ottawa in July and is looking to expand into Vancouver, London, Berlin, Boston, and beyond. Companies interested in joining the OneEleven community of scaleups can apply at http://www.oneeleven.com/apply/.
What does OneEleven bring to the table?
OneEleven focusses on providing support and community resources to high-growth tech companies when they most need it. Scaling up is never easy, and getting help during the crucial transition from the Seed Stage to Series A funding can be crucial. That's why OneEleven brings together first-time and repeat entrepreneurs with a 'pay-it-forward' mindset to help scale their high-growth tech companies together.
The scaleup hub focuses on providing a highly-connected global network and tailored resources including access to expert advice, world-class workspaces, technology, and specially-designed services to support sustainable growth. With the support of corporate partners like Royal Bank of Canada, OneEleven has helped 60 rapid-growth technology companies and is on track to support 100+ by the end of 2018.
"What is unique about OneEleven, and why we are seeing so much demand in Toronto, is that we focus entirely on the unique needs of scaleups," said Dean Hopkins, Chief Growth Officer at OneEleven in a press release. "Our ecosystem partners have done such a great job of supporting startups that many Toronto ventures are now transitioning to scaling. This is where we come in."
Recently, OneEleven and DXJournal launched #ScaleStrategy, a co-developed editorial series to deliver insights for entrepreneurs and intrapreneurs. The ongoing series will cover the kind of innovative and disruptive advice that scaleups can expect from the OneEleven community.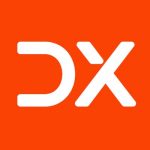 #ScaleStrategy is produced by DX Journal and OneEleven. This editorial series delivers insights, advice, and practical recommendations to innovative and disruptive entrepreneurs and intrapreneurs.
Growing world-class scaleup hubs through global lessons
Dean Hopkins, CEO at OneEleven, discusses how global scaleup hubs can learn from each other in order to build outstanding scaleups.
Any time a new global city or region emerges as a technology or innovation hub, the inevitable comparisons to Silicon Valley begin. New York as Silicon Alley, Israel as Silicon Wadi, and Toronto was recently dubbed Maple Valley to much scorn.
But it's time for globally emergent innovation hubs to look beyond Silicon Valley as they work to build scaleup success, with each location learning from the specific lessons of one another to help all players in the community succeed.
Outside the original Valley, collaboration, diversity and connections into other ecosystems are major strategic advantages for any hub that wants to scale faster – more connections, more funding, more talent, more resources and more stories to share to teach others.
Just look at Stockholm: With a population of only one million, it has developed more Unicorns per capita than any other innovation ecosystem outside Silicon Valley. Among other things, connecting into other major hubs helped propel growth and seed opportunity.
With OneEleven now established in the UK, we're applying lessons from two leading hubs — London and Toronto — to guide our strategy and propel our value. Both cities embody hard-earned scaleup lessons, like specialization, building ecosystem partnerships and leveraging the power of diverse leadership, that we believe are key to ecosystem and company success.
Focus on growing the greatest verticals
London has built an ecosystem around its strengths.
The city is by far the leading source of fintech innovation worldwide: it has the greatest concentration of fintechs and the largest workforce in fintech — it dwarfs everywhere else even New York. In the first quarter of 2017, London saw $421 million invested in its fintech industry pushing New York out of the top spot for fintech investment. The City of London has worked with a variety of institutions to rally behind this emphasis on fintech, bringing together government, educational institutions and various sources of funding to embrace the fintech ethos.
The lesson to be learned from London's focus on fintech is that innovation hubs need to concentrate their efforts in certain sectors where they already stand out as a global leader.
In Toronto, we're starting to see a lot going on in the deep AI tech space, through the Vector Institute and other organizations building on a research base of over 30 years by Dr. Geoffrey Hinton and his colleagues. Of course, there's room for improvement. While research labs are popping up regularly, with big partners involved, Toronto and Canada are lagging when it comes to patents and application of AI tech. As we build up this sector of our innovation ecosystem, we have to develop a well-rounded AI industry that includes a robust IP regime to keep AI innovation in Canada.
Diversity in leadership
Both London and Toronto also boast the highest demographic diversity of global cities, and demonstrate how valuable entrepreneurial leadership from all over the world can be. Forty percent of London residents classifying themselves as other than white according to a 2011 census, and that diversity powers the tech and innovation ecosystem in the city. Recent research shows that immigrants and people from minority backgrounds in the UK are twice as likely to be early-stage entrepreneurs.
Toronto is similarly diverse in its population, and talent is one of the reasons the city is seeing global recognition as an innovation hub.
Canada's fast-track visa program prioritizes highly skilled workers and entrepreneurs  and was created as a talent magnet for Toronto especially – last year MaRS released survey results showing 45 percent of Toronto tech companies made international hires in 2017 alone, and 35 percent of respondents used the visas to hire.
Other scaleup hubs could build valuable leadership and collaboration from a similar approach to entrepreneurship: one which looks to bring in more diverse, global talent on the leadership side, as well as the wider talent side. Scaleup communities have to be competitive on the world stage by inspiring people from all over the world to come and build their businesses there, as a lack of immigration and global perspective can starve an ecosystem of oxygen.
Culture of collaboration
We're very fortunate in Toronto to have a culture of collaboration that starts at the earliest stages of entrepreneurship, and continues throughout company growth. There's a strong expectation that you will work together, and for that reason, forming a community in Toronto is almost a matter of course.
Hubs like MaRS, 111 and the DMZ, for example, have opened up prime real estate to provide space for young companies to grow and to foster their developing businesses. Canadians have proven they are wired differently and Toronto's collaborative and inclusive culture is one of its strongest competitive advantages.
In London, there's a hyper-competitive environment for businesses, and perhaps not as naturally collaborative of an environment. That might just be because the city has only just recently seen an effort made to boost that kind collaboration from organizations like the Scaleup Institute and Tech London Advocates.
But collaboration between government, academia and business is one of the things that makes London a world-class scaleup hub.
Collaboration between groups tends to be verticalized in the UK, with TheCityUK being a prime example; the industry-led body that represents UK-based financial and professional services companies showed that collaboration between financial institutions and fintech companies can speed up the process of creating innovative products and services. By looking at IP, regulatory compliance, data protection and privacy, TheCityUK provided seven possible models for collaboration between banks and fintech companies.

Big scaleup success stories can also influence the effort to increase collaboration in scaleup hubs — and London has some amazing stories to tell.
Renewable energy company Bulb grew from 85,000 customers to 870,000 in the space of 12 months, becoming one of the fastest-growing scaleups in the UK. The company's founders Hayden Wood and Amit Gudka are immensely proud of their place in London's ecosystem. This is how how big names in a scaleup hub can advocate for an entire community.
For our part at OneEleven, we'll work hard to build up that kind of collaborative community and collective effort as we continue to expand into London's innovation ecosystem. We want to ensure that the success of these companies continues past their early stage, into growth and on into the billion-dollar club. The middle chapter is currently not being written in London — despite early stage support for companies and big success stories — and that's what 111 is here to address.

Global scale through collaboration
Innovation hubs around the world can also work together to take the friction out of companies expanding between markets. Furthermore, cooperating markets can increase their competitiveness by promoting an exchange of innovative business practices, and reap the economic benefits that scaleups can bring to innovation ecosystems.
London and Toronto are a good example of global collaboration, as they the two cities have begun to explore greater cooperation when it comes to facilitating expansion between hubs.
The Mayor of London's promotional agency London & Partners has opened an office in Toronto to better encourage Canadian businesses seeking to expand to consider London for their next destination, and to support UK businesses seeking expansion into Canada's market. Over the last decade, the organization says 44 London businesses have expanded into Toronto and 118 Canadian businesses have set up shop in London during that same period.
This is only the beginning when it comes to proper cooperation between these two cities: government, academia and innovation hubs should work together to encourage scaleups in their efforts to expand between international markets.
Greater than the global sum of our parts
At OneEleven, it seems to us that the unique evolution, and now collaboration, between the London and Toronto ecosystems signals the rise of a global network of innovation that is in its early stages.  Such a global network, powered by the diversity of each market, promises to have a dramatic effect on the ability for scaling companies to access talent, customers, investors and partners much more easily.  We are excited to be a part of the rise of this globally connected and collaborative ecosystem that builds on what was started in Silicon Valley, but brings innovation into the more global and highly connected digital present.
The great buy-in: How to learn to love AI at work
The conversation around AI is changing — and the emphasis on the augmentation of current workers, rather than the wholesale replacement of segments of the workforce, is a significant (and many would argue, necessary) shift. However, anxiety and fear are still tough contenders for those trying to usher in a new era of AI-assisted workplaces.
"It all comes down to what people want to change," said Matas Sriubiskis, Growth Analyst at Zoom.ai, during the recent mesh conference meetup at Spaces in downtown Toronto.
Zoom.ai is a chat-based productivity tool that helps employees automate everyday tasks including searching for files, scheduling meetings, and generating documents. In an interview with DX Journal, Sriubiskis said public opposition to AI remains a major stumbling block not just for technology companies, but for businesses around the world.
As the language around AI changes, it becomes obvious that people want change from the technology, but remain hesitant about the disruptive effect AI-based automation could bring to their industries.
As highlighted in a recent Forbes article, knowledge-based workers with tenure, who have developed their skill-set over a period of time, are acting along the lines of basic psychology when it comes to fear surrounding automation. Unfortunately, that push-back can severely stunt the success of digital transformation projects designed to improve the lives of workers throughout the company, not replace them.
"A lot of people are afraid that AI's going to take their job away," said Sriubiskis. "That's because that's the narrative that we've seen for so long. It's now about shifting the narrative to: AI's going to make your job better and give you more time to focus more on the things that you've been hired to do because you're good at doing them. There are tons of websites online talking about whether your job's going to be taken away by AI, but they never really talk about how people's jobs are going to be improved and what things they won't have to do anymore so they can focus on the things that actually matter."
Buy-in requires tangible results
This general AI anxiety can seem like a big obstacle to companies looking to adopt AI — but there are important steps companies can take to ensure their AI on-boarding is done with greater understanding and effectiveness.
As startups and businesses look to break through the AI fear-mongering, they have to demonstrate measurable benefits to employees, showing how AI can make work easier. By building an understanding of how AI affects employees, showing them how it benefits them, and using that information to inspire confidence in the project, businesses can work to create a higher level of employee buy-in.
One of the simplest examples of how to demonstrate this kind of benefit comes from Zoom.ai's digital assistant for the workplace. An immediately beneficial way AI can augment knowledge-based workers is by giving them back their time.According to McKinsey & Company research cited by Zoom.ai, knowledge workers spend 19 percent of their time — one day a week — searching for and gathering information, sequestered by app or database silos. By showing how the employee experience can be improved with the use of automated meeting scheduling or document retrieval, you generate employee buy-in, said Sriubiskis.
"For us, the greatest advantage is giving employees some of their time back, so they can be more effective in the role that they were hired to do. So if there's a knowledge-based worker, and they're an engineer for example, they shouldn't be spending time booking meetings, generating documents, finding information or submitting IT tickets. Their time would be better spent putting it towards their engineering work. For an enterprise company, based on our cases, we estimate that we can give employees at least 10 hours back a month. That allows them to be more productive, increase their collaboration and their creativity, and the overall employee experience improves."
Full comprehension of a problem leads to better implementation
Another way to ensure a greater level of employee confidence is to understand the core problem that AI could be used to solve. You can't just throw AI at an issue, said Sriubiskis. The application of the AI solution has to make sense in the context of an identified problem.
"When a lot of companies talk about their current endeavours, they're saying, 'we're exploring AI to do this.' But they're not actually understanding a core problem that their employees are facing. If you just try to throw a new technology at a problem you don't fully understand, you're not going to be as successful as you want. You might be disappointed in that solution, and people are going to be frustrated that they wasted time without seeing any results."
This deliberate effort to understand a key problem before implementing a solution can drive to better outcomes. That's why Zoom.ai has incorporated this kind of core observation into its process of on-boarding clients or approaching a new project.
"Before we do a proof-of-concept or a pilot now," said Sriubiskis, "we require companies to do an interview with some of our product and our UI/UX team. That way, we can understand how they do things currently, but also so we can provide a quantitative metric. Qualitative is nice, but people also want to see the results, and make sure their work was worth it. We  make sure to interview a whole bunch of users, clearly understand the problem, and make sure what we're doing isn't a barrier to what they're actually trying to solve, it's going to help it and help it more over time."
These approaches are all about making the team of employees feel like an AI solution is working for them, leading to greater effectiveness of AI implementation to augment the workforce. It remains key, said Sriubiskis, to make sure employees can see the tangible benefits of the technology. Zoom.ai makes that employee experience a core part of their on-boarding process: "We report back to our users and tell them how many hours they've saved. So they see how the actual improvements are seen by them, not just by management or the company as a whole."
The future is filled with AI. It's just a question of making sure it helps, not hurts, human capital — and that a positive transition to AI tools prioritizes the employee experience along the way.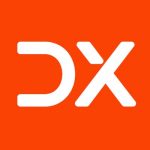 20/20 Armor brings Street Fighter dreams to life with innovative tech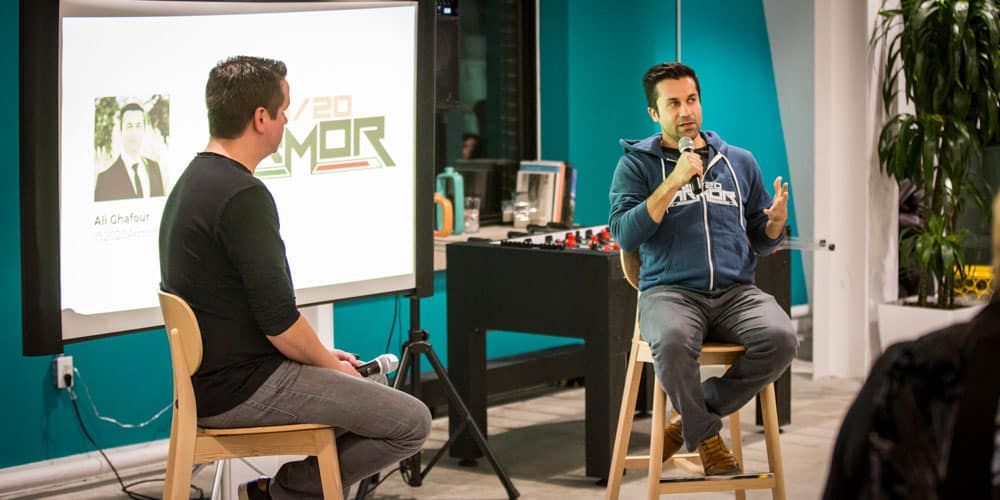 While most businesses talk about developing a kickass idea, Toronto-based scaleup 20/20 Armor is taking the art of kickass and bringing it into the 21st Century.
Upgrading the art of kickass
20/20 Armor is a sports technology company that produces connected equipment for trainers and match runners to keep track of scores and performance. The company has already released a chestguard that tracks the progress of a match or training session and includes ten game modes for students and teachers to use.
In an interview with DX Journal, cofounder and CEO Ali Ghafour spoke about the larger vision for the company, and how electronic tools like 20/20 Amor's chestguard can help bring  a new sense of cool to the sport.
"When you do martial arts in North America today, it's maybe not necessarily cool. If you play basketball, it's cool, you play soccer, it's cool. We want to take it to the point where you play martial arts and you wear this headgear that looks cool, you wear this vest that looks cool, you use this app that makes it look like you're playing Street Fighter in real life, that's cool."
The kind of tracking that 20/20 Armor enables is being done in martial arts, but only at high level competitions — the kind of level that Ghafour has competed at during his 25 years of Taekwondo experience. But 2020 Armor is bringing the competitive nature of points tracking together with gamified elements to promote more performance data and a video-game-like scoring system to gyms and clubs all over the world — where 99 percent of the market for martial arts products lies.
"Our industry tracks nothing. The fact that we can track and tell them the score of the match is groundbreaking," said Ali Ghafour of@2020Armor #meshcon pic.twitter.com/rmY4kYg4sk

— mesh (@meshcon) November 22, 2018
For Ghafour, coupled to the appeal of producing metrics and granular performance data for martial artists is the ability to expose a wider audience to the sport.
"No one knows how the hell how martial arts works — any of it. Boxing, Karate, Taekwondo. If they don't play that sport, no one knows how the scoring works. I thought if there was a way to make the sport accessible and understandable to the general public, then you increase the interest, and grow the sport overall."
Ghafour believes that martial arts is a life skill that applies throughout society, teaching attitudes and disciplines that you don't get from a conventional education or career path. He's passionate about broadening interest in martial arts, and you can see that passion, as well as the 20/20 Armor chestguard, in action during the company's pitch on Dragon's Den.
Adding to the arsenal
The armor itself is getting a big upgrade in 2019, when the company will add a high-tech helmet to its line of products, which will integrate fully with the current chestguard setup. The company will also dedicate significant time and effort towards developing an app to compliment the armor's existing tracking and gamified aspects.
The company is also looking ahead in a big way to a future in China — a world unto itself when it comes to martial arts culture and manufacturing prospects. Ghafour said he hopes to have 60-70 percent of the company's manufacturing done in China. The development of the 20/20 Armor app and final manufacturing assembly will remain in North America.
Get a coach if you want to grow
A serial entrepreneur and four-time Canadian national team member in Taekwondo with an HBSc in computer science, Ghafour had never started a hardware company before developing 20/20 Armor. His athletic experiences taught him the value of consistent coaching, something that has absolutely contributed to how he views the innovation ecosystem in Toronto, and how it can benefit the efforts he and his fellow team members make to grow 20/20 Armor.
Ghafour recently pitched at the mesh conference meetup, held at Spaces in downtown Toronto. There, he emphasized that the community around 20/20 Armor was vital to the growth and success of his business.
The company is a MaRS client, and is also one of the original 14 companies to work with leAD Sports, a sports business accelerator. The organizations recently helped the company close another round of funding for a total of $1.2 million.
In a broader sense, Ghafour also spoke to the need for outside input to build an original business and learn about the challenges of growing a successful hardware company: "You can't really Google those sort of things — you have to meet people who are going through the same things that you are. I honestly don't think you can do it without talking to people."
In fact, mentorship and coaching through the scaleup process remains the core lesson that Ghafour would impart to fellow scaleup leaders.
"Get a mentor, and talk to them consistently. For an athlete, that's a normal thing, we've been coached all our lives. That would be the biggest thing that can help build your company faster than you even thought possible."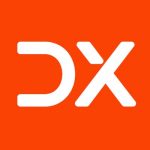 Sign-up to notified when the next #ScaleStrategy story about these amazing entrepreneurs, intrapreneurs and companies is published.