Microsoft calls for federal regulation of facial recognition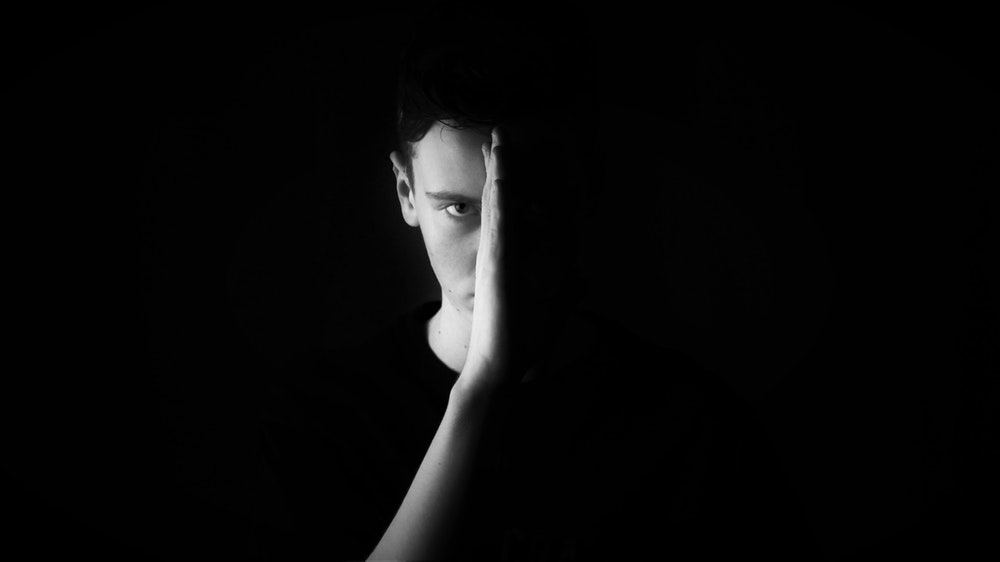 In a Microsoft blog post president Brad Smith calls facial recognition "the technology of the moment" and urges the federal government to set a precedent for other future technologies by placing regulations on it.
"Facial recognition, like many AI technologies, typically have some rate of error even when they operate in an unbiased way," writes Smith, in a blog post. "And the issues relating to facial recognition go well beyond questions of bias themselves, raising critical questions about our fundamental freedoms."
The type of regulation Microsoft calls for is "a government initiative to regulate the proper use of facial recognition technology, informed first by a bipartisan and expert commission."
In calling for regulation, Smith says he understands that his request is unusual — a company calling for government regulation — but gives the example of how federal regulations benefitted the auto industry, and could do the same for facial recognition given the potential for abuses and violations when biased or flawed technology is used "to decide who to track, investigate or even arrest for a crime."
He also calls on Congress to assemble a commission of bipartisan experts "to assess the best way to regulate the use of facial recognition technology in the United States."
Wait, a tech giant is asking for regulation around an emerging technology? Times have changed.
Via @natashanyt https://t.co/LQHig74oAa

— Pui-Wing Tam (@puiwingtam) July 13, 2018
Reactions to the post
Many are praising Smith, and Microsoft, for this request. But many of those same supporters are also calling for more to be done.
"But Smith could have gone further in elaborating on other steps companies like Microsoft should take, both individually and collectively, to address the human rights issues related to facial recognition technology," writes Michael Posner in Forbes. "On issues like this, companies should develop clear industry standards and metrics consistent with human rights principles. It is not enough for the companies simply to say that they are following broad aspirational principles."
Experts speaking with Wired on Smith's post were also careful to commend Microsoft for making this move, but warn that governments themselves have a history of misusing facial recognition technology.
Not just government intervention
Smith does not end the call for government regulation at the United States' border. "Given the global nature of the technology itself, there likely will also be a growing need for interaction and even coordination between national regulators across borders," he writes.
Nor does he leave the responsibility for the ethical use of facial recognition in the hands of the government, saying that companies developing facial recognition softwares also have a responsibility "to reduce the risk of bias in facial recognition technology" and collaborate with the academic community and other companies in the form of partnerships.
Speaking specifically about Microsoft (especially given the recent turbulence around a contract with ICE, which Smith says he has confirmed had nothing to do with facial recognition, but "supporting legacy email, calendar, messaging and document management workloads"), Smith writes that Microsoft is in the process of "establishing a transparent set of principles for facial recognition technology that we will share with the public."
This effort to craft a set of rules around the technology greatly resembles Microsoft's 2015 international cloud privacy standard. On top of this rule set, Smith states the company will be "going more slowly when it comes to the deployment of the full range of facial recognition technology" and participating in "public policy deliberations relating to facial recognition."
"A government agency that is doing something objectionable today may do something that is laudable tomorrow," writes Smith. "We therefore need a principled approach for facial recognition technology, embodied in law, that outlasts a single administration or the important political issues of a moment."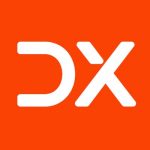 Five key trends shaping the application landscape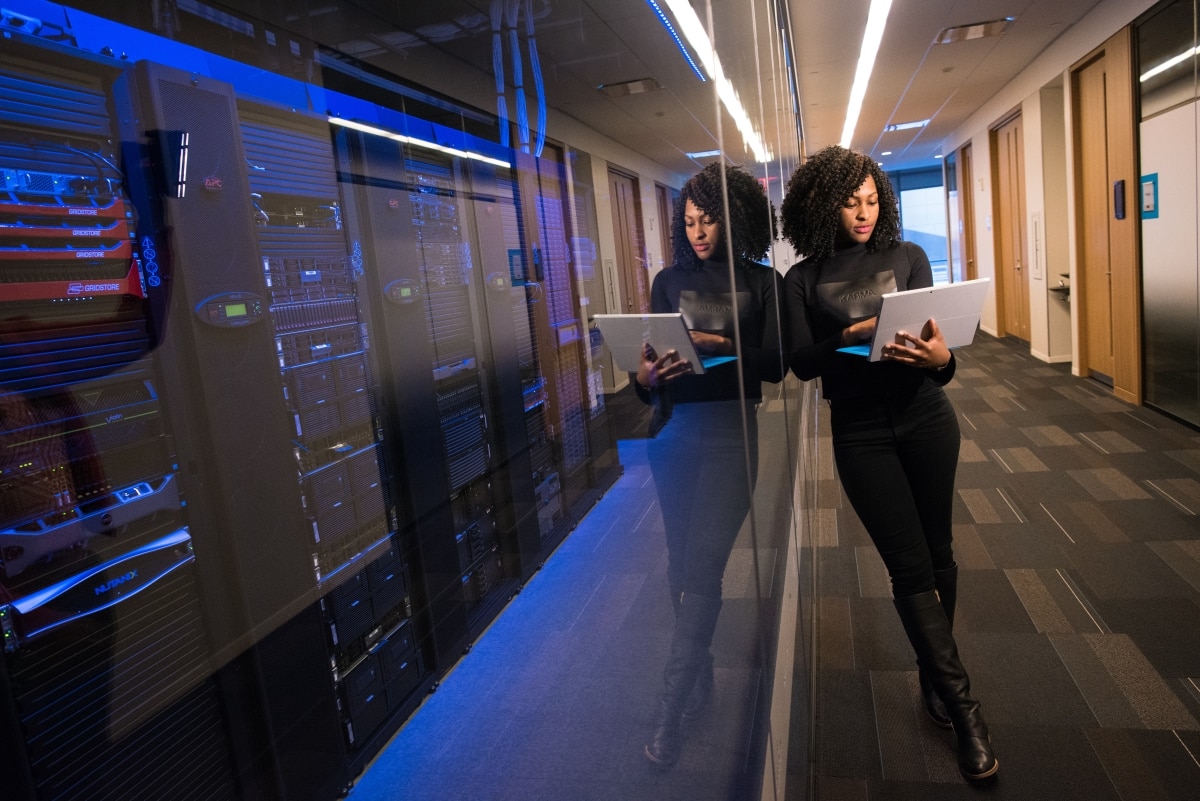 According to application services/application delivery company F5 Networks, 98% of organizations depend on applications to run or support their business — hardly surprising considering that most organizations have some version of a digital transformation plan.
In their new 2020 State of Application Services Report, F5 has found that most organizations have entered the second phase of DX, defined as the integration of automated tasks, "and taking advantage of cloud-native infrastructures to scale the process with orchestration."
As Lori MacVittie, Principal Technical Evangelist, Office of the CTO at F5 Networks explains in a blog post about the rise of cloud-native architectures, the average enterprise app portfolio is now at 15% modern, microservices-based applications.
"That's now more than the stalwart 11% of monolithic / mainframe-hosted applications," she adds. "Considering reports of extreme backlogs for new applications in every industry, that modern apps have consumed such a significant percentage of the corporate portfolio is nothing short of impressive."
Based on a global survey of nearly 2,600 senior leaders from various industries, company sizes, and roles, F5's report outlines five key findings on the trends shaping the application landscape, "and how organizations around the world are transforming to meet the ever-changing demands of the digital economy."
1. 80% of organizations are executing on digital transformation—with increasing emphasis on accelerating speed to market.
As organizations work to scale their DX efforts via a digital footprint with cloud, automation, and containers, "it is time to manage the application portfolio like the business asset it is."
"Organizations able to harness the application (and API) data and insights generated will be rewarded with significant business value."
2. 87% of organizations are multi-cloud and most still struggle with security.
27% of respondents reported that they will have more than half of their applications in the cloud by the end of 2020.
But despite the crucial importance of applications to business strategy, "organizations are much less confident in their ability to withstand an application-layer attack in the public cloud versus in an on-premises data center."
When F5 asked how organizations decided which cloud is best for their applications, 41% responded that it was on a "case-by-case, per application" basis — an important strategy, given the uniqueness of each application and the purpose it serves for the business.
"It is imperative to have application services that span multiple architectures and multiple infrastructures," outlines the report, "to ensure consistent (and cost-effective) performance, security, and operability across the application portfolio."

3. 73% of organizations are automating network operations to boost efficiency.
Process optimization is a key motivation for DX efforts, which makes it unsurprising that most organizations are automating their network operations. The goal? Consistent automation across key pipeline components: app infrastructure, app services, network, and security.
"Despite the fact that network automation continues to rise, we are still a long way from the continuous deployment model necessary for business to really take advantage of digital transformation and expand beyond optimization of processes to competitive advantage in the marketplace."
Respondents report that the most frequent obstacles to continuous deployment are "a lack of necessary skill sets, challenges integrating toolsets across vendors and devices, and budget for new tools."

4. 69% of organizations are using 10 or more application services.
With the maturation and scaling of cloud-and container-native application architectures, "more organizations are deploying related app services, such as Ingress control and service discovery, both on premises and in the public cloud."
One of the most widely deployed application services are those largely dealing with corporate and per-application security. "For the third year running, respondents told us by a wide margin (over 30 percentage points) that the worst thing they could do is deploy an app without security services," details the report.

5. 63% of organizations still place primary responsibility for app services with IT operations, with more than half moving to DevOps-inspired teams.
"It's also no surprise to find that as organizations transform from single-function to modern ops-oriented team structures," adds the report, "responsibility begins to shift from IT operations and NetOps to SecOps and DevOps."
One reason why? The shift of application services into modern architectures. "DevOps teams are intimately involved with the CI/CD pipeline, which, for cloud- and container-native apps, includes a growing portfolio of application services such as ingress control, service mesh, service discovery, and good old-fashioned load balancing."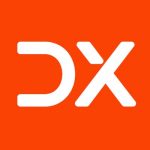 DX Journal covers the impact of digital transformation (DX) initiatives worldwide across multiple industries.
Digitized and digital: Two sides of the digital transformation coin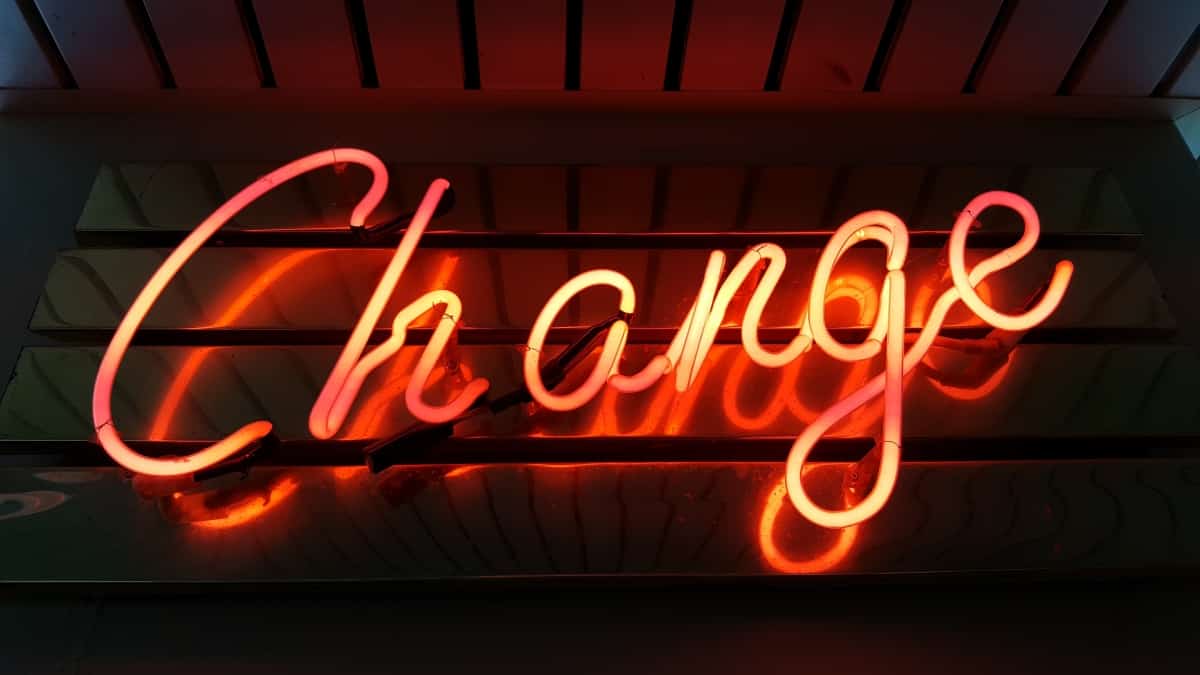 According to a research brief out of MIT, thriving in the digital age means undergoing two distinct transformations: Digitization, i.e. the incorporation of digital technology into core operations like accounting and invoicing, and becoming digital — "developing a digital platform for the company's digital offerings."
While both of these require companies to embrace emerging technologies, these present two distinct challenges, each with a differing set of rules and strategies. As explained by Sara Brown from the MIT Sloan School of Management, "Becoming digitized relies on traditional business methods. Becoming digital requires breaking old rules and embracing new thinking."
Digitization relies on the company's operational backbone, which supports core operations — i.e. how a company delivers goods and services, maintains its books of record, and completes essential back office processes, explains the research brief. Traditionally, base technologies for these were ERPs, CRMs, and core banking engines. Today, though, it's likely software-as-a-service (SaaS).
At the same time, becoming digital means creating a digital platform — "a foundation for a company's digital offerings and their rapid innovation." Creating speed and innovation, "this platform, a combination of different software components that can link with partners and connect with customers, enables a company to quickly develop and add new digital offerings, and targets revenue growth," explains Brown.
When it comes to managing both sides of this digital coin, decision-makers must manage leadership, operational, and cultural differences, Brown says:
Leadership: For digitization, leadership is firmly in place, making clear decisions, outlining processes and standards, and ensuring adoption success.
For a digital platform, however, top-down decision making stands in the way of success. Trusted teams are in the driver's seat, innovating and implementing new ideas. It's up to management to define an overall digital vision.
Operational: "Changes to the operational backbone can be planned and evaluated using traditional methods like metrics and customer satisfaction," writes Brown. On the digital platform side, these methods only result in frustration.
Cultural: Digitization isn't changing the fundamental place of the operational backbone, MIT's research found. A digital platform, however, "means radical changes in how decisions are made and work gets done. This can be uncomfortable for people at every level."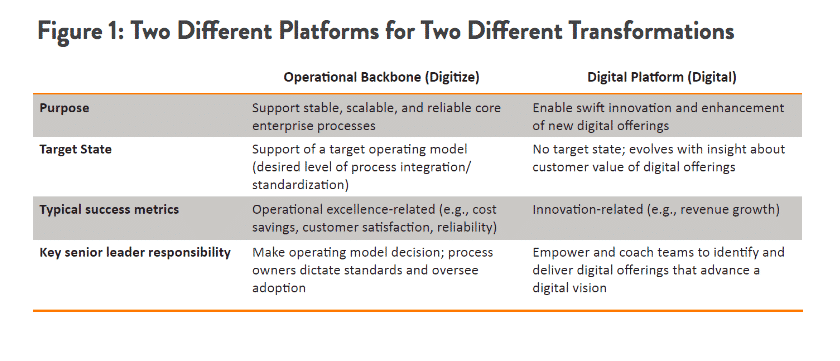 When it comes to actually managing these two different teams, MIT researchers suggest these three actions:
Keep 'em separated: Simultaneous management of digitization and digital means clearly distinguishing their separate responsibilities, says the research brief. Examples of companies that have taken this approach include Schneider Electric, Royal Philips, and Toyota. In another example, one organization's operational backbone was managed by the CIO, with a Chief Digital Officer taking the lead on the digital platform.
Funding should also be separate. As the researchers outline, "People responsible for digitization can better pursue operational excellence when the operational backbone receives consistent investment, year after year, at the enterprise level." Meanwhile, funding for short-term digital innovation "experiments" can be easily upped or decreased, depending on outcomes.
It's important, however, to keep the overall shared vision in mind, explains tech specialist and Tech Wire Asia editor Soumik Roy, for TechHQ. Leaders might feel that separate teams are a waste of resources, he writes, "because ultimately, the business needs its digital initiatives to converge — like its data, analytics, and platforms." But in reality, separate teams can optimize DX efforts, but only if a shared vision of the organization's future is kept top of mind: "Each team, working on their own side of improvements, can make contributions that help move closer to the end state. In practice, this is often more productive as well."
Rule breaking: Inherent in digital innovation is breaking old rules and making new ones, the researchers found — from subverting budgets processes to guarantee resources to bypass CRM approaches, among other challenges.
Rule breaking ends up being manageable because it's relatively contained to a small team that's experimenting, though it's crucial digital teams have sign-off and ongoing support from senior leadership.
New leadership: "Not all people who have successfully led traditional businesses are well-suited to digital business leadership," says the brief. "The idea of breaking rules to identify what works may feel terribly unnerving for some— even when they have been encouraged to experiment."
If someone in a leadership position isn't comfortable with creating new rules, they explain, coaching could be implemented to help guide them in the right direction. Alternatively, there is likely plenty of new talent that is ready to implement a shift.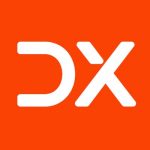 DX Journal covers the impact of digital transformation (DX) initiatives worldwide across multiple industries.
58% of enterprises struggle to find talent with the right DevOps skills
One of the most common digital transformation topics is upskilling, and its importance to a successful DX journey.
Broadly speaking, a lack of internal expertise is hindering the journey for many organizations. According to a new report from the Cloud Industry Forum, four in ten respondents said their business does not have access to the necessary skill-sets in-house, rising to 51% among respondents from IT departments.
"There's no digital transformation without a staff transformation," explains information security and business technology writer George V. Hulme in DevOps.com. "The people skills that helped bring successful enterprises to where they are today won't be the skills that will make them successful tomorrow."
Fortunately, he says, organizational leadership is largely well aware of how important it is to close the gap between skills employees have now, and those they'll need to help guide the enterprise into the future.
The DevOps Institute has released its Upskilling 2020: Enterprise DevOps Skills Report, based on 1,300 respondents. A major takeaway? "More than 50% of enterprises find challenges with all aspects associated with managing the people, processes and technologies that make DevOps possible," Hulme explains.
The report also found that 58% of enterprises have difficulties actually finding those with the right DevOps skills, and 48% said it's difficult to retain skilled DevOps professionals. As a result, salaries are on the rise, with salaries for experienced DevOps engineers reaching beyond $179,250 USD, according to the Robert Half Technology 2020 Salary Guide.
Additional top takeaways from the research include:
The top three must-have skill categories in 2020 are process skills and knowledge (69% of respondents), automation skills (67% of respondents), and human skills (61% of respondents)
Upskilling requires the attention of business leaders now. Over 38% of respondents' organizations have no upskilling program, 21% are currently working on one, and 7% don't even know if their organization has an upskilling program.
Agile adoption (81%), DevOps adoption (75%) and ITIL adoption (25%) have grown since the 2019 benchmark report, while SRE has risen from 10% adoption in 2019 to 15% in 2020.
"Human transformation is the single most critical success factor to enable DevOps practices and patterns for enterprise IT organizations," said Jayne Groll, CEO of DevOps Institute in the accompanying press release. 
"Traditional upskilling and talent development approaches won't be enough for enterprises to remain competitive because the increasing demand for IT professionals with core human skills is escalating to a point that business leaders have not yet seen in their lifetime. We must update our humans through new skill sets as often, and with the same focus, as our technology."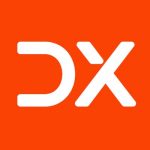 DX Journal covers the impact of digital transformation (DX) initiatives worldwide across multiple industries.