Bumble launches fund for investing in female founders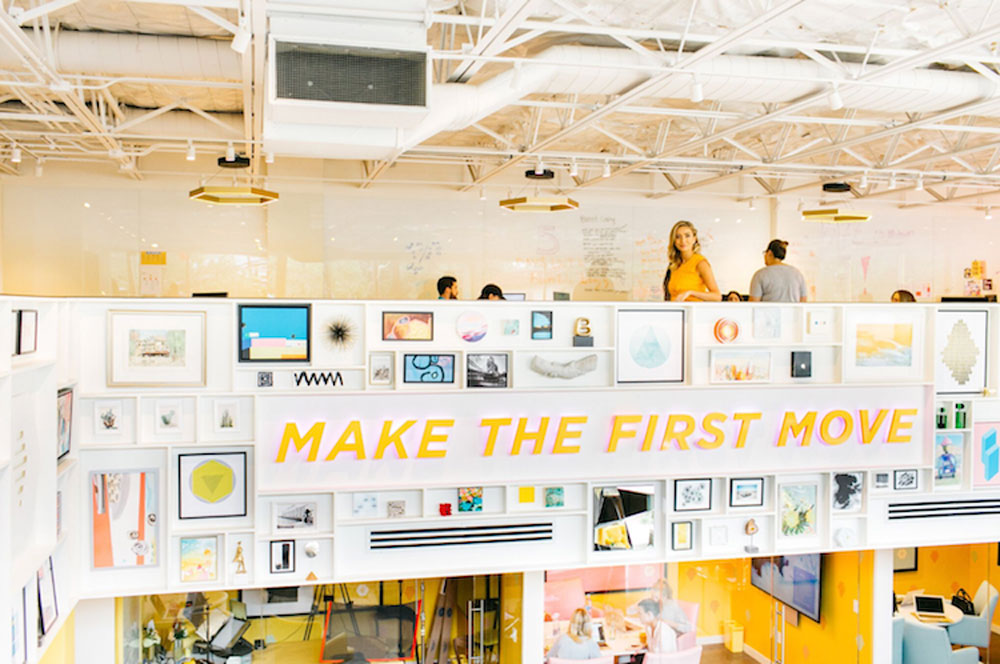 The popular dating and social networking app Bumble announced a new initiative Wednesday that will see it investing in women-led businesses.
Announced via a blog post from Bumble HQ, the new fund will focus on early-stage investments to women-led startups, particularly those run by women of colour and women from other traditionally underrepresented groups.
"The gender gap in venture capital is staggering, particularly for women founders of color. (B)umble, a tech company (with) an 85% female workforce, wants to be part of the solution, wrote Whitney Wolfe Herd, the CEO of Bumble, on Twitter. "Today we launch Bumble Fund to invest in women ignored by the establishment."
The point of the fund is to help those founders raise capital for their ventures.
According to Forbes, Bumble has committed over $1 million so far, and says it will invest anywhere between $5,000 and $250,000 in the companies it selects as part of the fund.
Some businesses that the new fund has already committed to are: BeautyCon, Cleo Capital, Female Founders Fund, Mahmee, and Sofia Los Angeles.
Mahmee is a "Headliner" from Backstage Capital, a VC firm run by founder Arlan Hamilton that invests in "underestimated" and underrepresented founders.
Cograts Bumble on your investment in @Backstage_Cap Headliner @getmahmee! https://t.co/3Vtjxo4TcY

— Lolita Taub (@LolitaTaub) August 15, 2018
According to the Bumble blog post, the company isn't stopping at the five commitments they've listed — they're continuing to look for businesses to support, and recommend that interested parties download the Bumble app and get set up with the networking platform within, Bumble Bizz.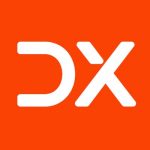 Canada's next big act is training scaleups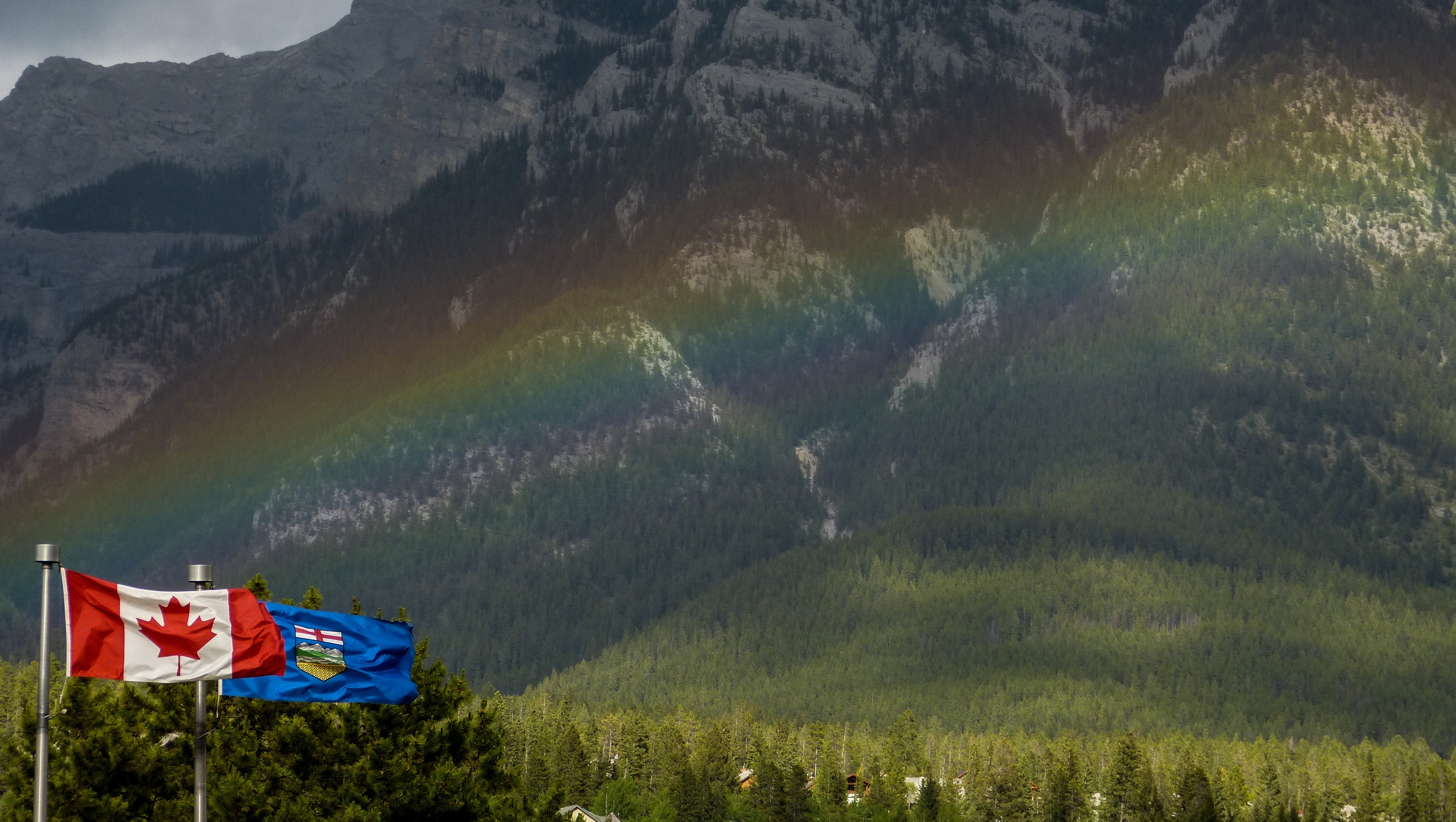 By Jack Derricourt & Chris Hogg
Jack Derricourt is the Managing Editor of Digital Journal and a contributing editor to DX Journal. Chris Hogg is the President of Digital Journal Group.
The Canadian technology landscape is booming.
Canadian companies took in $2.5 billion in funding in the first half of 2018, the strongest first half since 2000. Corporates have announced large-scale investment plans to invest in innovation and digital technology (CAE recently pegged $1 billion for the efforts) and post-secondary institutions are breaking ground to house future generations of talent (the University of Toronto is building a 14-storey building to be completed by 2021).
The Canadian technology landscape is ripening and readying for an influx and growth of more mature, internationally-focused ventures.
While scaleups make up less than five percent of Canadian companies, they create half of all new jobs in the country.

On September 26 in Toronto, Elevate ScaleUp will seek to provide helpful insights into the problems facing scaling companies. Presented by CIBC and Osler, the event features startup veterans sharing their experiences.
DX Journal spoke with Julia Kassam, Managing Director, CIBC Innovation Banking, to find out more about the next big act in Canada's innovation space.
DX Journal: With innovation ecosystems forming across Canadian cities, what excites you the most for startups in Canada?
Julia Kassam: From coast to coast, we've hit our stride as a community. The Canadian startup ecosystem has never been stronger and it is launching Canada into the global spotlight. Success stories about scaling companies of all sizes, in different industries, are generating the attention of investors and aspiring entrepreneurs. We are gaining a reputation for being diverse, collaborative and competitive.
This means that Canada is no longer an occasional destination, but a critical location for international investors to regularly visit, and for global brands to establish roots and drive their own corporate growth.
DX Journal: Canadian policymakers have made strengthening the venture capital sector a priority, with the launch of Venture Capital Action Plan (VCAP) and Venture Capital Catalyst Initiative (VCCI) underway. What does that mean for startups and scaleups?
Kassam: After years of lobbying by the Canadian Venture and Private Equity Association (CVCA), the previous government took our sector's advice and launched VCAP as an arms-length funding strategy. VCAP worked as designed; venture capital funds benefited from the capital raised and invested in several early-stage companies. The new funds that should be raised under VCCI will capitalize on that success and strengthen the sustainability of Canada's venture capital ecosystem.
What this means for entrepreneurs is that the federal government recognizes that VCAP was an appropriate initiative, and that to fuel the innovation economy, companies need a robust venture capital ecosystem to move from startup mode to scaleup mode.
It's a really strategic and exciting initiative because later-stage capital will help accelerate the growth for companies who need to overcome commercialization hurdles, expand into new markets and compete on a global scale.
DX Journal: Many startups struggle to scale because they don't have the right senior talent. What is your sense of how well positioned Canada is with experienced leaders?
Kassam: Although Canada has established a reputation for developing world-class academics and innovators, we do need to attract experienced executive talent. Everything moves at an accelerated pace in a scaleup, and the business will bend and flex in ways it never has. Canada needs more leaders who know what it takes to grow globally and ensure scaleups are well-equipped to navigate and accelerate growth.
One big benefit Canada has that helps here is as a result of our proactive immigration policy – the ability for Canadian scaleups to attract skilled talent is getting easier; our country realizes that to keep pace with scaleups, concentrated efforts are needed to establish Canada as a global technology powerhouse.
DX Journal: Canada has also been able to attract tech titans such as Google to open up offices in Toronto. What role do they play in the scaleup economy?
Kassam: They serve as training ground, but also as a competitor for talent. In the best case, people learn what it takes to be part of a leading innovator while being trained by experienced executive talent at the local divisions of firms such as Cisco or Google. For scaling companies, the opportunity to pilot their innovation becomes a realistic opportunity which can flourish into a partnership that may lead to an acquisition. A big opportunity that emerges as a result of large tech companies choosing to set-up an office in Canada is an acceleration of human capital development for the ecosystem.
What we are also seeing more of is that global innovators are setting up their R&D centres in Canada. A great example this summer was Samsung announcing an AI Centre located within MaRS, led by a Toronto-based academic. Again, another opportunity for scaleups to be close to the heart of global innovation. That is huge potential waiting to be unleashed.
DX Journal: How is the Canadian startup ecosystem helping to train talent?
Kassam: Serial entrepreneurs and investors share mistakes and success stories which help shape and accelerate scaleups through collective learning. What truly makes the Canadian tech ecosystem unique is our mindset to foster entrepreneurial spirit; and a great example of how we do that is by bringing the startup community together.
Elevate, Canada's largest tech festival and one that CIBC Innovation Banking is sponsoring, is the perfect example of creating the right information and network opportunities so that we can collectively benefit from the existing momentum in Canada's innovation ecosystem and drive our entrepreneurial culture forward.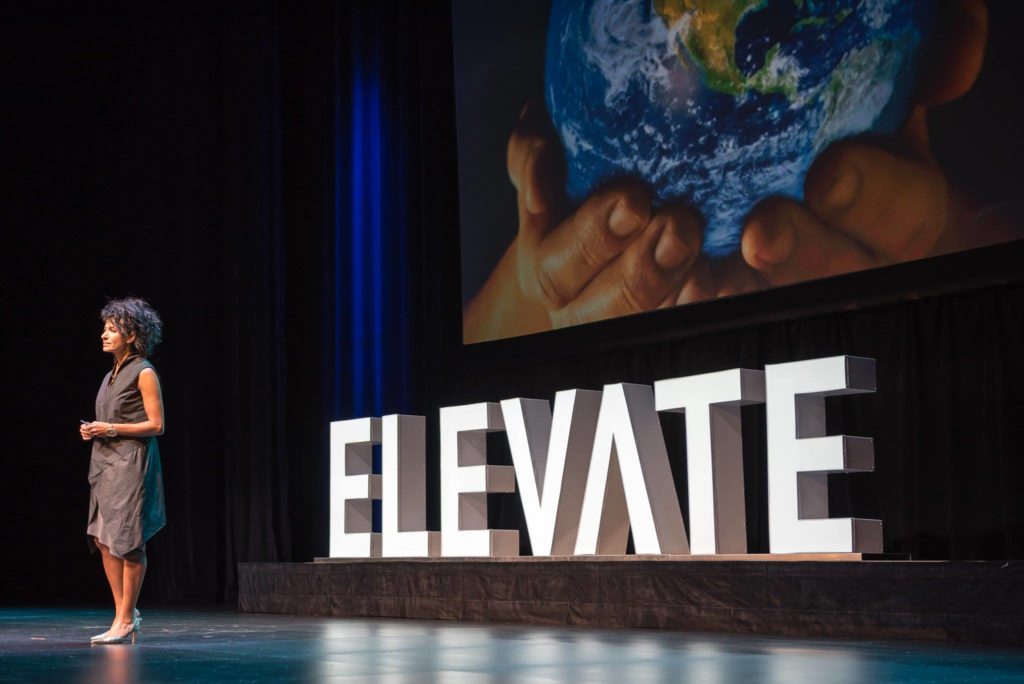 DX Journal: What's the next step for the Canadian scaleup story?
Kassam: Canadian scaleups will continue to tackle the unique challenges that come with scaling a business; however, they will think in a global context earlier than ever before. Scaleups need to strategically choose the right capital partners for their growth – ones that open doors to new markets. There needs to be an emphasis on attracting top talent earlier in the growth cycle to help drive international perspectives and opportunities.   
To hear more from industry leaders who have scaled real businesses (and have the scars to prove it), get a ticket for Elevate ScaleUp, happening September 26, 2018 in Toronto. Presented by CIBC Innovation Banking and Osler, the event will provide real insights from entrepreneurs and tech veterans who have spent years in the field, on everything from hiring, to financing, to distribution.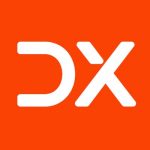 DX Journal covers the impact of digital transformation (DX) initiatives worldwide across multiple industries.
#ScaleStrategy Q&A: Managing the Growth Bandwidth
Tech veteran Dean Hopkins on what it takes to scaleup — and down — in both startups and enterprise organizations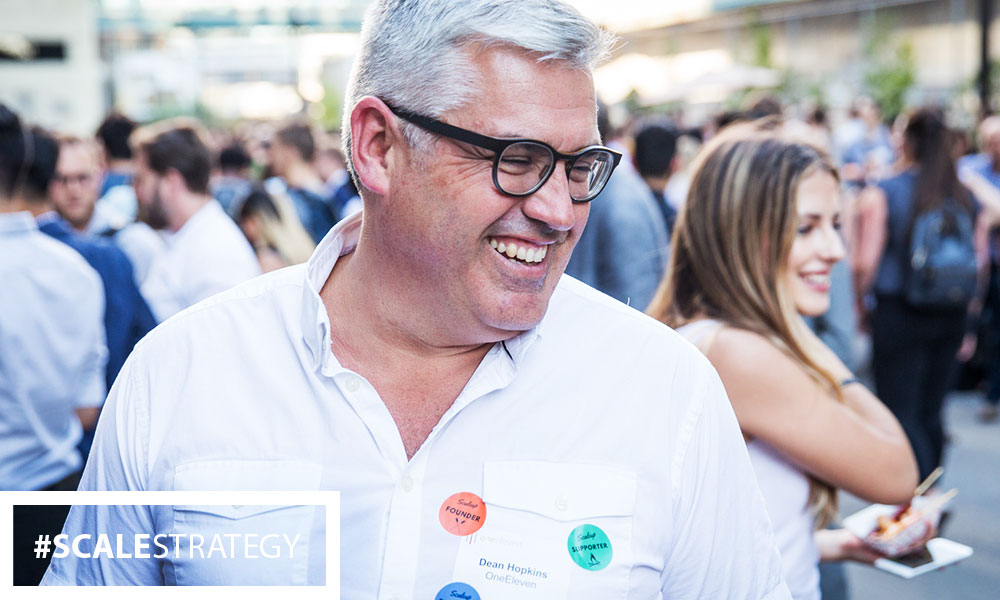 #ScaleStrategy is produced by DX Journal and OneEleven. This editorial series delivers insights, advice, and practical recommendations to innovative and disruptive entrepreneurs and intrapreneurs. Read the first part of the interview with Dean Hopkins here. 
While working at McKinsey in the 1990s, tech veteran Dean Hopkins first stepped into the world of the internet.
"This was 1993. No internet existed as we know it," says Hopkins, now the Chief Growth Officer at OneEleven, recalling how he discovered the work of Marc Andreessen. "At that point in time, he was demonstrating his early browser concept and talking about how the future of the internet was going to be huge. I caught the bug and decided I would leave McKinsey and start my first company called Cyberplex."
After a bit of a bumpy start, Cyberplex scaled quickly. "Cyberplex tripled every year and grew to 500 people with $50 million in revenue and $975 million market cap," he says.
Then 2001 hit. "That was the peak of the cycle followed by a trough. It was the biggest learning experience of my career. I had to descale the company to survive," he says. Over seven quarters, Hopkins took the team from 500 to 50 and brought the company back to profitability. He then  transitioned Cyberplex to new leadership and moved on to his next challenge.
For the next 12 years, Hopkins worked as a management consultant with his own boutique firm that was focused on driving global transformation initiatives for companies such as Thomson Reuters and the Ontario Teachers' Pension Plan Board.
With both entrepreneurial and intrapreneurial expertise, Hopkins is now applying his global growth skills to transform OneEleven's unique scaleup model into a worldwide Scale-as-a-Service model.
Read what Hopkins has in store for OneEleven's global growth.
We recently spoke to Hopkins about tough lessons he learned at  Cyberplex, how enterprise growth is different than startup growth, and how he's applying these lessons to expanding the OneEleven model globally.
DX Journal: When you think back to your time when Cyberplex hit its inflection point, what did you learn about scaling?
Dean Hopkins: Culture and people were the two things that allowed us to handle both the steep trajectory both up and down. Those things got us through the crazy knee in the curve and probably more importantly, helped us when we needed to descale.
Attracting amazing people that became my partners in growth was the reason we were able to scale. I couldn't have done it alone.
Secondly, we built a culture that was accustomed to scaling and had an appetite for growth. Our culture was about resilience, and scaling, and picking yourself up and dusting yourself off. We made it okay to make mistakes, then march on.
DX Journal: Why people and culture? Why isn't it all of the other things?
Hopkins: It's a great question. In a culture where the decision-making takes a long, protracted time, where risk-taking isn't there, and where people have to analyze things to death before they can make a decision, scaling is impossible. People would crumble under the weight of scale because the number of things coming at them.
To scale, it's important to trust that people are all working toward the same goals and are empowered to make decisions.
That's where culture comes in. It becomes a culture that can tolerate the bandwidth of needs that come with growth. If I didn't have both of those things — good people ready to make decisions and a culture where I allow them to do it — I would have failed to scale.
The other things like technology, offices, infrastructure, are secondary when you distill it down. Companies that are successful across different geographies, industries, offices, become that way through empowering their people and building a culture that tolerates growth.
DX Journal: When you moved out of Cyberplex and into Thomson Reuters and you were managing a large-scale transformation. How did you manage scale within an environment as big and complex as Thomson Reuters?
Hopkins: The first thing I noticed was pace slowed down dramatically. What used to take me a week or a month now took 6 to 8 or 12 months. Large organizations only have the capacity for so much change. Once I did get the ship to turn in a new direction, I moved a lot of people, revenue, cost, and dollars. I had to be patient enough to let it take hold. The experience was much more of a marathon where I had to think multiple chess moves ahead and let the game play out.
DX Journal: How do you know when to modify your approach or give up when dealing with  transformation in a large organization?
Hopkins: I didn't do a great job of it at the beginning. I pushed an entrepreneurial agenda at an entrepreneurial pace, and very quickly ran headlong into blockers. I had to adapt and use an experimentation model. I tried different levels of throttle until I got to a point where the organization was willing to accept it. I learned to read the frustration on peoples' faces saying "okay, no more, Dean. I can't take any more of this" and built relationships with people where they were able to tell me that.
I was able to adapt and adjust my own style to better reflect the environment. Then over 12 years, I gradually increased the tolerance for risk-taking and for change within the organization. I would work with specific people to help them increase their ability to drive change. What was first gear early on, became second and third gear closer to the end of my tenure. Ultimately, the organization became much more comfortable with making change at a higher rate.
DX Journal: What's a scale lesson you learned the hard way?
Hopkins: I learned to hire slowly and fire quickly based on fit. One rotten apple really can spoil the bunch. As part of this, I learned to listen very closely to my people. The people on my team knew about someone that didn't fit long before I did. By listening, and taking quick action, I saw the immediate positive impact on culture.
Finally, I learned the value of getting out of the way. By fully trusting people, providing them good direction and support when needed, it activates them to reach their full potential. All of these were learned through many failed attempts, and I have the scar tissue to prove it.
DX Journal: What signals do you use to know you're on the right path when you start to scale something and you're trying to measure if it's working?
Hopkins: One of the reasons we were able to survive at Cyberplex — both the growth and the decline — is that we had very good leading indicators of the business. We had invested heavily to try and understand what our funnel looked like, what our planned capacity was, and we had the metrics dialed in. Every month and every quarter, we constantly refined our ratios so we had a really good sense of what was coming. When things started falling off the cliff, we trusted our instruments and started acting accordingly.
Read more about Dean Hopkin's plans for expanding OneEleven globally.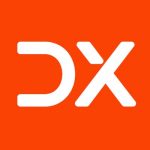 DX Journal covers the impact of digital transformation (DX) initiatives worldwide across multiple industries.
#ScaleStrategy Q&A: OneEleven's Chief Growth Officer on Building a Global Scaleup Knowledge Base
Dean Hopkins' is aiming to build and deploy a Scale-as-a-Service model worldwide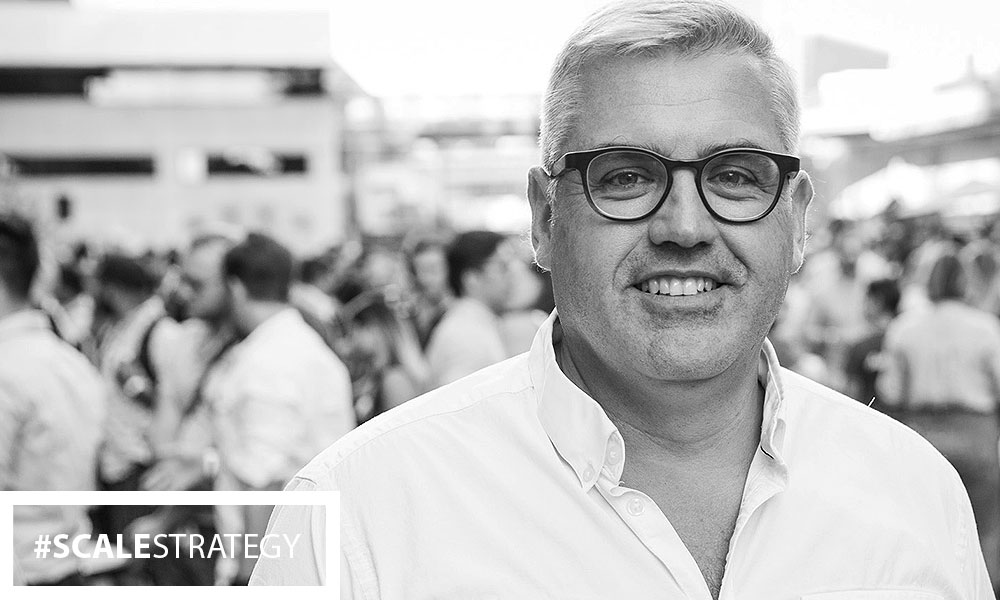 #ScaleStrategy is produced by DX Journal and OneEleven. This editorial series delivers insights, advice, and practical recommendations to innovative and disruptive entrepreneurs and intrapreneurs. Read the second part of the interview with Dean Hopkins here. 
"We're being ambitious. We want to show scaling companies that we can scale, too," said OneEleven's Chief Growth Officer, Dean Hopkins, when the Toronto-based scaleup hub announced its plans to expand to Ottawa, Vancouver, London and Berlin in late 2018 and into 2019.
It's an opportune time to expand globally as a scaleup hub.
According to CB Insights, total annual venture capital global funding "increased nearly 50% in 2017, as over $164B was invested across 11,042 deals. Deal activity was up by 11%, with both deal and dollar figures representing annual highs."
As for 2018 so far, KPMG's Venture Pulse Report says "for the fourth consecutive quarter, VC invested has exceeded $45 billion, and in the most recent quarter, just barely fallen shy of $50 billion once more."
Hopkins is excited to walk the scaleup talk once again.
A tech scene veteran, Hopkins was the CEO & Co-founder of Cyberplex for more than a decade where he grew the organization from a startup to a public company with nearly $1 billion in market capitalization. During his career at Cyberplex, he also successfully managed the company through a major downsizing as the tech bubble collapsed and transitioned it to new leadership where the company enjoyed another round of growth.
Prior to joining OneEleven as Chief Growth Officer, Hopkins ran a boutique management consulting firm he founded in 2006 to drive transformation initiatives on a global basis for clients such as Thomson Reuters and the Ontario Teachers' Pension Plan Board.
We caught up with Hopkins to talk about scaling lessons, OneEleven's growth plans and developing the world's leading source of scaleup knowledge.
DX Journal: You have extensive experience scaling from both an entrepreneurial and intrapreneurial perspective. What are some of the lessons you've learned?
Dean Hopkins: First off, it's all about people. Attracting amazing people that became my partners in growth was the reason we were able to scale. I couldn't have done it alone. 'Hire great people and get out of their way' became my mantra — even to this day.
The second ingredient to scale was culture. We had built a culture that was accustomed to scaling and had an appetite for growth. Our culture was about resilience, and scaling, and picking yourself up and dusting yourself off. We made it okay to make mistakes, then march on.
Read our interview with Dean Hopkins on his scaleup experience at Cyberplex and his transformational work in Thomson Reuters.
DX Journal: What have you learned about scaling at OneEleven?
Hopkins: Early on after I joined OneEleven, I sat in on a community lunch with about 300 people from all the member companies. At this lunch, new members are brought up in front of the crowd to say a little about their company. Then 300 people welcome them with cheers — a lot of love goes their way. After that, others come up to talk about their big wins, like raising money, landing a big customer or completing a big launch. And again, 300 people applaud and celebrate them. Well, I remember sitting there thinking, 'where was this when I was building Cyberplex?' I was in a hovel by myself toiling away with no community other than people that I would lean on as advisors. I never had the kind of kudos, support, warmth, love, resources that these companies have at OneEleven, and that's when things clicked for me. This is what community is. A lot of people talk about community, but to actually see it viscerally done, made me realize I needed to recreate it in other geographies.
What we're trying to do is get a group of companies — all individually pursuing their dreams, but collectively working together — to make sure that each other are successful.
DX Journal: You're focused taking this OneEleven scaleup initiative global. How do you assess where you need to be?
Hopkins: A big aha moment for me around OneEleven was getting the Startup Genome report. I looked at our success in Toronto and yet our city was number 14 or 15 on their list. I said, 'wait a minute, OneEleven is working incredibly well in the 15th best market?! What if we took OneEleven and built it out to some of the top 10 markets? That's what led to the business plan we're currently executing.
From there, I overlaid our partner Oxford Properties into the mix. As a large global real estate firm, this gave me the first 4 markets to go after — London, Berlin, Boston, Vancouver. We're studying each market, mapping the ecosystem, understanding who the players are, comparing it to Toronto, figuring out what the differences and similarities are and then plotting our entry. Over the next year, we'll be in each of those markets.
The approach to entering each of these markets will be subtly different depending on character of the market. We've invested a lot in meeting the community, understanding who does what to whom and how we can add value. By the time we launch in those markets, we'll already have a reputation built up because we'll have spent some money to support the local ecosystem. We'll have brought some value to some of the companies there by helping them maybe come to Canada or come to one of our other markets. I view it as kind of putting some karma in the bank before we even launch in each.
DX Journal: When OneEleven enters a geography, what's the benefit to companies and communities located there?
Hopkins: From our perspective, there are 3 key benefits to having OneEleven in your city.
The first is that we're building the global knowledge base of scale. Each community we add is bringing a new rich set of perspectives on how to scaleup businesses. We then make that available to everybody in the peer community.
The second benefit is for the companies in each geography is an easier path into other markets through our growing global ecosystem. If a company in Toronto wants to go to London, they can access continental Europe because we have assets and relationships in Berlin.
Lastly, we are building what we call Scale-as-a-Service. This is a set of capabilities — much like you'd find on Amazon but only dedicated to scaling — that help people with the common challenges of scaling. This only gets richer and more pressure-tested the more markets we serve. We'll have the best set of Scale-as-a-Service capabilities of anybody out there because we're activating across companies in multiple markets.
DX Journal: Speaking of a scaleup knowledge base, as a company grows are there one or two things that really become important?
Hopkins: Entrepreneurs 100% need to think about getting away from the technical, engineering-focused orientation of their early stages. They should focus their time disproportionately on building their channel to market, building their go-to market, building their customer base, building their way in which revenue is going to come to them. Build protected paths to market that are defendable, because that's really where the source of competitive advantage is. An entrepreneur could have the best product in the world, but if he or she can't get it to market the company is dead. The companies that figure out how to build proprietary go-to market or protected go-to market are the ones that end up winning.
The second thing is not to underestimate the complexity of the people equation. Most founders who have reached the scaleup phase realize they need to think about organizational design, career paths for employees and what the organization will look like in 3 years. If they don't, they will have a churn problem, which is very expensive and disruptive for the business.
The third thing is preparing for the next big round of funding. Generally speaking, people underestimate the amount of relationship building and preparation work needed. It probably takes a year or so to get ready properly. We're trying to help companies diagnose where they are, how much runway they need and prepare them adequately for the big round, which is another league up from what they're normally used to.
DX Journal: What books have you read that helped you get through your scaleup journey?
Hopkins: I love Jim Collins. Anybody who hasn't read Built to Last, shame on you! [Laughs] You need to read it and Good to Great.
I'm also a big believer in a book called The Alchemist by Paulo Coelho. It's all about finding personal motivation and that gets you through some very challenging times when you're leading a company. There's a book called The Speed of Trust by Steven Covey, which is all about how to engineer trust in your organization, which is essential at this level. Lastly, Crossing the Chasm by Geoffrey A. Moore. A seminal work on how you market and build a go-to market strategy.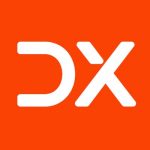 DX Journal covers the impact of digital transformation (DX) initiatives worldwide across multiple industries.