Canada's next big act is training scaleups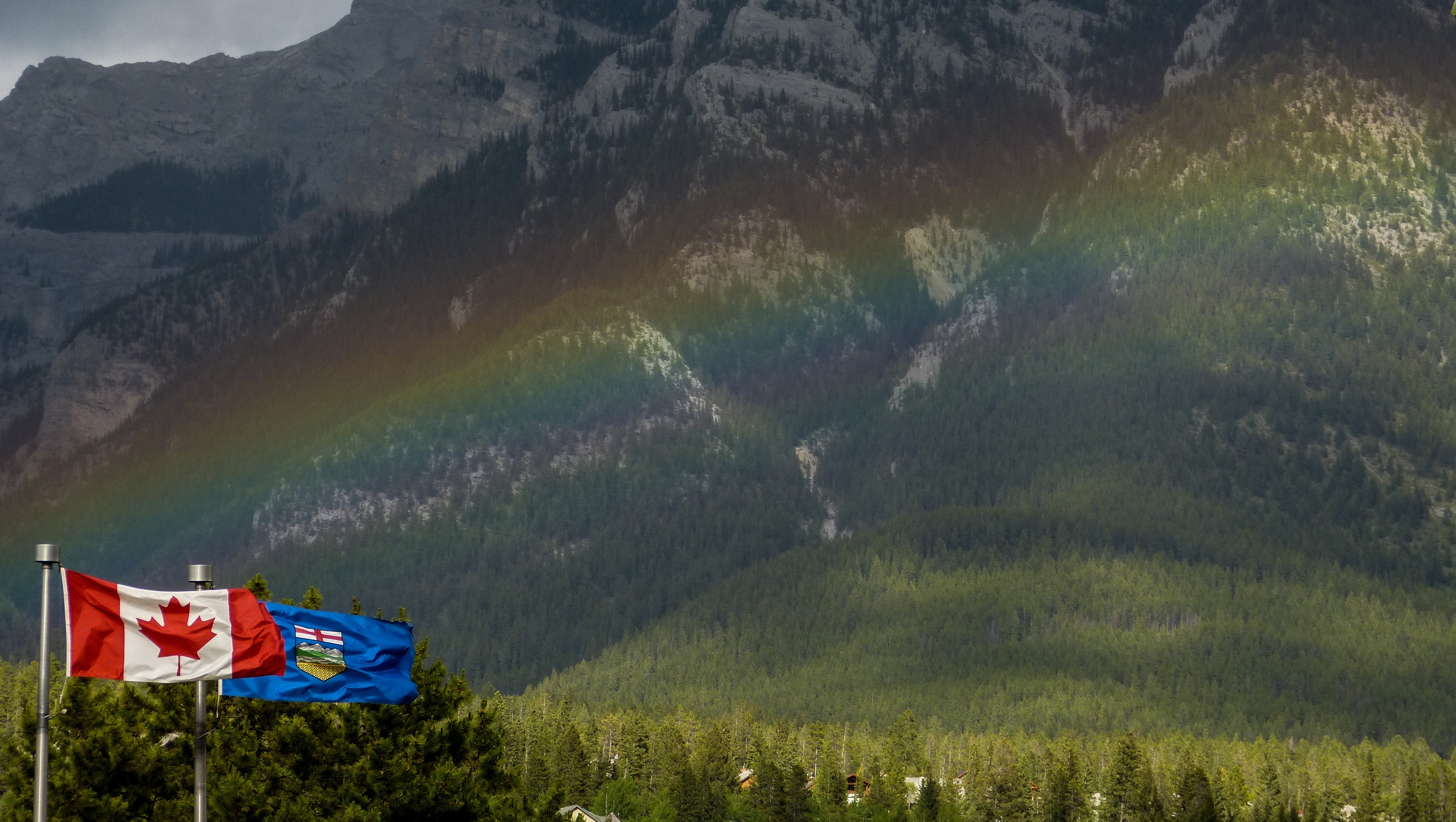 By Jack Derricourt & Chris Hogg
Jack Derricourt is the Managing Editor of Digital Journal and a contributing editor to DX Journal. Chris Hogg is the President of Digital Journal Group.
The Canadian technology landscape is booming.
Canadian companies took in $2.5 billion in funding in the first half of 2018, the strongest first half since 2000. Corporates have announced large-scale investment plans to invest in innovation and digital technology (CAE recently pegged $1 billion for the efforts) and post-secondary institutions are breaking ground to house future generations of talent (the University of Toronto is building a 14-storey building to be completed by 2021).
The Canadian technology landscape is ripening and readying for an influx and growth of more mature, internationally-focused ventures.
While scaleups make up less than five percent of Canadian companies, they create half of all new jobs in the country.

On September 26 in Toronto, Elevate ScaleUp will seek to provide helpful insights into the problems facing scaling companies. Presented by CIBC and Osler, the event features startup veterans sharing their experiences.
DX Journal spoke with Julia Kassam, Managing Director, CIBC Innovation Banking, to find out more about the next big act in Canada's innovation space.
DX Journal: With innovation ecosystems forming across Canadian cities, what excites you the most for startups in Canada?
Julia Kassam: From coast to coast, we've hit our stride as a community. The Canadian startup ecosystem has never been stronger and it is launching Canada into the global spotlight. Success stories about scaling companies of all sizes, in different industries, are generating the attention of investors and aspiring entrepreneurs. We are gaining a reputation for being diverse, collaborative and competitive.
This means that Canada is no longer an occasional destination, but a critical location for international investors to regularly visit, and for global brands to establish roots and drive their own corporate growth.
DX Journal: Canadian policymakers have made strengthening the venture capital sector a priority, with the launch of Venture Capital Action Plan (VCAP) and Venture Capital Catalyst Initiative (VCCI) underway. What does that mean for startups and scaleups?
Kassam: After years of lobbying by the Canadian Venture and Private Equity Association (CVCA), the previous government took our sector's advice and launched VCAP as an arms-length funding strategy. VCAP worked as designed; venture capital funds benefited from the capital raised and invested in several early-stage companies. The new funds that should be raised under VCCI will capitalize on that success and strengthen the sustainability of Canada's venture capital ecosystem.
What this means for entrepreneurs is that the federal government recognizes that VCAP was an appropriate initiative, and that to fuel the innovation economy, companies need a robust venture capital ecosystem to move from startup mode to scaleup mode.
It's a really strategic and exciting initiative because later-stage capital will help accelerate the growth for companies who need to overcome commercialization hurdles, expand into new markets and compete on a global scale.
DX Journal: Many startups struggle to scale because they don't have the right senior talent. What is your sense of how well positioned Canada is with experienced leaders?
Kassam: Although Canada has established a reputation for developing world-class academics and innovators, we do need to attract experienced executive talent. Everything moves at an accelerated pace in a scaleup, and the business will bend and flex in ways it never has. Canada needs more leaders who know what it takes to grow globally and ensure scaleups are well-equipped to navigate and accelerate growth.
One big benefit Canada has that helps here is as a result of our proactive immigration policy – the ability for Canadian scaleups to attract skilled talent is getting easier; our country realizes that to keep pace with scaleups, concentrated efforts are needed to establish Canada as a global technology powerhouse.
DX Journal: Canada has also been able to attract tech titans such as Google to open up offices in Toronto. What role do they play in the scaleup economy?
Kassam: They serve as training ground, but also as a competitor for talent. In the best case, people learn what it takes to be part of a leading innovator while being trained by experienced executive talent at the local divisions of firms such as Cisco or Google. For scaling companies, the opportunity to pilot their innovation becomes a realistic opportunity which can flourish into a partnership that may lead to an acquisition. A big opportunity that emerges as a result of large tech companies choosing to set-up an office in Canada is an acceleration of human capital development for the ecosystem.
What we are also seeing more of is that global innovators are setting up their R&D centres in Canada. A great example this summer was Samsung announcing an AI Centre located within MaRS, led by a Toronto-based academic. Again, another opportunity for scaleups to be close to the heart of global innovation. That is huge potential waiting to be unleashed.
DX Journal: How is the Canadian startup ecosystem helping to train talent?
Kassam: Serial entrepreneurs and investors share mistakes and success stories which help shape and accelerate scaleups through collective learning. What truly makes the Canadian tech ecosystem unique is our mindset to foster entrepreneurial spirit; and a great example of how we do that is by bringing the startup community together.
Elevate, Canada's largest tech festival and one that CIBC Innovation Banking is sponsoring, is the perfect example of creating the right information and network opportunities so that we can collectively benefit from the existing momentum in Canada's innovation ecosystem and drive our entrepreneurial culture forward.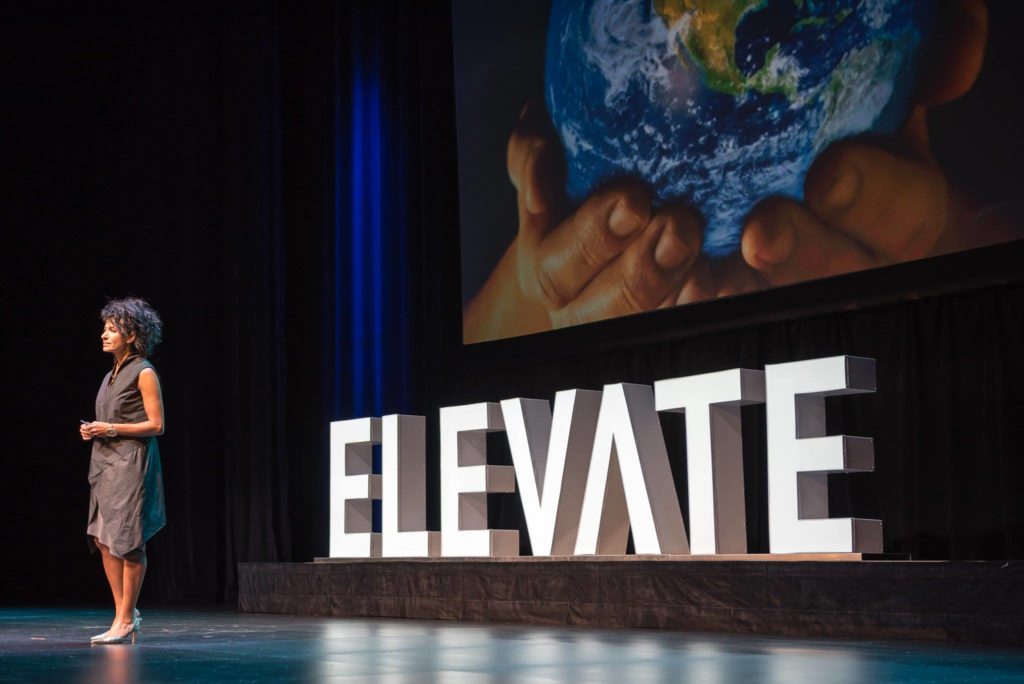 DX Journal: What's the next step for the Canadian scaleup story?
Kassam: Canadian scaleups will continue to tackle the unique challenges that come with scaling a business; however, they will think in a global context earlier than ever before. Scaleups need to strategically choose the right capital partners for their growth – ones that open doors to new markets. There needs to be an emphasis on attracting top talent earlier in the growth cycle to help drive international perspectives and opportunities.   
To hear more from industry leaders who have scaled real businesses (and have the scars to prove it), get a ticket for Elevate ScaleUp, happening September 26, 2018 in Toronto. Presented by CIBC Innovation Banking and Osler, the event will provide real insights from entrepreneurs and tech veterans who have spent years in the field, on everything from hiring, to financing, to distribution.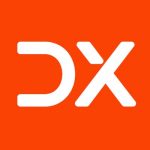 DX Journal covers the impact of digital transformation (DX) initiatives worldwide across multiple industries.
The mesh conference is back, new focus aimed at digital transformation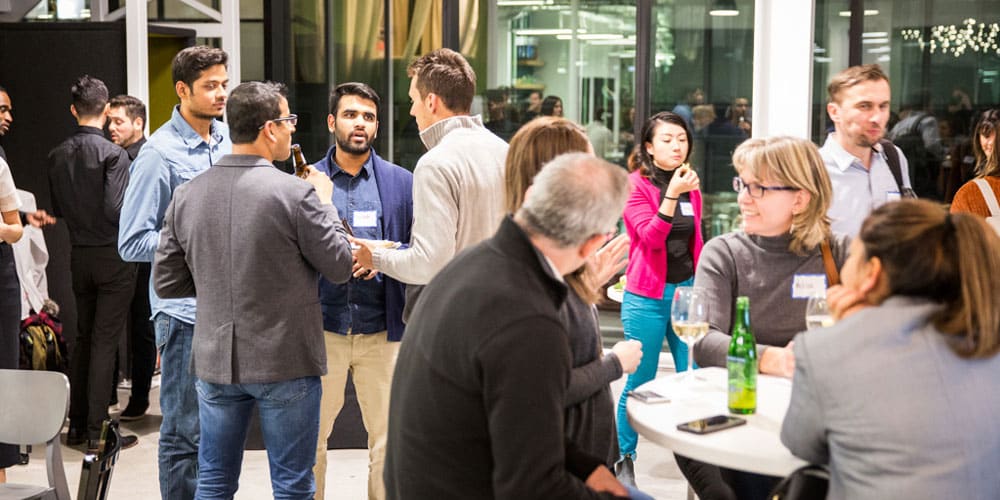 The mesh conference is back. After taking a break for a few years, the mesh conference officially relaunched in Toronto yesterday. The event series focuses on digital transformation (DX) and takes places as a series of meetups, as well as a big conference–currently slated to take place October 2019.
The first meetup took place last night at Spaces and included a presentation around new digital transformation research findings, a rapid-fire interview spotlight with three companies and — of course — plenty of meshing. 
Sheri Moore, one of the of the original founders of mesh, kicked off the event by emphasizing how important collaboration has been to mesh in the past, and how the new DX focus will carry that torch forward.
"I am excited to dig in with the team and our mesh community to connect, share and inspire," said @s_moore. "We'll be creating a place for conversations about #digitaltransformation, bringing together people who are doing amazing things and helping those who want to learn more." pic.twitter.com/8sVWWkmax5

— mesh (@meshcon) November 22, 2018
New original research from DJG and Chestnut Research was also presented to attendees, with the focus being on employees and talent.
DJG Vice President of Strategy, David Potter, presented the research and shared insight on how leaders need to think seriously about the connection between digital transformation trends and the war for talent, as well as how employees should be taking their own DX education seriously in light of technological advances reshaping so many industries.
"48 percent of employees surveyed said they would change companies in order to join an organization that supports training in #digitaltransformation," said @dlpotter of @DJGworldwide at #meshcon. Get a copy of the research ➡️ https://t.co/h4EODe9U5X #meshcon pic.twitter.com/yXa6lm4JDr

— mesh (@meshcon) November 22, 2018
Readers who want to get the full scoop can sign up to receive the full report when it becomes available.
Three companies from vastly different industries also joined in the night's proceedings to show attendees a cross-section of the business ideas flourishing in the Canadian ecosystem:
1) Matas Sriubiskis of Zoom.ai discussed how his company's AI-driven chatbot is helping businesses augment human talent by automating simple tasks throughout organizations;
2) Ivan Tsarynny of Feroot Privacy indicated the radical shift that has occurred within startups and the larger business world due to GDPR and other consent-entrenched policies;
3) Ali Ghafour of 2020 Armor described his company's efforts to bring the excitement of Street Fighter to life in martial arts matches and lessons through the use of electronic chestguards.
#DX SPOTLIGHT: @2020Armor is bringing the Street Fighter video game to life with an electronic chestguard that tracks martial arts matches & training progress. It gamifies martial arts to make it engaging and help club owners drive revenue. ➡️https://t.co/XbIGXCYJvZ #meshcon pic.twitter.com/EJL6WdKQs0

— mesh (@meshcon) November 22, 2018
Startups are changing in reaction to GDPR. It's no longer a question of 'collect data first and ask questions later' — consent has changed everything according to Ivan Tsarynny of @FerootPrivacy #meshcon pic.twitter.com/NYe5OJcImC

— mesh (@meshcon) November 22, 2018
AI is going to be around forever — it's all about using it better said Matas Sriubiskis of @Zoomdotai #meshcon pic.twitter.com/5h8YbyyGDV

— mesh (@meshcon) November 22, 2018
If you missed this first mesh meetup, keep your eyes fixed on the mesh website for information about future events.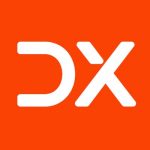 MovetheDial's first Global Summit puts women in tech spotlight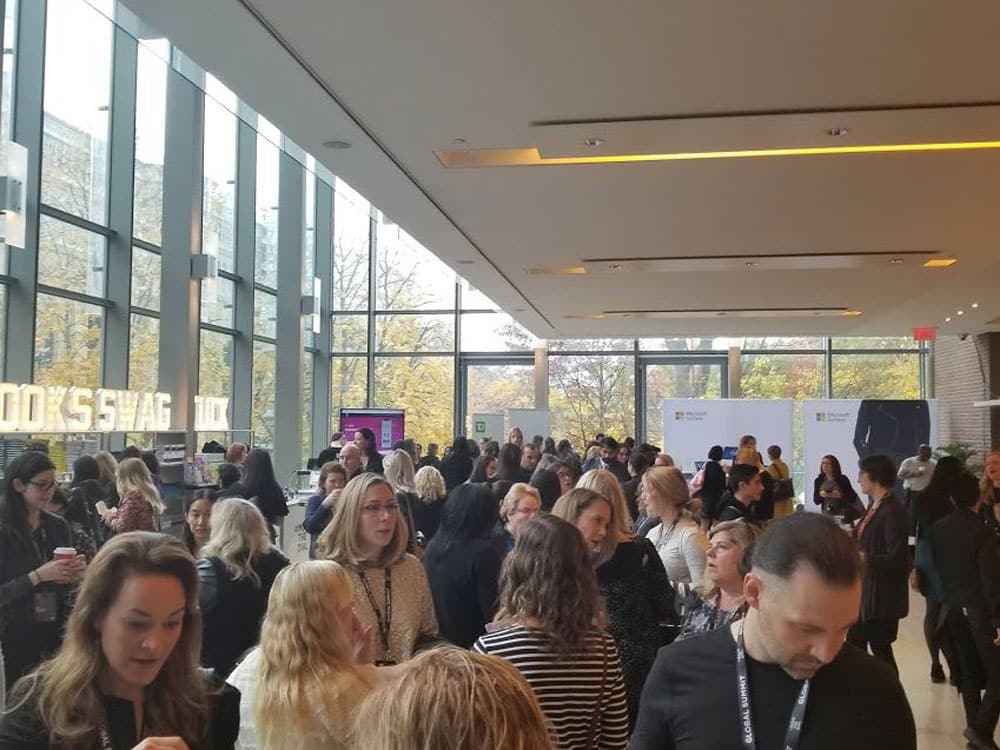 The atmosphere at MovetheDial's first Global Summit was exuberant. The event brought together thousands of attendees to celebrate and amplify women in the technology space — and find out how to push for greater equality throughout the industry.
Held at the Telus Center for Performance and Learning in Toronto, the Summit worked to further MovetheDial's goals of greater inclusion of women in the tech world. Speakers from Salesforce, Uber, CapitalOne, Backstage Capital and many other organizations rallied together to push for equality within tech, and to provide valuable advice for companies looking to do more.
Bold change needed
MovetheDial is a global movement, pushing for greater inclusion of women in technology. Since its founding, in 2017, the network has produced engagement from 10,000 people across Canada and the U.S. A report released by the organization in 2017 showed just how dire the situation really is for women in tech: just six percent of tech companies had a female CEO, and 13 percent of an average tech company's executive team is made up of women.
At the summit, Girls Who Code founder Reshma Saujani shared some equally startling numbers: women make up less than 20 percent of computing jobs in Canada and women in Canada make up 28 percent of STEM graduates.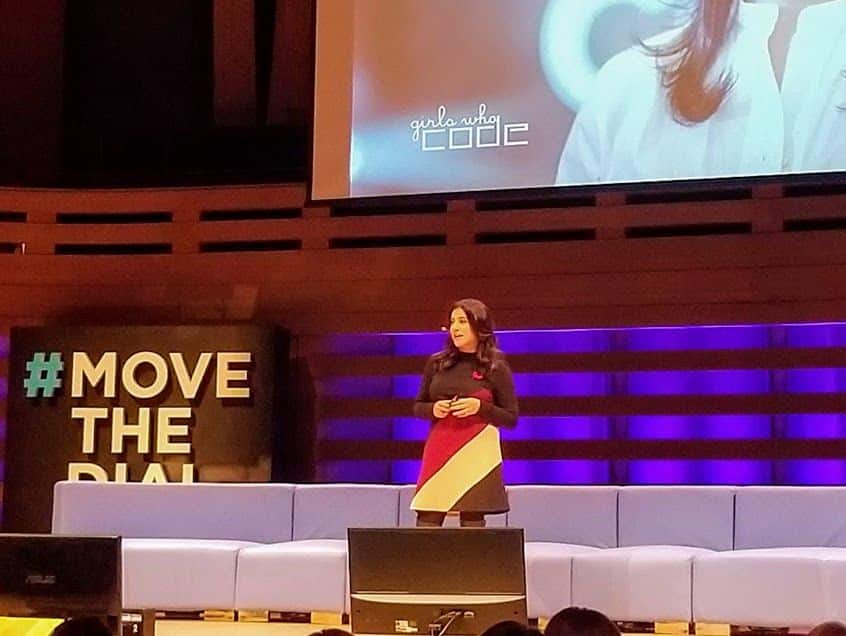 The first MovetheDial Global Summit was all about changing those numbers. The emphasis at the event was on authentic stories that can empower and amplify women in tech — as well as what companies can do to attract and retain women in the industry.
At the event, MovetheDial also launched their new Connect mentorship platform. The new tool looks to drive efficient, goal-oriented mentorship between women.
The Summit was a unique experience in the landscape of Toronto technology conferences. From the early morning electric violin that greeted attendees, to the portraits of accomplished women in STEM fields on display, the event presented a different take on how inclusive tech events can be. Of the 50 speakers at the Summit, half were people of colour, two were non-binary, and two were members of the LGBTQ community.
At #movethedialSummit @QueenMollyMol says businesses have an opportunity to change the world when it comes to equality and diversity pic.twitter.com/QHTk1K8bQu

— Digital Journal (@digitaljournal) November 7, 2018
When asked what made MovetheDial's Summit such an important event, attendee Laura Reinholz, Director of the #BMOforWomen campaign, spoke of the impact that the Summit can have for women in tech and STEM fields. Reinholz said that if she'd seen something similar during her early years of education, she would have been much more excited by the field of tech and science from the start. BMO is one of MovetheDial's partners, and Reinholz mentioned that businesses in finance are also learning how to better address issues of equality, just like so many organizations in tech are.
Taking the stage at the start of the Summit, MovetheDial founder and CEO Jodi Kovitz spoke about how inclusion and gender equality is not just a moral or business outcome imperative, even though those driving forces are important and valid — it's about creating tech that is powerful and transformative.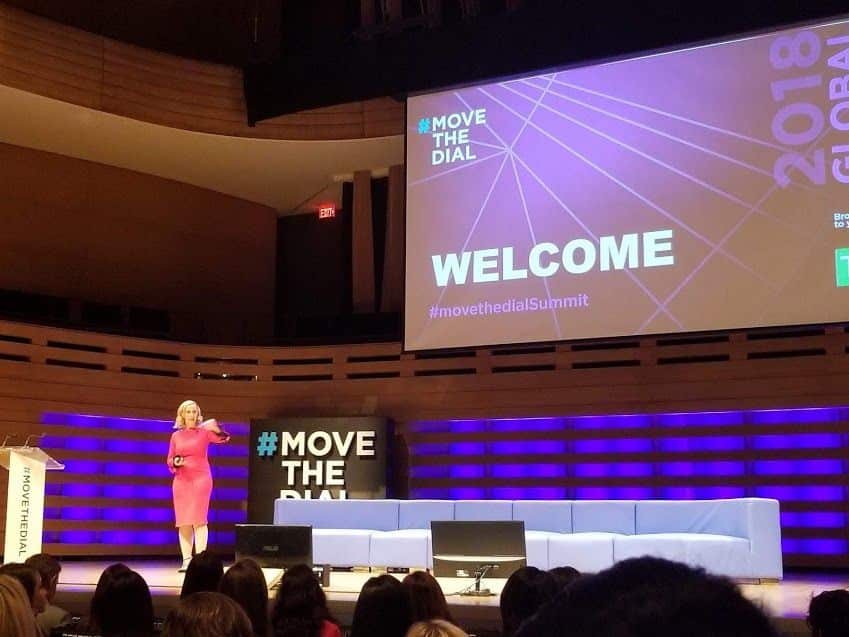 Kovitz told the crowd present that when it comes to making changes to the industry and bringing about the kind of equality revolution MovetheDial represents, it comes down to determination: "Action stems from a simple choice. Will you be a person that goes out of your way?"
Beginnings of a shift
Prior to the event, MovetheDial founder and CEO Jodi Kovitz spoke about how the shift towards a more inclusive tech space has begun. Kovitz encouraged companies looking to make the shift to a more inclusive workforce to "be bold and be courageous".
Kovitz also noted how happy she was to see that companies are moving away from being shy about their ignorance regarding equality in their organizations, and are reaching out for help — it's become more common and acceptable to admit ignorance, says Kovitz. And that creates a huge opportunity for tech businesses and organizations like MovetheDial to work together to fix it.
"This is a positive process," said Kovitz. 'We're not in the business of shaming people"


Two such businesses stepping up the equality plate are Canadian startups Wattpad and Wealthsimple. Both had company CEOs speaking at the MovetheDial Summit. Both companies have also published their diversity and inclusion data online, a crucial step in identifying problems within the organizations. Wattpad CEO Allen Lau noted how the company enacted hiring practices and Slack tools to ensure that the working environment is one that encourages diversity.
Of course as complex a process as moving the dial for women in tech is an ongoing one. As Lau stated during the Summit, "diversity and inclusion has no end date."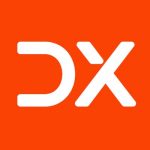 mesh to host digital transformation meetup Nov. 21 in Toronto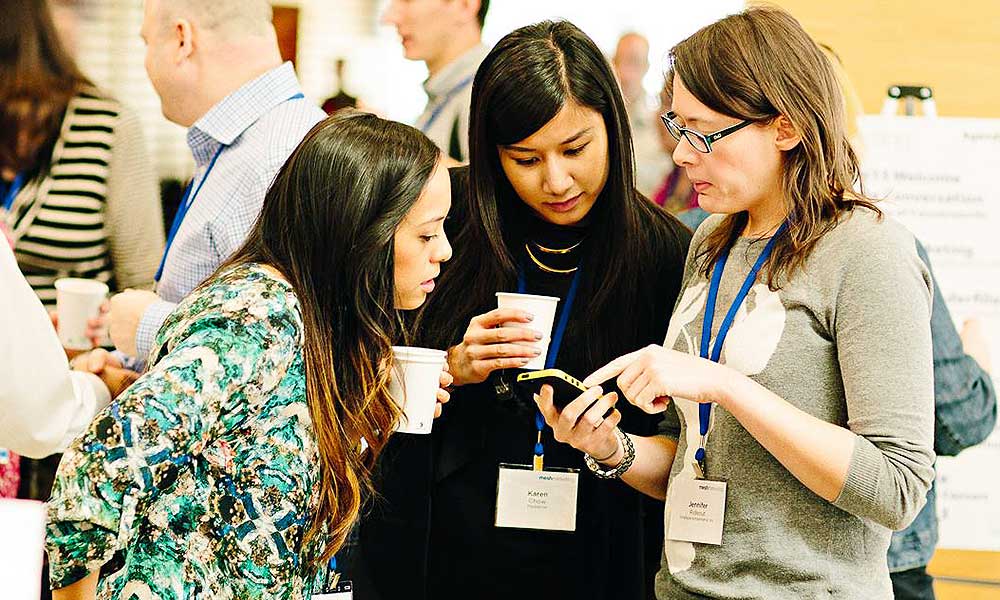 Toronto tech conference mesh is back with an exciting new meetup series focused on digital transformation (DX).
The launch event for the new series will take place on Nov. 21 at 5:30 p.m. at Spaces in downtown Toronto and will play host to the city's unique community of corporate innovators, entrepreneurs, scaleups, researchers, and digital transformation leaders.
The event will feature a variety of insights for business leaders, along with networking.
The meetup will kick off with new digital transformation research being presented by Chestnut Research and DJG focused on DX's impact on talent.
After the opening keynote, three Toronto-based tech scaleups will then take part in rapid-fire pitch sessions where they will present their business to the audience, focusing in on how they are disrupting their industry, as well as digital transformation opportunities and challenges.
The digital transformation meetup series is the next step in mesh's ongoing story of unique events and conferences, featuring business leaders, new ideas and practical takeaways. mesh will host a large-scale conference in 2019 and meetups will be held leading up to the big event..
More information and tickets to the meetup event are available at the mesh website. Space is limited to the first 125 people who sign-up.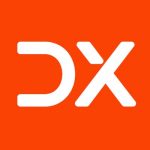 DX Journal covers the impact of digital transformation (DX) initiatives worldwide across multiple industries.