The future of work continues to be rewritten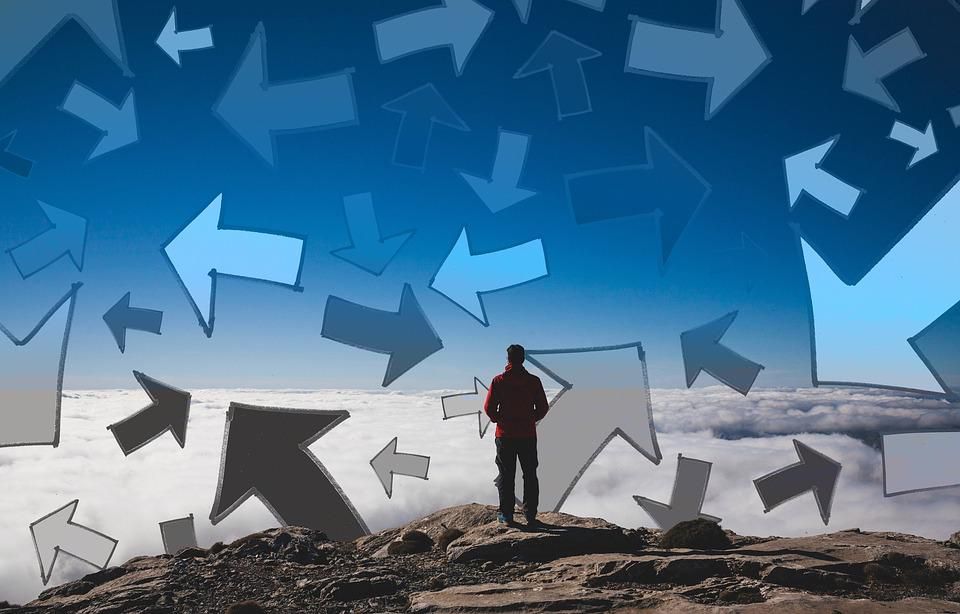 This post references my recent presentation at Startupfest, Montreal. I've been studying the future of work for a number of years and it's now come full circle in an environment and among business leaders who are more accepting of what's in store in the coming decades and what they need to do to survive.
Currently, we live in this world of imbalance. Do you remember when business had a strong influence on how the markets behaved? We've seen this decline over the past few decades and business is being held hostage by their own doing. These corporations built these infrastructures based on markets that were predictable and environments that were relatively stable. The tables have turned and today markets are moving at a speed where business is struggling to keep pace. I've seen firsthand how technology has wielded its way into the marketing and media sector. It changed the way people consumed information, how they interacted with each other and how they bought. At the same time, it has obsoleted the very practices I've known be true.
Look at what's happened in the last year alone: This digital disruption in retail has witnessed at least 21 U.S. retailers filing for bankruptcy protection in 2017 including Toys R Us, The Limited, and Payless. We have seen the demise of Sears in recent months.  The move to digital channels has been steady but incessant. Also, consider the changes within the $7.6 trillion global travel and tourism sector that necessitate continuous iteration of current business models. Because of Airbnb and Uber, which have, respectively, booked on average 100 million room nights per year and 40 million rides per month, pronounced shifts within this industry are happening today. At the heart of all this disruption is the explosion of adoption at the consumer level. The consumer is digital.
The most dangerous phrase … is: "We've always done it this way"
The way it was DONE could no longer be the way it WILL Be.
Consider the time it takes for a new product or technology to reach a significant milestone in user acceptance. It took the landline telephone 75 years to hit 50 million users. It took airplanes 68 years, the automobile, 62 years, and television, 22 years. Today, disruption is the new normal. Look at the impact of technology since the year 2000. YouTube, Facebook and Twitter were able to capture 50 million users in four, three and two years, respectively. These are nothing when compared to Angry Birds, which took a mere 35 days to reach 50 million users.
Creative destruction is moving at an accelerating pace. By leveraging the same systems, the same processes, the same best practices from legacy businesses to the predict market behavior, business will continue to chase the market and miss enormous opportunities.
Imagine a world in which the average company lasted just 12 years on the S&P 500.
A gale force warning to leaders: at the current churn rate, about half of S&P 500 companies will be replaced over the next ten years. The 33-year average tenure of companies on the S&P 500 in 1964 narrowed to 24 years by 2016 and is forecast to shrink to just 12 years by 2027.
Over the past five years alone, the companies that have been displaced from the S&P list include many iconic corporations: Yahoo! Staples, Dun & Bradstreet, Safeway, and Dell.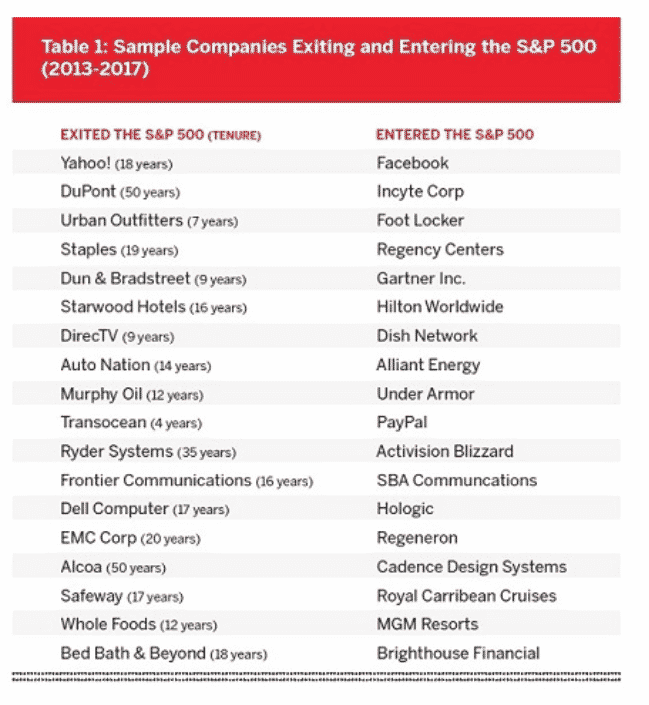 The environment is dictating how businesses organize
We have to consider the trends and what may seem like sustainable developments within the current environment, the interplay of technology and opportunity which will impact the way markets think, the way they behave and what they will expect. Four rising factors that will impact business include:
As Dave Gray, Author of the Connected Company pointed out,
"Business requires dismantling of its precious infrastructure"
New Mindsets: New Organizational Structure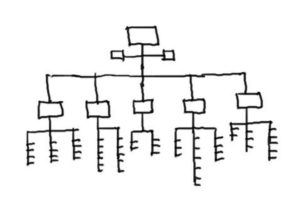 The way business organizes today is through process and hierarchy. There are only a few people at the top. The work is divided and everyone gets their box in which they work. Rules ensure all decisions are run up the flagpole. The industrial revolution created this structure as well as a system of disseminated accountability. It was easy to hide behind your job description and claim, "It's not my responsibility". The division of work created these silos that stifled information sharing and ultimately, the speed of decisions.
Business 3.o must be:
Make no mistake – companies will be judged by their customers, their employees, their partners and their investors. How business innovates around these constituencies will determine their longevity.
Enter "Holacracy"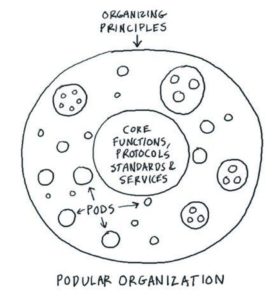 What has been around for decades but hasn't been as pervasive is this notion of self-management or HOLACRACY. This was developed through an agile methodology, which advocated the workflow. This allowed engineers to develop ideas without managerial direction. This "Fractal System is a complex, non-linear, and interactive system" and adapts readily to a changing environment. These systems are characterized by the potential for self-management especially in environments where balance does not exist.
So while the core functions are contained at the center of this org structure, including the policies and standards of the organization, the outer layer contains these pods of excellence, which allow for rapid experimentation, more fluid collaboration and where the members have direct accountabilities to the work unit. The individuals within these independent units are empowered to test, build, deploy, measure and iterate much more quickly than if they worked within today's hierarchical structure.
Business Must Design for Ambiguity
…where complexity and uncertainty are the rules.  Three strategies that respond to this environment include:
The Perpetual Learning Organization – Digital business requires companies to act and respond faster than they ever have before.  While modifying the current communication and decision making structures will enable this, the widening business-to-market gap will mean closing the skills and knowledge gap between employees and a marketplace facing continuous change. This requires organizations to embed learning management systems to bring employees up to speed on market trends, to train and re-skill them on new technology, to encourage participation in new product development, plus modify job roles so they evolve with the new technology.  This will create an expectation of life-long learning within the culture.
Design Thinking – This is a strategic practice that radically changes the mindset of an organization from "static to fluid." At the heart of this approach is to solve problems that are human-centered. In addition, collaboration is required cross-functionally to determine the impacts on all parts of the organization.  Rigorous data collection is required at all stages to ensure thorough identification of impacts to workflow and functional requirements. The focused group is created to speed up the process of innovation, get the required feedback and make autonomous decisions.  This method will discover redundancies in the current systems, but will also allow strengthening collaboration as employees within these groups will be much more energized to collaborate and own their solutions.  Projects will be able to go into production much faster as long as there is accountability and validation at each stage. This methodology fits squarely into the holocratic organizational strategy that ensures functional participation and empowers accountable experimentation and deployment.
Privacy by Design –  Data will drive everything in this century. Slowly boundaries are being severed between countries and organizations to contextualize information for the purpose of gaining increasing insight. What is also clear is the rise of the General Data and Protection Regulation (GDPR) that is telling organizations to slow down and put into place, standards and policy for the responsible collection, use and aggregation of information. Privacy by Design was developed by Dr. Ann Cavoukian, a 3-term Privacy Commissioner in Ontario. In the 1990's, Cavoukian conceived of this idea to address the growing "systemic effects" as communication and information technologies integrated within increasingly networked data systems. When companies in the future are faced with petabytes of data being streamed from multiple feeds, there will be a mandate to explain model outputs. As well, functionally embedding privacy that is fair and moral into each layer of our systems will be required. Defining "fair" and "moral" needs to be functionally explicit. Continuous audits for fairness within systems and practices will also be required. The patterns that algorithms will detect will create opportunistic tendencies. This quote from an executive at Salesforce at a recent conference summed up nicely how business should respond: "Just because you can, doesn't mean you should". As we marshall into more disruptive technology using data, business will need to understand the long-term implications for the society at large.
This is the future of the "long-lived" company:
Connected companies learn and move faster, seize opportunities and link to a network of possibilities to spread their influence. ~Dave Gray
The future of work means destruction of silos. The panacea is a more fluid organization where decisions are made at the edges, where the business is in sync with its market, and where business perpetuates a value system that keeps it humming nicely.
Please reference the presentation here.
This post originally appeared on Forbes.
Hessie Jones is the Founder of ArCompany advocating AI readiness, education and the ethical distribution of AI. She is also Director for the International Council, Global Privacy and Security by Design.  As a seasoned digital strategist, author, tech geek and data junkie, she has spent the last 18 years on the internet at Yahoo!, Aegis Media, CIBC, and Citi, as well as tech startups including Cerebri, OverlayTV and Jugnoo. Hessie saw things change rapidly when search and social started to change the game for advertising and decided to figure out the way new market dynamics would change corporate environments forever: in process, in culture and in mindset. She launched her own business, ArCompany in social intelligence, and now, AI readiness. Through the weekly think tank discussions her team curated, she surfaced the generational divide in this changing technology landscape across a multitude of topics. Hessie is also a regular contributor to Towards Data Science on Medium and Cognitive World publications.
This article solely represents my views and in no way reflects those of DXJournal. Please feel free to contact me h.jones@arcompany.co
CIRA Made a Terrible Mistake with a Domain Name Ad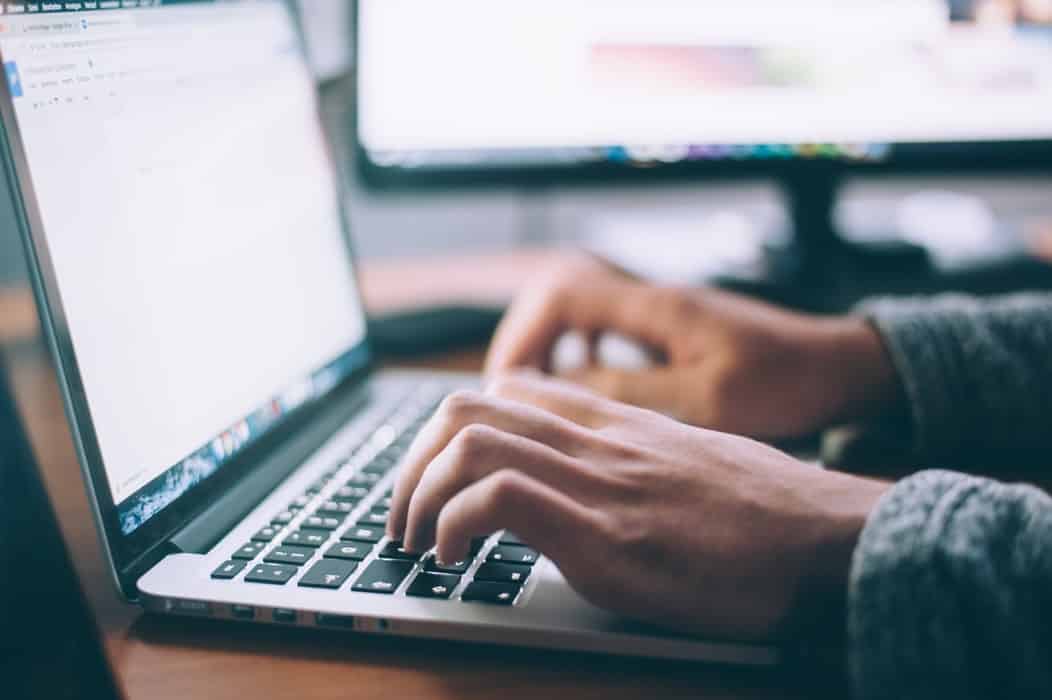 This article is sponsored content produced by Threat Intelligence Platform (TIP)—a data, tool, and API provider that specializes in automated threat detection, security analysis, and threat intelligence solutions for Fortune 1000 and cybersecurity companies.
The Canadian Internet Registration Authority (CIRA) recently launched a commercial that encourages Canadians to register a ".ca" domain name instead of a ".com". While CIRA's campaign seems commercially sound, it has failed to meet one expectation: Doing sufficient domain name monitoring to ensure it wasn't infringing anyone's rights.
In fact, CIRA's ad showed a banner with a ".com" domain name in the background — leading to a problematic situation. The registrar did not realize the domain name shown was trademarked and owned by the Canadian Real Estate Association (CREA) and the National Association of Realtors (NAR). This incident was a terrible oversight on the domain registrar's part, with potential legal implications for the registry.
When CIRA learned about its mistake, its representative delivered this message:
"We are really proud of, and stand behind, the ad. The reaction so far has been overwhelmingly positive. We look forward to helping as many Canadian businesses as possible get online with a .ca domain name."
Domain names are crucial to any business with an online presence. Without a domain name, it would be impossible for an organization to send corporate emails or put up its own website. During the early days of the Internet, registering a domain name was a tedious and costly process. 
Today, however, the trouble with domain name registration lies more in that anyone can do it. Even cybercriminals can purchase and register a top-level domain (TLD) and put up malicious websites in hopes that victims would land on them and give out their personal information.
Easy-to-recall domain names related to brands have also become scarce because even individuals compete with businesses for them. Even famous brands have to deal with this challenge. 
Google, for instance, could not use alphabet.com because someone else owns it. Nissan, meanwhile, had to spend more than 20 years before it could acquire nissan.com from an individual named Uzi Nissan.
This scarcity, however, is now being alleviated by the introduction of new generic top-level domains (gTLDs) such as .bmw, .nike, and .mcdonalds along with country-code TLDs (ccTLDs) like .ca.
Despite the influx of new gTLDs and ccTLDs, however, .com domains remain the most sought after. As such, some businesses resort to convincing registrants to give up their domain names sometimes at exorbitant prices. The average price of a domain name bought from someone who already owns it is thousands of dollars. Cars.com is probably the most expensive domain to date, valued at US$872 million.
Other companies get lucky in that they find their hearts' desires among discarded domains. In such cases, though, they should do due diligence to make sure the domains they wish to purchase were not given up for excellent reasons such as search engine results pages (SERP) and security violations. They should keep in mind that domains in Google's blacklist, no matter how memorable, would never show up in search results because of SERP violations. Domains in security vendors' blacklists, meanwhile, would always be blocked on computers where their solutions are installed.
To avoid ending up with domains that have a checkered past, users can use a WHOIS history checker before purchase. Such a tool would reveal everything about the domain in question. It can help future domain owners ensure that their websites do not have ties to any malicious activity, individual, or organization at any point in their life cycle.
Domain names have become more than just a means to gain online visibility. They are now unique identifiers that point to organizations' brands. That is why it is important for all companies to make domain security a priority.
About the Author
Jonathan Zhang is the founder and CEO of Threat Intelligence Platform (TIP) — a data, tool, and API provider that specializes in automated threat detection, security analysis, and threat intelligence solutions for Fortune 1000 and cybersecurity companies. TIP is part of the Whois XML API family, a trusted intelligence vendor by over 50,000 clients.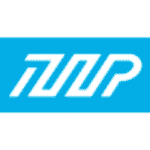 AI will fuel the next wave of digital transformation in Asia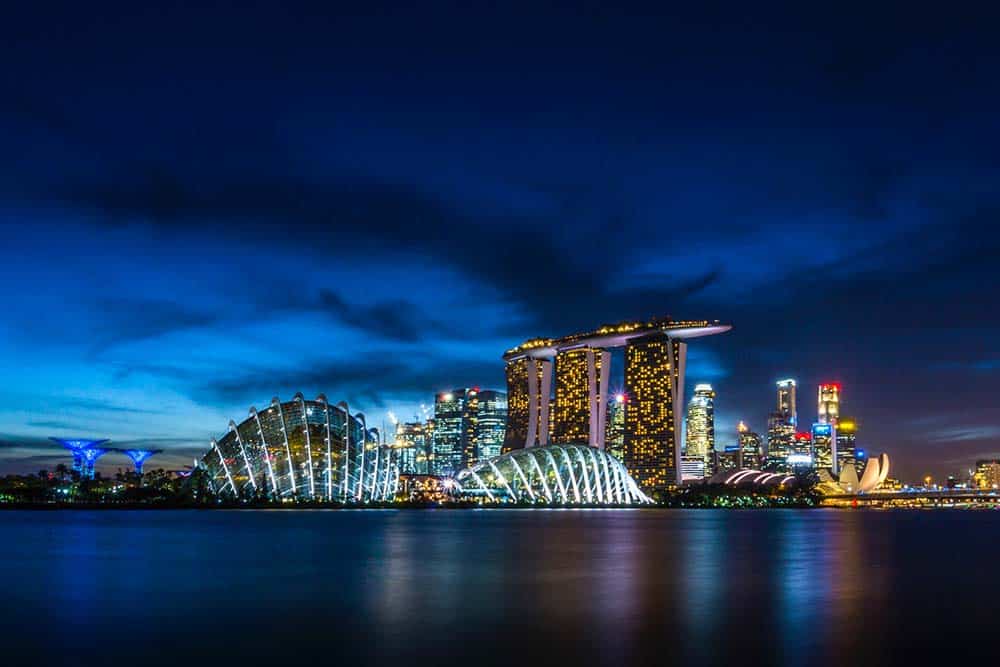 From the recently-wrapped Milken Institute Asia Summit in Singapore, president of Asia and corporate vice president at Microsoft, Ralph Haupter, spoke to Bloomberg Markets: Asia on how Artificial Intelligence will continue to disrupt the technology space and drive growth on the continent.
As it stands, an increasing number of reports are showing the importance of AI on growth on a global scale:
AI could contribute an additional $15.7 trillion to the global economy by 2030 (PwC)
The technology represents a potential impact on GDP of 26.1 percent in China (PwC)
28 percent of businesses are already realizing tangible returns on their AI implementation (AI Business)
"We need to understand that AI is the next accelerator for digital transformational companies," explained Haupter. "We did a study here in Asia and it turns out that companies really think AI will drive double on innovation and double on productivity. That's pretty impactful."
The study referenced by Haupter was released earlier this year, showing that AI will accelerate the rate of innovation and employee productivity improvements to nearly double in Asia Pacific by 2021. Furthermore, only 41 percent of organizations in the region have embarked on the AI journey.
Speaking to Bloomberg, Haupter cited one success story: Narayana Health in India, which uses AI visual recognition with its X-Rays. "The quality is better, the cost is down, scale is higher — that's what technology is about. It makes me excited."
[Learn more about Narayana's digital transformation]
The urgency of re-skilling
Of course, a significant touchpoint when discussing the important and rise of AI on growth, is the prioritization of reskilling workers.
A recent IBM Institute for Business Value study found that "as many as 120 million workers in the world's 12 largest economies may need to be retrained or reskilled over the next three years as a result of the advent of artificial intelligence (AI) and automation."
In his interview, Haupter is quick to point out that AI "is something that is augmenting us as human beings, and not replacing us," emphasizing that reskilling is a clear goal on the agenda.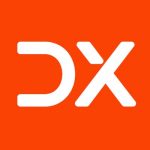 DX Journal covers the impact of digital transformation (DX) initiatives worldwide across multiple industries.
Robot delivery: Bots will be bringing parcels to your home
Ford, FedEx and Amazon are each at an advanced stage with autonomous robot delivery vehicles, designed to bring packages to the doors of businesses and homes. Several successful pilots have been completed.
Each robot looks different but the objective is similar — getting a package to a customer using an autonomous machine. The aim of these new robot delivery tools is to boost efficiency and eliminate the need to pay people to carry out the final part of the delivery process.
Ford / Agility Robotics
Ford, more commonly associated with cars and trucks, is partnering with legged locomotion specialist Agility Robotics to assess how self-driving car deliveries can be improved. The project objective is to ensure self-driving vehicles can accomplish something that's been very difficult to accomplish: carrying out the last step of the delivery, from the car to the recipient's front door.
The two companies hope the answer is a two-legged robot called "Digit".
Digit has been designed to approximate the look and walk of a human. The robot is constructed from lightweight material and it is capable of lifting packages that weigh up to 40 pounds. In tests, Digit has been shown to be capable of going up and down stairs and to negotiate uneven terrain, thanks to the use of LiDAR and stereo cameras.
FedEx
The courier delivery services company FedEx is developing an autonomous delivery robot designed to assist retailers make same-day and last-mile deliveries to their customers. The device is called the FedEx SameDay Bot, and the aim is to deliver packages by bot directly to customers' homes or businesses the same day. The device has been developed in collaboration with DEKA Development & Research Corp., run by Dean Kamen, the inventor of the Segway.
The FedEx device is the most adventurous of the three, in that it will cross roads and is destined to cover longer distances. The interaction with roads is supported by machine-learning algorithms to help the robot to detect and avoid obstacles, plot a safe path, and to follow road and safety rules.
Amazon Scout
Amazon's autonomous delivery robots are about to begin rolling out on California sidewalks. Amazon Scout will begin with delivering packages to the company's Prime customers residing in Southern California. The new Amazon device will work during daylight hours, providing small and medium-sized packages to customers. The Amazon Scout is a six-wheeled electric-powered vehicle around the size of a small cooler. In terms of movement, the Scout rolls along sidewalks at what's described as a walking pace.
Amazon began testing out the Scout in January 2019, running a pilot program using six machines to deliver packages in Snohomish County, Washington. Vice president of Amazon Scout Sean Scott said: "We developed Amazon Scout at our research and development lab in Seattle, ensuring the devices can safely and efficiently navigate around pets, pedestrians and anything else in their path."
Following the success of the pilot — where the Scout autonomously navigated the various obstacles commonly found in residential neighborhoods like trashcans, skateboards, lawn chairs, the occasional snow blower and more — the device is ready for a wider launch.
The wider launch will feature a small number of Amazon Scout devices, delivering Monday through Friday, during daylight hours in the Irvine area of California, according to Smart2Zero. Customers will order items as they would normally, but in some cases their Amazon packages will be delivered by an Amazon Scout. To make sure things go smoothly, each Scout will initially be accompanied by a human "Amazon Scout Ambassador."