IAmI taps IBM Cloud to defend enterprise networks against attack
IAmI Authentications, a B2B cybersecurity provider, has developed a real-time protection system to defend enterprise networks against intrusion attacks using stolen login credentials. IAmI can issue alerts when an ID is being used without authorisation.
Intelligent authentication
IAmI describes its service as a way to "crowdsource, decentralize and tokenize authentication and identity." The company provides an "intelligent" form of two-factor authentication for the workforce of digital enterprises.
The IAmI app operates similarly to the authentication apps you may already have on your phone. It enforces two-factor authentication using push notifications. When you try to login to a protected company resource, you have to acknowledge the attempt in the app or press "deny" to issue a block. IT administrators can monitor the service to detect incoming threats in real-time.
In a post published to IBM's blog, IAmI explained that cloud-powered authentication solutions help organisations address data breaches. Many organizations remain unaware of incidents until after the intrusion has occurred. Blocking attackers at the point of an unauthorised login gives IT staff visibility into the threat. It also enables them to actively deploy additional protections.
"Many organizations don't even know their network security has been compromised until it's much too late. Once stolen, their private data is impossible to protect," said IAmI. "[IAmI] empowers users to protect their own login credentials from hackers who would otherwise try to exploit it to gain unauthorized access. Organizations and users can know their login credentials and secure data can no longer be nefariously exploited or breached."
Cloud security
IAmI's solution uses IBM Cloud to distribute authentication alerts to enterprise devices. The system can monitor every aspect of an enterprise's authentication, from end-user logins through to database access attempts. The company's apps run across all major mobile platforms, including iOS, Android and even the Apple Watch. Admins can monitor intrusion attempts from wherever they are.
The service provides an example of how cloud solutions can improve the cybersecurity posture of enterprises. Although cloud software is often seen as a risk in itself, effective use of breach detection systems can enable firms to mitigate the risks. Stolen credential attacks are common but can be blocked, if the technology is already in-place.
According to IAmI, the average detection rate for major data breaches is 205 days. Use of an authentication app cuts the delay to a matter of seconds when defending against attackers using basic credential theft techniques. Cloud services can also offer behavioural analysis functions to proactively identify irregularities that could be a threat. If a user logs in from an unusual location or a new device, administrators may be alerted first so they can authorize the identity.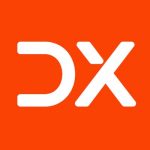 WeaveSphere: 5 conference highlights 
The WeaveSphere tech conference wove together ideas about AI, FinTech, STEM education, innovation in Canada, and more.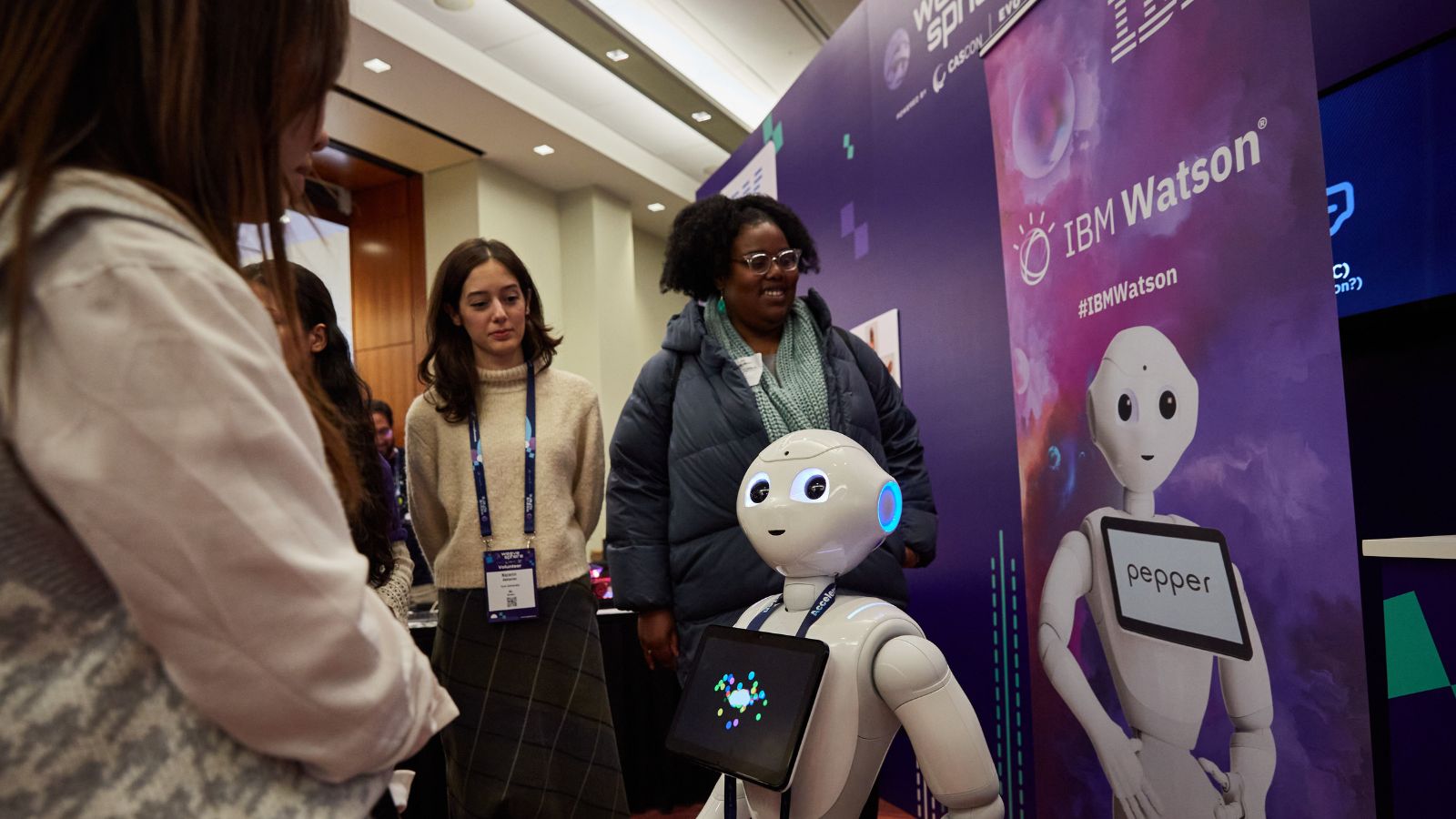 For three days this November, innovation, collaboration, and a whole lot of big ideas were shared among "Weavers" during the WeaveSphere tech conference in Toronto.
"Today is an opportunity for greater connection between the scientific and tech industry, and academia," said Marcellus Mindel of IBM Canada, opening the conference. With innovation the event's core, Mindel added: "let's define innovation, thinking of it as reframing that implements better outcomes."
While lots happened over three days, here are five highlights and takeaways from the event:
1. Thought-provoking keynotes had attendees thinking big
Each day of WeaveSphere kicked off with a keynote, where three speakers brought their insightful ideas to attendees.
Gillian Hadfield shared ideas about AI and regulation
On Day 1, Gillian Hadfield, Professor of Law and director of the Schwartz Reisman Institute for Technology and Society at the University of Toronto, explained where we are today when it comes to regulating artificial intelligence (AI) — and where we need to go next.
While AI makes machines intelligent, Hadfield argued that it cannot, by definition, produce intelligent behaviour if it isn't functioning appropriately and ethically. Machine learning is not the same as standard programming, since machines write the rules. As a result, machines can start solving problems in ways we don't want them to, resulting in regulatory challenges.
How to solve this? Hadfield presented two solutions:
Establish compensation for harm
Design incentives for meeting good and safe behaviour
Dr. William Barry discussed ethics with an AI co-presenter
On Day 2, professor, AI ethicist, and futurist Dr. William Barry talked about a particular problem: what ethical questions might arise when you program a robot?
For starters, how do you determine what information to include or not? Where is the appropriate line?
As a professor, Dr. Barry has been working with robots as teaching assistants in his classroom since 2015, and brought a digital version of Maria Bot (one of his AI assistants) to interact with the audience.
As Dr. Barry explained, he is very strategic when choosing the information from which his assistants learn.
One place Maria won't get access to? Twitter, says Dr. Barry, highlighting it's too much of a risk for an "AI benign" to get access to misinformation. This would distort the ethical perspective that Maria is learning, he said.
While he has programmed her to weed out and to not learn from toxic content — like racism and misogyny — Dr. Barry does work at exposing his AI beings to a wide range of diverse thought and lived experiences. In the end, how ethical an AI being is, is in the hands of the human controlling what they learn, he argued. As a result, they'll ultimately be biased as a result of the specific data sets we provide for them.
Marcel Mitran discussed technology for good
WeaveSphere's Day 3 keynote took a slight turn away from AI.
IBM Fellow, IBM Master Inventor, and CTO for Cloud Platform for zSystems and LinuxONE, Marcel Mitran took to the main stage for a keynote on responsible computing. At the heart of his talk was the argument that technologists need to take a step back and look at what's being done to keep the world safe.
For example, the opportunity for error and bias in the role of facial recognition in public safety, and the fact that our digital footprints — both on a personal level and for enterprise — have grown significantly even in the last year.
As Mitran explained, responsible computing is a systemic, holistic approach addressing current and future computing challenges like sustainability, ethics, and professionalism. It advances the "quadruple bottom line" of people, planet, prosperity, and participation.
2. Insightful sessions had attendees thinking deep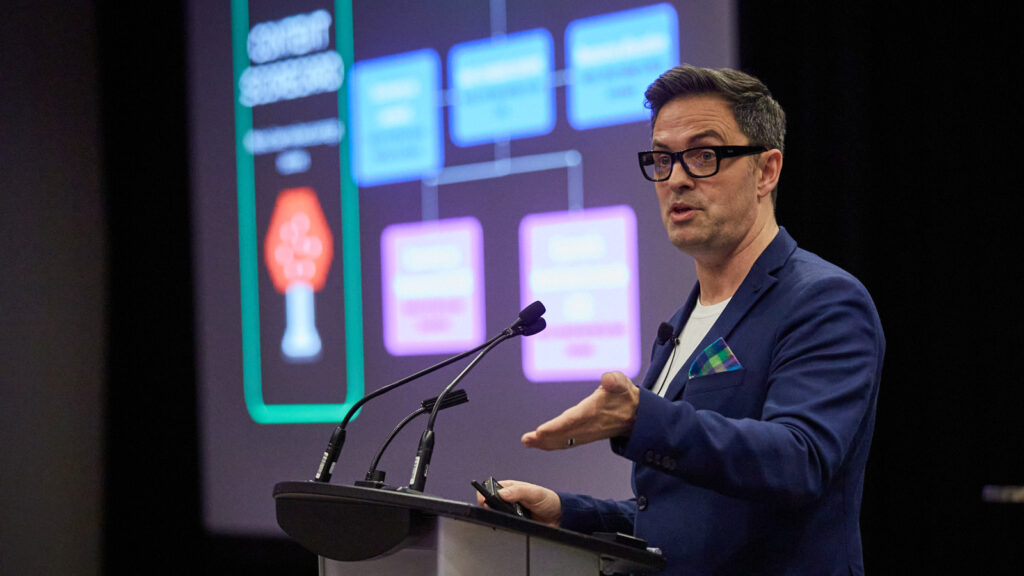 FinTech, cryptocurrency, AI, digital economies, Canada's innovation landscape — there was a large cross-section of topics covered across a variety of workshops, paper presentation, and panel discussions.
Some highlights include:
Chhavi Singh, co-founder of Flyte, asked the question: have you considered using AI to coach your sales staff? Elaborating on the opportunity AI presents to increase sales performance, Singh explained how AI can be used to help understand customer challenges and handle objections and concerns.
COO of wealth management platform OneVest, Jakob Pizzera, outlined the three phases of FinTech. The first (1.0) was in-house sites for basic online banking. Version 2.0 was the "unbundling" of financial services, and the rise of standalone businesses. The last few years has brought FinTech 3.0, with embedded finance — for example making a purchase through Instagram.
WeaveSphere conference chair and R&D specialist Vio Onut answered the question of why we need to care about cyber security. For starters, the potentially very large costs to your organization, and because the massive skills gap of privacy and security experts has created vulnerabilities.
Digital strategist Matt Everson explored what can go with emerging technologies like Web3 and the metaverse. Everson said developers should just start building and drawing on video game virtual markets as a model. He used popular online game EVE Online as an example of how virtual economy design can be translated to other markets.
Lijia Hou, Blockchain Systems Engineer with Draft Kings, explained that three key problems still exist when it comes to blockchain technology. First, investors want to understand how — in a volatile market — to mitigate risk. Second, developers from the traditional software side need a mindset shift when it comes to decentralization. And finally, the tools of decentralization are used differently, and this is not always evident for those unfamiliar with Web3.
3. There was a LOT of interest in STEM education
As part of WeaveSphere's Education Day slate of programming, hundreds of high school and university students had the opportunity to workshop real-life problems from both school and work — all under the guidance of IBM's Design Thinking experts.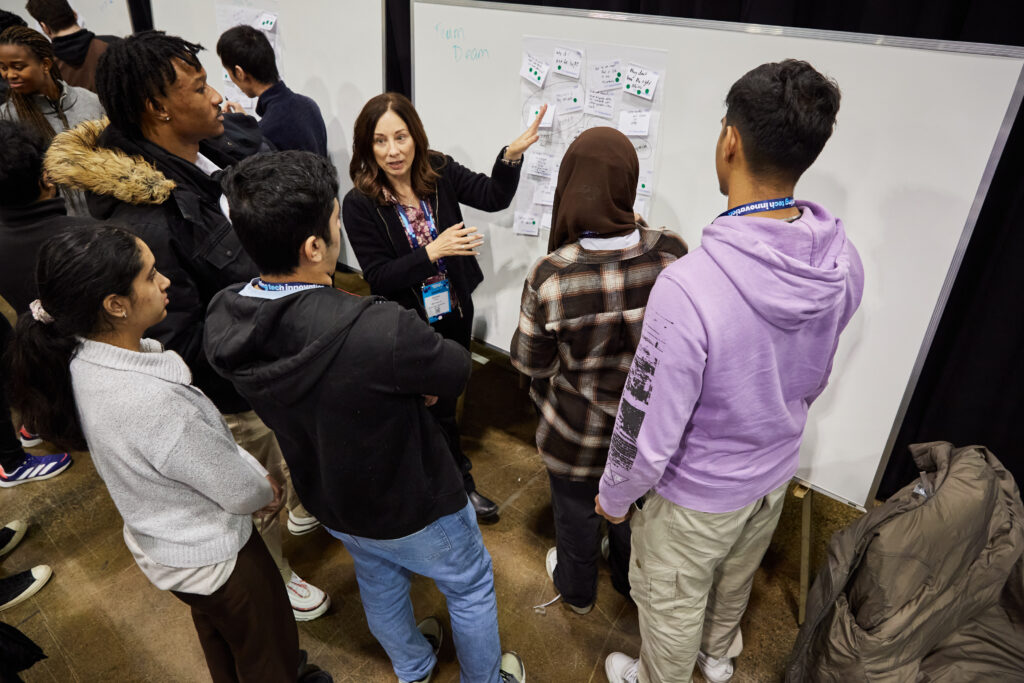 This meeting of next-generation tech talent collaboratively explored Enterprise Design Thinking strategies like As-Is Scenario Mapping, Empathy Mapping, Hills (positioning statements), and Hopes and Fears. This approach to problem-solving works by framing the issue at hand in a human-centric way, centering the end-user in all decision-making.
For Education Day, the problem at hand was helping fourth-year university students find their first job.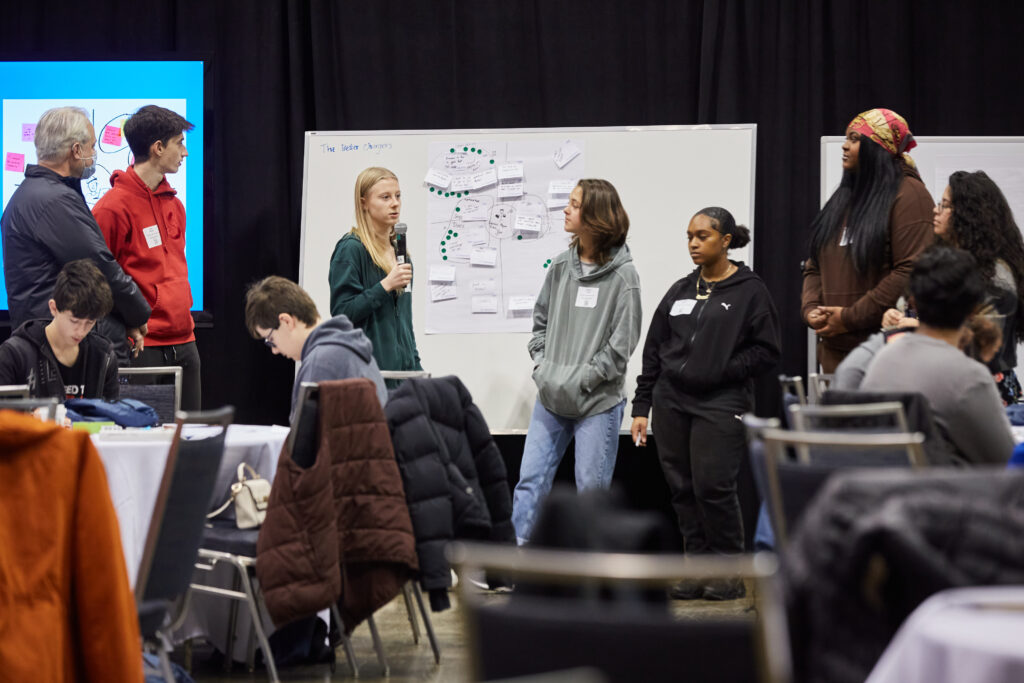 4. There were loads of networking and learning opportunities
One of the best parts of any conference is the opportunity to network and learn from fellow attendees.
In the conference's Innovation Valley section, event sponsors were on-hand to discuss everything from their latest technologies to job opportunities, plus several graduate students were also there to present their research.
Since WeaveSphere is a "meeting of the minds" between tech professionals and students, many undergrads from schools like York University and Mohawk College came to the conference full of questions, ready to absorb everything.
5. WeaveSphere celebrated top tech talent
A big part of WeaveSphere was a celebration of some of the best tech minds in Canada.
During a gala evening at the end of Day 2, the 2022 Developer 30 Under 30 and Tech Titans were awarded to the best of the best among young developers and digital transformation leaders in Canada.
The winners were:
Developer 30 Under 30 winners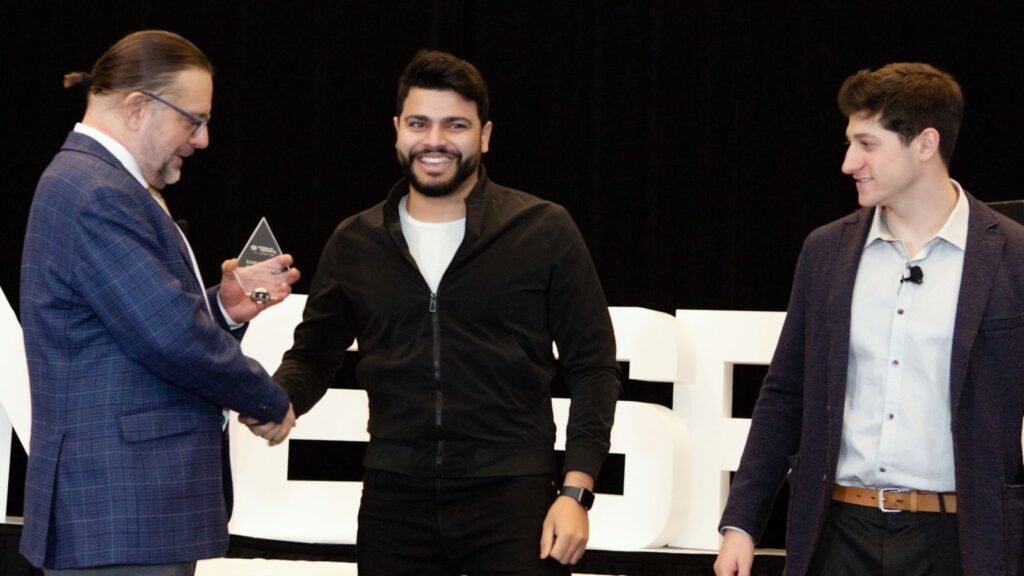 Alexander Newman
Anakha Chellakudam
Anthony Langford
Arshdeep Saini
Aryaman Rastogi
Bohdan Senyshyn
Charlie Mackie
Charmi Chokshi
Colin Lee
Daniel Marantz
Francisco Hodge
Hassan Djirdeh
Jerry Fengwei Zhang
Julia Paglia
Karandeep Bhardwaj
Kathryn Kodama
Khushbu Patel
Lianne Lardizabal
Lucas Giancola
Mathew Mozaffari
Maz Mandi
Oleksandr Kostrikov
Rishab Kumar
Samantha Lauer
Sarah Syed
Stan Petley
Tanmay Bakshi
Tim Romanski
Xiaole Zeng
Yash Kapadia
Tech Titans winners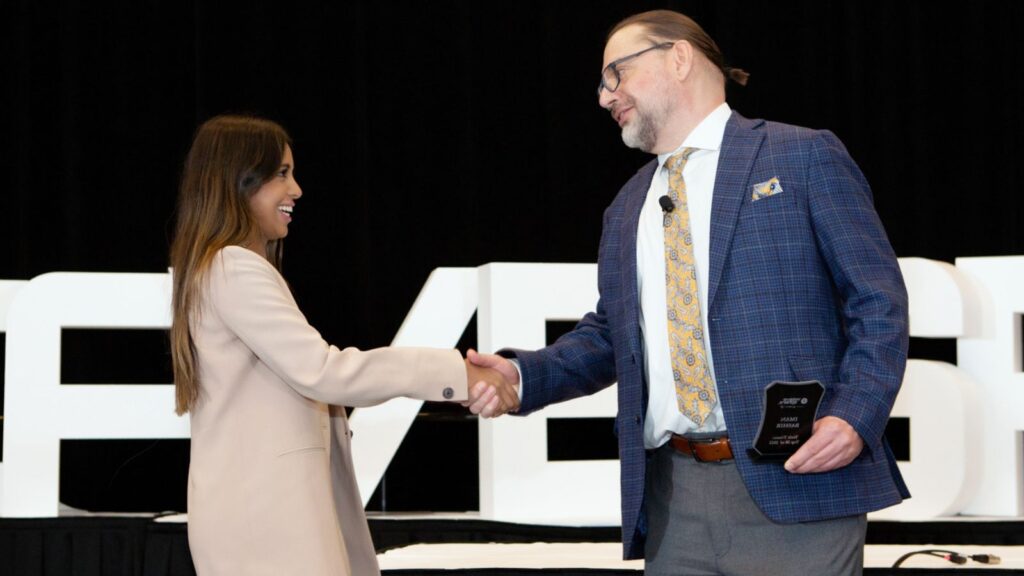 Andrew Dolinski
Ashish Agrawal
Chhavi Singh
Chris Dolinski
Dean Skurka
Demetrius Tsafaridis
Fay Arjomandi
Harish Pandian
Harpreet Gill
Iman Bashir
James Stewart
Len Covello
Manav Gupta
Marcel Mitran
Michelle Joliat
Dr. Mohamad Sawwaf
Omar A. Butt
Peter Zwicker
Ryan McDonald
Dr. William Cherniak
Finally, as WeaveSphere came to a close, the Pitch Stadium opened, hearing from a wide variety of startups.
They came, they pitched, and in the end, Iman Bashir and Nicole Lytle of Craftly.AI, a copywriting assistant that uses AI to generate original content, took home the $50,000 prize to help grow their business.
WeaveSphere was a uniquely collaborative, innovation-focused conference filled with engaging workshops, presentations, and networking opportunities.
---
DX Journal is an official media partner for WeaveSphere. Check out our series of articles from the lead-up to WeaveSphere.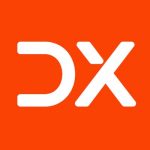 DX Journal covers the impact of digital transformation (DX) initiatives worldwide across multiple industries.
7 Digital Transformation trends on the horizon for 2023
Salesforce's MuleSoft reports seven trends that are key to balancing operational pressure and improved customer and employee experience.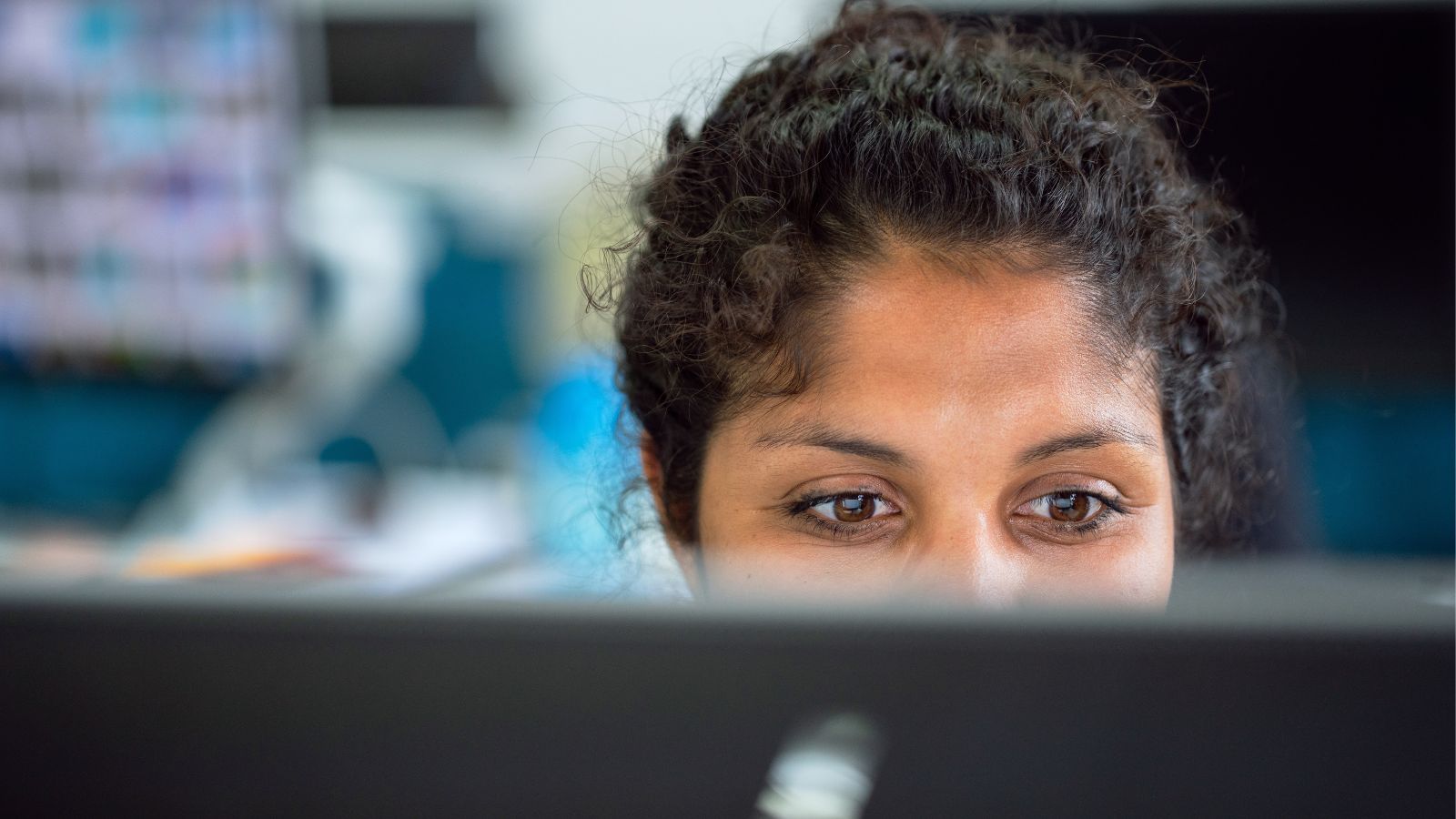 Efficiency and growth are at the heart of many a business plans right now, even though an economic downturn is widely predicted to be on the horizon.
In the face of these organizational pressures, Salesforce's MuleSoft recently released a report detailing their predictions and insights for digital transformation in 2023. In the report, they outlined seven trends that are going to be crucial for organizations that want to overcome these pressures while keeping the gas on customer and employee experiences.
As MuleSoft Global Field CTO Matt McLarty explained, "as companies gear up for the year ahead, businesses must recognize that effectively utilizing new digital techniques is the only way to ensure growth amidst economic pressures."
"Investing in cost efficient, employee- and customer-centric technologies will be critical for companies seeking to remain agile and break away from the competition in 2023."
Here are MuleSoft's seven digital transformation trends-to-watch:
Increase in automation investment
MuleSoft's research has validated what many in the industry have already predicted regarding the projected growth of automation tools. According to a previous survey, roughly 80% of organizations plan on incorporating hyperautomation into their technology roadmap within the next 24 months. This points to a paradigm shift in the way businesses operate, as they move away from reliance on manual processes to a more digitized and technology-enabled future.
Composability is key
MuleSoft and Salesforce predict that in lieu of the point mentioned above, companies will be inclined to implement strategies like low/no-code platforms and application programming interfaces (APIs) to make their automation efforts more composable.
The rise of low/no-code tools
The report from September found that 73% of leaders agree that acquiring IT talent is the hardest it's ever been, which makes perfect sense given the global shortage of software developers. In order to free up resources and enable a wider range of employees to participate in digital transformation, low/no-code platforms will continue to grow in popularity.
Investment In total experience (TX) strategies
Amid findings that 86% of IT leaders believe that both employee and customer experience (EX and CX) are as important as a company's products, MuleSoft's research anticipates that organizations will increase their focus on delivering great experiences through loyalty and advocacy.
CX and EX initiatives will work in tandem to increase revenue and retain talent, focusing on integration and automation that connect the dots where these two meet.
Data-Driven Decision Making Should Be Technology's Job
Salesforce research highlights that 83% of organizations consider data-driven decisions to be a top priority in their organization. This data, however, is often siloed. As a result, MuleSoft predicts, 2023 will see the rise of real-time analytics to bread down silos, to "create a data fabric that provides automated, intelligent, and real-time insights and reduces untimely decisions."
Cybersecurity Is Set to Scale
Expect to see more organizations invest in a cybersecurity mesh approach in order to secure data as it moves between multiple cloud applications. This is in response to data from Gartner that claims doing so could reduce the financial impact of security incidents by 90%.
Sustainability Will Be a Priority
Organizations are likely to increase their adoption of data-driven insights and integration across supply chains as they seek to become more sustainable.
---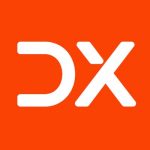 DX Journal covers the impact of digital transformation (DX) initiatives worldwide across multiple industries.
CEOs are pausing or slowing down DX strategies over anticipated recession
KPMG's 2022 CEO Outlook found that 40% of respondents are rethinking their digital approach ahead of potential economic downturn.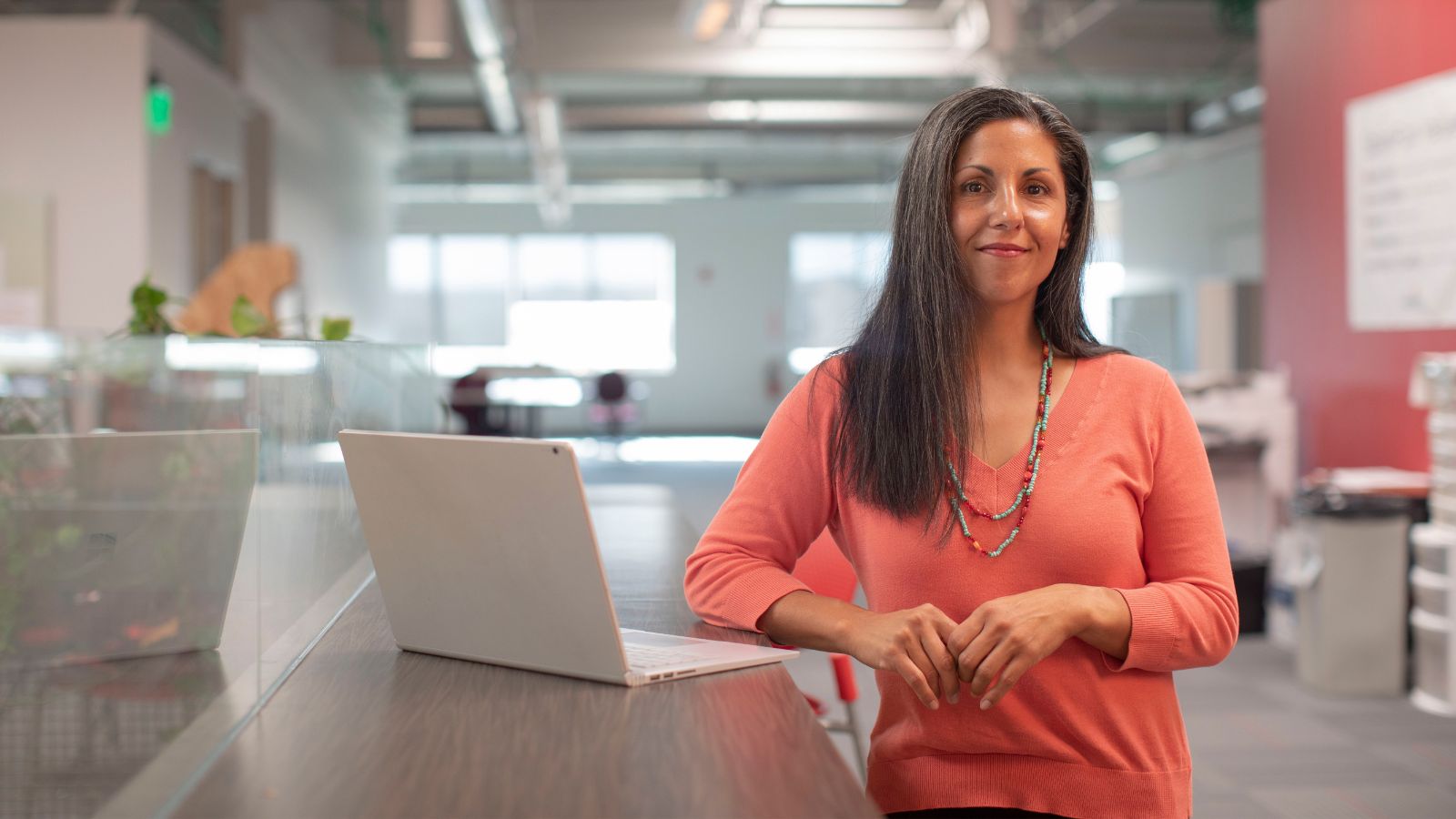 First came COVID-19, which forced many organizations to quickly accelerate their digital transformation strategies. Now, a looming recession that's expected to descend in early 2023 is forcing many CEOs to reconsider and retool their approaches to digital.
KPMG's new 2022 CEO Outlook is a look at the overall business and economic landscape from the perspective of 1,325 global CEOs across 11 markets. While there are a variety of insights, zooming in to the tech-related outlook, CEOs are largely pinning their digital investments to areas of growth, with a special emphasis on partnerships and preparedness. Also at the top of mind is technology risk in both the short and long term.
Over the next three years, according to the report, disruptive technology is going to be the top risk and greatest threat to growth. As a result, 70% of respondents say "they need to be quicker to shift investment to digital opportunities and divest in those areas where they face digital obsolescence."
Digging in further, the report found that in light of the anticipated recession, four out of five CEOs are pausing or reducing their digital transformation strategies. Breaking this number down, 40% have paused or reduced, and 37% plan on pausing or reducing over the next 6 months. Ultimately, however, digital investment is still a priority, with 72% of respondents saying they have an "aggressive" strategy for investment.
"It's no surprise that more than half of CEOs responded that they are placing more capital investment in buying new technology," says Carl Carande, KPMG's Global Head of Advisory, in the report. "These investments include an emphasis on cyber security culture, which CEOs say is just as important as building technological controls as fears of a cyber attack grow as a result of geopolitical uncertainty."
As a result of this geopolitical uncertainty, 77% of respondents see information security strategically, and as a potential competitive advantage. However, 24% of respondents said they are unprepared for cyber attack, up from 13% in 2021. 
Learn more about KPMG's 2022 CEO Outlook, and download the full report.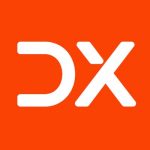 DX Journal covers the impact of digital transformation (DX) initiatives worldwide across multiple industries.