Three big examples of DX culture shift
Digital transformation is not just about technology and big ideas. For digital transformation to be undertaken smoothly, a cultural change, involving all employees, need to take place.
Most headline messages about digital transformation discuss the necessity of switching from legacy systems; avoiding siloed data; and focusing on developing the digital understanding of C-suite executives.  What is often missing from the discussion is the need to develop a new culture. This is a culture of innovation, understanding and shared values in order to innovate product and service development.
Changing mindsets
Analysis by MIT Sloan and Deloitte into business-focused digital successes and failures concluded:
"The history of technological ad­vance in business is littered with examples of companies focusing on technologies without investing in organizational capabilities that ensure their impact. In many companies, (failures are) classic examples of expectations falling short because organizations didn't change mindsets and processes or build cultures that fostered change."
The survey also found, as Sloan Review summarizes, that the ability to digitally reimagine the business is a key factor of clear digital strategy. Such organizational vision, supported by leaders, fosters an innovative, change-friendly culture. For this to happen, the workforce needs to willingly and determinedly take on the digital transformation path.
Taking employees on the journey
This means every employee in the company should understand and support collaborative practices, innovation, open culture and adopting a digital-first mindset; plus, having the agility and flexibility, customer centricity to deliver change. Once this is in place a data-driven culture will start to form and new technologies can be steadily adopted.
This means companies need to implement systemic changes in how they organize and develop workforces. Organizations also need to seriously consider how they drive workplace innovation, and work collectively to cultivate digitally-minded cultures and experiences.
Coca Cola
As to how this might work in practice, one example is Coca Cola. The company acknowledges that culture change is one of the most difficult aspects of digital transformation to realize.
The soft drinks firm's digital strategy officer, David Godsman notes that changing culture across the marketing team is the hardest thing Coca-Cola has to tackle as it undergoes the necessary transformation to bring the enterprise into the digital age.
Coca Cola is also attempting to alter its customer focus, acknowledging the need to create personalized experiences for consumers and customers, to fit in with consumers seeking multi-channel experiences and fast mobile access, especially when receiving promotions.
Latitude financial services
A second example of digital transformation with a customer focus is with Latitude financial services. According to Caroline Ruddick, who is the company's general manager of marketing, there needs to be a twin strategy of developing and improving the customer experience. This shift in strategy, says Ruddick, must be bound to the process of ensuring that employees are responsive to the changes taking place within the organization so they can successful and emphatically offer high quality outfacing services.
Tied up with this is recognition that customers are increasingly more concerned about the experience of dealing with a product or company, seeking an easier, multi-channel offering, and they are less concerned about the actual product, or at least with having any significant loyalty to one product over another.
Adobe
Adobe provides a third example of a company that has recognized the value of culture change. According to Vision Critical, when Adobe made the decision to transition from physical software to a cloud-based model, the company recognized that it was necessary to shift its employees' focus towards the the customer.
This was undertaken by developing a staff Experience-a-thon. Adobe had employees role play testing and providing feedback on Adobe portfolio of products, pretending to be customers. This led to an employee engagement strategy and a shift in culture, paving the way for Adobe's evolution into a cloud company.
These examples demonstrate that the 'big moment' for an organization is when it embraces the fact that digital transformation is not a a technical problem to be fixed, but instead it is a cultural change to be enacted through the enterprise.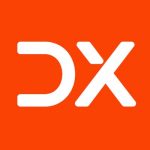 How to maintain strong culture in an age of layoffs
Embracing honesty, transparency, and fear (yes, fear) in the workplace.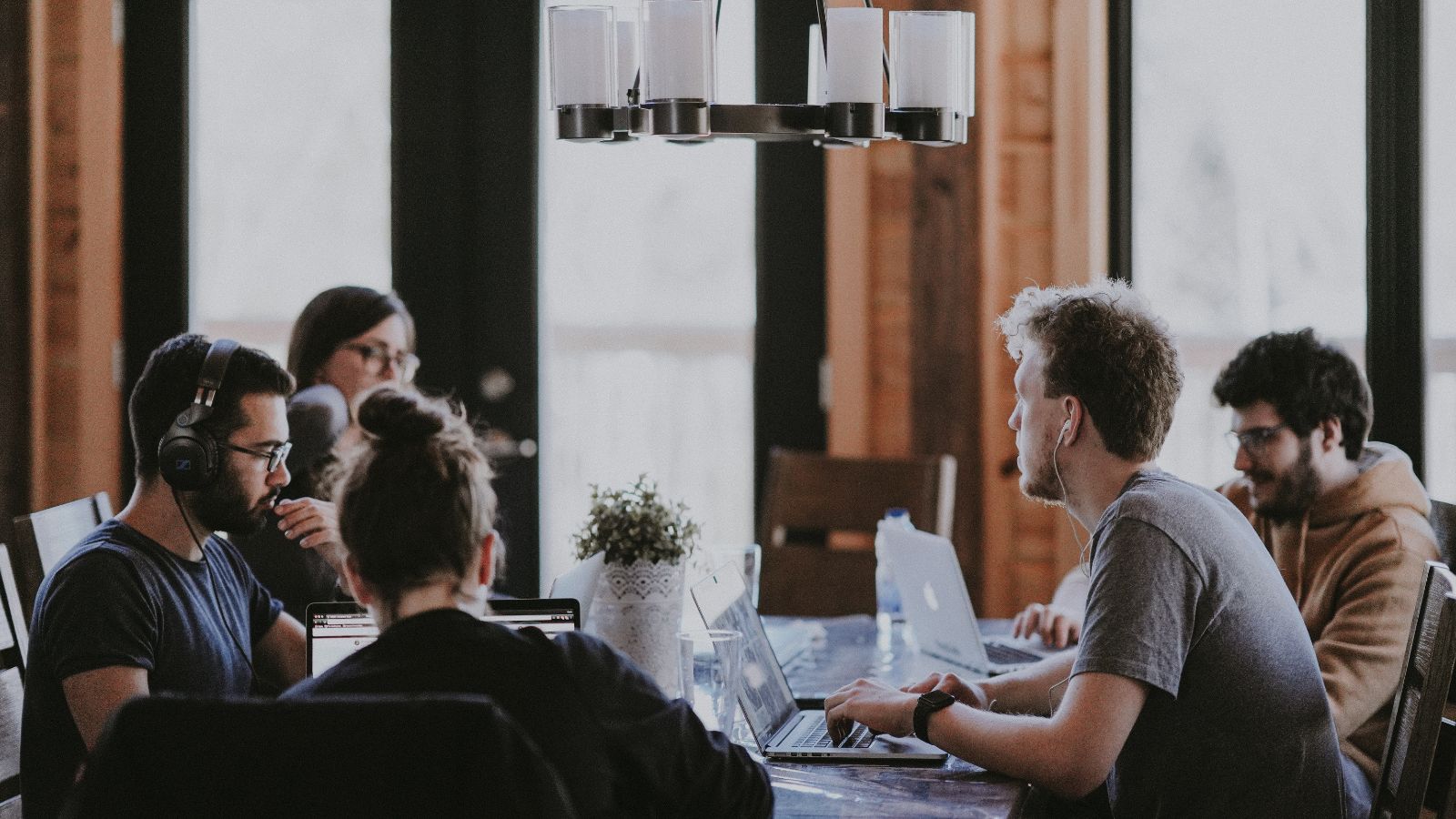 The staff at Virtual Gurus in Calgary have some important things in common, according to founder and CEO Bobbie Racette.
The company, which operates a marketplace of virtual assistants, is buoyed by shared attitudes, behaviours, and values, Racette says — meaning staff know who they are as an office, and "what is their 'why.'"
The recipe for a strong office culture is cultivating this clear and unified understanding of the mission, vision, and values of a business, she says.
"If we're all following that, then we're all under the same culture, we're all understanding that we have a good office culture," Racette told DX Journal in May.
For the expanding startup that began in 2016 — and that Racette told the Times Colonialist in March is now worth $70 million — the formula makes sense.
But what if fear replaced that unity, or buying into a company's mission, vision, and values was a tougher sell?
What if a company is circling, or undergoing, layoffs?
"Layoffs test a company's culture both when they occur and further down the road when those at the company begin to establish their new normal," Green Circle Life CEO Dinesh Sheth wrote in a May Forbes column.
In fact, Sheth said the fear of layoffs can spread to employees "even if they have no real reasons to fear for their own job security."
But experts say there are ways to mitigate these office anxieties, and even maintain office culture despite them.
"Let's be real, fear can go a long way in the workplace," Racette said.
"But I think it's just understanding and embracing the fear with [your staff]."
Transparency and communication
There's job anxiety in tech, and it's understandable: layoffs in the sector have generated plenty of conversation in recent months, and at the time of this writing, aggregator Layoffs.fyi reports that globally, 199,759 tech jobs have been lost since the beginning of 2023.
Racette actually knows a thing or two about getting laid off. Once a safety technician foreman in Alberta's oil and gas sector, Racette was a casualty of a 2016 downturn that caused her to lose her job, the Times Colonialist reported.
What appeared as life's misfortune proved to be the opposite: by the following year, she had founded Virtual Gurus.
The company recruits skilled remote assistants based in Canada and the U.S. who traditionally face barriers to employment, such as neurodiverse, Indigenous, and 2SLGBTQIA+ talent. Then, it matches businesses with those assistants.
According to the University of Victoria's Gustavson School of Business, which recently named Racette its 2023 Distinguished Entrepreneur of the Year, more than 800 virtual assistants have used the platform and "Racette recently closed a successful $8.4 million Series A funding round, becoming the first Indigenous woman in Canada to do so."
But despite these successes and efforts to build a unified culture centered around those shared office beliefs, Racette admits her own company isn't immune to fears about the layoffs that make the tech sector so notorious.
"I've had, like, two employees in the last week or so go to our HR department and say they're really scared that they're going to lose their job, because they feel that they're not performing as well," Racette said.
"And the number one thing is essentially being completely transparent."
In regards to maintaining corporate culture amidst layoff anxiety, this is perhaps the most resounding advice from experts across sectors.
"Proactive, open communication to ease employees' anxieties over their job security … can make a difference in their view of their work culture, resulting in improved productivity and holistic happiness at work," Sheth wrote.
And should it come to actually letting people go, that transparency should be maintained. Communicating clearly and sensitively is critical to maintaining trust, according to HR Cloud.
"When layoffs are not conveyed to employees effectively, it may result in resentment, disorientation, and a deterioration of trust between you and your employees," it said.
"As a result, this communication process must be handled with considerable delicacy."
Embrace the fear, acknowledge emotions
An important thing to understand about having a job in tech — or even just being human, Racette says — is that fear is normal.
And from the current macroeconomic environment to ChatGPT, there are plenty of developments happening quickly within the sector that are likely to generate uncertainty, she says.
But according to Racette, it's possible to create an environment where people feel fears that are natural while also feeling confident and safe.
It involves understanding and acknowledging the layoff concerns of your employees, and letting them know it would be a last resort.
"Say, hey, you know, we're going to do all we can to make sure we don't have to do layoffs. But if we do get there, you know, this is where it's going to be," Racette said.
"But let's continue working. And, we got this. Let's keep growing as a company and keep going."
If a company must conduct layoffs, experts say it should be reiterated to staff that other options were exhausted.
"You want to model to your organization that reducing staff was the last measure taken after dozens of other alternatives," Yahoo Finance's Janine Yancey wrote last August.
And while Racette says it's important to acknowledge the emotions that can occur before layoffs are even on the table — like fear — Yancey said it's also important to acknowledge the ones that surface after layoffs have happened.
"People are afraid for their jobs and upset that friends and co-workers are gone. They also may feel that they now have more work on their plates. Be ready to talk about this — anticipate these feelings and questions," she wrote.
Let staff know what to expect
In addition to maintaining transparency, acknowledging fear, and ensuring employees trust their employer will do whatever they can to avoid layoffs, there is a final piece of advice Racette offers to tech companies hoping to maintain their corporate culture.
"The other thing is making [your employees] understand, too, that if that ever happens, they will be given a package," she said, "and that they're good."
If employees know what to expect if the worst should happen, it can help temper fear of the unknown.
And as a company, trying to take care of those you are letting go is also important.
"Do what you can to help affected employees move on quickly," Yancey wrote, citing Airbnb, which conducted layoffs in 2020, as an example of a company that showed consideration until the end.
"They covered their whole recruiting staff into an outplacement team, offered stock acceleration for employees, and created systems to map all their departing staff to open roles worldwide. They turned their company into an outplacement force never seen before," she said.
"This resulted in departing staff being almost more loyal to Airbnb despite being let go."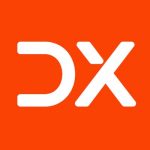 DX Journal covers the impact of digital transformation (DX) initiatives worldwide across multiple industries.
How to build company culture in a scale-up
Culture is no small thing, and according to Virtual Gurus founder and CEO Bobbie Racette, communication — and even getting uncomfortable — is key.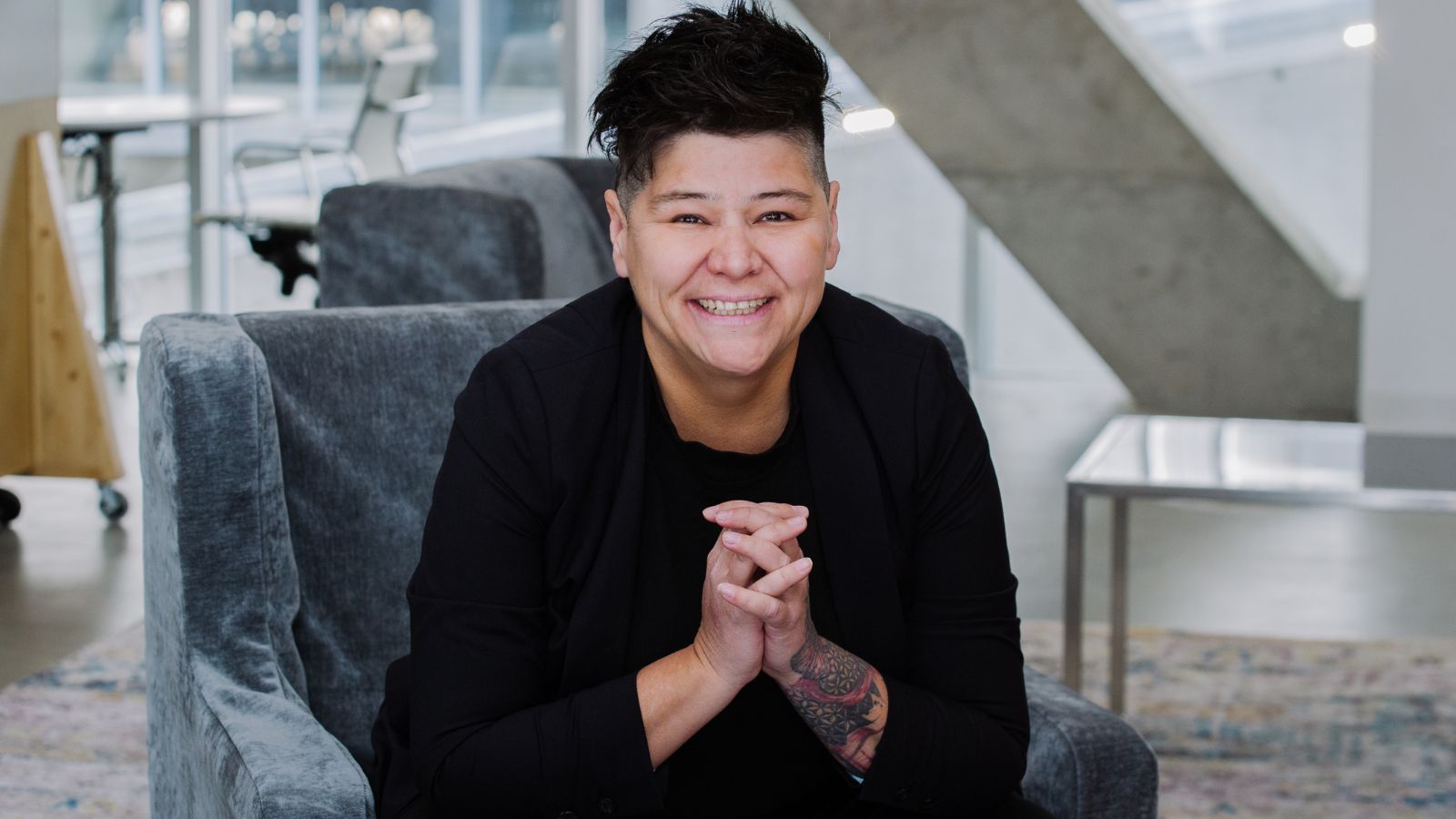 Anyone can type out a vision, mission statement, and outline some core values. But Bobbie Racette, the founder and CEO of Virtual Gurus, took things one step further: she made sure it was posted at the entrance to the company's office with messages of inclusion and acceptance.
She says those messages are a central part of the company culture, which she sees as a shared belief in acceptance that unites the approximately 50 people working in the company's headquarters.
But even with such a visible statement, she struggled to maintain a company-wide focus as the start-up grew and expanded.
"Even though the pandemic was still 300 percent, year over growth, we broke internally," said Racette. "Because our culture was just a mess."
For Racette, it required her to realize she couldn't just instill that culture and stress its importance to her leadership team, hoping it would trickle down. She couldn't just put it on a wall. She had to model those beliefs and bring them directly to all of her employees.
And she had to listen.
So, what really is culture?
The struggle of building and maintaining culture through rapid growth isn't rare. The start-up world is littered with companies that lost their way.
Culture is no small thing. It's the foundation of a business and helps guide decisions — from the big to the mundane. If the focus is sharp and the will is there, it will help guide who is hired and how they fit into the larger team.
It's not about what the office looks like, or free lunches and abundant snacks — the sort of perk-heavy, laid-back office that has come to be associated with tech startups. The atmosphere of a place is not the core of what it means to work there.
Finding and nurturing that core is particularly important for Racette and Virtual Gurus, which provides companies with remote workers on everything from social media to accounting, and focuses on providing employment for underrepresented communities.
"I realized I had to pull back some of the perks and then push the values and I had to essentially retrain everybody to think, 'wait, if I'm gonna get the perks, I gotta live with the mission, vision, and values, not the other way around,'" said Racette.
The culture she wanted at the company prioritizes inclusiveness, but also innovation, agility, and positivity. Racette realized it was critical to screen out those who didn't buy in or could be toxic to the kind of workplace she needed for her company.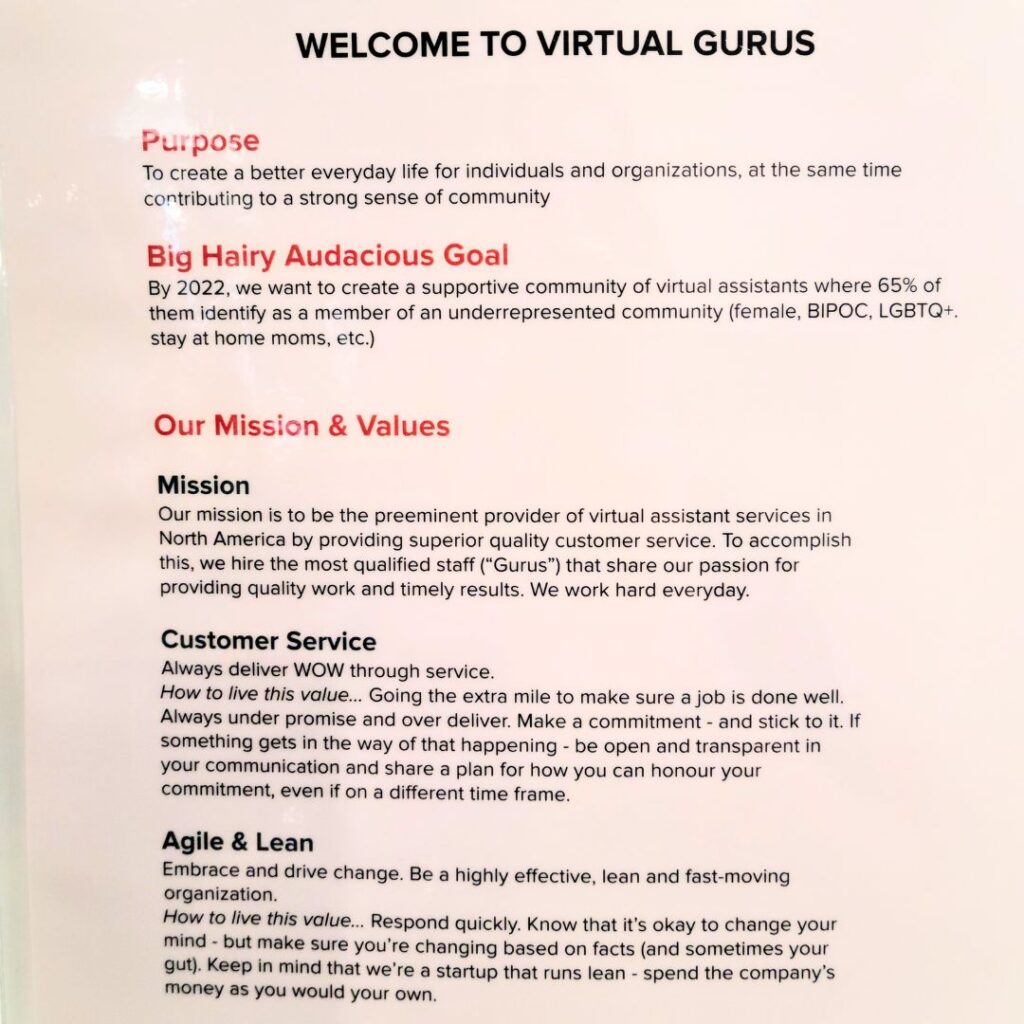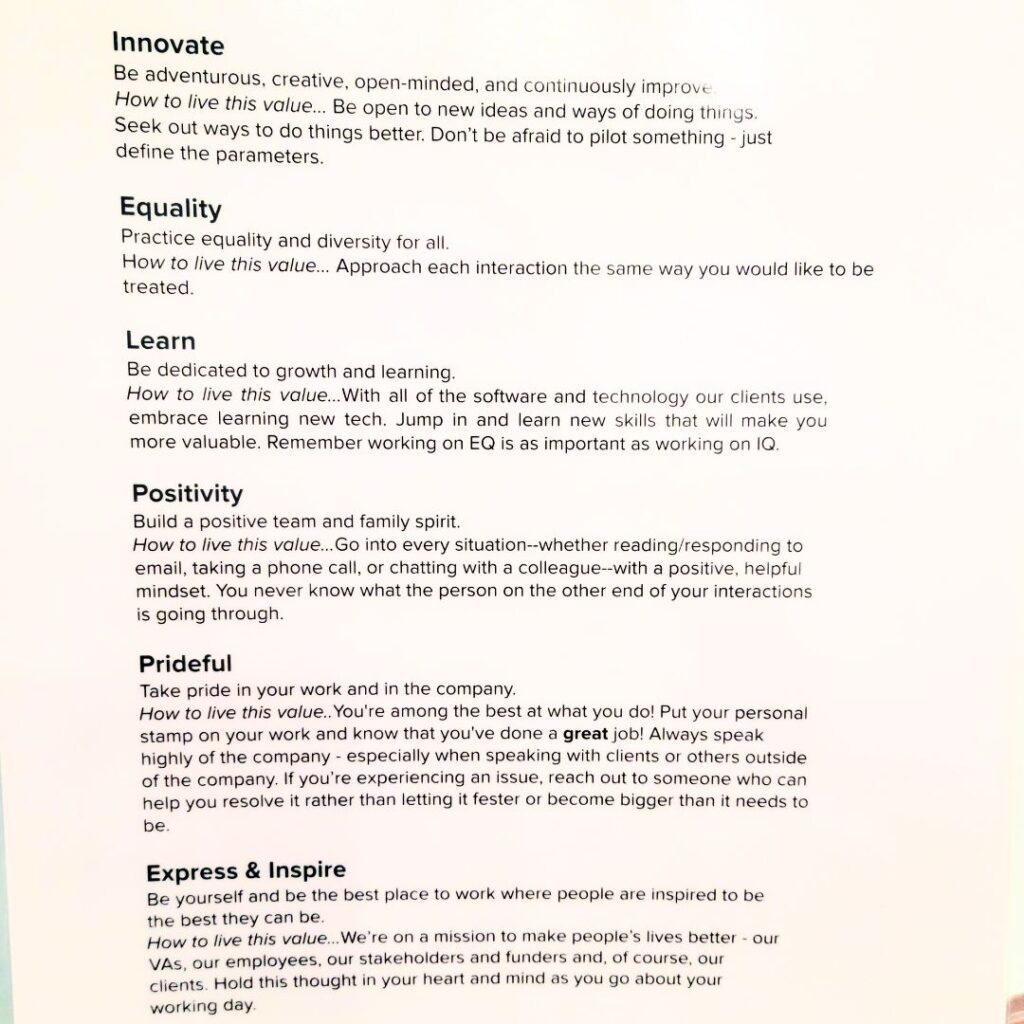 "I truly believe that in order to get comfortable, you have to get uncomfortable first. So our entire company had to go through an uncomfortable moment," she said.
And those values she's so determined to nurture are personal and hard-earned.
"I have lived through the barriers of being an Indigenous woman, a queer Indigenous woman, who has tattoos and… can't get a job," she said at the recent mesh conference in Calgary.
How do you maintain culture through growth or scale-up?
When Racette started the company in 2016, maintaining that culture was easy.
She was the only employee.
Then came funding rounds and growth. More employees in the office, but also more and more virtual assistants — over 1,000 at last count — spread across North America.
"You can run a company all day long, but when you're scaling, you have to pivot left, right, and center all the time," Racette told mesh conference attendees.
"And so when you pivot, you have to take your whole company and pivot with you, and when you're doing that you have to keep the culture during that."
Screening out those elements toxic to the culture at Virtual Gurus was an important step. Research has shown that toxic culture is a big driver of what's been dubbed "the Great Resignation."
Racette also followed the advice from organizations and other businesses when it comes to managing growth and culture — from hiring to setting targets and ensuring she is accountable for both change and cultural stability.
Communication, she said in a recent interview, was key.
"I send out weekly CEO updates by email, and then we'll have all-hands meetings twice a month, and I host those," said Racette. "So I'm very communicative about why and how the culture is changing."
Central to that communication is allowing staff to offer feedback, listening closely to what they're saying — and not being afraid of criticism. She now does what she calls a daily "lion hunt," going through the office and checking in with employees.
She also says there has been an increased focus on all of the virtual assistants who form the backbone of the company, but who can't be there in person for her walks around the office. The company has created a virtual hub to maintain those connections, providing incentives and perks, while also emphasizing the importance of the company values and mission.
"We don't just treat them like a number," Racette said.
But like those words written at the entrance to the company office, it takes more than spelling it out and carrying on.
"You can talk about it all day long, it's actioning it," said Racette. "And that's one thing I've noticed with us is we were talking about the culture, but we weren't actually actioning it."
And, of course, incentives work too. Racette says employee bonuses worth four to eight percent of their salary now hinge on whether they follow the company values.
How has work culture changed over time?
Contemporary workplaces, and certainly startups, are a different beast than the offices of old. They are nimble and often more flexible. And unlike many formal offices, there's no dress code at Virtual Gurus.
But it's also about how company's measure and value work — something that can have a profound impact on culture.
"I think it's changed from being activity and action-driven to being more outcomes-focused," said Racette.
At her office, employees aren't judged for showing up late, or engaging in more activities that don't necessarily lead to the right kind of results. If it takes five hours for someone to do all their work, then so be it.
Racette wants her staff to be accepting of those around them, and to be adaptable in the face of constant change. In order to get there, it only makes sense to put that same faith in her employees, leading down to nurture that all-important culture.
"You can't fix your culture or have a good culture unless people have a psychologically safe space to work," she said.
Stepping off an elevator and seeing a wall plastered with good intentions is one thing, but walking into an office where employees are all committed to goals based on those shared values is another, more successful thing altogether.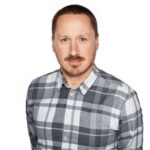 Drew Anderson is a Calgary-based journalist and is the prairies reporter for The Narwhal. Prior to joining The Narwhal, he worked for CBC News and was the editor and publisher of the now-defunct Fast Forward Weekly.
Rising costs, work-life balance among top mental health stressors for Canadian entrepreneurs
A look at BDC's latest survey results on mental health challenges for Canadian entrepreneurs.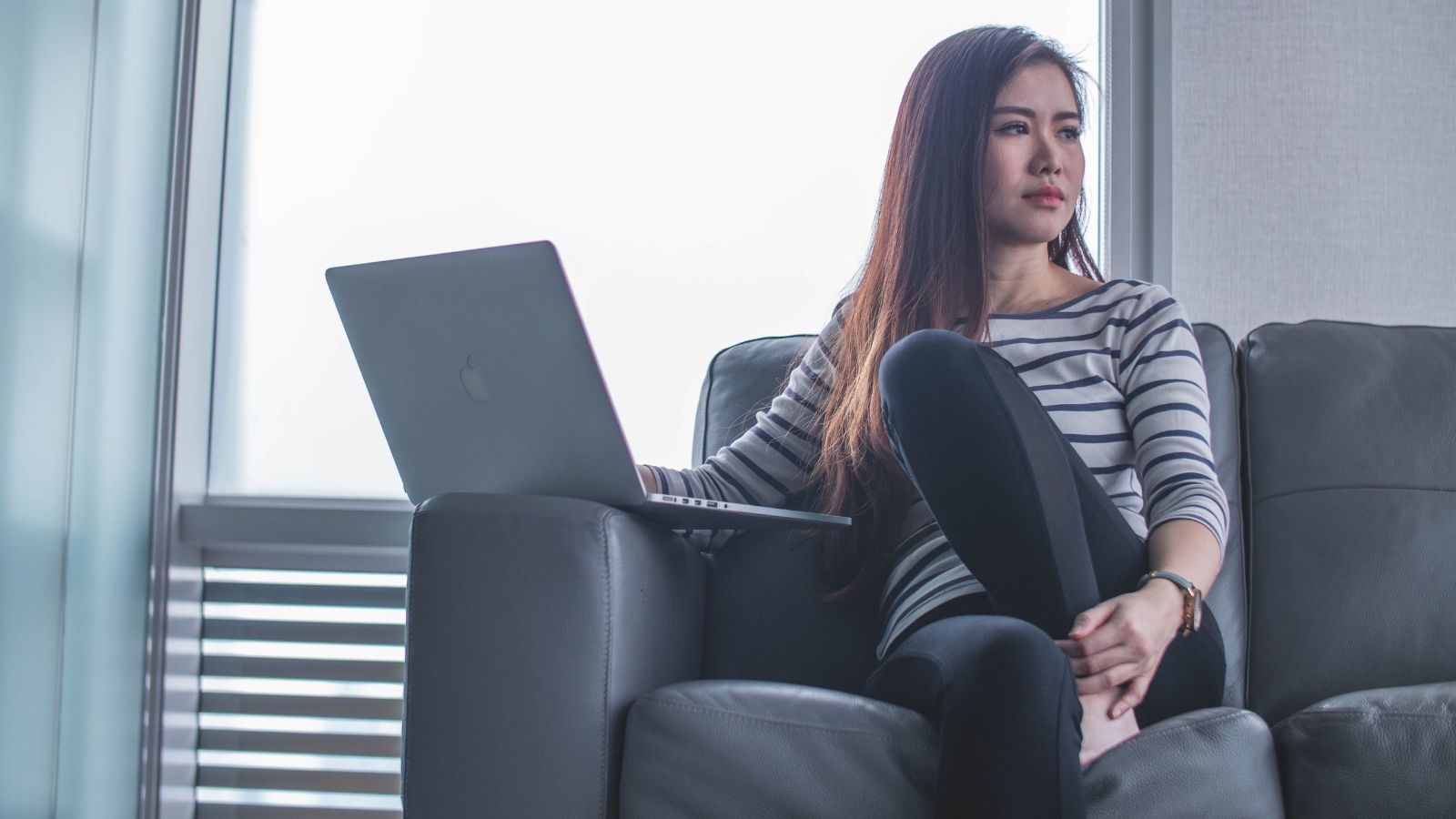 Have you recently gone into business for yourself? BDC's latest survey indicates a higher likelihood of you facing some mental health challenges.
And you're more likely to seek professional help if you're a:
Women
Younger business owner
Business owner with 20+ employees
Business owner in the arts, entertainment, and recreation fields
Startup business owner
While men and older business owners were less likely to seek professional health, that doesn't necessarily equal fewer mental health challenges.
Indeed, BDC's latest survey on 1,500 Canadian SME business owners and mental health illuminates a concerning 45% increase in Canadian business owners facing mental health challenges (compared to 38% last year).
Here are some more highlights from the report:
More Canadian entrepreneurs feel tired and depressed, with fewer seeking help
The survey responses show that 67% of entrepreneurs felt tired and low-energy at least once a week. Similarly, nearly 50% felt depressed and like they didn't accomplish everything they would have liked to.
"Entrepreneurs often comment that it feels lonely at the top and rarely speak candidly about organizational and personal challenges," said Hassel Aviles, co-founder of Not 9 to 5.
While certain groups are more likely to seek support than others, the survey still only shows about a third (35%) of respondents actually sought mental health support.
And the hesitation isn't a matter of pride. The top barrier to seeking help was the high costs of mental health services, with uncertainty and discomfort discussing things following close behind.
"I currently pay out-of-pocket for a private therapist," said one anonymous survey respondent. "I am very grateful for that, and I click with my therapist well, but it typically costs me $200- $400 per month. This is a hard expense to tend to in the current economic situation."
Inflation and work-life balance are top stressors
The survey showed that 54% of entrepreneurs cited inflation and work-life balance as top stressors. The two go hand-in-hand, since rising costs fuel longer hours to make ends meet. Notably, work-life balance was a more sought-after support to mitigate the stress, followed by better access to mental health resources.
"Inflation rates and other factors are affecting their businesses in ways that are harder to control, leaving many entrepreneurs resorting to working even longer hours just to stay afloat," said Annie Marsolais, CMO at BDC.
Small business owners are just as mentally strained as medium business owners
You might assume these findings apply more to "bigger" business owners with 20+ employees. But the survey profile indicates that 88% of respondents have under 20 employees, with 56% having under five employees.
"As individuals, we can't control the rates of inflation and the stress it may cause," said Aviles. "But we can learn to manage our reactions to that stress. Learning how to do this is an opportunity to create separation between who we are and the work we do, which is healthy, and supports the work-life balance entrepreneurs are seeking to achieve."
Read BDC's full survey results.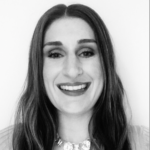 Veronica Ott is a freelance writer and digital marketer with a specialization in finance and business. As a CPA with experience in the industry, she's able to provide unique insight into various monetary, financial and economic topics. When Veronica isn't writing, you can find her watching the latest films!