The future of work continues to be rewritten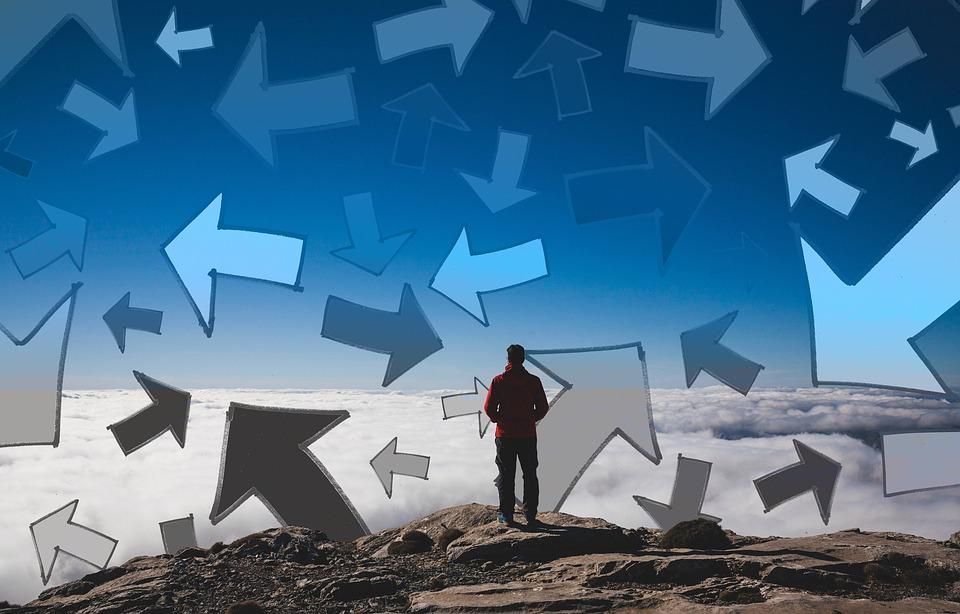 This post references my recent presentation at Startupfest, Montreal. I've been studying the future of work for a number of years and it's now come full circle in an environment and among business leaders who are more accepting of what's in store in the coming decades and what they need to do to survive.
Currently, we live in this world of imbalance. Do you remember when business had a strong influence on how the markets behaved? We've seen this decline over the past few decades and business is being held hostage by their own doing. These corporations built these infrastructures based on markets that were predictable and environments that were relatively stable. The tables have turned and today markets are moving at a speed where business is struggling to keep pace. I've seen firsthand how technology has wielded its way into the marketing and media sector. It changed the way people consumed information, how they interacted with each other and how they bought. At the same time, it has obsoleted the very practices I've known be true.
Look at what's happened in the last year alone: This digital disruption in retail has witnessed at least 21 U.S. retailers filing for bankruptcy protection in 2017 including Toys R Us, The Limited, and Payless. We have seen the demise of Sears in recent months.  The move to digital channels has been steady but incessant. Also, consider the changes within the $7.6 trillion global travel and tourism sector that necessitate continuous iteration of current business models. Because of Airbnb and Uber, which have, respectively, booked on average 100 million room nights per year and 40 million rides per month, pronounced shifts within this industry are happening today. At the heart of all this disruption is the explosion of adoption at the consumer level. The consumer is digital.
The most dangerous phrase … is: "We've always done it this way"
The way it was DONE could no longer be the way it WILL Be.
Consider the time it takes for a new product or technology to reach a significant milestone in user acceptance. It took the landline telephone 75 years to hit 50 million users. It took airplanes 68 years, the automobile, 62 years, and television, 22 years. Today, disruption is the new normal. Look at the impact of technology since the year 2000. YouTube, Facebook and Twitter were able to capture 50 million users in four, three and two years, respectively. These are nothing when compared to Angry Birds, which took a mere 35 days to reach 50 million users.
Creative destruction is moving at an accelerating pace. By leveraging the same systems, the same processes, the same best practices from legacy businesses to the predict market behavior, business will continue to chase the market and miss enormous opportunities.
Imagine a world in which the average company lasted just 12 years on the S&P 500.
A gale force warning to leaders: at the current churn rate, about half of S&P 500 companies will be replaced over the next ten years. The 33-year average tenure of companies on the S&P 500 in 1964 narrowed to 24 years by 2016 and is forecast to shrink to just 12 years by 2027.
Over the past five years alone, the companies that have been displaced from the S&P list include many iconic corporations: Yahoo! Staples, Dun & Bradstreet, Safeway, and Dell.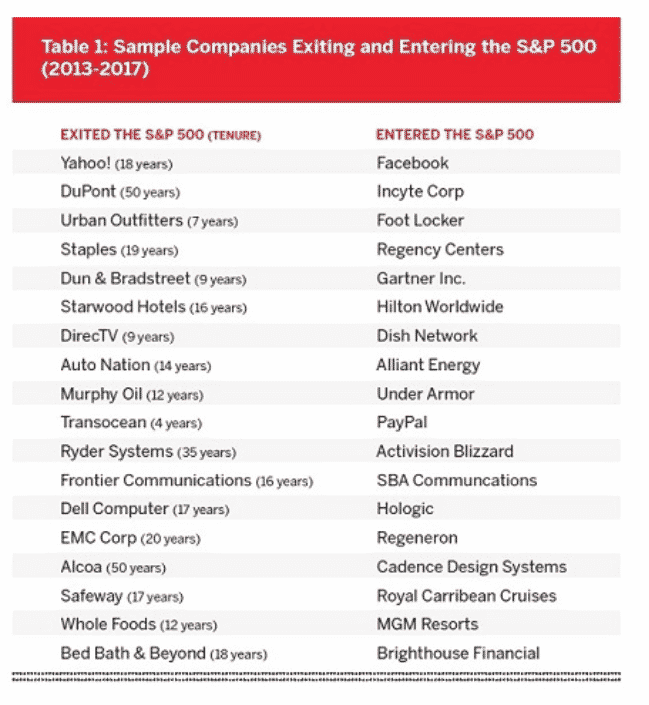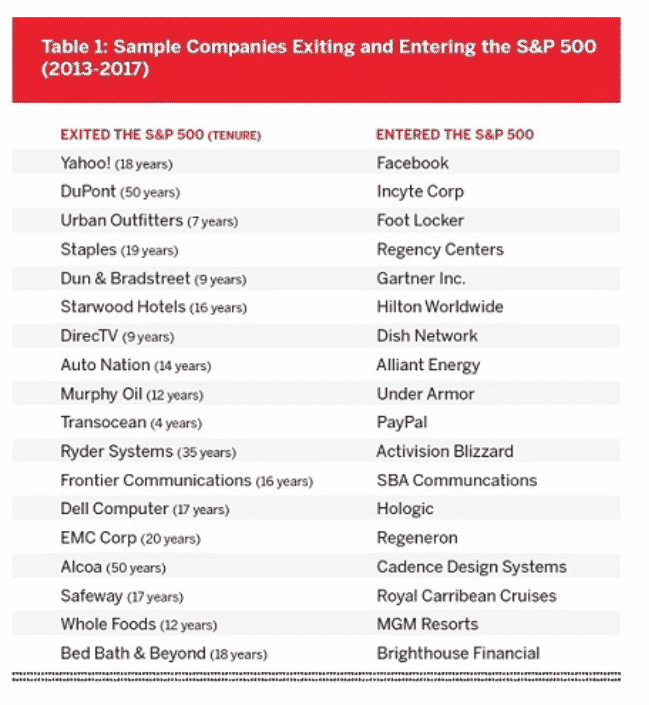 The environment is dictating how businesses organize
We have to consider the trends and what may seem like sustainable developments within the current environment, the interplay of technology and opportunity which will impact the way markets think, the way they behave and what they will expect. Four rising factors that will impact business include:
As Dave Gray, Author of the Connected Company pointed out,
"Business requires dismantling of its precious infrastructure"
New Mindsets: New Organizational Structure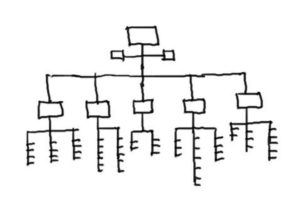 The way business organizes today is through process and hierarchy. There are only a few people at the top. The work is divided and everyone gets their box in which they work. Rules ensure all decisions are run up the flagpole. The industrial revolution created this structure as well as a system of disseminated accountability. It was easy to hide behind your job description and claim, "It's not my responsibility". The division of work created these silos that stifled information sharing and ultimately, the speed of decisions.
Business 3.o must be:
Make no mistake – companies will be judged by their customers, their employees, their partners and their investors. How business innovates around these constituencies will determine their longevity.
Enter "Holacracy"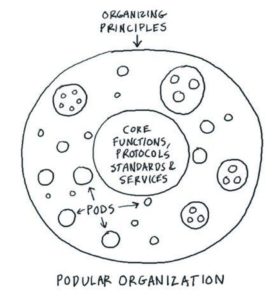 What has been around for decades but hasn't been as pervasive is this notion of self-management or HOLACRACY. This was developed through an agile methodology, which advocated the workflow. This allowed engineers to develop ideas without managerial direction. This "Fractal System is a complex, non-linear, and interactive system" and adapts readily to a changing environment. These systems are characterized by the potential for self-management especially in environments where balance does not exist.
So while the core functions are contained at the center of this org structure, including the policies and standards of the organization, the outer layer contains these pods of excellence, which allow for rapid experimentation, more fluid collaboration and where the members have direct accountabilities to the work unit. The individuals within these independent units are empowered to test, build, deploy, measure and iterate much more quickly than if they worked within today's hierarchical structure.
Business Must Design for Ambiguity
…where complexity and uncertainty are the rules.  Three strategies that respond to this environment include:
The Perpetual Learning Organization – Digital business requires companies to act and respond faster than they ever have before.  While modifying the current communication and decision making structures will enable this, the widening business-to-market gap will mean closing the skills and knowledge gap between employees and a marketplace facing continuous change. This requires organizations to embed learning management systems to bring employees up to speed on market trends, to train and re-skill them on new technology, to encourage participation in new product development, plus modify job roles so they evolve with the new technology.  This will create an expectation of life-long learning within the culture.
Design Thinking – This is a strategic practice that radically changes the mindset of an organization from "static to fluid." At the heart of this approach is to solve problems that are human-centered. In addition, collaboration is required cross-functionally to determine the impacts on all parts of the organization.  Rigorous data collection is required at all stages to ensure thorough identification of impacts to workflow and functional requirements. The focused group is created to speed up the process of innovation, get the required feedback and make autonomous decisions.  This method will discover redundancies in the current systems, but will also allow strengthening collaboration as employees within these groups will be much more energized to collaborate and own their solutions.  Projects will be able to go into production much faster as long as there is accountability and validation at each stage. This methodology fits squarely into the holocratic organizational strategy that ensures functional participation and empowers accountable experimentation and deployment.
Privacy by Design –  Data will drive everything in this century. Slowly boundaries are being severed between countries and organizations to contextualize information for the purpose of gaining increasing insight. What is also clear is the rise of the General Data and Protection Regulation (GDPR) that is telling organizations to slow down and put into place, standards and policy for the responsible collection, use and aggregation of information. Privacy by Design was developed by Dr. Ann Cavoukian, a 3-term Privacy Commissioner in Ontario. In the 1990's, Cavoukian conceived of this idea to address the growing "systemic effects" as communication and information technologies integrated within increasingly networked data systems. When companies in the future are faced with petabytes of data being streamed from multiple feeds, there will be a mandate to explain model outputs. As well, functionally embedding privacy that is fair and moral into each layer of our systems will be required. Defining "fair" and "moral" needs to be functionally explicit. Continuous audits for fairness within systems and practices will also be required. The patterns that algorithms will detect will create opportunistic tendencies. This quote from an executive at Salesforce at a recent conference summed up nicely how business should respond: "Just because you can, doesn't mean you should". As we marshall into more disruptive technology using data, business will need to understand the long-term implications for the society at large.
This is the future of the "long-lived" company:
Connected companies learn and move faster, seize opportunities and link to a network of possibilities to spread their influence. ~Dave Gray
The future of work means destruction of silos. The panacea is a more fluid organization where decisions are made at the edges, where the business is in sync with its market, and where business perpetuates a value system that keeps it humming nicely.
Please reference the presentation here.
This post originally appeared on Forbes.
Hessie Jones is the Founder of ArCompany advocating AI readiness, education and the ethical distribution of AI. She is also Director for the International Council, Global Privacy and Security by Design.  As a seasoned digital strategist, author, tech geek and data junkie, she has spent the last 18 years on the internet at Yahoo!, Aegis Media, CIBC, and Citi, as well as tech startups including Cerebri, OverlayTV and Jugnoo. Hessie saw things change rapidly when search and social started to change the game for advertising and decided to figure out the way new market dynamics would change corporate environments forever: in process, in culture and in mindset. She launched her own business, ArCompany in social intelligence, and now, AI readiness. Through the weekly think tank discussions her team curated, she surfaced the generational divide in this changing technology landscape across a multitude of topics. Hessie is also a regular contributor to Towards Data Science on Medium and Cognitive World publications.
This article solely represents my views and in no way reflects those of DXJournal. Please feel free to contact me h.jones@arcompany.co
IoT + Data Analytics = Store Operations Intelligence
How many times have you visited a grocery store the day before a snowstorm or other major weather event only to find the bread and milk aisles wiped clean? What might be a disappointment for you is also a missed opportunity for grocery stores, an industry with an already razor-thin 2% margin.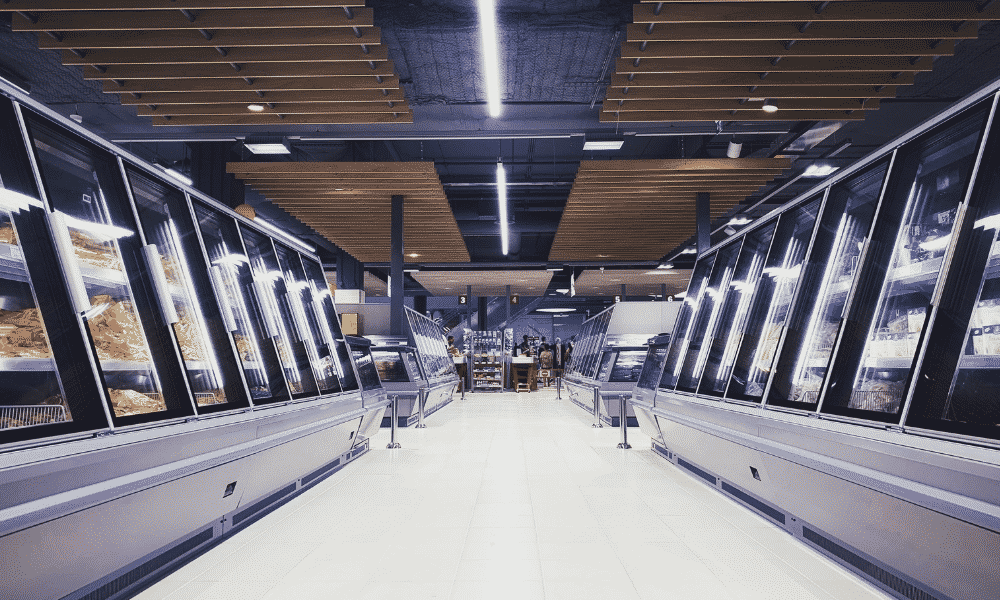 How many times have you visited a grocery store the day before a snowstorm or other major weather event only to find the bread and milk aisles wiped clean? What might be a disappointment for you is also a missed opportunity for grocery stores, an industry with an already razor-thin 2% margin.
Hungry for efficiencies
Inventory management, especially for perishables, is a delicate dance. Too little of it and grocers have lost a revenue opportunity every time a customer leaves empty-handed. Too much of it and grocers lose revenue again, this time from spoilage or having to slash prices to clear shelves. Spoilage is a significant problem — grocery retailers lose an astounding $70 million annually because of food simply going bad. 
Market economics further muddies the picture. A whopping 82% of grocery companies are increasing their stock of fresh foods in response to customer demand so there's simply more perishables to manage — and therefore more at stake.
To ensure not too much capital is tied up in unsold goods, grocery stores forecast demand and supply based on a variety of conditions, including weather, time of year, and even weekly foot traffic. But as Cognizant as observed, a whole host of additional factors affecting inventory management can drain grocery store revenues.
[Download]: Real Estate Manager Goes Digital
Smart systems
One of Cognizant's clients, a major supermarket chain, found that working with older equipment also challenged inventory management. 
Internet of Things (IoT)-embedded sensors track ambient temperature, temperature of the food, humidity and even electric current flowing into refrigerators to keep a pulse on perishables. But this leads to grocery stores drowning in data. The sensors cry wolf too often forcing the retailer to waste expensive technician time on every perceived crisis. Such waste happens because too often, sensors do not accurately reflect the whole story. 
Cognizant has shown that data alone is not enough, strategic reading of the data tea leaves also matters in increasing efficiencies. Using the IoT sensors, Cognizant helped the grocery retailer monitor inventory in real time — the pressure on sensitized shelves changes when inventory counts drop — and restock accordingly. Even better, Cognizant's solution analyzed the data feed in real time, at the edge. Algorithms accounted for many variables including work load, cost of energy at different times of the day, whether the door was open or closed, to recommend intelligent solutions. 
Using edge data analytics and IoT sensors, grocery stores can automate many fixes, proactive reorder inventory and even automatically churn out work orders for technicians only as and when needed.
When inventory management is a delicate and challenging operation, grocery retailers need to be strategic about how they invest precious resources. IoT + edge analytics is a game-changer. It gives retailers the intelligence they need to deploy resources effectively and proactively so they can better cater to demand and cut waste. 
IoT-driven asset management and data analytics will be key to success in the grocery industry. Climate change has increased the clamor for sustainability and less food waste. The timing for smart solutions could not be better.
Read more about Cognizant's IoT refrigeration solution here.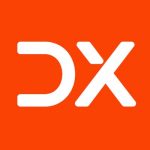 DX Journal covers the impact of digital transformation (DX) initiatives worldwide across multiple industries.
IoT + Big Data = Facilities Management Intelligence
In the equation IoT + X = Operations Intelligence, what role does big data play in facilities management?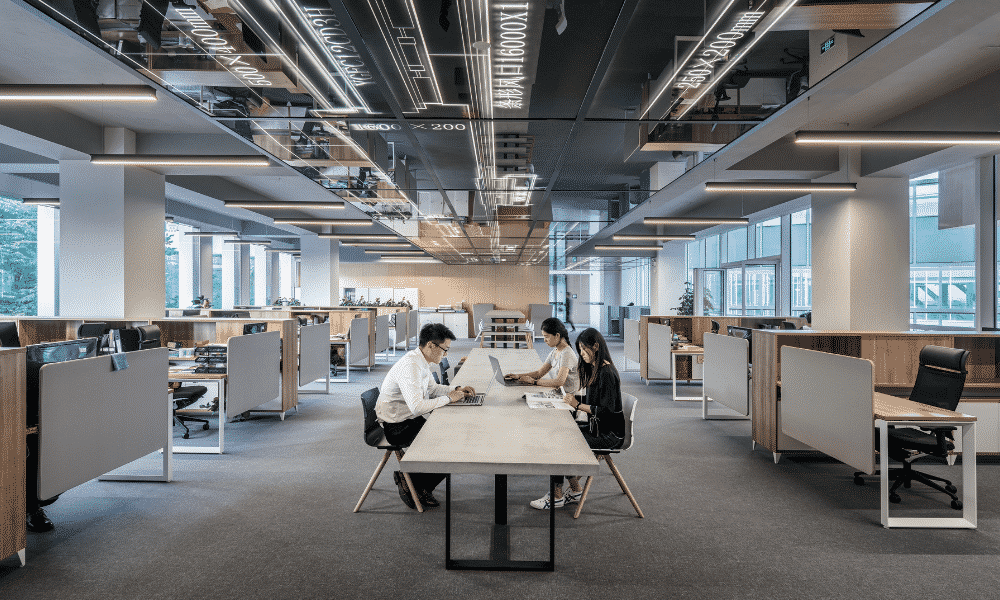 The way we work today has changed. The workforce is becoming mobile and companies rent temporary space depending on needs.
At the same time, facilities management professionals have a number of mandates, says Nancy Berce, chief information officer at Johnson Controls. They need to control costs while still delivering personalized experiences. They need to regulate access so only authorized personnel can enter key areas of buildings. They need to conform to wider regulations imposed by the pressing concerns of climate change.
[Download]: Real Estate Manager Goes Digital
The Internet of Things (IoT) helps deliver such efficiencies by helping facilities management professionals harvest and analyze big data — smarter and at scale.
The parallel evolution of big data and IoT
Facilities management professionals have monitored heating and cooling systems and fire and security systems for decades. But IoT has delivered a fundamental shift in how that monitoring occurs. IoT-embedded devices can relay health of the equipment in real time and the big data from such equipment help professionals manage facilities on a much more granular level.
No more blindly replacing all the light bulbs every six months. A digital-enabled platform can alert professionals to systems that are in danger of failing so the appropriate actions kick into action only as and when needed — with minimum cost to the facility and minimum disruption to the worker. "We now have a level of intelligence and insight from smart algorithms where we can be proactive about preventative maintenance and predict efficiency opportunities a lot sooner," Berce says. 
How to leverage big data and IoT
Johnson Controls' Bee'ah green building project, illustrates just how smart IoT-driven buildings can drive efficiencies at scale to deliver a nearly fully automated workplace of the future, with temperature and lighting controls just a few of the parameters that adjust depending on workforce distribution. 
IoT increases the number of data sets that facilities can play with and allows them to pinpoint trouble before it brings down the entire system. How does one leverage the benefits of big data and IoT to deliver intelligence?
Case Study: Advancing Smart Manufacturing Operations Value with Industry 4.0 Platform
First, connecting all the big data points together is key to see the larger picture, Berce says. Companies might already have the information they need for smarter operations, but they might be in silos. IoT data related to security, for example, can be connected to an active employee directory, to automate entry to more sensitive areas of buildings (think operating rooms in hospitals). Companies can even marry IoT systems with external weather data to manage their cooling systems.
Second, understand the insights you are looking for and use IoT accordingly, Berce says.
Third, retrofit legacy systems with IoT devices as needed. 
Finally, make the data analysis easy to visualize, advises Berce. A digital platform where professionals can easily detect anomalies makes it better to find the needle in the haystack and act on the intelligence that big data and IoT are delivering. 
IoT and big data allow professionals to do all things at once — to both zoom in and zoom out as needed. Such flexibility allows facilities management to meet the growing demands for efficiency while customizing personalized experiences for each and every worker.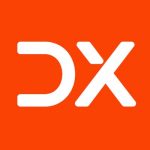 DX Journal covers the impact of digital transformation (DX) initiatives worldwide across multiple industries.
IoT + Smart Edge Computing = Operations Intelligence
In the equation IoT + X = Operations Intelligence, what role does smart edge computing play?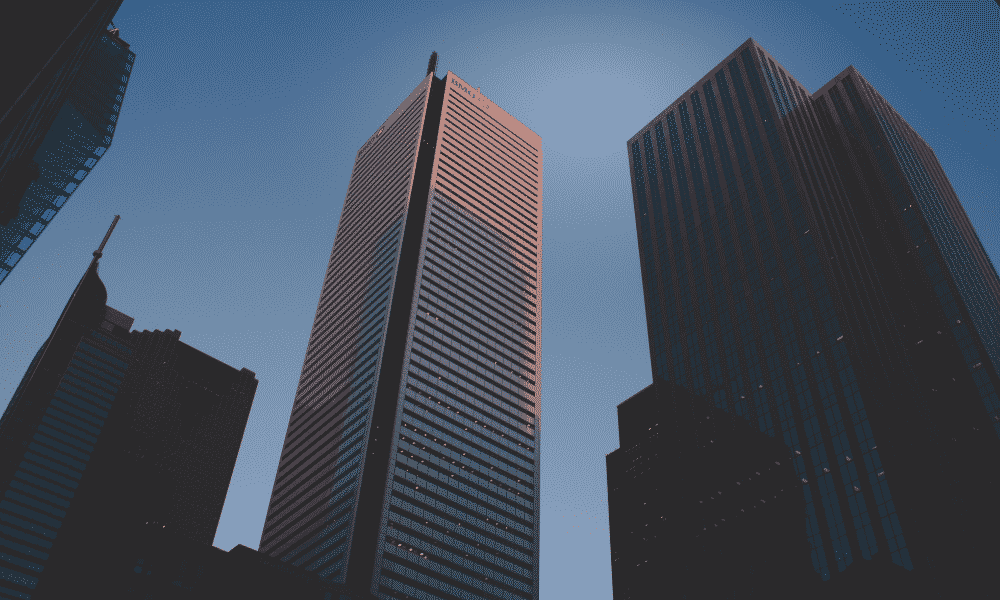 You don't always need a sledgehammer to crack a nut.
The general premise driving the use of the Internet of Things (IoT) and data analytics to deliver intelligence is that the end actions usually have to be executed through some kind of blanket (often human) intervention. The shaky fallacy at the core of this idea is that it takes a sledgehammer to a nut in that even small adjustments to operating conditions requires a large investment of resources. Smart edge computing addresses this challenge and applies a solution that is more proportional to the size of the problem.
[Download]: Real Estate Manager Goes Digital
Whether it's a thermostat or a light switch or a card reader, most edge devices that control today's commercial facilities are passive and wired devices, says Datta Godbole, the chief technology officer for Honeywell Building Technologies. Smart edge computing introduces a more efficient way of corralling the power of IoT to deliver operations intelligence. Smart edge devices can act on intelligence on the frontlines and save the heavy-duty computing for the cloud.
Smart edge computing helps companies, including facility management organizations, distribute computing needs more efficiently: you execute the small changes at the edge and save the heavy lifting for the cloud. "Time critical decisions are executed quickly without going to the cloud, while cloud computing is great for analyzing long-term trends through AI algorithms," Godbole says.
Decisions at the edge
It is this "quickly" factor, the latency that is saved, that makes smart edge computing so valuable as part of the equation IoT + smart edge computing = operations intelligence.
Imagine a commercial building packed with fire and smoke detectors. Facilities management needs to maintain and periodically inspect these devices, which involves days of intensive work. What if instead the smoke detector could signal when it's ready for maintenance – much like your car does? "In the future, all equipment in the building will be smart and can diagnose themselves and ask for help," Godbole says.
The IoT part of the equation comes from the many sensors measuring a variety of parameters including temperature, humidity, light, foot traffic, occupancy and more. The introduction of IoT expands the working data set so management can more finely calibrate the final experience. "If we have IoT sensors that blanket a whole building, that conduct micro-measurements of every part of the building, we get a much truer picture of what's happening in the building and you can control air conditioning or heating accordingly," Godbole says.
Case Study: Advancing Smart Manufacturing Operations Value with Industry 4.0 Platform
In a sense, IoT allows for both personalized comfort and efficiencies at scale. When an employee swipes her card and enters her workspace, what if IoT-embedded edge devices automatically gave her what she was looking for: a slightly warmer conference room, lighting that adjusted depending on where she was working and her favorite snacks lined up in the kitchen?
Foot traffic sensors and occupancy patterns in the long term can dictate heating and cooling requirements so management can optimize these over time.
The use of IoT in conjunction with smart edge computing will lead to a more efficient allocation of computing resources and better and faster decision-making. No longer do you need a sledgehammer for every problem, a fine scalpel will work even better.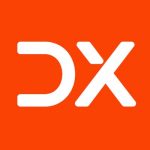 DX Journal covers the impact of digital transformation (DX) initiatives worldwide across multiple industries.