How edge computing can boost business efficiency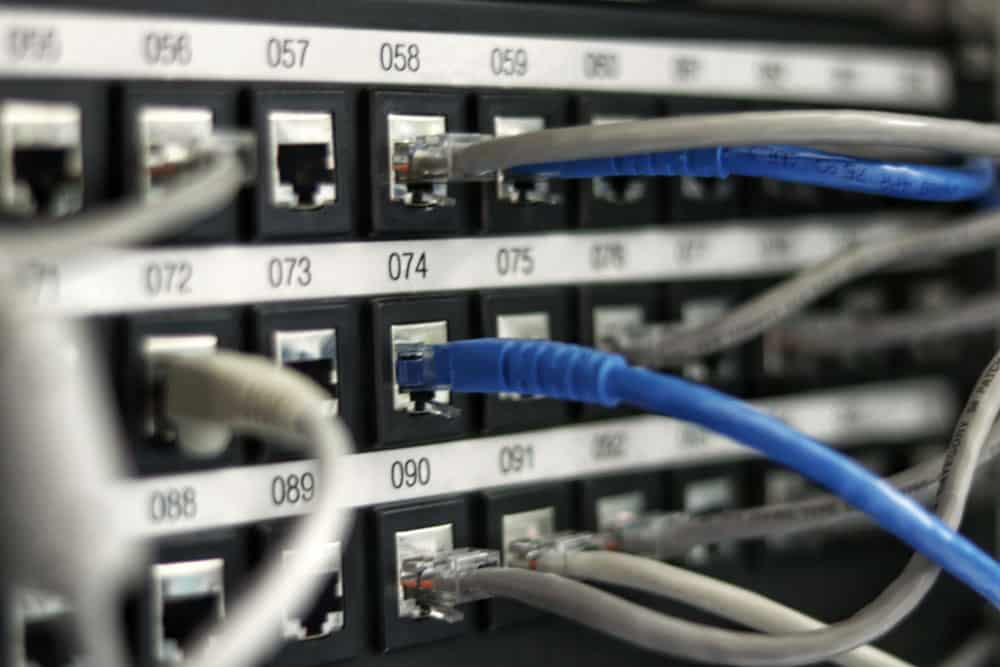 Edge computing is about processing data as close to the source as possible, which reduces both latency and bandwidth use. This concept is seen as critical for furthering the Internet of Things and for driving the development of autonomous vehicles.
What is edge computing?
Edge computing is a decentralized approach to computing applied to networks (the opposite to cloud computing's centralized approach). The concept relates to how a network stores its information. In edge computing, most data on a network is moved away from physical computers. For businesses, data is moved onto a private server.
Edge computing is especially useful in cases where a lot of data is generated. The approach allows for the successful triage of data locally so that some of it is processed locally, reducing the backhaul traffic to the central data repository. This is very useful in cases where many devices are connected together, as with the Internet of Things.
Edge computing helps to make the Industrial Internet of Things possible. This is an area of great value. McKinsey & Co. calculate that the Industrial Internet of Things will generate $7.5 trillion in value by 2025. The advantages here are to connect people to machine data that accelerate digital industrial transformation.
How can edge computing benefit business?
The advantages of edge computing are that it takes less time to move data and there are fewer are less hardware limitations and that hardware limitations are easily addressed. With conventional storage systems, hardware is normally required, and this can create a bottleneck that places a restriction on how much memory can be moved at any time point. The use of hardware also leads to slower data transfer speeds.
Furthermore, the costs of operating and maintaining the hardware are relatively more expensive.
Security is also stronger with edge computing, making edge computing systems harder for hackers to penetrate. This is because data is continually moving between network modes.
When data are moved throughout a network, they go through different security layers to ensure hackers cannot get into the system, but edge computing goes beyond this. More security layers are used because, instead of the data moving between the network nodes, the data moves from the Internet into the servers and onto the nodes. This provides an opportunity for creating additional firewalls and antivirus scans.
How are businesses using edge computing?
Businesses can derive many advantages from the edge computing concept. The edge process enables analytics and data gathering to occur at the source of the data. This enables companies to leverage resources from devices that are not necessarily continuously connected to a network like laptops, smartphones, tablets and sensors.
Autonomous vehicles and edge computing
Among the more specific examples is autonomous car technology. These are, in a sense, datacenters on wheels, and here edge computing plays a key role. To collect the high volumes of data, edge computing provides an advantage. In terms of data, Intel estimates that autonomous cars, with their many on-vehicle sensors, generate over 40 terabytes of data for each eight hours of driving. Given that this level of data cannot be easily sent to a cloud (and this also presents a safety risk in terms of delayed reactions), the use of edge computing becomes a necessity.
Security cameras and edge computing
A second example is with security systems. If a large complex is served by dozens of high-definition Internet of Things video cameras where data is continuously streaming that signal to a cloud server, these systems can be slow to respond. This is especially so if the security protocol is designed to respond to motion-detection. This set-up places a major strain on the building's Internet infrastructure, with a high proportion of the bandwidth becoming consumed by a high volume of video footage.
With the edge concept, each camera would have an independent internal computer to run the motion-detecting application and then sent footage to the cloud server as needed. This improves efficiency and lowers bandwidth use.
Fleet management and edge computing
Edge computing also helps to improve the efficiency of fleet management. While a large volume of key performance data needs to be collected – wheels, brakes, battery, electrical – where such data requires a response, such as a potential brake failure, then some of this data needs to be collected and stored locally on the edge in order to minimize the risk of vehicle breakdown or accident.
An example of edge computing applied to fleet management is with trailer temperature. With most fleet monitoring systems, only temperature readings that are outside of a set range are reported back to fleet managers through telematics. The fleet manager then needs to assess whether or not there is a problem. However, with edge analytics, temperature readings can be analyzed onboard a vehicle and notified to the driver, empowering the driver to take steps to mitigate the temperature fluctuation.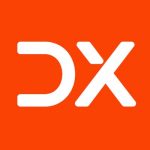 How can the value of the cloud evolve between now and 2030?
According to McKinsey research, large enterprises aim to have about 60% of their environment in the cloud by 2025.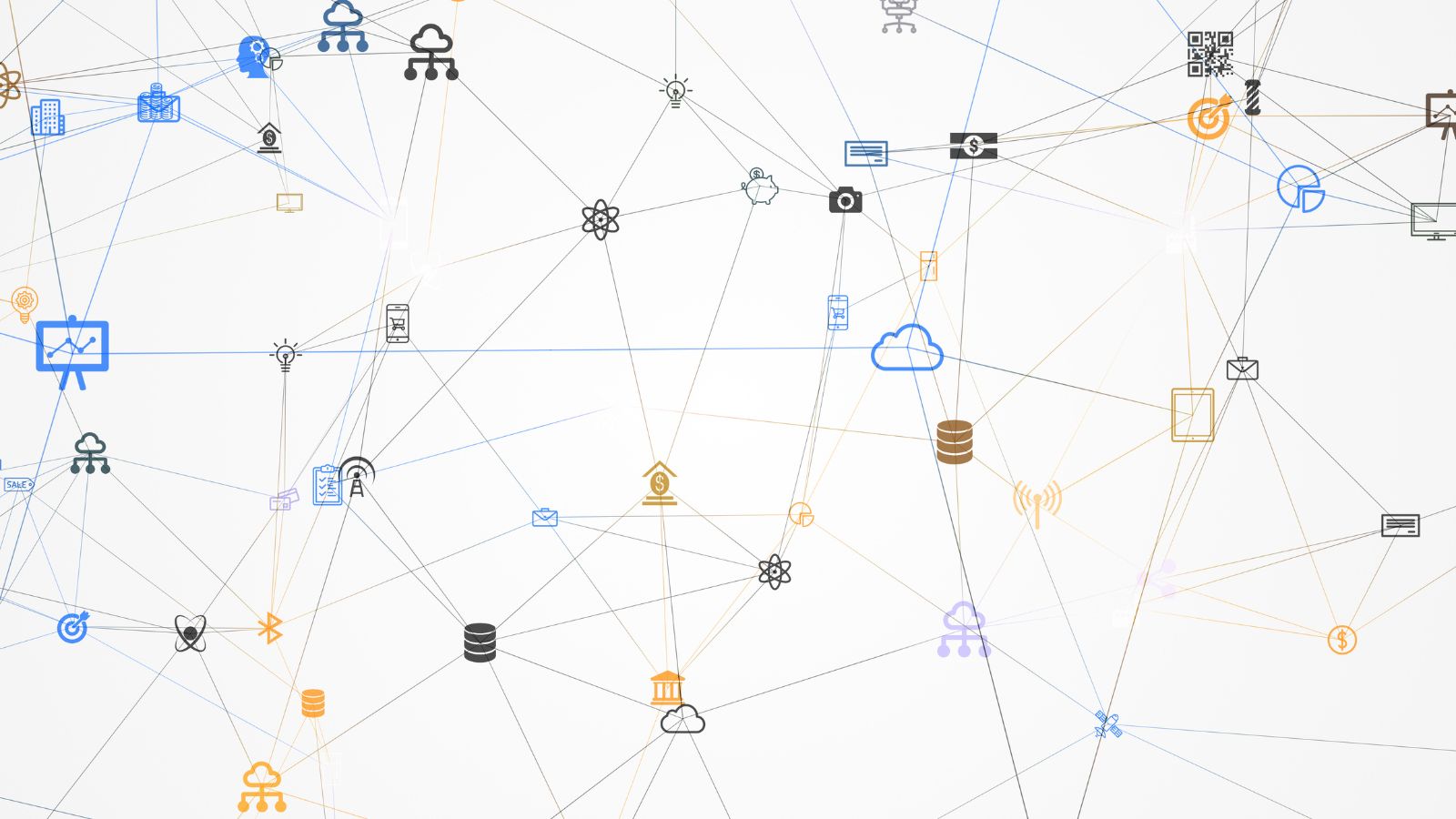 Cloud technology has become an integral part of the digital transformation of today's businesses. And that has executives asking themselves important questions — namely, how large is the value at stake in my sector? How quickly will this value be captured? Who will capture it? What can I do to ensure my organization gets its share?
The answers are multifaceted, and were sought by researchers at McKinsey through a recent analysis. They conducted a thorough review of several key resources, including the McKinsey D2020 IT spending structure benchmarking study, and independent third-party surveys of more than 1,000 organizations that have adopted cloud technologies. Researchers addressed over 700 use cases across 20 different sub industries, ultimately to inform their conclusions, which we'll cover more below.
Organizations That Maximize Cloud Value Do So In a Combined Approach
The first prominent finding of McKinsey's review is a prominent trend among organizations that maximize cloud value. According to analysts, those that make the most of the technology do so in a three-pronged system:
Rejuvenate – IT cost optimization, resilience improvement, and core operations digitization
Innovate – innovation-driven growth, accelerated product development, and hyper scalability
Pioneer – early adoption of cloud technology
The Potential Value Waiting To Be Unlocked In Cloud Technology
Another important finding of the review, McKinsey researchers suggest that the potential value in cloud technology is substantial. After analyzing the value at stake for adoption in US Fortune 500 companies, they estimated that up to $1 trillion in annual value is waiting to be unlocked by 2030. Moreover, when applying those same drivers to Forbes Global 2000 companies, the potential value is estimated to be around $3 trillion in EBITDA (Earnings before interest, taxes, depreciation, and amortization) over the next decade.
Asia's Potential for EBITDA Gains
The report noted that Asia is in line to reap the highest cloud value potential from adoption at about $1.3 trillion by 2030. The continent's businesses make up the largest regional revenue share of the Forbes Global 2000 companies analyzed, many of which fall within the oil, gas and banking industries. These are sectors which McKinsey researchers have identified as having particularly high potential for value gains from cloud adoption.
The Americas aren't far behind, coming in second with a potential cloud value of around $1.2 trillion, driven largely by retail and manufacturing sub industries. These specific domestic sectors stand to capture nearly $162 Billion in EBITDA growth by 2030 – more than three times the value potential for those in Asia and the European Union.
The Keys to Unlocking Value
McKinsey interviewed more than 50 CTOs, CIOs, and cloud program leaders from prominent North American enterprises to better understand their work and what success factors they had in common. The research concluded that the most successful cloud adopters leveraged three key levers:
1. Discovering the full value of the cloud.
2. Solving critical technical challenges.
3. Delivering fundamental, organizational change.
These organizations withstood the challenges of cloud adoption and emerged better-positioned to capture value. Their key takeaway was that creating an effective cloud program requires a combination of technical and organizational capabilities, as well as the right mindset. This means that even if an organization has the necessary tools, they may still need to make changes in areas such as strategy, culture, and processes in order to fully benefit from cloud technology.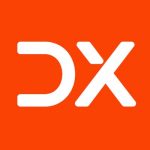 DX Journal covers the impact of digital transformation (DX) initiatives worldwide across multiple industries.
WeaveSphere: 5 conference highlights
The WeaveSphere tech conference wove together ideas about AI, FinTech, STEM education, innovation in Canada, and more.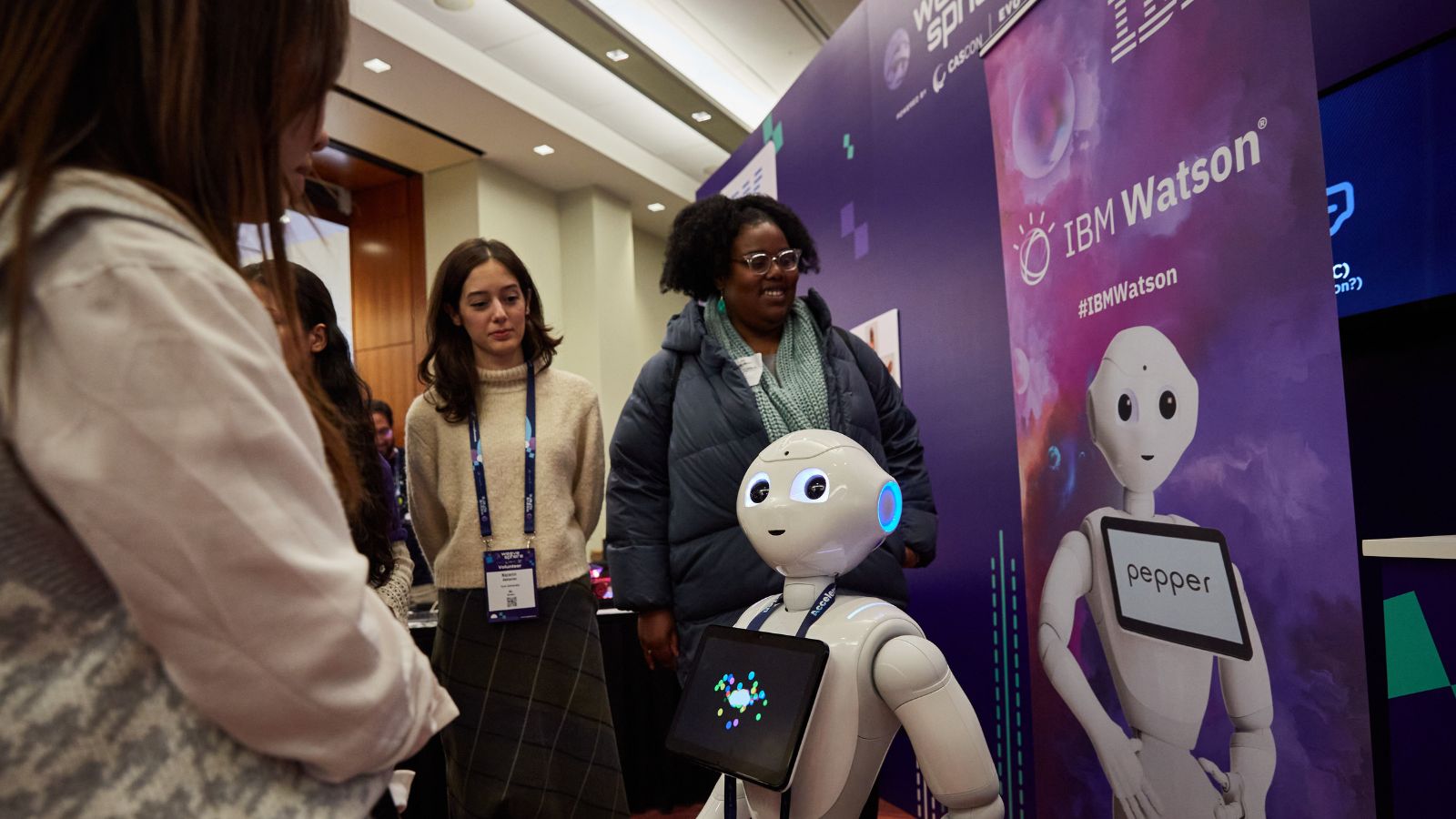 For three days this November, innovation, collaboration, and a whole lot of big ideas were shared among "Weavers" during the WeaveSphere tech conference in Toronto.
"Today is an opportunity for greater connection between the scientific and tech industry, and academia," said Marcellus Mindel of IBM Canada, opening the conference. With innovation the event's core, Mindel added: "let's define innovation, thinking of it as reframing that implements better outcomes."
While lots happened over three days, here are five highlights and takeaways from the event:
1. Thought-provoking keynotes had attendees thinking big
Each day of WeaveSphere kicked off with a keynote, where three speakers brought their insightful ideas to attendees.
Gillian Hadfield shared ideas about AI and regulation
On Day 1, Gillian Hadfield, Professor of Law and director of the Schwartz Reisman Institute for Technology and Society at the University of Toronto, explained where we are today when it comes to regulating artificial intelligence (AI) — and where we need to go next.
While AI makes machines intelligent, Hadfield argued that it cannot, by definition, produce intelligent behaviour if it isn't functioning appropriately and ethically. Machine learning is not the same as standard programming, since machines write the rules. As a result, machines can start solving problems in ways we don't want them to, resulting in regulatory challenges.
How to solve this? Hadfield presented two solutions:
Establish compensation for harm
Design incentives for meeting good and safe behaviour
Dr. William Barry discussed ethics with an AI co-presenter
On Day 2, professor, AI ethicist, and futurist Dr. William Barry talked about a particular problem: what ethical questions might arise when you program a robot?
For starters, how do you determine what information to include or not? Where is the appropriate line?
As a professor, Dr. Barry has been working with robots as teaching assistants in his classroom since 2015, and brought a digital version of Maria Bot (one of his AI assistants) to interact with the audience.
As Dr. Barry explained, he is very strategic when choosing the information from which his assistants learn.
One place Maria won't get access to? Twitter, says Dr. Barry, highlighting it's too much of a risk for an "AI benign" to get access to misinformation. This would distort the ethical perspective that Maria is learning, he said.
While he has programmed her to weed out and to not learn from toxic content — like racism and misogyny — Dr. Barry does work at exposing his AI beings to a wide range of diverse thought and lived experiences. In the end, how ethical an AI being is, is in the hands of the human controlling what they learn, he argued. As a result, they'll ultimately be biased as a result of the specific data sets we provide for them.
Marcel Mitran discussed technology for good
WeaveSphere's Day 3 keynote took a slight turn away from AI.
IBM Fellow, IBM Master Inventor, and CTO for Cloud Platform for zSystems and LinuxONE, Marcel Mitran took to the main stage for a keynote on responsible computing. At the heart of his talk was the argument that technologists need to take a step back and look at what's being done to keep the world safe.
For example, the opportunity for error and bias in the role of facial recognition in public safety, and the fact that our digital footprints — both on a personal level and for enterprise — have grown significantly even in the last year.
As Mitran explained, responsible computing is a systemic, holistic approach addressing current and future computing challenges like sustainability, ethics, and professionalism. It advances the "quadruple bottom line" of people, planet, prosperity, and participation.
2. Insightful sessions had attendees thinking deep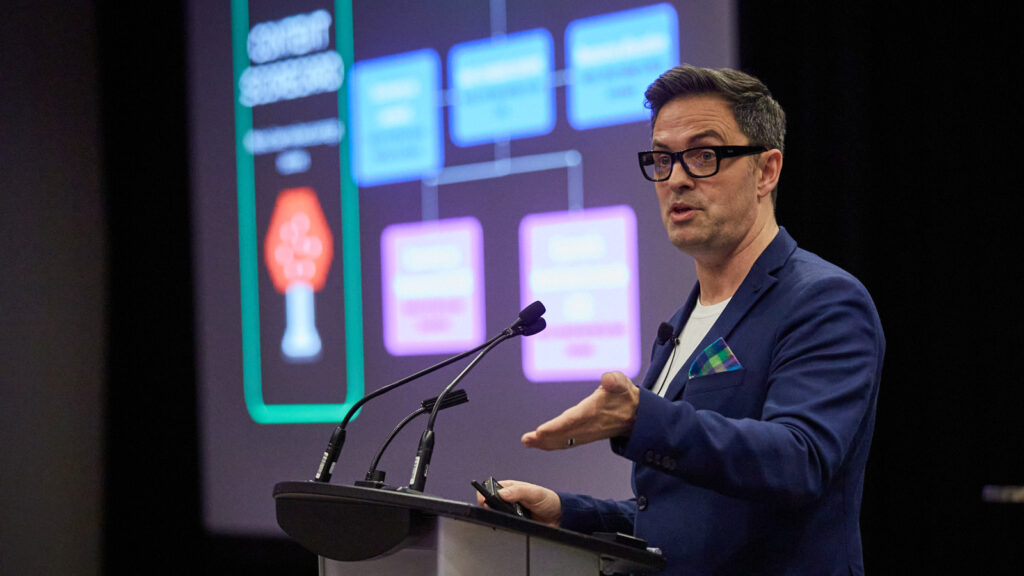 FinTech, cryptocurrency, AI, digital economies, Canada's innovation landscape — there was a large cross-section of topics covered across a variety of workshops, paper presentation, and panel discussions.
Some highlights include:
Chhavi Singh, co-founder of Flyte, asked the question: have you considered using AI to coach your sales staff? Elaborating on the opportunity AI presents to increase sales performance, Singh explained how AI can be used to help understand customer challenges and handle objections and concerns.
COO of wealth management platform OneVest, Jakob Pizzera, outlined the three phases of FinTech. The first (1.0) was in-house sites for basic online banking. Version 2.0 was the "unbundling" of financial services, and the rise of standalone businesses. The last few years has brought FinTech 3.0, with embedded finance — for example making a purchase through Instagram.
WeaveSphere conference chair and R&D specialist Vio Onut answered the question of why we need to care about cyber security. For starters, the potentially very large costs to your organization, and because the massive skills gap of privacy and security experts has created vulnerabilities.
Digital strategist Matt Everson explored what can go with emerging technologies like Web3 and the metaverse. Everson said developers should just start building and drawing on video game virtual markets as a model. He used popular online game EVE Online as an example of how virtual economy design can be translated to other markets.
Lijia Hou, Blockchain Systems Engineer with Draft Kings, explained that three key problems still exist when it comes to blockchain technology. First, investors want to understand how — in a volatile market — to mitigate risk. Second, developers from the traditional software side need a mindset shift when it comes to decentralization. And finally, the tools of decentralization are used differently, and this is not always evident for those unfamiliar with Web3.
3. There was a LOT of interest in STEM education
As part of WeaveSphere's Education Day slate of programming, hundreds of high school and university students had the opportunity to workshop real-life problems from both school and work — all under the guidance of IBM's Design Thinking experts.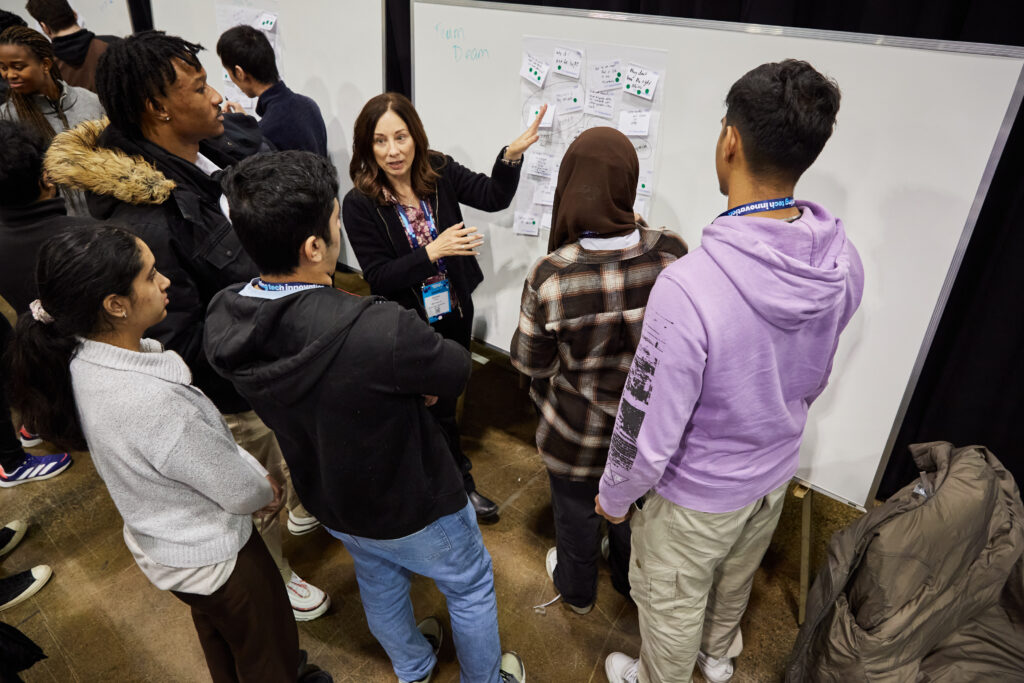 This meeting of next-generation tech talent collaboratively explored Enterprise Design Thinking strategies like As-Is Scenario Mapping, Empathy Mapping, Hills (positioning statements), and Hopes and Fears. This approach to problem-solving works by framing the issue at hand in a human-centric way, centering the end-user in all decision-making.
For Education Day, the problem at hand was helping fourth-year university students find their first job.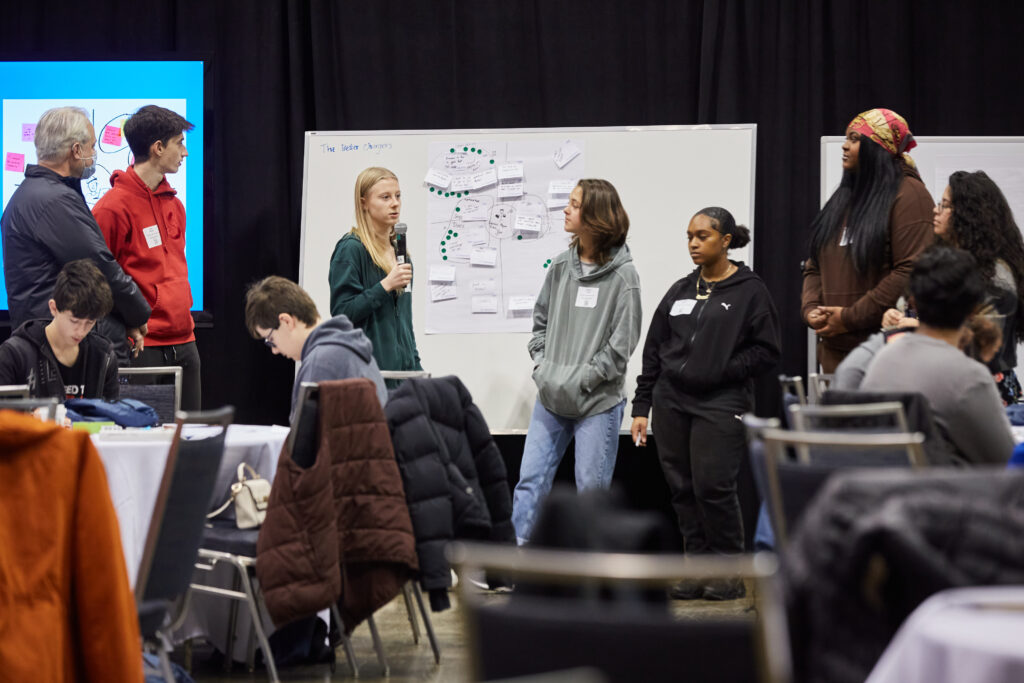 4. There were loads of networking and learning opportunities
One of the best parts of any conference is the opportunity to network and learn from fellow attendees.
In the conference's Innovation Valley section, event sponsors were on-hand to discuss everything from their latest technologies to job opportunities, plus several graduate students were also there to present their research.
Since WeaveSphere is a "meeting of the minds" between tech professionals and students, many undergrads from schools like York University and Mohawk College came to the conference full of questions, ready to absorb everything.
5. WeaveSphere celebrated top tech talent
A big part of WeaveSphere was a celebration of some of the best tech minds in Canada.
During a gala evening at the end of Day 2, the 2022 Developer 30 Under 30 and Tech Titans were awarded to the best of the best among young developers and digital transformation leaders in Canada.
The winners were:
Developer 30 Under 30 winners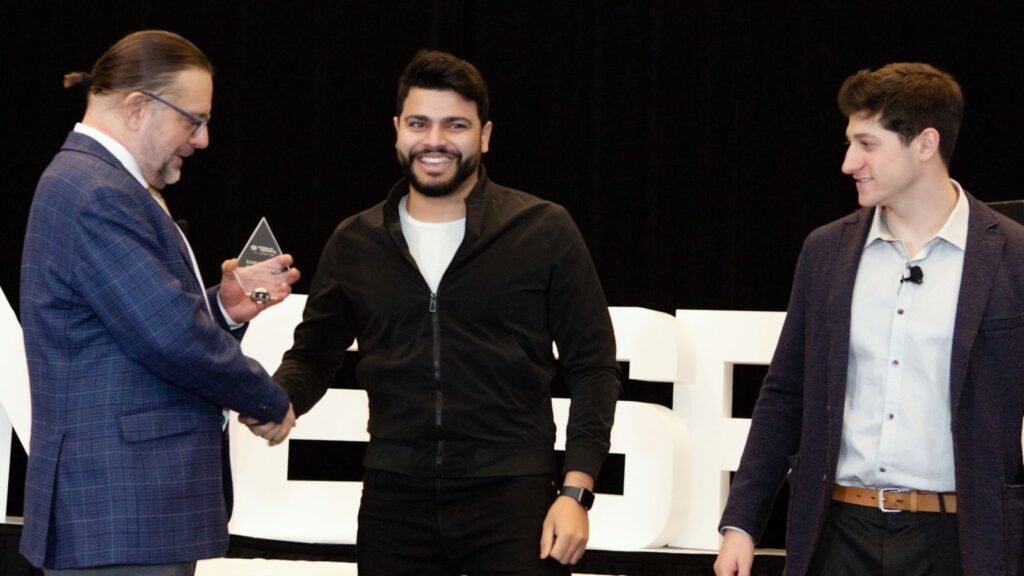 Alexander Newman
Anakha Chellakudam
Anthony Langford
Arshdeep Saini
Aryaman Rastogi
Bohdan Senyshyn
Charlie Mackie
Charmi Chokshi
Colin Lee
Daniel Marantz
Francisco Hodge
Hassan Djirdeh
Jerry Fengwei Zhang
Julia Paglia
Karandeep Bhardwaj
Kathryn Kodama
Khushbu Patel
Lianne Lardizabal
Lucas Giancola
Mathew Mozaffari
Maz Mandi
Oleksandr Kostrikov
Rishab Kumar
Samantha Lauer
Sarah Syed
Stan Petley
Tanmay Bakshi
Tim Romanski
Xiaole Zeng
Yash Kapadia
Tech Titans winners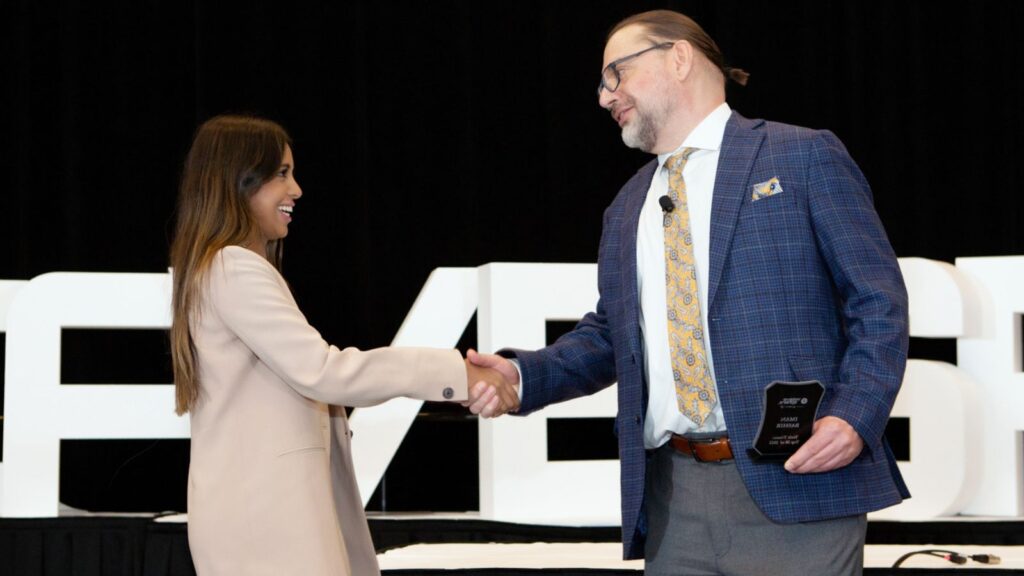 Andrew Dolinski
Ashish Agrawal
Chhavi Singh
Chris Dolinski
Dean Skurka
Demetrius Tsafaridis
Fay Arjomandi
Harish Pandian
Harpreet Gill
Iman Bashir
James Stewart
Len Covello
Manav Gupta
Marcel Mitran
Michelle Joliat
Dr. Mohamad Sawwaf
Omar A. Butt
Peter Zwicker
Ryan McDonald
Dr. William Cherniak
Finally, as WeaveSphere came to a close, the Pitch Stadium opened, hearing from a wide variety of startups.
They came, they pitched, and in the end, Iman Bashir and Nicole Lytle of Craftly.AI, a copywriting assistant that uses AI to generate original content, took home the $50,000 prize to help grow their business.
WeaveSphere was a uniquely collaborative, innovation-focused conference filled with engaging workshops, presentations, and networking opportunities.
---
DX Journal is an official media partner for WeaveSphere. Check out our series of articles from the lead-up to WeaveSphere.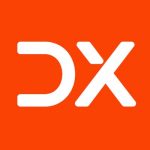 DX Journal covers the impact of digital transformation (DX) initiatives worldwide across multiple industries.
7 Digital Transformation trends on the horizon for 2023
Salesforce's MuleSoft reports seven trends that are key to balancing operational pressure and improved customer and employee experience.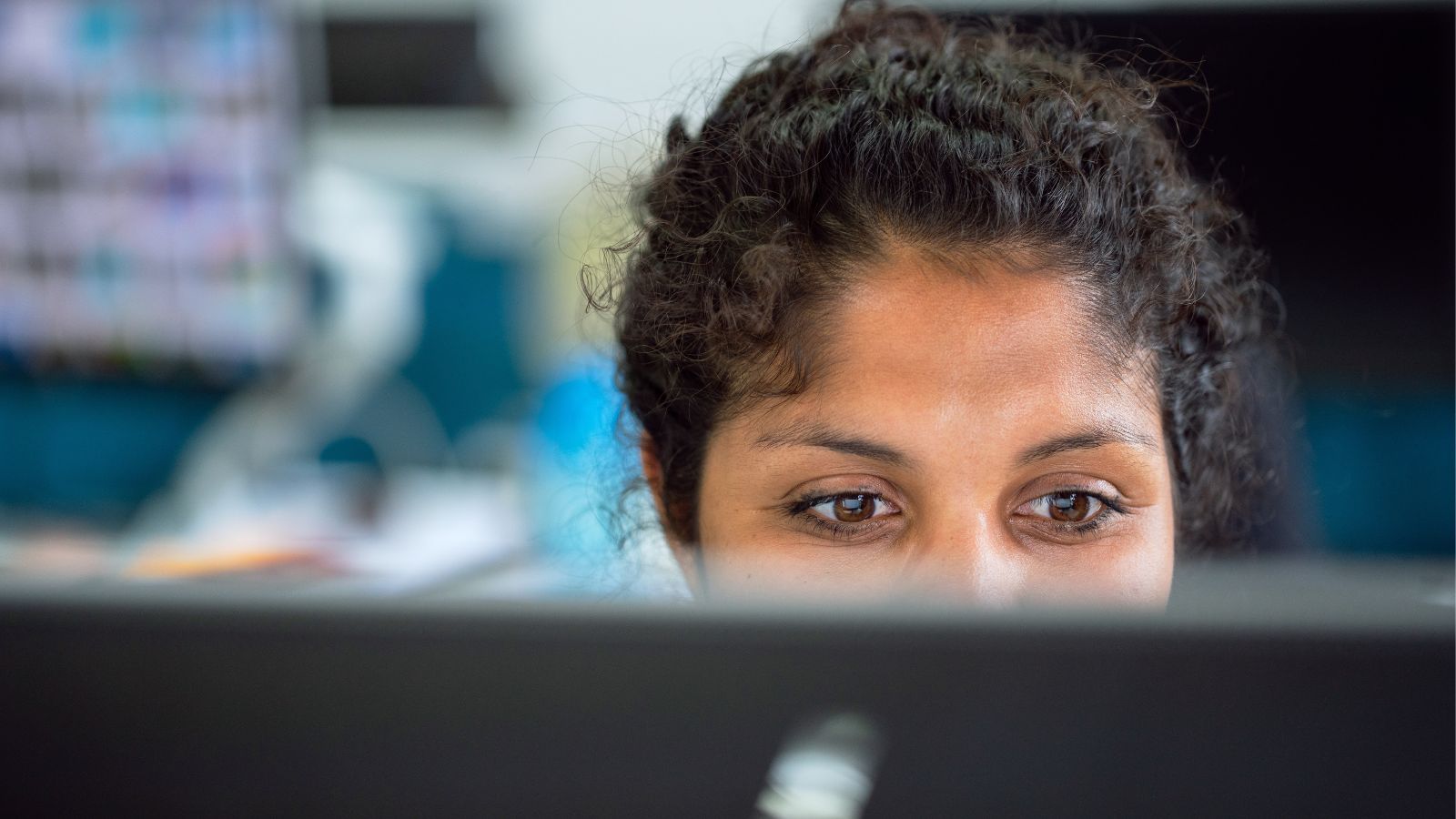 Efficiency and growth are at the heart of many a business plans right now, even though an economic downturn is widely predicted to be on the horizon.
In the face of these organizational pressures, Salesforce's MuleSoft recently released a report detailing their predictions and insights for digital transformation in 2023. In the report, they outlined seven trends that are going to be crucial for organizations that want to overcome these pressures while keeping the gas on customer and employee experiences.
As MuleSoft Global Field CTO Matt McLarty explained, "as companies gear up for the year ahead, businesses must recognize that effectively utilizing new digital techniques is the only way to ensure growth amidst economic pressures."
"Investing in cost efficient, employee- and customer-centric technologies will be critical for companies seeking to remain agile and break away from the competition in 2023."
Here are MuleSoft's seven digital transformation trends-to-watch:
Increase in automation investment
MuleSoft's research has validated what many in the industry have already predicted regarding the projected growth of automation tools. According to a previous survey, roughly 80% of organizations plan on incorporating hyperautomation into their technology roadmap within the next 24 months. This points to a paradigm shift in the way businesses operate, as they move away from reliance on manual processes to a more digitized and technology-enabled future.
Composability is key
MuleSoft and Salesforce predict that in lieu of the point mentioned above, companies will be inclined to implement strategies like low/no-code platforms and application programming interfaces (APIs) to make their automation efforts more composable.
The rise of low/no-code tools
The report from September found that 73% of leaders agree that acquiring IT talent is the hardest it's ever been, which makes perfect sense given the global shortage of software developers. In order to free up resources and enable a wider range of employees to participate in digital transformation, low/no-code platforms will continue to grow in popularity.
Investment In total experience (TX) strategies
Amid findings that 86% of IT leaders believe that both employee and customer experience (EX and CX) are as important as a company's products, MuleSoft's research anticipates that organizations will increase their focus on delivering great experiences through loyalty and advocacy.
CX and EX initiatives will work in tandem to increase revenue and retain talent, focusing on integration and automation that connect the dots where these two meet.
Data-Driven Decision Making Should Be Technology's Job
Salesforce research highlights that 83% of organizations consider data-driven decisions to be a top priority in their organization. This data, however, is often siloed. As a result, MuleSoft predicts, 2023 will see the rise of real-time analytics to bread down silos, to "create a data fabric that provides automated, intelligent, and real-time insights and reduces untimely decisions."
Cybersecurity Is Set to Scale
Expect to see more organizations invest in a cybersecurity mesh approach in order to secure data as it moves between multiple cloud applications. This is in response to data from Gartner that claims doing so could reduce the financial impact of security incidents by 90%.
Sustainability Will Be a Priority
Organizations are likely to increase their adoption of data-driven insights and integration across supply chains as they seek to become more sustainable.
---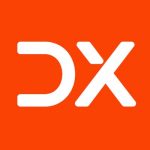 DX Journal covers the impact of digital transformation (DX) initiatives worldwide across multiple industries.