81% of banking executives would look to collaboration for digital transformation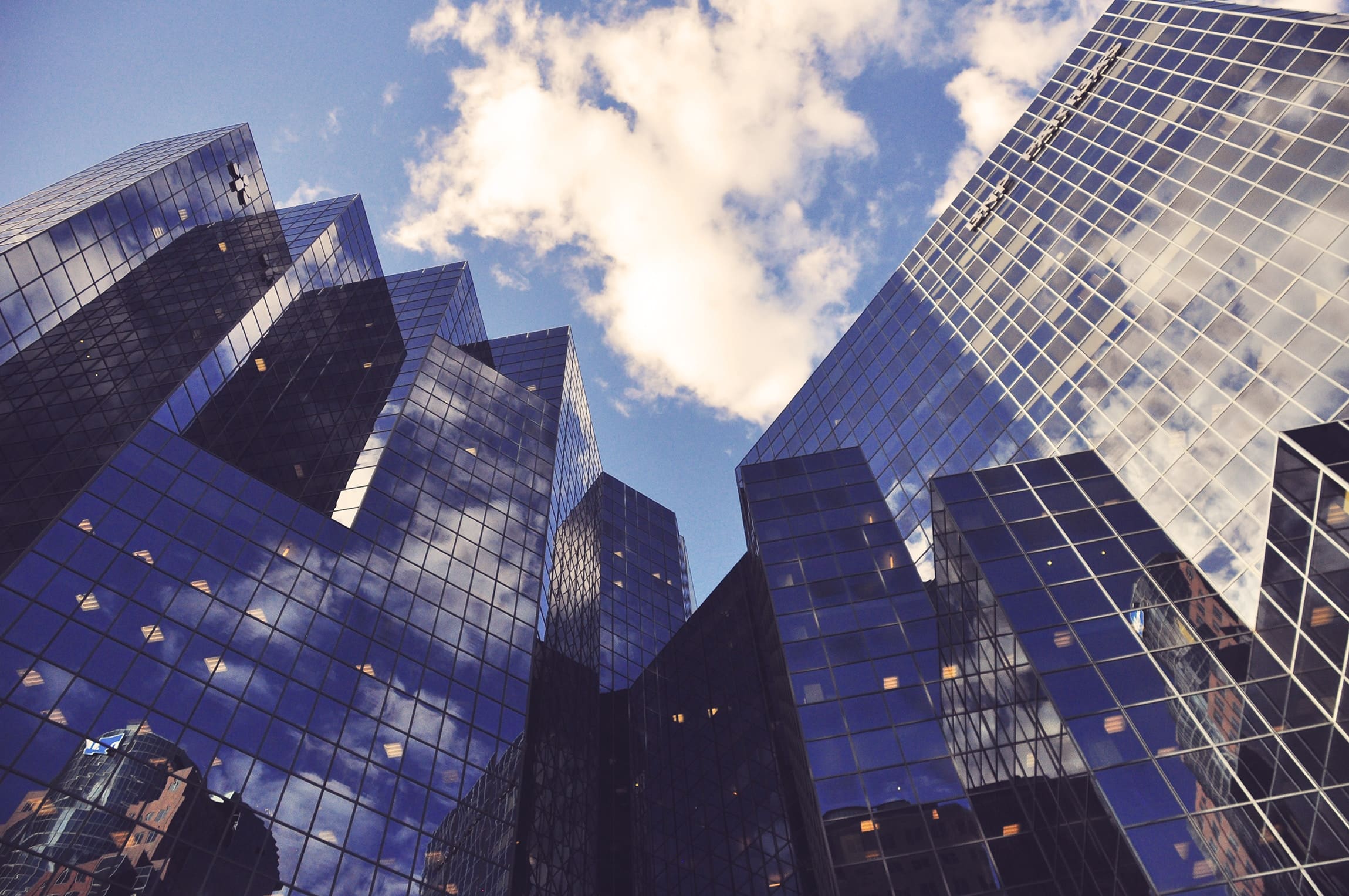 According to Finextra's The Future of Payments 2019 report, it's been "the year of digital transformation for legacy-era brick-and-mortar banking giants."
And collaboration is overwhelming the favored path to get there.
At EBADay, hosted by Finextra in association with the EBA, it was reported that 81% of banking executives would seek to collaborate with partners to better, more successfully execute digital transformation.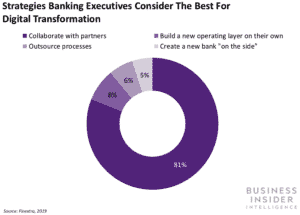 While collaboration was the clearly-favored choice, some respondents did choose options for digital transformation that either kept the process in-house, or completely outsource it:
8% would build a new operating layer on their own

6% would outsource processes

5% would create a new bank "on the side"
When asked to describe digital transformation (DX), 55% said that it means fully changing an institution's fabric. For others, DX means:
Offering more innovative products while reducing costs (20%)

Replacing and renewing the core banking operating system (13%) 

Offering digital channels such as mobile (12%)
Thanks to consumer demand, banks have been forced to step up and introduce new products and services that leverage current and emerging technologies — all in the name of giving customers better choice. 
As it stands, customers of the retail banks are able to deposit cheques, transfer funds, and apply for loans via their smartphones. 
"This collaborative attitude underscores how the rise of digital banking may not need to be an all-out competition between incumbents and startups," explains Business Insider, "and may even tilt the scales in the direction of collaboration."
And it looks like it's already been happening: Lloyds found that 48% of financial services they polled said they have completed acquisition deals for fintech firms, or have taken a minority or majority stake in them.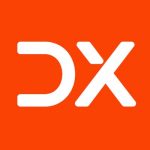 DX Journal covers the impact of digital transformation (DX) initiatives worldwide across multiple industries.
A marketing mindset translates to DX success for banks and credit unions
43% of banks saw a stronger ROI in digital transformation efforts by giving marketers a seat at the table.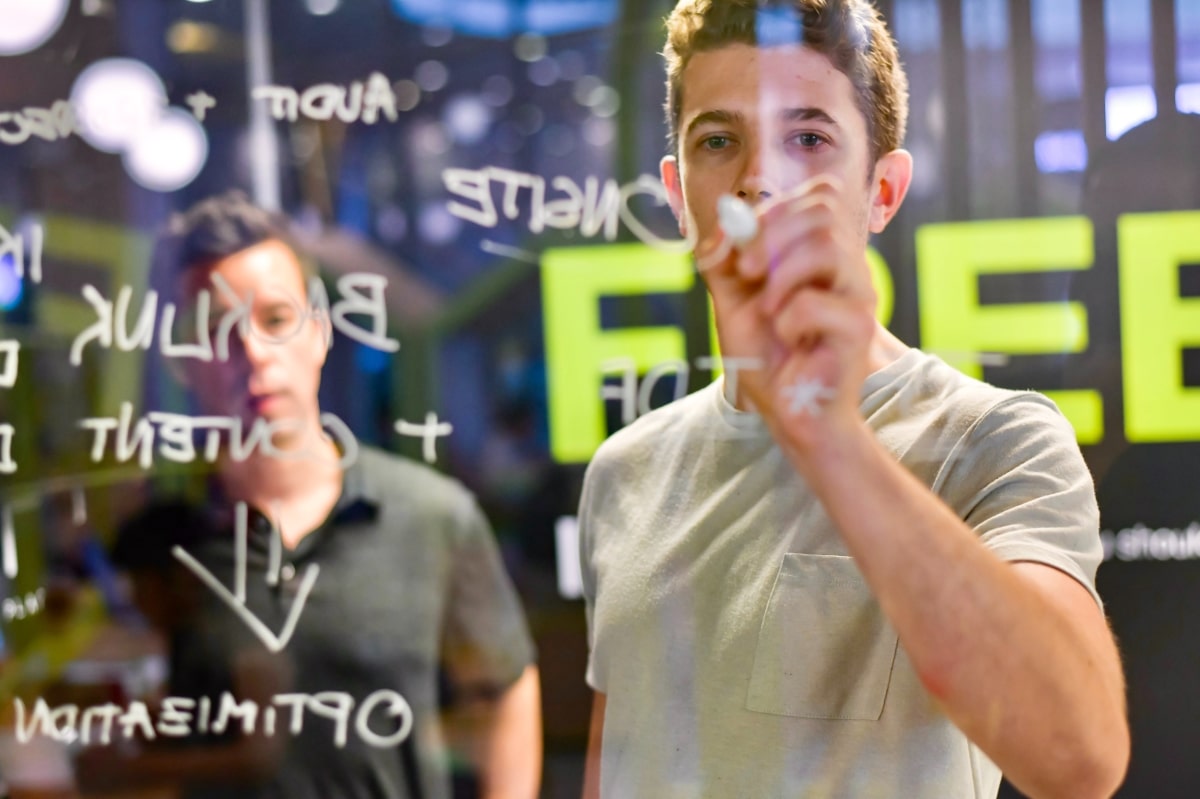 A winning strategy for banks and credit unions in their digital transformation efforts? 
Bringing marketers on board.
Global marketing agency Metia Group polled 500 senior financial marketers in the US and Europe between April 27 and May 17 — covering institutions of all sizes with active DX initiatives underway. Their research found that the most successful efforts are those where a marketing mindset was applied.
Of those institutions surveyed, more than one third gave their marketing teams a full seat at the table to determine company-wide DX efforts.
Were marketers the difference maker for financial institutions able to pivot quickly during COVID-19? Our research suggests yes: https://t.co/xYjPiiJWYJ pic.twitter.com/fMklunxcmg

— Metia Group (@Metia) August 10, 2020
As a result of including marketing teams, 43% of banks said their initiatives exceeded expected ROI. This compares to only 23% of the other institutions not taking the same marketing-led approach.
Marketers are being relegated to the sidelines when it comes to digital banking transformation. But research shows that the financial institutions who give marketers an active role see digital transformation initiatives exceed ROI almost twice as often: https://t.co/PUid8LOsZJ pic.twitter.com/RaY1a7YUyf

— Metia Group (@Metia) August 12, 2020
Additional key findings of the Mindset Matters report include:
Institutions with a marketing mindset were able to pivot their customer experiences more rapidly in response to COVID-19, with 32% finding it easy to pivot the digital customer experience, versus 25% of other institutions.

Financial institutions with a marketing mindset were found to be more likely to have built digital experiences superior to their competition: 60% versus 35%. They also reported greater success in terms of customer acquisition, increased deposits, and improved cross-sell rates.

69% of those surveyed believe that the role of marketing will be even more critical post-COVID in securing a strong future for financial institutions.
"Marketing experts are the most customer-centric personnel in any organization, and their absence from the digital transformation process in the majority of financial institutions is a missed opportunity," said Liz High, Vice President of Insight and Strategy at Metia. "Smaller institutions that have been further disadvantaged by COVID-19 have a clear opportunity to extend the impact of the resources they do have, by putting their senior marketers in the driving seat. The same is true of the larger banks that want their investments to deliver what matters to their customers."
The report from Metia can be downloaded here.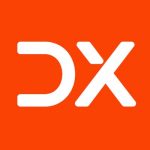 DX Journal covers the impact of digital transformation (DX) initiatives worldwide across multiple industries.
Alipay to Support Digital Transformation of 40 Million Service Providers in China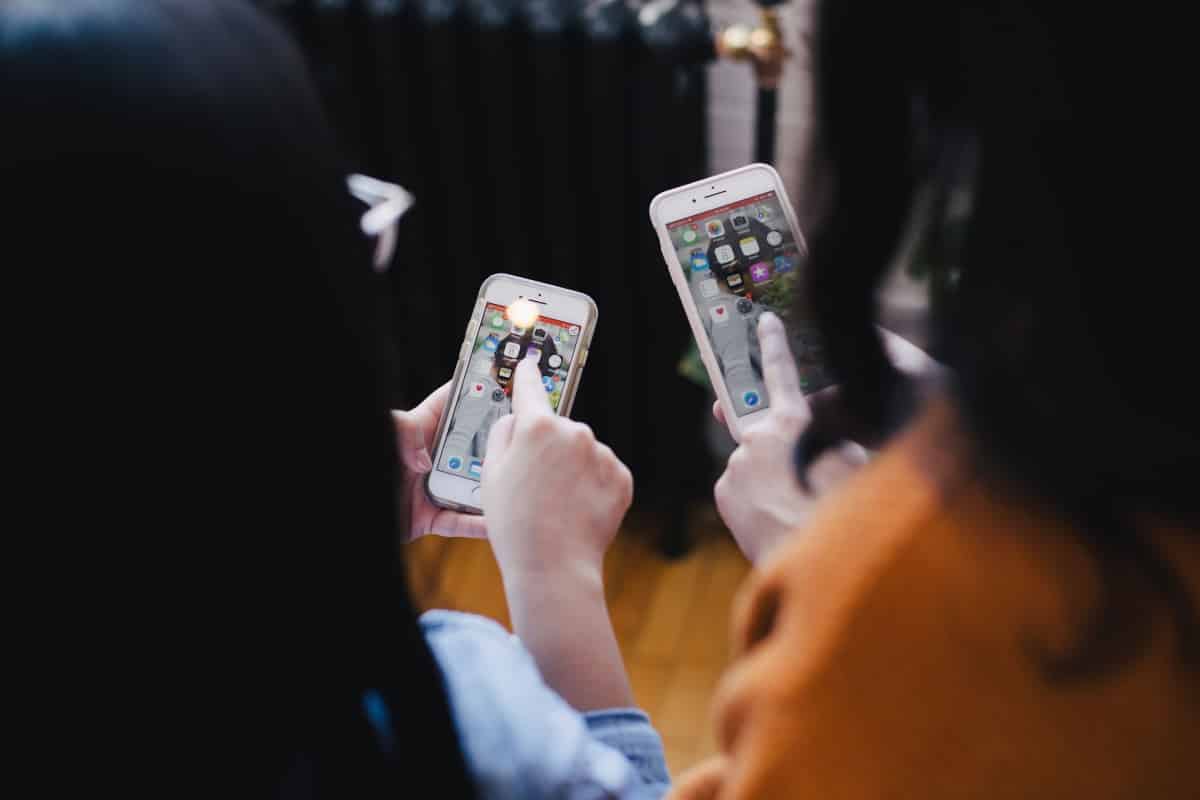 Alipay, the world's largest mobile payment platform (operated by Ant Financial Services Group) has announced a three-year plan to further open up its platform to support the digital transformation of 40 million service providers across China.
The goal is to enable these providers to develop and offer a range of lifestyle apps for food delivery, hotel booking, transport, and medical services.
"The service sector in China is still in the nascent stages of digital transformation, and that means it has huge untapped potential," said Ant Financial Chief Executive Officer Simon Hu in the company's press release. "Amid the ongoing coronavirus outbreak, we have also seen how digital technology can be used to help service providers become more agile and respond effectively to the fast-changing market environment."
"Building a one-stop digital lifestyle platform not only creates immense value for our users – it will also play an essential role in accelerating the digital transformation of the service industry and unlocking more growth opportunities," added Hu.

As part of this initiative, Alipay will allow service providers to tap into in-app traffic, while AI-driven incentive programs will encourage service providers to consistently improve the customer experience.
The press release also explains that users will be able to access personalized recommendations from newly added service sections, meaning service providers will be able to enhance their distribution efficiency.
Under the three-year plan, Alipay will also help 40 million service providers digitalize their operations, increase efficiency and reach more customers by 2030 — with the help of 50,000 Independent Software Vendors (ISVs). Currently, there are over one million on the platform. ISVs are companies that package Alipay's technologies into solutions to meet the needs of specific industries and use cases, from consumer retail, food-and-beverage, hotels/accommodations, transportation, and medical services.
Impact of coronavirus
In the early days of the COVID-19 outbreak, the company introduced an incentive program that encouraged developers to create mini programs as a way to help users cope with the effects. These include programs that meet lifestyle needs of those working from home, therefore minimizing the need for physical contact with service providers.
In just a week, over 1200 developers responded by creating 181 contactless service mini programs on the Alipay app, for services across China — for example, grocery delivery, legal/medical advice, logistics, and public services. One program providing free medical consultation from AliHealth received an average of 700,000 daily visits.
Beijing-based grocery startup Meicai also launched a delivery mini program for Alipay users amid the coronavirus outbreak, attracting more than 800,000 new users.
Mobile use in China
According to figures from the China Internet Network Information Center, 99.1% of Chinese internet users went online via mobile devices in 2019, compared with just 24% in 2007. Thanks to this increase, the domestic service sector has begun adopting digital technologies.
The National Bureau of Statistics figures show that China's service industry contributed to 59.4 percent of GDP growth in 2019. While the sector is clearly important to the economy, Chinese service providers still place heavy reliance on traditional brick-and-mortar. Digital technology hasn't been fully embraced yet as a means to boost efficiency and improve customer experience.
Consumer demand for digitalized services, however, has been expanding rapidly — in 2019, the number of searches for lifestyle services within the Alipay app increased 300% compared with 2018.
As Hu explained, "Since the very beginning, Alipay's success has always depended on the success of our partners, and that is why we believe the only way to best serve consumers is to open up our platform further, so service providers can better tap into consumer demands."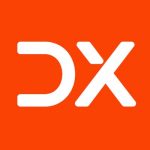 DX Journal covers the impact of digital transformation (DX) initiatives worldwide across multiple industries.
How BMO branch technology saves employees up to 30 minutes per day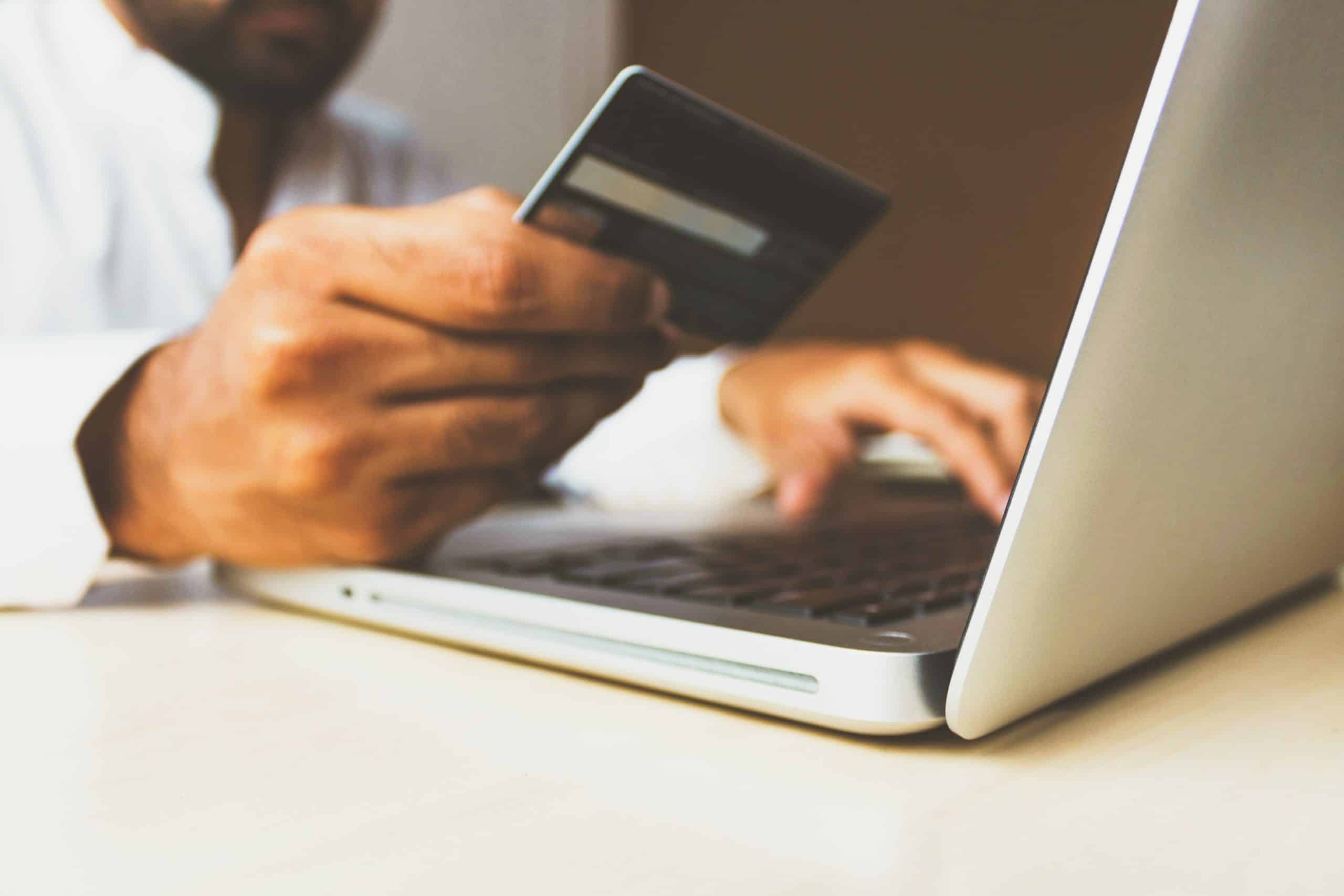 When it comes to banking, it comes as little surprise that customers are increasingly preferring tellerless interactions. 
A recent customer insight report from Mercator Advisory Group found that those who don't like using mobile and online banking prefer to use self-service kiosks at physical branch locations.
Even back in 2015, a study by Source Technologies found that self-service retail banking kiosks improve operations, "reducing the time it takes to get an official check from nine minutes (using a teller) to 40 seconds – 13.5 times faster than a teller-conducted transaction."
When banks invest in features like remote authentication and mobile deposits, it isn't just customers who benefit — staff are able to better focus on more complex transactions, and developing relationships with clients.
"We see that more and more of our customers are migrating toward self-serve interactions, especially for the simpler, straightforward transactions," explained Kyle Barnett, BMO's chief operating officer for US personal and business banking, in an interview with PYMNTS. 
One of technologies implemented by BMO was a faster, real-time process for scanning and depositing cheques, saving customers from having to fill out a paper deposit slip. This has led to deposits clearing within hours instead of days. 
Another BMO implementation was its easy PIN authentication; instead of using a driver's licenses or state-issued ID, customers use debit cards to verify their identities. The transaction is therefore accelerated, and data is aggregated instantly on the teller's screen.
Both of these improvements were implemented in more than 500 branches by the end of 2019.
"If a customer walks in and opens up an account [during the] same interaction, they can actually leave with a fully functioning, embossed card that has their name on it," Barnett said. 
And unlike before, when a customer was issued a temporary card and had to wait for the fully-functioning replacement to arrive in the mail, "they also get the PIN right there as part of the account opening, and can even set up a custom PIN if they want at the ATM."
With the in-branch experience changing, and customers requiring fewer interactions with tellers, the result has been "really freeing up our branch bankers to have more time to dedicate to customers, and have better holistic conversations, and create more personalized recommendations." 
One case study found that employees have saved between 15 and 30 minutes per day on processing forms. Multiply that by the number of employees within BMO, and you get a major win for efficiency and time saving.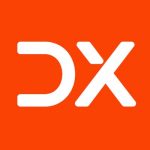 DX Journal covers the impact of digital transformation (DX) initiatives worldwide across multiple industries.