The 2020 outlook for artificial intelligence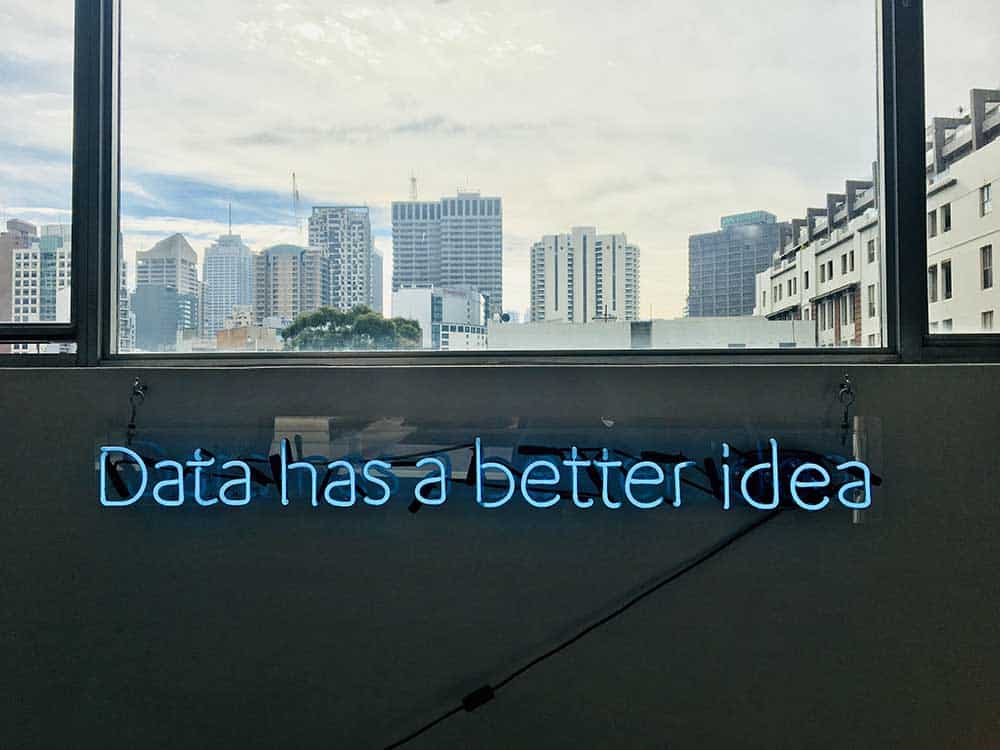 While 9 out of 10 respondents to the 2019 MIT Sloan Management Review and Boston Consulting Group (BCG) Artificial Intelligence Global Executive Study and Research Report agree that AI represents a business opportunity for their company, fewer than 2 out of 5 report business gains from AI in the past three years.
According to the report, "early AI winners are focused on organization-wide alignment, investment, and integration."
Though 85% of global executives believe AI will transform their organizations, only 20% of companies globally have implemented AI at scale. To deploy AI effectively, companies must change their tech-only mindsets. #Winningthe20s https://t.co/IO28bl1XRm pic.twitter.com/RrPNJbFOPx

— Boston Consulting Group (@BCG) December 21, 2019
Forrester's AI predictions for 2020 focus on this being the year when "companies become laser-focused on AI value, leap out of experimentation mode, and ground themselves in reality to accelerate adoption," explains VP, Research Director Srividya Sridharan.
Our analysts look into the #AI crystal ball today at #FORRDataInsights. Read all our 2020 AI Predictions from Analyst @Srividya. https://t.co/0jSympOCve pic.twitter.com/ku0vonuntS

— Forrester (@forrester) November 6, 2019
As we look to the year ahead, "CIOs will need to better assess the value of their AI bets and prove that ROI to the business," explains TetraVX Director of Product Management Kara Longo Korte, to business and tech reporter Stephanie Overby in The Enterprisers Project.
And while this promises to be an active year for AI investment, Overby outlines the 10 biggest AI trends to watch for 2020:
Measuring AI impact
As mentioned above, fewer than two in five companies report business gains from AI in the last three years. But as AI investment increases, this needs to change — and it can be done by altering how we measure results. "Think reporting against things like ease of use, improved processes, and customer satisfaction," writes Overby.
Think Operationalization
"This year will be a tipping point for the infrastructure needed to support effective deployments, providing integrated learning environments and data ecosystems that support adaptive decision making by AI," says Jean-François Gagné, CEO and co-founder of software provider Element AI.
Data pipelines
"Next year, the luster of AI and ML will wear off as companies realize it's not magic, but math," explains Pat Ryan, executive VP of enterprise architecture at SPR. With high-quality data as a foundation for AI/ML, 2020 will see a "heightened sense of appreciation and need" for everything-data — governance, analysts, engineers, and ML engineers — with a goal of creating a pipeline for continuous data that'll drive more successful AI projects.
AI innovators in high demand
At 74% annual growth, AI Specialist is #1 on LinkedIn's top 15 emerging jobs for the US in 2020. "[AI and ML] have both become synonymous with innovation, and our data shows that's more than just buzz," says the report.
Data modeling moves to the edge
As Overby explains, "expect a shift from cloud-only to cloud-edge hybrid strategies to enable machine learning (ML) in the next year." Forrester is predicting that edge cloud service market will grow by at least 50 percent in 2020. "By implementing edge-first solutions, organizations can synthesize data locally, identify machine learning inferences on core raw data sets, and deliver enhanced predictive capabilities," says Senthil Kumar, VP, Software Engineering for FogHorn.
The B2B benefits of AI
"Machine and deep learning are making it possible for users of complex B2B services to define and match complex requirements to ideal trading partners through an intuitive, needs-identification process and a vast understanding of potential trading partner strengths and capabilities," says Keith Hausmann, chief revenue officer at Globality.
Human and machine work together
AI can work as a complement to contact service centre agents and teams, providing better/more timely informed responses. The challenge? "It's important that organizations keep their customer service experiences human," minimizing a potentially 'too automated' look. (The question can then be asked: When will standalone conversational AI emerge?)
Hyperautomation
One of Gartner's top 10 strategic technology trends for 2020? Hyperautomation — i.e. "The application of advanced technologies like AI and ML to automate processes and augment humans across a range of tools and at a higher level of sophistication." The goal? "More AI-driven decision-making," explains Gartner.
Heterogenous architectures will emerge
"Today, AI-enabled applications and networks rely on different processing architectures," writes Overby. But according to ABI Research's 54 Technology Trends to Watch, that'll change in 2020. "AI and ML frameworks will be multimodal by their nature and may require heterogeneous computing resources for their operations."
Mistakes happen
AI is, of course, not perfect. As a final prediction, it isn't hard to imagine that high-profile mistakes can be anticipated in 2020, but overall trust in AI will not erode. From deep fakes to the misuse of facial recognition, AI has the potential to perpetuate discrimination and cause harm, offence, and general uneasiness. Ultimately? It comes down to the importance of responsible use.
Acceleration and AI: The digital transformation of sales in 2020
77% of sales leaders say their digital transformation has accelerated since last year.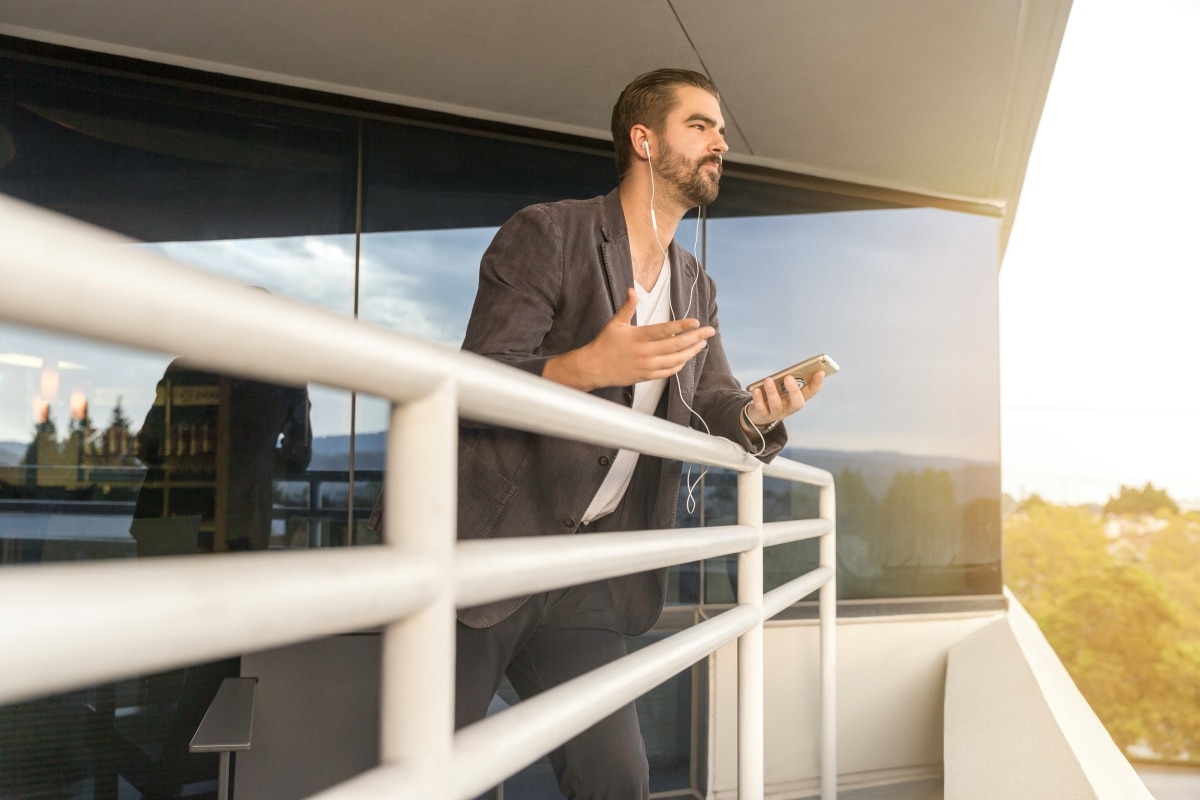 When the pandemic started, most industries had to work quickly to adapt to the now-ubiquitous 'new normal.' Whether that meant adjusting to work-from-home or using new tools to better reach and respond to customers, agility — and digital transformation — was at the forefront.
And sales departments, no doubt, had a significant shakeup.
According to Salesforce's recently-released, data-driven Fourth Edition State of Sales report, 72% of sales reps say success metrics have changed in light of economic trends. The report — generated from a survey of almost 6,000 B2B and B2B2C sales professionals from around the world — also found that 58% of sales reps expect their roles to change permanently. 
When results are narrowed to sales professionals within the technology sector, 55% of respondents say their customer relationships are stronger than in 2019, and 60% say they expect their role to permanently change.
.@salesforce's fourth edition State of Sales report has up-to-date insights on how sales organizations around the world are adapting to a new selling landscape during a global pandemic: https://t.co/DcsqqImNzC pic.twitter.com/HTL7E6CDN0

— Salesforce News (@SalesforceNews) September 22, 2020
Digital transformation 
Looking specifically at the state of DX in sales, 77% of sales leaders say their digital transformation has accelerated since 2019. This aligns with the overall trend of DX adoption being expedited as a result of the pandemic — a topic we've covered. (See here, here, here, here, and here.)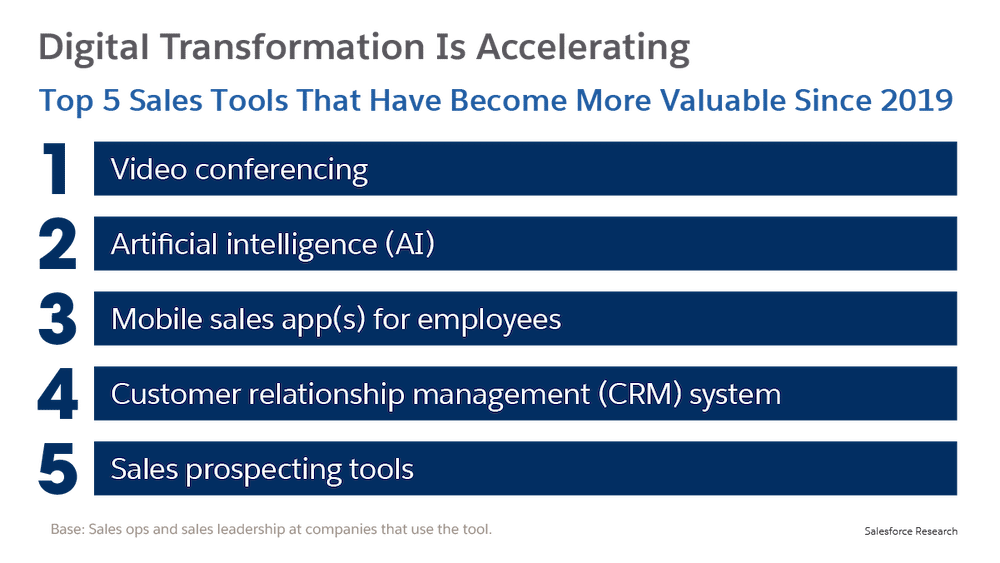 (Image via Salesforce)
In addition, "81% of respondents say sales technology needs have changed significantly since last year, and that they're implementing changes faster than in 2019." Among sales operations, 84% say DX has accelerated since 2019. 
One technology that's seeing increased adoption in sales is AI. Its use has grown by 76% since 2018, the report found. According to Salesforce's summary, "salespeople consider AI's most significant impact to be improved understanding of customer needs — which speaks to the speed of change and importance of insight into customers' evolving situations." Among high-performing sales organizations, 57% report using AI to "improve internal processes and customer experience."
Digital transformation is vital for COVID crisis recovery in Latin America and Caribbean
"The crisis has created the momentum for long-overdue reforms that can help spread the benefits of digital transformation to achieve inclusive and resilient growth," says OECD Secretary General.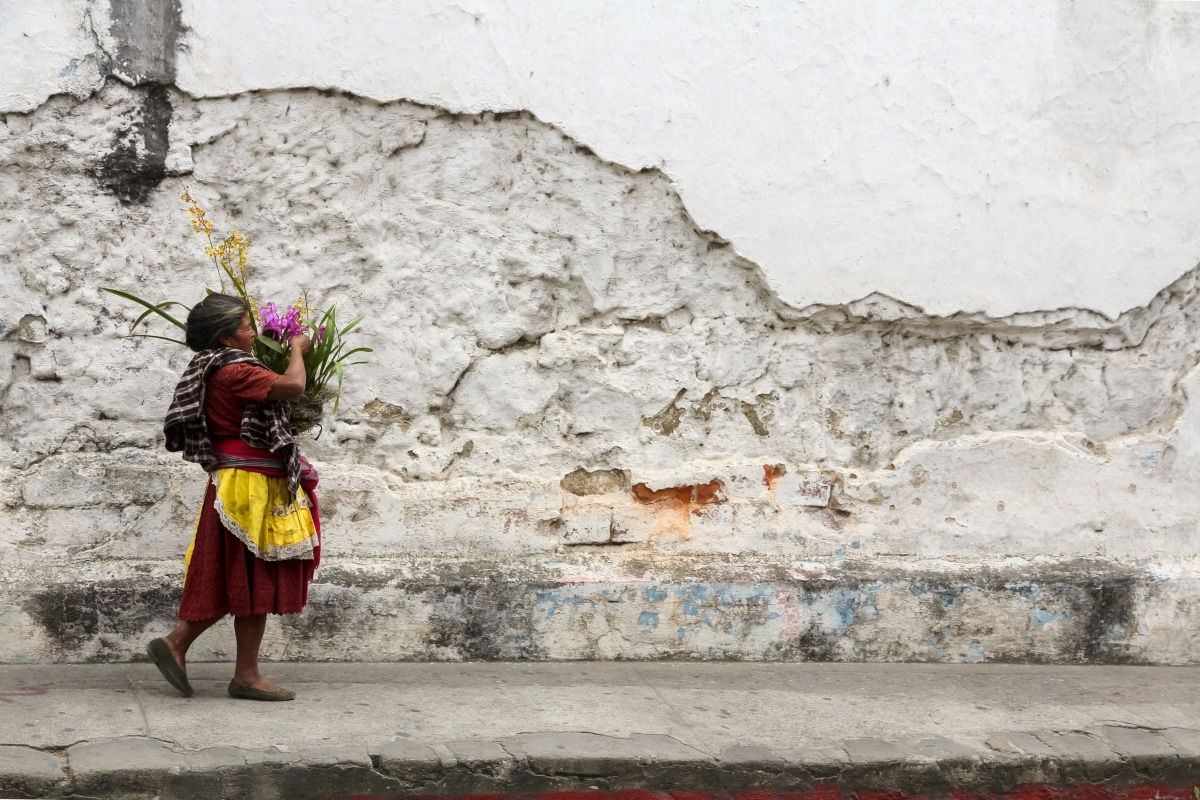 A new report from the Organisation for Economic Co-operation and Development (OECD) shows digital transformation is the key to quicker recovery from the COVID-19 crisis for Latin America and the Caribbean.
Produced jointly with the United Nations Economic Commission for Latin America and the Caribbean (UN ECLAC), the Development Bank of Latin America (CAF), and the European Union (EU), the report details the harsh impact of the pandemic on marginalized populations. 
Titled Latin American Economic Outlook (LEO) 2020: Digital Transformation for Building Back Better, the report found that microenterprises were hit especially hard — 2.7 million are likely to close, at a loss of 8.5 million jobs.
"The socioeconomic crisis makes a new development model more urgent than ever," said Alicia Bárcena, Executive Secretary of ECLAC. "Digitalisation could be a powerful tool to overcome the structural challenges of the region, only if it is considered as a comprehensive way to foster progressive structural change, through policies for the generation of new sectors, quality jobs, the development of capacities and innovation."
According to Ángel Gurría, Secretary General of the OECD, "the crisis has created the momentum for long-overdue reforms that can help spread the benefits of digital transformation to achieve inclusive and resilient growth."
"It also highlights the urgent need to bridge the digital divides between territories, families, students, workers, and firms."
The role of DX
How can digital transformation help Latin American and Caribbean communities? 
"By stimulating business innovation and new consumption models, transforming production systems and value chains, re-organising economic sectors, and introducing new conditions of competitiveness," the report found.
3⃣ challenges #digitization can help #LatinAmerica overcome:

🔄Productivity
✅Inclusivity
🗃️Governance @AgendaCAF @cepal_onu @europeaid @EU_Commission @eclac_un#EconomicOutlook ➡️https://t.co/5adVArgLSt pic.twitter.com/XEjsp7L6g9

— OECD_Centre (@OECD_Centre) September 25, 2020
One way digital tools can help is providing support for better access to services, such as healthcare and education, in addition to putting the people at the center of policymaking.
Digital tools can support access to better services (including health & education) & can address citizens' demands & rising social discontent in #LatinAmerica & the #Caribbean.

How? By facilitating⬆️credible, effective, inclusive & innovative institutions https://t.co/5adVArynh3 pic.twitter.com/fnsR3sAMg1

— OECD_Centre (@OECD_Centre) September 27, 2020
As Luis Carranza, Executive President of CAF added, "digital transformation offers a unique opportunity to boost productivity and to provide better public services in Latin America and the Caribbean. With Covid-19, the region has accelerated its digital processes, but there is still a long way to close the gap with advanced economies."
"A rough road ahead"
There are certainly challenges in the way of advanced digital transformation acceleration. 
Take internet access. In 2018, 68% of the population in LAC used it regularly, behind the OECD average of 84%. Inequality is also evident here. 75% of the richest population in Latin America use the internet compared to only 37% of the poorest population.
In terms of digital transformation, over 20% of jobs in some countries are likely to be automated in some fashion. As a result, investment in education and training in digital skills is crucial.  
In order for the digital transformation agenda of the region to be successful, the report details recommendations for better coordination of efforts, and how these need to align with National Development Plans. There's also an emphasis on the importance of international partnerships to the success of DX efforts. 
Accenture Cloud First launches with $3B investment
New business unit is designed to help clients rapidly become 'cloud-first.'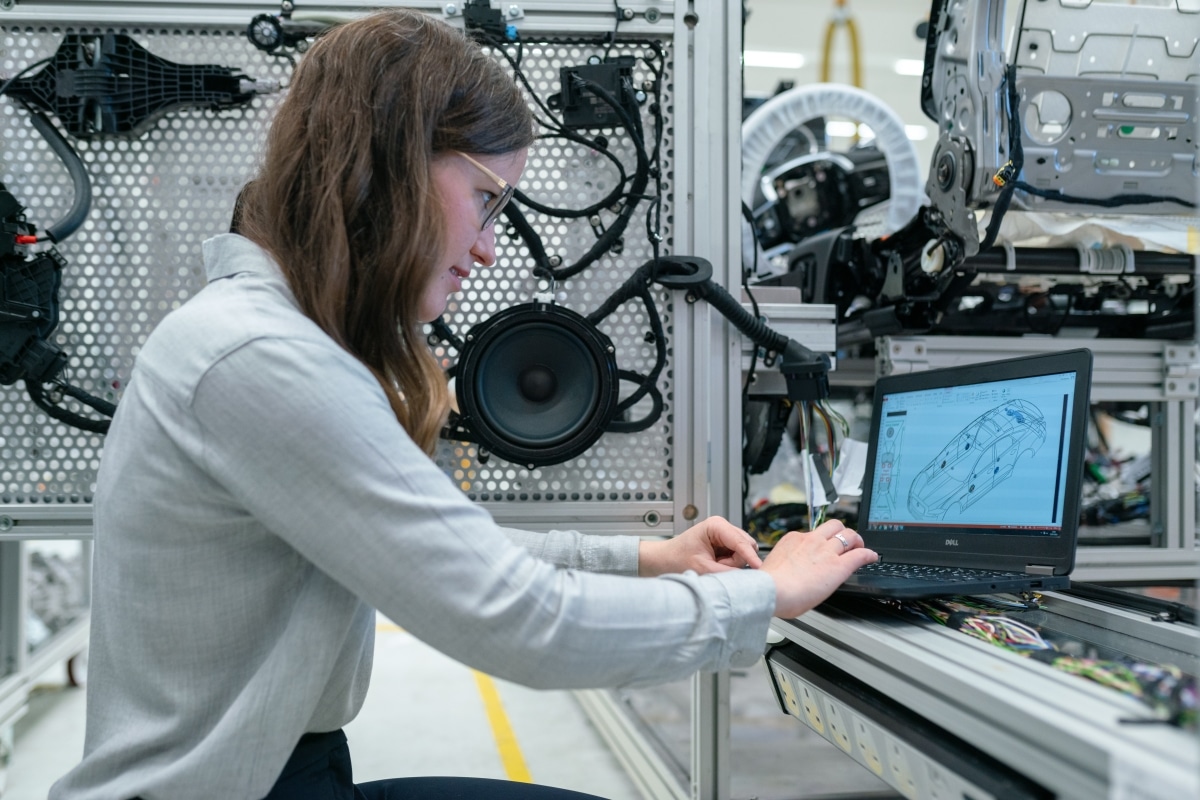 Accenture will be able to help clients more rapidly move toward being 'cloud-first' — thanks to a $3 billion investment.
While not a cloud technology company, Accenture is known as a leading partner of most major cloud providers around the world. This investment will form Accenture Cloud First, described in the company's press release as:
"a new multi-service group of 70,000 cloud professionals that brings together the full power and breadth of Accenture's industry and technology capabilities, ecosystem partnerships, and deep commitment to learning and upskilling clients' employees and to responsible business, with the singular focus of enabling organizations to move to the cloud with greater speed and achieve greater value for all their stakeholders at this critical time."
Cloud First will be led by Karthik Narain, a tech industry veteran who most recently headed up Accenture Technology in North America. 
Announcing @Accenture Cloud First, a new team of 70,000 backed by $3B investment – bringing our clients the full set of capabilities they need to become cloud leaders at speed and scale. https://t.co/Bxwmukdrzk

— Paul Daugherty (@pauldaugh) September 17, 2020
(Paul Daugh is Group Chief Executive – Technology & CTO at Accenture)
Cloud computing has seen a massive increase in demand — especially with the surge in remote working and need to cut costs, both as a result of COVID-19. Numbers from Gartner show that the worldwide public cloud services market is forecast to grow by 6.3% in 2020. The total in dollars? $257.9 billion, up from $242.7 billion in 2019.
As Accenture CEO Julie Sweet is quoted in Fortune's CEO Daily newsletter, "today we are 20% in the cloud. We are moving to 80%…instead of happening in a decade, it is going to happen in five years." 
"This is the Henry Ford moment of the digital era," she added.
In Accenture's press release, Sweet emphasized how the pandemic has brought to light the importance of accelerating digital transformation across all organizations and industries.
"COVID-19 has created a new inflection point that requires every company to dramatically accelerate the move to the cloud as a foundation for digital transformation," she says, "to build the resilience, new experiences and products, trust, speed, and structural cost reduction that the ongoing health, economic and societal crisis demands — and that a better future for all requires."