4 ways to plan for the post-pandemic normal
When the crisis eases, we will have entered a new digital normal. Your strategies need to reflect this shift: Consider these factors as you plan for the longer term.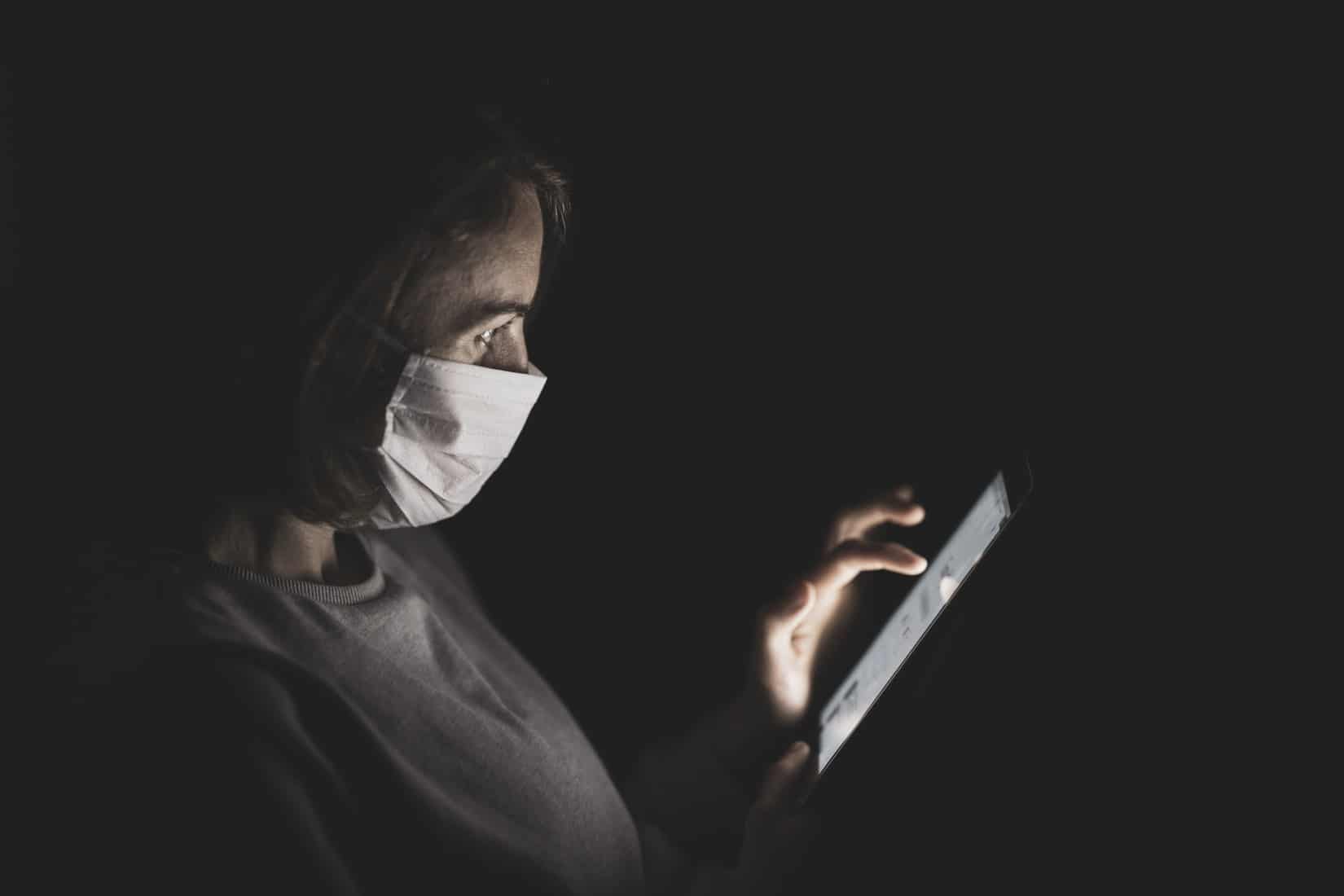 This post originally appeared at Enterprisers Project.
When I sat down to write this article, a follow-on to my previous article on common leadership oversights on the path to digital transformation, the coronavirus's threat to global business had not reached the magnitude that we feel and see today. In a few short weeks, the pandemic has forced a new virtual work reality on businesses and entire operating models have been shifted – and in many cases, upended.
A business environment that is changing so dramatically and rapidly requires speed, innovation on the fly, and the need to scale thinking beyond anything we might have previously imagined. Now is not the time to back-burner digital initiatives but to ramp them up.
Now is not the time to back-burner digital initiatives but to ramp them up.
When the crisis eases, we will have entered a new digital normal. The strategies we use to run, change, and staff the business will need to reflect this shift. Consider the following factors as you plan for the longer term:
1. The right financials
Any business that isn't digital by now likely won't be a business for long. Learning to embrace and adjust is imperative. Continuing – or starting – a digital transformation will be more important than ever, and you'll need to rethink your business' capital allocation strategies for digital initiatives and the staffing that supports them.
To figure this out, become best friends with your finance team and think for both the short- and long-term. In the current climate, it can be easy to be either too short-sighted or too far-sighted, but you need to plan for the next week, month, quarter, year, three and five years.
Become best friends with your finance team and think for both the short- and long-term.
Consider how your company may bounce back from the pandemic when stay-at-home orders are lifted, kids go back to school, and consumers begin to mobilize again: We will have entered an entirely different digital world, with new digital expectations from consumers. Is there potential for a rapid and significant surge, followed by a normalization? Will you be facing a slow rise? Digital transformation funds need to be allocated to react appropriately to these various scenarios; staffing discussions should follow based on these decisions.
2. The right tools
It is likely that at least some of your employees will remain virtual, even when the majority can get back into the office. How will you support them? You may have sacrificed some tools or technologies in your move to quickly get employees out of your building and into their homes; you may have also overpaid for the sake of quick deployment.
You'll need to rework your strategy for the long term. This could include better or more consistent access to networks and servers, the capacity to host formal business meetings online, new portable equipment, virtual collaboration and communication software, and more.
For many, this will require working with your corporate legal team to change their thinking. Where they may have once been risk-averse for the sake of the business, they will now need to take smart risks, also for the take of the business. State your case, find common ground, and move forward.
In some particularly dire situations, you may even need to become comfortable with making decisions first and asking for permission later.
3. The right staffing
You'll need to continue to make smart staffing decisions – quickly. You likely have three types of talent available:
Employees who are great at running the business
Employees who are hungry for more
New talent that may not yet exist in your business but needs to be brought in
Unfortunately, this global crisis may have created gaps in your workforce.
Identify the individuals in the first two groups and work with your talent management team to assess whether you need to advance digital investments previously planned for. Do these individuals have the right type of skills for their teams? Are they collaborative and communicative? IT cannot work in a silo, and team members need to be able to communicate what they are doing and why, and be clear on how their actions are aligned to larger goals.
When you've completed this review, identify the additional skills you will need for the future. This might include teams familiar with building out cloud deployments or working with microservices, etc. Push the rest of your leadership team to break through capital allocation constraints to bring in new employees who not only have the right experience but also can quickly teach your existing teams on new tools organically.
4. The right brand permission
As you work through your accelerated digital transformation, you'll start to think about your business as a truly digital brand. In fact, you might already think so, simply because you've been able to get your staff up and running remotely.
But is this the perception all your stakeholders have? According to the Yale School of Management, "Brand permission defines the limits of customers' willingness to accept a familiar brand name in new marketplace situations." For example, you can't simply say, "We are digital now, world!" and expect your market to immediately accept that if you haven't been digital historically. You need to earn this right.
You can't simply say, "We are digital now, world!" You need to earn this right.
Brand permission is something you and the rest of the company will need to work on – largely focused on delivering useful and impactful digital products and services – in order to attract the new talent you need. Start thinking about this now.
The global pandemic has thrown us into an entirely new world. Business leaders can no longer rest on their laurels and, certainly, can no longer put off or draw out a digital transformation. Making the right decisions now will help to ensure your business is positioned well when this crisis passes.
Is your organization intelligent?
More than 83% of respondents to a survey by Wipro said their organization is an Intelligent Enterprise or on their way to being one.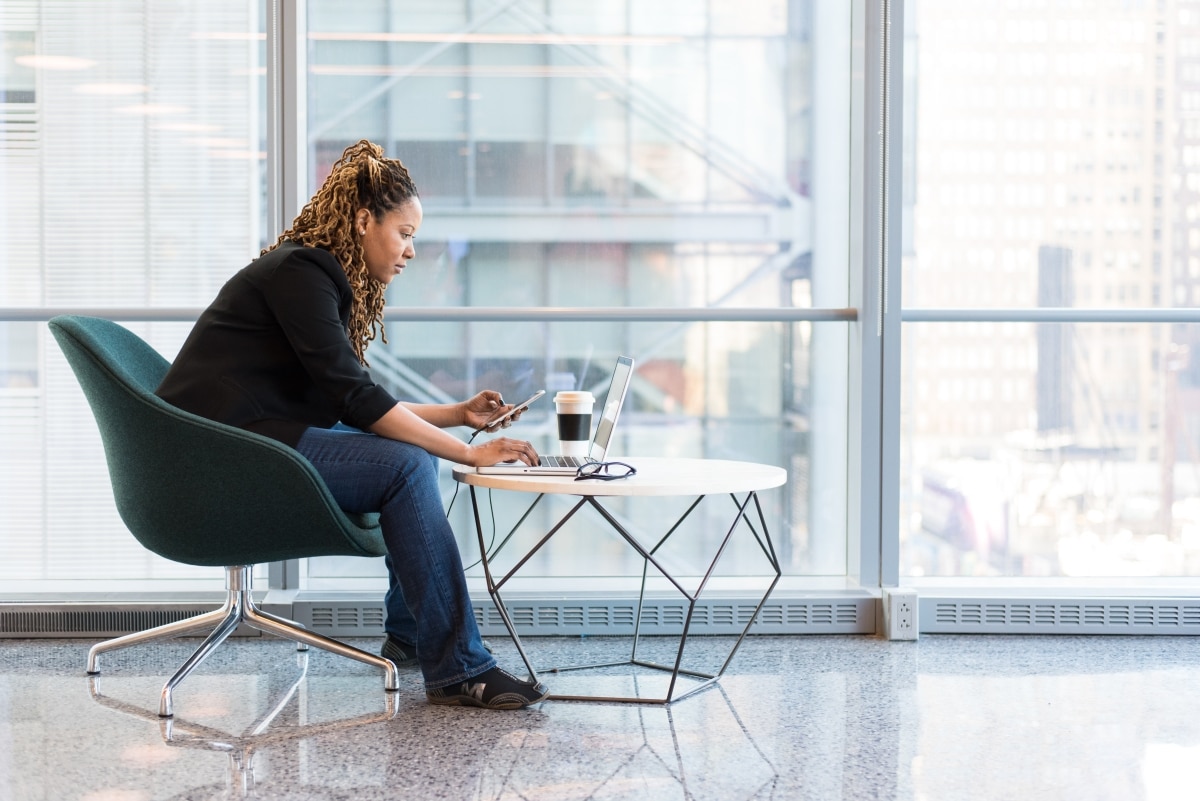 A new study from Wipro shows that Artificial Intelligence (AI), Analytics, Machine Learning, Deep Learning, and Automation are crucial to creating enterprises of the future and that post-COVID, The Intelligent Enterprise will be resilient and able to better manage disruption.  
With 300 respondents in the UK and US — across industry sectors including financial services, healthcare, technology, manufacturing, retail, and consumer goods — the State of Intelligent Enterprises survey revealed that while 80% of organizations recognize the importance of being intelligent, only 17% would classify their organizations as an Intelligent Enterprise.
In the introduction to the survey's report, Wipro explains that "The Intelligent Enterprise is no longer a futuristic vision. It is a daily imperative."
"New problems cannot be solved using old methods. The ability – or inability – to make productive decisions now directly depends on an organization's ability to generate accurate, fast and actionable intelligence to set the correct course."
One key technology that businesses consider critical is AI. 95% of respondents see AI as critical to Intelligent Enterprises, but only 17% have it deployed across the entire organization.
Additional key findings include:
Whether they are already intelligent or working toward it, close to 88% of organizations face challenges.

91% of respondents feel there are data barriers to becoming an Intelligent Enterprise — the most important being data security.

74% of organizations think that investment in technology is the most likely enabler to become an Intelligent Enterprise. 42% of these consider reskilling the workforce as an enabler.
"Organisations now need new capabilities to navigate the current challenges," says Jayant Prabhu, Vice President & Head of Data, Analytics & AI for Wipro Limited.
"The report amplifies the opportunity to gain a first-mover advantage to being Intelligent. The ability to take productive decisions depends on an organization's ability to generate accurate, fast and actionable intelligence. Successful organisations are those that quickly adapt to the new technology landscape to transform into an Intelligent Enterprise."
How the pandemic has accelerated the transformation of cybersecurity
The importance of cybersecurity for remote work was a major catalyst for the recent advancement of widespread digital transformation efforts.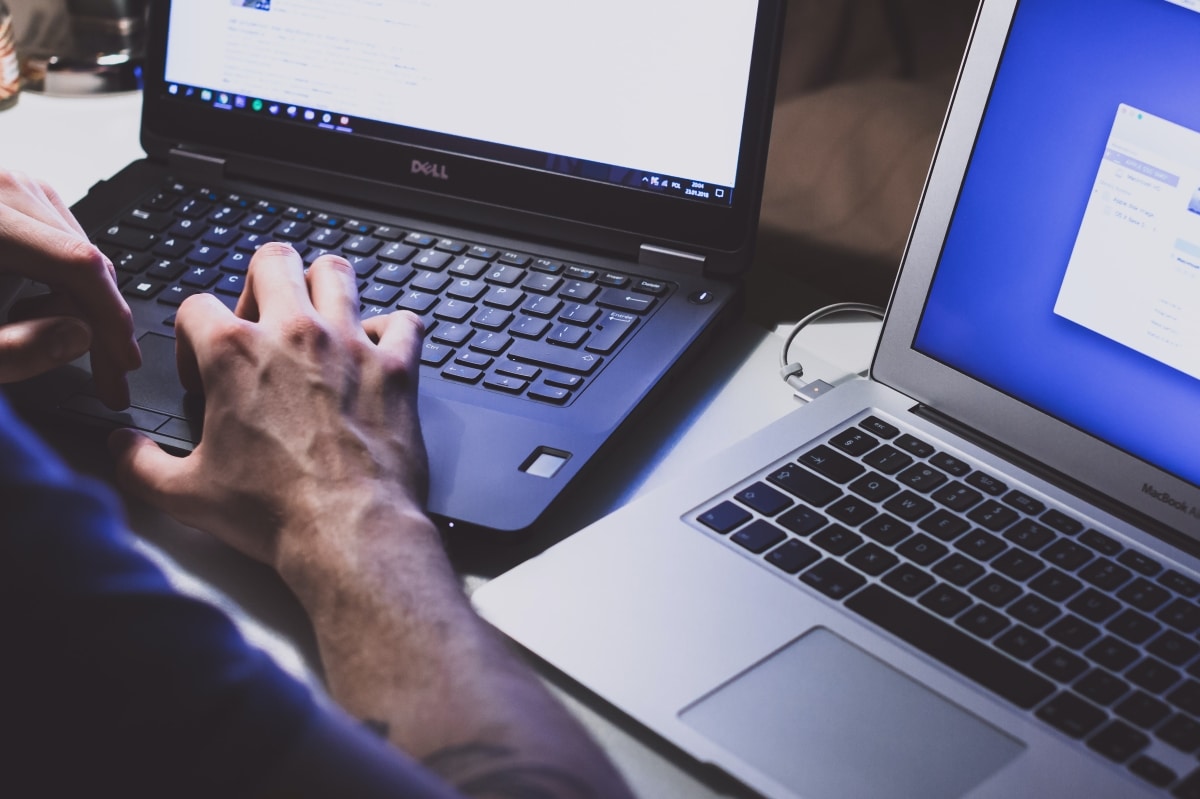 By the end of April, it was evident that COVID-19 had permanently altered the future of work.
So much so that Microsoft CEO Satya Nadella, while delivering the quarterly earnings report to Wall Street, said "we've seen two years' worth of digital transformation in two months." 
As Microsoft Security General Manager Andrew Conway reports, a major catalyst for such a dramatic advancement of DX was the importance of cybersecurity in ensuring productive remote work. 
For context, in late 2019 we reported on the global surge in spending on cybersecurity products and services — then expected to exceed $1 trillion cumulatively over the five-year period from 2017 to 2021.
Related Reading: How enterprises are facing security challenges
COVID's impact
To better understand the pandemic's role in shaping cybersecurity for the long-term, Microsoft surveyed nearly 800 business leaders of companies with over 500 employees in India, Germany, the UK, and the US. The results show that organizations are still impacted by phishing scams and security budgets, that hiring increased in response to COVID-19, and that investment is going into cloud-based technologies and architectures.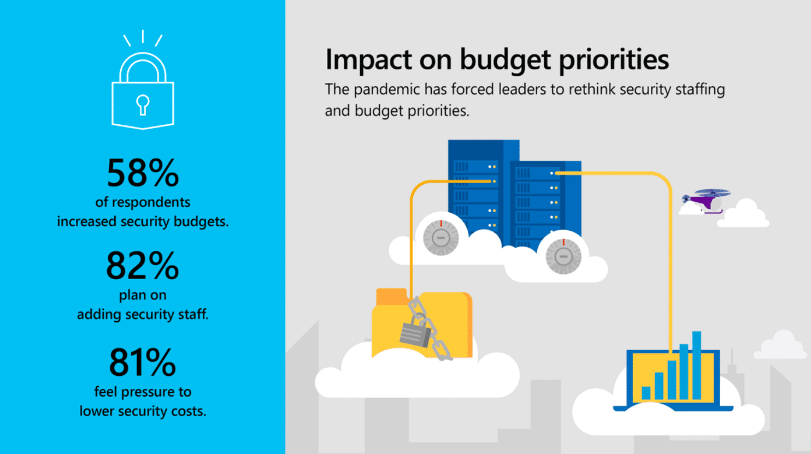 (Image via Microsoft)
At the top of the list of challenges reported by leaders surveyed is "Providing secure remote access to resources, apps, and data."  
"For many businesses," Conway explains, "the limits of the trust model they had been using, which leaned heavily on company-managed devices, physical access to buildings, and limited remote access to select line-of-business apps, got exposed early on in the pandemic." 
Unsurprisingly, surveyed leaders identified that the top security investment made during the pandemic was multi-factor authentication. 
Additional insights from the survey include:
Anti-phishing technology was most identified as the best pre-pandemic security investment, with phishing threats cited as the biggest risk to security.

90% of indicating that phishing attacks have impacted their organization.

A majority of leaders surveyed reported budget increases for security (58%) and compliance (65%).

81% also report feeling pressure to lower overall security costs. 

"Business leaders from organizations with resources mostly on-premises are especially likely to feel budget pressure, with roughly 1/3rd feeling 'very pressured.'"

40% say they are prioritizing investments in Cloud Security, followed by Data & Information Security (28%), and anti-phishing tools (26%).
Conway also identified five ways the pandemic is changing the cybersecurity landscape for the long-term:
"Security has proven to be the foundation for digital empathy in a remote workforce during the pandemic"

A top priority of those surveyed is improving end-user experience and productivity while working remotely (41%).

The Zero Trust model will become industry standard 

51% of business leaders are expediting the deployment of

Zero Trust capabilities

— a

security model based on strict access controls where the

default is to not trust anyone both inside or outside the perimeter. 

94% of companies report that they are in the process of deploying new Zero Trust capabilities to some extent.

The importance of diverse data for improved Threat Intelligence

"Microsoft tracked more than 8 trillion daily threat signals from a diverse set of products, services, and feeds around the globe."

The absolute necessity of cyber resilience to business operations

"Cybersecurity provides the underpinning to operationally resiliency as more organizations enable secure remote work options."

Maintaining this requires regular evaluation of risk threshold and the deployment of cyber resilience processes.

"The cloud is a security imperative"

Integrated security solutions are crucial for organizations of all sizes.
What digital transformation looks like coming out of the pandemic
59% of executives surveyed say that COVID has created a motivation to accelerate their DX initiatives.
COVID-19 has disrupted just about every faction of our world. So where and how does digital transformation (DX) fit into the picture now?
"Recalibrating investment priorities to mitigate the risks associated with COVID-19 should continue to be the first priority of any company," writes EY Canada partner Anthony Rjeily. "But pushing forward with your digital transformation program should still be a priority for the organization."
Businesses face a wide variety of challenges — shifting customer engagement models online, enhancing digital capabilities of customer service, remote work, an increase cyberattacks and so on, and so forth. Rjeily says long-term successes will come from those driving innovation programs. 
Let's look at two examples:
When COVID-19 first hit, the retail sector moved online at a near-breakneck speed to drive commerce online. It makes sense that it was easier for businesses with already-existing, scalable digital infrastructure to pivot to the pandemic realities. But as Ryan Talbott writes, this is the new norm for retailers. "A retail organization's ability to react quickly to changes in consumer behavior has become a key survival skill. Regardless of how good their business contingency plans were, once the pandemic hit, many retailers found they were in a difficult spot and simply couldn't move at the pace their customers needed them to."
Within architecture, engineering, and construction industries, COVID-19 accelerated digital transformation plans but many companies still have a long road ahead. Industry experts predicted that 2020 would be a watershed moment for DX integration in these industries and this did, in fact, come to fruition. But going forward, James Dean, CEO of Sensat, says companies in these industries will need to "create a more holistic approach to the entire asset lifecycle, ensuring technology takes prime position in their approach, supporting revenue generation and ensuring continued business success,"
A focus on emerging technologies
According to a new report from KPMG International and HFS Research, 59% technology executives surveyed say that COVID-19 has created an impetus to accelerate digital transformation initiatives. The report, titled 'Enterprise Reboot,' found executives have shifted their focus to must-have technologies and more than half (56%) say cloud migration has become an absolute necessity due to COVID-19.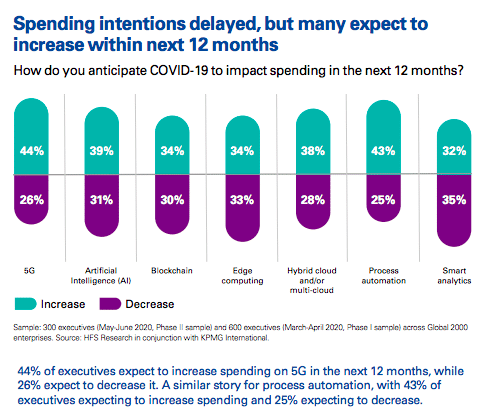 (Source: KPMG/HFS Research)

At the same time, COVID is also a caveat. Approximately four in 10 say they will halt investment in emerging technology altogether as a result of the pandemic. 
"This crisis isn't affecting all industries equally, but for many of the industries facing crisis, managing the transition to a digital business model is imperative," explains Cliff Justice, KPMG global lead for Intelligent Automation and US lead for Digital Capabilities. "However, doing so is made more complicated in a time where investments are critical, but cash must be preserved."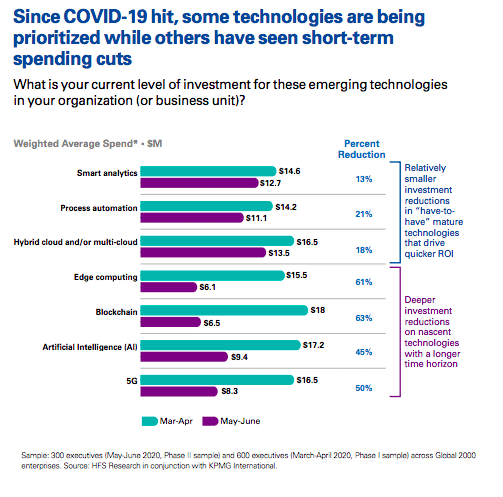 (Source: KPMG/HFS Research)
Investment for business survival
"Emerging technologies and new ways of working can play a significant role in the transformation to a more digital economy," said Justice. "These technologies are helping companies maintain customer and stakeholder trust, keep remote workforces connected, ensure their business is resilient and prepared for disruptions, and build a strong foundation for future product and service innovation."
Ultimately, the pandemic has placed straight-up business survival as the primary objective for most emerging technology investments. 
"Now more than ever, companies need to make smart investments in emerging technologies if they are to prevail in the medium- to long-term," said Justice. "Companies who don't, risk threatening their own survival."