SAAS NORTH NOW Moves online in its first virtual conference
Canada's largest SaaS conference features global speaker line-up and immersive event experience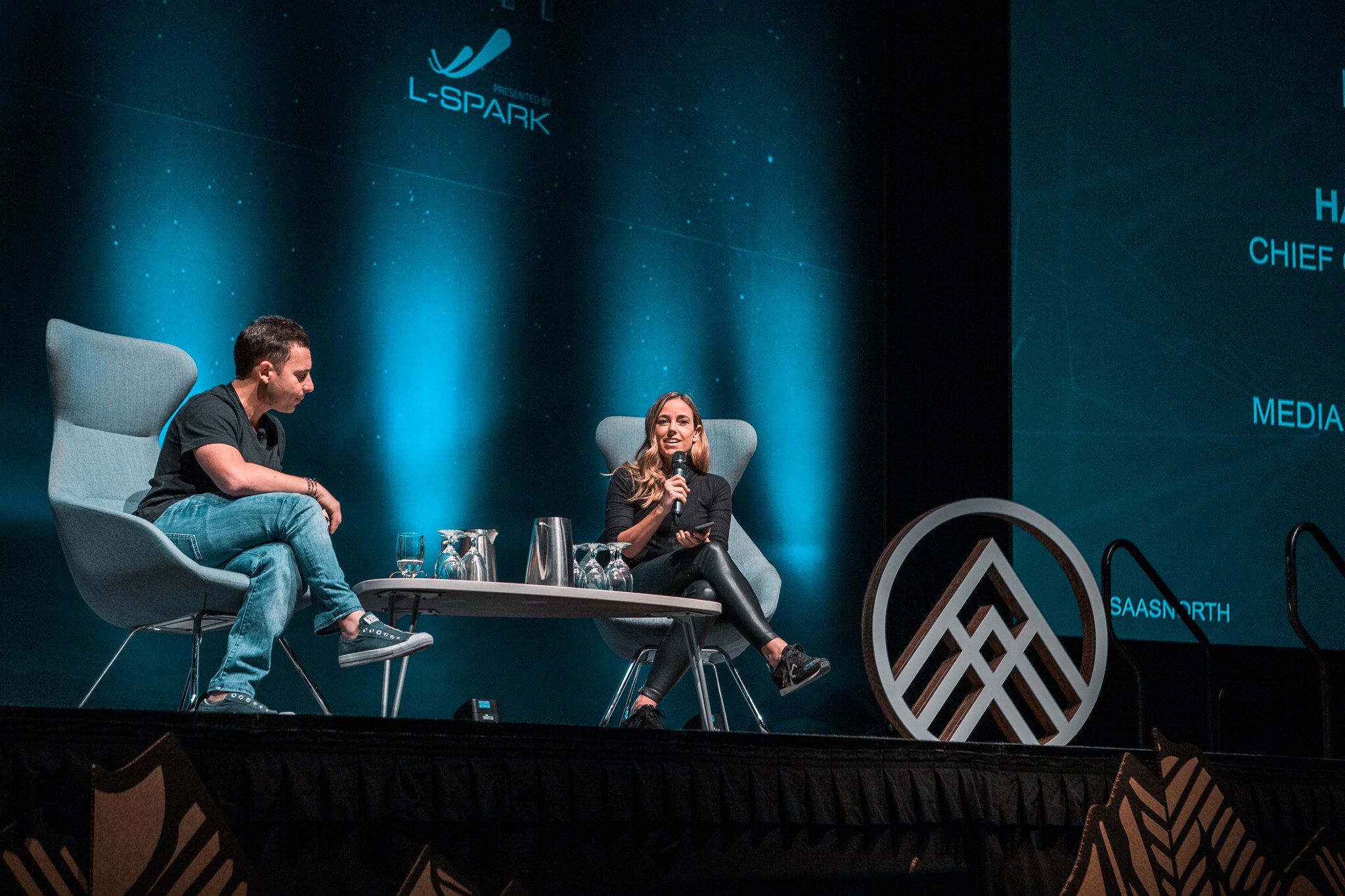 Canada's best and brightest SaaS minds will be coming together to learn, network and grow at SAAS NORTH NOW on September 9 – 10, 2020. In its fifth year, the popular and established SaaS conference usually takes place in Ottawa, but the impact of the COVID-19 pandemic forced producers Cube Business Media to do a comprehensive pivot and move the conference online.
"With thousands of delegates converging annually, we knew we needed to find a way to re-create our immersive experience this year that will bring together SaaS entrepreneurs, CEOs and founders, mentors and investors. We moved very quickly to transition our conference to a virtual event that features an impressive line-up of global thought leaders in innovation and technology, as well as numerous meaningful ways for attendees to network and build connections," says David Tyldesley, Co-Founder of the SAAS NORTH Conference.
The SAAS NORTH NOW program features leading entrepreneurs who will explain how they tackle topics such as how to maintain sustainable growth, navigating capital markets in a downturn, how to dominate your SaaS category, and the global economic outlook and business opportunities for SaaS sectors.
"SaaS is the lifeblood of software companies today," says Leo Lax, Executive Managing Director of L-Spark, SAAS NORTH Co-Founder. "SaaS business models, marketing strategies, and product developments are continuously being innovated at an accelerated pace. L-SPARK co-founded SAAS NORTH because we are committed to continue building a sustainable global ecosystem. SAAS NORTH is the go-to destination to learn and explore the industry. SAAS NORTH is where today's SaaS lives, and where the future partners, investors and talent come to connect."
Some of the biggest supporters attending SAAS NORTH this year include Shopify, Amazon, Microsoft, Google, RBC, Klipfolio, Ceridian, COVEO, Drift, Kinaxis and Active Campaign among hundreds of others.
"SAAS NORTH is an opportunity to connect with some of the greatest minds in SaaS. They swiftly transferred the ethos and core values of the event into a virtual format to ensure attendees from all over can continue to learn, stay connected, and discover the tools they need to help navigate and scale their businesses in our new normal," says Jason VandeBoom, Founder and CEO, Active Campaign.
While attendees won't be meeting physically face-to-face, there will be plenty of opportunities to make connections, meet investors and connect with serial founders to learn from their pivots, rebounds and innovations.
Using industry leading technology, there are many opportunities for attendees to have meaningful conversations with other conference delegates, speakers, sponsors and exhibitors. Prior to the conference, attendees can use AI and advanced filters to identify who they should meet at the event.. There will also be a happy hour, VIP reception, and pre-scheduled meetings on specific subject matters.
The popular Pitchfest, a showcase of up-and-coming Canadian SaaS businesses, is taking place virtually this year with eight start-ups making their pitch for the top prize of $10,000 cash prize provided by Amazon Web Services, up to $100,000 in cloud credits provided by Amazon Web Services, full-service virtual IP manager (VIPM™) valued at $10,000 provided by Stratford Intellectual Properties and a custom explainer video package valued at $10,000 provided by Simple Story,
"I encourage all our virtual attendees to plan for SAAS NORTH as if you were physically going. Clear your calendar, put an out of office message on, set up meetings in advance and schedule breaks throughout the day. Make the most of this opportunity to connect with your peers and learn from the top leaders in the Canadian and global SaaS ecosystem," says Tyldesley.
Attendees can purchase tickets for SAAS NORTH NOW at just over $133 – a fraction of the usual in-person conference fee.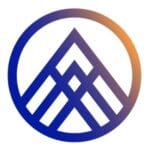 SAAS NORTH is Canada's SaaS conference, co-founded in 2016 by L-SPARK and Cube Business Media. 2020 marks the fifth year of this premier event bringing the best in SaaS together virtually on September 9-10, 2020.
The innovator's mindset and the battle between Batman-v-Superman: mesh conference day 2
From a tech founder working with underserved communities to a unique teaching assistant, here's the scoop from the final day of the mesh conference.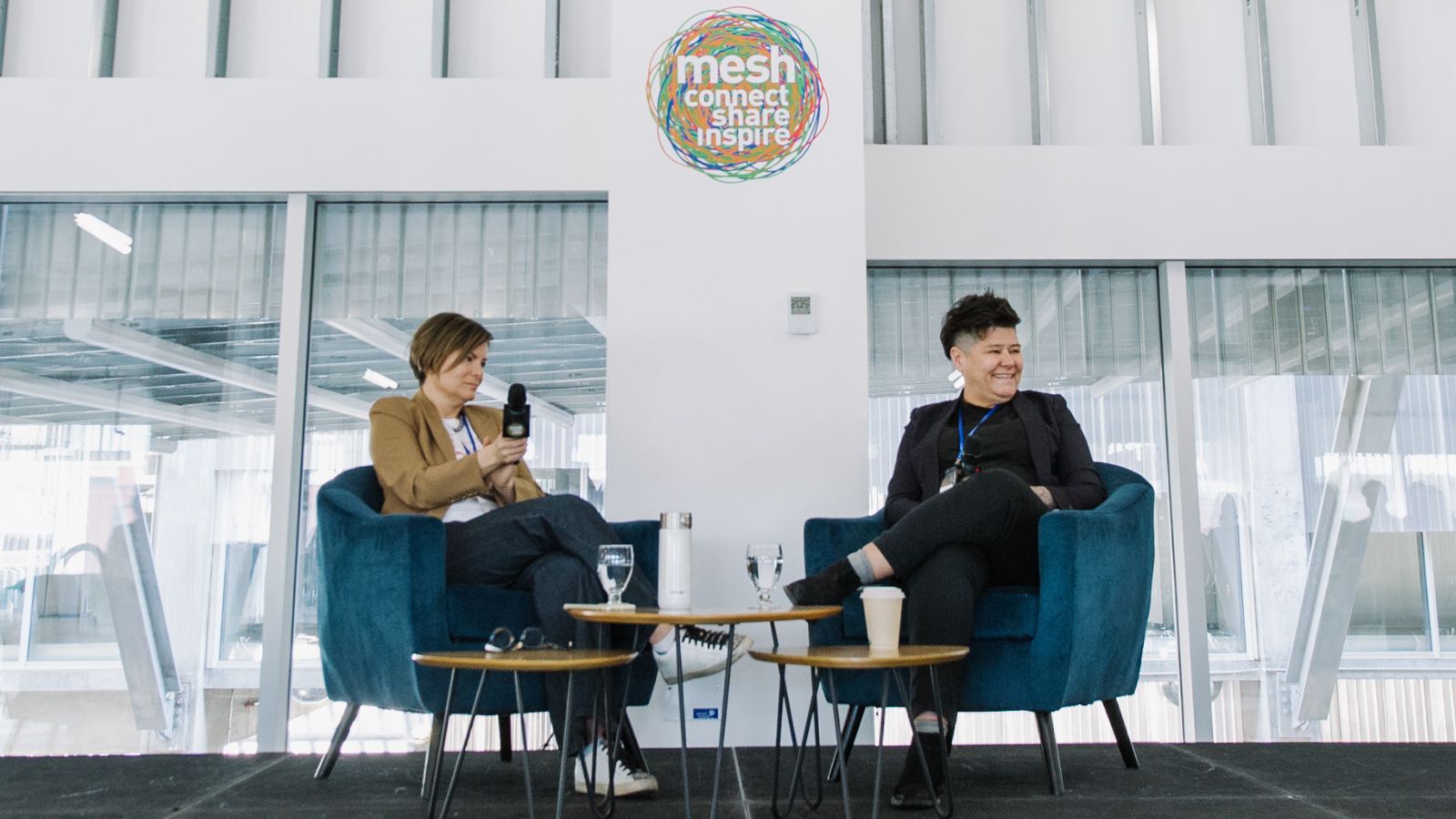 "The reason I'm so outspoken about being an Indigenous entrepreneur is because…if I'm not out there being loud and proud, who else is going to be?" Bobbie Racette asks the mesh conference audience.
The second day of mesh opened with a tech founder that inspired everyone in the audience (some to the point of tears), and closed with the crowd posing ethical questions to an AI that fields any question in just about any language.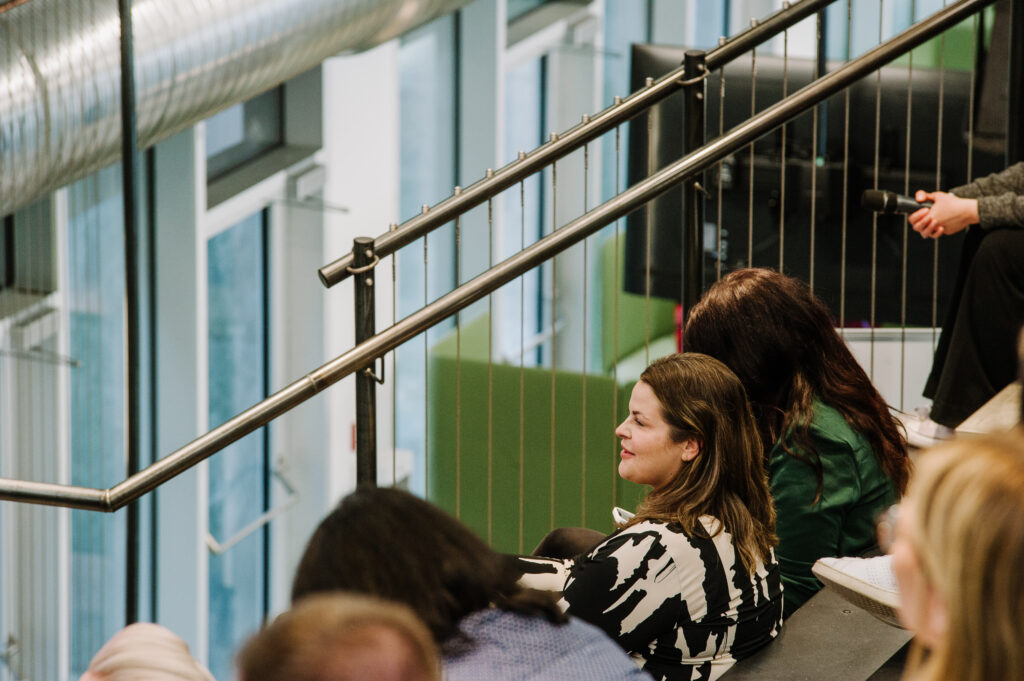 Here are just some of the highlights from the jam-packed second day of the conference.
(And if you missed it, read about day one right here.)
Bobbie Racette keeps her 'why' and culture central to the growth of Virtual Gurus
As Bobbie Racette's Virtual Gurus scales up, she's mindful of protecting the 'why' at the heart of the business that enabled the scaling to begin with – and the culture she's built around it.
"Protecting culture has been the hardest thing for me," said Racette, in the Keynote Fireside Conversation that opened day two. "The one thing that I've realized is that I have to not put myself first. When I walk into the room, I do not expect the team to ask me how I'm doing or how my day is. It's me asking them. I put my stuff in my office, [and] do what I call the 'lion hunt.' I walk around and I say hi to every single employee whether they're a customer service rep, salesperson, or someone [in the C-suite]. I treat them all the same."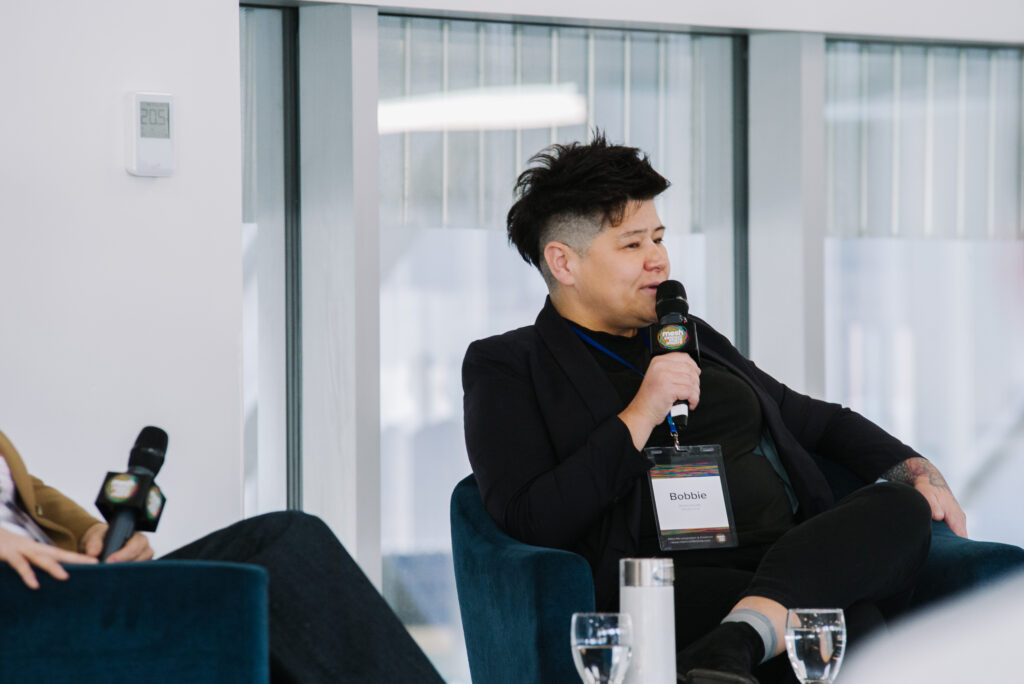 The Virtual Gurus origin story has been well publicized by now. Racette built the company to provide meaningful work to underrepresented people who have been traditionally told no, as she once was.
And as she scales, her 'why' isn't just an attractor for talent in her business but clients as well – especially at the enterprise level.
"While we're still going to take SMBs (small and medium size businesses), we're really focusing on enterprise accounts," said Racette. "The reason they want to use our service is because they can hit their ESG numbers by using a platform like ours and by choosing a company that's done all the vetting of the people. A large client could come in and if they want 400 virtual assistants – that could [positively] impact their carbon footprint and DEI numbers."
Racette's story of founding her company as a queer, Indigenous woman — the first Indigenous woman in Canadian tech to close a Series A round – inspired many in her community and, at mesh, in the audience.
During the Q&A portion of the keynote, one executive in the audience, in lieu of a question, told Racette that, at age 45, after years of feeling like she couldn't be 'out' in the workplace in Alberta, read Racette's story. She said it gave her the courage to walk into her company and say 'this is who I am.'
In two days filled with powerful, provocative discussions, this was perhaps the signature moment of the conference.
Who would win a fight between Batman and Superman?
This question from the audience in the conference-closing keynote session "Intelligence Augmentation: The Ethical Implications of Human-AI Teaming" was directed not to a person but to Maria Bot Digital, an AI-powered strategic avatar who teaches alongside Dr. William Barry. Barry is an adjunct faculty member and Executive GovCon SME for Emerging Technologies at the US Army War College.
But, what's a strategic avatar, you may be asking? Barry coined the term to describe a decision-support digital assistant that uses conversational AI and intelligence augmentation (IA) technologies to enhance a human being's decision-making process by integrating data analytics, AI capabilities, and human insights.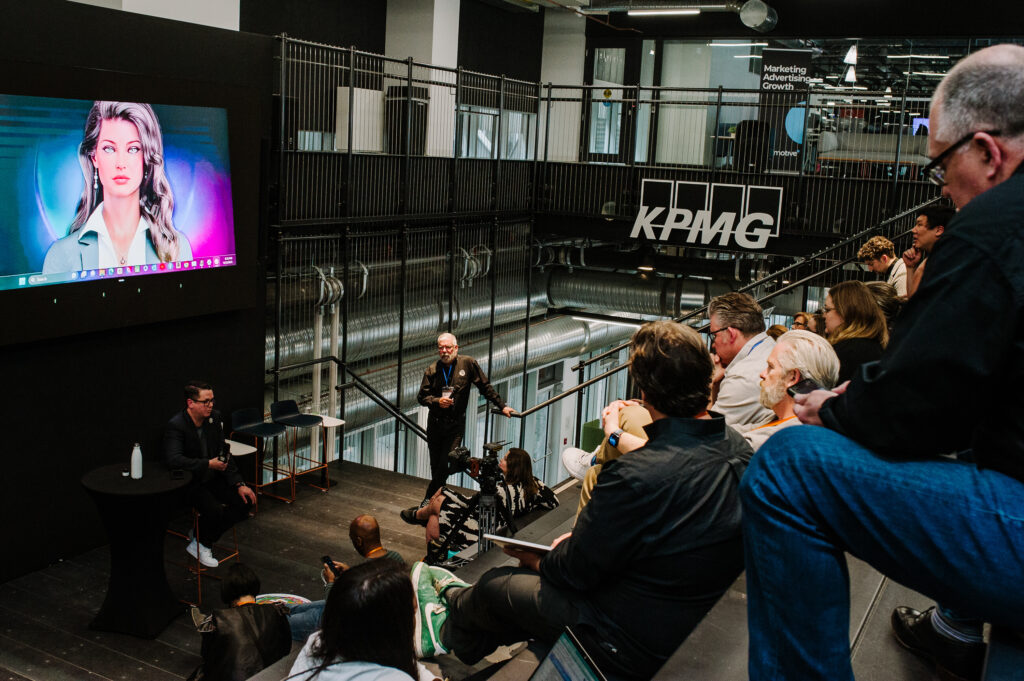 During the session, audience members threw live questions at Maria Bot Digital covering everything from how to rid the planet of nuclear weapons to how to stop the war in Ukraine to the best flight route from Calgary to Toronto. She provided unscripted answers and follow-ups when pressed for details. Even more impressive, she can field questions in up to 100 languages and Barry often directs her to read 'every book ever written' on one topic or another.
Clearly the future is coming faster than we all think.
And as to the Batman vs. Superman question? The utilitarian-ethics of Maria Bot Digital led her to hedge her bets just a bit, but ultimately she argued that Batman's tendency towards vigilantism was less valuable than Superman's willingness to protect all people with his great power.
Advantage: Superman.
Three ways to help you create an 'innovator's mindset'
On a panel focused on tapping into the innovator's mindset, Sabrina Sullivan (FORD/SAIT), Mary Jane Dykeman (INQ Law), Christine Gillies (Blackline Safety), and Deborah Yedlin (Calgary Chamber of Commerce) shared productive ways to think about innovation.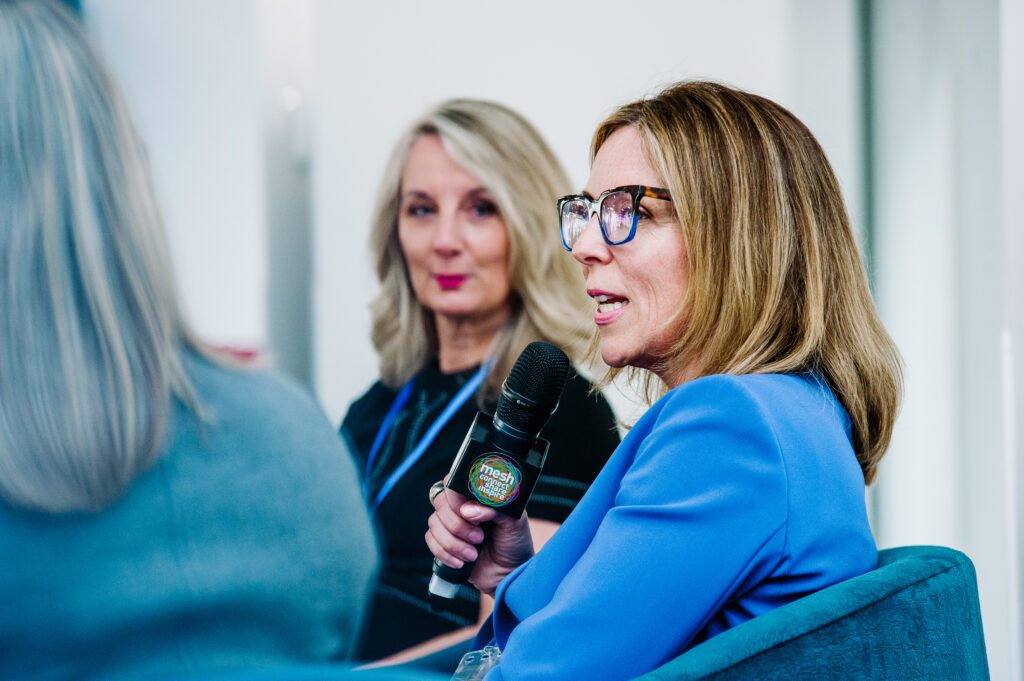 Here are three that stood out, paraphrased:
Sullivan: Think about the future and visualize what it might be, in order to plan for potential scenarios that are five years down the road."
Gillies: For companies behind in digital transformation, adopting technology from innovators in the space can help them catch up, compete, and become more innovative themselves.
Dykeman: In a data-rich but data-siloed space like healthcare, the needed mindset shift may need to come from patients and staff who have to agree to enable tech innovators to use their data as a resource.
Virtual reality, ChatGPT, and marketing in the age of distraction
With so many valuable insights zooming back and forth between mesh presenters and attendees, everyone was sure to leave all the more galvanized and ready to inspire transformation in their own organizations.
And sometimes the best pieces of wisdom come in small nuggets.
Here are three takeaways from mesh day two, that can fit in your back pocket:
On Virtual Reality
"Virtual Reality is just the next step in our development of media," said Dr. Andreas Fraunberger, the Managing Director and XR Producer at Junge Romer, on an exclusive livestream conversation from Vienna, Austria. "Think back to the first photographs, for instance, and look how far we've come."
"We're probably the last generation that will differentiate between real and virtual," said Amy Peck of EndeavourXR as part of that same conversation. "VR is just an extension of our human attraction to storytelling and the evolution of our reality."
On AI & ChatGPT
For people concerned about generative AI taking human jobs, it's simply an incredibly advanced tool according to Iman Bashir of Craftly.AI.
"It won't replace you, but a person using Chat GPT will replace you."
On Marketing & Sales
In a panel discussion called 'Marketing and Sales in The Age of Distraction,' Amrita Gurney, the Head of Marketing at Float, offered up a useful insight on the value of sharing your point of view, not just your product, in the B2B sales process.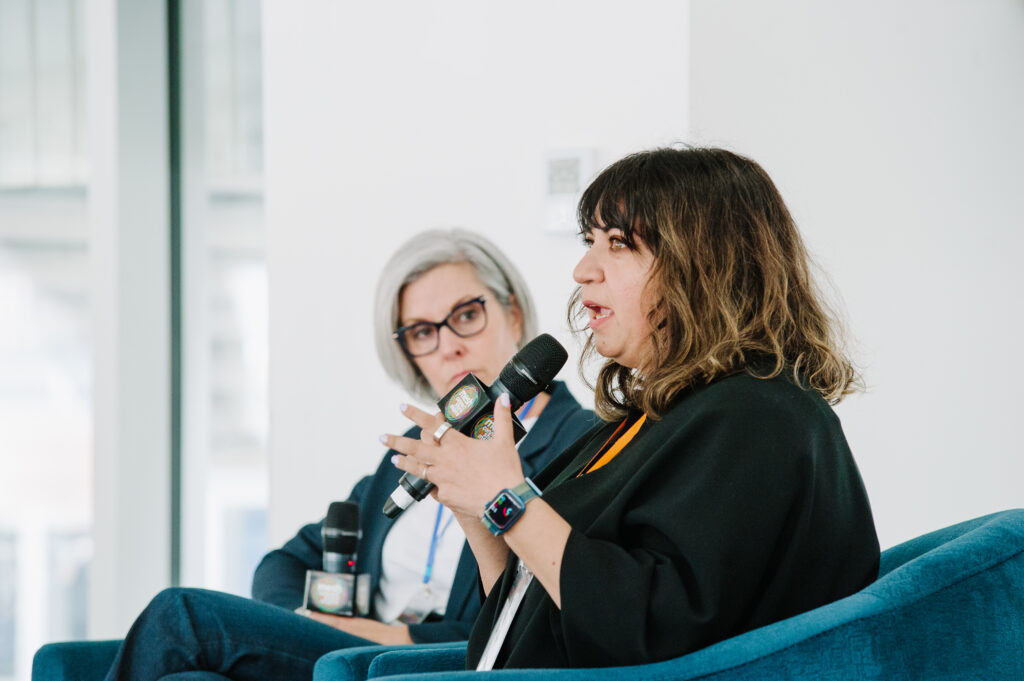 "With B2B marketing, often you're selling something that is more complex than B2C. The decision to buy is often a multi-month process. So, sharing not just information about your product, but your insight as a brand, can make all the difference."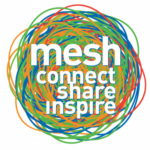 mesh is Canada's digital transformation event experience. Taking place in Calgary (April 12-13, 2023) and Toronto (November 2023), mesh aims to create a digital transformation network and event experience that helps organizations and leaders determine what to do, how to do it, and how to be successful. Learn more at meshconference.com
3 big ideas animating day one of the mesh conference
The pioneering conference returns for the first of two 2023 events, this time in its new home city of Calgary, AB.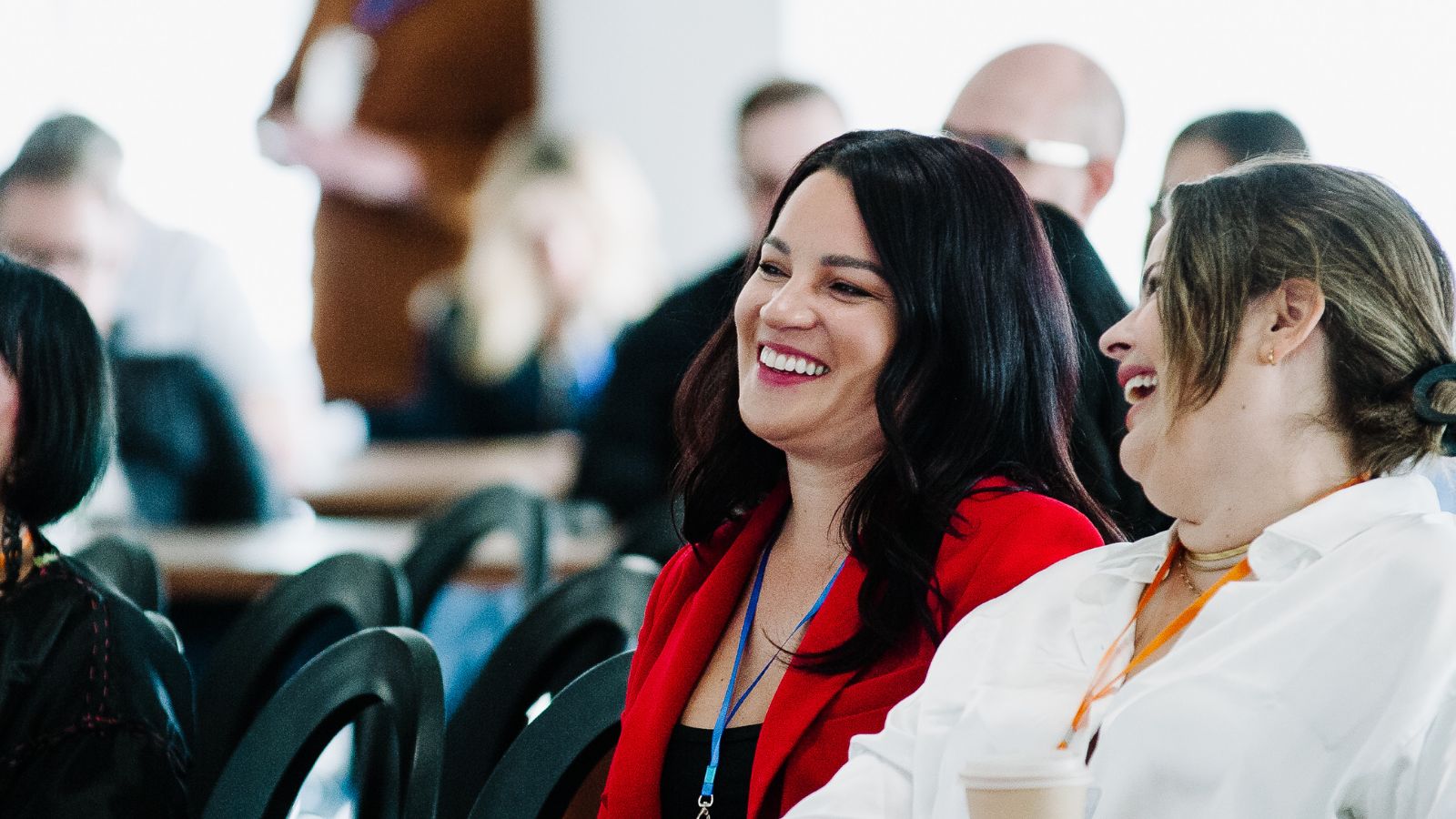 Day one of the mesh conference in Calgary focused on digital transformation and innovation, looking at what's coming next, and how we get there.
Unlike many tech events where the focus can get way into the digital weeds or frame everything around the tech of the day (ChatGPT, anyone?) the real prize at mesh was the potential impact of digital transformation on people.
For the mesh brand, the Calgary conference marks its return after a lengthy hiatus. The proudly PowerPoint-free conference originally launched in Toronto in 2005 and ran for 10 years.
It featured speakers, conversations, and debates at the nexus of four areas: business, marketing, media, and society. This was the first event in nearly a decade and brings a renewed focus on digital transformation in the private and public sectors, and society as a whole.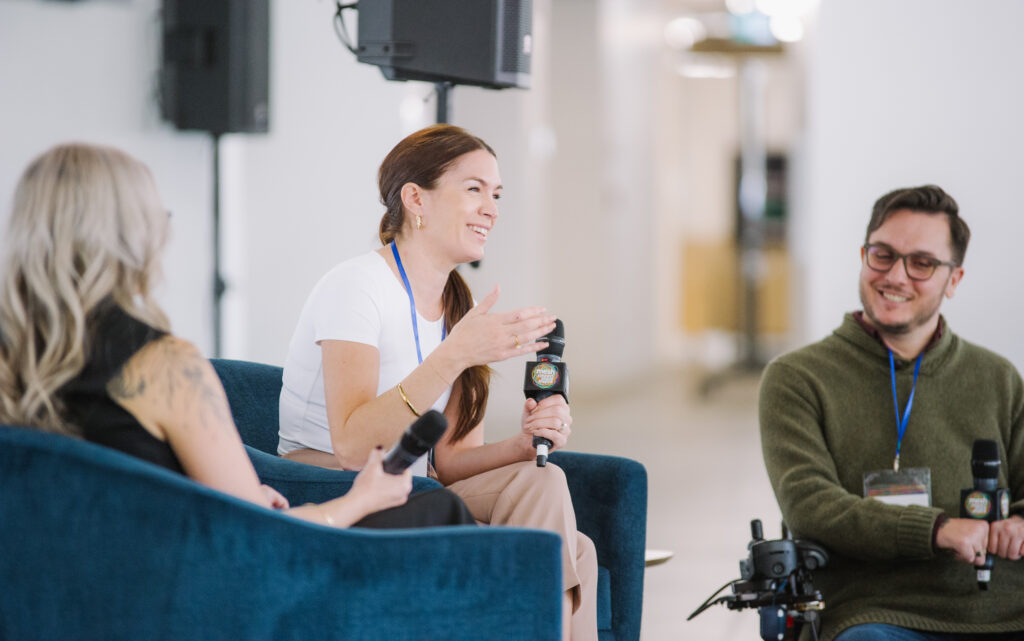 Day one in Calgary featured panels with tech leaders in both startups and enterprises, fireside chats with technology and innovation industry leaders, an innovation showcase, and spirited discussions amongst attendees and speakers.
Here are three key ideas that ran through day one of mesh Calgary:

1. Tackling big problems and pursuing big opportunities: 'meshies' show their ambition
Ambition was a key theme throughout day one. While there were nods to the virtues of incremental innovation, attendees were animated mostly by big problems, big challenges, and big opportunities.
In the kickoff panel on the state of innovation in Canada, Alison Sunstrum, the CEO of CNSRV-X Inc. (Conserve X), which researches and applies emerging technology in agriculture, laid out the need for bold action. She noted that global problems like food insecurity and climate change are problems that only innovation can solve and that failure to do so would be disastrous.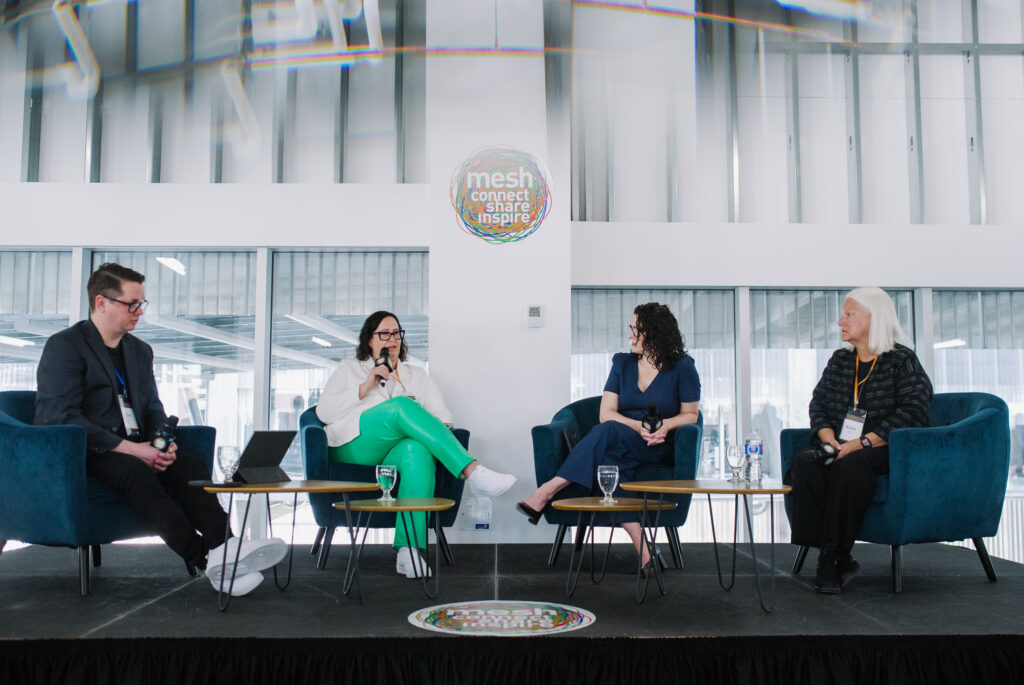 She also put a challenge to Canada to grow its innovative capacity:
"We have to become more tech-savvy and more tech-enabled to become a truly innovative country. Canada has had decades of innovation agendas, but we're not getting ahead. We are at the bottom of our peer group [in the OECD]. We must become an innovation nation"
Others were just as focused on the possibilities as the problems.
In her fireside conversation, Kirstine Stewart, Twitter's former VP Media for North America, looked back on the early years of the social network. Back then, the platform's role in galvanizing the Arab Spring suggested the possibilities of democratizing communication and access to information. And with the Twitter brand now staggering under new leadership, Stewart looked ahead to what might supplant the big social networks.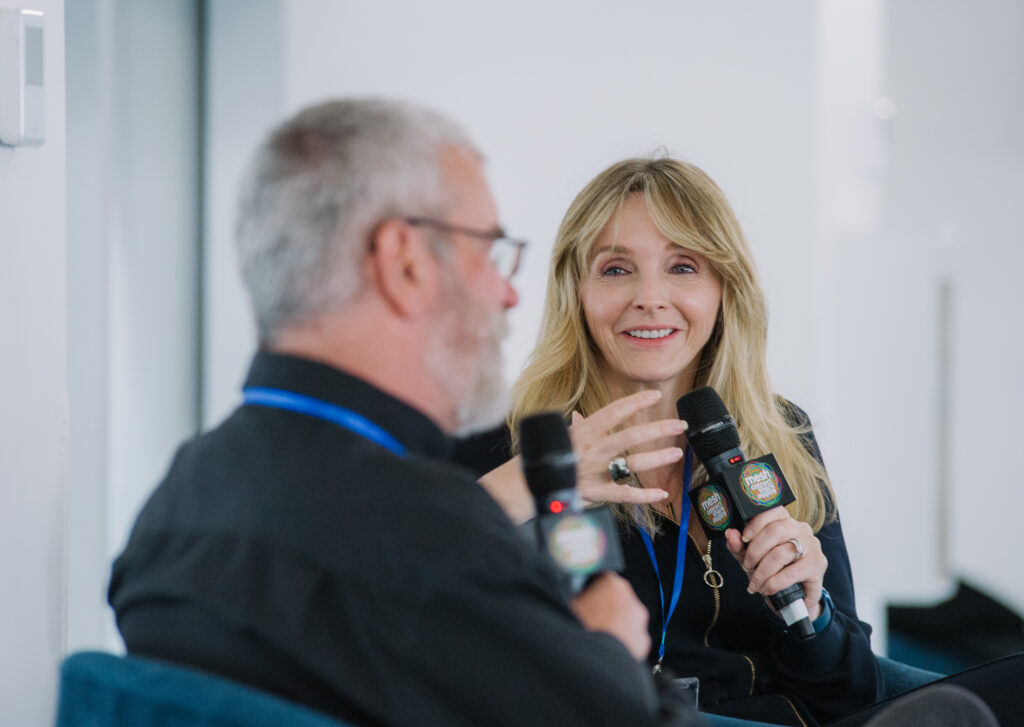 Eventually, possibly, maybe.
"It's really hard to displace the current social media big four," she said. "Twitter users came up with the idea of retweets and quote tweets. That creates a sense of ownership with users that isn't possible with some of these other new platforms. But I do think there's an opportunity for a whole new type of social platform."
Steward also said there's an inherent interest in data being shared and there's a place for a new social platform to be conceived of in a way that hasn't been done before.
"Post and Mastodon – they're trying to recreate what people have on Twitter. It needs to be new."
2. Breaking down the silos between sectors and organizations
In a panel titled 'Catalysts for Change,' which was ostensibly focused on digital transformation in the non-profit and public sectors, much of the talk was about the private sector.
"We have a fundamental societal problem where we say we make money over here and we do good over here and never the twain shall meet," said Charles Buchanan, Founder and CEO of Technology Helps, which provides technology services to nonprofits and social good organizations.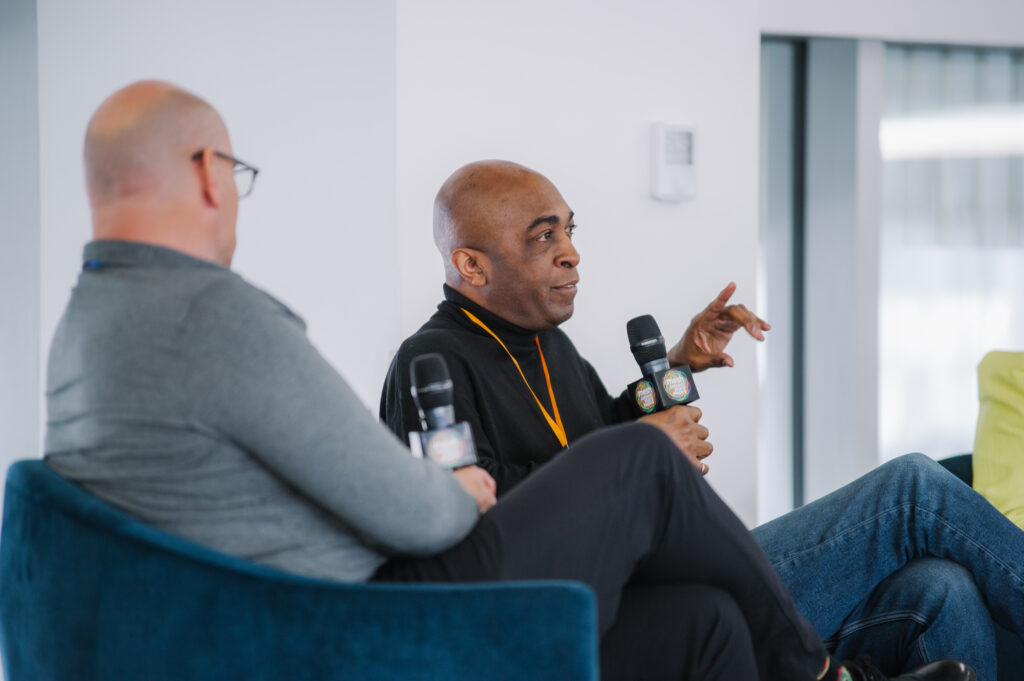 Buchanan did not hold back.
"We pretend that we give a fuck about the vulnerable — and yet making money should be done in one silo, while non-profits should be run by volunteers."
Picking up on that framing of the challenges in the sector, panelist Alison Pidskalny of Pixelated Ventures suggested that nonprofits needed to "go beyond the grant" and take a page out of the private sector book to grow their revenue streams.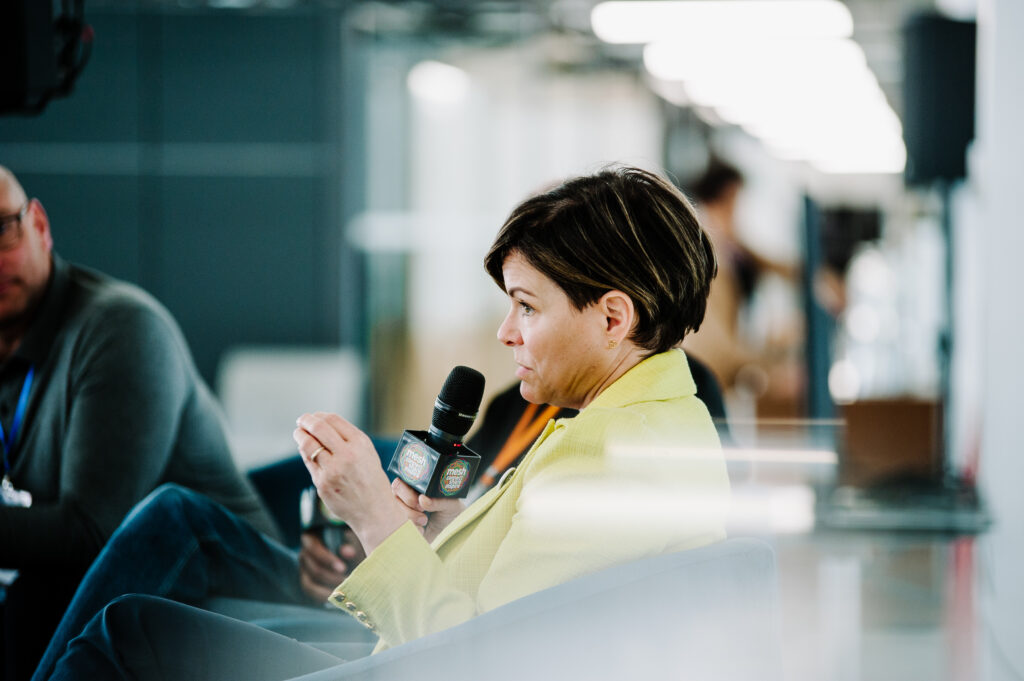 "There comes a point for most non-profits when they need to figure out other income streams, besides funding," said Pidskalny. "That's where digital transformation comes in. You can use digital technology to monetize what you already do well and create innovative new revenue streams."
This theme of breaking down silos between sectors and organizations recurred throughout the day, with many echoing its potential catalytic role in transformation.
"We cannot afford siloed thinking," said Leta LaRush, Director of Business Development and Innovation at BASF Canada, noting her company is looking for more opportunities to partner with startups from a variety of tech backgrounds.
In fact, speakers, panelists, and hallway conversations all seemed to come back around to the need for all societal stakeholders to partner more effectively, share information more efficiently, and innovate more quickly.
"The energy at mesh is different than any other conference," said attendee Sarah Boutron of Computer Modelling Group (CMG). "Many people get caught up in silos, and the conversations and connections at mesh facilitated brilliant and relevant discussion across industries."
Boutron works in the energy industry and her company recently held a roundtable discussion with leaders from diverse backgrounds. She said her big takeaway from that initiative was how important sharing ideas is to driving  successful outcomes for all, and she came to mesh to connect, share and be inspired by other industry leaders.
"We all need to look beyond our inner circle to the periphery, and beyond. It's there that the meshing of ideas can lead to the greatest impact."
3. Unlocking transformative innovation starts with inclusivity – and there's still much work to do
"To elevate our global economy, we need to enable all cultures and people to participate, and private companies need to be part of making this happen," said panelist Amy Peck, Founder & CEO of AR/VR strategy & consulting firm EndeavorXR.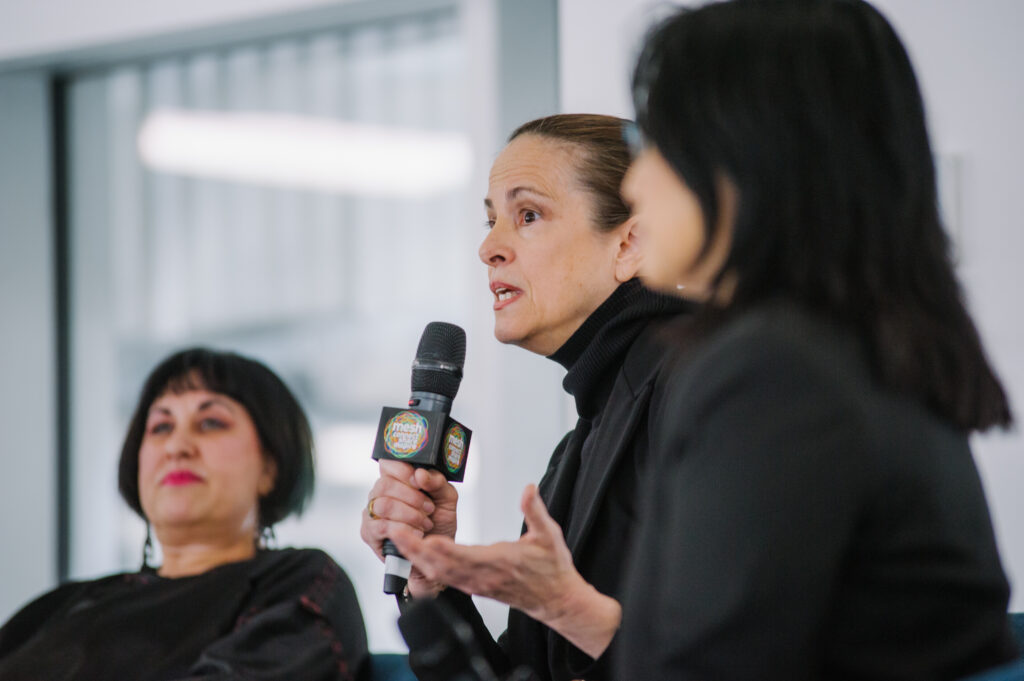 This statement, so agreeable and obvious on its face, takes on a sharper edge when you consider how many founders at mesh alone started their businesses because talented people are locked out or underrepresented in the innovation ecosystem by systemic barriers.
Three notable examples:
April Hicke, Co-Founder and CGO at Toast, abandoned her career climbing the corporate ladder to start Toast, a collective designed to support women in technology. She's now focused on 'scaling deep' and changing the hearts and minds of people so they consistently hire more diversely.
Sean Crump, who became disabled at age 19, is on a mission to improve the social and economic inclusion of people living with disabilities with his company Included By Design. It specializes in consulting and certifying spaces as accessible locations.
Mark Fairbanks runs Islands of Brilliance, an organization using art, creativity, and creative technologies to spark self-confidence, encourage independence, and build pathways to employment for autistic individuals.
Fairbanks was featured in a fireside conversation, the final session of mesh Calgary day one. When his son Harry was identified as autistic at age 3, his neurologist said Harry probably wouldn't go to college. Harry went through the Islands of Brilliance program, graduated with an honours graphic design degree, and now works in his field.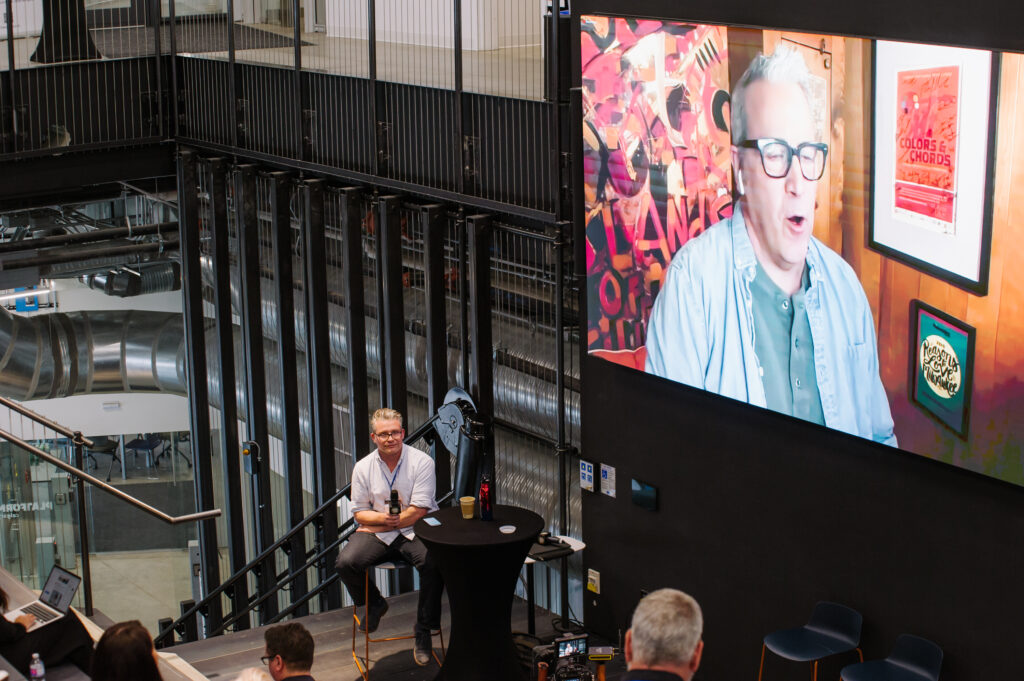 And while it's obviously not solely on Harry to address climate change, food insecurity, bad actors in the social media space, hiring biases, data silos, non-profit funding, or any of our other big challenges, because of his father's work, he's one more person working somewhere inside our overall societal innovation ecosystem.
In case you missed the event, the next mesh takes place in Toronto in November (dates to be announced), and it's back in its new permanent home in Calgary in June, 2024.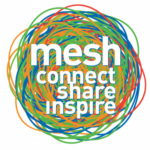 mesh is Canada's digital transformation event experience. Taking place in Calgary (April 12-13, 2023) and Toronto (November 2023), mesh aims to create a digital transformation network and event experience that helps organizations and leaders determine what to do, how to do it, and how to be successful. Learn more at meshconference.com
mesh conference adds human and artificial intelligence presenters to speaker lineup for Calgary event
Canada's digital transformation and innovation even to take place April 12-13 at Platform Innovation Centre in Calgary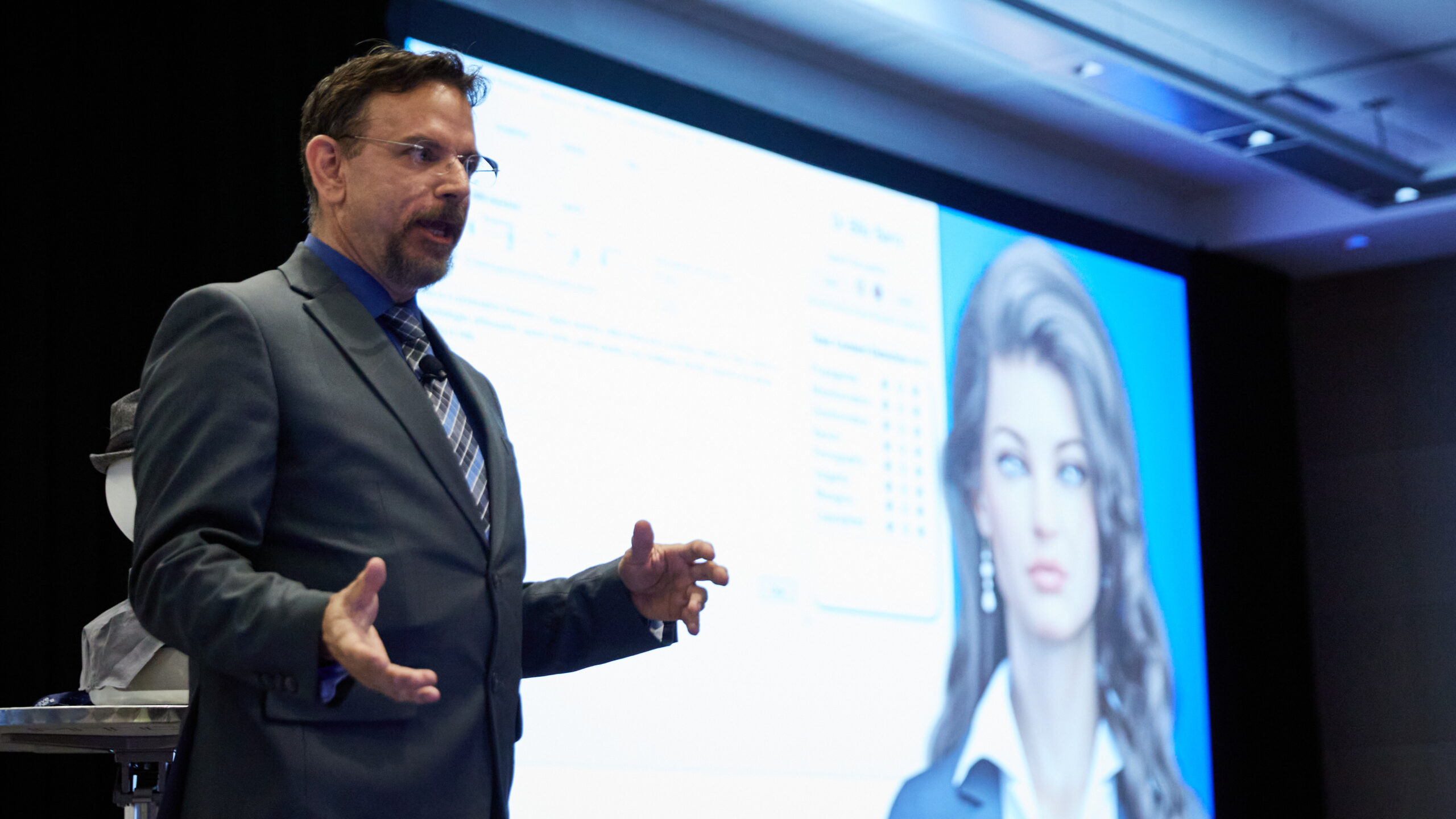 With one week to go before innovators and digital transformation leaders descend on Calgary's Platform Innovation Centre, the mesh conference announced its closing keynote will be delivered by two humans and two artificial intelligence (AI) beings.
Dr. William Barry and Dr. Maria Gomez Rachelle will deliver an interactive session where the pair will co-present alongside AI-powered digital avatars — Maria Bot Digital© and Niva© — who will share insight and take unscripted, live questions from the audience.
The keynote presentation titled "Intelligence Augmentation: The Ethical Implications of Human-AI Teaming" will explore the good, the bad, and the ugly of using artificial intelligence to augment human capabilities.
"Artificial intelligence has soaked up a lot of headline ink over the last five months since ChatGPT's launch, and everyone is now looking to understand the impact this technology will have on how we work," says Chris Hogg, partner and co-producer of mesh, and president of content marketing firm, DJG. "This is a needed conversation, as people will move from being wowed by AI to talking about how it's trained, its ethics, and the implications of human-machine teams. We're excited to have that conversation happening at mesh."
Taking place April 12-13, 2023, the mesh conference will host thought leaders and innovators from across North America who are searching to better understand the impact that new trends and technologies will have on how we live, work, and play.
Keynote speakers, attendees, panels, and workshops at this year's mesh conference will speak to four featured themes: Society, Media, Marketing and Business.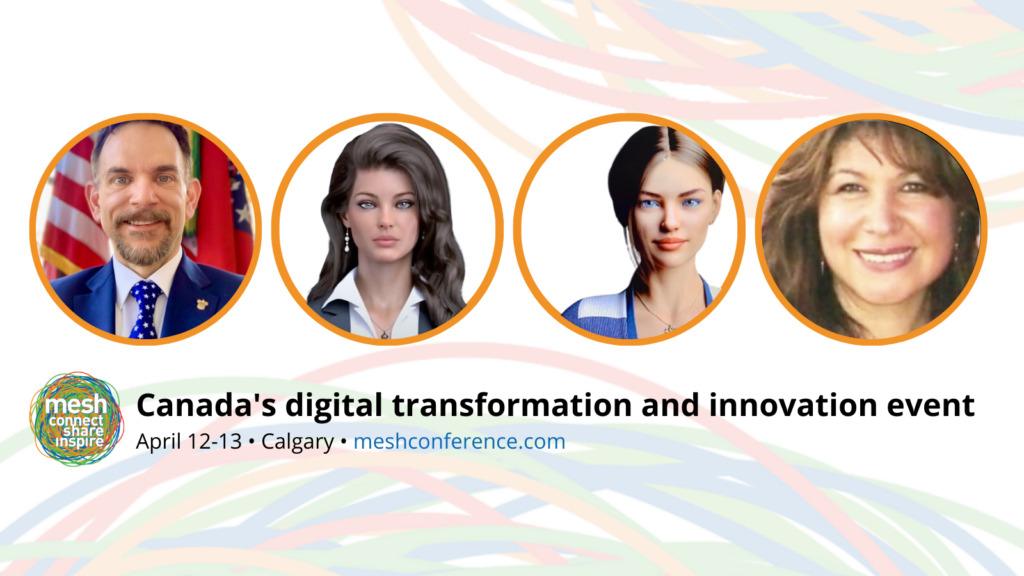 The mesh conference's first-ever human-AI keynote
Dr. Barry is a technology and Just War ethicist with 25 years of experience as an innovative and creative experiential educator. He is a faculty member and subject matter expert (GovCon) in emerging technologies and human-smart machine teams at the U.S. Army War College's Center for Strategic Leadership. He is an international thought leader and a driving force in shaping the future of technology and ethics.
He will be joined by human-artificial intelligence (AI) researcher, Dr. Gomez Rachelle, who is also the CEO of Silicon Valley-based consulting firm, Living Leadership Today. Prior to her research work in artificial intelligence, Dr. Gomez Rachelle was a critical care nurse, clinical research authority in biopharma, and a respected educator.
The pair work with chatbot-AI expert and 3D graphic artist, Guile Lindroth, to design, program, and bring Maria Bot Digital© and Niva© to life as conversational AI-powered strategic avatars.
A strategic avatar is a term coined by Dr. Barry, Dr. Gomez Rachelle, and Lindroth to describe a decision-support digital assistant that uses conversational AI and intelligence augmentation (IA) technologies to enhance a human being's decision-making process by integrating data analytics, AI capabilities, and human insights. The team created strategic avatars in order to tackle complex problems, optimize outcomes, and enhance performance when a human faces competition or a challenging situation in their lifeworld.
Maria Bot Digital is an AI-powered strategic avatar who teaches alongside Dr. Barry. She uses multiple large language models, all enhanced by Digital Minds, who created her functional model. Creative Society Media and Living Leadership Today also contributed to her creation through human-robot interaction research, character development, content moderation, and user feedback analysis.
Niva is a relatively new AI-powered strategic avatar built on SafeChatGPT©, an ethics- and doctrine-based generative AI system built by Dr. Barry and Lindroth. Niva uses reinforcement learning from human feedback to learn from conversations. Niva is programmed to filter out toxic content, detect plagiarism, and root out disinformation and propaganda.
Dr. Barry and Dr. Gomez Rachelle will join the in-person audience virtually from Carlisle, Pennsylvania and San Francisco, California.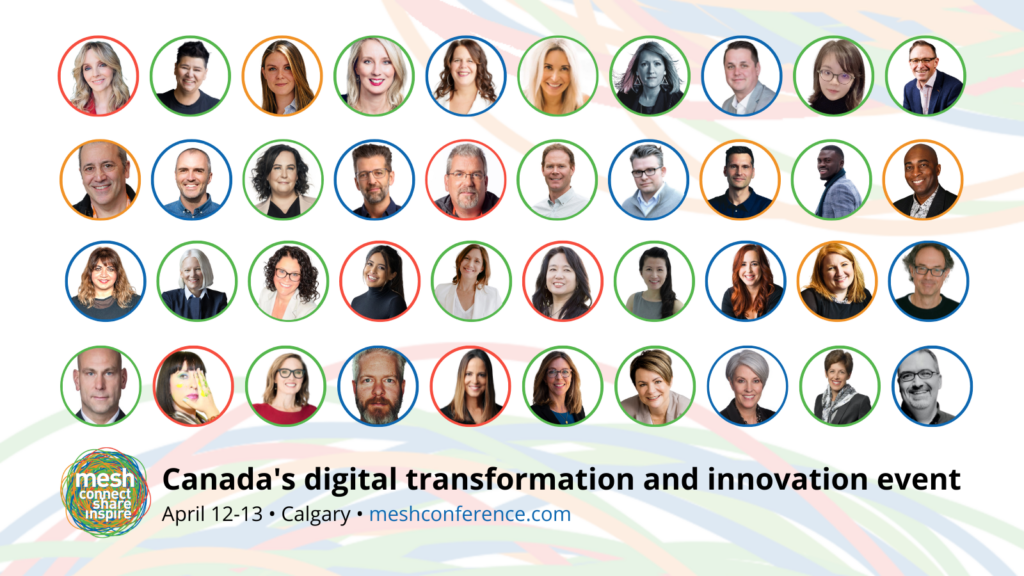 the full mesh speaker lineup
In addition to the closing keynote speakers, mesh has confirmed more than 40 speakers will take part in the Calgary event, April 12-13, 2023. The full run of show, with speakers and sessions includes:
The State of Innovation. What's now? What's next? And how can we get there?
Canada's innovation ecosystem is bustling with success stories, digital transformation learning, and organizations who are still getting their feet wet. In this opening session at mesh we will explore the state of innovation and look at where we are, where we need to be, and what is needed to get us there. Featuring: Colleen Pound, Alison Sunstrum (CNSRV-X Inc.), Leta LaRush (BASF), and Chris Hogg (Digital Journal Group).
Keynote fireside conversation with Kirstine Stewart
Internationally award-winning technology and media leader Kirstine Stewart joins mesh to explore the transformation of media at its intersection with technology. Kirstine will share insight on how media continues to evolve, digital rights technology and its use in the creator economy, and ownership of content and creative work in the era of generative AI. Featuring: Kirstine Stewart (former Twitter VP/GM and CRO of Pex) and Mathew Ingram (Columbia Journalism Review).
The mesh innovation showcase
The mesh innovation showcase recognizes innovation and digital transformation leaders from underrepresented communities across Canada. Join us as we meet some of Canada's innovators. Featuring: Tamara Woolgar (The A100) and featured showcase leaders.
Catalysts for Change
This panel discussion will look at digital transformation for the public good, and speakers will delve into how innovation will impact the non-profit and public sectors. Featuring: Charles Buchanan (Technology Helps), Alison Pidskalny (Pixelated Ventures), Derek Armstrong (PrairiesCan) and Chris Wolfenberg (Dentons).
Entering the Next Dimension: How VR/AR and the Metaverse Will Change Everything
This panel will explore the power and promise of virtual and augmented reality and the metaverse with those who are helping to create it. Whether you're a die-hard fan or a bit of a skeptic, this panel will demonstrate why AR, VR and the Metaverse will change everything. Featuring: Paige Dansinger (Metaverse Producer), Amy Peck (EndeavorVR), Juliana Loh (VR world builder), and Anne-Marie Enns (Women of the Future).
Transformations for Future Generations: Health & Education
Healthcare and education are two of Canada's most important sectors, and the opportunity to innovate in both is now. This panel will explore innovation in healthcare and education, and where advancement is happening, and what's still needed for the benefit of future generations. Featuring: Lauren Dwyer (SAIT), Mary Jane Dykeman (INQ Data Law) and Tyler Chisholm (clearmotive marketing group).
Keynote Fireside Conversation with Mark Fairbanks, Islands of Brilliance
Mark Fairbanks joins mesh to explore opportunities in technology design to create inclusion. His keynote will focus on learning experiences and neurodivergent creativity.
Keynote Fireside Conversation with Bobbie Racette, Virtual Gurus
Entrepreneur and business leader Bobbie Racette joins mesh to share perspectives on the future of talent and work, and insight on building diverse and agile teams with remote workers. Bobbie will dive into best-practice advice for using technology to find much-needed talent, and why constraining a digital marketplace is the best way to grow it. Featuring: Bobbie Racette (Virtual Gurus) and Alison Pidskalny (Pixelated Ventures)
Keynote Fireside Conversation with Dr. Andreas Fraunberger, Junge Römer
This fireside will explore the world of augmented and virtual reality and its impact on sales and marketing. Dr. Fraunberger will join us via livestream from Vienna, Austria. Featuring: Andreas Fraunberger (Junge Römer) and Tyler Chisholm (clearmotive marketing group).
Marketing and sales in the age of distraction
With social media channels constantly changing, inboxes flooded with marketing messages, and audiences being pulled left and right through busy lives, it's harder than ever for marketing and sales people to get attention. This session will explore the ways in which leaders are breaking through a noisy marketing and sales landscape to help their business and clients stand out, and what leaders need to do to scale successfully. Featuring: Amrita Gurney (Float), Tracey Bodnarchuk (TAB Consulting Group) and Stuart Macdonald (Narrative Fund).
Start-up Circles. Navigating the Entrepreneurial Journey: Lessons from Successful Startups
This session invites entrepreneurs (or those considering the journey) to share lessons learned and obstacles overcome in their journey. Panelists (and attendees) will share what's worked, how challenges should be tackled and what's needed to create a thriving startup. Featuring: Shelley Kuipers (The51), Mark Graham (commonsku) and Temi Okesanya (Road Aider).
From Code to Canvas: Hands-On with Generative AI
Artificial intelligence (AI) is everywhere, and changing every industry. And even though generative AI has become shockingly good at figuring out what you want it to do for you, there's always room for improvement. In this session we will look at the role of a prompt engineer and how everyone can get more out of AI by knowing what to ask it to do. Featuring: Iman Bashir (Craftly.AI).
Data and Innovative Thinking: Tapping into the Innovator's Mindset
From automotive, to law, to energy, Canada's largest sectors are undergoing radical change, and those who chose the path of innovation are the ones who will thrive. While innovation can come from many places, the innovator's mindset follows the "belief that abilities, intelligence, and talents are developed leading to the creation of new and better ideas," as author George Couros would say. In this panel we will tap into that mindset. Featuring: Sabrina Sullivan (FORD/SAIT), Mary Jane Dykeman (INQ Data Law), Christine Gillies (Blackline Safety), and Deborah Yedlin (Calgary Chamber of Commerce).
Navigating a changing digital landscape: How to live with Google Analytics 4, and where else your brand should invest
Marketers and brands have used the Internet for decades now as a primary digital platform to reach audiences. But things are changing, and it's not all for good. This session will look at how and why Google Analytics is changing, and how that will complicate the world of measurement for marketers. The second part of this session will look at opportunities for brands to connect with audiences off of their website. Featuring: Jake Surrey (Fountain Partnership) and Scott King (Digital strategist).
Dealbook: An investor, regulator and ecosystem view of what's needed to fund and support innovation
Funding innovation is a critical step in advancing a digital transformation, but rather than just looking at problems and challenges to solve, we also need to identify where momentum is happening and what needs to be done to support it. Mid-market jurisdictions may have capital gaps, or discoverability challenges, but those are common in many regions and more focus needs to be placed on how we overcome challenges that are table stakes. This panel will look at making a difference, what bets investors are placing, where they see opportunity, and what's needed to fuel growth. Featuring: Wilson Acton (Tall Grass Ventures), Ha Nguyen (McRock Capital), Tonya Fleming (Alberta Securities Commission) and Terry Rock (Platform Calgary).
mesh supporters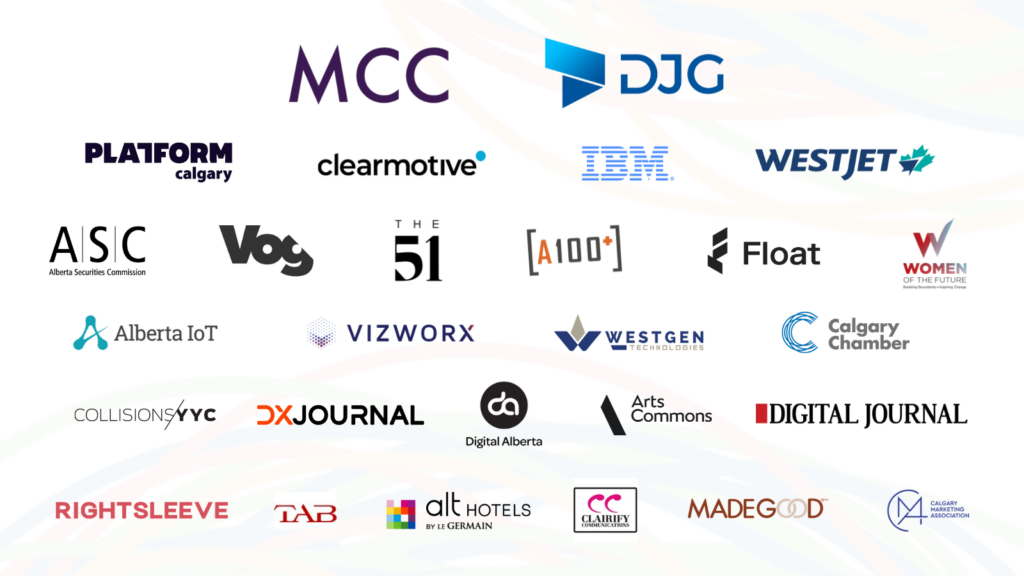 The mesh conference wouldn't be possible without the support of partners and sponsors, including:
To get tickets to the April 12-13 event in Calgary, visit the mesh conference ticket page.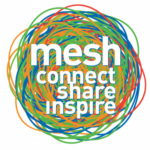 mesh is Canada's digital transformation event experience. Taking place in Calgary (April 12-13, 2023) and Toronto (November 2023), mesh aims to create a digital transformation network and event experience that helps organizations and leaders determine what to do, how to do it, and how to be successful. Learn more at meshconference.com