Microsoft makes significant DX investment in Greece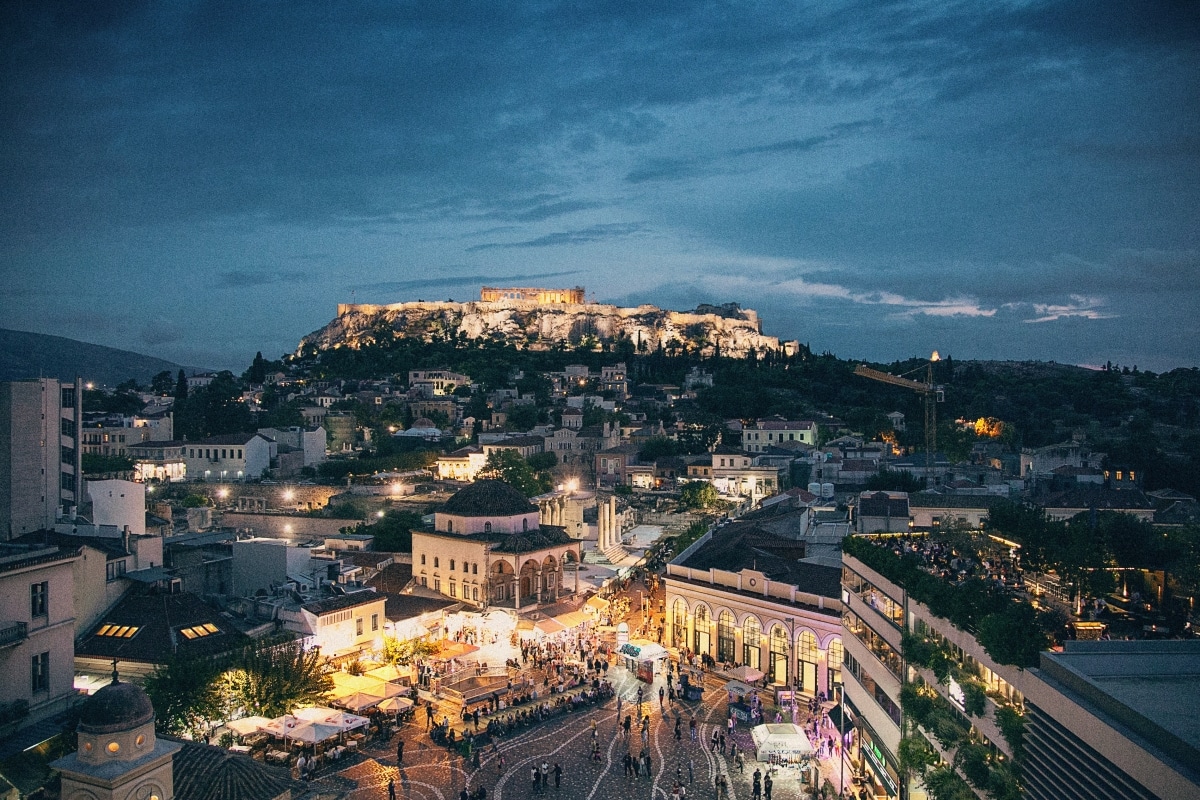 Microsoft has made a substantial digital transformation investment in Greece, creating an initiative called "GR for GRowth."
The initiative — announced on October 5 — is a technology commitment that will help create new opportunities for growth in the country. One part of the overall initiative will be the construction of new datacenters that will establish a Microsoft Cloud region in the country. 
These datacenters bring Microsoft's total global footprint of cloud regions to 63.
As a support measure, Microsoft is also planning to skill approximately 100,000 people in the country in digital technologies by 2025.
An important day for Greece, as Microsoft announces its largest investment in 28 years of operating here – an investment with multilevel economic significance, but also great social return. Thank you @BradSmi for your vote of confidence in the Greek economy and the Greek people. pic.twitter.com/ambdhMxqBH

— Prime Minister GR (@PrimeministerGR) October 5, 2020
At the announcement, Prime Minister of Greece Kyriakos Mitsotakis said:
"Today's commitment to the people and businesses of Greece will position the country among the digital leaders of Europe. A Microsoft datacenter region provides a competitive advantage to our digital economy. At the same time, it is a long-term investment and a vote of confidence in our country's potential. The cloud is transforming every industry and sector. The investment in skilling 100,000 citizens will empower today and tomorrow's Greek workforce."
I was excited to join Prime Minister @kmitsotakis today in Athens to announce that Microsoft will build datacenters in Greece — the largest investment we've made in the 28 years we've operated here. This reflects our optimism in Greece's future and economic recovery. pic.twitter.com/mimRtCsTY5

— Brad Smith (@BradSmi) October 5, 2020
Brad Smith, president of Microsoft added:
"By a substantial margin, this is the largest investment Microsoft has made in Greece in the 28 years we have been operating here. In part, this reflects confidence that our world-leading datacenter technology can help enable innovation and growth across Greece's economy. In addition, this large investment reflects our optimism about Greece's future, its forward-leaning government, and the country's ongoing economic recovery."
The impact on Greece
For companies, startups, and institutions in Greece, this announcement means they'll be able to harness the power of cloud computing — keeping in mind cybersecurity, data residency, and compliance standards, as explained in the company's press release.
While many companies in Greece are using Microsoft's cloud, a number of others have committed to signing on once they'll be available from the forthcoming region.
As previously noted, to support the digital transformation of public and private organizations, Microsoft aims to upskill an estimated 100,000 public sector, business and IT professionals, educators, and students.
This aspect of the overall initiative will take place over the next five years via online and physical courses and workshops.
A cultural celebration 
One interesting role Microsoft's cloud services will play is in highlighting and preserving Greece's culture.
The company's AI for Cultural Heritage program will collaborate with the Ministry of Culture and Sports to bring to life the Ancient City of Olympia. Available in 2021, visitors will be able to experience the UNESCO World Heritage Site as if they were there 3,000 years ago.  
Digital transformation for economic recovery
"With the right steps and actions, businesses and governments can take the crisis as an opportunity to build for the future," explain two World Bank economists.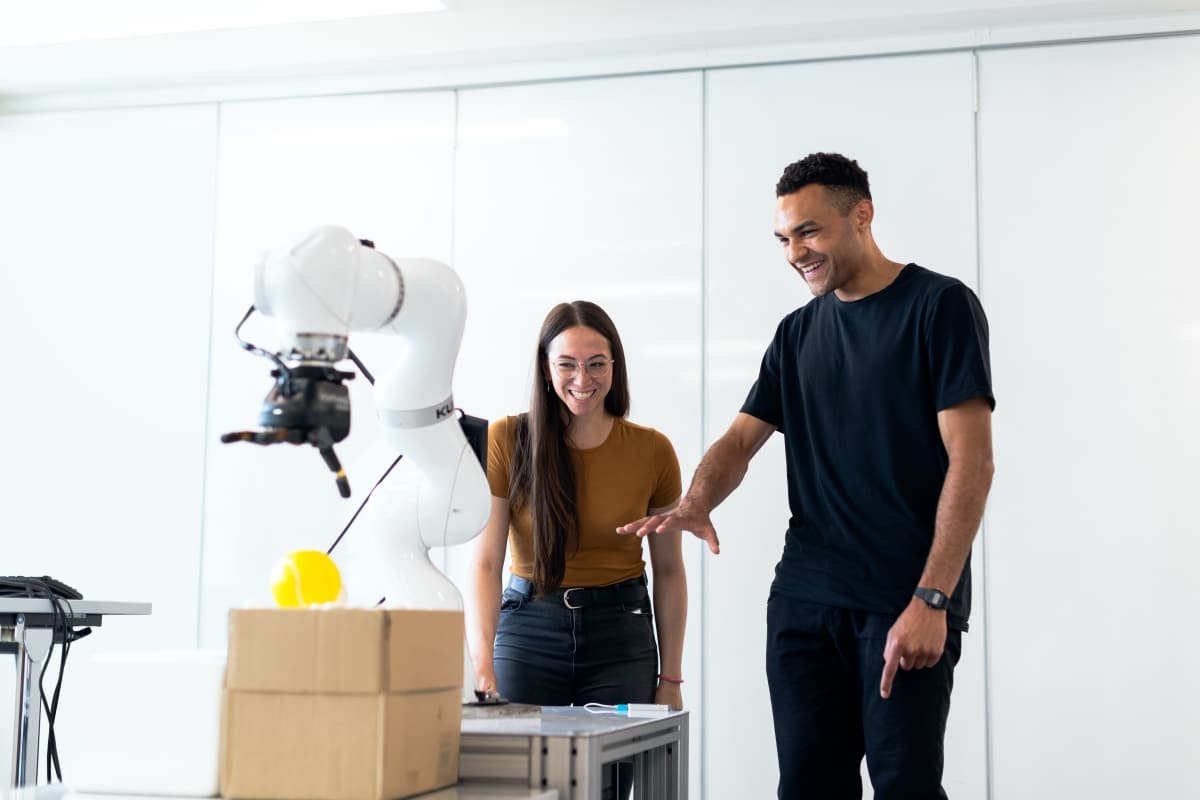 Digital transformation is having a moment. 
Over and over, widespread reports and surveys show that — in the wake of the COVID-19 pandemic — DX efforts have accelerated. "Business-savvy CIOs who deploy highly adaptive strategies and technology to rapidly respond to the impact on their firm's operations and customers will lead from the front," explains Forrester's recent Predictions 2021 report.
Can the momentum keep going? How can DX be leveraged so everyone can be better off, post-COVID? 
As two World Bank economists argue in Harvard Business Review, "technological advancements were already changing the world over the past two decades," and that in the midst of threats from automation and offshoring, it's important to realize that tech can act as a job creator for economic recovery. 
According to Federica Saliola (Lead Economist in the Jobs Group of the World Bank and co-Director of the World Development Report 2019) Asif Islam (Senior Economist for the Middle East and North Africa Region of the World Bank Group), "to reshape technology as a job creator, it's important to understand what, exactly, the current wave of technology is changing, and how policymakers and businesses can adapt to it."
Where we were
The economists laid out three foundational truths about the pre-COVID state of technology:
It has always been a disruptor. Tech has been "challenging the traditional boundaries of firms, changing global value chains and the geography of jobs."

As tech evolved, there have been massive changes in what skills are needed by a successful workforce. "The premium for skills that cannot be replaced by robots has been increasing," they explain. What are these in-demand skills? Critical thinking and socio-behavioral skills, for starters, as well as adaptable skills. This leads to point three.

Thanks to tech, the very nature of work has been changing over the last few years. The standard of permanent and full-time work has given way to a gig economy.
What's next?
Simply put, "it is likely that the pandemic will reinforce these pre-existing trends and increase the urgency of corresponding policy responses," explain Saliola and Islam.
Digital-first companies are thriving, the gig economy certainly isn't going anywhere, and "firms may also have more incentive to invest in automation and reshore production to shield against value chain disruption."
The aforementioned barrage of surveys and reports showing the acceleration of DX efforts reported on the mostly-successful shift to work-from-home. Saliola and Islam reference World Bank and World Economic Forum reports that show (unsurprisingly) positions and organizations that have put WFH measures in place are more prevalent in wealthier countries and regions, and that women and young people are more likely to hold positions where WFH isn't feasible. 
Ultimately, Saliola and Islam explain, organizations and governments have to turn to policy to ensure that digital transformation can lead to a more successful economic recovery.
What does this look like? Reskilling and upskilling on the part of businesses, and "incentives and regulations to infrastructure projects and taxation" for governments. 
It's similar to the approach of the recent OECD report showing that DX is critical for recovery in Latin America and the Caribbean — but on a global scale. 
"Technology can be a boon to society if businesses and governments prepare and adapt," they write. "With the right steps and actions, businesses and governments can take the crisis as an opportunity to build for the future."
Is your organization intelligent?
More than 83% of respondents to a survey by Wipro said their organization is an Intelligent Enterprise or on their way to being one.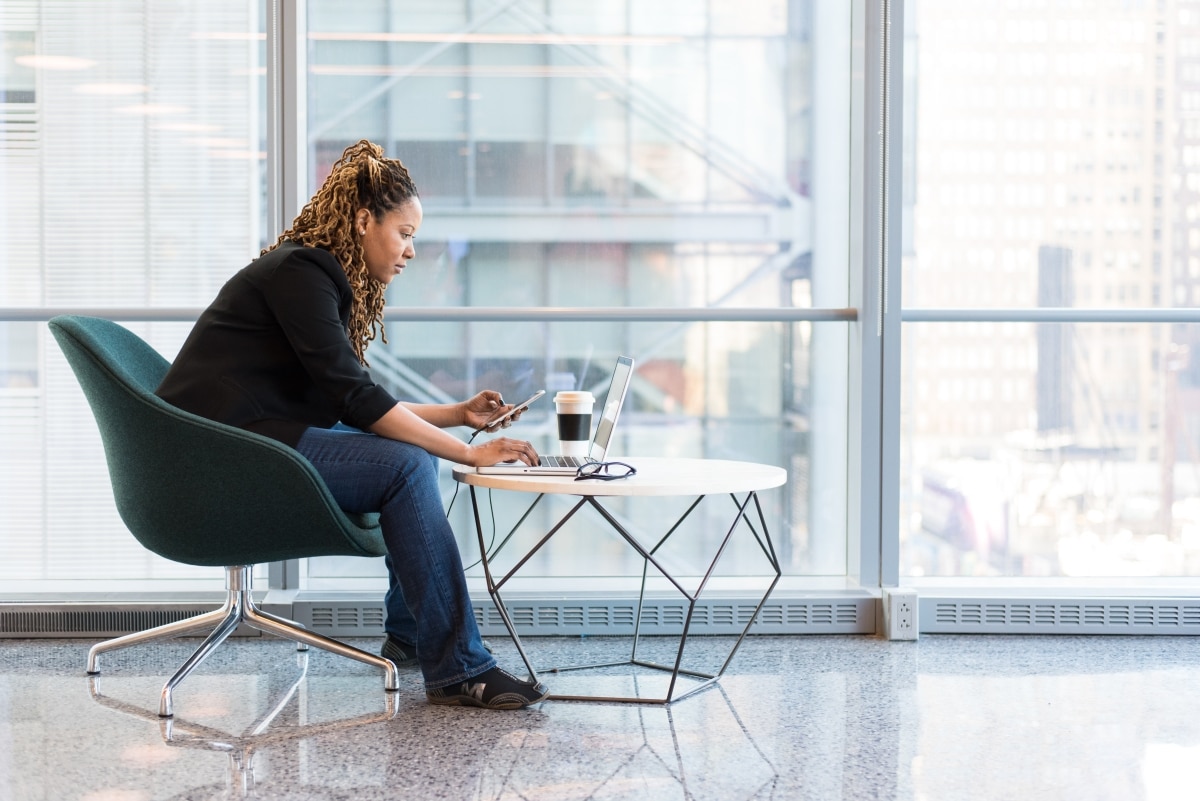 A new study from Wipro shows that Artificial Intelligence (AI), Analytics, Machine Learning, Deep Learning, and Automation are crucial to creating enterprises of the future and that post-COVID, The Intelligent Enterprise will be resilient and able to better manage disruption.  
With 300 respondents in the UK and US — across industry sectors including financial services, healthcare, technology, manufacturing, retail, and consumer goods — the State of Intelligent Enterprises survey revealed that while 80% of organizations recognize the importance of being intelligent, only 17% would classify their organizations as an Intelligent Enterprise.
In the introduction to the survey's report, Wipro explains that "The Intelligent Enterprise is no longer a futuristic vision. It is a daily imperative."
"New problems cannot be solved using old methods. The ability – or inability – to make productive decisions now directly depends on an organization's ability to generate accurate, fast and actionable intelligence to set the correct course."
One key technology that businesses consider critical is AI. 95% of respondents see AI as critical to Intelligent Enterprises, but only 17% have it deployed across the entire organization.
Additional key findings include:
Whether they are already intelligent or working toward it, close to 88% of organizations face challenges.

91% of respondents feel there are data barriers to becoming an Intelligent Enterprise — the most important being data security.

74% of organizations think that investment in technology is the most likely enabler to become an Intelligent Enterprise. 42% of these consider reskilling the workforce as an enabler.
"Organisations now need new capabilities to navigate the current challenges," says Jayant Prabhu, Vice President & Head of Data, Analytics & AI for Wipro Limited.
"The report amplifies the opportunity to gain a first-mover advantage to being Intelligent. The ability to take productive decisions depends on an organization's ability to generate accurate, fast and actionable intelligence. Successful organisations are those that quickly adapt to the new technology landscape to transform into an Intelligent Enterprise."
How the pandemic has accelerated the transformation of cybersecurity
The importance of cybersecurity for remote work was a major catalyst for the recent advancement of widespread digital transformation efforts.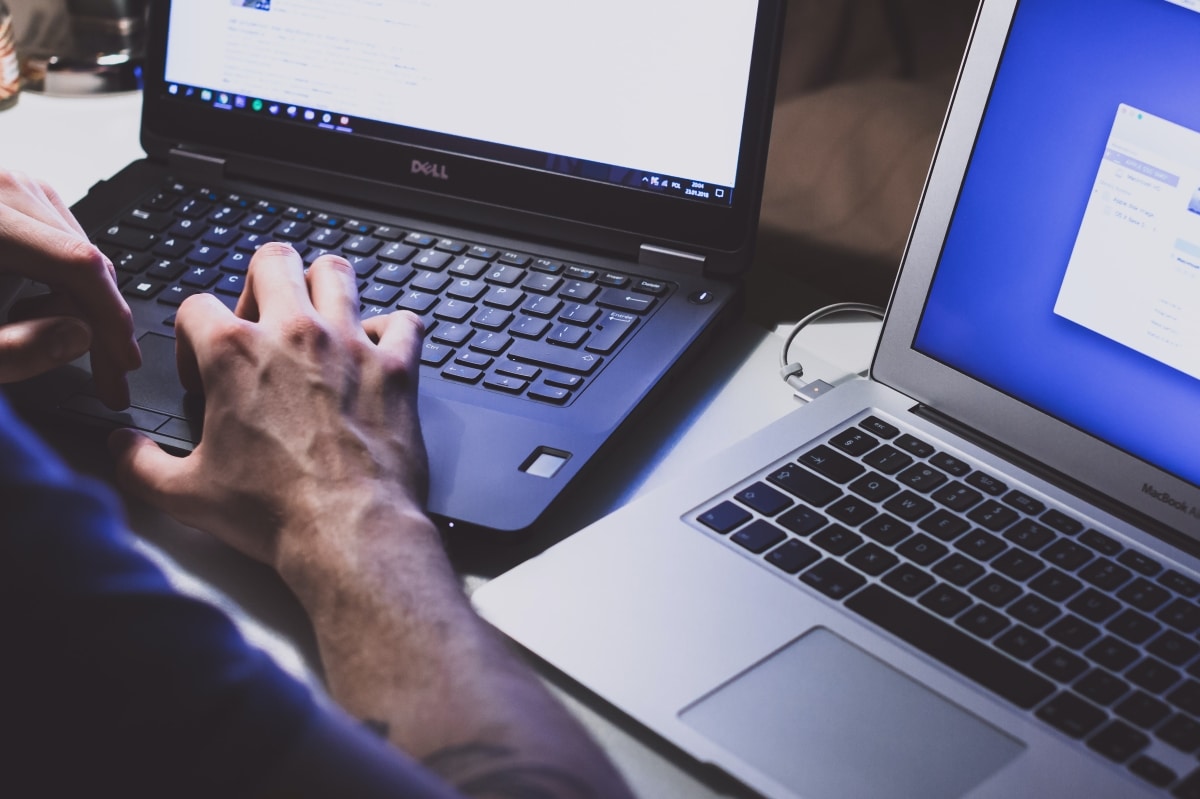 By the end of April, it was evident that COVID-19 had permanently altered the future of work.
So much so that Microsoft CEO Satya Nadella, while delivering the quarterly earnings report to Wall Street, said "we've seen two years' worth of digital transformation in two months." 
As Microsoft Security General Manager Andrew Conway reports, a major catalyst for such a dramatic advancement of DX was the importance of cybersecurity in ensuring productive remote work. 
For context, in late 2019 we reported on the global surge in spending on cybersecurity products and services — then expected to exceed $1 trillion cumulatively over the five-year period from 2017 to 2021.
Related Reading: How enterprises are facing security challenges
COVID's impact
To better understand the pandemic's role in shaping cybersecurity for the long-term, Microsoft surveyed nearly 800 business leaders of companies with over 500 employees in India, Germany, the UK, and the US. The results show that organizations are still impacted by phishing scams and security budgets, that hiring increased in response to COVID-19, and that investment is going into cloud-based technologies and architectures.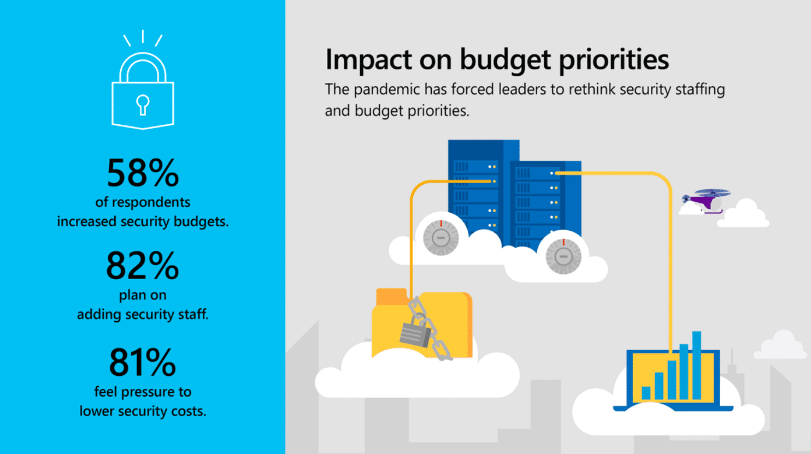 (Image via Microsoft)
At the top of the list of challenges reported by leaders surveyed is "Providing secure remote access to resources, apps, and data."  
"For many businesses," Conway explains, "the limits of the trust model they had been using, which leaned heavily on company-managed devices, physical access to buildings, and limited remote access to select line-of-business apps, got exposed early on in the pandemic." 
Unsurprisingly, surveyed leaders identified that the top security investment made during the pandemic was multi-factor authentication. 
Additional insights from the survey include:
Anti-phishing technology was most identified as the best pre-pandemic security investment, with phishing threats cited as the biggest risk to security.

90% of indicating that phishing attacks have impacted their organization.

A majority of leaders surveyed reported budget increases for security (58%) and compliance (65%).

81% also report feeling pressure to lower overall security costs. 

"Business leaders from organizations with resources mostly on-premises are especially likely to feel budget pressure, with roughly 1/3rd feeling 'very pressured.'"

40% say they are prioritizing investments in Cloud Security, followed by Data & Information Security (28%), and anti-phishing tools (26%).
Conway also identified five ways the pandemic is changing the cybersecurity landscape for the long-term:
"Security has proven to be the foundation for digital empathy in a remote workforce during the pandemic"

A top priority of those surveyed is improving end-user experience and productivity while working remotely (41%).

The Zero Trust model will become industry standard 

51% of business leaders are expediting the deployment of

Zero Trust capabilities

— a

security model based on strict access controls where the

default is to not trust anyone both inside or outside the perimeter. 

94% of companies report that they are in the process of deploying new Zero Trust capabilities to some extent.

The importance of diverse data for improved Threat Intelligence

"Microsoft tracked more than 8 trillion daily threat signals from a diverse set of products, services, and feeds around the globe."

The absolute necessity of cyber resilience to business operations

"Cybersecurity provides the underpinning to operationally resiliency as more organizations enable secure remote work options."

Maintaining this requires regular evaluation of risk threshold and the deployment of cyber resilience processes.

"The cloud is a security imperative"

Integrated security solutions are crucial for organizations of all sizes.