Asian stocks up as investors calm over potential Fed moves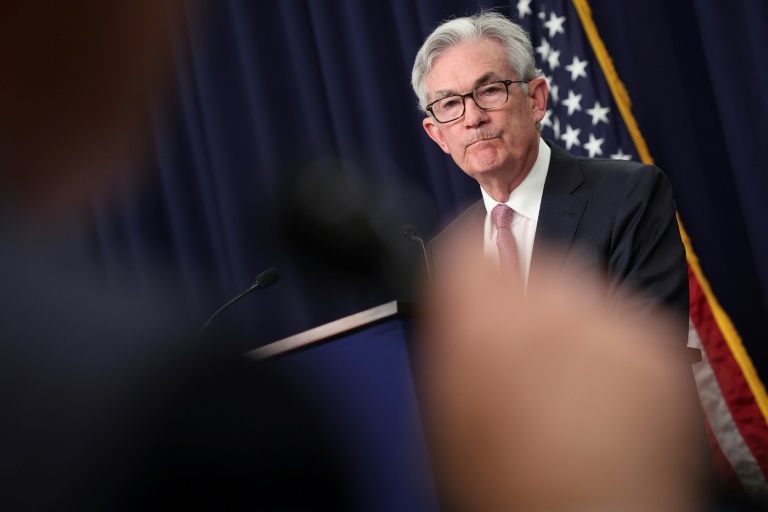 Asian equities were mostly up Friday following a tumultuous trading period on Wall Street, which rebounded at the close after investors calmed down about US policies to counter surging inflation.
World markets have been volatile for much of 2022 owing to China's Covid-19 lockdowns, Russia's invasion of Ukraine, and as surging inflation weighed on consumer sentiment.
The Federal Reserve last week had announced its largest rate hike since 2000 and signalled that similar increases were likely in the coming months — a possibility that sent markets on a rollercoaster. 
"Macro-economic concerns have continued to weigh heavily on the equity markets this week, as stagflation and recession fears continue to dampen investor enthusiasm," said Lewis Grant of Federated Hermes Limited.
He added that the fears have been echoed in forecasts by major companies, with a large number of firms citing supply chain concerns. 
Wall Street was mixed Thursday after another day of volatile trading, with the Dow falling for the sixth straight session but the Nasdaq mustering a small gain.
The small rebound on the tech-rich Nasdaq came after Fed Reserve chief Jerome Powell — confirmed Thursday by the Senate for a second term — expressed confidence that the economy is strong enough to withstand tighter monetary policies. 
According to Bloomberg, Powell reaffirmed that the Fed was likely to raise rates by a half point but isn't "actively considering" a 75-basis point move.
In Asia, Hong Kong, Tokyo, Seoul, Singapore and Sydney opened higher on Friday, while Wellington traded in the negatives.
Dread has not only sent traditional markets seesawing, but the cryptocurrency realm also saw great volatility this week. 
Bitcoin tumbled to the lowest level since late 2020, following a dramatic collapse in some so-called stablecoin cryptocurrencies — TerraUSD and Tether.
The two stablecoins — which are supposed to be pegged to the dollar — proved to be anything but, as they saw their values collapse. 
While the digital currency market stabilised by Friday, Stephen Innes of SPI Asset Management said "the 7-day moves in some of the 'other crypto experiments' on monster volume are insane and increasingly difficult to watch".
Bitcoin slumped below $27,000 before recovering a bit, trading recently at $28,710.
Oil remained up on Friday, with US benchmark crude WTI trading at more than $107 a barrel.
"As long as the war continues and macro pressures persist, it is likely that both energy names and value stocks will remain relative safe-havens for fully-invested, long-only equity investors," said Grant of Federated Hermes Limited.
– Key figures at around 0230 GMT –
Hong Kong – Hang Seng Index: UP 1.7 percent at 19,705.86  
Shanghai – Composite: UP 0.3 percent at 3,064.32  
Tokyo – Nikkei 225: UP 2.7 percent at 25,421.84 (break)
Brent North Sea crude: UP 1.4 percent at $108.90 per barrel
West Texas Intermediate: UP 1.2 percent at $107.36 per barrel
Euro/dollar: UP at $1.0387 from $1.0382 at 2100 GMT Thursday
Pound/dollar: DOWN at $1.2212 from $1.2199
Euro/pound: DOWN at 85.06 pence from 85.08 pence
Dollar/yen: DOWN at 128.36 yen from 129.97 yen
New York – Dow: DOWN 0.3 percent at 31,730.30 (close)
London – FTSE 100: DOWN 1.6 percent at 7,233.34 (close)
Rising student debt to worsen money woes of young Britons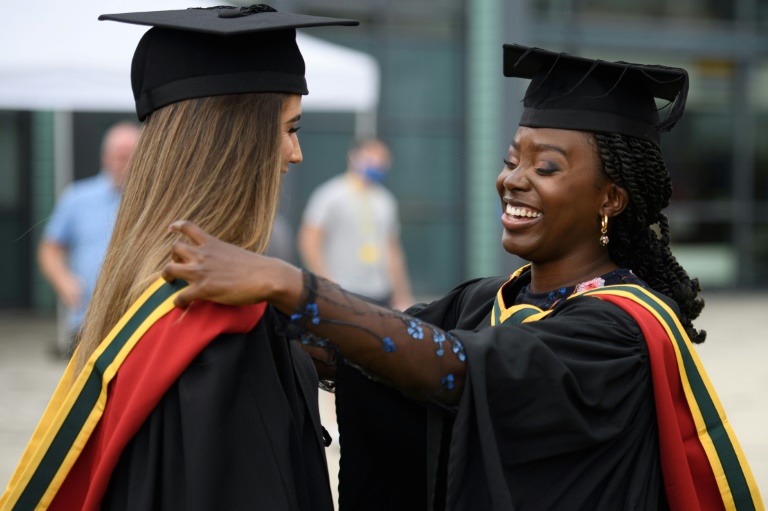 Rhiannon Muise graduated from Edge Hill University in northwest England last year with a mountain of student debt, which is growing even larger due to surging inflation.
The 21-year-old dance and drama graduate said it will take a "lifetime" for her to pay back the £45,000 ($55,000) she owes for tuition fees and living expenses, particularly if she stays within her chosen field where salaries can be low.
Muise's plight echoes that of students across Britain, who are already struggling with a cost-of-living crisis.
Britons heading to university next year face major changes that critics argue will worsen the financial pain.
– Exhausting –
The pressure is "exhausting, especially for someone in their 20s who has just started thinking about their career", Muise told AFP.
Her current job as Edge Hill student engagement officer pays below the threshold that activates repayments.
UK graduates shoulder more debt than any other developed country, according to House of Commons Library data.
About 1.5 million students borrow nearly £20 billion in loans every year in England alone.
And on average, graduates of 2020 have amassed £45,000 in debt.
Zeno, a 25-year-old student in London who gave only his first name, said he owes just short of £75,000 for his loans.
Unless he "wins the lottery", he accepts he will probably be paying the money back from his salary for the next 30 years.
– Tuition fees –
University used to be free in the UK, with means-tested grants for the poorest students to cover living costs.
But after the sector was opened up in the 1990s, numbers surged and, despite protests from student bodies, tuition fees have been gradually introduced in the last decade to help universities meet costs.
With education a devolved matter for the governments in Scotland, Wales and Northern Ireland, different tuition fee arrangements are in place across the UK.
Accommodation and living costs are extra.
In England, undergraduate tuition fees are capped at £9,250 a year for UK and Irish students — up from £3,375 in 2011 when the government cut most ongoing direct public funding. 
The cap in Wales is £9,000 and £4,030 in Northern Ireland. 
Scottish students studying in Scotland pay £1,820 but those from the rest of the UK attending universities north of the border with England pay £9,250.
– Inflation worry –
The picture is further complicated by rocketing inflation because the student loan interest rate is linked to the retail price index (RPI).
Loan interest is calculated by adding up to 3.0 percentage points to the RPI rate.
Inflation however soared to 30-year highs this year, particularly on rocketing energy costs and fallout from the Ukraine conflict.
Graduates could therefore pay an interest rate of 12 percent from September — or more if prices rise even higher.
The UK government plays a large part in student financing, providing loans that only demand repayment when a graduate earns above a threshold of £27,295 per year.
What borrowers repay depends on how much they earn. Unlike private lenders, they have up to 30 years to repay. The debt is cancelled after this time.
"This system is more progressive than in the United States, with generous write-offs for lower-paid graduates," said Nick Hillman, director of the Higher Education Policy Institute in Oxford. 
Current and recent students faced huge upheaval during courses due to coronavirus restrictions, with the pandemic also hitting job opportunities.
A combination of high debt repayments, high cost of living and wages that have failed to keep pace with inflation, add yet more stress.
– Conundrum –
Student finance poses a major conundrum for the public purse because the UK forecasts outstanding loans will top £560 billion by 2050.
From next year, Britain will lower the repayment threshold for new borrowers to £25,000 and lengthen the repayment time from 30 to 40 years.
This will however increase costs for low-earners, while benefiting richer graduates who can pay back more quickly.
The UK government forecasts however that half of new students will repay their loans in full under the new plan.
Student debt has long been a concern in the United States, where the Federal Reserve estimates that it amounts to a staggering $1.76 trillion.
US students on average have outstanding debt of close to $41,000, according to think-tank Education Data Initiative.
President Joe Biden this year extended a moratorium on student loan repayment and interest — and is holding talks over partial debt write-offs.
Biden welcomes Southeast Asian leaders with energy, security pledges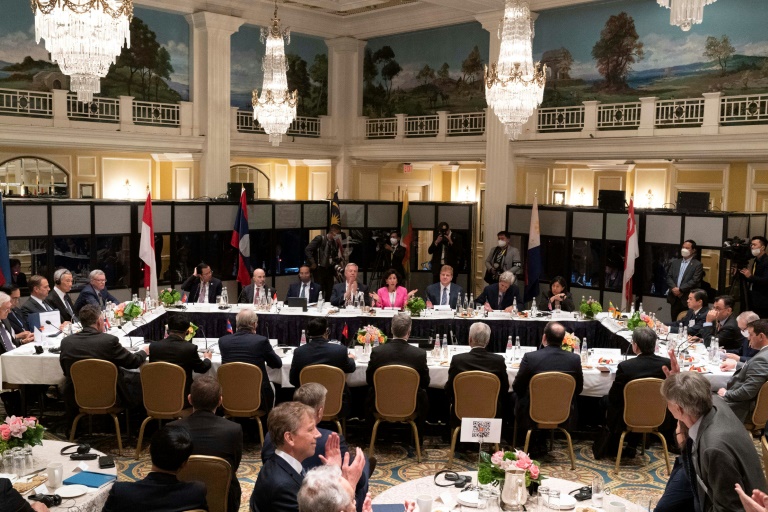 President Joe Biden on Thursday welcomed Southeast Asian leaders to Washington, promising support for clean energy and maritime security in the face of a rising China.
The Biden administration made the pledge as it opened a two-day summit with the Association of Southeast Asian Nations, part of a campaign to show that the United States still prioritizes Asia despite months of intense focus on repelling Russia's invasion of Ukraine.
The White House announced some $150 million in new initiatives — a modest sum compared with a $40 billion package for Ukraine and with the billions pumped into the region by China, which has surpassed the United States as ASEAN's largest trading partner.
But the United States said it was working with its private sector and it plans to unveil a broader package, the Indo-Pacific Economic Framework, when Biden travels next week to Tokyo and Seoul.
"I hope this meeting can build a momentum for the return of the US presence in the region," Indonesian President Joko Widodo told a forum of the US-ASEAN Business Council before the leaders headed to a White House dinner.
The White House said it was committing $60 million to new maritime initiatives that will include the deployment of a Coast Guard cutter and personnel to fight crime on sea. 
Efforts will include countering illegal fishing and the use of forced labor, a US official said.
The waters around the South China Sea are among the busiest in the world, connecting the economic powerhouses of Asia with the energy supplies of the Middle East, and the area is rife with territorial disputes with an increasingly assertive Beijing.
The White House said it was also devoting $40 million to invest in clean energy in economically diverse Southeast Asia and said the United States was working with the private sector to raise up to $2 billion.
Another initiative — launched as Biden separately held a virtual summit on Covid — includes a project to test for emerging respiratory diseases in urban Southeast Asia through a new office in Hanoi of the US Centers for Disease Control.
– Meeting with Myanmar opposition –
Southeast Asia has often been seen as a victim of its own success, with the United States focused elsewhere for lack of pressing problems in the region.
But in Myanmar, once hailed as a democratic success story, the United States has been ratcheting up pressure since the junta in February last year toppled Aung San Suu Kyi's elected government.
In a symbolic statement, the United States will represent Myanmar with an empty chair at the summit.
As leaders gathered in Washington, Deputy Secretary of State Wendy Sherman met with representatives of the democratic leadership in exile, the National Unity Government, including its foreign minister, Zin Mar Aung.
Sherman said the United States will "continue to work closely with ASEAN and other partners in pressing for a just and peaceful resolution to the crisis in Burma," a State Department statement said, using Myanmar's former name of Burma.
Human Rights Watch said that the focus on Myanmar was insufficient and that Biden should address democratic backsliding across Southeast Asia.
Leaders visiting the White House included Cambodian strongman Hun Sen, who is ASEAN's current chair.
"If the US doesn't publicly raise human rights concerns during meetings, the message will be that human rights abuses are now tolerated in the name of forging alliances to counter China," said John Sifton, the group's Asia advocacy director.
Powell wins second term as Fed chief as inflation battle rages
The US Senate on Thursday confirmed Jerome Powell to a second term as head of the Federal Reserve, as the central bank ramps up its fight to crush soaring inflation.
The vote came amid inflation that has hit a 40-year high, fueled by the conflict in Ukraine and sanctions imposed on Russia, as well as Covid-19 restrictions in China that have raised concerns the global supply snarls may worsen.
The Fed chair has said his primary focus is on getting inflation under control, but acknowledged the effort could be painful.
US President Joe Biden, whose popularity has taken a hit from the soaring inflation and record gasoline prices, has repeatedly said that tackling the issue is primarily a job for the Fed.
"I am pleased to see the Senate take a step forward on my agenda to get inflation under control by confirming my nominees to the Fed," he said in a statement after the vote.
Powell, who first joined the Fed board in 2012, led the central bank as it slashed the benchmark interest rate to zero at the start of the pandemic in March 2020 and pumped money into the financial system to prevent a severe downturn in the world's largest economy.
Now, he is overseeing efforts to cool price pressures affecting American families.
The Fed last week announced its largest rate hike since 2000 and signaled similar increases were likely in the coming months.
The challenge for Powell and the Fed is to turn down the heat on inflation without tipping the United States into recession.
While he has expressed confidence the economy is strong enough to withstand the tighter monetary policy, Powell said it will be challenging amid the unprecedented global shocks and "may actually depend on factors that we don't control."
In an interview with Marketplace on Thursday, he renewed his warning that "the process of getting inflation down to two percent will also include some pain."
But "the most painful thing would be if we were to fail to deal with it and inflation were to get entrenched in the economy at high levels."
– Delayed confirmation –
Powell, a Republican, enjoyed broad bipartisan support in the 80-19 vote — but also bipartisan opposition. Six Democrats voted against him, including progressive senators Bernie Sanders and Elizabeth Warren, who established the Consumer Financial Protection Bureau.
"Working families should not bear the cost of fighting inflation," Warren tweeted after the vote. "As Fed Chair, Jerome Powell must focus on strengthening our economy without slamming the brakes on its growth or hurting families already struggling with higher prices."
Powell had continued at the helm of the central bank even after his first four-year term officially expired February 4.
His confirmation was delayed by the battle to approve Lisa Cook to join the Fed board — the first Black woman to serve in the post — who was finally confirmed on Tuesday with only Democratic votes.
The Senate late Wednesday also confirmed Philip Jefferson to the board, marking the first time the institution has had more than one Black governor.
With the latest additions, the Fed board will be just one short of its full complement of seven governors. 
In his statement, Biden urged the Senate to confirm his final nominee, Michael Barr, as vice chair for supervision.
The US president's first pick for the role of top Fed banking cop, Sarah Bloom Raskin, withdrew her name from consideration in March when it became clear she would not have sufficient support due to opposition from Republicans and from a key Democratic lawmaker over her stance on climate change issues in banking supervision.
Cook, a professor of economics and international relations at Michigan State University, and Jefferson, of Davidson College, each have researched inequality in the labor market. 
Powell has repeatedly stressed the importance of ensuring economic opportunities extend to disadvantaged groups — a notable change of focus in an economy where Black workers face far higher unemployment rates than other racial groups.
Jefferson is only the fourth Black man to serve as a Fed governor.