Blooming shame: Pandemic, Ukraine war hurts Thai orchid industry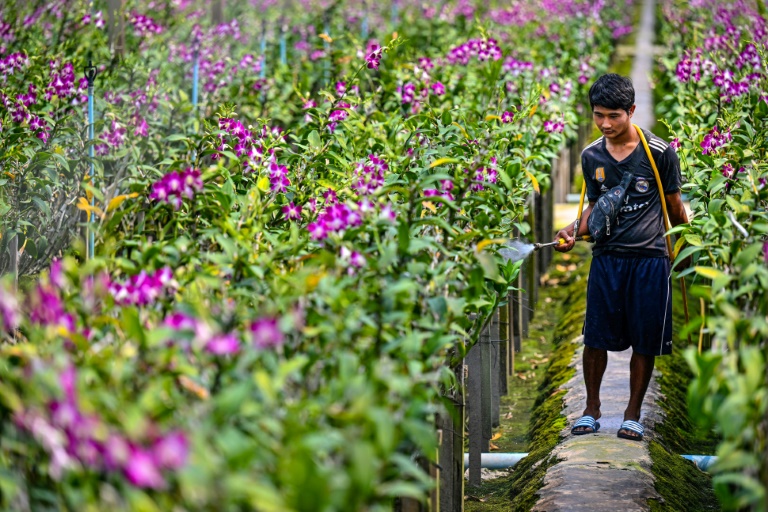 Thailand's orchid growers, already weary after two years of being battered by the pandemic, are bracing for fresh blows to their livelihood as the war in Ukraine and changing weather patterns further cloud their futures.
Once considered a popular pastime among the elite in Thailand, orchid growing has developed into a multi-million dollar industry, and the kingdom is the world's biggest producer and exporter of cut orchids.
But the pandemic has seen one in five farms shut recently, according to the Thai Orchid Exporter Association.
"No one has the heart to buy flowers, and transportation is very complicated," said Somchai Lerdrungwitayachai as he stares in despair at the sea of purple at his orchid farm west of Bangkok.
He grows Dendrobium Sonia orchids — a hybrid variety with delicate white and purple petals. Popular in Japan, China and the United States, they are used for anything from religious ceremonies to college graduations.
At his 20-hectare property, workers treat the cut flowers with a special solution before trimming the stems and fitting them with a small vial, containing vitamins and nutrients, to preserve their fresh appearance for up to two weeks.
But times are tough: Somchai has been dipping into his savings for two years to keep paying his 50-odd employees.
Covid-19 and Russia's invasion of Ukraine have sent the price of fertilisers and pesticides up by 30 percent, he said.
Adding to his woes are dramatically falling sales: pre-pandemic China bought 270 million orchid stems annually from Thailand — a figure that dropped to 170 million last year.
Once accounting for 80 percent of Somchai's export income, China has been hit with coronavirus lockdowns in a number of cities, including its biggest: Shanghai.
Transporting orchids to the key market by road used to take up to three days, but the same journey can now take between eight and 10 days.
In the flower business, time is money, and wilted orchids are frequently discarded before they can ever reach a Shanghai customer's home to be admired.
– 'Time is running out' –
While Somchai delivers his produce directly overseas, the majority of orchid growers in Thailand use large exporters based in Bangkok.
Air-freight costs have tripled or quadrupled in recent months, depending on the destination, said Wuthichai Pipatmanomai, vice-president of the Thai Orchid Exporter Association and co-owner of Sun International Flower, a major exporter.
Before the pandemic, the company was delivering 3.6 million orchids a month to China, Japan, Vietnam and the United States.
Now, only 1.2 million flowers leave the warehouse, and he has had to let go of half of his staff.
"We have asked the authorities for financial support, but we have not received anything," Wuthichai said. "Time is running out."
Increasing his selling price by 20 percent has resulted in several importers — particularly those in Europe — dropping him to concentrate on more local flowers.
The only hope is that sales to Japan remain stable and those to the United States increase with the start of the wedding season, he said.
However, in the long term, changing weather patterns are also troubling for growers.
"We are increasingly experiencing the effects of climate change," Wutachai said, pointing to a recent surprise cold snap at the start of April in which the temperature dropped sharply from 36 Celsius (97 Fahrenheit) to 21C in just 24 hours, affecting orchid production.
"We are worried that these situations will occur more and more frequently."
– Wilting fortunes –
Thailand's coronavirus restrictions have also hit domestic sales — a lack of tourists meant restaurants and hotels scaled back orders, and bans on gatherings affected Thai Buddhist ceremonies.
And despite the kingdom's international reopening, local demand remains lukewarm.
While Bangkok's biggest flower market appears busy — wholesalers can be seen scurrying through colourful aisles laden with large woven baskets containing flowers — vendors tell a different story.
Than Tha Win, waiting patiently at her orchid stall for customers, said her income is down 70 percent.
"Everyone is still afraid to come to the market because of Covid-19," the 21-year-old said.
Meanwhile, 45-year-old vendor Waew said she now has about 600 unsold orchids left over daily and tries to stem her losses by plucking off the petals and selling them as a separate product.
"Stop working with orchids? Impossible, I don't know how to do anything else," she said.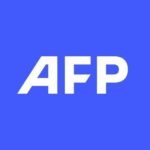 With 2,400 staff representing 100 different nationalities, AFP covers the world as a leading global news agency. AFP provides fast, comprehensive and verified coverage of the issues affecting our daily lives.
Australian KFC patrons clucking mad over lettuce-cabbage switch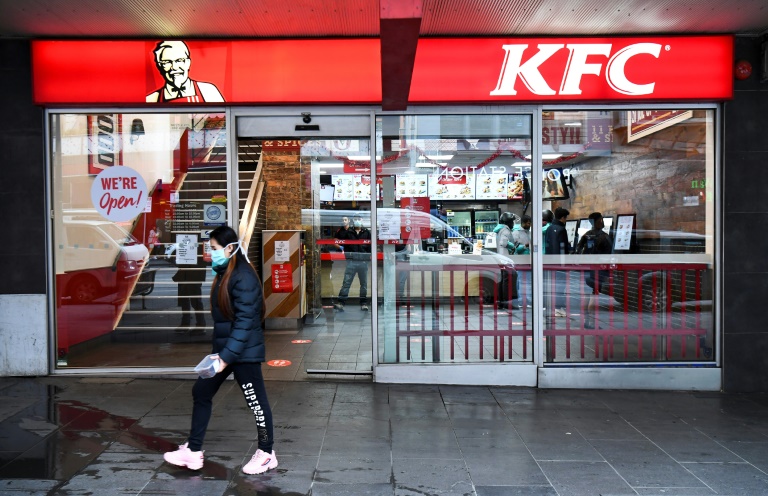 Fried chicken chain KFC said Tuesday that high lettuce prices in Australia have forced it to switch to a cabbage mix in burgers and other products, prompting customers to complain the result is less than "finger lickin' good".
The local price of the verdant leaf has soared by as much as 300 percent in recent months, forcing the fast-food chain to tweak the Colonel's recipe in some stores.
"We're currently experiencing a lettuce shortage. So, we're using a lettuce and cabbage blend on all products containing lettuce until further notice," the company told customers.
The company blamed widespread flooding in the country's east for the problem.
But supply chain expert Flavio Macau of Edith Cowan University said Russia's invasion of Ukraine was also a factor, pushing up diesel and fertiliser prices.
A single head of iceberg lettuce in Sydney or Melbourne that once sold for about $2 now goes for close to $8.
The company told customers: "If that's not your bag, simply click 'customise' on your chosen product and remove lettuce from the recipe :)"
The change was certainly not the "bag" of some social media users.
"The fact that you are replacing lettuce with cabbage makes me rethink my whole meal at KFC. There's 4 or 5 other things I would eat before cabbage Its such a weird choice," said one disgruntled tweeter.
"Feels like a sign of the apocalypse," said another.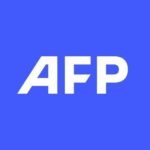 With 2,400 staff representing 100 different nationalities, AFP covers the world as a leading global news agency. AFP provides fast, comprehensive and verified coverage of the issues affecting our daily lives.
Asian markets mixed as rate hike woes offset China tech hopes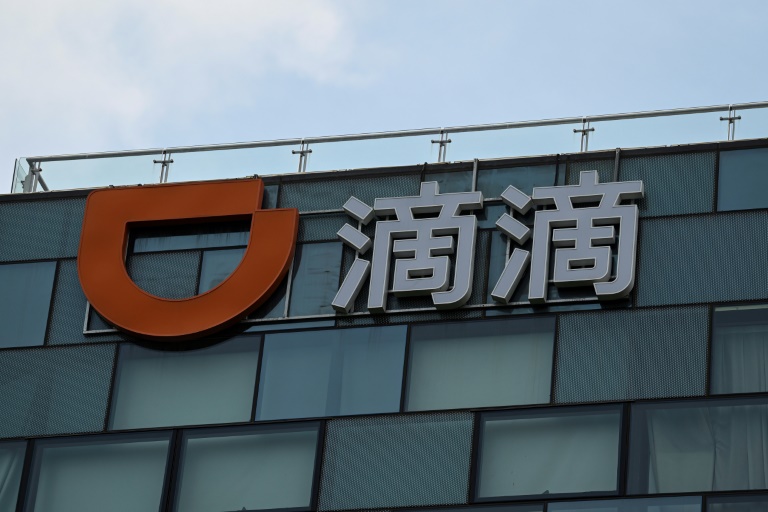 Asian markets struggled Tuesday on long-running worries over surging inflation and rising interest rates, which overshadowed hopes that China would ease off its regulatory drive against the country's beleaguered tech giants.
A spike in US Treasury yields took the wind out of the sales for Wall Street, with focus now on the release of inflation data from the United States and China at the end of the week.
Analysts are tipping the Federal Reserve to lift borrowing costs by half a point at its next three meetings as officials try to get a grip on runaway prices.
But that is causing discomfort on trading floors as investors fret over the impact on economic growth and firms' bottom lines.
"Inflation concerns are not going anywhere fast," Fiona Cincotta, at City Index, said. "Rising crude oil prices and a strong labour report have lifted bets that the Fed may need to act aggressively to rein in inflation."
And SPI Asset Management's Stephen Innes added: "Investors are hyper-focused on inflation, economic growth, and future Fed policy.
"Most assume the worst and think a financial tsunami will hit the US and global markets thanks to the quorum of US-based bank CEOs that have given the gloomy growth narrative their imprimatur. Anything less than that outcome is going to surprise a lot of folks."
Equity markets were mixed in early trade.
Tokyo rose, helped by a softening of the yen to a two-year low owing to expectations the Bank of Japan will not tighten monetary policy just as US rates climb.
Manila and Jakarta also edged up but there were losses in Sydney, Seoul, Singapore, Wellington and Taipei.
Hong Kong dipped and Shanghai was flat, even as heavyweights Alibaba and JD.com led gains among tech firms following a report that China was close to ending a painful crackdown on ride-hailing app Didi Global and restore its main apps this week. Didi's US-listed notes soared more than 20 percent.
The Wall Street Journal added that probes into two other firms — Full Truck Alliance and recruitment platform Kanzhun — fanning optimism for the sector's outlook after a long period of hefty selling pressure.
"This was seen as a signal that the regulatory crackdown on Chinese tech firms was starting to end… as China focuses on stabilising the economy following Covid restrictions," said National Australia Bank's Tapas Strickland.
Markets have seen some levelling out in recent weeks as the easing of lockdown measures in China helps to offset some of the worries about higher rates and the impact of the Ukraine war.
But market-watcher Louis Navellier warned there was still plenty more volatility to come.
"If history repeats, we could be down tomorrow, then up on Wednesday, then down on Thursday, and possibly up on Friday," he said in a commentary. "So just get used to these up-down, up-down oscillations because they are going to continue.
"I want to remind investors to not get too excited when the market rallies because it is going to continue to oscillate. There is just too much uncertainty out there."
– Key figures at around 0230 GMT –
Tokyo – Nikkei 225: UP 0.4 percent at 28,031.15 (break)
Hong Kong – Hang Seng Index: DOWN 0.2 percent at 21,609.25
Shanghai – Composite: FLAT at 3,237.14
Brent North Sea crude: UP 0.6 percent at $120.28 per barrel
West Texas Intermediate: UP 0.7 percent at $119.29 per barrel
Euro/dollar: DOWN at $1.0675 from $1.0699 
Pound/dollar: DOWN at $1.2500 from $1.2528
Euro/pound: UP at 85.42 pence from 85.37 pence
Dollar/yen: UP at 132.60 yen from 131.88 yen
New York – Dow: UP 0.1 percent to 32,915.78 (close)
London – FTSE 100: UP 1.0 percent at 7,608.22 (close)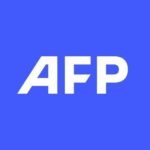 With 2,400 staff representing 100 different nationalities, AFP covers the world as a leading global news agency. AFP provides fast, comprehensive and verified coverage of the issues affecting our daily lives.
Apple unveils message recall, other 'wish list' features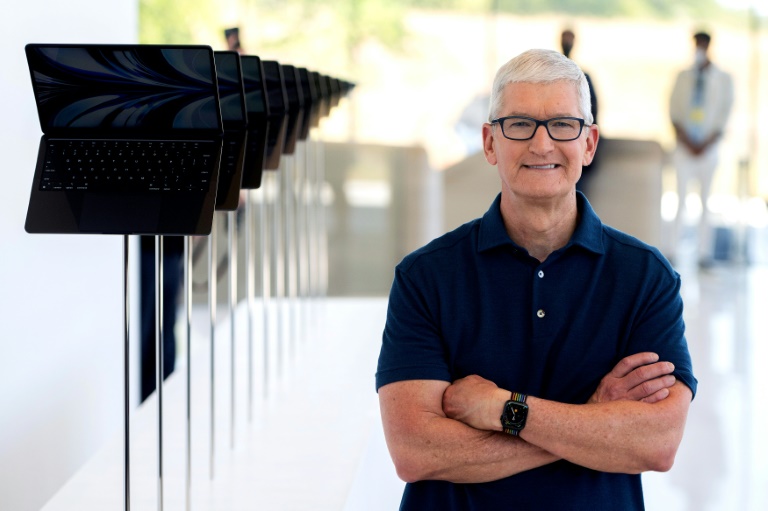 Apple opened Monday its first in-person developers conference since the onset of the pandemic with chips, maps and a way to delete precipitously sent messages, but was mum on any virtual reality offerings.
The tech giant touted new features and capabilities being built into the operating systems running iPhone, Apple Watch and more, along with a speedy new MacBook Air computer driven by a second generation of its custom chip.
Apple chief Tim Cook and his team showed off coming innovations during a keynote presentation at its first developers conference to be held at its campus in the Silicon Valley city of Cupertino — and the first in-person version of the gathering since Covid-19 struck.
"It's so good to see you all," Cook said from a stage set up on a lawn next to Apple's ring-shaped headquarters, as an audience of several thousand developers cheered in the morning sunshine.
No updates, however, were forthcoming on a rumored virtual reality operating system or hardware.
Still, developers will get to meet with Apple engineers during the weeklong conference, and even work in a new building with soundproof rooms to let them discuss ideas without being overheard.
Aside from new MacBook models, the event was a deep dive into coming new generations of operating systems for Apple's line-up of offerings.
Apple will start letting people delete and edit messages after they have been sent as part of the latest update to its operating software, as well as customizable options for the iPhone main screen.
Users of its digital wallet should soon also be able to pay for purchases in installments.
Relying increasingly on custom made chips has enabled Apple to make its devices and software work more seamlessly together, and catch up a bit to features offered by rivals such as Google Maps and even Microsoft Xbox video game platform for Windows-powered computers.
Creative Strategies analyst Carolina Milanesi saw it as Apple filling "users' wish-list," adding capabilities to make its apps, services or hardware the natural option in an increasingly competitive market.
"They are listening to what the users are saying and they're making changes," Milanesi said.
As increased dependence on computers and the internet caused by the pandemic shows no sign of abating, and by better tuning hardware and software for convenience promises to keep people in Apple's money-making ecosystem, the analyst added.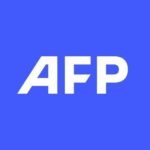 With 2,400 staff representing 100 different nationalities, AFP covers the world as a leading global news agency. AFP provides fast, comprehensive and verified coverage of the issues affecting our daily lives.