French economy shrinks as inflation dents confidence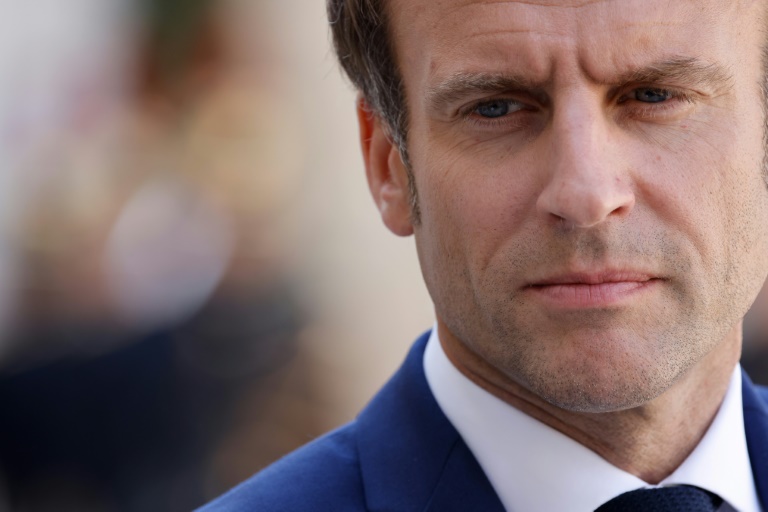 France's economy contracted in the first quarter under the impact of soaring inflation, data showed Tuesday, increasing the risks for President Emmanuel Macron in key parliament elections less than two weeks away.
The economy shrank 0.2 percent from the previous quarter compared with a flat reading initially, statistics office INSEE said, a cold shower after last year's strong 6.8 percent recovery as the Covid pandemic eased.
Russia's invasion of Ukraine has derailed growth across Europe, sparking inflationary pressures that are prompting consumers to hold back on purchases of all kinds — a crucial driver of the French economy.
Household spending power dropped 1.9 percent in the first three months of the year, and price increases have only accelerated since then, with inflation hitting 5.2 percent in May compared with the same period last year.
It was the first time prices overall had crossed the five percent threshold since 1985, and before Tuesday's data release, INSEE had been tabling on further acceleration to 5.4 percent for June.
Macron won re-election in April with a promise to defend spending power, and is hoping to secure a majority for his centrist party in the parliament elections beginning June 12.
His new government has already vowed "food checks" for needy households, pension increases and higher social subsidies, measures that will not be implemented until after the vote.
But his rivals on the left and right say the former investment banker fails to fully appreciate the pocketbook worries of the vast majority of voters, and are promising more concrete measures to lift incomes against the inflation threat.
– Energy fears –
INSEE expects the economy to edge up just 0.25 percent in the second quarter, after household spending slipped 0.4 percent in April, though that was less than the 1.4 percent drop in March. 
Fuel and food prices in particular have jumped as Europeans prepare a ban on Russian oil purchases, and the forced halt of Ukraine's grain exports stoke worries of food shortages rippling through global markets.
Food prices climbed 4.2 percent in May while energy prices jumped 28 percent year-on-year — a brutal shock for the millions of French in smaller cities and rural areas who depend heavily on their cars.
High petrol costs were main factor behind the fiery "yellow vest" revolts against Macron's government in 2018 and 2019, which saw him cut taxes and lift wages for the lowest workers in a string of fiscal concessions.
Inflation in France is not as bad as in neighbouring eurozone countries — Germany has reported a new record of 7.9 percent for May, while Spanish inflation jumped to 8.7 percent for the month.
But the INSEE reports helped push the CAC-40 stock index down 0.5 percent to 6,532.37 points on Tuesday morning, with the Paris benchmark falling 8.7 percent since the start of the year.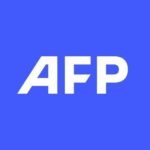 With 2,400 staff representing 100 different nationalities, AFP covers the world as a leading global news agency. AFP provides fast, comprehensive and verified coverage of the issues affecting our daily lives.
Bankrupt Sri Lanka's inflation jumps beyond 50%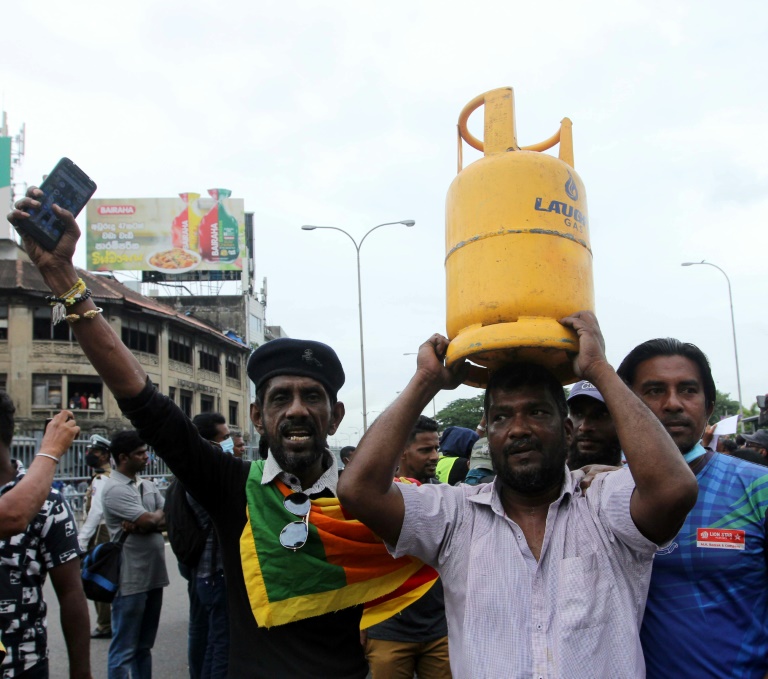 Sri Lanka's inflation hit a ninth consecutive record in June, official data showed Friday, rising to 54.6 percent a day after the IMF asked the bankrupt nation to rein in galloping prices and corruption.
It was the first time the increase in the Colombo Consumer Price Index (CCPI) crossed the psychologically important 50 percent mark, according to the department of census and statistics.
The figures came hours after the International Monetary Fund urged Sri Lanka to contain spiralling inflation and address corruption as part of efforts to salvage the troubled economy, which has been ravaged by a foreign exchange crisis.
The IMF ended 10 days of in-person discussions with Sri Lankan authorities in Colombo on Thursday following the country's request for a possible bailout.
The CCPI has been setting new monthly highs since October, when year-on-year inflation stood at just 7.6 percent. In May it reached 39.1 percent.
The rupee has lost more than half its value against the US dollar this year.
Private economists say consumer prices are rising even faster than shown in official statistics.
According to an economist at Johns Hopkins university, Steve Hanke, who tracks price increases in the world's troublespots, Sri Lanka's current inflation is 128 percent, second only to Zimbabwe's 365 percent.
Faced with an acute energy shortage, Sri Lanka is observing a shutdown of non-essential state institutions for two weeks, along with the closure of schools to reduce commuting.
The country's 22 million people have been enduring acute shortages of essentials — including food, fuel and medicines — for months.
Protests are continuing outside President Gotabaya Rajapaksa's office demanding his resignation over the unprecedented economic turmoil and his mismanagement.
Sri Lanka went to the IMF in April after the country defaulted on its $51 billion external debt.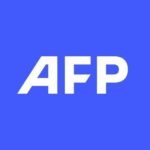 With 2,400 staff representing 100 different nationalities, AFP covers the world as a leading global news agency. AFP provides fast, comprehensive and verified coverage of the issues affecting our daily lives.
World Bank creates fund to better prevent, respond to pandemics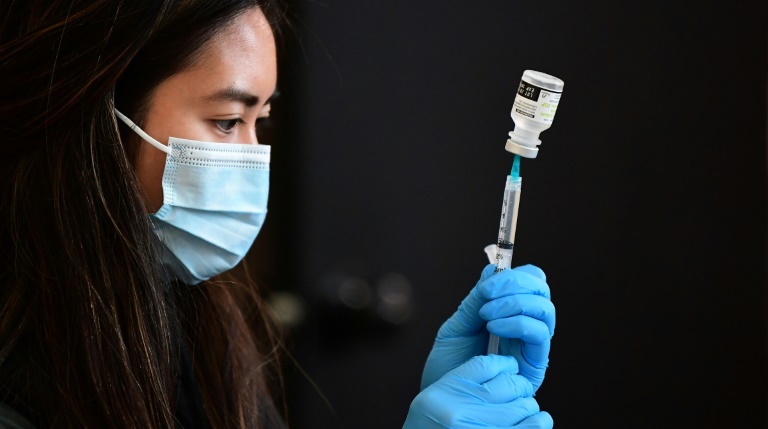 The World Bank's board on Thursday approved creation of a fund meant to finance investments in strengthening the fight against pandemics.
The fund will support prevention, preparedness and response (PPR), with a focus on low- and middle-income countries, the bank said in a statement.
"The devastating human, economic, and social cost of Covid-19 has highlighted the urgent need for coordinated action to build stronger health systems and mobilize additional resources," it said.
The World Bank added that the fund, which it aims to open later this year, was developed under the leadership of the United States, Italy and Indonesia as part of their G20 presidencies, and with broad support from the G20.
It will be used in a number of areas, including disease surveillance, with more than $1 billion in commitments already announced.
"The World Bank is the largest provider of financing for PPR with active operations in over 100 developing countries to strengthen their health systems," World Bank President David Malpass said in the statement.
The so-called financial intermediary fund (FIF) will provide financing to "complement the work of existing institutions in supporting low- and middle-income countries and regions to prepare for the next pandemic," the World Bank said.
The World Health Organization is a stakeholder in the project and will provide technical expertise, its president Tedros Adhanom Ghebreyesus said.
US President Joe Biden said more than 1 million Americans and millions of people around the world have lost their lives to Covid-19, underscoring the importance of boosting investment in pandemic preparedness.
"When it comes to preparing for the next pandemic, the cost of inaction is greater than the cost of action," Biden said in a statement late Thursday. "Investing in preparedness now is the right thing and the smart thing to do."
In a separate statement earlier in the day, US Treasury Secretary Janet Yellen called the fund "a major achievement that will help low- and middle-income countries be better prepared for the next pandemic."
"Even as we continue to work to end Covid-19, today's decision by World Bank shareholders will help bolster capacity to prevent, detect, and respond to future pandemics," she said.
A spokesperson for the World Bank told AFP that if the Covid-19 pandemic is still ongoing when the fund is implemented, it could be used to provide support against the current as well as future pandemics.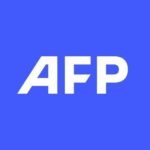 With 2,400 staff representing 100 different nationalities, AFP covers the world as a leading global news agency. AFP provides fast, comprehensive and verified coverage of the issues affecting our daily lives.
Asian markets struggle as traders gripped by recession fear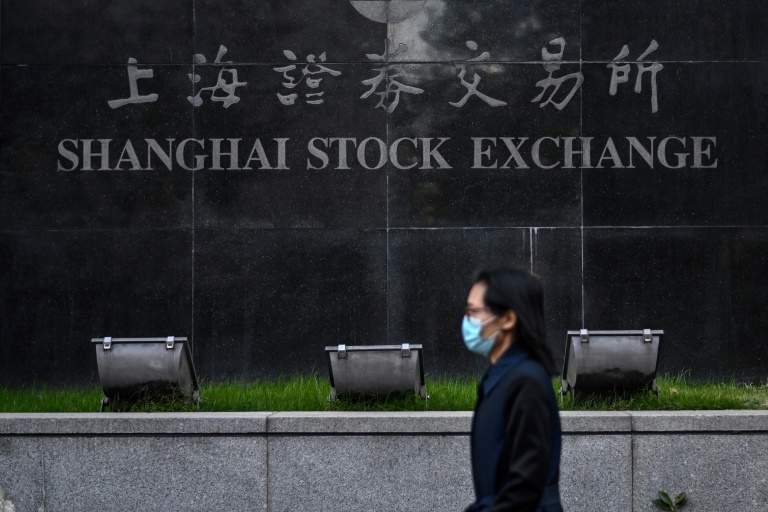 Asian markets struggled again Friday following another selloff on Wall Street fuelled by recession fears, with warnings of a bleak outlook for the global economy as central banks slam on the brakes to battle soaring inflation.
Data showing US consumers — the backbone of the world's top economy — were growing increasingly reticent about spending dealt a fresh blow to equities Thursday, with the S&P 500 suffering its worst January-June since 1970.
With the war in Ukraine showing no sign of ending — keeping energy costs elevated — there is an expectation that borrowing costs will continue to rise and send economies into recession.
"If anyone thinks that equities can rally into the back of the year, they are making the assumption that the Fed is going to let go of its entire focus on price stability and step back from that," Seema Shah, at Principal Global Investors, told Bloomberg Television.
"We have a very different view. We think things are going to get pretty tough."
After a broad retreat on Thursday in Asia, markets battled to recover but with little conviction.
Tokyo, Shanghai, Seoul, Taipei and Bangkok all fell, though there were small gains in Sydney, Singapore, Manila and Jakarta.
Hong Kong was closed for a holiday.
Losses across world markets this week come after a rally last week fuelled by hopes that an economic slowdown or signs of recession would lead central banks to ease off their monetary tightening drive.
But comments from top finance chiefs, including Federal Reserve boss Jerome Powell, suggest they are willing to endure the pain of a contraction as long as they can rein in prices — which are rising at their fastest pace in 40 years.
"With central banks shifting towards accepting that monetary tightening is impossible without some economic damage, the market narrative has swung 180 degrees this week," said SPI Asset Management's Stephen Innes.
He added that sharp rate hikes by the Fed and other central banks were being front-loaded in the hope inflation will ease earlier and allow them to cut borrowing costs more quickly.
"The hope is that by the November midterm elections, when the economy has chilled enough, it will be possible to pause or at least significantly slow further hikes to allow investors to enjoy a Santa Claus rally; otherwise, it could be a winter of discontent," Innes said.
However, markets strategist Louis Navellier suggested that the economy was not in as bad a shape as feared.
"The amazing thing is that we are not in an 'earnings recession' and the analyst community remains largely positive," he said in a note.
"Frankly, the analyst community is smarter than the macro strategists that keep calling for a recession. The bottom line is fear sells, so negative news continues to overpower positive analyst comments."
Oil prices ticked higher but still headed for a third successive week of losses owing to concerns that a recession will hit demand.
That has overshadowed a tight market caused by sanctions on Russia over its Ukraine invasion and an expected jump in demand from China as it emerges from its Covid lockdowns.
Innes added: "With energy bulls having a good run this year, investors seem more inclined to take money off the table in the face of growing uncertainty as the energy crisis moves onto the global recession phase.
"As the adage goes, the best cure for high prices is high prices."
– Key figures at around 0230 GMT –
Tokyo – Nikkei 225: DOWN 0.9 percent at 26,159.53 (break)
Shanghai – Composite: DOWN percent at 3,394.99
Hong Kong – Hang Seng Index: Closed for a holiday
West Texas Intermediate: UP 0.5 percent at $106.26 per barrel
Brent North Sea crude: UP 0.6 percent at $119.66 per barrel
Dollar/yen: DOWN at 135.32 yen from 135.75 yen Thursday
Euro/dollar: DOWN at $1.0465 from $1.0487 
Pound/dollar: DOWN at $1.2144 from $1.2177
Euro/pound: UP at 86.18 pence from 86.08 pence
New York – Dow: DOWN 0.8 percent at 30,775.43 (close)
London – FTSE 100: DOWN 2.0 percent at 7,169.28 (close)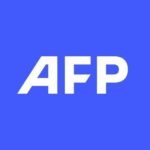 With 2,400 staff representing 100 different nationalities, AFP covers the world as a leading global news agency. AFP provides fast, comprehensive and verified coverage of the issues affecting our daily lives.