French green activists block TotalEnergies' annual meeting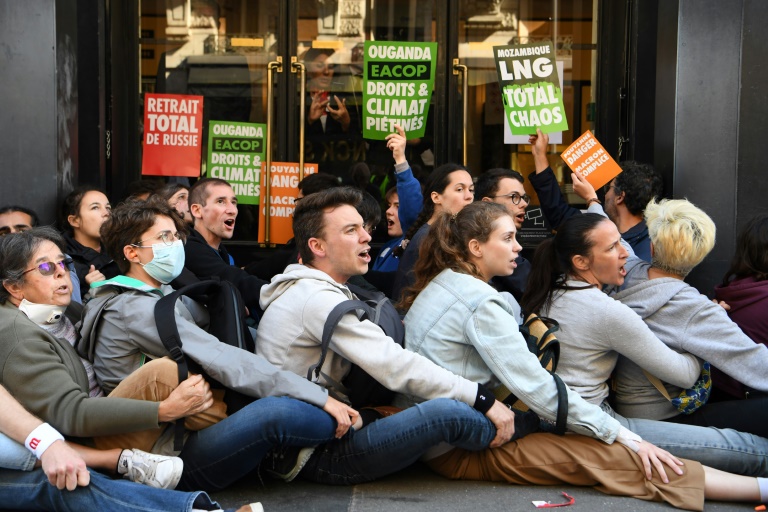 More than 100 activists sought to block oil giant TotalEnergies' annual general meeting in central Paris on Wednesday to protest the energy firm's climate policies and continued presence in Russia following the invasion of Ukraine. 
Greenpeace, Friends of the Earth and Alternatiba protesters handcuffed themselves to each other and impeded shareholders' access to the building, claiming that TotalEnergies is not doing enough to fight climate change.
"It is no longer possible for the old world to serenely meet to validate projects that are destructive to the climate, human rights and peace," the French branch of Friends of the Earth said on Twitter. 
Activists unfurled a five-metre (16-foot) long banner saying, "no retreat, no general assembly", a reference to the energy firm's presence in Russia, where it runs liquified gas extraction projects. 
The meeting at the Salle Pleyel concert hall in central Paris was eventually declared open by TotalEnergies chief executive Patrick Pouyanne, but with the venue almost empty as so few shareholders had been able to enter.
He said that the AGM could go ahead "as a certain number of shareholders are present".
TotalEnergies is aiming for net-zero carbon emissions by mid-century and has pledged to reduce emissions of its petroleum products by 30 percent compared to 2015. 
Earlier on Wednesday, the group announced it had bought a 50-percent stake in the US renewables producer Clearway Energy Group, as it seeks to expand its portfolio in the sector in the United States.
Shareholders at TotalEnergies' AGM are due to vote on the group's climate plans, with some announcing in advance that they would vote against. 
A group of shareholders representing 0.78 percent of the giant's capital deposited a resolution — that was rejected — asking for the group to respect the Paris climate deal, which seeks to limit global warming to 2 degrees Celsius and if possible 1.5 degrees.
"There are shareholders who recognise the climate emergency but on the whole they are still too passive," Greenpeace France campaigner Edina Ifticene told AFP. 
On Tuesday, oil giant Shell's general assembly in central London was suspended for two hours due to disruption from climate change activists.
els-mto-cdc-ech/sjw/kjm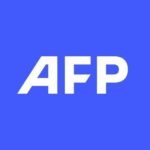 With 2,400 staff representing 100 different nationalities, AFP covers the world as a leading global news agency. AFP provides fast, comprehensive and verified coverage of the issues affecting our daily lives.
Global trade unions urge UK to resolve rail strike row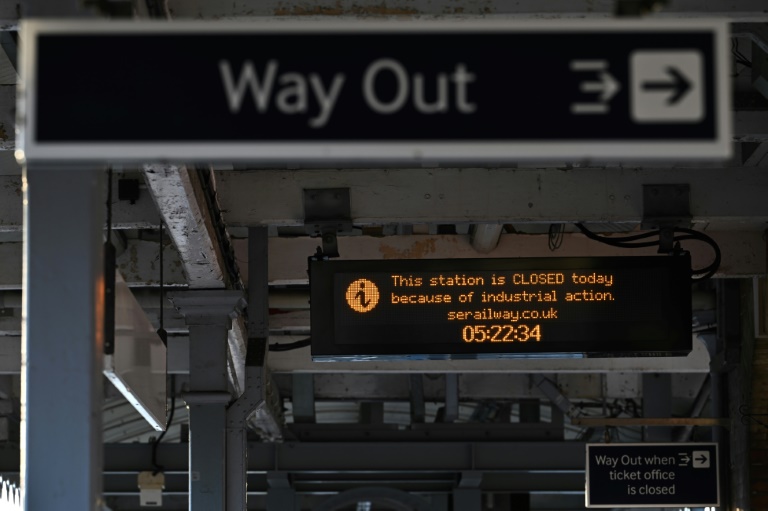 International transport trade unions on Friday urged London to negotiate a swift end to Britain's biggest rail strike in over 30 years, on the eve of the latest walkout.
More than 100 unions have written an open letter to UK Transport Secretary Grant Shapps calling on him to help settle the bitter row over pay, as surging inflation sparks growing industrial unrest.
The letter, coordinated by the International Transport Workers' Federation, comes one day before the third of this week's three rail strikes.
"We are writing to call on you to meet with the transport unions to discuss rail workers' concerns and enable the unions to reach a negotiated settlement to the disputes with rail employers," the letter read.
And it called upon the government to "defend rail workers' jobs, pay, conditions and pensions".
Shapps has so far refused to get involved in negotiations, arguing that they should be held between workers' trade unions, Network Rail and private-sector railway operating firms.
The letter was signed by unions from across the world, including Asia, Europe, South America and the Middle East.
"We are shocked that … the UK government is set to impose cuts to railway services and scrap infrastructure projects at exactly the time when it should be investing, expanding and promoting public transport, especially the railways to help reduce global emissions from transport," the letter continued.
"We call on you to do what's right by these workers and their communities, and call on you to meet urgently with the transport unions."
The RMT rail union insists strikes are necessary as wages have failed to keep pace with UK inflation, which has hit a 40-year high and is on course to keep rising.
The RMT also accuses Shapps of having "wrecked" negotiations by not allowing Network Rail to withdraw a letter threatening redundancies of 2,900 RMT members.
However, Shapps has called that "a total lie".
Rail staff went on strike on Tuesday and Thursday — and are also set to do so on Saturday in the absence of a deal.
A Department for Transport spokesperson denied that the government had sought to obstruct any agreement.
"It is entirely false to claim the government is blocking negotiations," the spokesperson stated.
"We have said from the outset we urge the unions and industry to agree a deal that is fair for railway staff, passengers and taxpayers."
Separately, British Airways workers at London's Heathrow airport voted on Thursday to strike over pay.
Members of the GMB and Unite trade unions overwhelmingly backed action and warned of a "summer of strikes" as the nation's cost-of-living crisis worsens.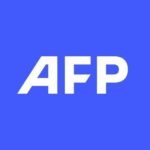 With 2,400 staff representing 100 different nationalities, AFP covers the world as a leading global news agency. AFP provides fast, comprehensive and verified coverage of the issues affecting our daily lives.
Ryanair, Brussels Airlines strikes disrupt Europe air travel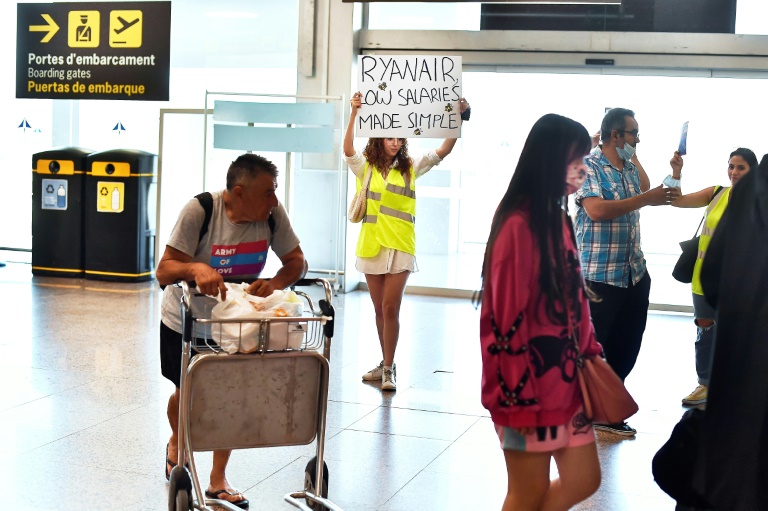 Strikes by staff at Ryanair and Brussels Airlines over pay and working conditions on Friday forced the cancelation of dozens of flights in Europe as the busy summer travel season gets underway.
The strikes are adding more headaches to passengers and the aviation sector, which has struggled with staff shortages as it struggle to recruit people after massive layoffs during the Covid pandemic.
Ryanair cabin crew unions in Spain, Portugal and Belgium called a three-day strike starting on Friday, and in Italy and France on Saturday.
The biggest impact was felt in Belgium, where the work stoppage led Europe's biggest budget airline to cancel 127 flights to and from Charleroi airport near Brussels between Friday and Sunday.
Ryanair could only guarantee 30-40 percent of its scheduled flights at the airport, said a spokeswoman for Brussels South Charleroi Airport.
The situation in Belgium was further complicated by a three-day strike by staff at Brussels Airlines, a unit of German airline Lufthansa, which began on Thursday.
The company has cancelled 315 flights to and from Brussels' international airport during the three-day strike.
The impact of the Ryanair strike was more limited in Portugal, where only two flights we cancelled on Friday morning, according to the SNPVAC union behind the walkout in the country.
It expects the strike to gain force later in the day.
In Spain, where Ryanair employs 1,900 people, no flights we cancelled except those heading to Belgium.
"We didn't even know there was a strike…we didn't have any problem at all," said Manuel Carrion, a Spanish passenger with a Ryanair flight at Madrid airport.
Spain's transport ministry on Thursday ordered Ryanair to operate 73 percent to 82 percent of flights over the strike period to maintain minimum services.
It argued there needs to be a balance between the "right to strike" and the "interest of travellers".
– Threats –
But unions said Ryanair had gone beyond what was required and forced staff to maintain 100 percent of flights. Unions said they would take Ryanair to court as a result.
"The company informed staff that all flights were subject to the minimum service, and threated them with disciplinary action," Ernesto Iglesias of local USO told reporters at Madrid airport.
The airline was not "respecting the law," he added.
Ryanair cabin crew unions in Spain have called another strike from June 30 to July 2.
A strike on the weekend of June 12 and 13 already prompted the cancellation of about 40 Ryanair flights in France, or about a quarter of the total.
Ryanair boss Michael O'Leary has been dismissive of the strikes, saying earlier this month that most of the company's flights "will continue to operate even if there is a strike in Spain by some Mickey Mouse union or if the Belgian cabin crew unions want to go on strike."
– 'Pushed to the brink' –
Ryanair's low-cost rival easyJet also faces nine days of strikes on different days in July at the Barcelona, Malaga and Palma de Mallorca airports.
British Airways workers at London's Heathrow airport have voted to strike over pay as the cost-of-living crisis worsens in the UK, though no dates were set yet.
The strikes come as air travel has rebounded since Covid-19 restrictions have been lifted.
But the staff shortages have forced airlines to cancel flights, with German carrier Lufthansa cancelling more than 3,000 of them during the summer holidays.
On Monday, the European Transport Workers' Federation called "on passengers not to blame the workers for the disasters in the airports, the cancelled flights, the long queues and longer time for check-ins, and lost luggage or delays caused by decades of corporate greed and a removal of decent jobs in the sector."
The Federation said it expects "the chaos the aviation sector is currently facing will only grow over the summer as workers are pushed to the brink."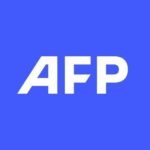 With 2,400 staff representing 100 different nationalities, AFP covers the world as a leading global news agency. AFP provides fast, comprehensive and verified coverage of the issues affecting our daily lives.
European stocks, oil prices rebound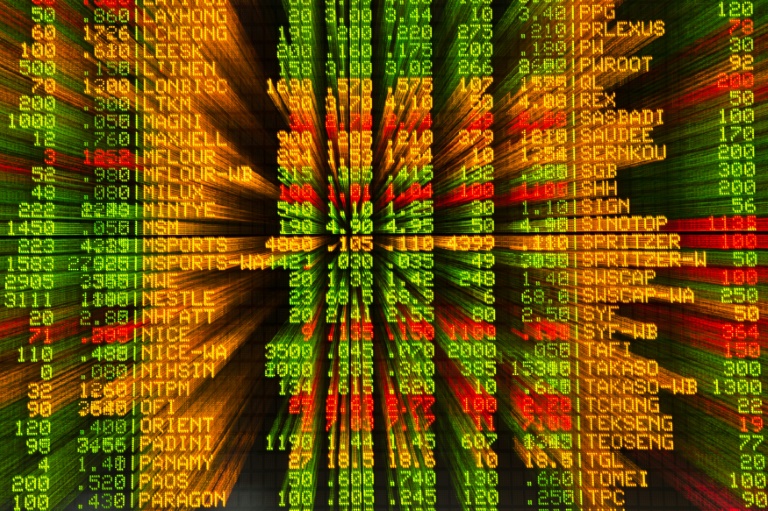 European stock markets and oil prices recovered Friday following heavy losses this week on fears that interest rate hikes aimed at cooling decades-high inflation will spark a global recession.
London stocks rallied 1.3 percent around midday with investors brushing aside news of bruising defeats for Britain's ruling Conservatives in by-elections on Thursday. 
The pound firmed against the dollar and euro, despite data showing a drop in UK retail sales volumes as inflation soars.
Paris stocks jumped 1.8 percent in eurozone trade, while Frankfurt rose 0.8 percent with gains tempered by news of the worsening German business climate.
"Stock markets are taking a breather after being beat up… as recession fears took their toll," OANDA analyst Craig Erlam told AFP.
But he warned that stock markets remain "vulnerable to another onslaught if the news does not improve".
Asian stock markets closed higher after Thursday's gains on Wall Street.
The slight recoveries come after global markets have been thrown into turmoil for months owing to soaring inflation, interest-rate hikes, the Ukraine war and China lockdowns.
Federal Reserve boss Jerome Powell this week told lawmakers a recession was "certainly a possibility".
He suggested officials were ready to press on with big rate hikes, following last week's three-quarter point increase for US borrowing costs that sent markets tanking.
By contrast, the Bank of Japan is sitting tight over interest rate rises, even as the country's inflation stands at a seven-year high.
Sentiment in Asia has meanwhile been boosted by comments from Chinese President Xi Jinping suggesting an end to China's tech crackdown as well as possible new measures aimed at lifting the economy.
Hong Kong shares were among the biggest winners Friday thanks to a rally in tech giants including Alibaba, Tencent and NetEase.
– Key figures at around 1100 GMT –
London – FTSE 100: UP 1.3 percent at 7,110.72 points
Frankfurt – DAX: UP 0.8 percent at 13,010.79
Paris – CAC 40: UP 1.8 percent at 5,991.39
EURO STOXX 50: UP 1.4 percent at 3,485.73
Tokyo – Nikkei 225: UP 1.2 percent at 26,491.97 (close)
Hong Kong – Hang Seng Index: UP 2.1 percent at 21,719.06 (close)
Shanghai – Composite: UP 0.9 percent at 3,349.75 (close)
New York – Dow: UP 0.6 percent at 30,677.36 (close)
Euro/dollar: UP at $1.0543 from $1.0523 late Thursday
Pound/dollar: UP at $1.2304 from $1.2260
Euro/pound: DOWN at 85.68 pence from 85.83 pence
Dollar/yen: UP at 135.02 yen from 134.95 yen 
Brent North Sea crude: UP 1.6 percent at $111.79 per barrel
West Texas Intermediate: UP 1.6 percent at $105.91 per barrel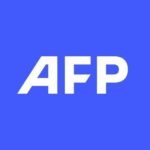 With 2,400 staff representing 100 different nationalities, AFP covers the world as a leading global news agency. AFP provides fast, comprehensive and verified coverage of the issues affecting our daily lives.