McDonald's investors reject Icahn challenge on animal welfare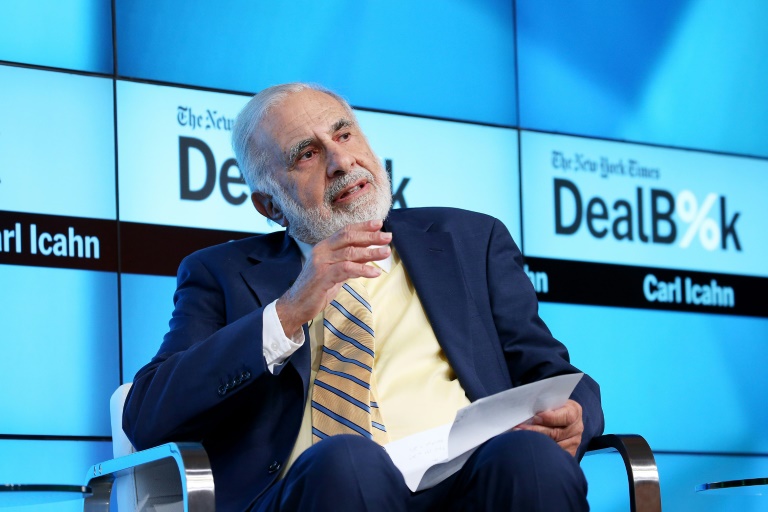 McDonald's shareholders overwhelmingly rejected billionaire Carl Icahn's efforts to install two board members to remake the company's animal welfare policies, the restaurant chain said Thursday.
Icahn, known on Wall Street for playing hardball in messy corporate battles, had launched the unlikely crusade earlier this spring, accusing the food giant of inhumane pig-farming practices and breaking its promises to address the problem.
But Icahn's nominees garnered only about one percent of outstanding shares, according to preliminary results released by McDonald's that said all 12 company directors had been reelected.
"McDonald's is committed to remaining a leader on environmental, social and governance (ESG) initiatives, including animal welfare," the company said. "Its approach is governed by making a meaningful impact in the communities it serves while also meeting the needs of customers."
Icahn had launched the campaign in February following numerous meetings with McDonald's executives and the Humane Society.
According to the Humane Society, metal gestation crates — used to contain sows for almost all of a pregnancy — are so small that the animal cannot turn around, and can lead to health issues such as infection or anatomical problems.
A May 4 investor presentation by Icahn touted nominees Maisie Ganzler and Leslie Samuelrich as ESG experts, saying McDonald's had missed a pledge to end use of gestation crates by 2022. 
The fast-food chain rebutted by saying it was on track to phase out the stalls by the end of 2024, citing the Covid-19 pandemic and the outbreak of African Swine Fever for causing "unprecedented disruption" to supply chains and global pork production.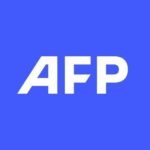 With 2,400 staff representing 100 different nationalities, AFP covers the world as a leading global news agency. AFP provides fast, comprehensive and verified coverage of the issues affecting our daily lives.
Menswear regains its muscle at Paris Fashion Week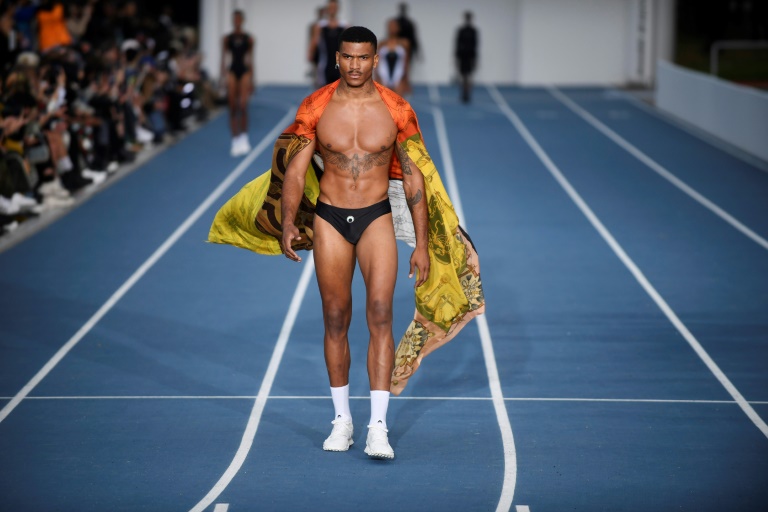 Menswear proved to be in reinvigorated form as Paris Fashion Week ended on Sunday, with spectacle, innovation and the return of big-name designers to the catwalk.   
The week was set to conclude with the surprise return of Hedi Slimane, the former Dior and Saint Laurent designer, now with French brand Celine. Just two years ago he announced he was done with the official fashion calendar.
Slimane — who became hugely influential as the stylist behind bands such as The Libertines and Daft Punk in the 2000s — has not presented a live show in Paris since February 2020. He had dismissed them as "obsolete", preferring to present collections with videos shot in luxurious French locales. 
He gave no explanation for his reappearance on the catwalks, but he returns when there is a sense of a renaissance in menswear.
– 'A boom' –
The past few seasons have often seen men's and women's shows merging into one — with London Fashion Week doing away with the distinction altogether. 
But this week in Paris seemed to reaffirm the divide, with houses wanting to boost their focus on menswear at a time when demand is booming.  
US designer Matthew Williams presented his first-ever standalone menswear show for Givenchy this week.
"It's good to give space to men and women, to each and everyone their platform to tell a story," Williams told fashion site WWD. "There's more room for more looks."
His show was grounded in real-life styles from his native California, he said, with a lot of utilitarian knee-length shorts, cargo trousers and relaxed knitwear — much of it in monochrome with a few splashes of pastel colours. 
"Commercially, menswear is a market that has developed a lot with a particularly strong dynamic in Asia that has created a boom for pret-a-porter men's designers," said Serge Carreira, fashion expert at Sciences Po University. 
– 'More accessible' –
Also marking her first menswear show was France's Marine Serre, one of the biggest names to emerge in recent years. 
The 30-year-old has made sustainability and inclusivity central to her brand, and that was evident at her sports-themed show in a stadium outside Paris on Saturday. 
Many pieces were upcycled from old scarves and linen — that had been turned into everything from speedos to flags and leotards. 
The models came in all shapes and sizes, from children to older people, alongside celebrities such as ex-footballer Djibril Cisse and Paralympic gold medallist Alexis Hanquinquant, as well as Madonna's daughter Lourdes Leon in one of the house's trademark moon-patterned bodysuits. 
"Thirty percent of our sales have been for menswear in the last collections — we're not at 50/50 but we do quite a bit of men's and we have no intention of doing less," Serre told AFP after the show.
"Upcycling is quite rare in men's but the locker-room lends itself very well to it," she added. 
"These are shapes that are less complex: it's easier and we can have better prices that mean it is more accessible for everyone to wear upcycled pieces." 
Meanwhile, familiar names also made a mark this week. 
Dior took inspiration from the childhood Normandy home of the label's founder, with a flower-filled garden runway and some straw hats and chic outdoor loungewear among the outfits. 
Hermes was also in a relaxed, pastel-infused mood, which designer Veronique Nichanian told AFP was inspired by "lightness, comfort, fun and colours that pop."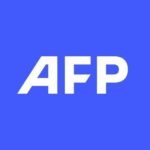 With 2,400 staff representing 100 different nationalities, AFP covers the world as a leading global news agency. AFP provides fast, comprehensive and verified coverage of the issues affecting our daily lives.
G7 touts $600 bn global infrastructure plan to rival China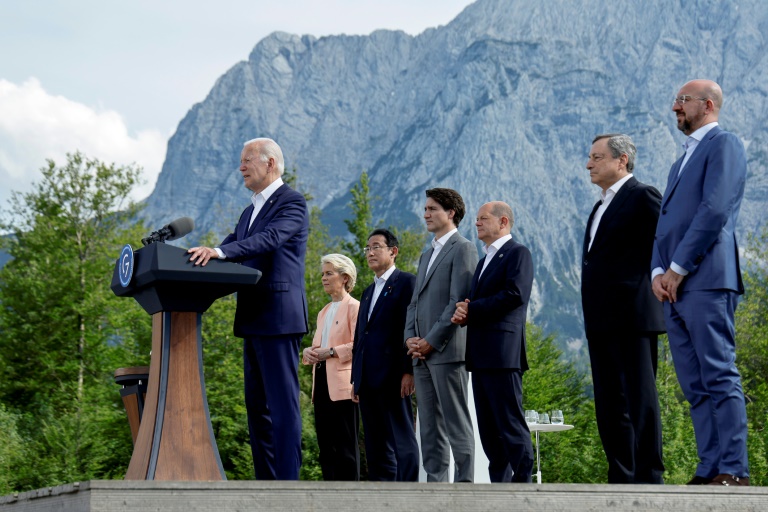 The G7 group of rich democracies on Sunday announced an attempt to compete with China's formidable Belt and Road Initiative by raising some $600 billion for global infrastructure programmes in poor countries.
The Partnership for Global Infrastructure and Investment, unveiled with fanfare by US President Joe Biden and G7 allies from Canada, Germany, Italy, Japan and the European Union, aims to fill a huge gap left as communist China uses its economic clout to stretch diplomatic tentacles into the furthest reaches of the world.
Biden said the target was for the United States to bring $200 billion to the table, with the rest of the G7 another $400 billion by 2027.
Funding the kinds of projects that China currently dominates — everything from roads to harbours in far-flung corners of the world — is not "aid or charity," Biden said.
Highlighting the geostrategic thinking behind the plan, Biden said such projects "deliver returns for everyone, including the American people and the people of all our nations."
Around the world, the role of China's democratic rivals is "a chance for us to share our positive vision for the future" and for other countries to "see for themselves the concrete benefits of partnering with democracies," he said.
European Commission chief Ursula von der Leyen echoed this, saying "it is up to us to give a positive, powerful investment impulse to the world, to show our partners in the developing world that they have a choice."
Although China was not referred to by name, the rivalry loomed large over the leaders' presentation, a relaunch of a first attempt at a Western infrastructure fund that Biden laid out during last year's G7 summit in Britain.
Unlike China's state-run BRI initiative, the proposed G7 funding would depend largely on private companies being willing to commit to massive investments and is therefore not guaranteed.
According to US officials, however, that is a good thing.
In this capitalist vs communist scenario, US officials say, recipient countries will be able to avoid the debt traps and other strongarm tactics allegedly used by the Chinese.
– 'Not too late' –
Between now and 2027, the US government and allies will shoot for the $600-billion figure "through grants, federal financing, and leveraging private sector investments," the White House said.
"This will only be the beginning: the United States and its G7 partners will also seek to mobilise hundreds of billions in additional capital from other like-minded partners, multilateral development banks, development finance institutions, sovereign wealth funds, and more."
With the investment target largely aspirational, a senior US official acknowledged that the West is currently in second place behind China.
"There's no doubt that the Belt and Road Initiative has been around for several years and it's made a lot of cash disbursements and investments — and that we're coming to this after years of their investments," the official said.
"But I would argue that it is definitely not too late. And I'm not even sure that it is late."
The official, briefing reporters on condition of anonymity, said that "many countries" which partnered with China were suffering buyer's remorse, concluding that Beijing was more interested in establishing economic and geostrategic footholds than benefiting locals.
By contrast, "we're coming to you with an offer to make investments to actually improve your country, to improve the economy and to have lasting effects on GDP and your populations," the official said.
"I think that is the deal that is being offered."
While the obvious targets for the US-led initiative are in Africa, South America and much of Asia are also on the radar. Fallout from Russia's devastating invasion of Ukraine means that "even places in eastern Europe" could be brought into the fold, the official said.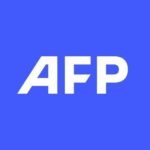 With 2,400 staff representing 100 different nationalities, AFP covers the world as a leading global news agency. AFP provides fast, comprehensive and verified coverage of the issues affecting our daily lives.
French energy giants urge consumers to cut back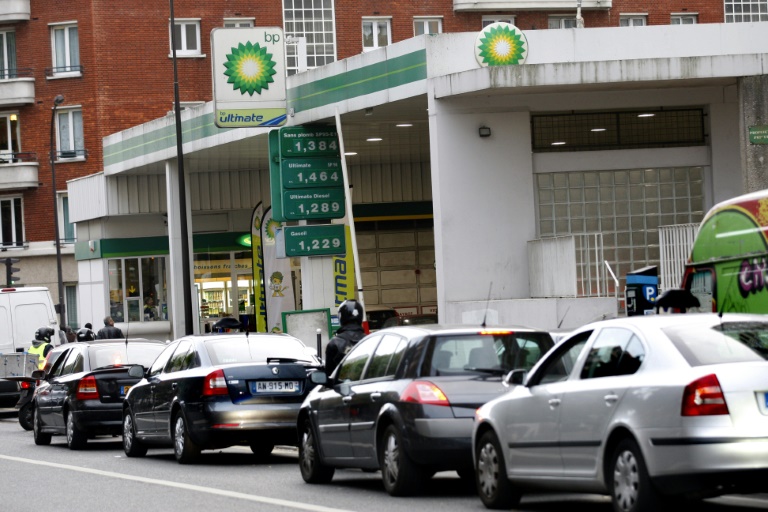 Consumers should start cutting back on their energy use immediately, the bosses of France's three big energy companies urged Sunday, warning of social tensions next winter unless reserves are replenished.
"The effort has to be immediate, collective and massive," Patrick Pouyanne of TotalEnergies, Jean-Bernard Levy of EDF and Catherine MacGregor of ENGIE wrote in an op-ed piece in the JDD weekly.
The call came after the French government said this week it aimed to have its natural gas reserves at full capacity by autumn as European countries brace for supply cuts from major supplier Russia with the Ukraine war dragging on, and would build a floating terminal to receive more gas supplies by ship.
The three energy bosses said in the article that European energy production was further hampered by hydro-electric production suffering from drought.
"The surge in energy prices resulting from these difficulties threatens our social and political fabric and impacts families' purchasing power too severely," they said, adding: "The best energy is the one we don't use."
They said "every consumer and every company must change their habits and immediately limit their energy consumption, be it of electricity, gas or oil products".
Replenishing reserves of natural gas over the summer is a priority, as is "eliminating the national waste" of energy, they said.
France is less dependent than neighbour Germany on Russian gas deliveries as it covers close to 70 percent of its electricity needs from nuclear energy.
But according to the International Energy Agency (IEA), France needs to accelerate the deployment of low-carbon energy technologies and energy efficiency solutions if it wants to reach its energy and climate targets.
France notably needs "more sustained and consistent policies" to develop alternatives to fossil fuels, such as wind and solar energy, the IEA said.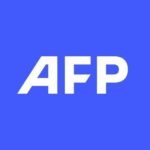 With 2,400 staff representing 100 different nationalities, AFP covers the world as a leading global news agency. AFP provides fast, comprehensive and verified coverage of the issues affecting our daily lives.