'Pharma Bro' Shkreli released to halfway house in US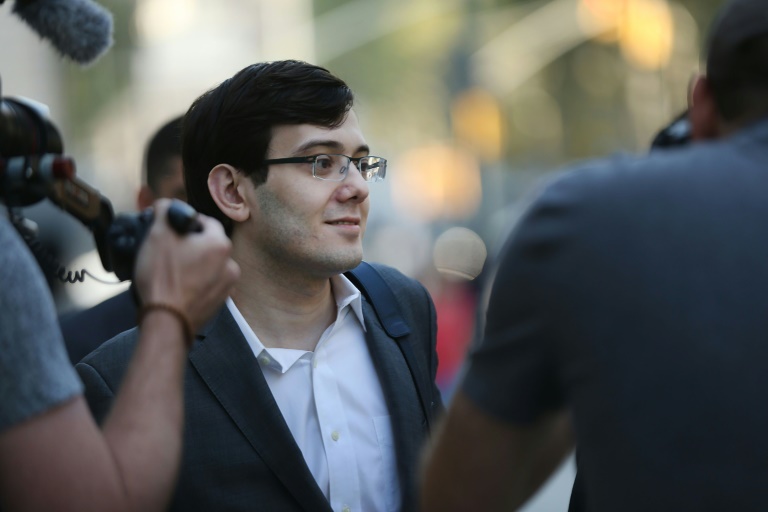 So-called "Pharma bro" Martin Shkreli has been released from a Pennsylvania prison to a halfway house in New York state, the US Bureau of Prisons said Wednesday.
Shkreli, who became a poster child for predatory pharmaceutical pricing before being convicted of securities fraud in 2017, was transferred Wednesday from a low-security prison in Allenwood, Pennsylvania to undisclosed "community confinement" in New York state, said a BOP spokesperson in an email.
He is scheduled to be released from BOP's custody on September 14, the spokesperson said.
Shkreli's attorney, Benjamin Brafman, confirmed the release, saying he was "pleased" to report that his client was let out early "after completing all programs that allowed for his prison sentence to be shortened," according to a statement.
"While in the halfway house I have encouraged Mr. Shkreli to make no further statement, nor will he or I have any additional comments at this time."
Once dubbed "the most hated man in America," Shkreli, 39, became infamous for suddenly raising the price of the HIV drug Daraprim in 2015 by 5,000 percent — from $13.50 a pill to $750.
Shkreli was originally sentenced in 2018 to seven years in prison in a fraud case not directly related to the Daraprim matter. He has been in custody since September 2017.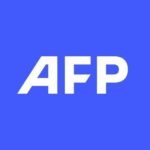 With 2,400 staff representing 100 different nationalities, AFP covers the world as a leading global news agency. AFP provides fast, comprehensive and verified coverage of the issues affecting our daily lives.
5 ways tech innovation has changed skilled trade jobs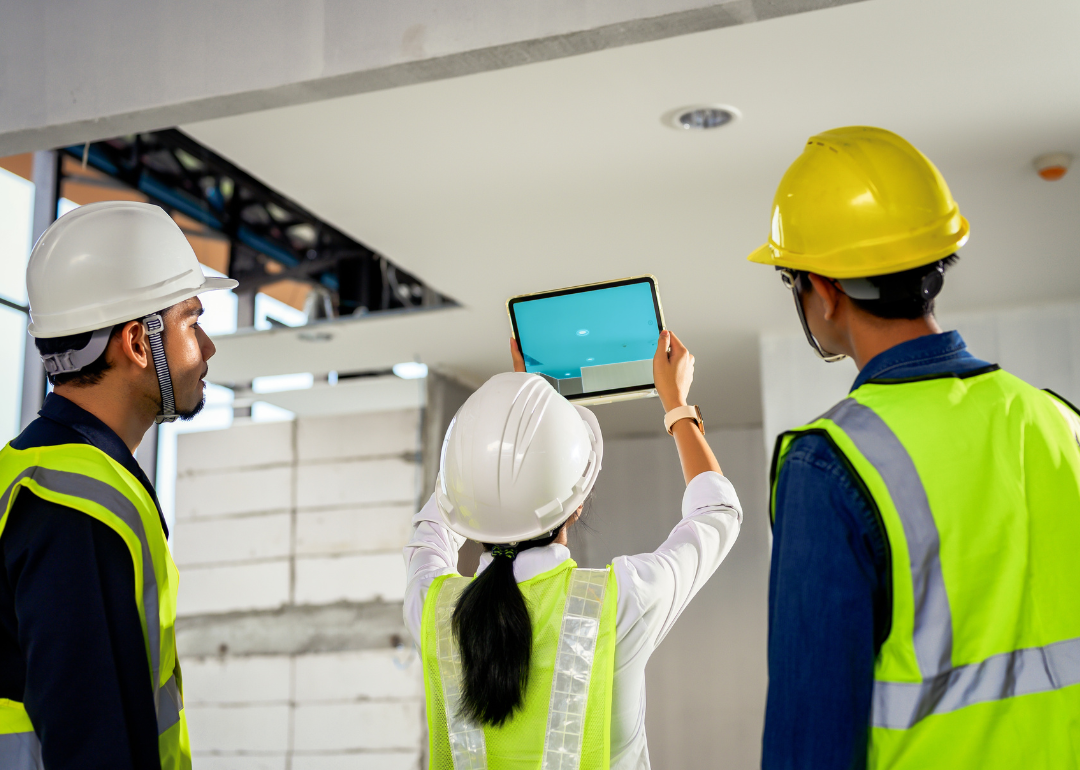 New technologies can significantly affect companies that adopt them, helping to reduce errors and boost productivity. That's as true today as ever before.
The COVID-19 pandemic, for example, accelerated a shift to automation within many businesses seeking to alleviate worker shortages and boost profits. A September 2021 Harvard Business Review report found that jobs linked to artificial intelligence, algorithms, and automation saw a 28% increase, compared with the previous quarter that year. And an April 2022 report on cloud computing forecasted spending on cloud-based services to approach $600 billion next year, compared with a little over $400 billion in 2021.
The construction industry and other trade jobs, in particular, have undergone a major technological upheaval of late as those industries have navigated through supply chain issues and labor shortages. ServiceTitan compiled a list of some of those technologies based on an Association of General Contractors nonrandom survey of its members, other research reports, and news coverage of the industry.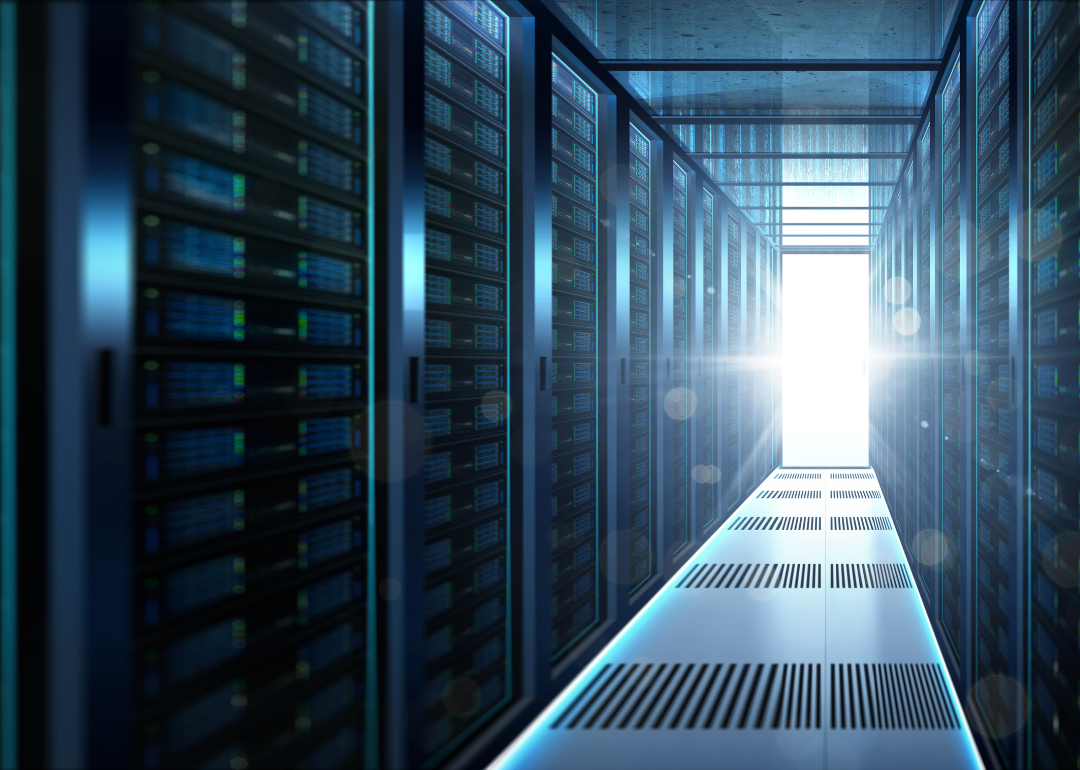 jamesteohart // Shutterstock
Cloud-hosted technologies
As previously mentioned, many companies, including trade businesses, are leaning more and more on cloud-hosted technologies. The way companies have had to navigate supply chain issues brought about by the pandemic has shown the benefits of putting information in the cloud.
For example, heating, ventilation, and air conditioning parts have been in high demand, largely due to supply chain issues. As a result, many trade businesses haven't had enough new equipment, raw materials such as PVC, or replacement parts to meet demand. Manufacturers and businesses alike have also been battling labor shortages. Companies that have fared well are those with updated inventory cloud management systems. These companies can better analyze which products could be sourced in the U.S., determine the cost of equipment and materials, and prevent potential loss of revenue. And making sure the equipment and materials is available helps with worker retention by reducing idle time caused by supply shortages.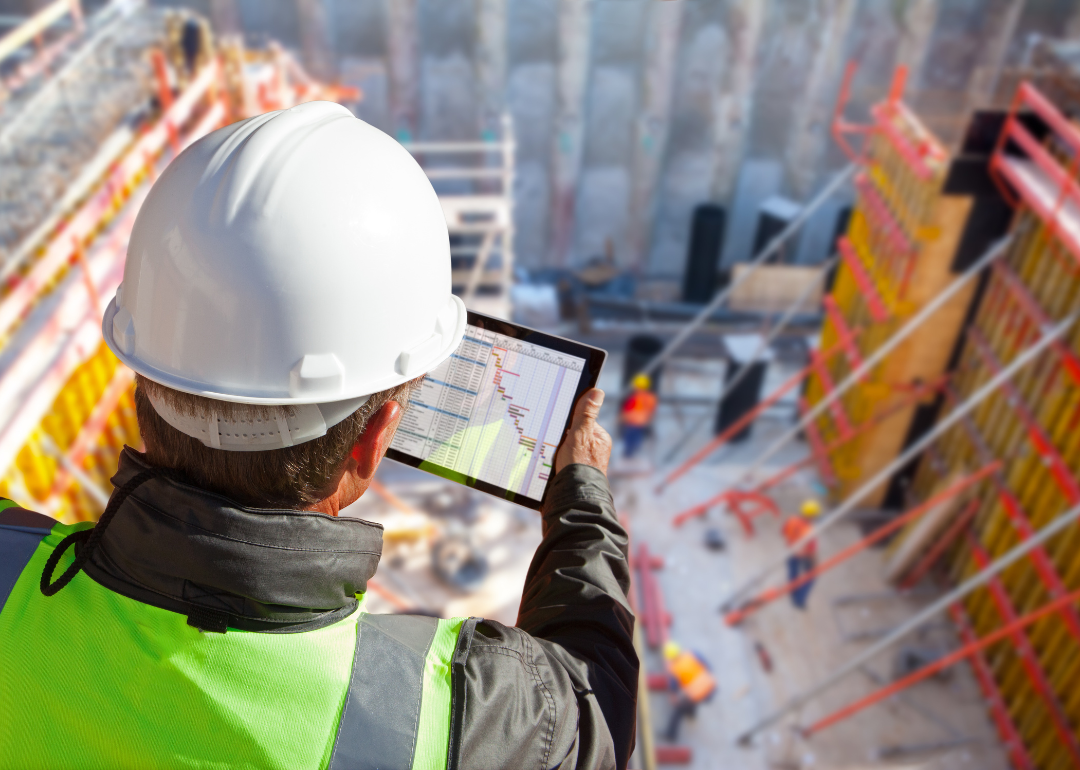 sculpies // Shutterstock
Mobile software
More companies are using mobile software apps on construction sites. Construction software apps help employees on a project analyze and share data in real-time, and allow workers to generate field reports more quickly. According to the AGC survey published in January, most members (68%) said that they'll use mobile software technology this year mainly for daily field reports. Sixty percent of AGC members also said they plan to use mobile software for employee time tracking, and 57% responded that they plan to use the software for field access to job information.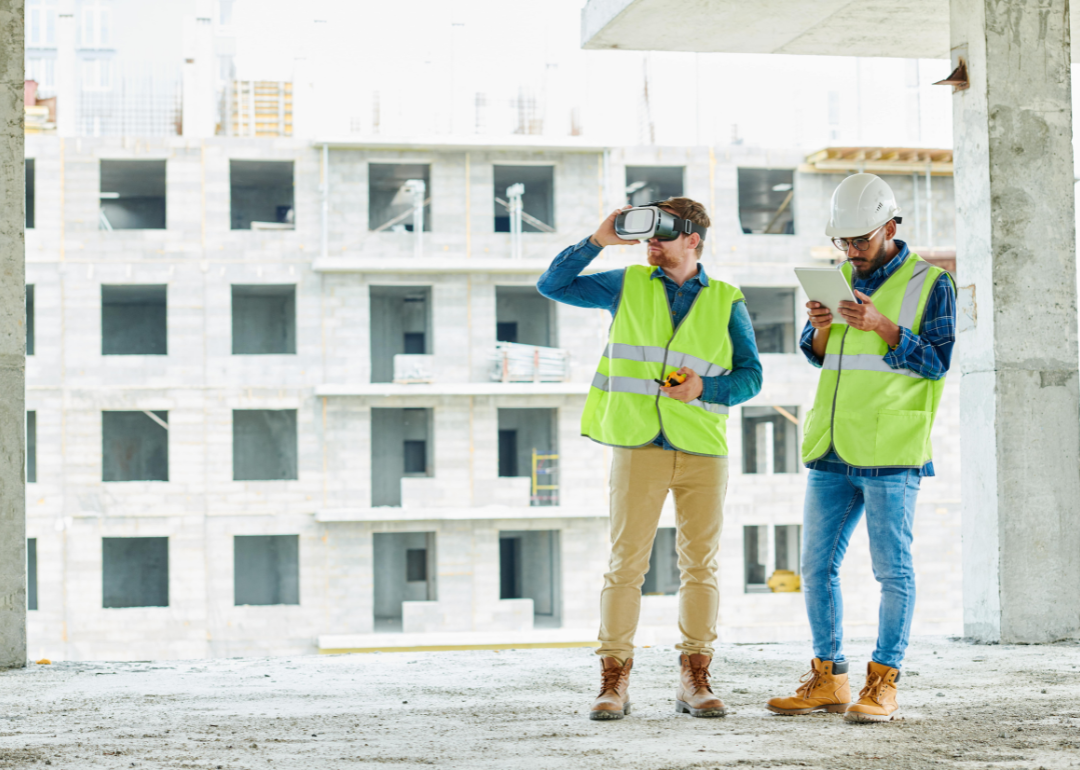 SeventyFour // Shutterstock
Virtual and augmented reality
Virtual and augmented reality goes back to the 1980s, when government agencies such as NASA used the technology to manufacture realistic scenes and objects. Mainstream interest died down for a while, but in recent years, there's been more advancement and funding of the technology.
AR is obtained through visual elements and sound via technology, while virtual reality strives to create a sensory experience that can include sight and touch. The AR market is expected to grow to a worth of nearly $600 billion, according to a 2021 Grand View Research report.
Several companies have tapped into AR and VR technologies in recent years, including Microsoft's creation of the HoloLens headset. The device uses AR technology with holographic processing and multiple optical sensors to simulate a virtual world.
Technology like the HoloLens can help engineers locate problems or efficiencies in early-stage design and create accurate models before construction starts. On building sites, the device could be used to inspect for safety or aid in training workers. McKinstry, a company with several locations across the U.S., used HoloLens to build an AR solution for a pipe-hanger installation project.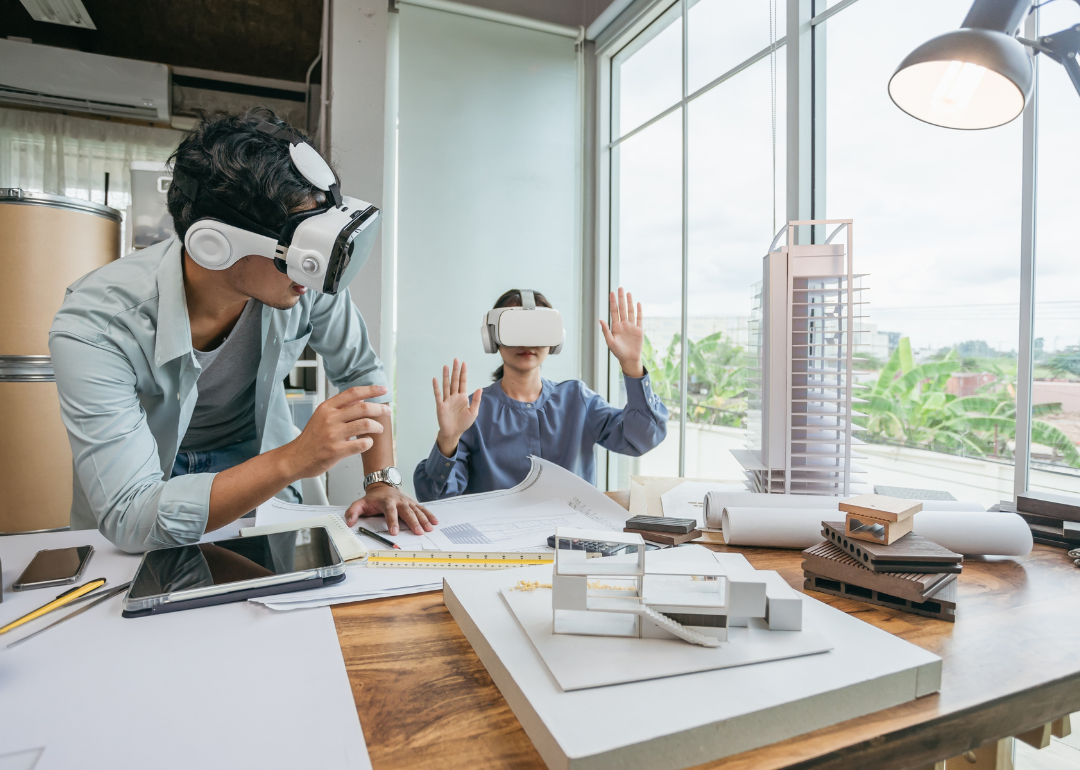 ME Image // Shutterstock
Building information modeling
Architectural blueprints and technical drawings have been increasingly replaced by building information modeling, a digital representation of spaces widely used by architects, engineers, and construction workers. BIM can provide interior and exterior 3D model data and documentation of a building. A 2021 Dodge Data & Analytics report found that BIM usage is most common among architects, with 40% using the technology for space utilization plans. About one in five AGC members surveyed plan to increase BIM investments in 2022.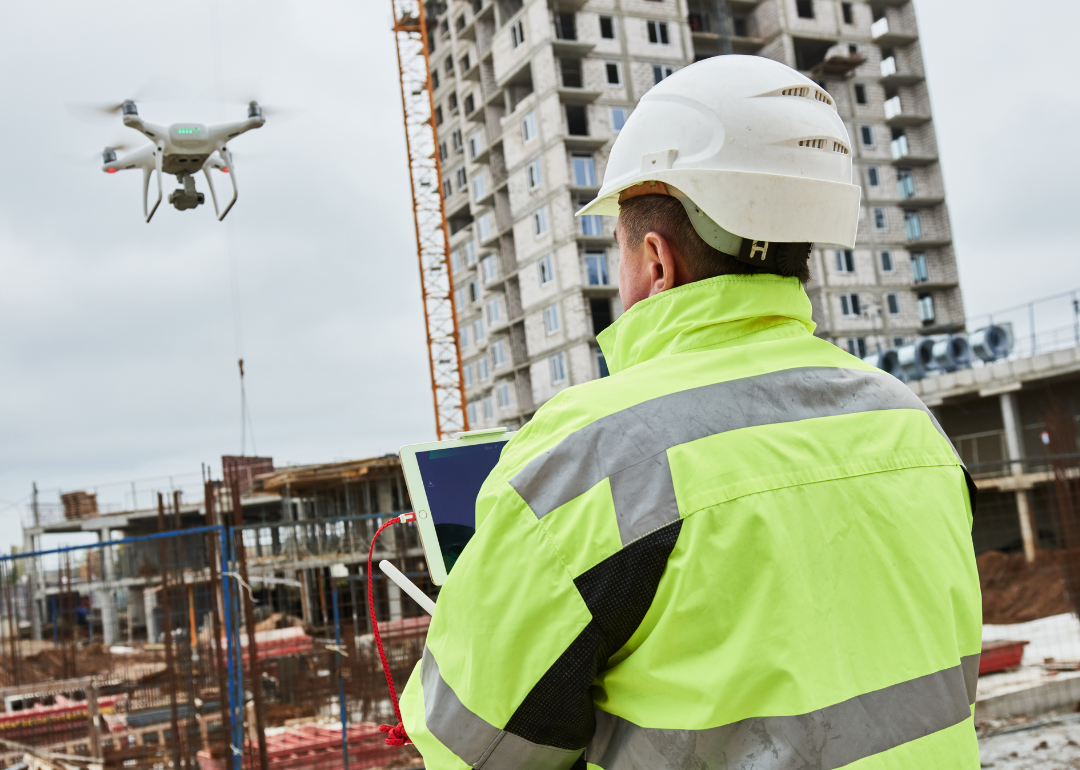 Dmitry Kalinovsky // Shutterstock
Drones
Drones monitor the surroundings while work is in progress and can catch potential hazardous situations. In 2021, for example, drone surveillance footage revealed a crack in Tennessee's I-40 bridge, which posed a threat, causing the bridge to close for repair to avoid further catastrophe.
The construction industry can expect to see huge investments with President Biden's infrastructure bill—which includes $110 billion for road and bridge projects and will allow grants to use U.S.-made drones to help ensure safety while jobs are in progress. Other legislation was recently passed to help research universities train future drone-operating employees.
This story originally appeared on ServiceTitan and was produced and
distributed in partnership with Stacker Studio.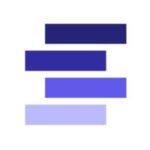 Founded in 2017, Stacker combines data analysis with rich editorial context, drawing on authoritative sources and subject matter experts to drive storytelling.
Pandemic-related trends driving up auto insurance rates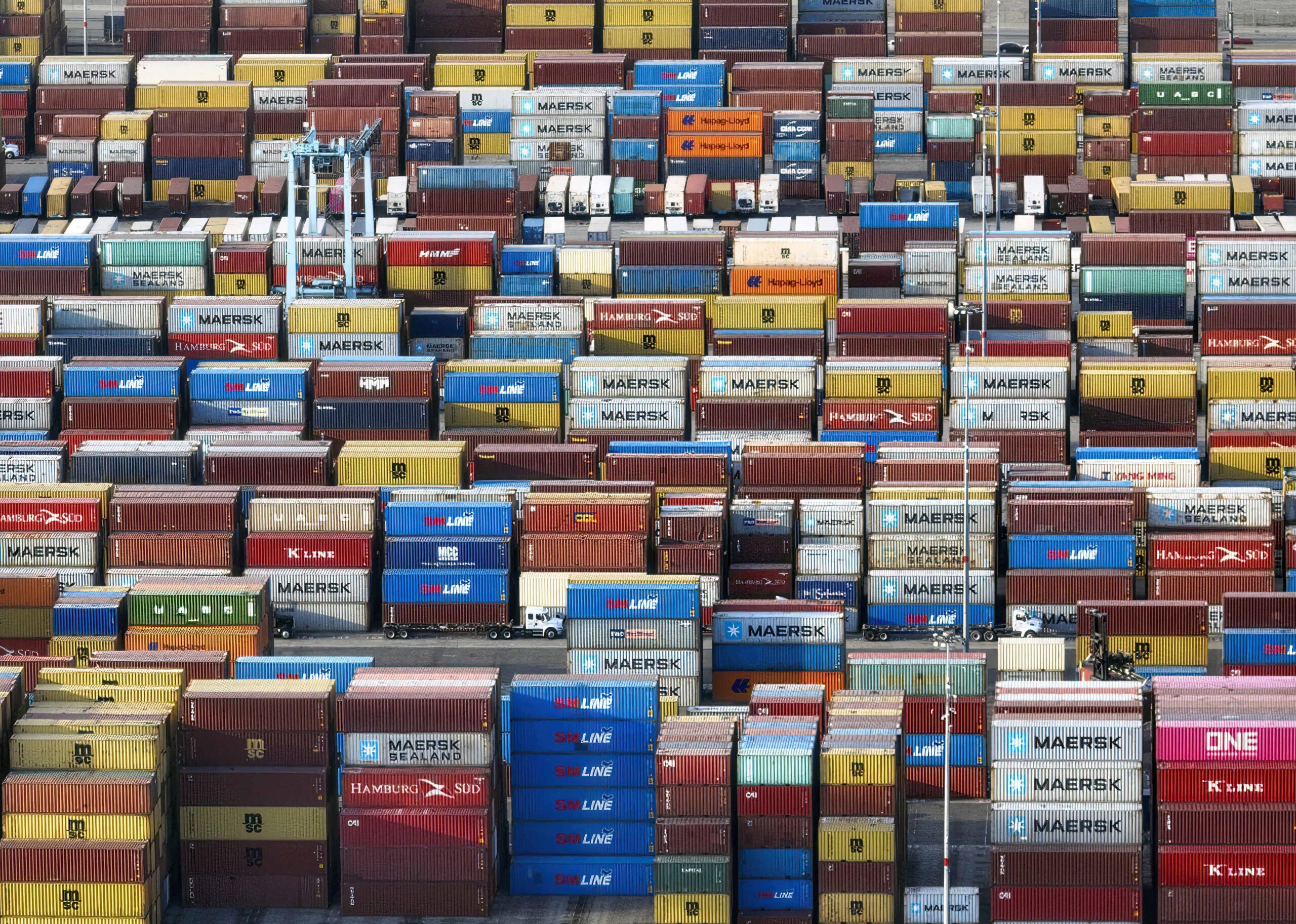 The coronavirus pandemic affected the world's economy in all sorts of ways, some less obvious than others—like its effect on car insurance rates.
There are a lot of factors that drive rate changes, including worker shortages, supply-chain delays, and changes in driving habits. Some of those have less apparent effects: With fewer new cars available, for instance, people are keeping older cars longer, though they may have more maintenance needs and less advanced safety equipment. Those who are buying cars may be purchasing more expensive models with high-tech additions that are costly to replace.
During the pandemic, people drove farther, though the number of crashes per mile driven remained the same, according to the Insurance Information Institute. So there were more traffic-related deaths and more insurance claims filed. Drivers also reported speeding more often than before the pandemic. With the unemployment rate falling and many companies returning to the office, more people are driving to and from work.
In 2021, auto insurance rates didn't climb by much, but with 2022 coming to a close, Cheapinsurance.com compiled a list of how the pandemic has affected the cost of auto insurance from a collection of expert and government sources.
Canva
Automotive technicians are in short supply, making repairs more costly
If your car is damaged in a collision or a crash, you will need an automotive technician to diagnose and fix what's wrong. But those workers are in short supply, so their prices are going up. The shortage was a problem even before the pandemic: Low pay, an uncertain career path and trends for younger people to avoid trade jobs left dealers and auto repair shops struggling to find workers.
Tech Force Foundation, a nonprofit focused on the workforce development of professional technicians, reported that some 797,530 technicians will be needed in the automotive, diesel, and collision fields through 2025. Some observers are hopeful that as the country transitions to electric vehicles, the chance to be at the forefront of new technology will draw more workers to the field.
Maria Dryfhout // Shutterstock
Replacing a totaled car is more expensive as the price of vehicles rose during the pandemic
A tight market and high demand sent prices soaring for both new and used cars. According to Kelley Blue Book, a compiler of car prices, the average price for a new car was $48,043 in July 2022, up 22.9% from July 2021. Consumer Reports recommends considering a new car over a used one if you're looking for a model from the last three years (or less) because the costs might be similar.
Even after pandemic-related bottlenecks in the supply chain eased and dealers could restock their inventories, new cars have remained out of reach for some Americans. Rising interest rates—a result of the Federal Reserve's inflation-fighting efforts—mean car loans are too pricey for some would-be buyers.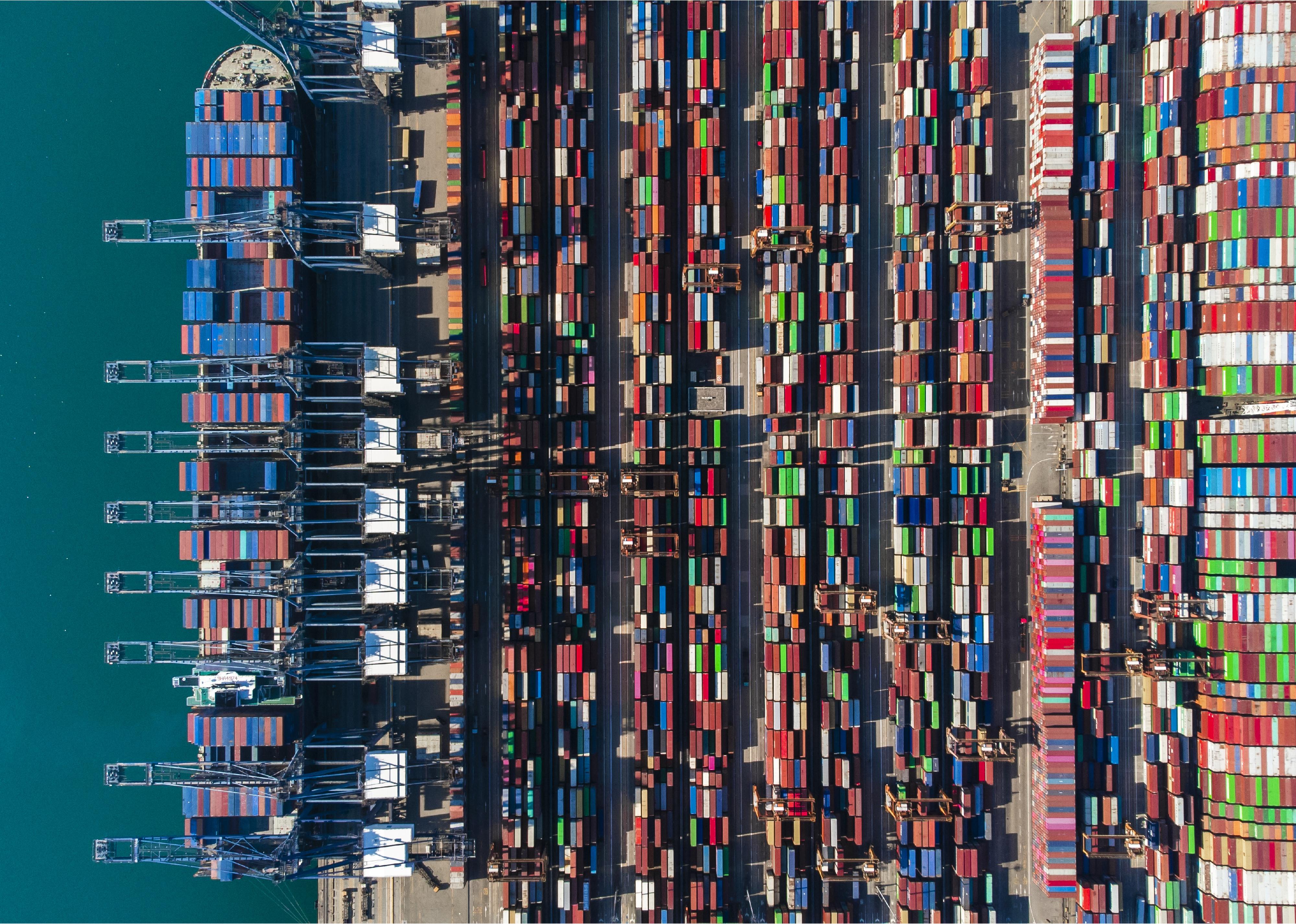 Li Canrong/VCG // Getty Images
From semiconductors to windshield wipers, supply chain disruptions contributed to more expensive repairs
The price of car parts, whether tires or wiper blades, has risen about 20% compared to 2021, and more parts were on backorder because of supply chain bottlenecks. A lack of available new cars over the last two years means that the average age of vehicles on the road is about 12 years, older than typical.
As a result, dealerships and automobile repair shops are getting more service requests than ever. Those older vehicles often need more extensive—and more expensive—repairs, such as transmission replacements. Car owners are waiting longer than usual for repairs, too. And they might not have been offered a loaner car in the meantime because dealers are short of vehicles to sell, much less lend out.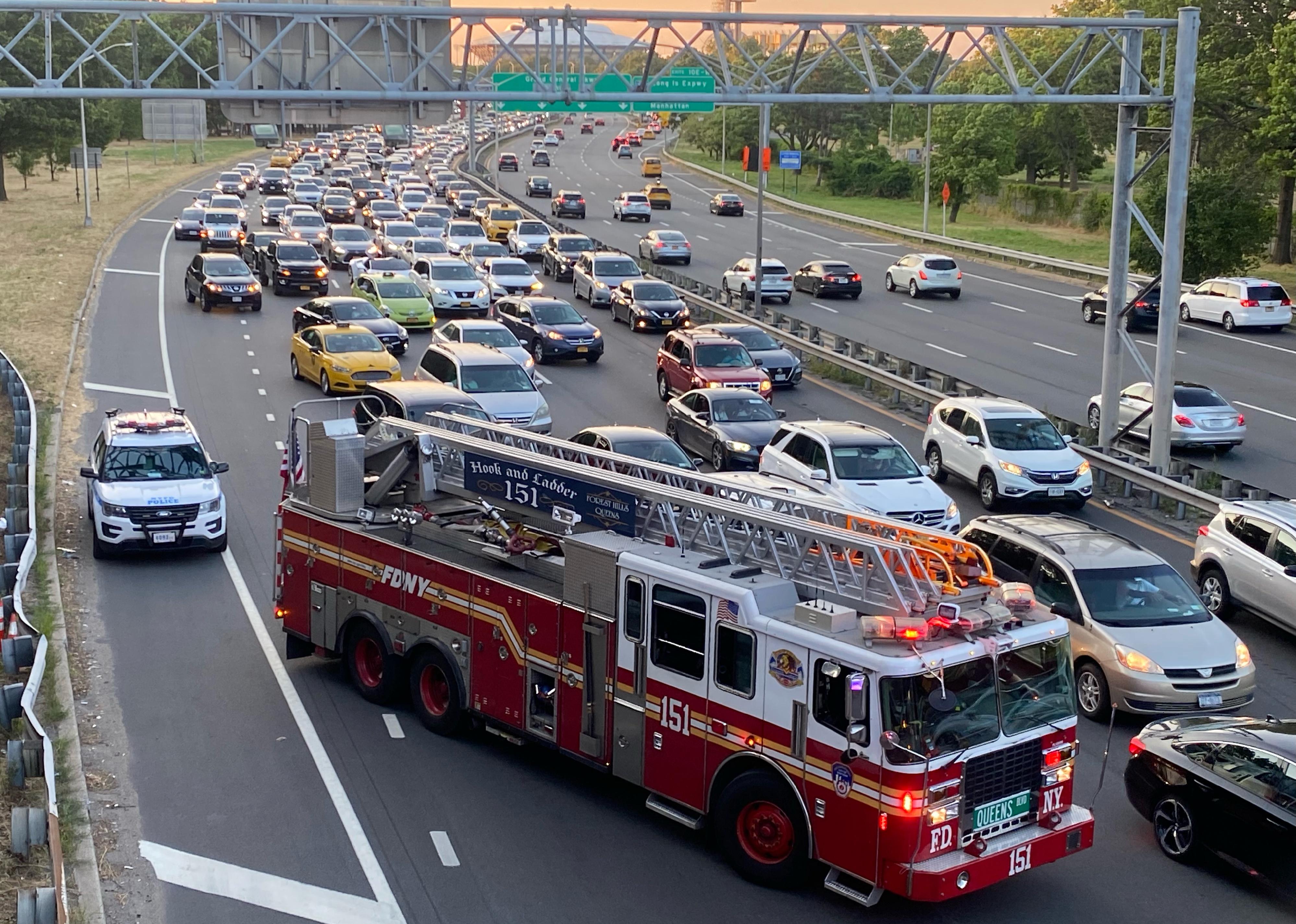 Lindsey Nicholson/UCG/Universal Images Group // Getty Images
Car accidents are happening more frequently
The National Highway Transportation Safety Administration estimated 42,915 people died in motor vehicle accidents in 2021. That's a 10.5% increase over 2020, the highest fatalities since 2005, and the most significant annual percentage increase in the agency's Fatality Analysis Reporting System history.
Notable increases included deaths from multi-vehicle crashes and accidents on urban roads, which are up 16%; deaths of those 65 years or older, up 14%; pedestrian deaths, up 13%; and deaths in crashes involving at least one large truck, up 13%, according to the National Highway Transportation Safety Administration.
The number of miles drivers in the U.S. traveled in 2021 rose by about 325 billion miles, or about 11.2%, compared with 2020. But despite the increase, the fatality rate per miles driven remained about the same as 2020—1.33 fatalities per 100 million vehicle miles traveled in 2021 compared to 1.34 deaths in 2020. The Bipartisan Infrastructure Law signed by President Joe Biden includes up to $6 billion over five years for various efforts to reduce crashes and fatalities.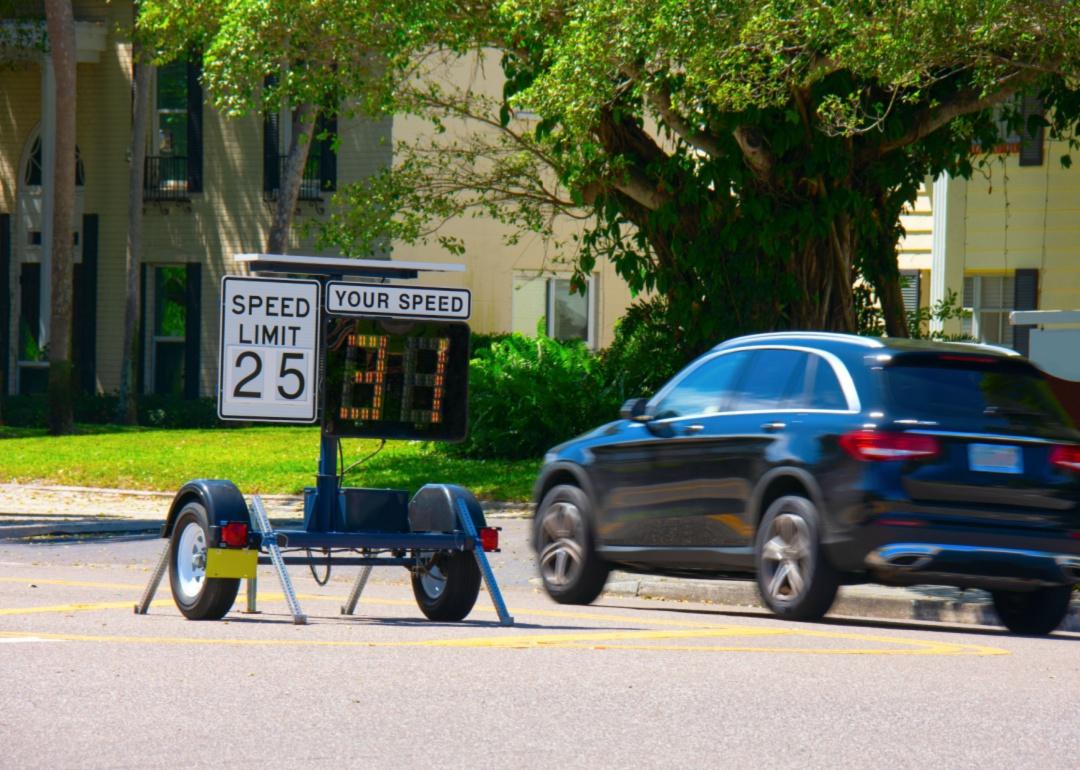 Michael O'Keene // Shutterstock
For many, auto insurance costs didn't increase between 2020 and 2022
Many Americans got rebates from auto insurance companies during the height of the pandemic because they drove less. Even with those refunds, estimated to total $16.4 billion, insurers' profits increased as the number of claims fell. But as the pandemic wore on, auto insurance prices again headed up.
One change in driving habits was that drivers seem to be speeding more often since the pandemic began, increasing the chance of crashes and making them potentially more severe. States such as Maryland and Virginia are looking at ways to reduce speeding that other states could consider duplicating.
This story originally appeared on Cheapinsurance.com and was produced and
distributed in partnership with Stacker Studio.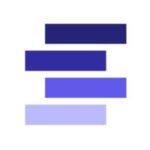 Founded in 2017, Stacker combines data analysis with rich editorial context, drawing on authoritative sources and subject matter experts to drive storytelling.
10 housing markets where institutional investors are buying the most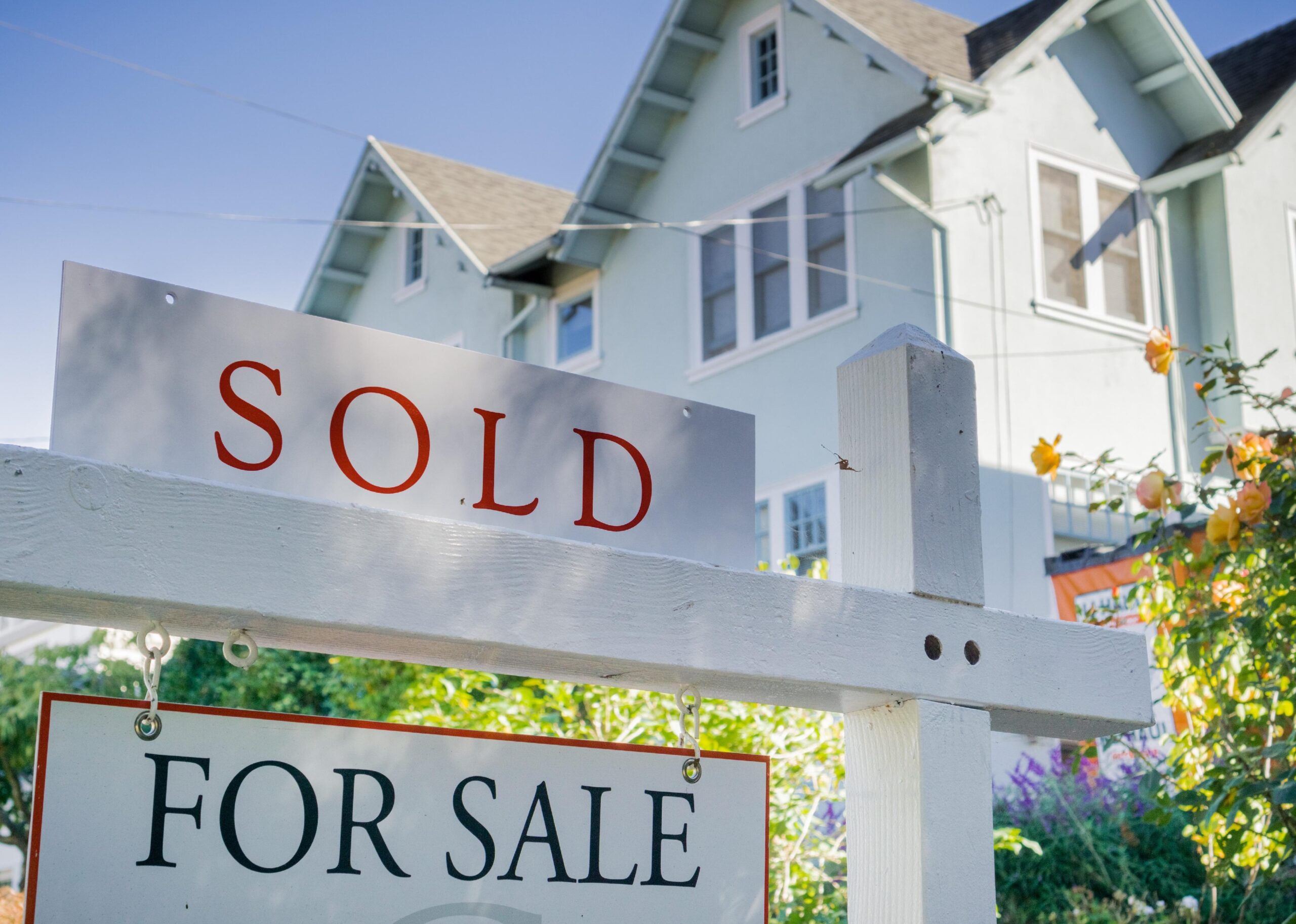 Rising mortgage rates may keep some homebuyers out of the real estate market, but institutional investors are still diving in to build portfolios of properties nationwide.
Institutional investors are companies or other entities that purchase 10 or more properties in a single year. These buyers bought 1 in 15 single-family homes sold in the third quarter of 2022, or 6.7% of all home sales. While not as high as the 8.4% share recorded at the same time in 2021, it is slightly up from the second quarter in 2022.
Overall, home sellers made less profit in the third quarter, due to less difference between purchase and resale median home prices. Typical profit margins fell to about 55% as quarterly home prices dipped for the first time in nearly three years.
Despite that drop in prices, institutional investors are still buying homes in some markets. Belong analyzed where institutional investors were the most prevalent during the third quarter of 2022, using data from real estate research firm ATTOM Data. To be included, each metropolitan area—which includes a city and its surrounding towns—needed a population of 200,000 or more and must have recorded 50 or more home sales in the third quarter.
In general, metro areas seeing the most investment are smaller cities in the Sun Belt region, which gained popularity during the pandemic and continue to see interest from prospective buyers.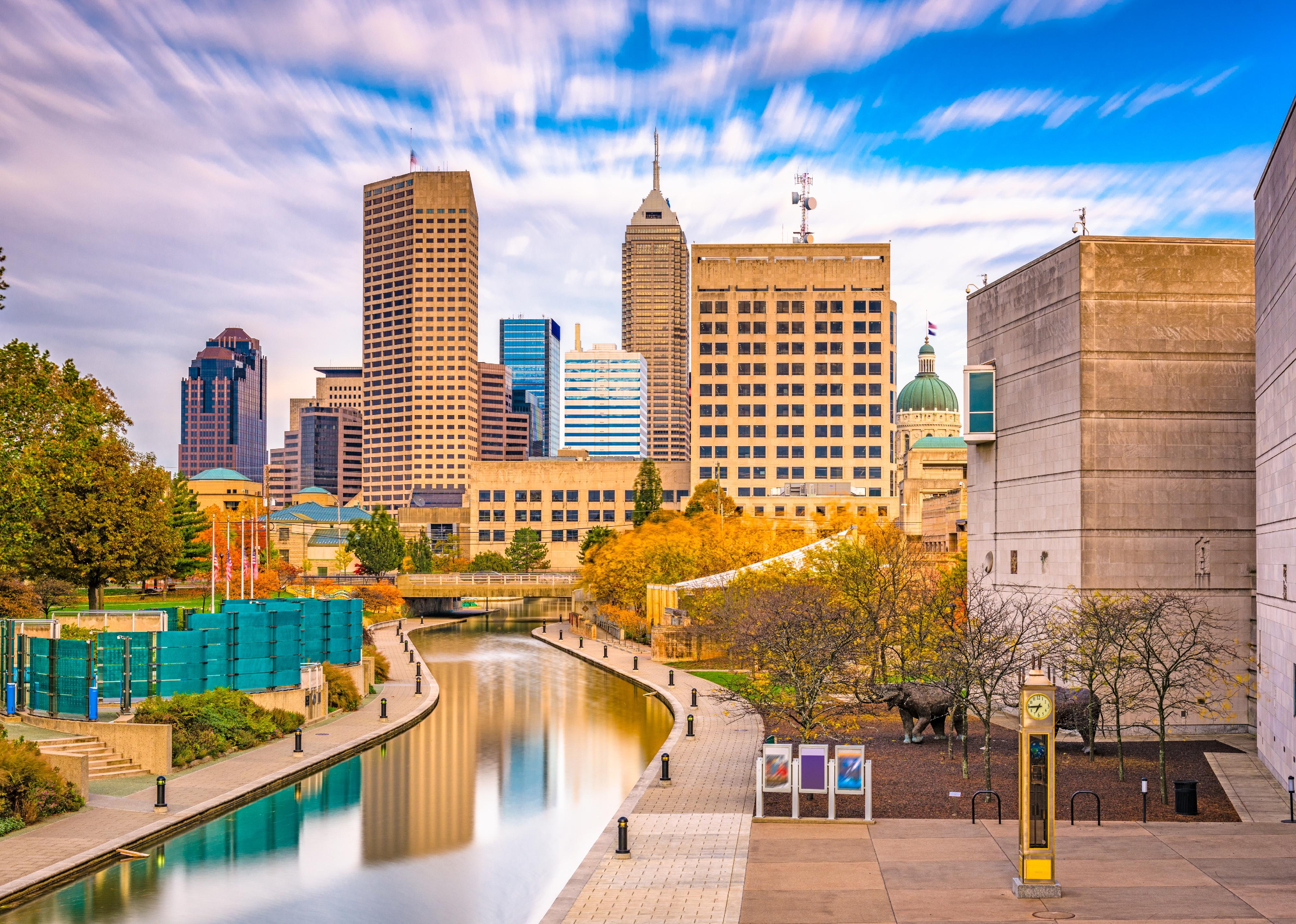 Sean Pavone // Shutterstock
#10. Indianapolis
-Total institutional investor sales: 1,646
– Percent of all sales: 15.1%
– Change from a year ago: -8%
Indianapolis has been a seller's market in recent years, with home prices in Marion County rising 18% from 2020 to 2021. The lack of inventory has also put pressure on pricing, even though the city remains relatively affordable.
The metro area's steady population growth—6% from 2016 to 2021—makes it an attractive target for real estate investment. The area is experiencing high demand for multifamily housing, particularly in the suburbs where property is more affordable. The suburbs also offer more room for popular amenities such as green space and swimming pools.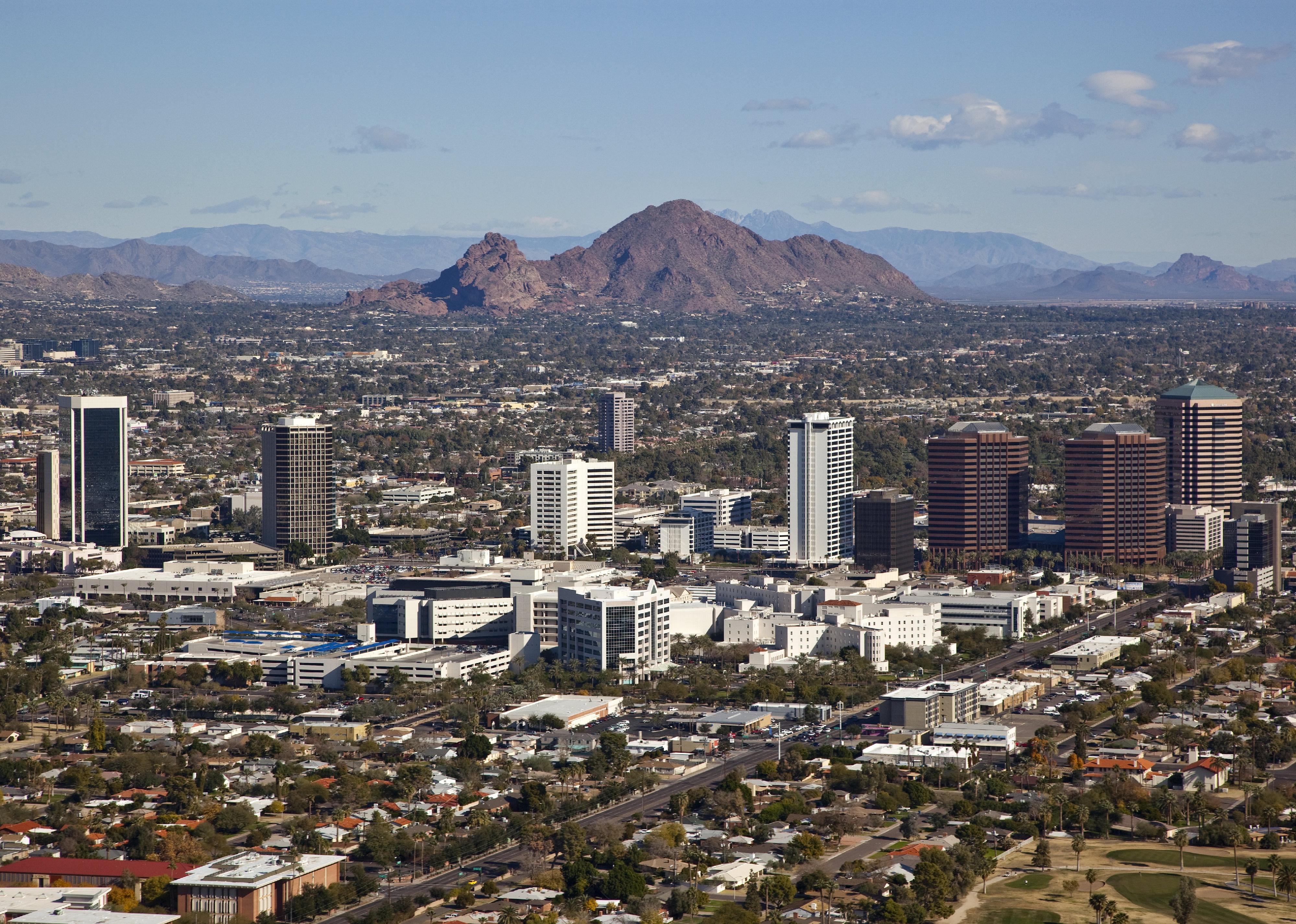 Tim Roberts Photography // Shutterstock
#9. Phoenix
-Total institutional investor sales: 3,604
– Percent of all sales: 15.4%
– Change from a year ago: -29%
From 2020 through July 2021, the Phoenix metro area added more than 100,000 people, which requires a lot of housing. During the pandemic, a tight supply of houses and high demand caused prices to skyrocket. Pair that with rising interest rates, and foreclosures are starting to rise again.
While the Phoenix area experienced a drop of 66% in foreclosure auction volume from the third quarter of 2019 to the third quarter of 2022, that metric turned around in mid-2022, with a 150% increase in foreclosure auctions between April and October, according to HousingWire. This increase signals an opportunity for investors.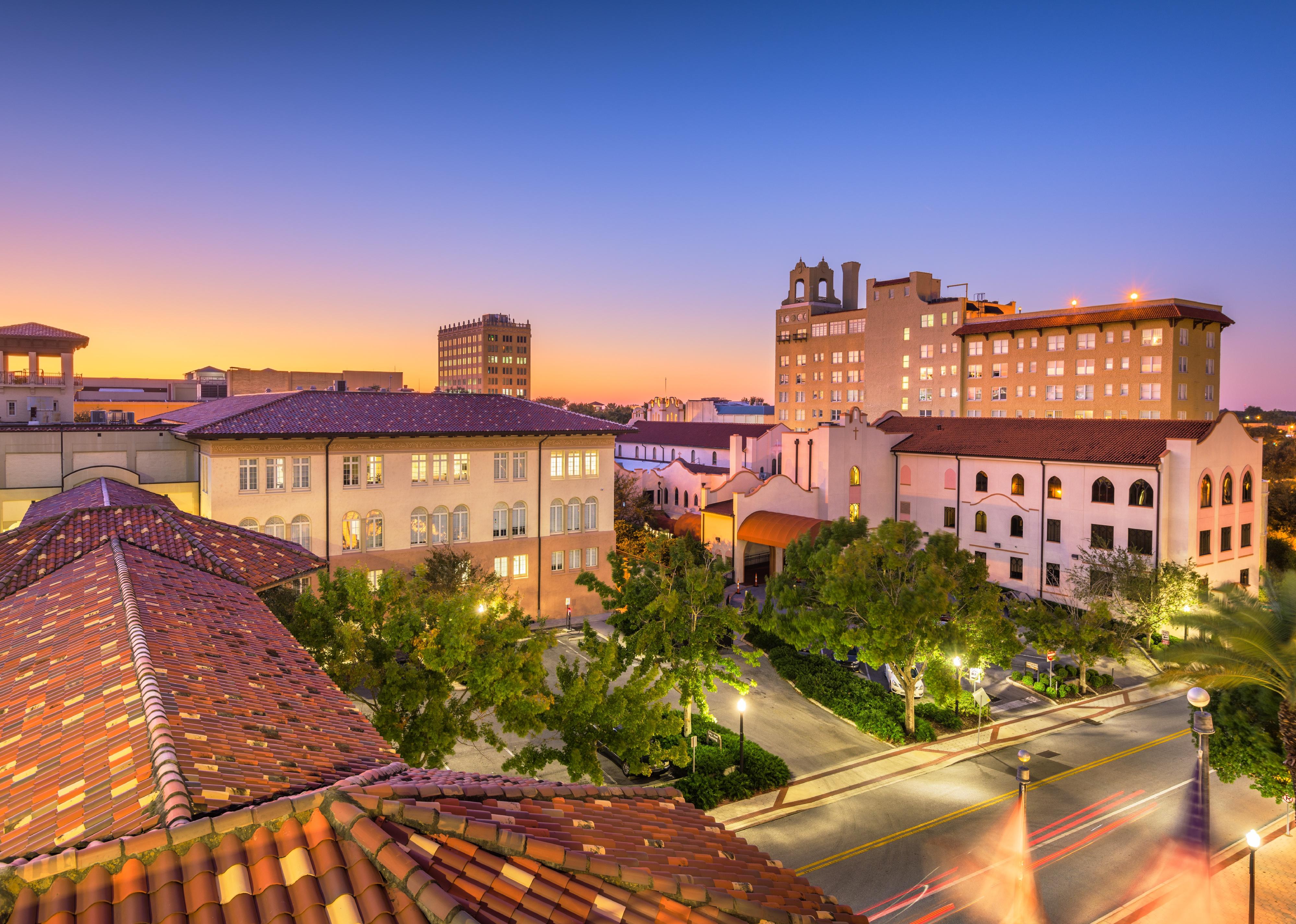 Sean Pavone // Shutterstock
#8. Lakeland, Florida
-Total institutional investor sales: 646
– Percent of all sales: 15.8%
– Change from a year ago: -2%
In Lakeland, the real estate market is still strong. For the year ending in August 2022, median sales prices in Polk County rose 27.7% to $313,409.
Lakeland's suburbs are attractive, too—offering more spacious homes at more affordable prices. Some people are even looking farther out into Polk County, where builders are offering even more for even less. That has helped keep the metro area's affordability in check, as it's still cheaper to buy a home than it is to rent, according to ATTOM Data.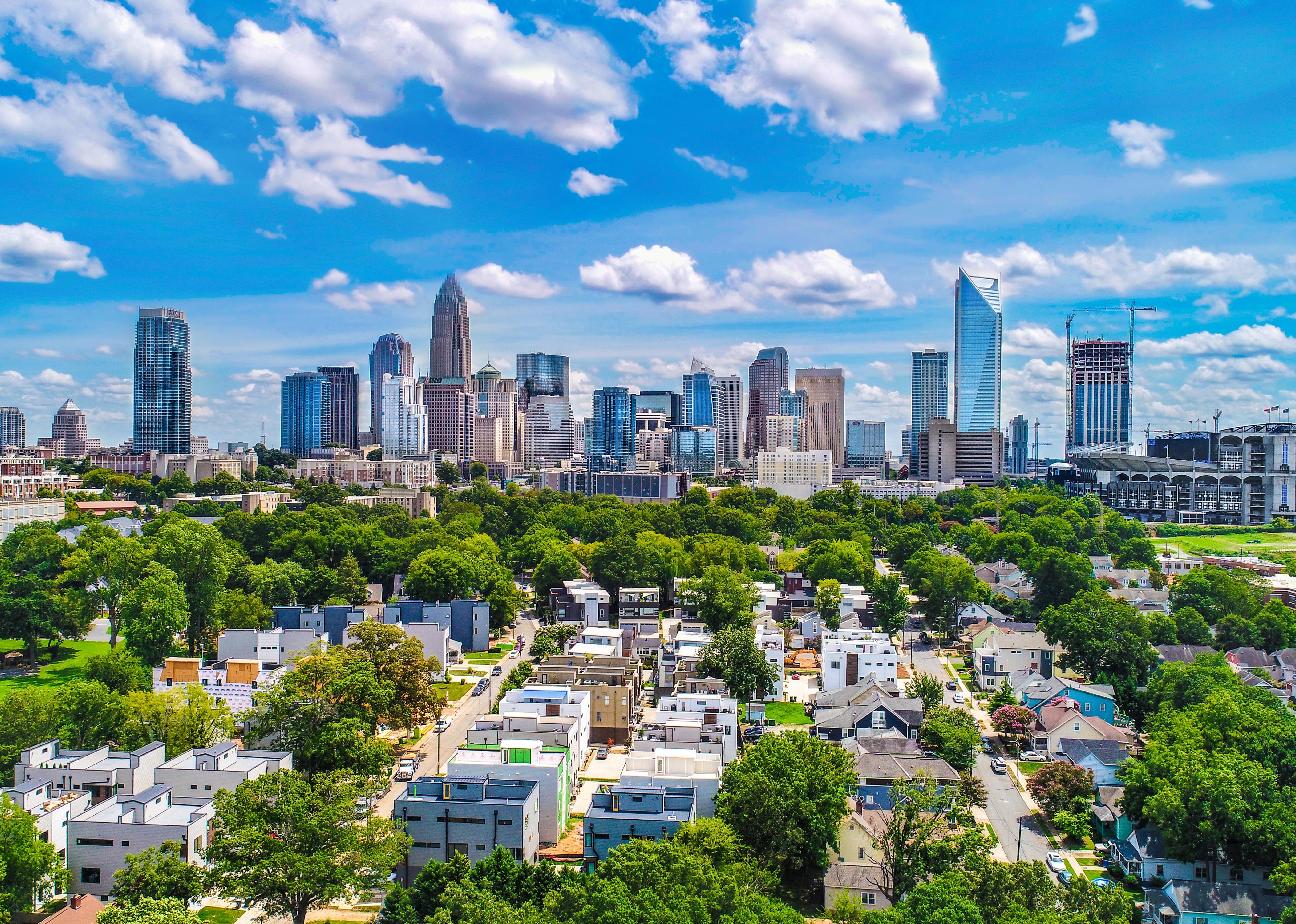 Kevin Ruck // Shutterstock
#7. Charlotte, North Carolina
-Total institutional investor sales: 1,973
– Percent of all sales: 16.4%
– Change from a year ago: -30%
The boom in Charlotte's real estate market has put many homes out of reach for even middle-income earners. Median house prices in September 2022 were $420,000, a nearly 54% increase from January 2020, according to UNC Charlotte's Childress Klein Center for Real Estate. This jump was partly fueled by a population boom that created 66,211 more households in the metro area by 2021.
Rents continue to rise throughout the region, with many cities experiencing double-digit increases year-over-year. In September 2022, the median rent for a one-bedroom apartment ranged from $1,010 in Gastonia to $1,430 in Charlotte.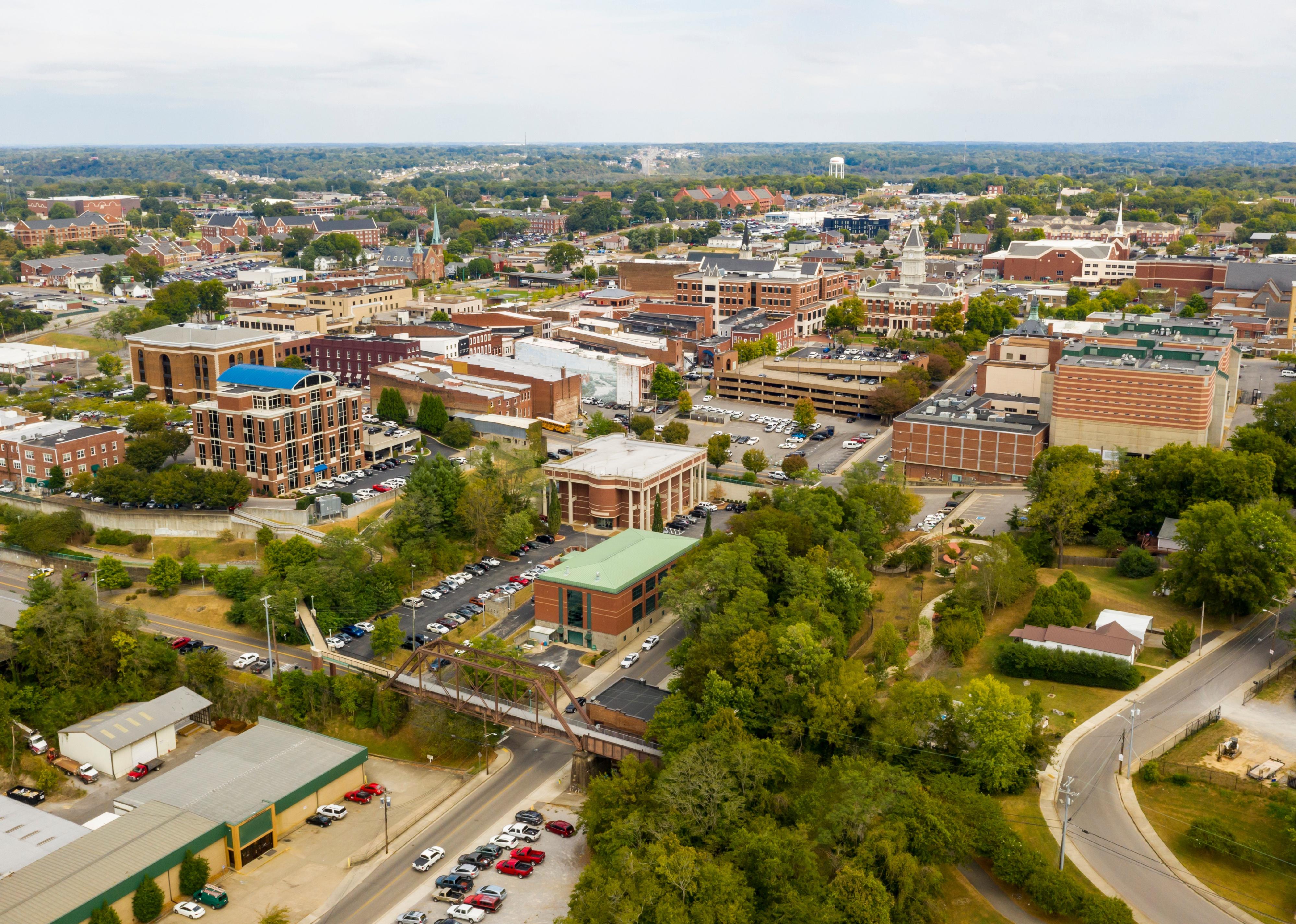 Real Window Creative // Shutterstock
#6. Clarksville, Tennessee
-Total institutional investor sales: 318
– Percent of all sales: 16.7%
– Change from a year ago: 42%
Although Clarksville's housing market has been deemed "overvalued," sales were up nearly 8% year-over-year in June 2022, and inventory is still tight. Prices also continue to increase, up 30.5% in the metro region in the second quarter of 2022 compared to the same period in 2021. This was the highest price jump in the entire state, according to the Business and Economic Research Center at Middle Tennessee State University.
Clarksville's metro area saw 6% population growth from 2019 to 2021. Remote working and better high-speed internet access have spurred many new residents to move here from more expensive cities, and millennials jumping into the market continue to fuel demand.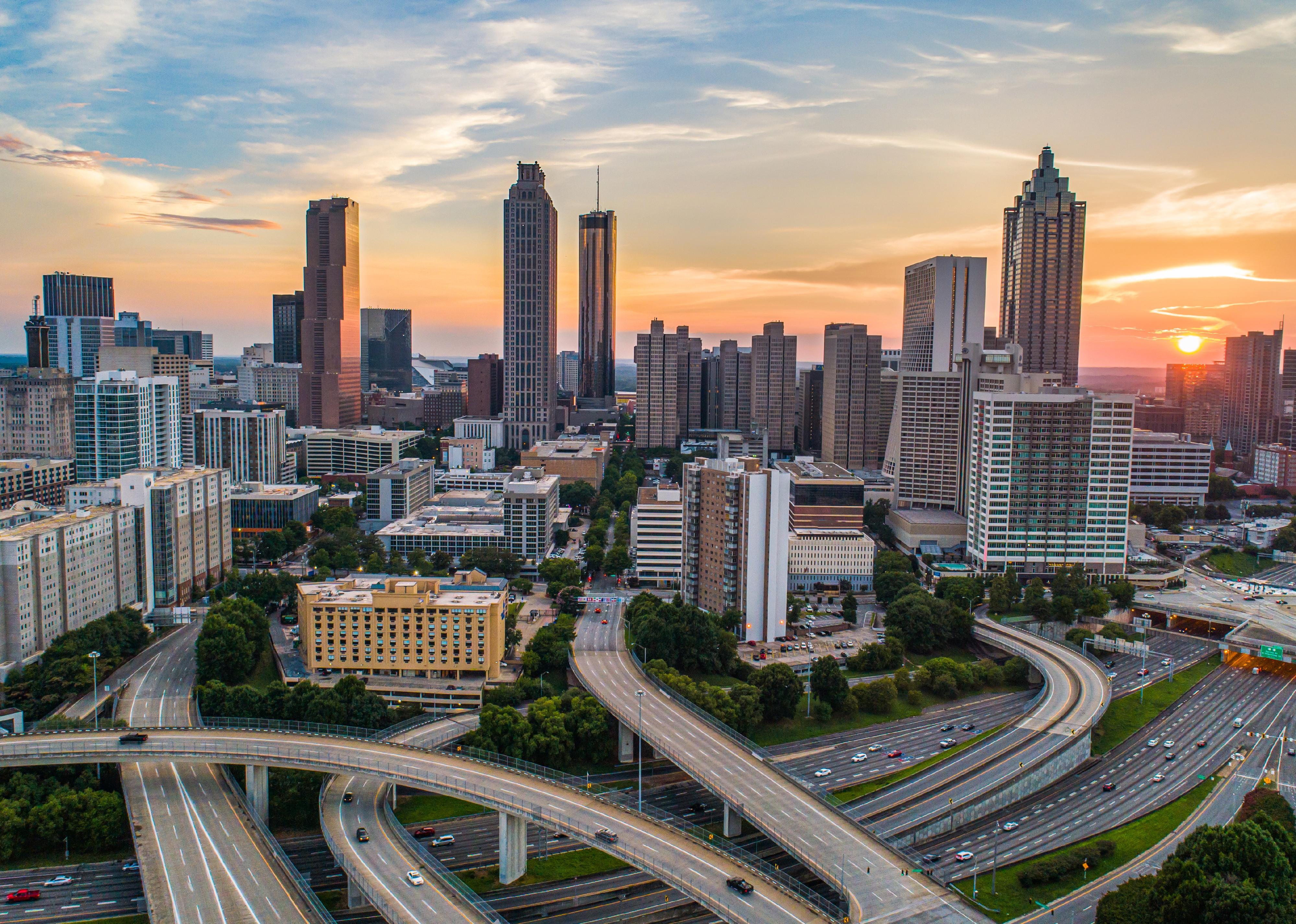 Kevin Ruck // Shutterstock
#5. Atlanta
-Total institutional investor sales: 5,188
– Percent of all sales: 16.8%
– Change from a year ago: -33%
Rising interest rates have contributed to a pause in Atlanta's real estate market. In October 2022, 4,415 homes sold, a 35% decrease year-over-year, according to First Multiple Listing Service data. This was the slowest sales month for the region since January 2020, and the slowest October since 2011.
Institutional investors still see Atlanta as a gem. In November 2022, JPMorgan announced a joint venture with Haven Realty Capital to invest in build-to-rent, single-family homes. The venture kicked off with a deal for 250 homes in three Atlanta metro area communities.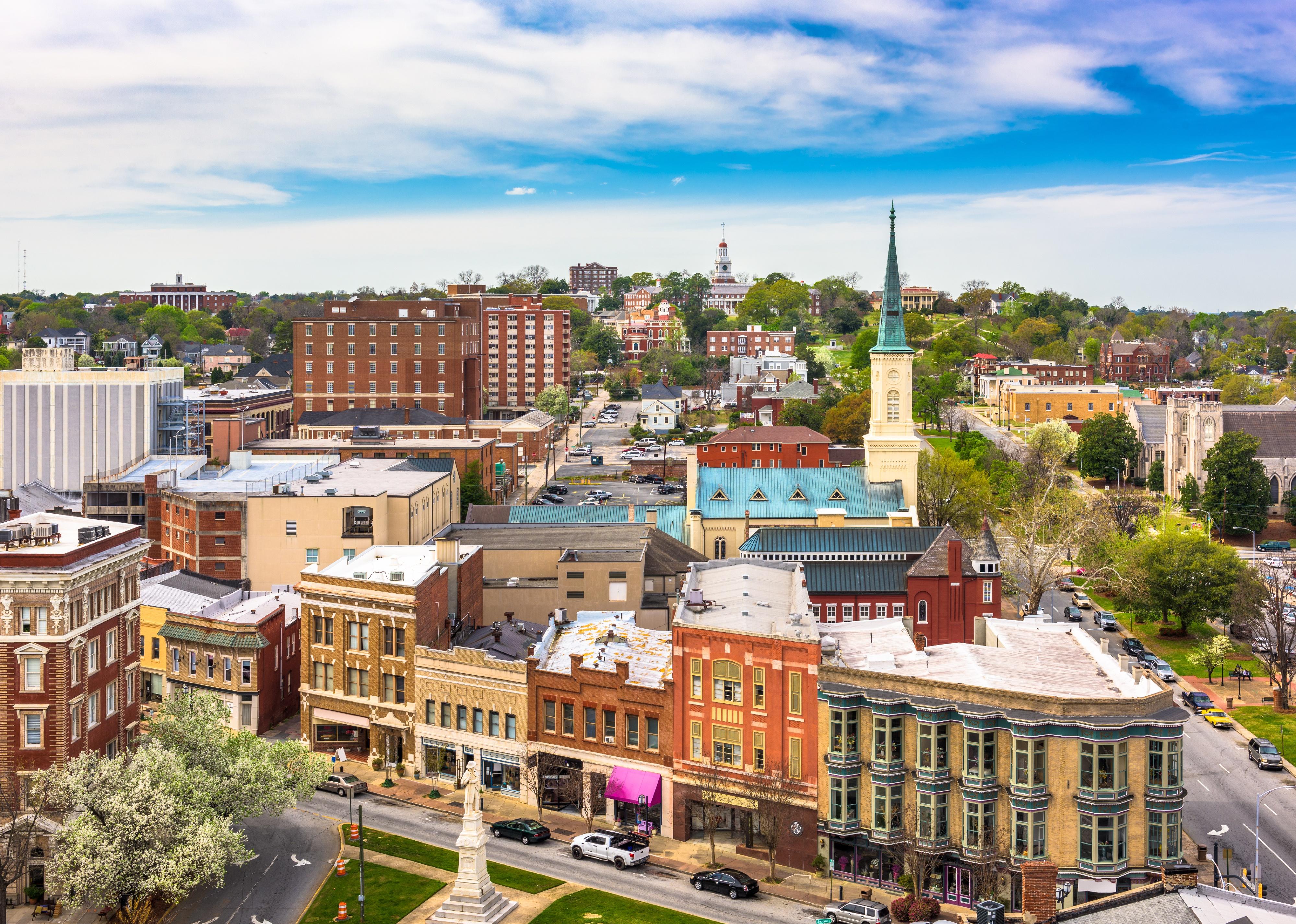 Sean Pavone // Shutterstock
#4. Macon, Georgia
-Total institutional investor sales: 200
– Percent of all sales: 17.6%
– Change from a year ago: 125%
The Macon-Bibb County metro area is still highly affordable, according to ATTOM Data. Affording a median-priced home requires only 14% of average local wages, which is the third-lowest percentage in the country.
That competition has led to price increases, which affect not only buyers, but also investors who flip houses. Profit margins on flips in Macon decreased substantially in the first quarter of 2022. The return on investment in this quarter compared to the same time period in the previous year decreased from 120.7% to 50.9%.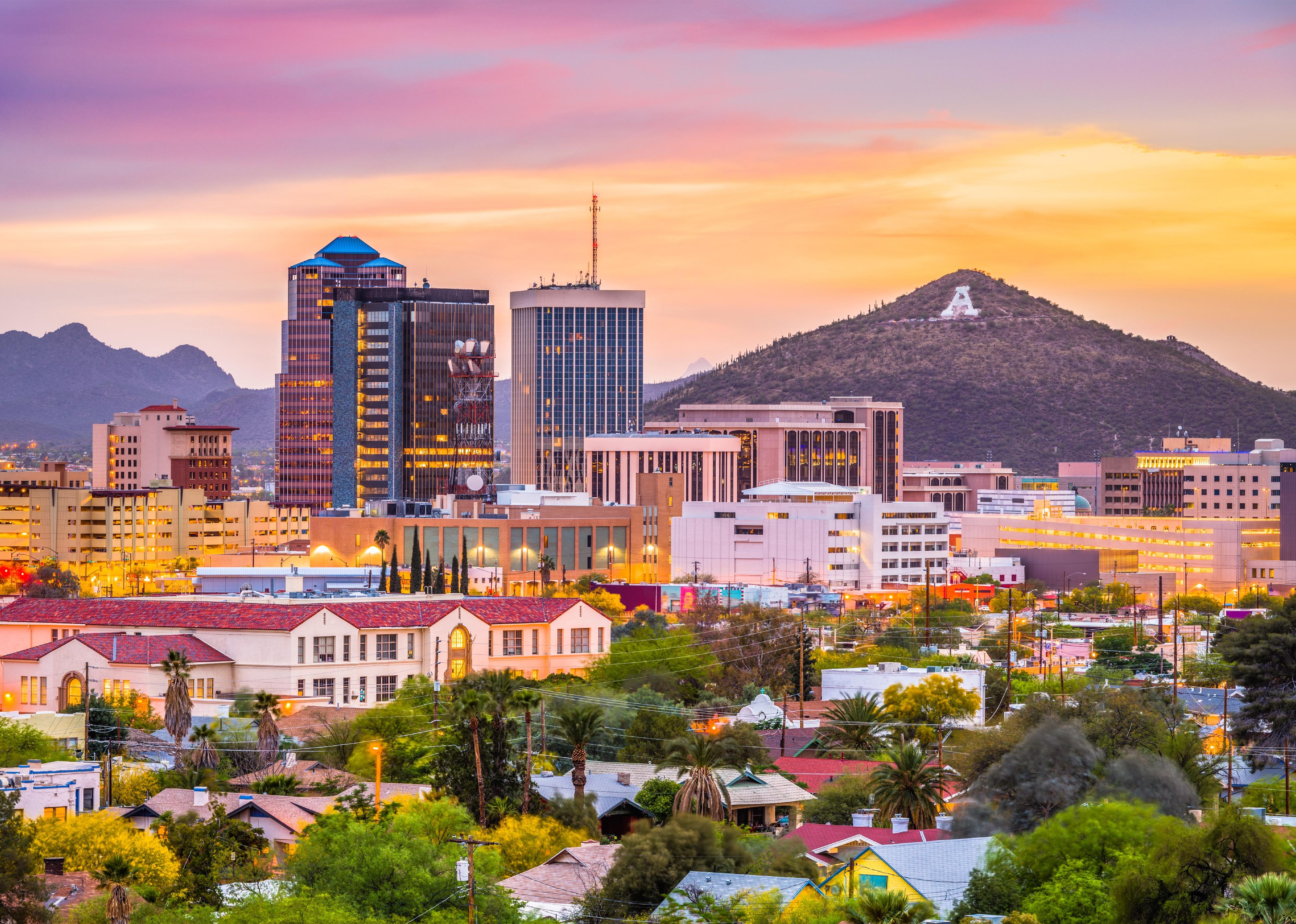 Sean Pavone // Shutterstock
#3. Tucson, Arizona
-Total institutional investor sales: 955
– Percent of all sales: 18.1%
– Change from a year ago: -12%
Higher interest rates have led to less inventory in Tucson's real estate market. Homeowners are staying put, and builders have slowed down on building new homes. Permits were down 16% to 2,812 in the first half of 2022.
Many would-be buyers have to rent, which has put upward pressure on rent prices. In 2022, monthly rents are up to 50% higher than they were a year ago. Apartment complexes and single-family homes in build-to-rent communities are in high demand throughout the area.
ESB Professional // Shutterstock
#2. Jacksonville, Florida
-Total institutional investor sales: 1,481
– Percent of all sales: 18.3%
– Change from a year ago: -16.0%
The Jacksonville metro area gained nearly 26,000 residents from July 2020 to July 2021. That migration helped fuel the demand for housing in the region during the pandemic. Investors saw the opportunity and have made Jacksonville one of the top metro areas for residential real estate investing. In the second quarter of 2022, investors paid an average of $290,000 for a home, the lowest among all major metro areas in Florida. The area may be cooling off a bit, however, as sellers are starting to reduce prices amid decreased demand.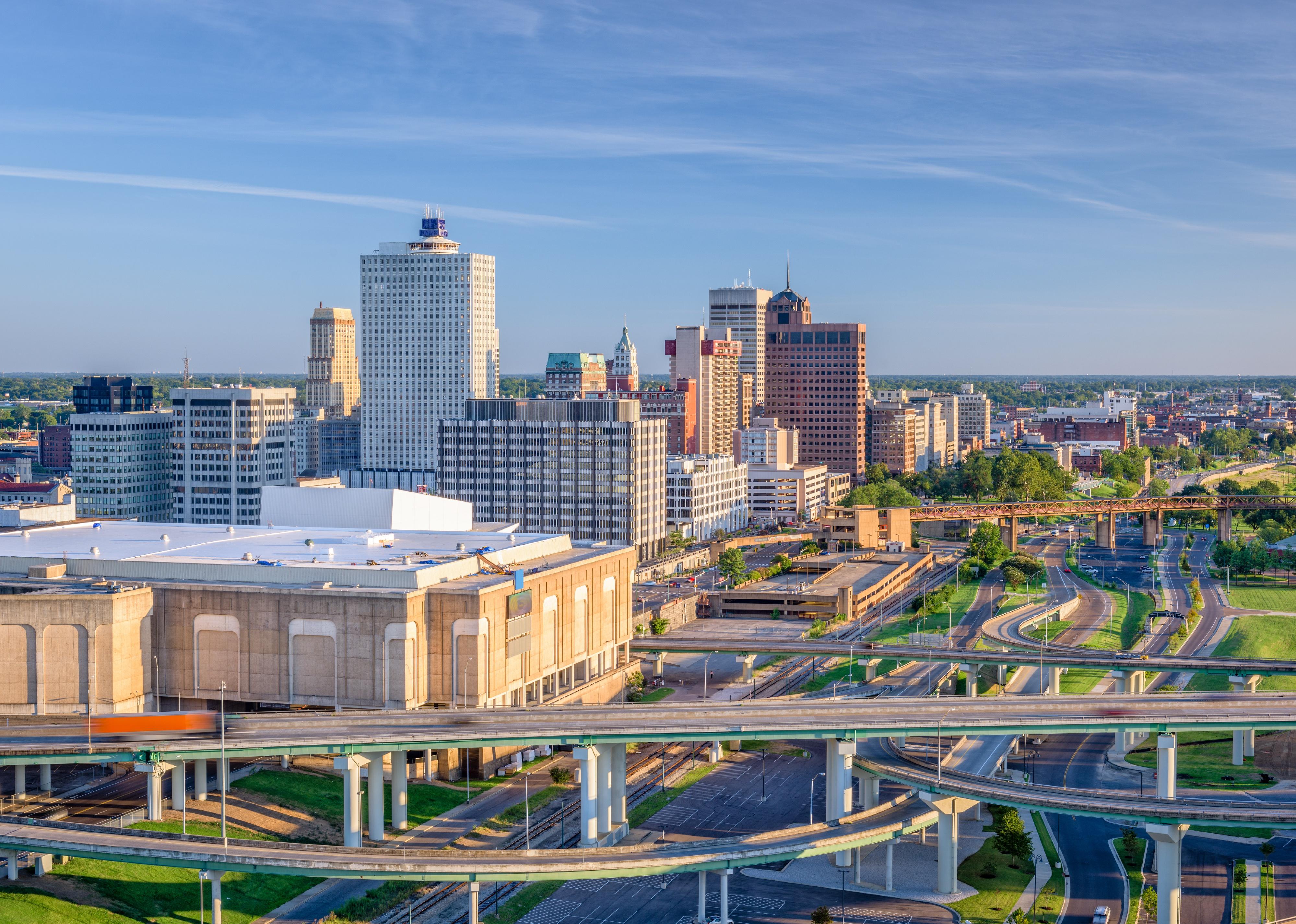 Sean Pavone // Shutterstock
#1. Memphis, Tennessee
-Total institutional investor sales: 1,326
– Percent of all sales: 19.7%
– Change from a year ago: 10.0%
High demand and low inventory fueled construction in the greater Memphis area, but more homes and rental apartments are expected to come on the market over the next few years. Several projects are in the works in downtown Memphis to build hundreds of new rental units. Southeastern suburb Collierville is also experiencing a building boom, with plans for about 500 homes to hit the market in the next three years.
Investors may not have to wait for those projects to finish to get good deals in this market. Inventory in October 2022 was at its highest point in two years, with 3,054 units on the market.
This story originally appeared on Belong Home and was produced and
distributed in partnership with Stacker Studio.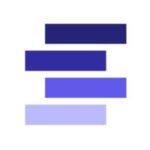 Founded in 2017, Stacker combines data analysis with rich editorial context, drawing on authoritative sources and subject matter experts to drive storytelling.