Robot hives in Israel kibbutz hope to keep bees buzzing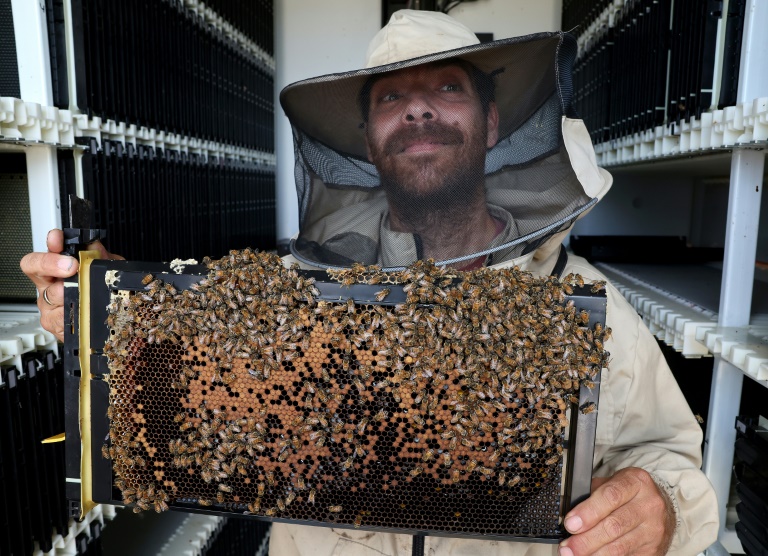 They function as normal hives, but apiaries built at a kibbutz in Israel's Galilee are decked out with high-tech artificial intelligence systems set to ensure longevity for these vital pollinators.
"There are two million bees here," said Shlomki Frankin as he walks into a 12-square-metre container in Kibbutz Beit Haemek in northern Israel.
Dubbed "Beehome", the project is the brainchild of an Israeli startup and houses up to 24 hives, explained Frankin, clad in a hat and veil to protect himself from stings.
The 41-year-old told AFP that the hives feature a multi-purpose robot that does everything from monitor the bees to adjust the habitat and provide them with care.
Startup Beewise came up with the idea in an effort to reduce mortality rates in a species that has in the past years seen sharp rates of decline due to environmental threats.
– Artificial intelligence –
"The robot is equipped with sensors that allow it to know what is happening in the hive frames," said Netaly Harari, director of operations at Beewise.
"Thanks to artificial intelligence, our software knows what the bees need," she explained in the workshop where the hives are assembled.
The robots can automatically dispense sugar, water and medication.
If a problem comes up, the beekeeper is alerted through an application, allowing for intervention remotely via computer, or in person if necessary.
The hives operate on solar energy, have adjustable temperatures, eliminate pests and can even extract honey automatically using an integrated centrifuge, Harari said.
By the end of May, the startup hopes to be producing its own honey for the first time — the "first honey in the world made with artificial intelligence", she enthused.
For Frankin, "the robot is a tool for beekeepers, but doesn't replace them".
They "save a lot of time", he continued, because they allow him to "do a lot of simple things remotely".
About a hundred of these high-tech hives are already functional in Israel, with a dozen others sent to the United States.
Beewise is eyeing a foothold in the European market in two years.
Launched in 2018, the startup has 100 employees and by April had raised about $80 million to develop its exports.
– World Bee Day – 
According to professor Sharoni Shafir, who heads the bee research centre at the Hebrew University of Jerusalem's Rehovot campus, the technology can help protect increasingly threatened bee colonies.
"Sometimes, a beekeeper takes several months to realise there is a problem," he told AFP, adding that "with the robot, beekeepers can deal with the problem in real-time, reducing the bees' mortality rates".
One in every six species of bees have gone regionally extinct somewhere in the world, with the main drivers thought to be habitat loss and pesticide use, according to a 2019 study. 
Shafir points in particular to the "decline in fields of flowers due to construction, which has reduced the sources and diversity of food for bees".
Added to that are diseases and pests, such as the varroa destructor, a mite that has a devastating effect on honeybees, the professor added.
"In Israel, between 20 and 30 percent of hives disappear every year," the entomologist said.
He noted that a significant portion of foods consumed by people are the result of cross-pollination by bees and other insects.
More than 70 percent of crops, including almost all fruits, vegetables, oilseeds, spices, coffee and cocoa are dependent on pollinators.
The United Nations' Food and Agriculture Organization on May 20 celebrates World Bee Day, which aims to underline the importance of preserving bee species.
"Bees and other pollinators have thrived for millions of years, ensuring food security and nutrition, and maintaining biodiversity and vibrant ecosystems," FAO has said.
"We depend on bees," Shafir emphasised.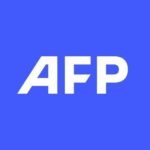 With 2,400 staff representing 100 different nationalities, AFP covers the world as a leading global news agency. AFP provides fast, comprehensive and verified coverage of the issues affecting our daily lives.
Bank of Japan keeps easing policy despite US, Europe rate hikes
The Bank of Japan on Friday stuck to its long-held monetary easing policy even as other central banks around the world hike interest rates to tame inflation.
But it said it would "pay due attention" to foreign exchange markets, a rare comment that comes after the yen hit a 24-year low against the dollar.
In a statement following a two-day policy meeting, the BoJ kept in place its rate of minus 0.1 percent — part of a decade-old action plan aimed at boosting the world's third-largest economy — bucking pressure to address the impact of a weaker yen.
Its decision runs counter to a global tightening trend to tackle sky-high fuel and food prices linked to the war in Ukraine and supply chain snarls.
Global interest rate hikes have been led by the US Federal Reserve, which this week announced its most aggressive increase in nearly 30 years, and signalled more ahead in a battle to drive down inflation.
The European Central Bank also plans to start a series of rate increases next month, while the Bank of England announced a fifth straight increase on Thursday and Switzerland surprised markets with its own increase, the first since 2007.
The widening chasm between Japanese and US monetary policy has pushed the yen to its lowest level against the dollar since 1998, a cause for increasing concern that even the central bank made reference to.
"It is necessary to pay due attention to developments in financial and foreign exchange markets and their impact on Japan's economic activity and prices," the BoJ said, in an unusual reference to forex movements.
After the announcement, one dollar bought 134.23 yen, up from 133.41 yen earlier in the day.
Inflation has been rising for months in the United States and elsewhere as buoyant demand for homes, cars and other goods clashes with supply chain snarls in parts of the world where Covid-19 has been, or remains, a challenge.
The problem got dramatically worse after Russia invaded Ukraine in February and Western nations imposed steep sanctions on Moscow, sending food and fuel prices up at a blistering rate.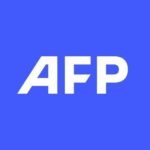 With 2,400 staff representing 100 different nationalities, AFP covers the world as a leading global news agency. AFP provides fast, comprehensive and verified coverage of the issues affecting our daily lives.
Most Asian markets on recession fears, Bank of Japan in focus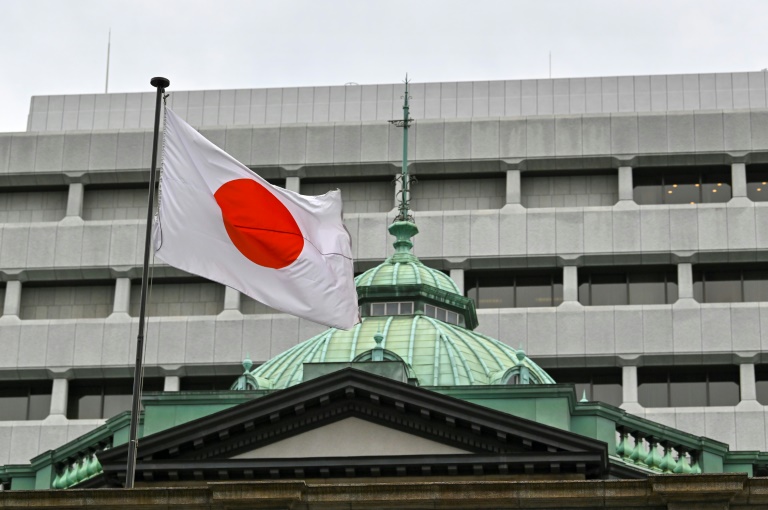 Asian markets mostly fell Friday after another hefty drop in New York and Europe as central bank interest rates hikes to counter soaring inflation fan fears of a recession.
All eyes are now on a Bank of Japan decision later in the day, with speculation that officials could finally begin to shift from their ultra-loose policies that have left it trailing most of its peers and sent the yen tumbling more than 13 percent this year.
Gone is the optimism that flowed through trading floors immediately after the Federal Reserve on Wednesday announced its biggest rate increase for 28 years as global finance chiefs followed suit, putting a squeeze on dealers' ability to borrow.
Markets have been tumbling for months as traders contemplate the end of the era of cheap cash that sent valuations to record or multi-year highs, with inflation at levels not seen in decades owing to a surge in energy and food prices.
The Bank of England on Thursday lifted rates for a fifth straight time to their highest since 2009 during the financial crisis, just as the Swiss central bank shocked markets by unveiling its own half-point increase — its first rise in 15 years. 
The European Central Bank has also signalled it will announce a hike soon.
Equities plunged as expectations for recession continue to rise. The Dow ended below 30,000 for the first time in more than a year and the S&P 500 is now at its lowest since December 2020.
With rates rising everywhere else, pressure is building on the Bank of Japan to move away from its policy of keeping its foot on yields.
While officials in Tokyo insist that low rates are still needed to nurture a struggling economy, there is "a building expectation that the Bank of Japan will need to amend their policy stance closer to some version of normal", said Benjamin Jeffery and Ian Lyngen, strategists at BMO Capital Markets.
Observers said traders were struggling to work out what officials will do, though there is a feeling they will make some concessions with inflation at an eight-year high as energy prices spike in the commodity-poor country.
And while the yen dipped slightly against the dollar Friday it was off the 24-year lows touched earlier in the week.
Stephen Innes at SPI Asset Management said: "No central bankers worth their weight would put inflation-fighting credentials on the line and import higher energy inflation via a weaker currency."
He added that "in what is a highly ominous signal for stock market investors, given the broader index's sensitivity to rising bond yields… the global race to hike rates is nowhere near the finishing line". 
In early trade, Tokyo, Sydney, Seoul, Singapore, Wellington, Taipei, Manila and Jakarta were all in the red, though Hong Kong and Shanghai were slightly higher after steep losses on Thursday.
– Key figures at around 0230 GMT –
Tokyo – Nikkei 225: DOWN 2.2 percent at 25,858.50 (break)
Hong Kong – Hang Seng Index: UP 1.0 percent at 21,063.11
Shanghai – Composite: UP 0.5 percent at 3,300.72
Dollar/yen: UP at 133.37 yen from 132.14 yen late Thursday
Euro/dollar: DOWN at $1.0532 from $1.0550
Pound/dollar: DOWN at $1.2320 from $1.2350
Euro/pound: UP at 85.48 pence from 85.40 pence
West Texas Intermediate: DOWN 0.5 percent at $116.96
Brent North Sea crude: DOWN 0.5 percent at $119.24 per barrel
New York – Dow: DOWN 2.4 percent at 29,927.07 (close)
London – FTSE 100: DOWN 3.1 percent at 7,044.98 (close)
— Bloomberg News contributed to this story —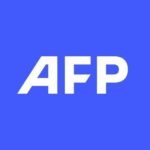 With 2,400 staff representing 100 different nationalities, AFP covers the world as a leading global news agency. AFP provides fast, comprehensive and verified coverage of the issues affecting our daily lives.
US baby formula plant again halts production due to flooding
Abbott Nutrition has once again shut down a baby formula plant, this time due to heavy rains and flooding, less than two weeks after it reopened to try and mitigate a crippling US shortage.
The facility in Sturgis, Michigan resumed production on June 4, only to close down again earlier this week so the company could assess rain damage.
Severe thunderstorms that battered southwestern Michigan on Monday resulted in "high winds, hail, power outages and flood damage," as well as "flooding in parts of the city, including areas of our plant," Abbott said in a statement posted to their website Wednesday night.
"As a result, Abbott has stopped production of its EleCare specialty formula that was underway to assess damage caused by the storm and clean and re-sanitize the plant," the statement said.
"This will likely delay production and distribution of new product for a few weeks."
The plant, a major producer of formula, shut down in February and issued a product recall after the death of two babies raised concerns over contamination.
That worsened to a widespread forumla shortage caused by supply issues, which was particularly concerning to parents of infants with allergies or with certain metabolic conditions, who desperately scoured stores and online sources for the specialized formulas.
The crisis prompted President Joe Biden last month to bring in formula from Europe on commercial planes contracted by the US military. He also invoked the Defense Production Act to give baby formula manufacturers first priority in supplies.
Abbott, which controls about 40 percent of the US baby food market, had announced its hypoallergenic EleCare formula and should be back on store shelves around June 20.
In the statement Wednesday, the manufacturer assured consumers that it had "ample existing supply" of EleCare and most of its other specialty formulas to meet demand until production could resume again.
The formula shortage, coming at a time when soaring inflation and supply-chain delays have fanned a growing sense of unease among many American families, and Biden critics have seized on the situation to question the competence of his administration.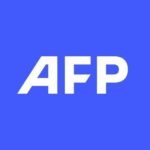 With 2,400 staff representing 100 different nationalities, AFP covers the world as a leading global news agency. AFP provides fast, comprehensive and verified coverage of the issues affecting our daily lives.