Stocks bounce after Fed boss calms nerves over rates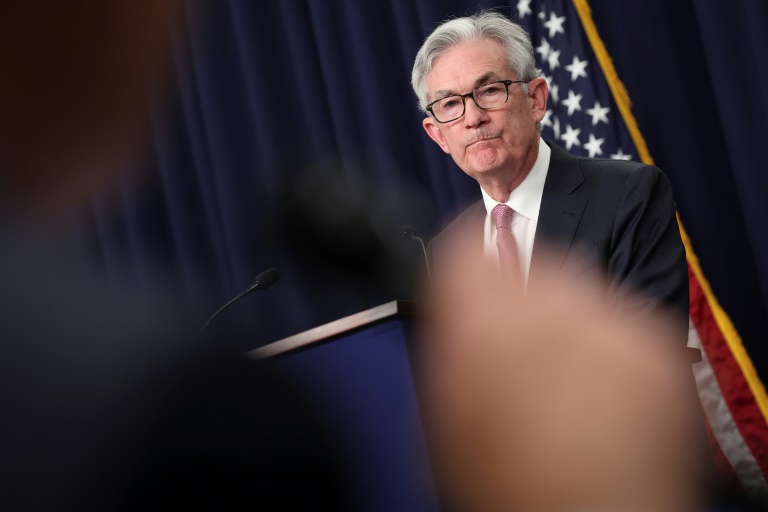 The rebound on global stock markets extended further Friday on easing fears about the pace of interest rate rises in the United States that are aimed at bringing down the country's highest inflation in decades.
Wall Street opened higher with the Dow up 0.8 percent.
European equities were up more than one percent in afternoon trading following solid gains in Asia. 
Stocks have suffered sharp losses this week, particularly on Wall Street, as investors also sought safety amid the Ukraine war and China's Covid lockdowns.
"Investors are continuing to wrestle with worries over inflation as the oil price climbs back up again and supply concerns resurface amid ongoing geopolitical tensions," noted Susannah Streeter, senior investment and markets analyst at Hargreaves Lansdown.
Stocks have tumbled for much of this week on fears the Federal Reserve was planning to lift US interest rates by 75 basis points at a single meeting.
However, equities on Friday staged "a relief rally" after Fed boss Jerome Powell calmed nerves over the potential hefty increase, said Jeffrey Halley, analyst at OANDA trading group. 
"The rally today looks more like a technical rebound after a torrid week than a structural turn in sentiment," he added.
Analysts have also pointed towards positive developments in China.
"Global sentiment seems to be getting some relief as China officials suggested that Covid-related lockdowns — which have been another source of uneasiness — may be set to ease," analysts at Charles Schwab investment bank said.
Oil prices pushed higher Friday after much volatility, while the euro struck a new five-year low against the dollar.
Bitcoin held above $30,000, a day after the cryptocurrency slumped under $27,000, its lowest level since late 2020.
Its crash this week was fuelled by the collapse of two so-called "stablecoin" cryptocurrencies — TerraUSD and Tether — which proved to be anything but stable, leaving investors panicked. 
On the corporate front, Twitter's share price plunged after Elon Musk said he was putting a temporary halt on his much-anticipated deal to buy the social media giant.
It was down 10.7 percent at $40.27 after around 10 minutes of trading.
"Twitter deal temporarily on hold pending details supporting calculation that spam/fake accounts do indeed represent less than 5% of users," he wrote on the platform.
Musk, the world's richest man and founder of automaker Tesla, had made the eradication of spam accounts and bots one of the centrepieces of his proposed $44 billion takeover of Twitter.
– Key figures at around 1330 GMT –
London – FTSE 100: UP 1.8 percent at 7,362.78 points
Frankfurt – DAX: UP 1.3 percent at 13,922.93
Paris – CAC 40: UP 1.7 percent at 6,309.49
EURO STOXX 50: UP 1.5 percent at 3,668.92
New York – Dow: UP 0.8 percent at 31,975.41 
Hong Kong – Hang Seng Index: UP 2.7 percent at 19,898.77 (close)
Shanghai – Composite: UP 0.9 percent at 3,084.28 (close)  
Tokyo – Nikkei 225: UP 2.6 percent at 26,427.65 (close)
Brent North Sea crude: UP 2.7 percent at $110.31 per barrel
West Texas Intermediate: UP 3.0 percent at $109.26 per barrel
Euro/dollar: DOWN at $1.0376 from $1.0382 at 2100 GMT Thursday
Pound/dollar: DOWN at $1.2196 from $1.2199
Euro/pound: UP at 85.11 pence from 85.08 pence
Dollar/yen: DOWN at 129.01 yen from 129.97 yen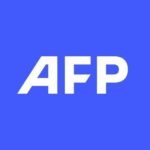 With 2,400 staff representing 100 different nationalities, AFP covers the world as a leading global news agency. AFP provides fast, comprehensive and verified coverage of the issues affecting our daily lives.
Damaged freighter blocks traffic at drought-hit Rhine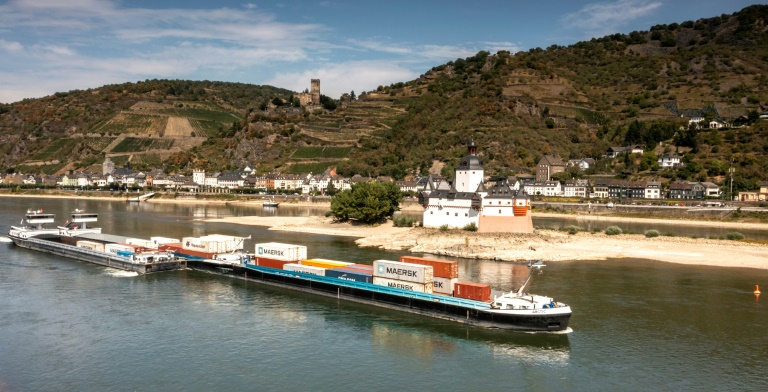 A stranded cargo ship caused traffic to be halted Wednesday at the Rhine river in western Germany after suffering a technical fault, authorities said, at a time when water transport was already ailing from a drought.
The vessel is stuck at St Goar and Oberwesel, in between the cities of Mainz and Koblenz, water police said, adding that they were expecting to clear the stricken ship within the day.
The machine damage came as water levels in the Rhine had dropped to critical points at several locations, including at nearby Kaub — a known bottleneck for shipping where the river runs narrow and shallow.
The gauge at Kaub stood at 34 cm (13 inches) on Wednesday, well below the 40-cm reference point.
While vessels are still able to navigate at low water levels, they are forced to reduce their loads to avoid the risk of running aground.
About four percent of freight is transported on waterways in Germany, including on the Rhine, which originates in Switzerland and runs through several countries including France and Germany before flowing into the sea in the Netherlands.
Transport on the Rhine has gained significance in recent months because among cargo moved on the river is coal, now all the more necessary as Germany seeks to wean itself off Russian gas.
Germany's biggest companies have already warned that major disruptions to river traffic could deal another blow to an economy already beset by logistical difficulties.
The 2018 drought, which saw the benchmark depth of the Rhine in Kaub drop to 25 cm in October, shrank German GDP by 0.2 percent that year, according to Deutsche Bank Research.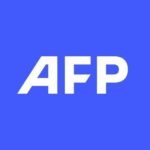 With 2,400 staff representing 100 different nationalities, AFP covers the world as a leading global news agency. AFP provides fast, comprehensive and verified coverage of the issues affecting our daily lives.
Turkey central bank cuts rate despite soaring inflation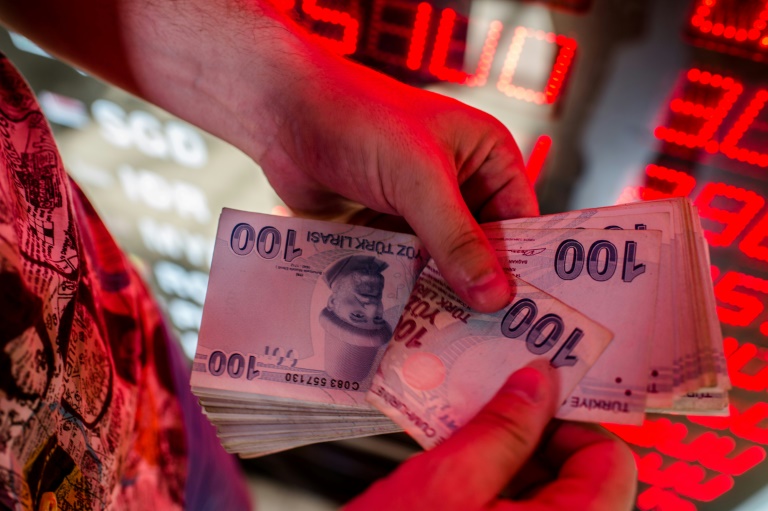 Turkey's central bank on Thursday stunned the markets by lowering its main interest rate even as inflation soared to a 24-year high and looks set to climb further.
The central bank said "recession is increasingly assessed as an inevitable risk factor" as it lowered its one-week repo auction rate to 13 percent from 14 percent.
"Just insane — with inflation at 80 percent and rising," BlueBay Asset Management economist Timothy Ash remarked in an emailed comment.
"I don't think anyone expected this."
The Turkish lira lost one percent of its value against the dollar within moments of the announcement.
Turkey's monetary policy decision contradicts the approach pursued by most other countries as they try to combat the spike in consumer prices caused by Russia's invasion of Ukraine.
The war has sent food and energy prices soaring and forced central banks to raise borrowing costs — even as economic growth remains anaemic. 
But Turkish President Recep Tayyip Erdogan subscribes to the unorthodox belief that high interest rates cause inflation rather than rein it in.
He has fired three central bank governors since 2019 who have tried to pursue a more conventional economic course.
– Election focus on growth –
Turkey now has a real interest rate of negative 66.6 percent when adjusted for inflation.
This forces businesses and ordinary people to spend as much as possible before their liras lose even more value with each month.
Turkey's approach has propelled economic growth that Erdogan hopes can help him secure a third decade in power in a general election scheduled for next June.
But it has been accompanied by a sharp depreciation of the lira that has eroded living standards and pushed the financial sector to the brink of crisis.
The Turkish government has adopted a series of alternative measures to combat inflation which most economists dismiss as either insufficient or too complex and expensive to work.
These include limiting bank lending and offering state guarantees to ensure that Turks' deposits do not lose too much value over time.
It has also dug in deeply into its foreign currency reserves to try and prop up the lira's exchange rate.
These interventions have made Turkey increasingly dependent on deals with petrodollar-rich nations such as Russia and Ankara's one-time rivals in the Middle East.
Turkey reported a big jump in its hard currency holdings this month that the finance minister linked to a money transfer from an unnamed foreign country.
Media reports said Russia's state-held nuclear energy firm Rosatom had transferred billions of dollars for the construction of Turkey's first nuclear power plant.
The central bank vowed on Thursday to push ahead with its "liraisation strategy" aimed at reducing the use of foreign currency.
It also spelled out its sharp focus on economic growth.
"It is important that financial conditions remain supportive to preserve the growth momentum in industrial production and the positive trend in employment," it said.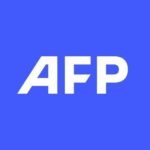 With 2,400 staff representing 100 different nationalities, AFP covers the world as a leading global news agency. AFP provides fast, comprehensive and verified coverage of the issues affecting our daily lives.
Crisis-hit Sri Lanka warns of record 8% economic contraction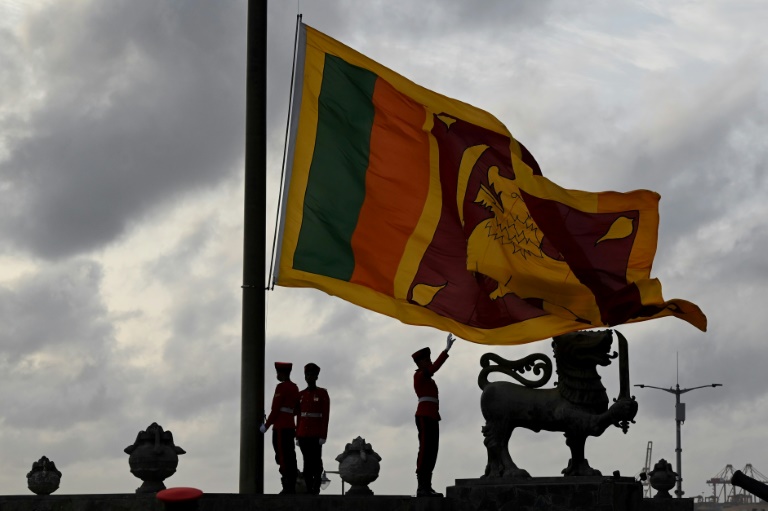 Sri Lanka's economic meltdown will result in a record contraction of at least eight percent this year but the public could soon expect some relief from runaway inflation, the head of the country's central bank said Thursday.
The island nation defaulted on its $51 billion foreign debt in April and is seeking an International Monetary Fund bailout after months of food, fuel and medicine shortages. 
Its 22 million people have also suffered through lengthy blackouts and spiralling cost-of-living pressures after scarcity and a currency crash drove up prices.
The Central Bank of Sri Lanka had already projected the economy could shrink a painful 7.5 percent for the calendar year, dwarfing the previous record 3.6 percent contraction in 2020 as the pandemic raged.
"But now we think it will exceed 8.0 percent," governor Nandalal Weerasinghe told reporters in Colombo.
He said inflation — officially running at 60.8 percent — will peak at "about 65 percent" in September, followed by a gradual easing caused by lower demand and improvements in supplies.
The foreign exchange shortage that sparked the economic crisis had eased thanks to better currency inflows and lower imports, he added. 
"We are now able to finance the most essential imports such as petrol and diesel and medicines," Weerasinghe said.
At the peak of Sri Lanka's fuel shortages, motorists had to wait for days and sometimes weeks to top up, but strict fuel rationing has shortened queues.
Months of protests over the collapsing economy culminated in the resignation of president Gotabaya Rajapaksa, who was forced to flee his official residence after it was stormed by a huge crowd last month.
Rajapaksa is accused of mismanaging the island nation's economy to the point where it was unable to finance even the most essential imports.
He has since travelled to Thailand and close associates have said he was desperate to return home, where he faces corruption charges that had been suspended because of his presidential immunity.
The political upheavals last month stalled talks with the IMF, but a delegation from the international lender of last resort is expected in Colombo before the end of August.
Weerasinghe said he was hopeful authorities would finalise a staff-level agreement with the Fund later this month ahead of a formal bailout deal.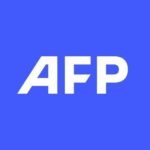 With 2,400 staff representing 100 different nationalities, AFP covers the world as a leading global news agency. AFP provides fast, comprehensive and verified coverage of the issues affecting our daily lives.