UK oil capital tackles the energy transition… up to a point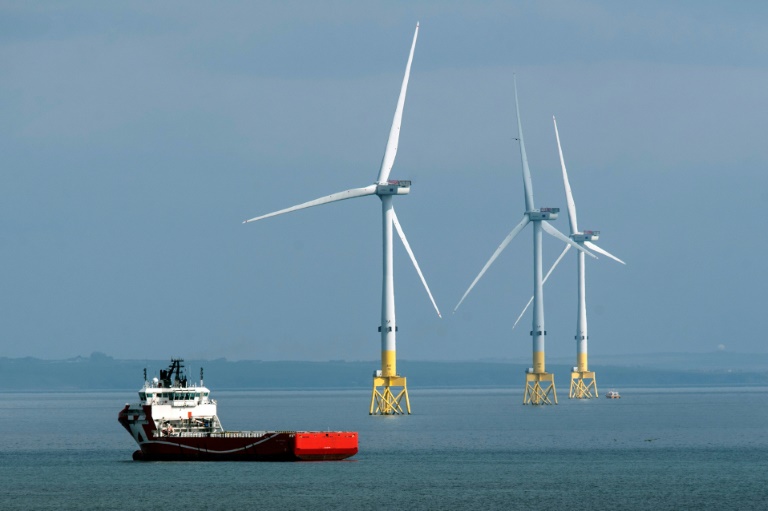 In Aberdeen, northeast Scotland, offshore wind turbines, the extension to the city's port, and hydrogen buses are clear evidence of the move to green energy.
But old habits die hard in the Granite City, which was built on the back of profits of oil and gas piped from the often turbulent waters off its shores.
Mention the energy transition and the response is of a "renewables boom", never a decline in the drilling for hydrocarbons.
That looks likely to be the case for as long as oil and gas remains in the ageing North Sea fields.
Just a few months ago, the UK, which wants to become carbon neutral by 2050, hosted the world at the UN climate change conference COP26 in Glasgow.
Prime Minister Boris Johnson promised to make the country the "Saudi Arabia" of wind power.
The price of energy has since taken off, especially after Russia's invasion of Ukraine, sending bills soaring and leaving many householders struggling to make ends meet.
Disruptions in the delivery of Russian gas to places such as Poland and Bulgaria have also seen the security of energy supplies become a top priority.
Downing Street has published a new strategy which continues to advocate the development of renewable energies.
But it also calls for investment in North Sea oil and gas.
– Security –
Deirdre Michie, chief executive of lobby group Offshore Energies UK, said the move was welcome and a "positive reinforcement" of the role the sector plays in both energy security and the energy transition.
"Even before the energy strategy we absolutely believed that security of energy supply and the energy transition go hand in hand," she told AFP.
John Underhill, a professor in geoscience and energy transition at the University of Aberdeen, is in no doubt there has been a revival of interest in oil and gas — even in fields considered "sub-commercial".
The Cambo oil field, off Shetland in Scotland's far north, now looks set to be developed, despite fierce opposition from environmentalists which caused Shell to pull out and work to be suspended.
Underhill said people have started to think about where the energy comes from, and about "the role oil and gas plays in the UK and the wider community."
In Aberdeen, local officials are in lockstep with industry.
Jenny Laing, who stepped down as leader of Aberdeen City Council last week, said: "With the local authorities in the last 10 years we've invested heavily in renewable energy sources… 
"But we do that in tandem with making sure we're supporting the oil and gas sector. We realise people will be relying on fossil fuel for a number of years to come."
For Laing, and for Michie, geopolitical unpredictability means it's better to rely on oil and gas brought up from beneath British waters than more polluting energy from Russia or elsewhere.
– Expediency –
For Aberdeen and the surrounding area, economic expediency trumps everything.
Most locals either work in the industry or know someone who does.
Britons have abiding memories of the devastating impact of Margaret Thatcher's abrupt closure of coal mines and steel plants in the 1980s.
And while the price of crude has spiralled to more than $100 a barrel since Russia's invasion, Aberdeen and its environs are still recovering from 2014 when prices went the other way, plunging below $50.
Investment in renewables is therefore encouraged but not at the expense of scaring away the oil giants, mainly because they have the capital necessary to finance the energy transition.
"In Aberdeen we've had a very buoyant economy due to the oil and gas sector," said Laing. "We want to make sure that we protect jobs and our local economy."
Many also want the energy transition to be an opportunity to create a more level playing field.
Scott Herrett, who works as a "just transition organiser" at Friends of the Earth Scotland, said: "We have vast wealth which gets generated offshore in the North Sea here in Aberdeen and the northeast of Scotland.
"But we still have mass inequality in the city."
Scientists from the UN Intergovernmental Panel on Climate Change in April warned that humans have only three years to radically transform the world economy, weaning it off fossil fuels to avoid catastrophic warming of the planet.
Aberdeen is trying to diversify, focussing on health, tourism and life sciences — but it's not ready yet to do so without the money oil brings.
Crisis-hit Sri Lanka set for new PM, unity government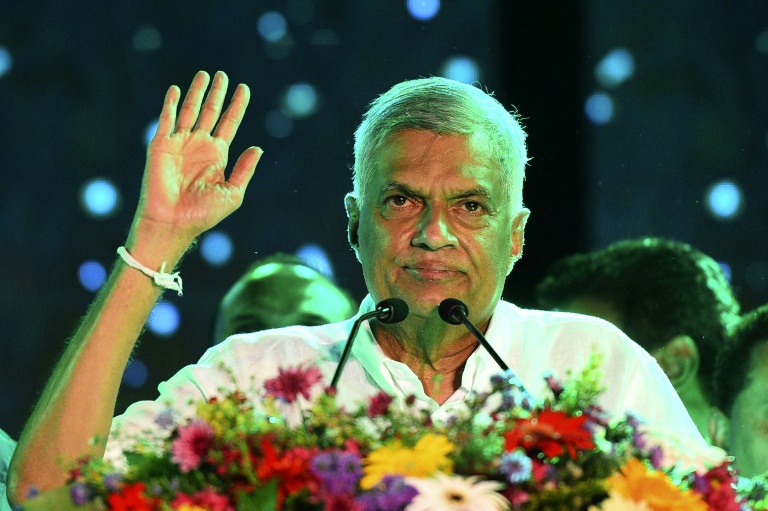 Sri Lankan President Gotabaya Rajapaksa was set Thursday to name a new prime minister, hoping to assemble a unity government after weeks of anti-government protests triggered by a dire economic crisis turned violent.
However, while the mooted new prime minister — five-times ex-premier Ranil Wickremesinghe — and his cabinet can be appointed without a vote, it was unclear if he will be able to get any legislation through parliament.
In a televised address to the nation on Wednesday night, Rajapaksa stopped short of yielding to weeks of nationwide protests calling for him to resign over the country's worst economic downturn since independence.
But in a bid to win over the opposition demanding he quit before agreeing to any new government, the 72-year-old pledged to give up most of his executive powers and set up a new cabinet this week.
"I will name a prime minister who will command a majority in parliament and the confidence of the people," Rajapaksa said in the televised speech.
Mahinda Rajapaksa, the president's brother, resigned as prime minister on Monday after his supporters attacked anti-government supporters who had been protesting peacefully for weeks.
This marked a turning point and unleashed several days of chaos and violence that killed at least nine people and injured more than 200, with dozens of Rajapaksa loyalist homes set on fire.
Security forces patrolling in armoured personnel carriers with orders to shoot on sight anyone engaged in looting or violence have since largely restored order.  
A curfew was lifted Thursday morning but only to be reimposed after a six-hour break allowing Sri Lanka's 22 million people to stock up on essentials.
– Opposition split –
Sri Lankans have suffered months of severe shortages of food, fuel and medicines and long power cuts after the government, short on foreign currency to pay its debts, halted many imports.
The South Asian island nation's central bank chief warned Wednesday that the economy will "collapse beyond redemption" unless a new government was urgently appointed.
Wickremesinghe, 73, is seen as a pro-West free-market reformist, potentially making bailout negotiations with the International Monetary Fund and others smoother.
The main opposition SJB party was initially invited to lead a new government, but its leader Sajith Premadasa insisted that the president first step down.
In recent days the party has split, with a dozen MPs from the SJB now pledging support to Wickremesinghe.
With many from Rajapaksa's party having defected in recent months, now no group in the 225-member assembly has an absolute majority, making parliamentary approval of the unity government's legislation potentially tricky.
Rajapaksa was set to meet with party leaders later Thursday as more names have been suggested for the post of prime minister, an official close to the negotiations told AFP. 
However, Wickremesinghe has already been working closely with Rajapaksa to shake up the finance ministry and the central bank to make sweeping fiscal and monetary policy changes, the source said. 
The central bank almost doubled key interest rates and announced a default on Sri Lanka's $51-billion external debt as part of the policy shift, officials said. 
Front-line opposition legislator Harin Fernando from the SJB said he decided to remain neutral because SJB leader Sajith Premadasa refused to form a government as long as Rajapaksa remained president. 
"We can't be imposing conditions that cannot be fully met. First, we must address the economic crisis. We need at least $85 million a week to finance essential imports. We must collectively find a way to raise this money urgently," Fernando said. 
He said he expected a unity government to be formed on either Thursday or Friday. "We can't wait any longer," he added.
Iraq strikes deal with Iran to secure summer gas imports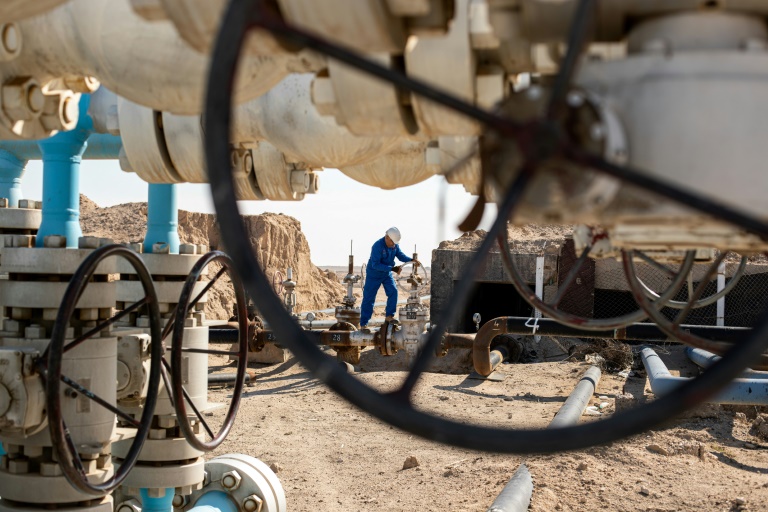 Iraq has agreed to pay $1.6 billion in debt to Iran by June 1 to secure a steady gas supply for power generation through the summer, its electricity minister said.
Chronic underinvestment through decades of war and sanctions has left Iraq dependent on imports from its eastern neighbour for a third of its gas needs.
But US sanctions on Iranian oil and gas have complicated Iraq's payments for the imports, leaving it in heavy arrears and prompting Iran to respond by periodically switching off the taps.
The result has been extended power cuts across much of the country, particularly during the summer, when temperatures routinely reach 52 degrees Celsius (126 degrees Fahrenheit) sending demand for refrigeration and air conditioning soaring. 
"We have reached agreement on supply in sufficient quantities. We have agreed on 50 million cubic metres (per day) during the four summer months," acting electricity minister Adel Karim told state television late Wednesday.
During winter, Iraq will import between 10 million and 20 million cubic metres per day of Iranian gas, he added.
"They agreed to supply us with the gas but they had conditions. They are demanding… $1.6 billion," Karim said, adding the payment will have to be made "by the start of June".
The figure represents Iraq's arrears for 2020, which have yet to be settled because of the arcane payment method Iraq is obliged to use to comply with an exemption from US sanctions on Iran.
Iraq is not allowed to simply hand over cash to Iran. Payments must be used to fund imports of food and medicines.
Karim said gas imports from Iran are currently flowing at 38 million cubic metres per day.
Alternatives under consideration include a connection to the Turkish national grid to supply electricity to Iraq's second city Mosul and a link to Kuwait and Saudi Arabia to help power the south.
Karim said imports of liquefied natural gas were also expected to begin from Qatar in the "next few months" but underlined that no alternative source was likely to replace Iranian gas soon.
"In my humble opinion we will depend on Iranian gas for five or 10 years to come," he said.
Nissan reports first full-year net profit in three years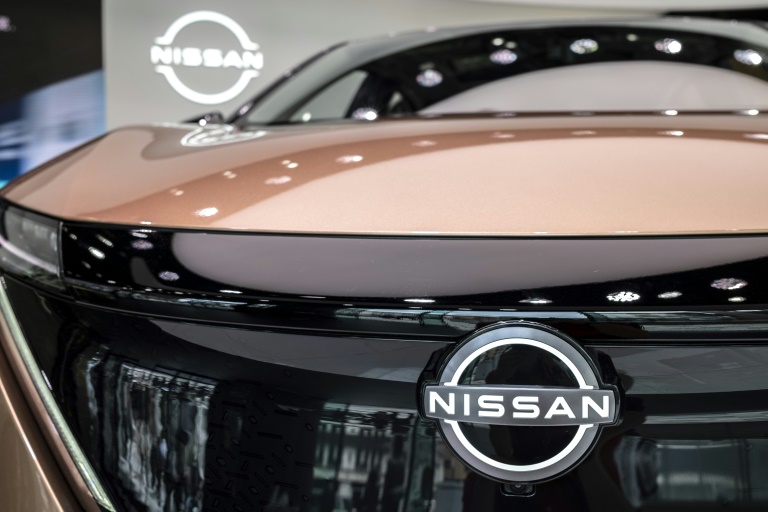 Nissan reported a positive full-year net profit for the first time in three years on Thursday, citing cost-saving efforts and a stronger US market, but issued cautious forecasts.
The Japanese auto giant was on a rollercoaster even before the disruption caused by the pandemic and, more recently, the conflict in Ukraine. 
It had battled slowing demand and the fallout from the arrest of its former chief Carlos Ghosn and is currently implementing a plan involving slashing models, cutting costs and restructuring operations.
It cited some of those efforts in reporting an annual net profit of 215.5 billion yen ($1.67 billion) — its first net profit since fiscal year 2018-19 — which surpassed its forecast of 205 billion yen.
But looking ahead, it warned of a market environment "more severe than in fiscal year 2021, due to semiconductor supply shortages, higher raw material prices and logistics costs, the crisis in Ukraine as well as the impact of lockdowns on parts supplies in China."
It projects a net profit for the current fiscal year of 150 billion yen, following the conservative lead of other automakers facing headwinds caused by supply disruption.
"It is clear that our industry and therefore our performance was impacted by intensifying headwinds in the last fiscal year," said chief operating officer Ashwani Gupta.
"These challenges, magnified in the fourth quarter with rising energy prices, continued supply chain shortages and ongoing Covid disruptions," he said.
"While Nissan has put in place agile business continuity plans, these continuous changes in the market are creating unprecedented uncertainty."
Its bottom line was helped by a recovery in demand and the effects of a weaker yen, which has hit 20-year lows against the dollar in recent months.
A weaker yen inflates the value of profits Nissan earns with overseas sales of its vehicles, and is a factor helping prop up earnings for many Japanese automakers as they battle supply chain disruption.
Nissan announced it would pay a dividend for the first time in three years, reflecting its positive results.
– Nissan's difficulties –
Even before the global crisis, the firm was struggling with increasing sales costs and the saga surrounding its former chief Ghosn.
The one-time auto tycoon was detained in Japan in 2018, accused of financial misconduct charges that he denies, but jumped bail and fled to Lebanon the following year.
A Tokyo court in March handed a six-month suspended sentence to former Nissan executive Greg Kelly over allegations that he helped his boss attempt to conceal income.  
In April, French authorities issued an international arrest warrant for Ghosn, who has lived in Lebanon since his daring getaway from Japan in 2019, on allegations including corruption, misuse of company assets and money laundering. 
Like other automakers, Nissan has been working to bolster its electrification mix, with a goal of having more than 40 percent of its models be electric by 2026.
Gupta said the firm was also ramping up battery development, including developing solid state batteries in-house.