Apple faces £750 mn lawsuit over iPhone software update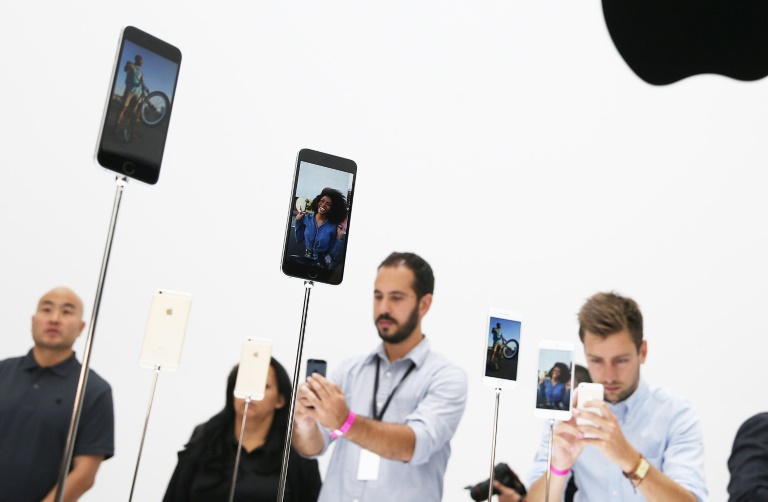 Apple is facing a £750 million (878 million euros, $918 million) lawsuit in Britain after a consumer rights champion on Thursday filed a claim accusing the US tech giant of secretly slowing down older iPhone models.  
Justin Gutmann says Apple "throttled" the performance of older iPhone handsets after users installed upgrades that they were told would improve the performance of their device.
He claims Apple never told users that the update could slow their device and that the tool was introduced to mask the inability of older iPhone batteries to cope with the demands of newer operating systems. 
Apple said in a statement that "we have never — and would never — do anything to intentionally shorten the life of any Apple product, or degrade the user experience to drive customer upgrades. 
"Our goal has always been to create products that our customers love, and making iPhones last as long as possible is an important part of that," it added.
Gutmann's claim with the Competition Appeal Tribunal seeks damages for 25 million iPhone users to the tune of £768 million.
The complaint revolves around a power management tool included in a 2017 software update, which slowed down older iPhone models and prevented abrupt shutdowns as they struggled with the overhead of a new operating system.
Gutmann says Apple never told users that the update could slow a user's device and claims the tool was introduced to prevent costly repairs or recalls. 
"Instead of doing the honourable and legal thing by their customers and offering a free replacement, repair service or compensation, Apple instead misled people by concealing a tool in software updates that slowed their devices by up to 58 percent," said Gutmann.
"I'm launching this case so that millions of iPhone users across the UK will receive redress for the harm suffered by Apple's actions".
Apple apologised at the time and said it would replace batteries at cut price and would allow users to turn off the power management tool manually.
It has faced legal action in several countries over the issue and agreed to pay up to $500 million to owners of older models in the United States in 2020. 
French authorities fined the group 25 million euros in the same year for failing to warn that updates could slow down older models.
The claim seeks compensation for owners of the iPhone 6, 6 Plus, 6S, 6S Plus, SE, 7, 7 Plus, 8, 8 Plus and iPhone X models.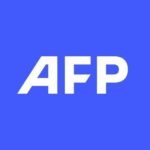 With 2,400 staff representing 100 different nationalities, AFP covers the world as a leading global news agency. AFP provides fast, comprehensive and verified coverage of the issues affecting our daily lives.
The average American car is older than ever before—here's why that could keep increasing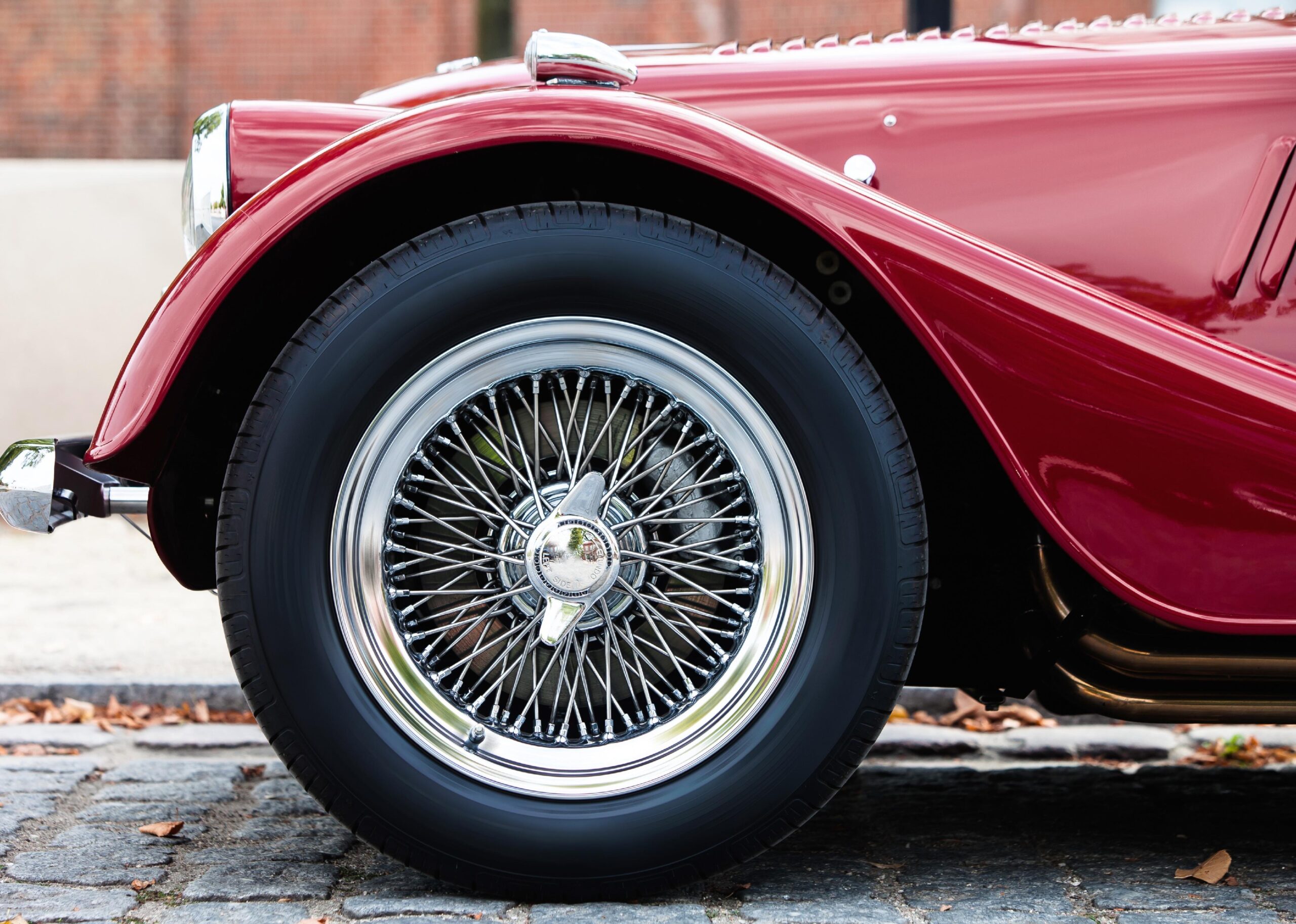 In 2022, the average age of a vehicle on the road in the U.S. surpassed 12 years—a record high. The rising age of American cars is a longtime trend—the average age of automobiles in operation in the U.S. has grown by about 45% since 1995—that gained momentum in the last five years due to a constellation of changes within the automotive industry ranging from a decline in inventory to rising prices for new and used vehicles.
The General collected data from official government and various private sources to understand how the age of vehicles operating on U.S. roadways has changed. Sources include the Bureau of Transportation Statistics, IHS Markit, Bureau of Economic Analysis, Organization for Economic Co-operation and Development, and the Bureau of Labor Statistics.
Industry analysts and the dealerships servicing many of our cars and SUVs credit technical advancements for our longer relationships with vehicles. Suspensions are more rugged today, while engines are more fuel-efficient and can last longer than ever: Reaching 200,000 miles on your odometer without major issues is no longer unheard of. But new vehicles have also increased in price as manufacturers have produced fewer models yearly since 2017.
In 2018, the automotive industry saw a shift from a U.S. market saturated with new vehicles. Automotive sales had been slumping due to the Great Recession, but Americans emerging from it took advantage of the low-interest rates set by the Fed to take out loans. New car sales, in turn, soared.
An aging vehicle's owner might incur more maintenance costs as the vehicle racks up miles on the odometer. But eventually, the car loan is paid off and upkeep, insurance, and fuel become the main costs of owning the vehicle. Since a car typically loses value as it ages, an older vehicle also tends to be cheaper to insure than a new car. These factors can make holding onto a paid-off, aging vehicle—rather than trading up for a new ride—a solid proposition these days for everyday transportation.
Plummeting vehicle affordability since the onset of the pandemic threatens to add yet another factor to extending vehicle ownership. The biggest spikes in recent history for the cost of new and used vehicles jumpstarted in 2021, as computer chip shortages and supply chain troubles plagued manufacturers already hit hard by COVID-19 disruptions. Soaring demand and lower supply pushed prices to unaffordable levels for many prospective buyers.
Popular mainstream vehicles such as the Toyota RAV4 and Honda CR-V, which were affordable as recently as 2019, are now out of reach for the average consumer, according to a recent analysis by the used vehicle search engine iSeeCars.
The average monthly car payment for a new vehicle hit an all-time high of $648 earlier this year, according to Edmunds. While a five-year vehicle loan used to be common, consumers are more commonly signing six- and seven-year notes for new vehicles. Read on to learn more about how the length of car ownership has changed in the U.S. over the last few decades.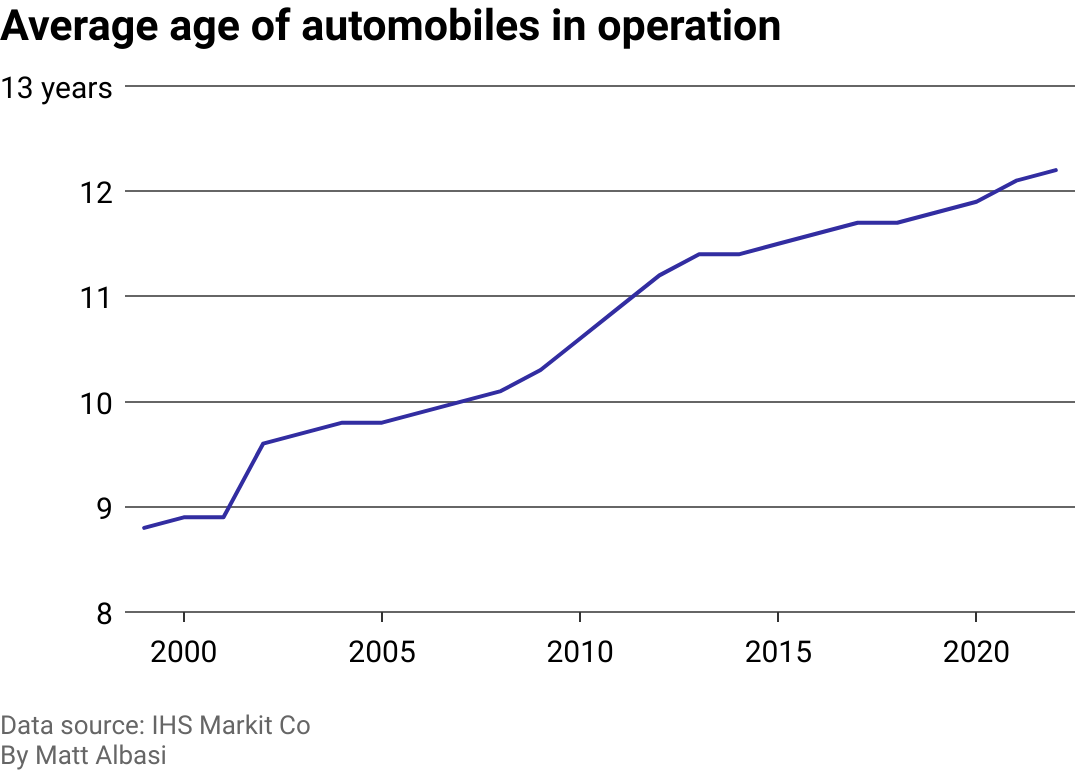 The General
Automobiles are now typically on the road for more than 12 years
The average age of vehicles on U.S. roads increased at the fastest clip recorded during the start of the 21st century. It's maintained a steady upward trend through the 2010s. The sudden increase in average ownership spans for vehicles is largely attributed to the 2008 financial crisis and ensuing Great Recession when many American consumers held on to what they had and delayed major purchases.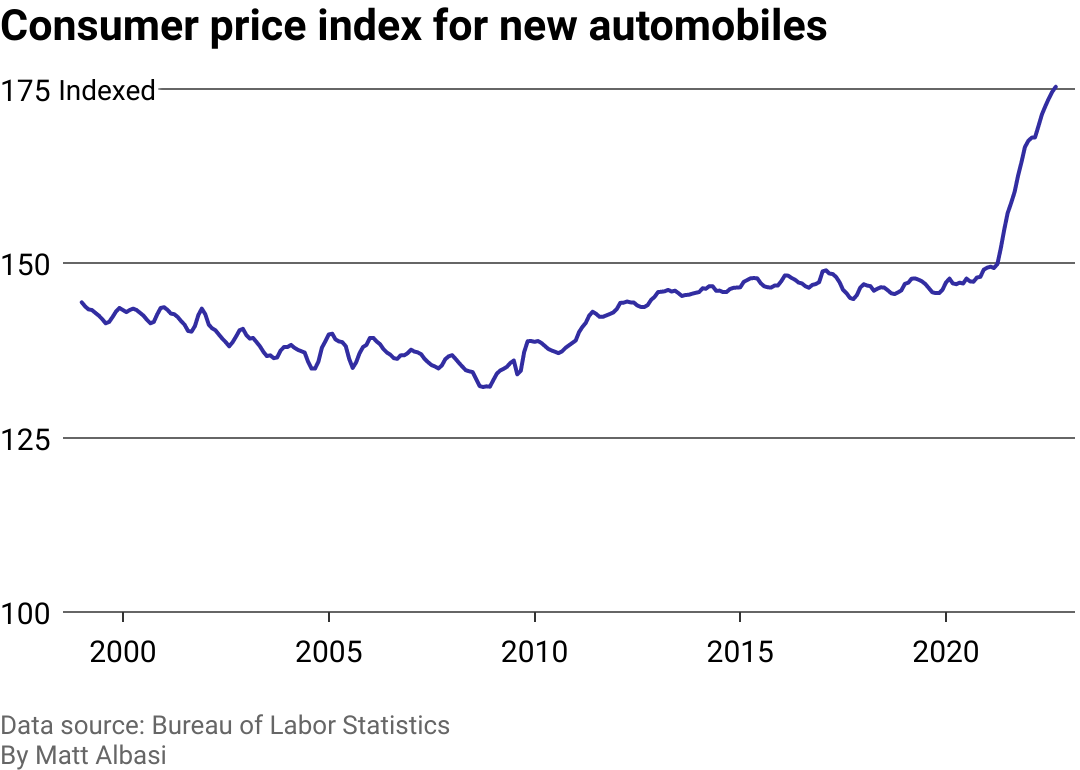 The General
The price for new automobiles has increased more than 17% since 2020
As the average age of vehicles on American roadways gained steadily over the last five years, automobile prices skyrocketed over the last 24 months.
When the COVID-19 pandemic began, many U.S. auto dealership showrooms came to a standstill as nervous customers stayed away and social distancing guidelines forced many to temporarily close— even as their maintenance shops remained open as essential businesses. Dealership sales teams who didn't have robust online purchasing and delivery systems in place quickly hit the gas on streamlining online shopping and socially distant delivery processes similar to that of their emerging competitors like Carvana.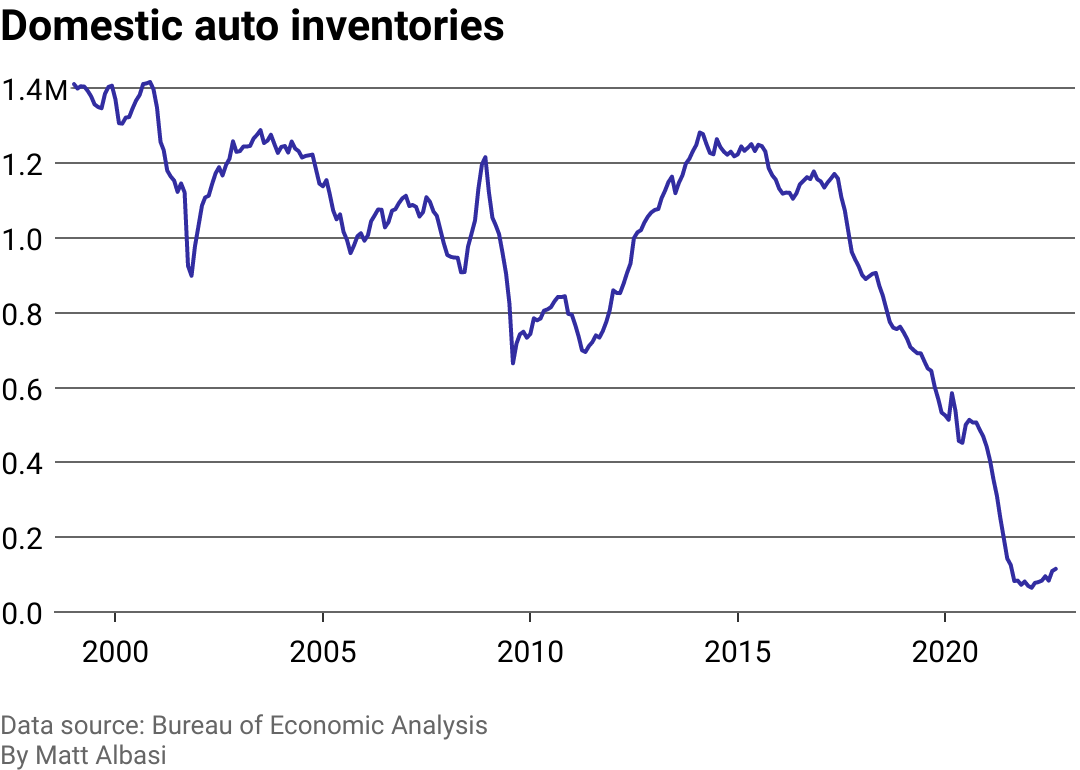 The General
Line chart showing cars available for sale was decreasing rapidly even before the pandemic.
Consumers have noticed an ever-dwindling selection of new vehicles to choose from on dealership lots as investory stock has plummeted since 2000. Manufacturers saw an inventory dip after the onset of the Great Recession, but had steadily replenished inventories in the mid-2010s to pre-recession levels. 
Domestic auto inventories are at their lowest since data collection began in 1993. Demand for new vehicles fell after 2018 but shot back up in 2021 just as automakers were struggling to deliver new units to dealerships.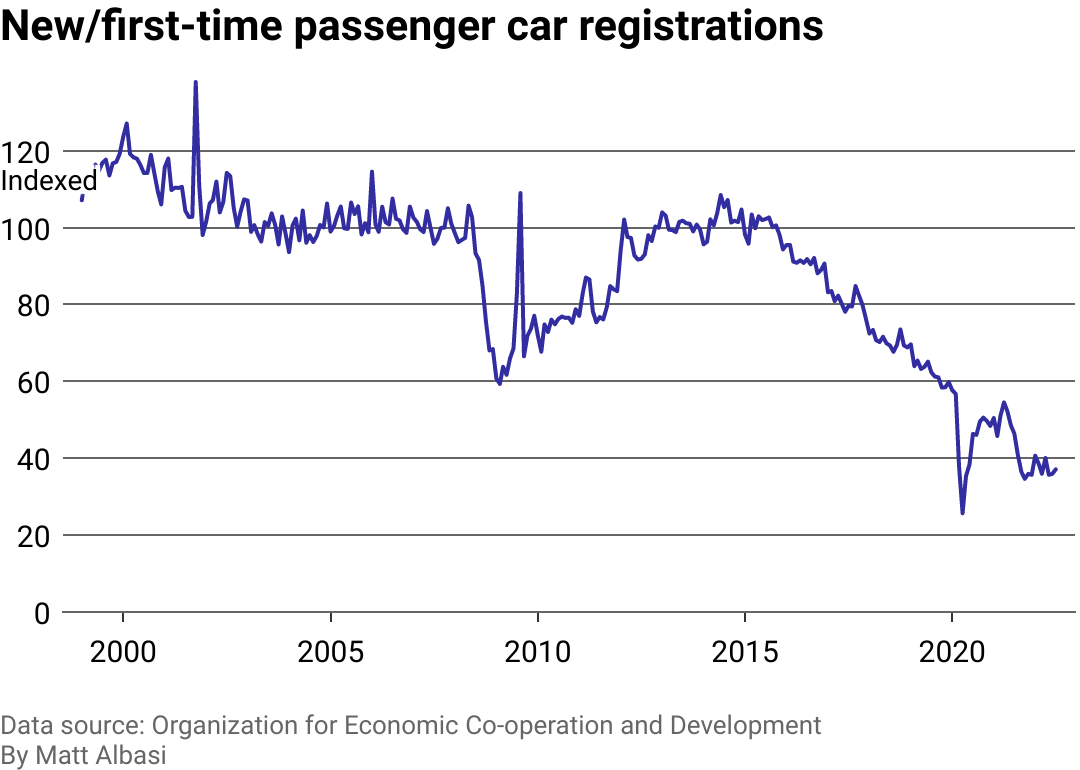 The General
Line chart showing that new passenger car registrations are also trending downward.
New vehicles on the road are a boon for the automotive service industry, which gains a larger market of potential customers with each new Toyota Corolla and Ford Bronco. Inventory crunches on dealership lots that began in 2021 have given way to rising prices, fewer new vehicle sales, and fewer passenger cars being registered in each state.
This story originally appeared on The General and was produced and
distributed in partnership with Stacker Studio.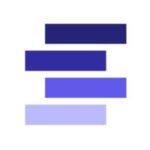 Founded in 2017, Stacker combines data analysis with rich editorial context, drawing on authoritative sources and subject matter experts to drive storytelling.
How spending at department stores has changed in the last three decades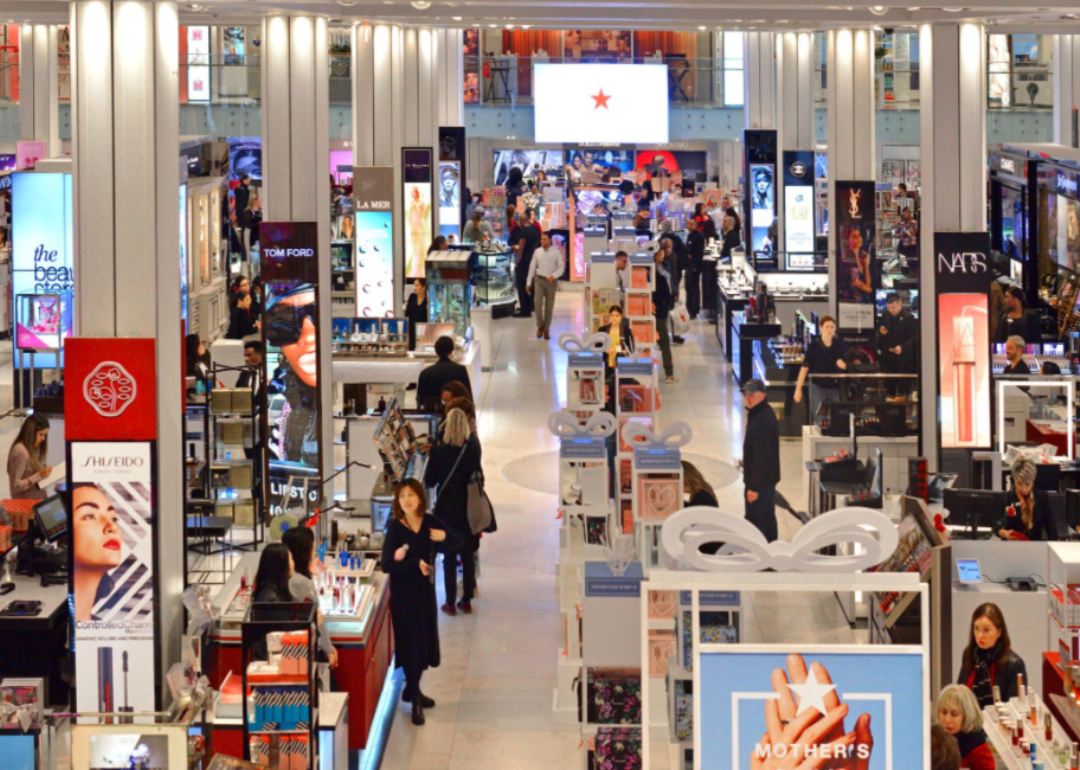 Long before there were e-commerce retailers with next-day shipping, buy-now-pay-later financing, and advertisers tracking every click, there were department stores with friendly human associates and layaway services.
The U.S. Census Bureau defines department stores as retailers "that have separate departments for general lines of new merchandise, such as apparel, jewelry, home furnishings and toys, with no one merchandise line predominating." For decades, the department store model ruled retail, but as consumer habits shifted away from shopping malls, its popularity waned. Americans have been increasingly shopping online, a trend accelerated by the pandemic, which has led to decreased spending at most types of brick-and-mortar stores.
As a result, many big-name department stores struggled through the 2000s, and after the pandemic started, many big-name retailers had to file for bankruptcy protection. A number of established department store brands still standing today have reestablished themselves post-bankruptcy as updated, modernized versions of their old selves.
Take Nordstrom, for example. The department store spent recent years consolidating retail space and corporate structure, developing artificial intelligence that recommends customized outfits, and implementing "buy online, pick up in store" options—a purchasing method that's become the brand's most profitable consumer channel. But as a new chapter in retail shopping opens, it's still unclear how fast large brands like Nordstrom can continue adapting to changing consumer habits and tastes.
To better understand how department store sales have changed over 30 years, Experian examined data from the Census Bureau's Advance Monthly Retail Trade Survey to analyze retail habits and trends. Since its inception in 1992, the survey has estimated monthly sales for retail and food service companies based on surveys completed by retailers with at least one or more physical stores that sell items directly to consumers.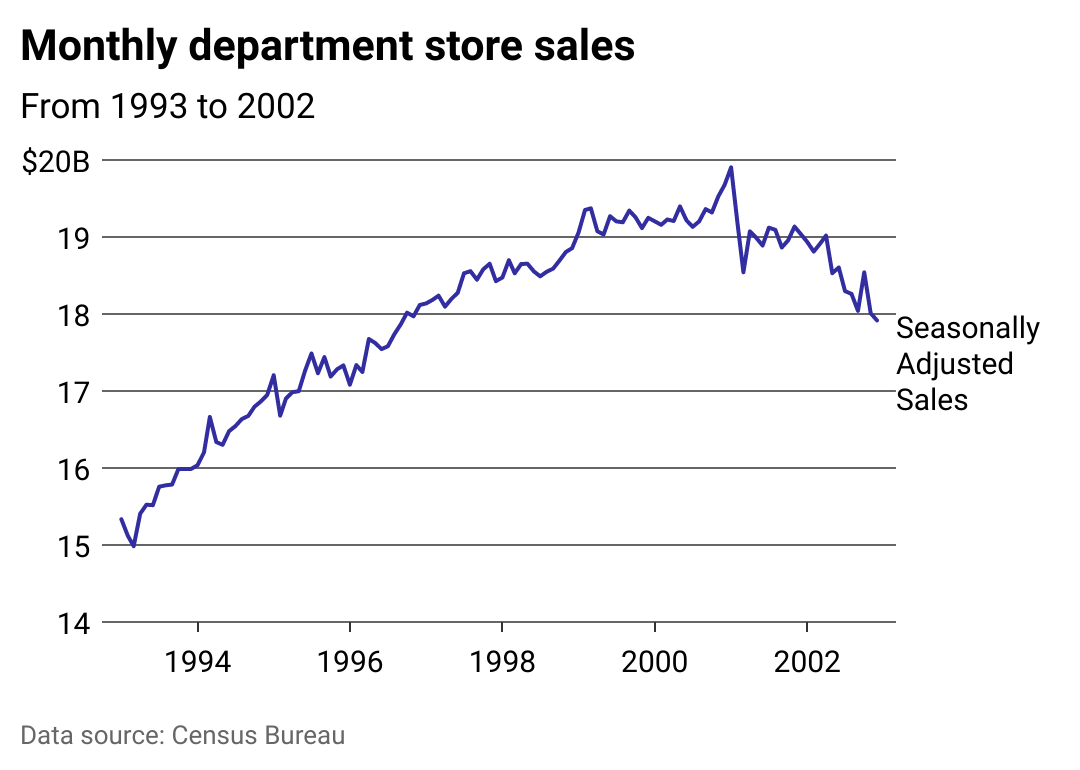 Experian
Department store spending grew in the 1990s, peaked in early 2000s
The popularity of department stores—multistoried, all-under-one-roof retailers that often anchored shopping malls in suburbs across the country—boomed through the 1990s. Spending peaked in January 2001 at $19.9 billion in sales. That same year, Sears was on a growth tear, easily outpacing its bankrupt competitor Montgomery Ward.
Montgomery Ward had failed to fend off a rising Sears in the late 1900s, and Sears absorbed much of the retailer's employee base and store footprint a century later in the early 2000s. However, while Nordstrom continues to thrive, Sears, Roebuck and Co. filed for bankruptcy in 2018.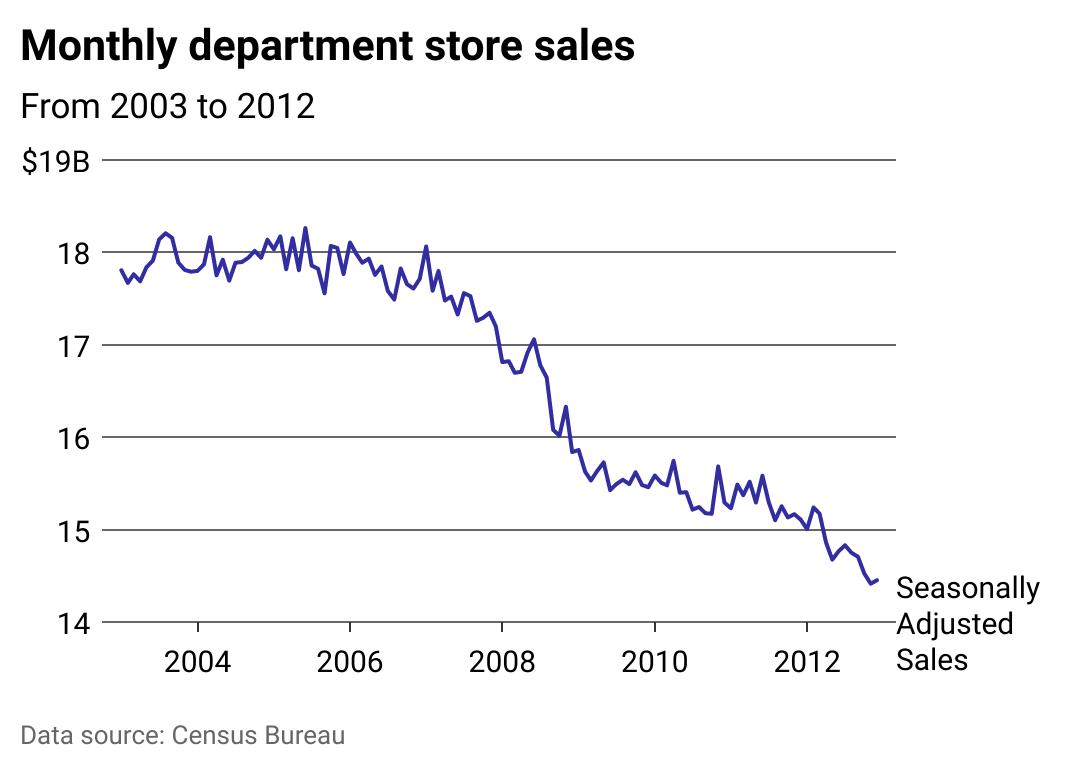 Experian
Retail spending began to decline in the late 2000s
Throughout the 2000s, spending at U.S. department stores steadily declined. This decline was exacerbated by the 2007-08 financial crisis, during which time many department stores, such as Hecht's in the mid-Atlantic and South, consolidated with regional brands after getting bought out by more successful retailers. Others, like Pennsylvania-based Boscov's, threw in the towel and filed for bankruptcy protection.
By 2008, the holiday shopping season began not with a bang but a disappointment: At the time, experts deemed November 2008 to be the worst month in 35 years for retail sales. Department stores took it on the chin, seeing the most significant declines in spending compared with retail peers.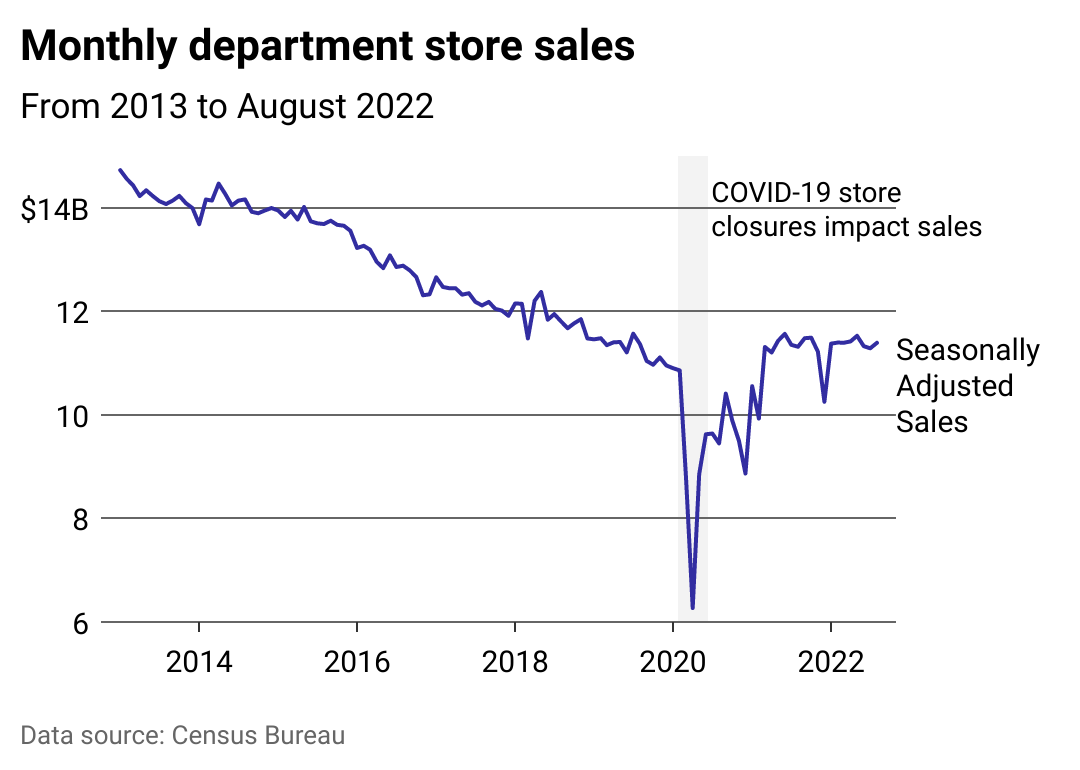 Experian
Spending declines continued in the 2010s, more retailers shutter during pandemic era
The pandemic was the final blow for many longtime industry heavyweights.
The end was already near for Century 21, Stein Mart, Lord & Taylor, Stage Stores, Neiman Marcus and JCPenney—all of which filed for bankruptcy in 2020.
Spending at department stores had declined throughout the 2010s, but the brick-and-mortar storefronts anchoring malls quickly became ghost towns as consumers stayed home. The country entered a two-month recession that ended in April 2020, a short but deep disruption during which millions lost their jobs. Some retail stores temporarily stopped or restricted in-person shopping in accordance with public health recommendations. In 2020, clothing manufacturers shuttered their production for more than a month on average as they scrambled to implement new safety protocols and find workers and supplies to make garments.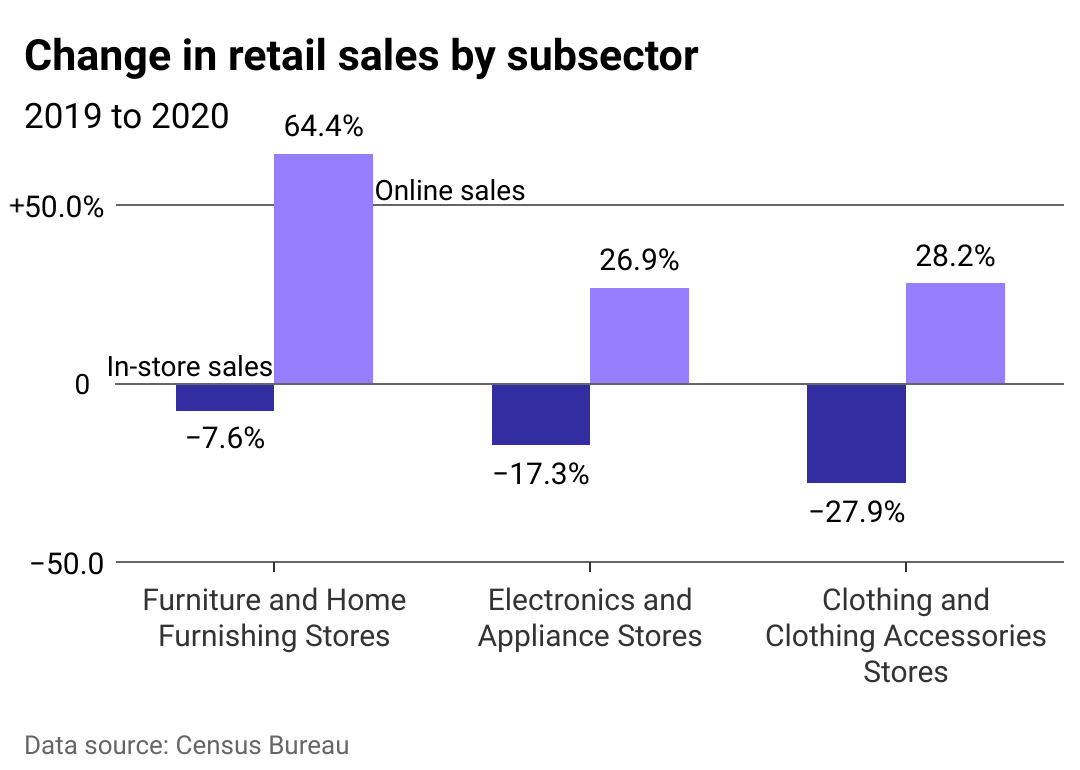 Experian
Shoppers turned to online shopping during pandemic
In 2020, consumers spent far less time shopping in person: This affected retail sales in clothing, electronics and furniture stores. The lack of consumers forced retailers with a presence in the e-commerce space to rapidly expand inventories to meet demand. But as buyers return to malls and in-person shopping, some online retailers like Wayfair and Shopify are worried that a weak winter shopping season may decelerate online retail growth.
This year's holiday season represents an interesting litmus test to determine whether in-person shopping can see a strong return.
This story originally appeared on Experian and was produced and
distributed in partnership with Stacker Studio.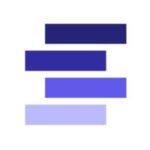 Founded in 2017, Stacker combines data analysis with rich editorial context, drawing on authoritative sources and subject matter experts to drive storytelling.
States where truck drivers make the most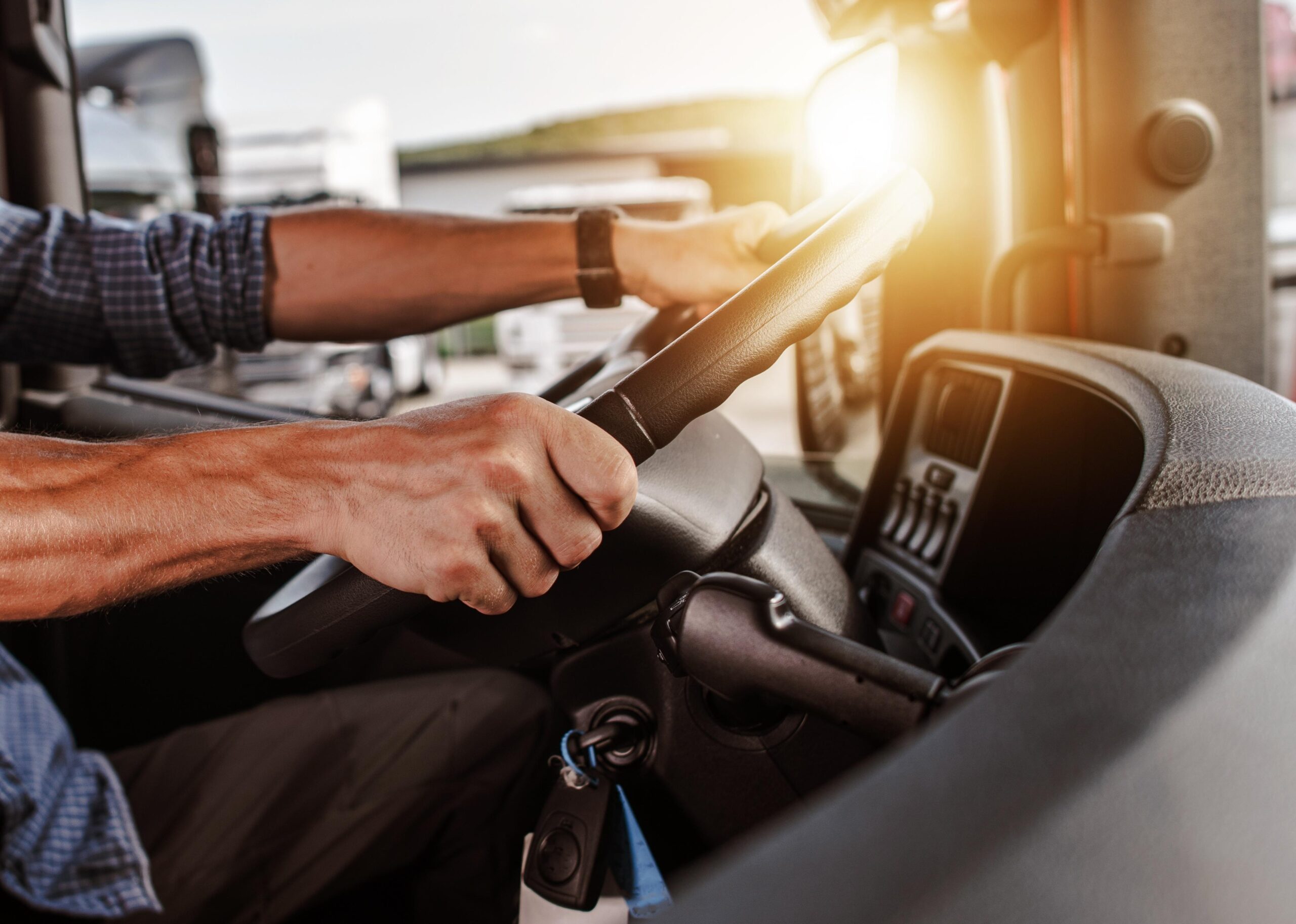 Take a look behind the sales, logistics, and supply chain networks that underpin the American economy and keep it running, and you'll find truck drivers. In 2021, the trucking industry moved 72% of all freight transported in the U.S.—totaling 10.93 billion tons of goods—according to the American Trucking Associations, the industry's trade association. There were also 3.49 million truck drivers employed in 2021, a 3.7% increase from the previous year.
The median pay for heavy and tractor-trailer truck drivers nationwide was $23.23 per hour in 2021, according to Bureau of Labor Statistics data. That equates to a little more than $48,000 per year based on a 40-hour work week, although most semi drivers work significantly more hours. The pay for a private fleet driver rose to more than $86,000—up nearly 18% from $73,000. However, some industry observers point out that when the pay is adjusted for inflation, salaries for truck drivers have dropped significantly since the 1970s.
To help explain what all this means for the future of trucking, Truckinfo.net used BLS data to find and compare the median hourly pay for heavy and tractor-trailer truck drivers in each state. Here's a look at what parts of the country are proving to be the most lucrative.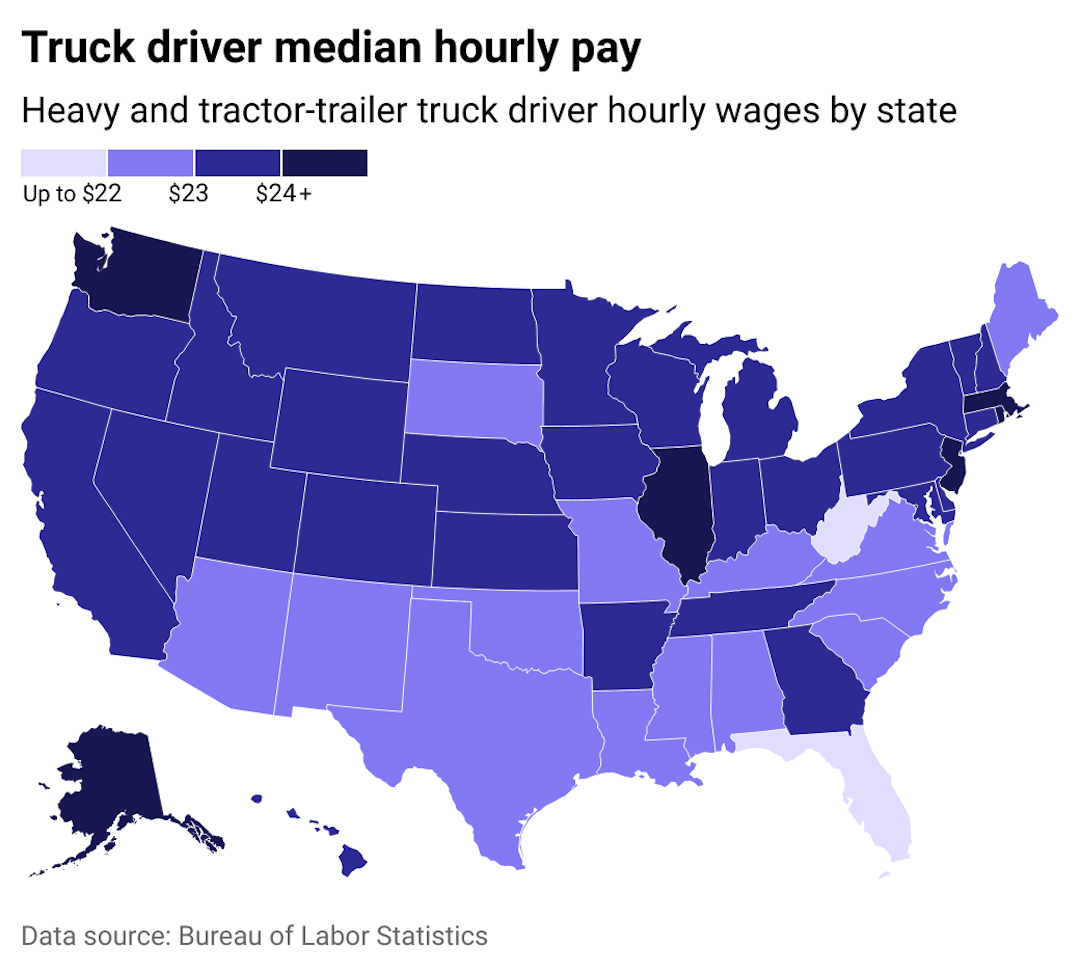 Truckinfo.net
Truck drivers in most states make $22 to $24 per hour
Truck drivers in the United States are well compensated compared to other jobs that require only a high school education. The median pay is $23.23 an hour, compared to the $18.42 average for workers with only a high school diploma.
Truck drivers have been in especially high demand since the start of the coronavirus pandemic, according to the American Trucking Associations. As a result, trucking fleets are offering extraordinarily higher pay to attract and keep drivers. Weekly earnings have jumped five times their historical average and are up by more than 25% for long-haul, truckload drivers since the start of 2019. Drivers are also being offered thousands of dollars in sign-on bonuses and full benefits such as paid leave, health insurance, and 401(k) retirement funds.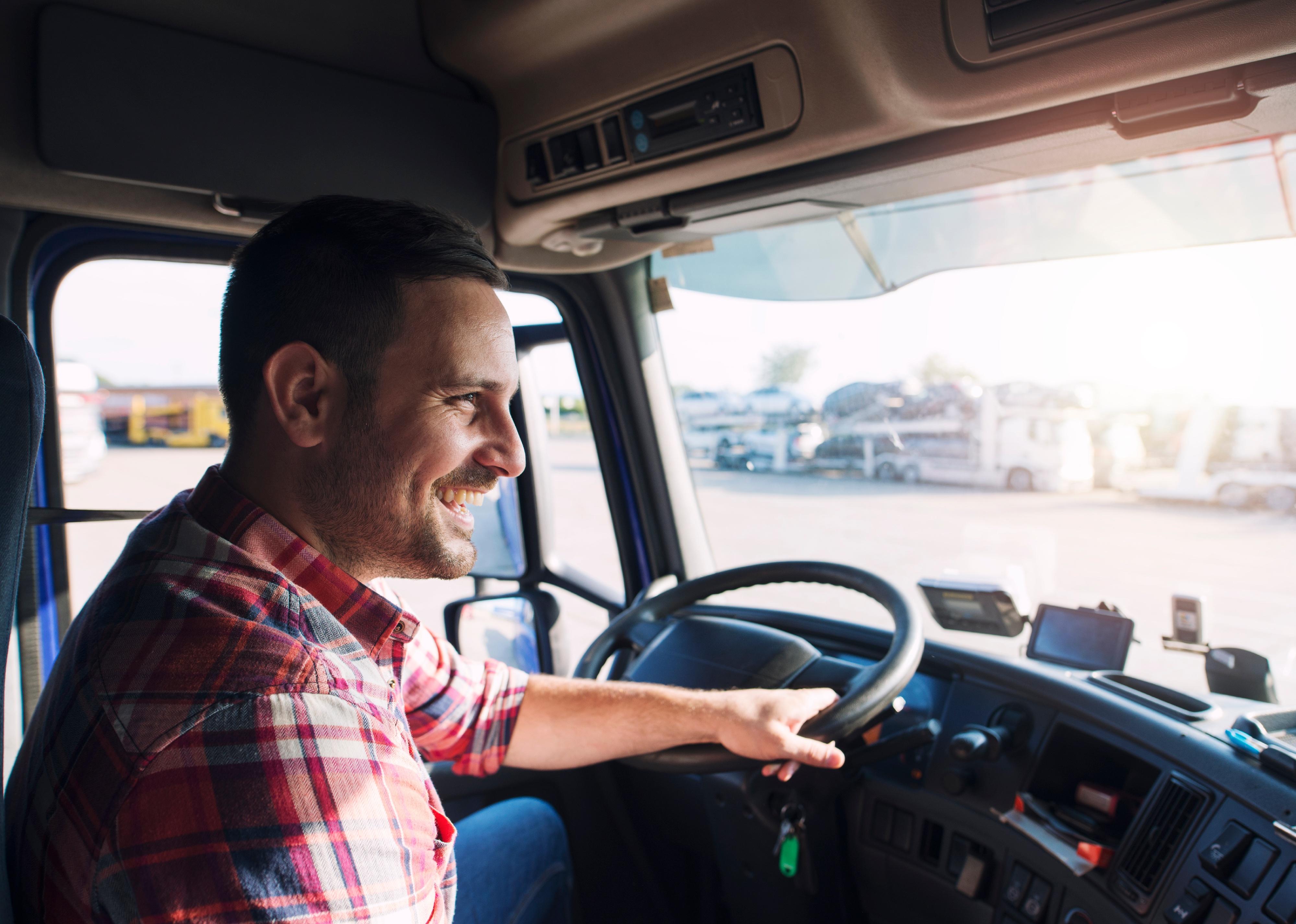 Aleksandar Malivuk // Shutterstock
Where drivers made the most
Truck drivers are paid the most in Washington D.C. and Alaska, followed by Washington state and New Jersey. However, there are far fewer drivers in the District of Columbia and Alaska— 620 and 3,020—compared to 34,510 and 44,800 in Washington state and New Jersey. The lowest-paying states are West Virginia, Florida, Alabama, and Virginia.
Despite the demand and the range of benefits offered, one economist noted there is a serious shortage of drivers, blaming a combination of increased demand for freight, shrinking labor due to early retirements related to the pandemic, and closed driving schools. Others blame loneliness, on top of the job's physical and emotional toll, as a reason for fewer truck drivers in the industry.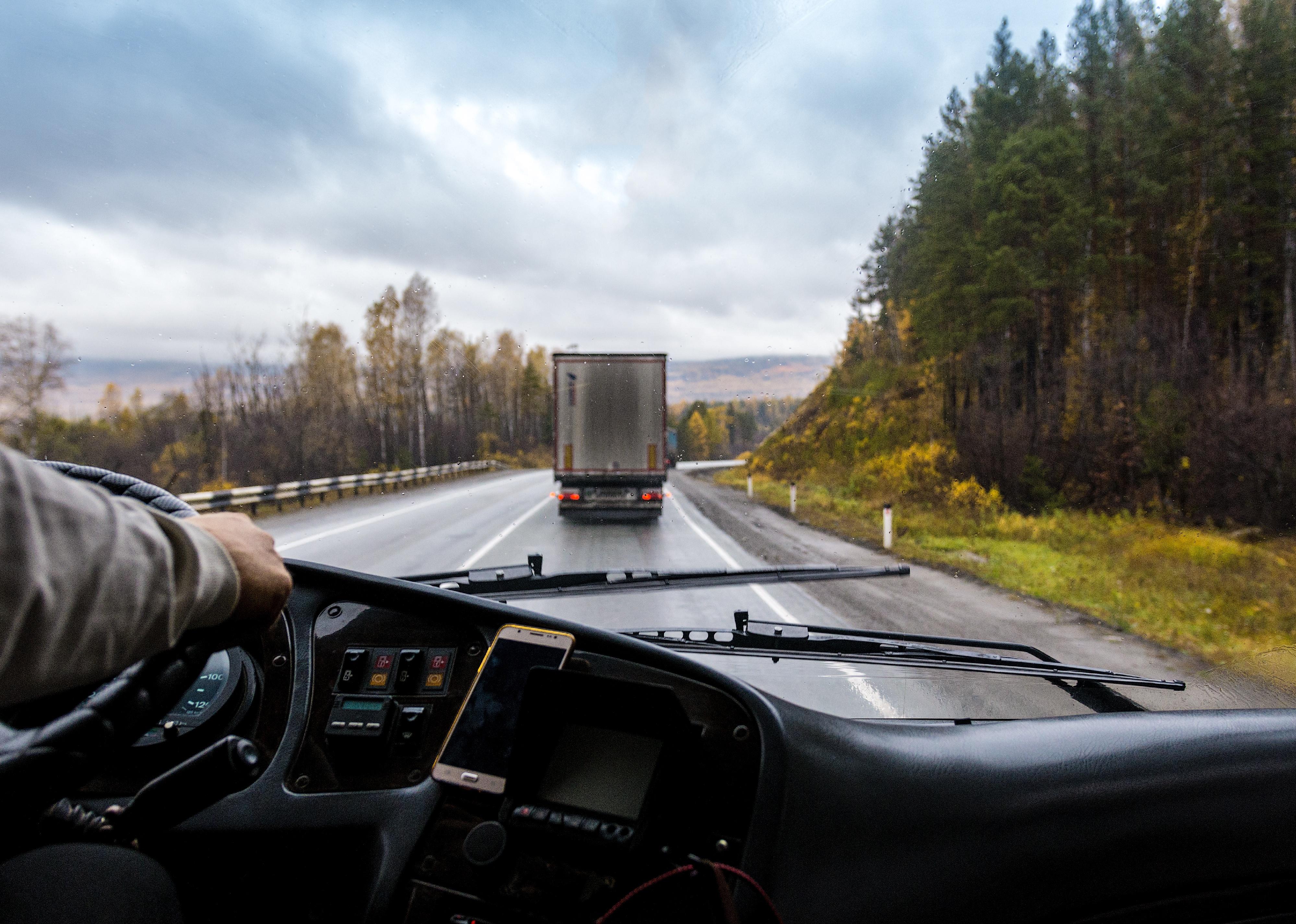 Evgeny Pyatkov // Shutterstock
Requirements and training
Heavy and tractor-trailer truck drivers typically have a high school diploma and completed training at a professional truck driving school. At these schools, they get hands-on training learning to maneuver big rigs on highways and through streets. They are also taught federal laws and regulations concerning interstate truck driving.
For professional training, students can choose between a private school or a community college program that usually lasts between three and six months. Truck drivers need to have a commercial driver's license, a clean driving record, pass a physical exam every two years, and submit to random testing for alcohol or drug abuse.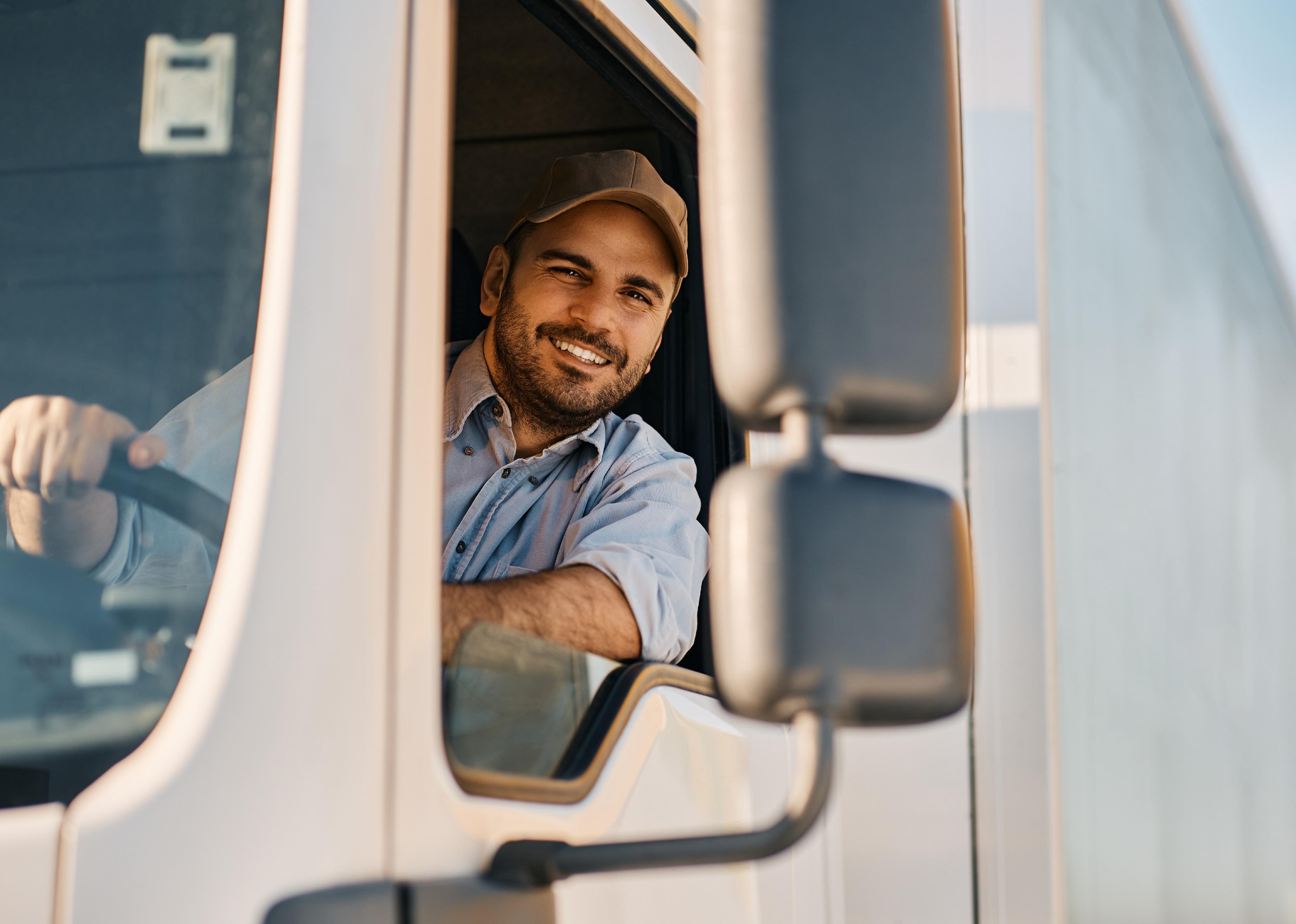 Virrage Images // Shutterstock
Job outlook
Some in the industry believe the deregulation of the truck driving industry during the Carter administration has had an adverse effect on pay throughout decades. Still, employment of heavy and tractor-trailer truck drivers is expected to grow 4% through 2031, a pace that is about the average for all occupations.
Over the decade, an average of about 259,900 openings for heavy and tractor-trailer truck drivers have been available each year, according to the BLS. Many of the openings are to replace workers who move to different occupations or retire. Truck driving remains a solid profession for many to enter the middle class without the need of an expensive four-year college degree.
This story originally appeared on Truckinfo.net and was produced and
distributed in partnership with Stacker Studio.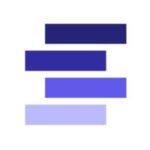 Founded in 2017, Stacker combines data analysis with rich editorial context, drawing on authoritative sources and subject matter experts to drive storytelling.