Bank of Japan keeps easing policy despite US, Europe rate hikes
The Bank of Japan on Friday stuck to its long-held monetary easing policy even as other central banks around the world hike interest rates to tame inflation.
But it said it would "pay due attention" to foreign exchange markets, a rare comment that comes after the yen hit a 24-year low against the dollar.
In a statement following a two-day policy meeting, the BoJ kept in place its rate of minus 0.1 percent — part of a decade-old action plan aimed at boosting the world's third-largest economy — bucking pressure to address the impact of a weaker yen.
Its decision runs counter to a global tightening trend to tackle sky-high fuel and food prices linked to the war in Ukraine and supply chain snarls.
Global interest rate hikes have been led by the US Federal Reserve, which this week announced its most aggressive increase in nearly 30 years, and signalled more ahead in a battle to drive down inflation.
The European Central Bank also plans to start a series of rate increases next month, while the Bank of England announced a fifth straight increase on Thursday and Switzerland surprised markets with its own increase, the first since 2007.
The widening chasm between Japanese and US monetary policy has pushed the yen to its lowest level against the dollar since 1998, a cause for increasing concern that even the central bank made reference to.
"It is necessary to pay due attention to developments in financial and foreign exchange markets and their impact on Japan's economic activity and prices," the BoJ said, in an unusual reference to forex movements.
After the announcement, one dollar bought 134.23 yen, up from 133.41 yen earlier in the day.
Inflation has been rising for months in the United States and elsewhere as buoyant demand for homes, cars and other goods clashes with supply chain snarls in parts of the world where Covid-19 has been, or remains, a challenge.
The problem got dramatically worse after Russia invaded Ukraine in February and Western nations imposed steep sanctions on Moscow, sending food and fuel prices up at a blistering rate.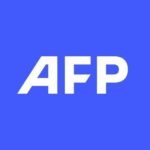 With 2,400 staff representing 100 different nationalities, AFP covers the world as a leading global news agency. AFP provides fast, comprehensive and verified coverage of the issues affecting our daily lives.
Americans' pandemic-era entrepreneurial streak is holding strong—for now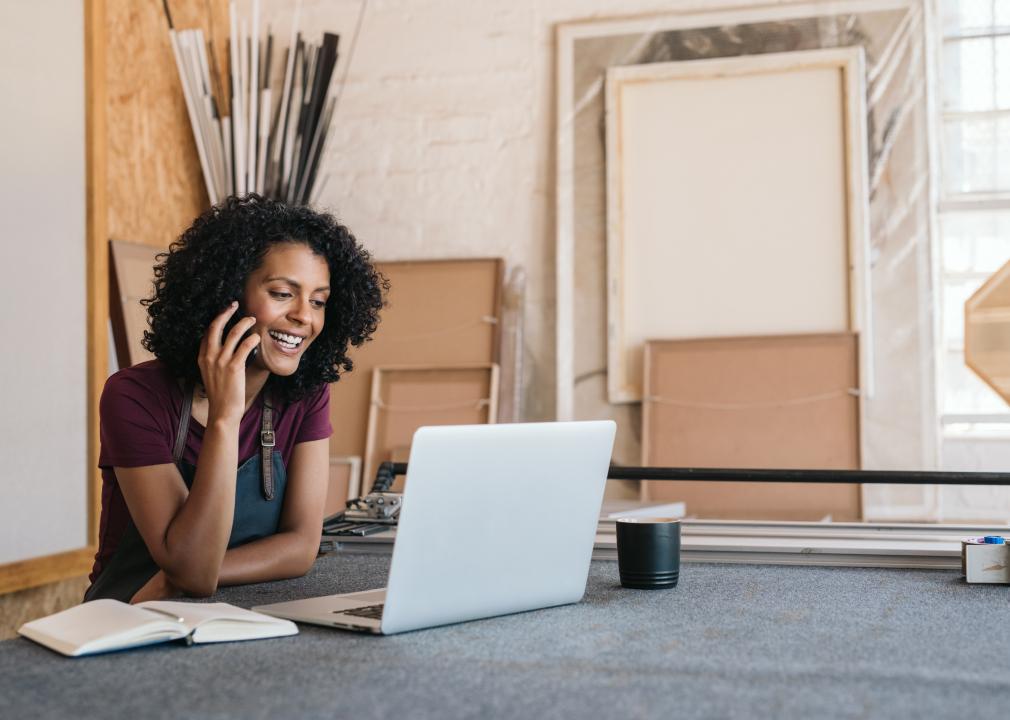 Inflation has nothing on the American entrepreneurial spirit, which, judging by the volume of new businesses formed, continues to see potential in the post-pandemic economy.
To better understand the post-COVID-19 outlook for entrepreneurship in the U.S., altLINE analyzed data and reports from the National Bureau of Economic Research and the Census Bureau. The data shows that Americans are on track through July of this year to submit 54% more applications to start new businesses compared to the same period in 2019, before the onset of the pandemic.
New business applications soared initially at the start of the COVID-19 pandemic as brick-and-mortar businesses were forced to close their doors in compliance with local social distancing mandates. Stores saw business plummet and many were never able to reopen their doors, even as public health restrictions eased. The seismic shift in shopping habits spurred many Americans to start new business ventures at rates not seen since before the Great Recession, when the U.S. consumer took a hit from one of the deepest recessions on record.
As the current economic situation puzzles economists who debate whether a recession may be in the future, the continuing creation of businesses could mitigate some of the pain of a slowing economy.
Studies have suggested that the growth of the smallest businesses can help an economy's resilience. Young, tiny companies, sometimes called "microbusinesses," reduce local unemployment rates in their communities and have been related to rising household incomes, according to GoDaddy's July 2021 Venture Forward Report.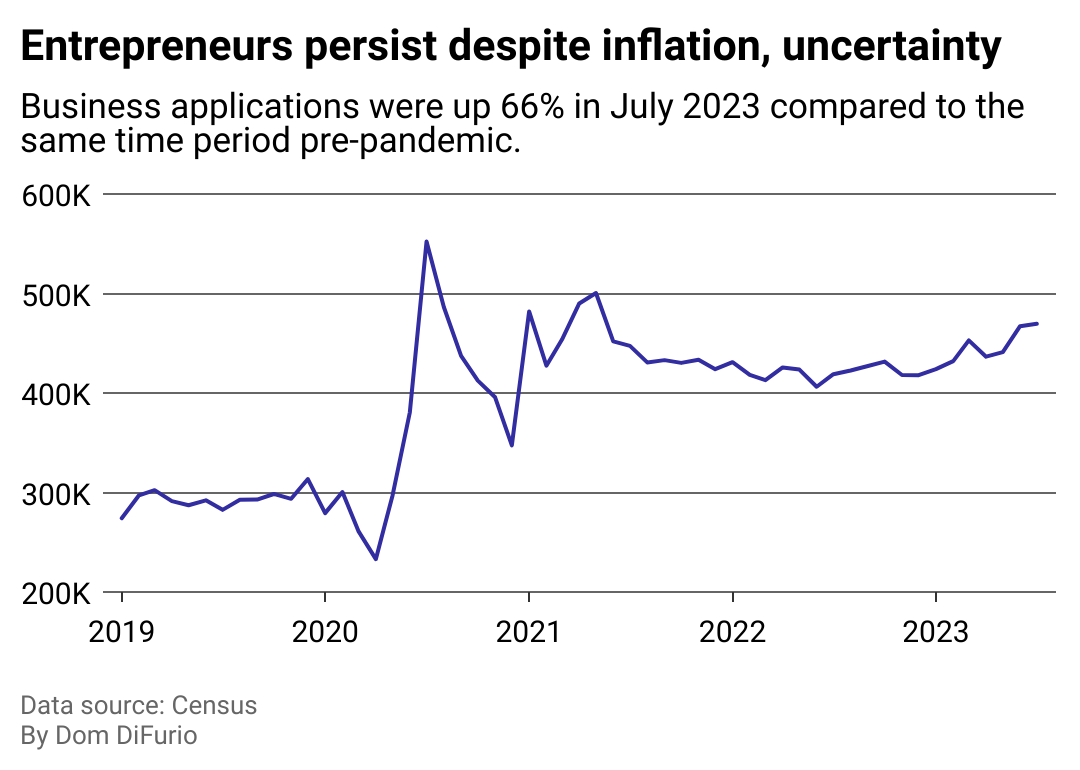 altLINE
COVID-19 recession provides shot in the arm
Advancements in technology made it easier for business owners to set up and run online storefronts and services. Leading up to 2020, ecommerce platforms integrating new technology for enhanced shopper experiences provided a critical foundation for the spike in new businesses. As Americans stayed at home during the height of the pandemic, they shopped online for everything from personal care to groceries. Ecommerce sales nearly doubled in 2020, jumping by 43% to a whopping $815 billion in annual retail sales. Thousands in stimulus checks also did their part to keep Americans afloat—and spending. On top of those factors, interest rates for loans to buoy new companies and purchase real estate were at historic lows.
In the first year of the new business surge, retailers in the fashion space made up the lion's share of new small businesses, according to the GoDaddy Venture Forward Report.
Today, those new business owners face a much more expensive economy. Costs for labor, gas, clothing, food, and other critical inputs for businesses have risen considerably since 2020.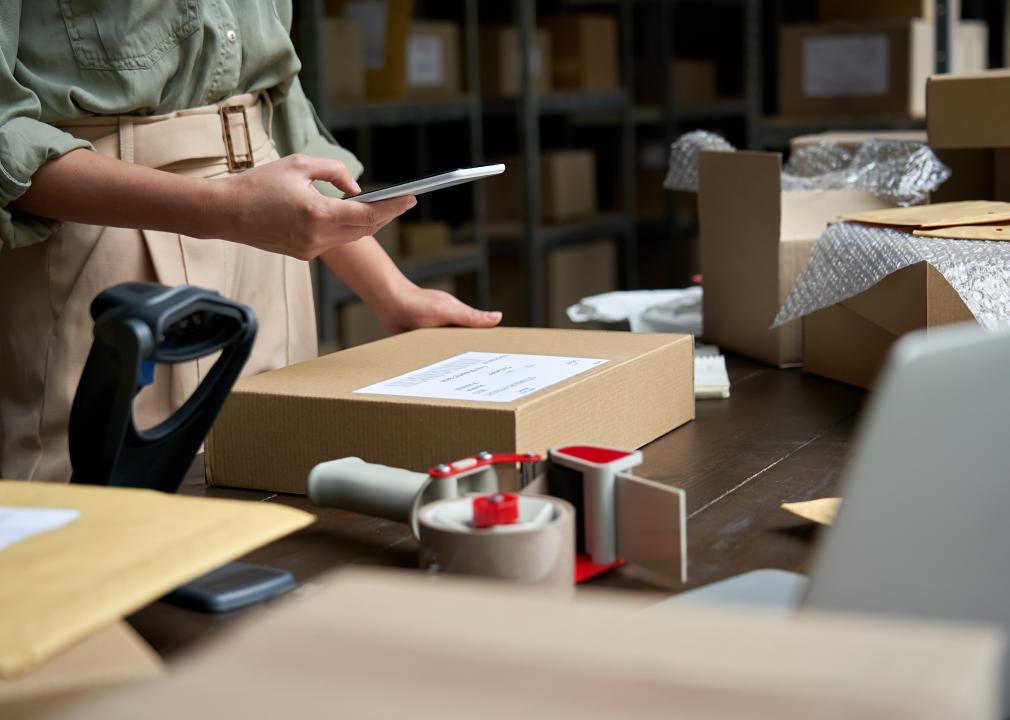 Ground Picture // Shutterstock
New business class faces considerable headwinds
The typical new business faces its most difficult time in its first years of operation. Historically, 4 in 5 new businesses make it beyond their first year, according to Bureau of Labor Statistics data. But the odds of survival dwindle in each subsequent year of operation. Based on trends, just 1 in 2 businesses created in 2020 will likely survive beyond 2025.
The entrepreneurs looking to survive now face mounting headwinds in the face of rising interest rates, which has made borrowing money more expensive for both consumers and small business owners.
For small businesses seeking venture funding, seed-stage venture capital has stagnated as the venture capitalist ranks have grown wary of investing in early-stage companies. For those seeking loans, the cost of borrowing money today is at its highest since 2001, when the tech bubble burst, throwing the U.S. into recession.
Story editing by Ashleigh Graf. Copy editing by Kristen Wegrzyn.
This story originally appeared on altLINE and was produced and
distributed in partnership with Stacker Studio.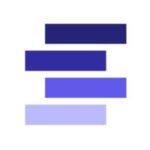 Founded in 2017, Stacker combines data analysis with rich editorial context, drawing on authoritative sources and subject matter experts to drive storytelling.
Robots are starting to deliver takeout orders. Are they here to stay?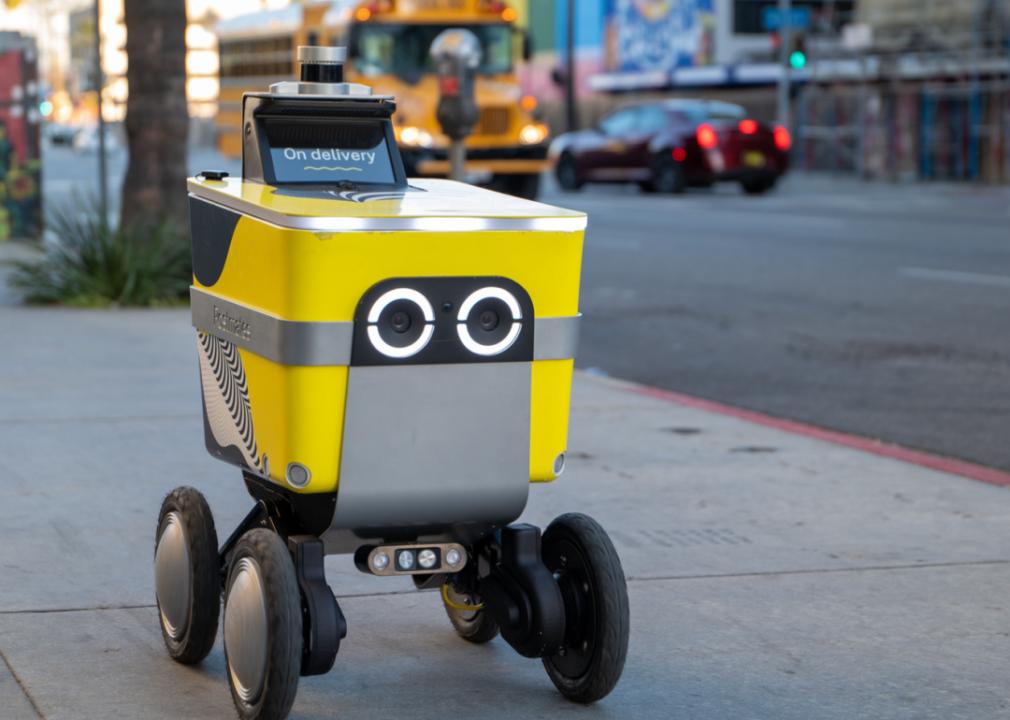 In a March 2023 Deloitte survey, 47% of Americans said they would order from a restaurant that delivers food with a drone or an autonomous vehicle. That's up 3 percentage points from the company's 2021 survey about restaurant trends.
In that first survey, researchers noted there was "massive uncertainty in the industry, and many worried that restaurant patronage might never recover" from the COVID-19 pandemic. It found that two-thirds of consumers believed they would not immediately return to their pre-pandemic restaurant habits.
In 2023, most restaurant customer behavior is back to normal—though some changes have blended into the industry's practices. Task Group analyzed the state of autonomous delivery systems, both nationally and internationally, to measure the progress of this technology post-pandemic.
As with other industries, technology has helped maximize efficiency and improve customer satisfaction. Business owners learned new service methods, marketing strategies, and technical terminology. Food delivery skyrocketed during lockdowns, making greater strides in restaurant efficiency and, in some cases, profits. Many restaurant owners connected apps that allowed customers to order without talking to a human to state-of-the-art delivery systems that don't require a driver.
Restaurants and transportation companies in North America and Europe are experimenting with new automated delivery techniques that can reduce their costs as long as they do not compromise customer satisfaction. And consumers are ready—but how soon will it become standard practice?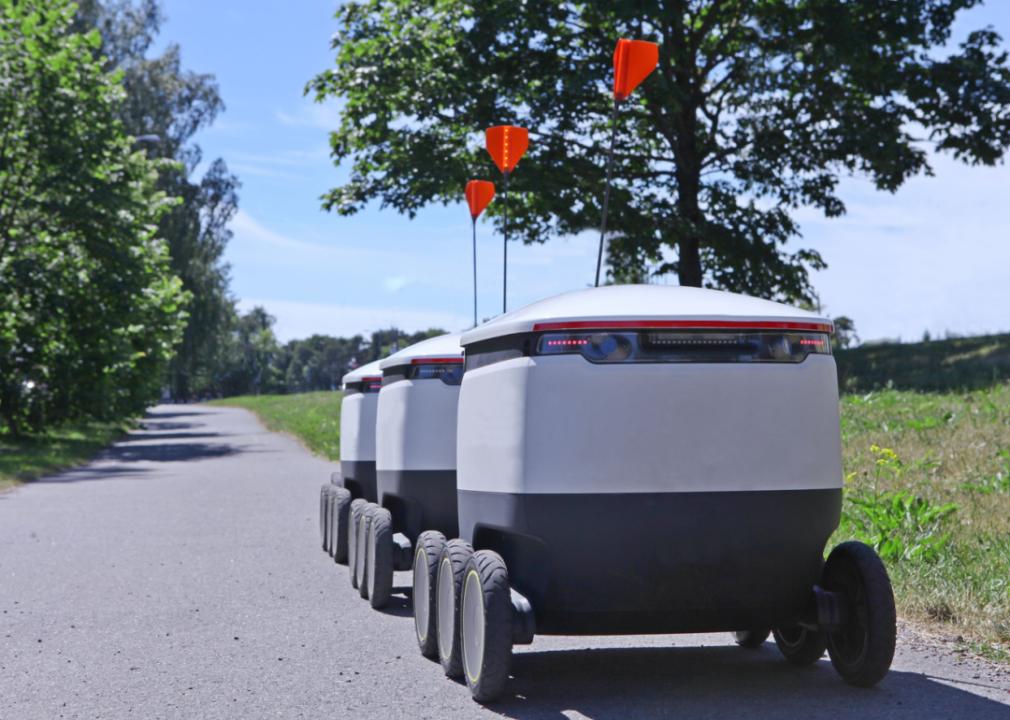 Julija Sh // Shutterstock
What are drones and sidewalk delivery vehicles?
The robots most commonly used in the food delivery industry are aerial drones and wheeled autonomous delivery vehicles that travel along sidewalks to reach customers.
Drones are classified by how they generate lift—with fixed wings, rotors, or a combination—by how they're used, such as food delivery, and what equipment they have on board, including batteries and cameras.
In the U.S., the Federal Aviation Administration regulates drone use. The agency requires pilots to be certified—and bans drones within five miles of airports.
For many years, the FAA stood in the way of companies seeking to use drones for deliveries, but in 2019, the agency agreed to allow uncrewed delivery flights beyond the pilot's line-of-sight by UPS and Wing Aviation, owned and operated by Google's mothership Alphabet. Since then, the agency has approved drone delivery operations for several companies, including Amazon and Walmart.
According to a study published by the Harvard Kennedy School in 2022, autonomous delivery vehicles are not the future. They're already here. Self-driving machines about the size of a large cooler are already traveling down our sidewalks and crosswalks to deliver various packages.
Policymakers question how these vehicles will work and interact with people and other vehicles in already congested and chaotic urban environments. The Harvard researchers believe these vehicles "offer the promise of less congestion and greener shipments," but also "raise concerns about safety and use of road and sidewalk infrastructure."
While the debate continues, the manufacturers of these robots continue to advance their technology, including using machine learning to improve navigation, efficiency, and safety.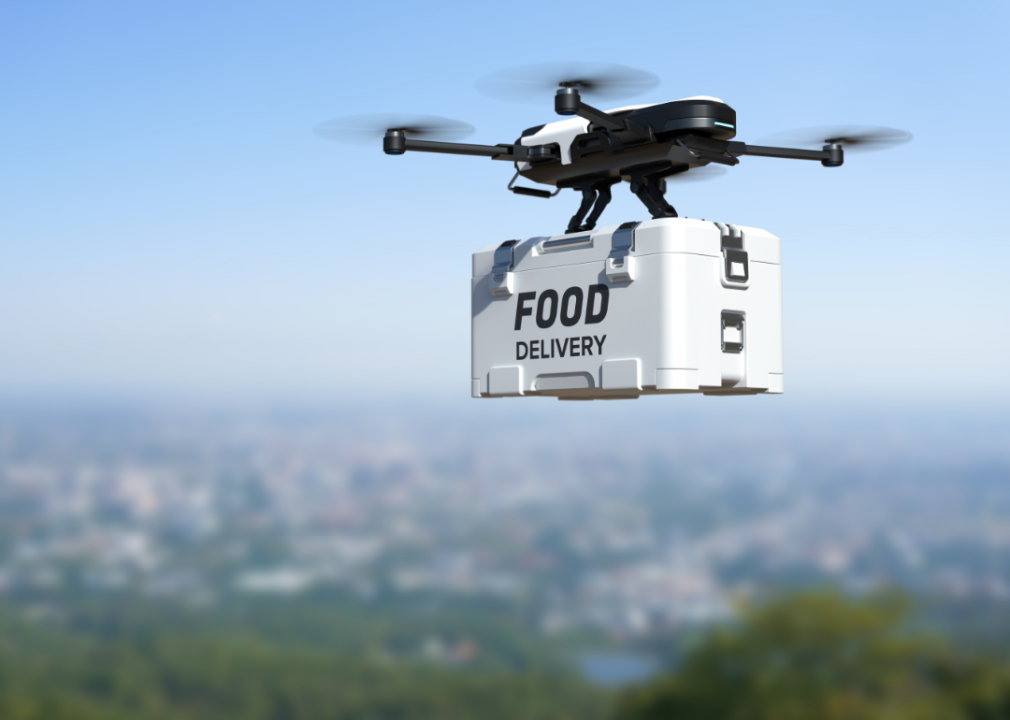 Canva
How far off are drone or sidewalk deliveries?
Estonia-based delivery startup Bolt, working with Starship Technologies, has been trialing sidewalk deliveries in Estonia, the U.K., and the U.S. and plans to formally launch robot deliveries later this year in as many as 500 cities in 45 countries.
Bolt's main competitor, Uber, signed a deal in 2022 with autonomous vehicle startup Nuro "to test driverless food deliveries" in Mountain View, California, and Houston, Texas. Before the agreement, Uber ran a pilot program for sidewalk delivery in Los Angeles, while Nuro delivered Domino's pizzas in specific areas of Houston for a year. 
Story editing by Jeff Inglis. Copy editing by Kristen Wegrzyn.
This story originally appeared on Task Group and was produced and
distributed in partnership with Stacker Studio.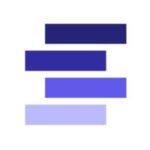 Founded in 2017, Stacker combines data analysis with rich editorial context, drawing on authoritative sources and subject matter experts to drive storytelling.
AI "superusers" seek education, fun, and productivity with generative AI
A look at two separate studies by Sparktoro and Salesforce on people's generative AI use.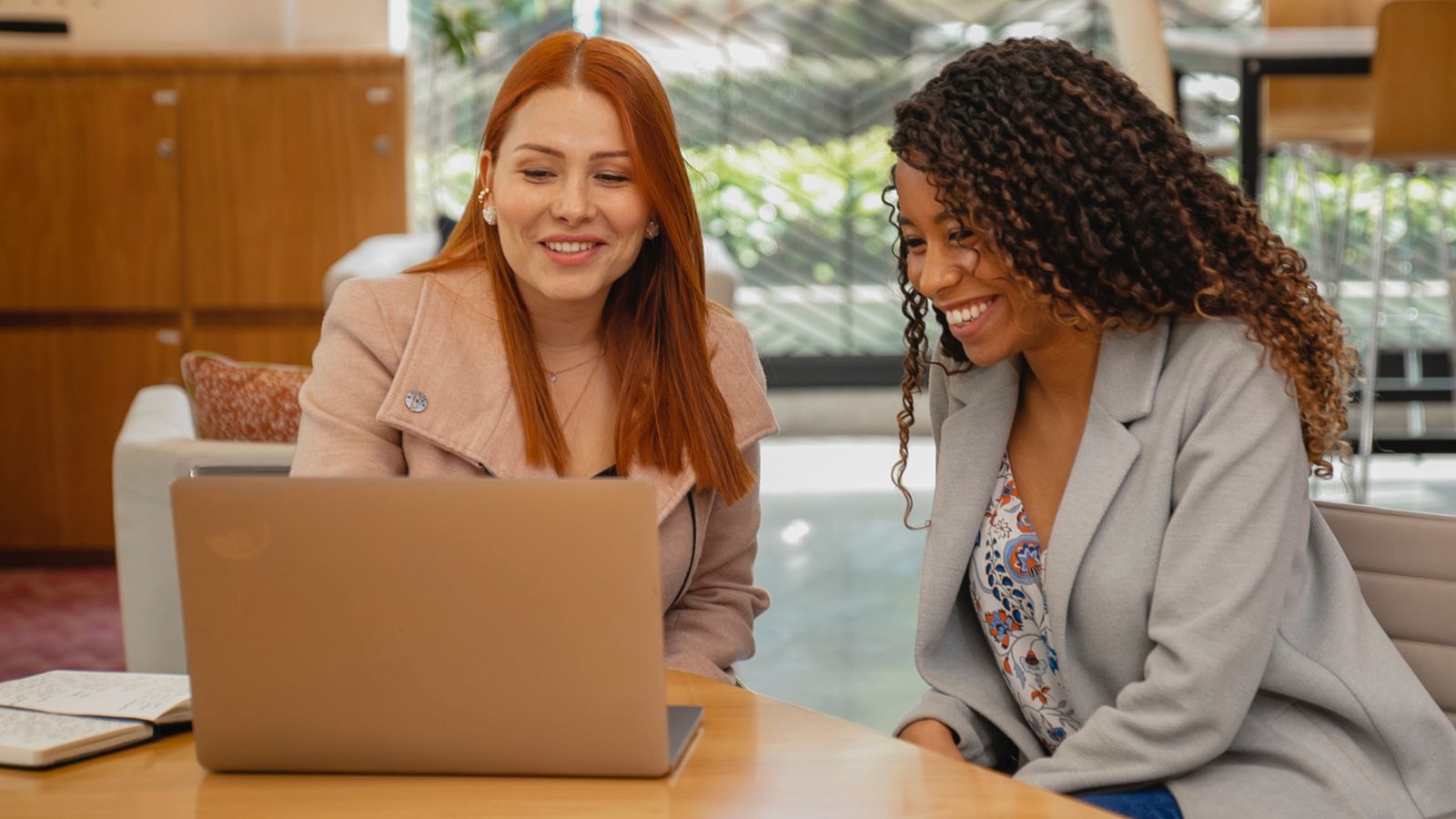 Maybe it was through your job. Or simply out of curiosity.
With the rise of generative AI, you've probably tried out ChatGPT or a similar tool. But how often are people using these? More interestingly, what motivates them? Both Salesforce and SparkToro sought to find out with two separate studies.
Here are highlights from each report and how they compare:
Work automation and educational pursuits top priorities for AI users
Both Salesforce and SparkToro can agree on this. SparkToro highlighted professional use of the platform as at an "all-time high," then ranked categories of interest across over 4,000 ChatGPT prompts with these in the top 5:
Programming: 29.14%
Education: 23.30%
Content: 20.79%
Sales and Marketing: 13.47%
Personal & Other: 6.73%
Salesforce found that 75% of generative AI users are motivated by streamlined work communications and task automation. The second highest topic of interest? Technically "messing around" (38%), though a close third was learning and education (34%). Both SparkToro and Salesforce posit that education doesn't just include homework or university coursework—users also use tools like ChatGPT to develop knowledge of other desired educational topics.
Younger generations more likely to use AI than older ones despite general decline in usage
Salesforce surveyed 4,000 people to find out how they use generative AI and what their demographics are. Turns out, most "superusers" — aka those who use the tool every day — are Millennials or Gen Zers (65%). Plus, 70% of the Gen Z participants surveyed said they use generative AI.
Still, SparkToro notes an overall decline in generative AI use regardless of age. After studying monthly traffic data on OpenAI provided by Datos, SparkToro found overall traffic fell by nearly 30%.
Users ask ChatGPT to write, create, and list
These were the top three common words in SparkToro's assessment in ChatGPT prompts. However, they also share a notable prevalence of the words "game" and "SEO in prompts as well. Other words less commonly used yet enough to come up in the results included judge, SaaS pricing, curriculum, employment, and employer.
Read the SparkToro report here and the Salesforce report here.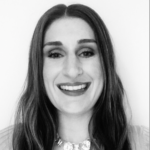 Veronica Ott is a freelance writer and digital marketer with a specialization in finance and business. As a CPA with experience in the industry, she's able to provide unique insight into various monetary, financial and economic topics. When Veronica isn't writing, you can find her watching the latest films!