Bosphorus sea trade unaffected by Ukraine war, sanctions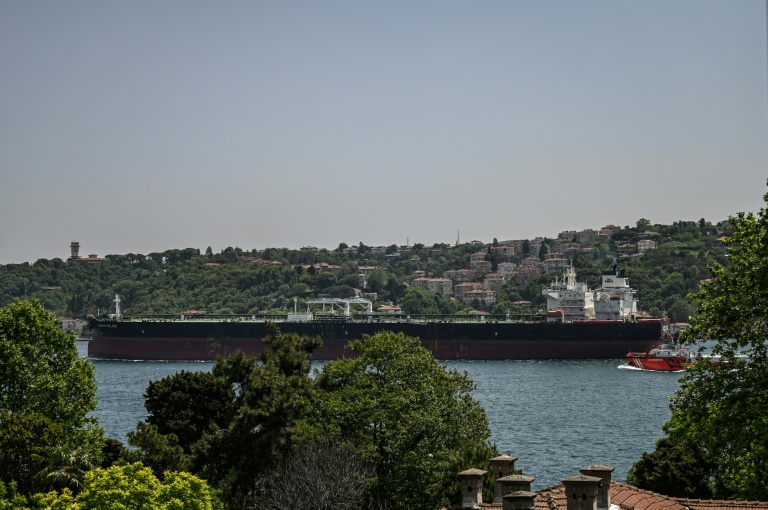 At the gates of the Black Sea, trade is in full swing as freighters and oil tankers sail from the heart of Istanbul to Russian and Ukrainian ports. 
Just after the Russian offensive in Ukraine on February 24 and the first Western sanctions, the largest vessels of international companies plying on these waters were replaced by smaller ships.
The total number of ships on the route remains around the pre-war level of 40,000, according to experts.
"Russia shamelessly steals Ukrainian grain and sends it overseas from Crimea, including to Turkey," said Vasyl Bodnar, Ukraine's ambassador to Ankara.
"In May alone, we counted at least 10 passages including two round trips from three vessels flying the Russian flag… Not to mention those that we would have collectively missed."
From his terrace overlooking the Bosphorus, Yoruk Isik has been a passionate observer of ship movements on this key waterway between the Black Sea and the Mediterranean for a decade now.
While swiftly condemning the Russian offensive in Ukraine, Turkey positioned itself as a neutral mediator and refused to join Western sanctions against Moscow. 
Although Ankara has banned the passage of military vessels through its straits of the Dardanelles and Bosphorus since late February under the Montreux Treaty of 1936, it is not legally entitled to intercept commercial ships or to search them, a diplomatic source said in Ankara.
"We don't follow the ships on their way out of the Straits. We monitor them 10 kilometres before they enter and 10 kilometres after they leave," the source said on condition of anonymity.
Elizabete Aunina, a researcher at Amsterdam University, said: "If we look at the vague words of the Montreux treaty it leaves a lot up for interpretation. 
"It did not foresee that merchant vessels could be carrying stolen goods… Turkey has before showed a certain commitment to stick to the very basic interpretation of the Convention as a way to also protect itself from entering deeper into the conflict".
The European Union imposed an embargo on Russian imports but tankers flying the Greek or Maltese flags are seen sailing through the Bosphorus up to the Black Sea to the Russian ports. 
– Maritime corridors – 
Thanks to real-time tracking applications, a strong network of observers, Russian and Ukrainian activists and satellite images, no vessel escapes Isik's radar. 
"We can see from end to end, where the ship is getting loaded by the ship," he said. 
Some freighters loaded the wheat in Ukrainian ports under Russian blockade such as Odessa, Chornomorsk or Mariupol, he said. 
The destination?  Syria — where Russia retains an operational base — and then Lebanon or Egypt.
Isik also identified a flotilla of old Turkish boats, "never seen before in the area" suddenly appearing under a flag of convenience in the Russian port of Novorossiysk — "likely under contract with the Russian government".
He lists a few names: Kocatepe (now Tanzanian), Barbaros (Equatorial Guinea), Hizir (Malta) and Sampiyon Trabzonsport (Cameroon).
Russian Foreign Minister Sergei Lavrov will visit Turkey on Wednesday to discuss a possible establishment of "sea corridors" — although Ukrainian wheat is being covertly exported to Russia's benefit, according to experts. 
"This is the information we get but we cannot stop, or check, or question the intention of any cargo ship except if we feel a threat to  Turkish peace or security," the diplomatic source said. 
But for Isik who keeps the list of cargo ships belonging to the Russian defence ministry and those of private companies operating on its behalf, "what is happening is unacceptable".
– EU mulling tighter sanctions –
Before the war, Ukraine was on track to becoming the world's third biggest exporter of wheat and many countries in Africa and the Middle East depend on it.
"If Russia exports Ukrainian products, nobody authorises Turkey to stop the vessels," said Yucel Acer, professor of international law at the University of Ankara, adding "unless there is a United Nations resolution" — a futile move as long as Russia holds a veto power in the Security Council.
Without openly admitting it, the European Commission has found holes in the current sanctions regime and is preparing to tighten the screws again, said a source in Brussels.
These foresee a new set of sanctions targeting Moscow plans to deprive the European operators of their insurance if their vessels are caught red-handed.
"Most of these vessels are covered by European and British insurance: with this new package, they will no longer be able to use them," said the source.
"This should have a significant impact."
But Turkey could do more, said Aunina, from Amsterdam university.
"Following the annexation of Crimea, Turkey technically banned ships from Crimea in its ports: This could be done as well!"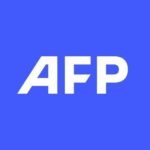 With 2,400 staff representing 100 different nationalities, AFP covers the world as a leading global news agency. AFP provides fast, comprehensive and verified coverage of the issues affecting our daily lives.
I.Coast eyes cassava for its bread as wheat prices surge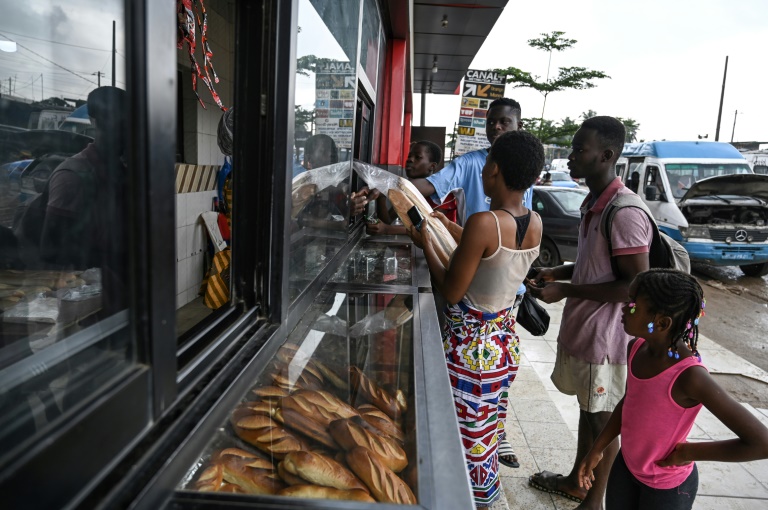 As wheat prices are driven upwards by the war in Ukraine, bakers in the West African state of Ivory Coast are starting to use locally produced cassava flour to bake bread.
The baguette, the stick of bread that is much loved in the former French colony, is commonly seen as a benchmark of the cost of living.
But Ivory Coast does not produce wheat domestically, instead importing up to a million tonnes of the grain per year, mainly from France.
Surging wheat prices have stoked concern about the impact in a country of 25 million where the average wage is less than 250,000 CFA francs ($400) per month, and which was shaken by a wave of violence less than two years ago.
Both Ukraine and Russia are large wheat producers, and lost harvests and other uncertainties have driven up prices of the global staple.
In response, Ivorian authorities have pegged the price of a baguette at between 150 and 200 CFA francs ($0.25 and $0.30) depending on weight, channelling subsidies worth 6.4 billion CFA francs (about $10 million) to the country's 2,500 bakeries. 
Bakers, with the government's support, are also starting to substitute a small portion of wheat flour with flour from cassava, a root vegetable.
Cassava, also called manioc, is Ivory Coast's second largest crop after yam, with 6.4 million tonnes produced each year.
– 'New flavours' –
The cassava substitution plan ticks the boxes for economy and sustainability. But what do Ivorians think?
"Everything has become expensive in the market," said Honorine Kouamee, a food vendor in Abidjan's Blockhaus district who was cooking pancakes made of wheat mixed with coconut flour. 
"If we can make bread with local cassava flour it will be better. People are willing to eat local products."
The national consumers' confederation has thrown its support behind the cassava substitute.
"It will provide a stimulus for manioc producers and maintain the price of bread," said its president, Jean-Baptiste Koffi.
But image and taste are important and some bakers are cautious.
"It's not a done deal," said Rene Diby, a baker.  
"For Ivorians, bread made with cassava is associated with poor-quality bread. Consumers will have to be made aware of these new flavours."
The authorities will have to run a promotional campaign, he said.
Cassava is high in starch and is a good source of dietary fibre.
But high proportions of cassava flour lower the mineral and protein content in bread, compared with traditional wheat, a 2014 study in Nigeria found.
Financially, even using just a small portion of cassava flour would provide the government with some relief.
Last year, 10 percent of the national budget of around $16 billion was spent on food imports, despite the country's fertile soil.
Ranie-Didice Bah Kone, executive secretary of the state-run National Council for the Fight against the High Cost of Living (CNLCV), says it is time to unlock Ivory Coast's rch agricultural potential. 
"It's a question of thinking long term, about our food security, it's a question of thinking about how Ivory Coast will ensure it is less dependent on world prices," she said.
During a visit to a cassava flour processing plant in Abidjan, she called for immediate measures to increase the supply of local flours, in addition to subsidies for the wheat sector.
– 'Africanise baking' –
Concerns in West Africa about dependence on imported wheat are not confined to Ivory Coast. 
On July 19, bakers from across West Africa will meet in Senegal's capital Dakar to launch an association to lobby for setting a regional benchmark of setting up to 15 percent of local content in bread products.
Using local products in bread could "solve food crises," said Marius Abe Ake, who leads a bakers' association.
"We need to Africanise baking to help lower manufacturing costs, fight poverty and avoid damaging unrest."
Ivory Coast has a history of turbulence.
In 2020 scores died in pre-election violence — an episode that revived traumatic memories of a brief civil conflict in 2011 in which several thousand people were killed. 
In 2008 riots broke out when the cost of rice, milk and meat soared.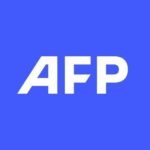 With 2,400 staff representing 100 different nationalities, AFP covers the world as a leading global news agency. AFP provides fast, comprehensive and verified coverage of the issues affecting our daily lives.
Tunisia struggles to grow more wheat as Ukraine war bites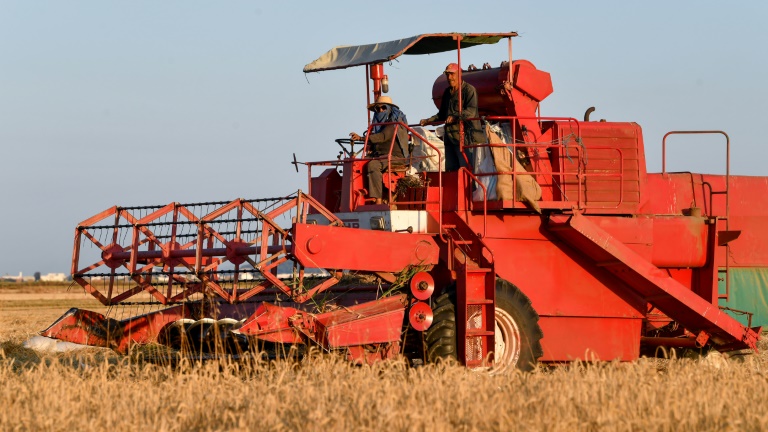 Tunisian farmer Mondher Mathali surveys a sea of swaying golden wheat and revs his combine harvester, a rumbling beast from 1976 which he fears could break down at any moment.
Since the Ukraine war sent global cereal prices soaring, import-dependent Tunisia has announced a push to grow all its own durum wheat, the basis for local staples like couscous and pasta.
The small North African country, like its neighbours, is desperate to prevent food shortages and social unrest — but for farmers on the sun-baked plains north of Tunis, even the basics are problematic.
"I'd love to buy a new combine harvester, but I could only do it with help from the government," said Mathali, 65.
He reckons his outdated machine wastes almost a third of the crop. With spare parts hard to find, he fears a breakdown could cost him his entire harvest.
But even a second-hand replacement would cost him an unimaginable sum: $150,000.
"Our production and even the quality would go up by maybe 50 percent, even 90 percent" with government help, he said.
"But our situation is getting worse and the state isn't helping us."  
– 'No continuity' –
Tunisia's wheat production has suffered from years of drought and a decade of political instability, with 10 governments since the country's 2011 revolution.
That has exacerbated its reliance on imports. Last year, it bought almost two-thirds of its cereal from overseas, much of it from the Black Sea region.
Those supply chains have been rocked first by the coronavirus pandemic and then by the war in Ukraine, which last year provided around half of Tunisia's imports of the soft wheat used in bread.
While it still plans to import soft wheat, the country is pushing for self-sufficiency in durum wheat by the 2023 harvest. 
That would be a valuable contribution to the national diet: the average Tunisian eats 17 kilograms (37 pounds) of pasta per year, second only to Italians.
In April, the government unveiled a programme to help farmers access better seeds, technical assistance and state-backed loans.
It also plans to devote 30 percent more farmland to wheat, and has dramatically boosted the prices it pays growers.
But the agriculture ministry's chief of staff acknowledged Mathali's problems.
"Tunisia has about 3,000 combine harvesters, 80 percent of which are old and very wasteful, which represents a major loss," said Faten Khamassi. 
She said the state plans to fund farmers' collectives to buy shared equipment.
– 'Need to choose' –
Agricultural technician Saida Beldi, who has worked with farmers in the northern Ariana governorate for three decades, says political instability has gutted the sector.
With each new minister, "the policy changes", she said. "There's no continuity." 
She said many farmers struggled to obtain state-subsidised fertilisers, which trade on the black market at inflated prices.
Khamassi said it was "certainly possible to reach self-sufficiency in durum wheat".
But she said Tunisia faces another dilemma: "develop cereal production to reach self-sufficiency, or develop other crops like strawberries and tomatoes for export? We need to choose."
International organisations have long pushed poorer countries to focus on specific cash crops for export, rather than growing essentials.
A 2014 World Bank report argued that Tunisia "does not have a strong comparative advantage in cereals" and should instead focus on "labour intensive" crops because of cheap labour.
But in June, announcing a $130 million loan for emergency cereal imports, the lender said it was providing "incentives to sustainably increase domestic grain production" and cut import dependency.
Today, Khamassi said, comparative advantage is "no longer relevant".
"We need to return to much more self-sufficient policies, local production," she said.
– Changing times –
The ministry also said in June that it would allow foreign investors to own agricultural firms outright, instead of requiring at least one-third Tunisian ownership.
Khamassi said this would attract investment and create jobs.
But economist Fadhel Kaboub said this strategy would make Tunisia even more vulnerable.
"Small-scale Tunisian farmers operating on small plots of land will not be able to compete with big foreign investors with access to cheap loans from European banks," he said. 
"These companies' business model is to push for cash crops for export, to earn dollars and euros — not to produce wheat to sell for dinars in the local market."
For farmer Mathali, who hopes to pass his business on to his son, the stakes couldn't be higher.
"Tunisia was the Roman Empire's main supplier of wheat," he said, squinting under the summer sun.
"Why can't we revive that?"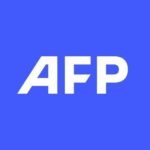 With 2,400 staff representing 100 different nationalities, AFP covers the world as a leading global news agency. AFP provides fast, comprehensive and verified coverage of the issues affecting our daily lives.
China mulls dipping into pork reserves to rein in costs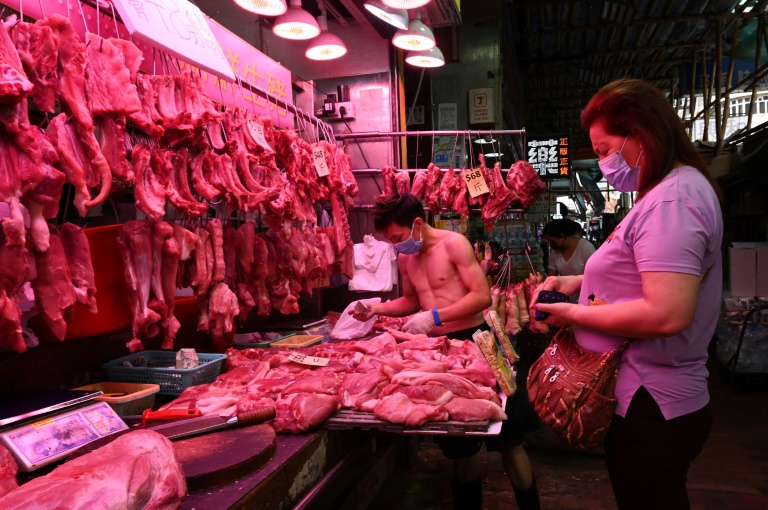 Chinese authorities could dip into strategic pork reserves in a bid to rein in prices of the staple meat, Beijing's top economic planner said Tuesday.
Pork prices in the world's second-biggest economy spiked late last month, with the meat selling for 32 percent more than in June 2021 as market supplies dropped, state media Xinhua News Agency reported.
The spike came on the back of "irrational behaviours such as blindly holding supplies and reluctance to sell in the live pig market," the National Development and Reform Commission (NDRC) said in a notice on social media.
The NDRC said that reluctance was aimed at boosting profits and ordered major suppliers to slaughter pigs at a "regular pace", warning them against hoarding, Xinhua said.
On Tuesday, the commission added that it was "looking into a release of central pork reserves".
It has also instructed local governments to release supplies "in a timely manner" to guard against sharp price hikes.
China has largely been spared the impact of a global surge in food prices caused by Russia's war in Ukraine.
But pork prices were hit hard after the country's herds were devastated by African swine fever in recent years, causing consumer inflation to spike.
In 2019, authorities said they would free up land to restore pork production to pre-swine fever levels, and officials have since released supplies from reserves to rein in rising costs.
"As the prices of hogs continue to rise, pig farmers are turning losses into profits… farmers are now profiting about 60 yuan (about $9) per head," Ministry of Agriculture and Rural Affairs hog expert Wang Zuli told state broadcaster CCTV in an interview in June.
"We can say the darkest days for pig farmers are over," Wang said, adding that pork supplies were expected to grow.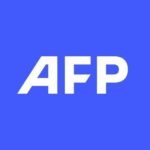 With 2,400 staff representing 100 different nationalities, AFP covers the world as a leading global news agency. AFP provides fast, comprehensive and verified coverage of the issues affecting our daily lives.