India hikes interest rates 50 basis points to fight inflation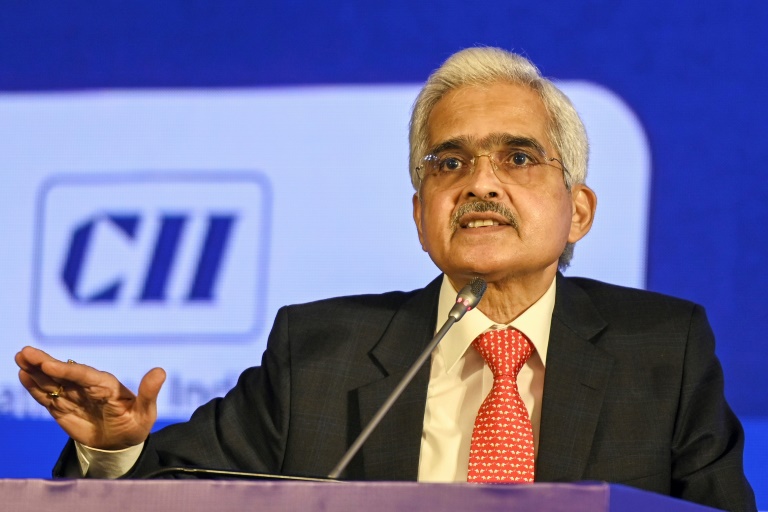 India's central bank on Wednesday hiked rates for a second time, as Asia's third-largest economy reels from galloping inflation in the wake of the Ukraine war.
The Reserve Bank of India raised its key repo rate by 50 basis points to 4.90 percent, a month after kicking off an aggressive monetary tightening cycle with a surprise 0.4 percentage point lift in May.
"The war in Europe is lingering and we are facing newer challenges each passing day," Bank governor Shaktikanta Das said in a televised address, pointing to higher food and fuel prices.
He added that inflation was a global problem but emerging economies were facing "bigger challenges", with market turbulence following monetary policy shifts in advanced economies.
India bounced back strongly from the coronavirus pandemic with one of the world's fastest growth rates, but is now grappling with rising costs as commodity prices skyrocket worldwide.
Consumer inflation has consistently overshot India's two-to-six percent target range in the first four months of the year, hitting an eight-year high of 7.79 percent in April.
"From the policy withdrawal perspective, the RBI in the last two months has moved quite aggressively and swiftly," Upasna Bhardwaj, senior economist at Kotak Mahindra Bank, said in a note.
But despite efforts to curb price pressures, inflation was likely to remain around seven percent for the foreseeable future, she added. 
India's economy has seen sharp price increases across the board, including food and fuel.
Last month the government banned wheat exports to rein them in after a heatwave hit local crop yields.
Officials also capped sugar exports to safeguard supplies, and slashed duties on fuel and edible oils to buffer consumer spending. 
India imports more than 80 percent of its crude oil needs, with its dependence growing as domestic production falls, and the country's 1.4 billion people have been hit with rising petrol costs.
Prices have risen sharply since Russia's invasion of Ukraine earlier this year, and economists estimate that a $10 per barrel increase in Brent crude increases consumer inflation in India by about 25 basis points.
The governor had extensively signalled Wednesday's move in advance, calling a half-percent hike a "no brainer" in a television interview on May 23.
India's 0.4 percent rate rise in May had caught markets by surprise, though economists supported the move as a necessary counterweight to inflation pressures.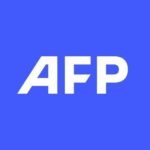 With 2,400 staff representing 100 different nationalities, AFP covers the world as a leading global news agency. AFP provides fast, comprehensive and verified coverage of the issues affecting our daily lives.
China approves 60 new games, sparking hopes tech crackdown is ending
China has approved the release of dozens of new video games, boosting the shares of some of its biggest tech firms Wednesday on hopes that a long-running and painful crackdown on the sector is easing.
The announcement follows a report in The Wall Street Journal on Monday that said regulators were wrapping up their investigation into ride-hailing giant Didi and will allow it to register new users.
Officials in China — the world's biggest gaming market — rolled out a series of restrictions last year as part of a sweeping government campaign to rein in huge tech firms.
They capped the amount of gaming time for children with the stated aim of fighting addiction and froze approvals for new games for nine months, hammering the bottom lines of many companies including sector titan Tencent.
China's National Press and Publication Administration said Tuesday it had approved 60 new games, following the year's first batch of approvals in April.
Titles from Tencent or rival NetEase were not among the latest approvals, but they did include games from Perfect World and miHoYo — developer of the international hit "Genshin Impact".
"We are delighted to see established studios such as Perfect World, Shengqu Games, MiHoYo, and Changyou obtained approval titles this time, which we believe could indicate higher possibilities for Tencent's and NetEase's titles to be approved in coming batches," said Citi analysts in a note.
"The approval announcement will also send a positive signal of policy support to the overall China Internet sector."
Chinese tech stocks surged in Hong Kong on the news, building on the positive sentiment among investors and analysts after the report on Didi earlier in the week.
At the break in Hong Kong, Tencent was up 4.7 percent while NetEase climbed 2.9 percent
The gaming news also boosted other major tech stocks — Hong Kong market heavyweight Alibaba was up more than eight percent and JD.com piling on more than four percent.
During the clampdown, hundreds of Chinese game makers pledged to scrub "politically harmful" content from their products and enforce curbs on underage players to comply with government demands.
China's economy, the world's second-largest, has been hammered in recent months by a series of major Covid lockdowns, and the government has rolled out a series of measures to resuscitate it.
— Bloomberg News contributed to this story —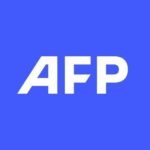 With 2,400 staff representing 100 different nationalities, AFP covers the world as a leading global news agency. AFP provides fast, comprehensive and verified coverage of the issues affecting our daily lives.
Asian markets track Wall St rally, boosted by China hopes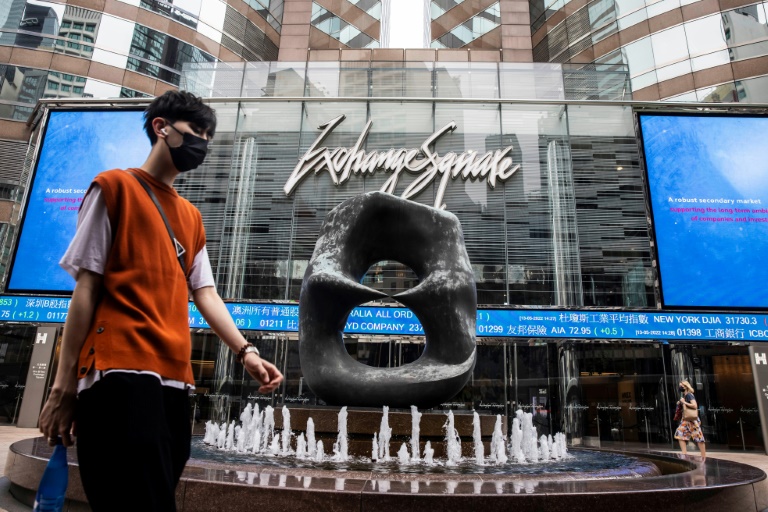 Asian markets rallied Wednesday, building on a hearty performance on Wall Street and helped by the reopening in China, though analysts continue to warn of near-term volatility caused by surging inflation, rising interest rates and the Ukraine war.
Equities have enjoyed some respite in recent weeks from a painful sell-off caused by central bank monetary tightening — particularly by the Federal Reserve — and a spike in prices that is beginning to hit consumers, raising concerns of an economic slowdown or recession.
A retreat in US Treasury yields provided a lift to New York traders, as did a jump in Chinese firms listed there fuelled by growing optimism that Beijing is to ease back on its long-running crackdown against the tech sector.
The improved mood around tech has come after a report this week said China was close to ending a probe into ride-hailing app Didi Global and restoring its main apps this week.
The Wall Street Journal also said investigations into two other firms — Full Truck Alliance and recruitment platform Kanzhun — were coming to a conclusion.
And on Tuesday authorities approved a second batch of 60 games in a further step to lightening their approach in the world's largest mobile entertainment market.
Citi analysts said the "announcement will also send a positive signal of policy support to the overall China internet sector".
Market heavyweights rallied in Hong Kong with Alibaba up more than six percent, Netease four percent higher and Tencent up more than three percent, helping the Hang Seng Index climb more than one percent.
Shanghai, Tokyo, Sydney, Seoul, Wellington, Taipei and Manila were also well in positive territory.
The moves come as Beijing relaxes its strict Covid lockdown measures, allowing the world's number two economy to edge back into life after months.
"The bounce in risk sentiment is due to a more positive China tilt where the outlook is set to brighten up as Covid restrictions ease, and state-owned banks are obliged to increase lending again," said SPI Asset Management's Stephen Innes.
"It certainly feels like the tide is turning on the Mainland, though the overall tone still leans more cautiously optimistic, with key emphasis on 'cautiously'."
All eyes are on the release Friday of US inflation data for a better idea about the Fed's plans as it hikes borrowing costs.
Officials are expected to lift rates half a point each in June and July with some commentators warning a strong report on Friday could allow them to unveil a three-quarter-point move in September.
Such a move would push the dollar up even further against its peers, with the unit at a 20-year high against the yen.
And observers said that the uncertainty would continue to cause volatility on markets.
"The reality for the economy and probably the stock markets is that aggressive central bank rate hikes are likely to take a sharp bite out of household consumption as costs of living pressures come from goods and services, depressed real wage gains and markedly higher mortgage servicing," Innes added. 
"Hence, the central bank's endgame is to cool inflation by slowing the economy and tightening financial conditions at stock market investors' expense until price pressures abate."
And Kate Moore at BlackRock explained to Bloomberg Television that "figuring out the direction over the next couple of months becomes increasingly difficult".
"There seems to be across all of the investing segments a lack of strong conviction in the direction of the market. We are going to see a lot more investors remain on the sidelines, remain cautiously positioned."
– Key figures at around 0230 GMT –
Tokyo – Nikkei 225: UP 1.0 percent at 28,208.92 (break)
Hong Kong – Hang Seng Index: UP 2.0 percent at 21,696.89
Shanghai – Composite: UP 0.7 percent at 3,264.90
Dollar/yen: UP at 133.00 yen from 132.62 yen late Tuesday
Euro/dollar: DOWN at $1.0693 from $1.0715 
Pound/dollar: DOWN at $1.2580 from $1.2592
Euro/pound: DOWN at 85.00 pence from 85.02 pence
Brent North Sea crude: UP 0.1 percent at $120.71 per barrel
West Texas Intermediate: UP 0.2 percent at $119.65 per barrel
New York – Dow: UP 0.8 percent to 33,180.14 (close)
London – FTSE 100: DOWN 0.1 percent at 7,598.93 (close)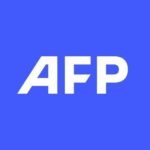 With 2,400 staff representing 100 different nationalities, AFP covers the world as a leading global news agency. AFP provides fast, comprehensive and verified coverage of the issues affecting our daily lives.
Out of the frying pan: Indonesians pay price of cooking oil crisis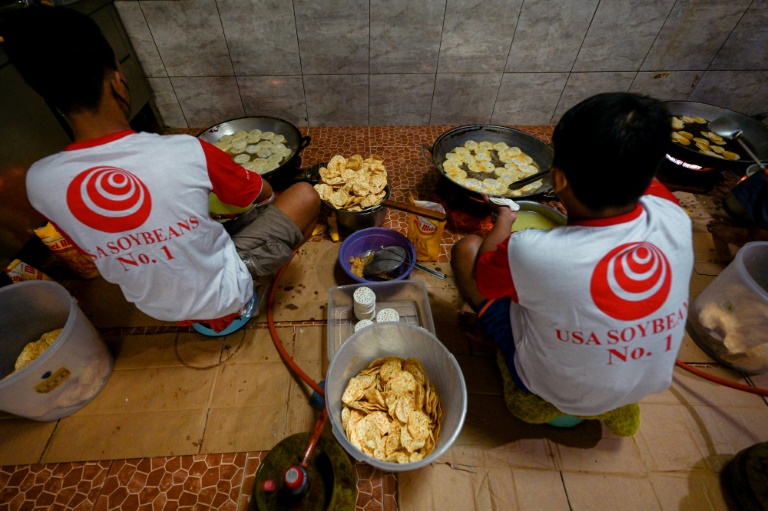 About three weeks after Russian troops invaded Ukraine, Indonesian housewife Liesye Setiana was forced to close her banana chip business as cooking oil supplies dried up across the country.
Millions of consumers and small business owners in the world's fourth most populous nation have been rattled for months by skyrocketing cooking oil prices. 
As the war between the two major grain and sunflower seed producers sent jitters through global markets, many producers rushed to shift their goods abroad to cash in on soaring rates.
Setiana would travel to a supermarket over an hour from her remote East Java village of Baruharjo to buy a daily eight-litre batch of palm oil that could keep her business alive.
But the 49-year-old mother of two would be turned away, with sellers heavily rationing the commodity used in products ranging from cosmetics to chocolate spreads.
"I was fuming and told the employees that I really need the cooking oil for personal use, not for hoarding," said Setiana, who used to make up to 750,000 rupiah ($52) a day selling her savoury yellow snack.
"How come we have cooking oil shortages when Indonesia is the world's top palm oil producer?" 
Her battle for supplies is just a snapshot of the cooking oil crisis that has spurred hours-long queues of residents with jerry cans in hand across Indonesia's most populous island, Java, and others such as Borneo.
Two people died in March from exhaustion — including one who had queued at three different supermarkets, according to local media — as they waited in searing heat to get their hands on a product that rose to 20,100 rupiah a litre at its height.
– Counting costs –
Indonesia produces about 60 percent of global palm oil supplies, with one-third consumed domestically. India, China, the European Union and Pakistan are among its major export customers.
The squeeze on cooking oil at home forced the Indonesian government to impose a now-lifted ban on exports last month, easing prices and shoring up domestic supplies.
But at the end of May, the price of bulk cooking oil, the most affordable in the country, still hovered at about 18,300 rupiah per litre on average, above the government's target of 14,000 rupiah, according to official data.
The price spike has left many with difficult decisions to make.
Sutaryo, who like many Indonesians goes by one name, runs a tempe chip business out of his home in South Jakarta. He was forced to jack up his prices and lay off four employees to stay afloat.
"After the surge of cooking oil prices, we have to be smart in calculating our production cost. Our consumers are left with no other choice but to accept a higher price for our kripik tempe," he said, referring to the traditional soy-based crackers.
With demand yet to recover, production at Sutaryo's home factory has slid from 300 to 100 kilogrammes a day, and daily revenue is down to six million rupiah from 15 million before the pandemic.
About half-a-dozen workers cut thin slices of tempe before throwing them into frying pans of hot oil, letting them sizzle until crispy. 
It is a far cry from the hustle and bustle of the business's pre-pandemic peak, said Sutaryo, when he had workers frying tempe chips outside for lack of space.
– 'Significant' impact on poor – 
Cooking oil prices were already on the rise in 2021, but the impact of Moscow's assault has driven them to record highs, said Mohammad Faisal, executive director of the Center of Reform on Economics (CORE Indonesia) think tank.
The government is now moving to secure even more supplies at home, meaning there is unlikely to be a repeat of the spike seen after Russia's invasion of Ukraine, he said.
But while prices may come down in Indonesia's towns and cities, they will stay high for those living in rural and remote areas like Setiana.
"For lower-income people, the impact is significant because, at the same time, there are increases in the prices [of other commodities]," Faisal told AFP.
With local prices unlikely to fall, and with little money coming in since her husband was laid off, Setiana now has other worries — like no longer being able to afford school fees for her children.
"If prices of staple goods go up, we have little left for other expenses."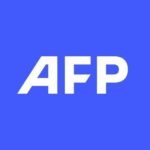 With 2,400 staff representing 100 different nationalities, AFP covers the world as a leading global news agency. AFP provides fast, comprehensive and verified coverage of the issues affecting our daily lives.