Sanctioned Ukraine tycoon seeks to support war effort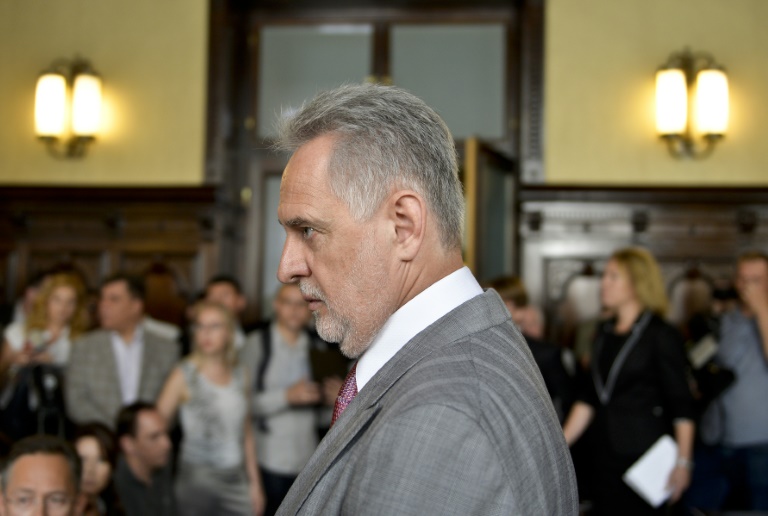 Sanctioned by Ukraine in the past over his close ties to Russia, Dmytro Firtash, one of the country's wealthiest citizens, made international headlines this week for saying he is sheltering hundreds of Ukrainians in his chemical factory.
"This war is completely pointless and cannot be justified in any way, it only brings suffering and misery on all sides. This humanitarian tragedy is intolerable," the 57-year-old said in a statement on his company's website.
A one-time ally of ousted pro-Russian Ukrainian president Viktor Yanukovych, Firtash, who is currently in Austria and fighting extradition to the US on bribery accusations, has a controversial history. 
– Providing refuge –
In June 2021, Ukraine President Volodymyr Zelensky signed a decree imposing sanctions on Firtash, including the freezing of his assets and withdrawal of licences from his companies, after accusing him of selling titanium products to Russian military companies.
But now some 800 civilians, including 200 factory workers, have taken refuge in the bunkers of the Azot chemical plant, owned by Firtash's Group DF, in Ukraine's strategic eastern city of Severodonetsk, the tycoon's lawyer Lanny Davis said this week. 
Russian troops have been pushing for control of the key city over the past weeks as part of their effort to conquer eastern Ukraine. 
Russian President Vladimir Putin "is never going to come out victorious… No matter what happens, Russia will lose," Firtash said in an NBC News interview in April.
Since Russia invaded Ukraine in February, Firtash's Inter has also joined the pool of several main Ukrainian news channels, which broadcast news 24/7 and fully reflect the official position of the Ukrainian authorities.
Before the invasion, Inter, one of the largest Ukrainian national TV channels, was considered pro-Russian.
Firtash insists he has always been pro-Ukrainian, telling NBC that he was "never pro-Russian".
"But you have to understand that I am a businessman. And my goal is to earn money. That's my job," he said in the interview.
An AFP request to interview Firtash is pending.
– Wanted by US –
Firtash is also wanted on bribery and racketeering charges in the United States.
In the case, Indian officials allegedly received $18.5 million in bribes to secure titanium mining licences in 2006.
The United States argues it has jurisdiction because the conspiracy involved using US financial institutions, travel to and from the US, and use of US-based communications — computers, telephones, and the internet.
Firtash, who denies the charges and says he is the victim of a smear campaign, was detained in Austria in March 2014.
He had to pay bail of 125 million euros ($130 million) — reportedly a record high for Austria — and has since not been able to leave the country.
Austria's supreme court ruled in 2019 that he could be extradited. But Firtash is still fighting the extradition and can remain in Austria while court proceedings continue.
In an interview with CNN in May, Firtash said he had requested prosecutors to be allowed to return to Ukraine while the war is going on — but his request was denied.
He has also been accused of being involved in alleged efforts by Rudy Giuliani, former New York mayor and a personal lawyer of former US president Donald Trump, to dig up dirt on Joe Biden before he became president, but Firtash denies ever having met with Giuliani.
Born in a village in western Ukraine, Firtash's father was a diver and his mother an accountant, and for additional income the family grew tomatoes.
Firtash began his business career by organising commodity trading in Ukraine and Russia.
In 1993, he established business ties in Central Asia and organised the supply of consumer goods in exchange for natural gas.
In 2004, he set up a joint venture with Russia's Gazprom to supply natural gas from Central Asia to Ukraine and other European countries.
Three years later, Firtash set up Group DF, growing it into a business empire, employing some 100,000 people.
The group is involved in energy, chemicals, media, banking and property in Ukraine and other countries.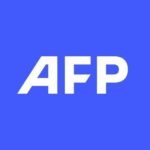 With 2,400 staff representing 100 different nationalities, AFP covers the world as a leading global news agency. AFP provides fast, comprehensive and verified coverage of the issues affecting our daily lives.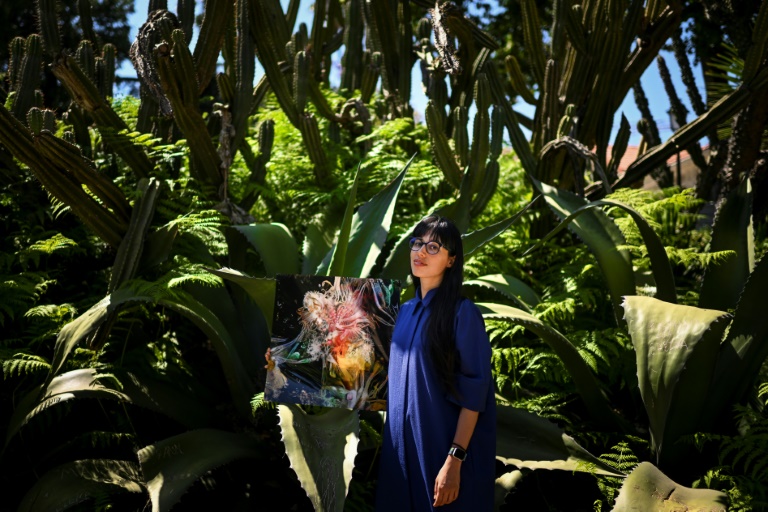 To many they are art's next big thing — digital images of jellyfish pulsing and blurring in a dark pink sea, or dozens of butterflies fusing together into a single organism.
The Argentine artist Sofia Crespo, who created the works with the help of artificial intelligence, is part of the "generative art" movement, where humans create rules for computers which then use algorithms to generate new forms, ideas and patterns.
The field has begun to attract huge interest among art collectors — and even bigger price tags at auction. 
US artist and programmer Robbie Barrat — a prodigy still only 22 years old — sold a work called "Nude Portrait#7Frame#64" at Sotheby's in March for £630,000 ($821,000). 
That came almost four years after French collective Obvious sold a work at Christie's titled "Edmond de Belamy" — largely based on Barrat's code — for $432,500.
– A ballet with machines –
Collector Jason Bailey told AFP that generative art was "like a ballet between humans and machines". 
But the nascent scene could already be on the verge of a major shake-up, as tech companies begin to release AI tools that can whip up photo-realistic images in seconds. 
Artists in Germany and the United States blazed a trail in computer-generated art during the 1960s. 
The V&A museum in London keeps a collection going back more than half a century, one of the key works being a 1968 piece by German artist Georg Nees called "Plastik 1". 
Nees used a random number generator to create a geometric design for his sculpture. 
– 'Babysitting' computers –
Nowadays, digital artists work with supercomputers and systems known as Generative Adversarial Networks (GANs) to create images far more complex than anything Nees could have dreamed of. 
GANs are sets of competing AIs –- one generates an image from the instructions it is given, the other acts as a gatekeeper, judging whether the output is accurate. 
If it finds fault, it sends the image back for tweaks and the first AI gets back to work for a second try to beat the gamekeeper. 
But artists like Crespo and Barrat insist that the artist is still central to the process, even if their working methods are not traditional.
"When I'm working this way, I'm not creating an image. I'm creating a system that can create images," Barrat told AFP. 
Crespo said she thought her AI machine would be a true "collaborator", but in reality it is incredibly tough to get even a single line of code to generate satisfactory results.
She said it was more like "babysitting" the machine.
Tech companies are now hoping to bring a slice of this rarefied action to regular consumers. 
Google and Open AI are both touting the merits of new tools they say bring photorealism and creativity without the need for coding skills. 
– Enter the 'transformers' –
They have replaced GANs with more user-friendly AI models called "transformers" that are adept at converting everyday speech into images. 
Google Imagen's webpage is filled with absurdist images generated by instructions such as: "A small cactus wearing a straw hat and neon sunglasses in the Sahara desert."
Open AI boasts that its Dalle-2 tool can offer any scenario in any artistic style from the Flemish masters to Andy Warhol. 
Although the arrival of AI has led to fears of humans being replaced by machines in fields from customer care to journalism, artists see the developments more as an opportunity than a threat. 
Crespo has tried out Dalle-2 and said it was a "new level in terms of image generation in general" — though she prefers her GANs.
"I very often don't need a model that is very accurate to generate my work, as I like very much when things look indeterminate and not easily recognisable," she said. 
Camille Lenglois of Paris's Pompidou Centre — Europe's largest collection of contemporary art — also played down any idea that artists were about to be replaced by machines.
She told AFP that machines did not yet have the "critical and innovative capacity", adding: "The ability to generate realistic images does not make one an artist."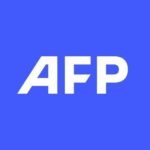 With 2,400 staff representing 100 different nationalities, AFP covers the world as a leading global news agency. AFP provides fast, comprehensive and verified coverage of the issues affecting our daily lives.
Ministers gather for high-stakes WTO meet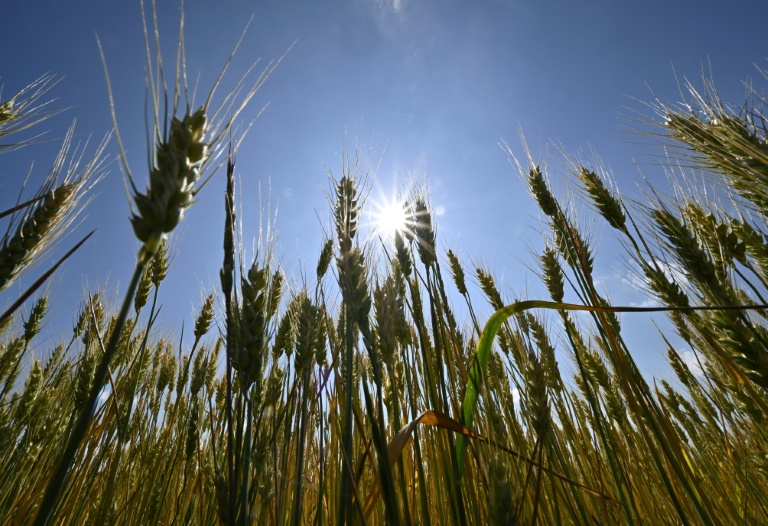 The World Trade Organization gathers ministers in Geneva Sunday to tackle pressing issues including global food security threatened by Russia's invasion of Ukraine, overfishing and equitable access to Covid vaccines.
With its first ministerial meeting in years, WTO faces pressure to finally eke out long-sought trade deals and show unity amid the still raging pandemic and an impending global hunger crisis.  
Top of the agenda as the four-day meeting kicks off is the toll Russia's war in Ukraine — traditionally a breadbasket that feeds hundreds of millions of people — is having on food security.
EU trade commissioner Valdis Dombrovskis said the bloc had been "working hard with all the members to prepare a multilateral food security package," slamming Russia for "using food and grain as a weapon of war".
The WTO is hoping to isolate criticism of Russia's war in Ukraine to the first day of talks, when many of the more than 100 ministers due to attend are expected to issue blistering statements.
But with many flatly refusing to negotiate directly with Moscow, there are fears the issue could bleed into the following days, when WTO wants to focus on nailing down long-elusive trade deals.  
"There is a real risk that things could go off the rails next week," a Geneva-based diplomatic source said.
– Fisheries deal in sight? –
The tensions have not curbed WTO chief Ngozi Okonjo-Iweala's zeal to press for agreements on a range of issues during the first ministerial gathering on her watch, especially as the global trade body strives to prove its worth after nearly a decade with no new large trade deals.
There is cautious optimism that countries could finally agree on banning subsidies that contribute to illegal and unregulated fishing, after more than 20 years of negotiations.
The WTO says talks have never been this close to the finish line, but diplomats remain cautious.
The negotiations "have made progress recently, but these remain difficult subjects," a diplomatic source in Geneva told AFP.
One of the main sticking points has been so-called special and differential treatment (SDT) for developing countries, like major fishing nation India, which can request exemptions.
A draft text sent to the ministers for review proposes exemptions should not apply to member states accounting for an as yet undefined share of the global volume of fishing.
The duration of exemptions also remains undefined.
Environmental groups say anything beyond 10 years would be catastrophic. India has demanded a 25-year exemption.
– India 'creating problems' –
"Twenty-five years is an unreasonable length of time," Isabel Jarrett, head of the Pew Charitable Trusts' project to end harmful fisheries subsidies, told AFP, warning so much leeway would be "devastating for fish stocks".
Colombian Ambassador Santiago Wills, who chairs the WTO fisheries subsidies negotiations, stressed the urgency of securing a deal.
"The longer we wait, the more the fish lose. And the more the fish lose, the more we all lose," he said in a statement Saturday.
India however appears to be stubbornly sticking to its demands on fisheries and in other areas, jeopardising the chances of reaching deals since WTO agreements require full consensus backing.
"There is not a single issue that India is not blocking," a Geneva-based ambassador said, singling out WTO reform and agriculture.
A source with knowledge of the negotiations towards a text on food security meanwhile said "the Indians are still creating problems".
Elvire Fabry, a senior research fellow at the Jacques Delors Institute, said India had appeared eager to "throw more weight around" in international organisations, warning New Delhi was capable of scuppering talks.
– Patent waiver? –
The ministers are also set to seek a joint WTO response to the pandemic, although significant obstacles remain. 
Back in October 2020, India and South Africa called for intellectual property rights on Covid-19 vaccines and other pandemic responses to be suspended in a bid to ensure more equitable access in poorer nations.
After multiple rounds of talks, the European Union, the United States, India and South Africa hammered out a compromise that has become the basis for a draft text sent to ministers.
The text, which would allow most developing countries, although not China, to produce Covid vaccines without authorisation from patent holders, is still facing opposition from both sides.
Britain and Switzerland are reluctant to sign up, arguing along with the pharmaceutical industry that the waiver would undermine investment in innovation.
Public interest groups meanwhile say the text falls far short of what is needed by covering only vaccines and not Covid treatments and diagnostics.
"The negotiations are still aeons away from ensuring access to lifesaving Covid medical tools for everyone, everywhere," Doctors Without Borders warned.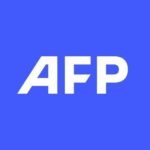 With 2,400 staff representing 100 different nationalities, AFP covers the world as a leading global news agency. AFP provides fast, comprehensive and verified coverage of the issues affecting our daily lives.
Price spike: Higher fuel prices test US economy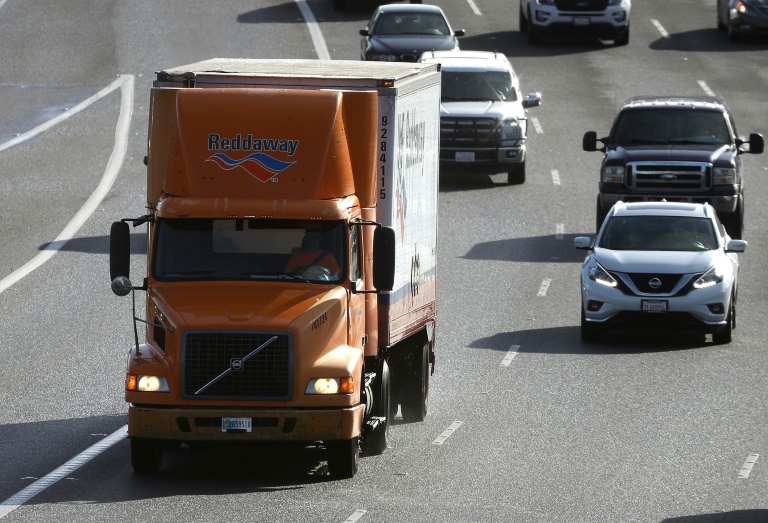 Surging energy costs are being felt across the US economy with varying effects. Some consumers are absorbing higher costs, while others are shifting behavior or cutting back.
Here's a sampling of how the story is playing out in different sectors.
– Trucker sees austerity –
As he contends with surging fuel prices, truck driver Lamar Buckwalter sees signs all around that consumers are cutting back. 
Demand for refrigerated pet food — a torrid business just three months ago — has virtually disappeared. Humans are also shifting their own diets, ordering less high-end meats like veal and crab cakes.
"People are starting to cut off the extras," said Buckwalter, a third-generation trucker who lives in Pennsylvania. "They're not buying filet mignon steak."
The last time he fueled up, Buckwalter spent $5.79 a gallon for diesel, more than double the price from a year ago, a shift exacerbated by lower job rates as demand for trucking services cools.
Mitigating things a bit is Buckwalter's membership in a national small trucker association that offers discounted fuel. He can also pass on a fraction of the fuel price spike to consumers.
But the pain from fueling up is "enough to make a preacher man curse," said Buckwalter, who has been turning down trips that pay insufficiently.
He is also planning to tighten the belt on perks for his three employees, such as a summer family picnic. 
"We'll still do Christmas bonuses," he said. "Unfortunately, I have to cut back where I can."
– Tough times for taxis –
Also taking a hit is Rutz Alliance, a New York taxi driver who feels the pinch daily.
"I used to put $25 of gas every day," Alliance told AFP. "Now it's up to $45."
That computes to weekly pay of about $600 to $650, one-third less than the pre-pandemic amount.
"We're trying to live. We have no choice. Inflation is all over. Rent, food, everything, but it's take it or leave it."
Dubbing the jump in prices an "emergency," the New York Taxi Workers Alliance called in March for a 75-cent temporary fuel surcharge. But city officials have not taken action thus far.
– Airlines pass on the pain –
Airlines have been among the sectors most directly affected by spiking energy prices, with jet fuel prices jumping almost 50 percent since mid-March, according to Argus.
That would normally amount to a huge drag on the industry, given that fuel and labor are two major sources of costs.
"The rule of thumb in this industry is that you can pass through two-thirds of a fuel price increase within three to six months, the full amount within six to 12 months," said Savanthi Syth, an industry expert at Raymond James. 
But in a twist of fortunes in a pandemic-dominated era, airlines are benefitting from "pent-up demand" of consumers desiring travel after more than two years of being hemmed in.
Airline tickets are currently up 38 percent compared with the level of the year prior, with industry executives saying they are having no trouble passing on the hit from higher fuel costs.
– A higher bar on vacations –
For Chayzz Devyant, one casualty of spiking gasoline prices has been a summer visit to Atlantic City.
Just traveling back and forth to the casino town would cost some $162 in gas, on top of lodging costs.
"Big Oil is to blame," said Devyant, who hopes to work from home to save on fuel costs. 
But travel experts still expect a busy summer even if more consumers like Devyant cut some trips.
"We are seeing mixed messages. Oil prices obviously have an effect," said Aaron Szyf, economist for the US Travel Association.
"But pent up demand is so high that hotels/attractions/national parks/flights are all expected to be at full capacity this summer."
– Electric vehicles get a closer look –
Higher gasoline prices have prompted greater interest from consumers in electric vehicles (EV). Since January, website visits to EV options have soared 73 percent, according to Cox Automotive.
However, the share of visits to EVs remains a relatively small 5.7 percent of overall page views, according to Cox.
Moreover, the shortage of semiconductors and other key supplies has left car dealerships with limited inventories, crimping sales. 
In May, Toyota and Lexus sold 46,000 hybrid vehicles, down 17 percent from the year-ago period amid tight supplies.
At Tesla, the top-selling EV maker in the United States, the wait time is at least three months for delivery of a Model 3 and six for the Model Y.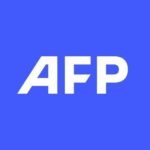 With 2,400 staff representing 100 different nationalities, AFP covers the world as a leading global news agency. AFP provides fast, comprehensive and verified coverage of the issues affecting our daily lives.