Ukrainian jobseekers collide with German language barrier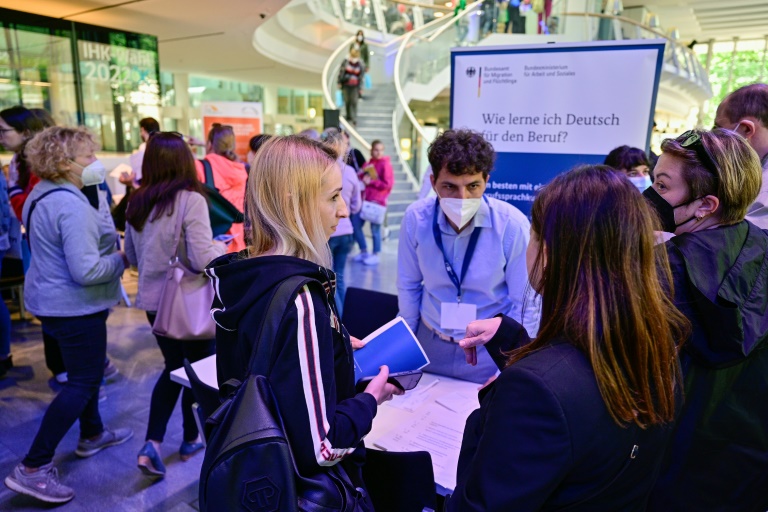 Ganna Nikolska comes back dejected from the stand of an insurer ready to hire Ukrainian refugees in Berlin: "I don't speak German," she explains in halting English.
The 42-year-old trained doctor fled Kharkiv in eastern Ukraine in March "with her backpack and her daughter", her sister Olena Nikitoshkina, 36, who speaks fluent German, told AFP.
Nikolska would like to stay in Germany, but is having trouble finding work in her field "because her degree would need to be recognised and she'd need to speak German but that takes a long time", Nikitoshkina said.
Around 1,000 Ukrainian new arrivals showed up this week at the stands of companies gathered at the Berlin Chamber of Commerce and Industry (IHK) for a job fair.
Three months after the start of the Russian invasion of Ukraine which touched off a mass exodus of more than six million people, Germany has taken in more Ukrainians than any other nation apart from the bordering countries, according to the United Nations.  
German authorities estimate that more than 700,000 people have arrived from Ukraine since February 24, without knowing how many have continued on to third countries. 
– Manpower shortage –
In Berlin, some 44,000 Ukrainians have applied for a permanent residence permit. 
Following the hectic first few weeks getting settled, the refugees — the vast majority of them women — now aim to integrate and earn a living. 
A wide range of around 60 employers including hotels, private clinics and construction companies took part in the job fair, said Yvonne Meyer of the IHK.
As Europe's biggest economy with its ageing population and low unemployment faces a manpower shortage across many sectors, Ukrainian newcomers are seen as an attractive option in industry, retail jobs and healthcare.
The Institute for Employment Research at Germany's Federal Employment Agency reports that there are currently 1.69 million jobs unfilled in the country — a new record.
"We are still searching for personnel so it's a very good opportunity for us," a recruiter from the Berlin street cleaning service (BSR) said at the fair. 
Some companies including the Grill Royal group of upscale restaurants and Policum health clinics have started offering new staff German courses.   
But none of the jobs that interest Yuliia Bokk provide this possibility.
"It's not enough that I speak English. I ask everybody and they all say to me 'learn basic German and come back'," said the 24-year-old woman, who had a good job in retail back in Kyiv.
– The Syrian precedent –
Bokk nevertheless considers herself lucky to be in Germany.
Since June 1, Ukrainian refugees have been able to benefit from state assistance of up to 449 euros ($481) per month and are registered with the social security service.
She has also started a free "integration course" offering a six-month introduction to the German language and culture. Around 80,000 Ukrainians have already been enrolled, according to the Office for Migration and Refugees (BAMF).
"The courses are very in demand and because a lot of refugees arrived in Germany in 2015 from Syria or Afghanistan, the structures were already in place," said Martin Eckermann, a consultant at the BAMF. 
In 2015, Germany left its borders open to more than one million people fleeing war and misery so the number of asylum seekers working in Germany has increased more than sixfold since then.
Daria Tatarenko, a 23-year-old with a degree in management and energy sector economics, applied for a job at a bakery "because you don't need to speak German". 
It's a temporary solution for the young woman who fled Kyiv in March.
"I feel gratitude for the German people because they helped us a lot, but I want to go home when the war is over. Because it is my home, it is my country," she said.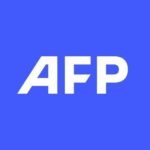 With 2,400 staff representing 100 different nationalities, AFP covers the world as a leading global news agency. AFP provides fast, comprehensive and verified coverage of the issues affecting our daily lives.
Struggling SAS files for Chapter 11 bankruptcy proceedings in US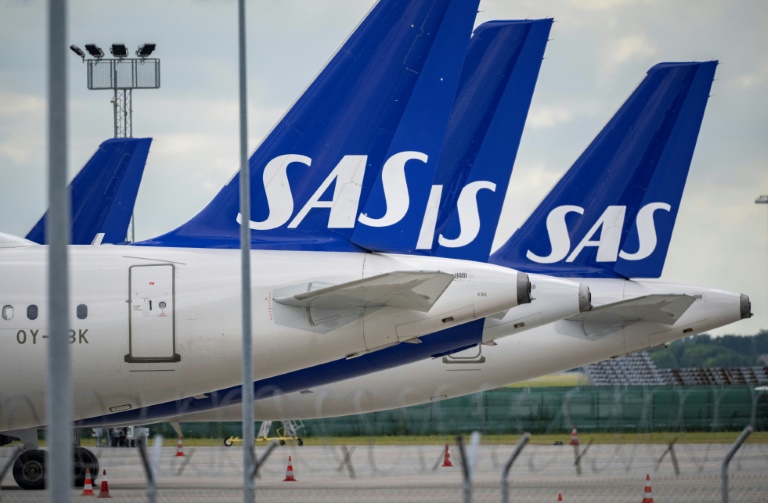 Faced with financial difficulties and a massive pilot strike, Scandinavian airline SAS said Tuesday it has filed for so-called Chapter 11 bankruptcy proceedings in the United States, as a part of restructuring plan.
"We simply need to do much more and do it much faster," SAS chairman Carsten Dilling told a press conference where defended what he called "a well thought-through decision."
In the US, Chapter 11 is a mechanism allowing a company to restructure its debts under court supervision while continuing to operate.
The move was made in order "to proceed with the implementation of key elements" of its business transformation plan, the troubled carrier, which employs nearly 7,000 people, said in a statement.
Asked why the company chose initiate the proceedings in the US, rather than Sweden where it is headquartered, Dilling said they had considered several countries where they could file, but "ended up concluding that the US framework is the right one for the company."
Chief executive Anko van der Werff said they expected "to complete the Chapter 11 process in nine to 12 months."
SAS said its "operations and flight schedule are unaffected by the Chapter 11 filing, and SAS will continue to serve its customers as normal," while noting that the ongoing strike by Scandinavian pilot unions would continue to impact operations.
– 'Last thing SAS needs' –
"A strike is the last thing the company needs right now," van der Werff told reporters.
Pilots walked out on Monday after negotiations between the unions and the company broke down.
The pilots are protesting against salary cuts demanded by management as part of a restructuring plan aimed at ensuring the survival of the company, which has suffered a string of losses since the start of the coronavirus pandemic in early 2020. 
On Monday, SAS said that the strike "is estimated to lead to the cancellation of approximately 50 percent of all scheduled SAS flights," impacting around 30,000 passengers a day.
SAS management announced in February the savings plan to cut costs by 7.5 billion Swedish kronor ($700 million), dubbed "SAS Forward", which was supplemented in June by a plan to increase capital by nearly one billion euros ($1.04 billion). 
Denmark and Sweden are the biggest shareholders with 21.8 percent each. 
Denmark said in June it was ready to increase its stake to 30 percent. Sweden has refused to provide fresh funds, but is willing to turn debt into capital. 
Norway, which left SAS in 2018, has said it is ready to return to the airline, but only by converting debt into equity. 
Suffering, like the rest of the sector, from the impact of Covid-19, SAS cut 5,000 jobs, or 40 percent of its workforce, in 2020. The carrier now had around 6,900 employees at the end of May, a number which fell below 5,000 at the height of the pandemic.
Shares in SAS, already at all-time lows, fell by more than 11 percent in the early hours of trading on the Stockholm Stock Exchange.
SAS's troubles comes as the summer is shaping up to be difficult for European airlines and airports, faced with staff shortages affecting traffic. 
After widespread job losses linked to Covid-19, airlines and airports are struggling to recruit new staff in many countries.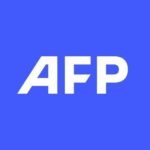 With 2,400 staff representing 100 different nationalities, AFP covers the world as a leading global news agency. AFP provides fast, comprehensive and verified coverage of the issues affecting our daily lives.
Hacker claims major Chinese citizens' data theft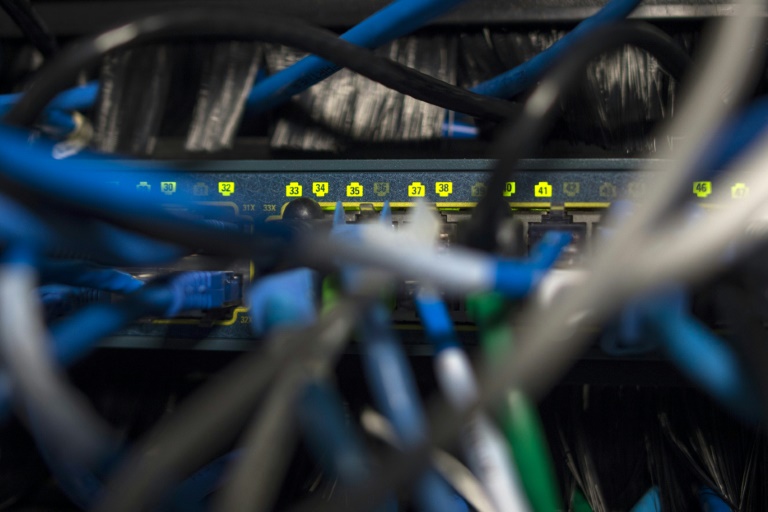 A hacker claiming to have stolen personal data from hundreds of millions of Chinese citizens is now selling the information online.
A sample of 750,000 entries posted online by the hacker showed citizens' names, mobile phone numbers, national ID numbers, addresses, birthdays and police reports they had filed. 
AFP and cybersecurity experts have verified some of the citizen data in the sample as authentic, but the scope of the entire database is hard to determine.
Advertised on a forum late last month but only picked up by cybersecurity experts this week, the 23-terabyte database — which the hacker claims contains the records of a billion Chinese citizens — is being sold for 10 bitcoin (approximately $200,000).
"It looks like it's from multiple sources. Some are facial recognition systems, others appear to be census data," said Robert Potter, co-founder of cybersecurity firm Internet 2.0. 
"There is no verification of the total number of records and I'm sceptical of the one billion citizens number," he added.
China maintains an extensive nationwide surveillance infrastructure that siphons massive amounts of data from its citizens, ostensibly for security purposes. 
Growing public awareness of data privacy has led to stronger data protection laws targeting individuals and private firms in recent years, although there is little citizens can do to stop the state from collecting their data. 
Some of the leaked data appeared to be from express delivery user records, while other entries contained summaries of incidents reported to police in Shanghai over a span of more than a decade, with the most recent from 2019.
The incident reports ranged from traffic accidents and petty theft to rape and domestic violence.
– 'Heads will roll' –
At least four people out of over a dozen contacted by AFP confirmed their personal details, such as names and addresses, as listed in the database.
"So that's why so many people have been adding my WeChat over the past few days. Should I report this to the police?" said one woman surnamed Hao.
"I'm really confused about why my personal data has been leaked," said another woman surnamed Liu.
In replies to the original post, users speculated that the data may have been hacked from an Alibaba Cloud server where it was apparently being stored by the Shanghai police. 
Potter, the cybersecurity analyst, confirmed that the files were hacked from Alibaba Cloud, which did not respond to an AFP request for comment.
If confirmed, the breach would be one of the largest in history and a major violation of the recently approved Chinese data protection laws.
"Heads will roll over this one," tweeted Kendra Schaefer, tech partner at research consultancy Trivium China.
China's cybersecurity administration did not respond to a fax requesting comment.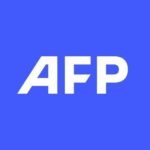 With 2,400 staff representing 100 different nationalities, AFP covers the world as a leading global news agency. AFP provides fast, comprehensive and verified coverage of the issues affecting our daily lives.
I.Coast eyes cassava for its bread as wheat prices surge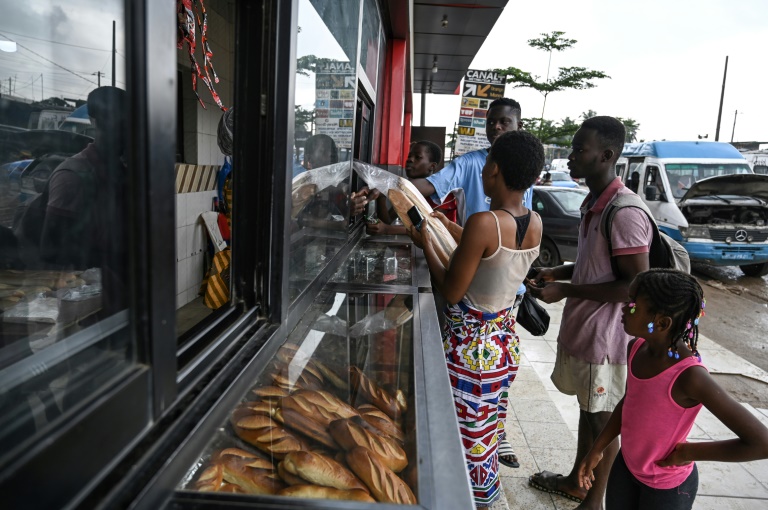 As wheat prices are driven upwards by the war in Ukraine, bakers in the West African state of Ivory Coast are starting to use locally produced cassava flour to bake bread.
The baguette, the stick of bread that is much loved in the former French colony, is commonly seen as a benchmark of the cost of living.
But Ivory Coast does not produce wheat domestically, instead importing up to a million tonnes of the grain per year, mainly from France.
Surging wheat prices have stoked concern about the impact in a country of 25 million where the average wage is less than 250,000 CFA francs ($400) per month, and which was shaken by a wave of violence less than two years ago.
Both Ukraine and Russia are large wheat producers, and lost harvests and other uncertainties have driven up prices of the global staple.
In response, Ivorian authorities have pegged the price of a baguette at between 150 and 200 CFA francs ($0.25 and $0.30) depending on weight, channelling subsidies worth 6.4 billion CFA francs (about $10 million) to the country's 2,500 bakeries. 
Bakers, with the government's support, are also starting to substitute a small portion of wheat flour with flour from cassava, a root vegetable.
Cassava, also called manioc, is Ivory Coast's second largest crop after yam, with 6.4 million tonnes produced each year.
– 'New flavours' –
The cassava substitution plan ticks the boxes for economy and sustainability. But what do Ivorians think?
"Everything has become expensive in the market," said Honorine Kouamee, a food vendor in Abidjan's Blockhaus district who was cooking pancakes made of wheat mixed with coconut flour. 
"If we can make bread with local cassava flour it will be better. People are willing to eat local products."
The national consumers' confederation has thrown its support behind the cassava substitute.
"It will provide a stimulus for manioc producers and maintain the price of bread," said its president, Jean-Baptiste Koffi.
But image and taste are important and some bakers are cautious.
"It's not a done deal," said Rene Diby, a baker.  
"For Ivorians, bread made with cassava is associated with poor-quality bread. Consumers will have to be made aware of these new flavours."
The authorities will have to run a promotional campaign, he said.
Cassava is high in starch and is a good source of dietary fibre.
But high proportions of cassava flour lower the mineral and protein content in bread, compared with traditional wheat, a 2014 study in Nigeria found.
Financially, even using just a small portion of cassava flour would provide the government with some relief.
Last year, 10 percent of the national budget of around $16 billion was spent on food imports, despite the country's fertile soil.
Ranie-Didice Bah Kone, executive secretary of the state-run National Council for the Fight against the High Cost of Living (CNLCV), says it is time to unlock Ivory Coast's rch agricultural potential. 
"It's a question of thinking long term, about our food security, it's a question of thinking about how Ivory Coast will ensure it is less dependent on world prices," she said.
During a visit to a cassava flour processing plant in Abidjan, she called for immediate measures to increase the supply of local flours, in addition to subsidies for the wheat sector.
– 'Africanise baking' –
Concerns in West Africa about dependence on imported wheat are not confined to Ivory Coast. 
On July 19, bakers from across West Africa will meet in Senegal's capital Dakar to launch an association to lobby for setting a regional benchmark of setting up to 15 percent of local content in bread products.
Using local products in bread could "solve food crises," said Marius Abe Ake, who leads a bakers' association.
"We need to Africanise baking to help lower manufacturing costs, fight poverty and avoid damaging unrest."
Ivory Coast has a history of turbulence.
In 2020 scores died in pre-election violence — an episode that revived traumatic memories of a brief civil conflict in 2011 in which several thousand people were killed. 
In 2008 riots broke out when the cost of rice, milk and meat soared.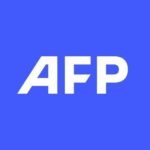 With 2,400 staff representing 100 different nationalities, AFP covers the world as a leading global news agency. AFP provides fast, comprehensive and verified coverage of the issues affecting our daily lives.