US sues cryptocurrency exchange run by Winklevoss twins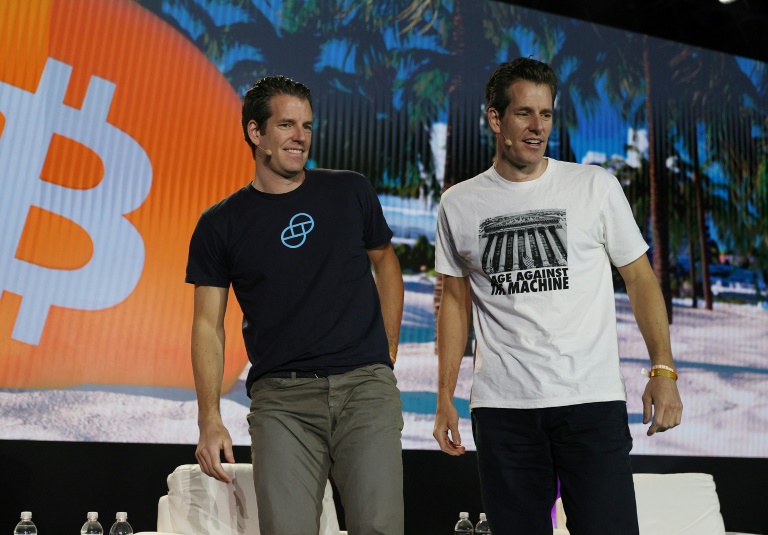 US regulators on Thursday said they are suing the Gemini Trust cryptocurrency exchange, which is run by Cameron and Tyler Winklevoss, for giving misleading answers in 2017 about a bitcoin project.
The Commodity Futures Trading Commission lawsuit filed in federal court in New York accuses Gemini of not being upfront about how easy it would be to manipulate a bitcoin futures project proposed at the time, the agency said in a statement.
The futures contract launched at the end of 2017 and stopped trading two years later, according to blog posts from Gemini and a partner company
Making false or misleading statements to the commission undermines its work to protect market participants, prevent price manipulation, and promote fair competition, acting director of enforcement Gretchen Lowe said in the statement.
"This enforcement action sends a strong message that the Commission will act to safeguard the integrity of the market oversight process," Lowe said.
The US agency is seeking financial penalties, the surrender of any ill-gotten gains, and an injunction forbidding Gemini from such behavior in the future, it said.
Gemini defended its record when asked about the suit.
"We have an eight year track-record of asking for permission, not forgiveness, and always doing the right thing," it told AFP, adding: "We look forward to definitively proving this in court."
Cameron and Tyler Winklevoss, twin Harvard classmates of Mark Zuckerberg, who sued him over claims he stole the idea for Facebook from them, started and run New York-based Gemini.
The brothers told Gemini employees on Thursday that about 10 percent of them were being laid off as staff is trimmed to endure a "crypto winter" likely to persist for a while, according to a copy of the email posted online by the company.
"The crypto revolution is well underway and its impact will continue to be profound, but its trajectory has been anything but gradual or predictable," the brothers said.
The industry is in a "contraction phase that is settling into a period of stasis — what our industry refers to as 'crypto winter'" compounded by macroeconomic and geopolitical turmoil, they added.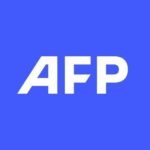 With 2,400 staff representing 100 different nationalities, AFP covers the world as a leading global news agency. AFP provides fast, comprehensive and verified coverage of the issues affecting our daily lives.
Chinese developer Shimao misses $1 bn bond payment
Chinese developer Shimao Group said it has failed to make payment on a $1 billion bond that matured Sunday, one of the biggest such defaults so far this year in the country's troubled property sector.
China's real estate sector has been struggling since authorities began a crackdown on excessive debt and rampant consumer speculation in 2020, with giants such as Evergrande and Sunac scrambling to make payments and renegotiate with creditors.
The crisis has sparked fears that the industry's struggles could spread to the wider economy, and the latest jolt came Sunday when Shimao said it had not paid the principal and interest on a $1 billion offshore note.
In a filing to the Hong Kong Stock Exchange, where it is listed, Shimao said it has experienced a noticeable decline in contracted sales due to "significant changes to the macro environment of the property sector in China since the second half of 2021 and the impact of Covid-19".
The firm added that it had attempted to negotiate refinancing and waivers but was unable to make some payments because of "challenging" market conditions.
It said it has not received notice from creditors for accelerated repayment, and that lenders have indicated they will not take enforcement action at this point.
Shimao develops residential, hotel, office and commercial properties in China, with projects in major cities such as Beijing and Shanghai.
It was China's 14th biggest developer by contracted sales last year, according to Bloomberg News.
China's developers have been struggling as homebuyers tightened their purse strings owing to an uncertain economic outlook.
One company in the eastern city of Nanjing said it would accept truckloads of watermelons as downpayment from local farmers, according to Chinese media.
"The contagion has spread from Evergrande to Sunac and now Shimao," said Bloomberg Intelligence analyst Kristy Hung.
"That raises our concerns that the extent of the debt crisis is beyond any market watcher's imagination."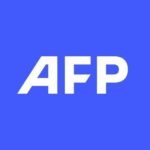 With 2,400 staff representing 100 different nationalities, AFP covers the world as a leading global news agency. AFP provides fast, comprehensive and verified coverage of the issues affecting our daily lives.
Bezos slams Biden appeal for lower gasoline prices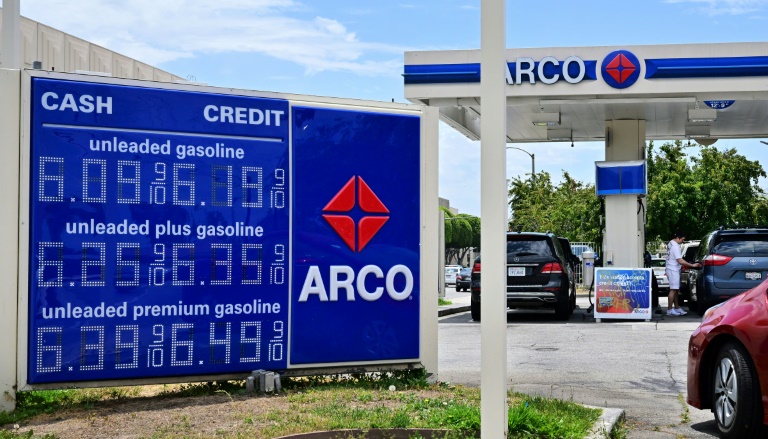 Amazon founder Jeff Bezos has criticized President Joe Biden for calling on oil companies to lower sky-high gasoline prices, prompting the White House to come to the US leader's defense on Sunday.
"My message to the companies running gas stations and setting prices at the pump is simple: this is a time of war and global peril," Biden tweeted Saturday.
"Bring down the price you are charging at the pump to reflect the cost you're paying for the product. And do it now," Biden added.
Bezos said Biden's remarks amounted to "either straight ahead misdirection or a deep misunderstanding of basic market dynamics."
"Ouch. Inflation is far too important a problem for the White House to keep making statements like this," the US billionaire tweeted Saturday.
Gasoline prices at the pump have become a symbol of broader price rises in the United States, and they are sapping Biden's approval rating ahead of legislative elections in November.
Biden has regularly attacked oil companies, saying they only care about profits and not the well-being of the average consumer.
The companies say in turn they have increased production to try to tame prices but that these are set on the world market and are subject to dynamics that are not under the control of US oil giants.
White House Press Secretary Karine Jean-Pierre said on Twitter Sunday that oil prices have dropped about $15 a barrel over the past month.
"But prices at the pump have barely come down. That's not 'basic market dynamics.' It's a market that is failing the American consumer," she wrote.
Gasoline prices have been above $5 a gallon since early June, which is unprecedented in the car-crazy nation. Prices have fallen slightly since, but remain far from the $3 a gallon level of a year ago.
John Kirby, White House spokesman on national security issues, also defended the president Sunday in an appearance on Fox News.
"The president is working very, very hard across many fronts… to try to bring that price down," Kirby said. 
He cited Biden's proposal to suspend the federal gas tax this summer — this would need congressional approval — and his decision to tap the US strategic oil reserves to put more product on the market.
"He knows that it is not going to solve all the problems, but it will help if everybody cooperates on this. We could bring the price down at least by about one dollar a gallon," Kirby said.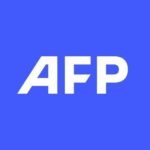 With 2,400 staff representing 100 different nationalities, AFP covers the world as a leading global news agency. AFP provides fast, comprehensive and verified coverage of the issues affecting our daily lives.
DR Congo drug manufacturing plan sparks safety concerns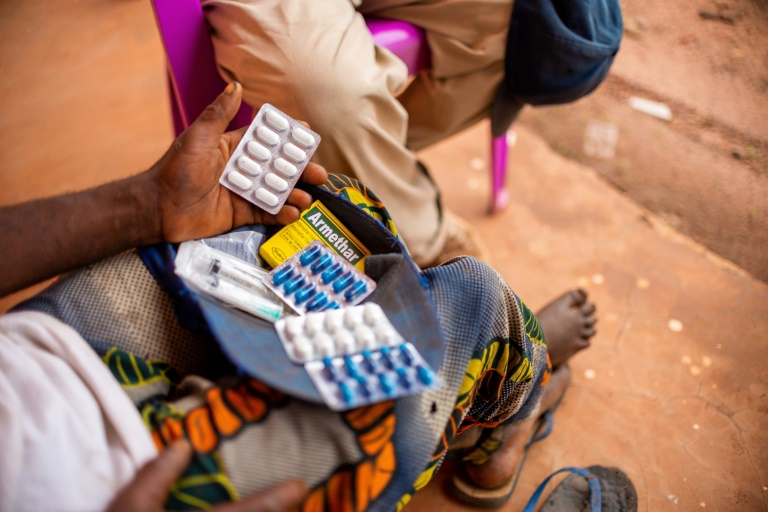 Sitting at his desk overlooking a pharmaceutical factory floor on the outskirts of the Congolese capital Kinshasa, Joss Ilunga Dijimba, 52, cracked a jovial smile.
"It's not easy doing business in Congo," he said.
His family was forced to relocate the factory in the 1990s to survive bouts of mass looting. And nowadays, there are onerous taxes, customs duties, and problems retaining talented staff. 
His company, which employs about 40 people and produces generics such as paracetamol, is one of a tiny number of drug manufacturers in the Democratic Republic of Congo, an impoverished nation roughly the size of Western Europe. 
But a government plan to require hospitals and NGOs to buy more locally produced drugs could soon boost the fledgling pharmaceutical industry — despite fears in some quarters that safety standards are far below international norms.
Several NGOs, some of which provide medical care in the DRC's conflict-torn east, have requested opt-outs.
At the small Pharmagros plant, behind barbed-wire walls near the Congo river, men in hairnets and white coats formulate medicines with imported precursor using lab equipment in airconditioned rooms. 
"Promoting local industry's a good thing," said Dijimba, a University of Texas graduate, insisting that several Congolese firms, including his, maintained high standards. 
"It could grow the middle class."
About 73 percent of the DRC's population of 90 million lives on under $1.9 a day, according to the World Bank. Most products in the African country are imported.
– 'At your own peril' –
The Congolese government has designated 35 drug molecules, including paracetamol, that medical facilities will be required to purchase in locally made form.
The government wants to stimulate business without banning imports, said Donatien Kabamb Kabey, the pharmaceuticals director at the DRC's health ministry.
He explained that all the molecules can be replaced with imported equivalents, suggesting that ibuprofen could replace paracetamol, for example.
Although not yet implemented, the policy already appears to be working.
Fifteen new pharma businesses are setting up in the DRC ahead of the new rules, Kabey said, which will add to the existing 24.
The policy was partly designed to encourage factories to return after fleeing the country in the 1990s, he added, when unpaid soldiers went on the rampage towards the end of ex-dictator Mobutu Sese Seko's reign. 
But experts warn that Congolese-made medicines face a major challenge: reassuring doctors and patients that they meet regulatory standards.
"When you go to the private sector in Congo, you do it at your own peril," said Ed Vreeke, who runs the Belgium-based independent pharmaceutical auditing firm Quamed.
"They know darn well that the quality they produce is not good."
Vreeke said Congolese regulators had improved, but the country lacked the massive resources needed to properly perform audits, check labels, and inspect the chemical composition of drugs for safety.
Kabey, whose department at the health ministry oversees inspections, said standards had improved "enormously" in recent years, but did not provide further details.
He said the government was establishing a national quality-control lab.
– 'A huge thing' –
Shoddy or falsified medicines kill hundreds of thousands of people every year, according to the World Health Organization, mostly in poor countries. 
The DRC's hot and humid climate also poses storage problems.
A 2021 study of both imported and locally produced eye drops sold in Kinshasa, for example, showed that three out of the seven products tested were substandard. The one sample manufactured in the DRC was contaminated.
Outside a pharmacy in Kinshasa's upmarket Gombe district, clutching a bag of medicines, 29-year-old corporate lawyer Joelle Mamputu said she didn't pay attention to where drugs were made but said she had "no prejudice". 
However, a 52-year-old public servant named Olivier said there was "quite a difference" between Congolese and foreign drugs. 
He added he would buy Congolese drugs were the quality the same.
Despite official assurances, major international NGOs such as Doctors Without Borders (MSF) and Medecins du Monde (MDM) have requested opt-outs from the purchasing  requirements, several humanitarian workers said.
MSF declined to comment.
MDM confirmed it had asked for an exemption due to concerns over quality and capacity to meet demand.
"It's a huge thing," said one humanitarian who asked for anonymity, explaining that the new rules will affect all non-governmental organisations, hospitals and pharmacies. 
Many aid workers understand the need to promote enterprise, he said, but there are internal disagreements about whether to compromise on quality.
"We need to have high quality standards for everyone, but the reality of the country is that sometimes it's impossible".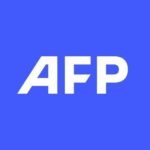 With 2,400 staff representing 100 different nationalities, AFP covers the world as a leading global news agency. AFP provides fast, comprehensive and verified coverage of the issues affecting our daily lives.