Chinese homebuyers halt mortgage payments on unfinished projects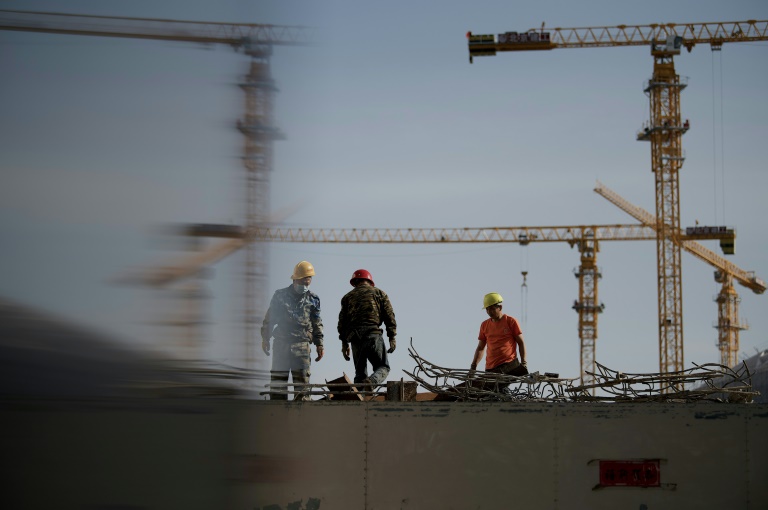 Chinese homebuyers in dozens of cities have stopped making mortgage payments for unfinished projects, according to data from industry groups, worsening fears of financial contagion in the country's troubled real estate sector.
Authorities launched a crackdown on excessive debt in the property sector in 2020, and giants such as Evergrande and Sunac have since struggled to make payments and renegotiate with creditors.
In the latest blow, a growing number of homebuyers have refused to make mortgage payments if developers do not resume construction on units already sold.
As of Wednesday, homebuyers had halted payments for units in at least 100 residential property projects in 50 cities, according to data from research firm China Real Estate Information Corporation (CRIC).
This was up from 28 projects on Monday and 58 on Tuesday, according to a report by analysts at financial firm Jefferies.
"The names on the list doubled every day in the past three days," they said.
These include projects that have experienced significant delays and others that have yet to reach their delivery date, the report said, adding that the incident will dampen buyer sentiment and weigh on a recovery in sales.
If every homebuyer defaulted, non-performing loans will increase by 388 billion yuan ($58 billion), Jefferies said.
The buyers' actions came after postponed deliveries of pre-sold homes, unclear delivery times and halted construction, Nomura analysts said in a report on Thursday.
"Pre-sales are the most common way of selling homes in China, so the stakes there are high," it said.
"We are especially concerned about the financial impact of the homebuyers' 'stopping mortgage repayments' movement, as China's property downturn may finally adversely affect onshore financial institutions."
The developments come at a time of slowing growth for China and weak property sales, adding to the risk to stability ahead of the Communist Party's 20th Congress this fall, when President Xi Jinping is expected to be given another term.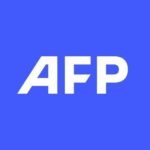 With 2,400 staff representing 100 different nationalities, AFP covers the world as a leading global news agency. AFP provides fast, comprehensive and verified coverage of the issues affecting our daily lives.
Asian markets swing as US inflation spike leaves mixed feelings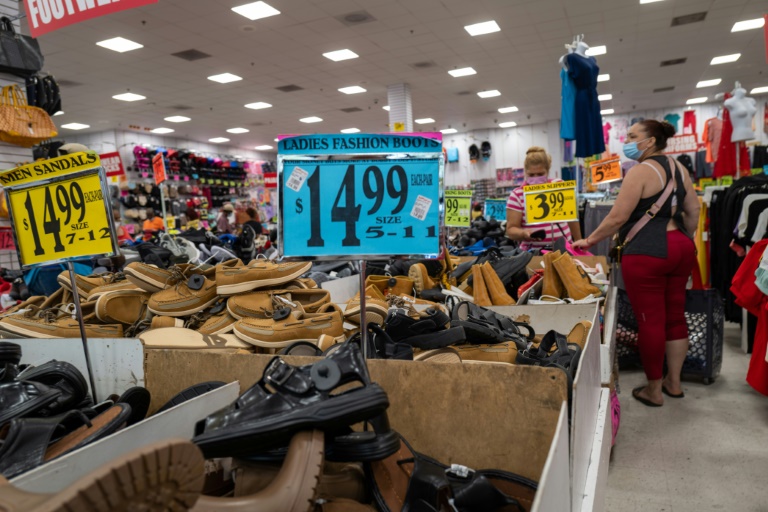 Asian markets fluctuated Thursday as another forecast-busting US inflation print ramped up bets on a quick series of sharp interest rate hikes that traders hope can be quickly walked back once prices are brought under control.
The keenly awaited consumer price index came in at a blistering 9.1 percent in June, the highest since November 1981, as energy costs continued to rocket on the back of rising demand and weak supplies partly caused by the Ukraine war.
Months of soaring inflation have rocked global markets as central banks, fearing prices will run too high, are forced to quickly withdraw the ultra-cheap cash policies put in place at the start of the pandemic.
But that has fanned fears that policymakers could go too far and tip leading economies into recession.
Wednesday's CPI reading was followed by speculation the Fed could hike borrowing costs a full percentage point at its next meeting this month, with some top officials refusing to rule it out just yet.
The bank last month unveiled its first 75 basis point rise for three decades and is one of dozens to hike rates. Canada, New Zealand and South Korea announced hikes Wednesday.
The inflation reading followed Friday's surprise spike in US jobs creation, which suggested the world's top economy was withstanding the rate hikes, giving the Fed more room for further increases.
"Stubbornly high inflation increases the risk that the (Fed) continues to hike aggressively and triggers a recession," said Kristina Clifton at Commonwealth Bank of Australia, adding that that belief was picking up momentum on trading floors.
And Federated Hermes senior economist Silvia Dall'Angelo said the reading suggested "inflation will likely remain sticky at elevated levels for the balance of the year, as external and domestic price pressures continue to pass through to consumer prices".
She added that while commodity prices were off their recent peaks, they were still elevated and were at risk of further supply shocks.
With the jobs market still strong and inflation resiliently high, "the Fed will likely resort to hawkish rhetoric and further front-loading of tightening at least until late autumn, as it fights to maintain its credibility", she said.
Wall Street's three main indexes ended in the red, though they were off their intra-day lows on hopes the Fed will see results by the end of the year begin to cut rates in the new year.
– 'Glimmers of hope' –
Asia was mixed, with Tokyo, Sydney, Wellington, Taipei and Jakarta all up but Hong Kong, Shanghai, Singapore, Seoul and Manila down.
While there is a general sense of gloom, eToro global markets strategist Ben Laidler said there were some "glimmers of hope" in the CPI data.
"Recent falls in super-charged oil and agricultural prices, along with a decline in airfares, provide hope we are near the peak of headline inflation," he said in a note, adding that inflation was "the most important number in global markets right now".
"But early signs of easing inflation pressure give some hope of an end to dramatic interest rate hikes and stronger financial markets by Christmas."
The Fed's drive to tighten monetary policy continues to send the dollar higher, and on Wednesday it finally broke parity with the euro before easing slightly.
Still, an energy crisis in the eurozone and the European Central Bank's decision to move slower in lifting rates, has led commentators to forecast the single currency could fall to as low as $0.95.
– Key figures at around 0230 GMT –
Tokyo – Nikkei 225: UP 0.7 percent at 26,664.20 (break)
Hong Kong – Hang Seng Index: DOWN 0.2 percent at 20,758.19
Shanghai – Composite: DOWN 0.1 percent at 3,281.83
Euro/dollar: DOWN at $1.0025 from $1.0061 Wednesday
Pound/dollar: DOWN at $1.1870 from $1.1893 
Euro/pound: DOWN at 84.47 pence from 84.59 pence
Dollar/yen: UP at 138.00 yen from 137.36 yen
West Texas Intermediate: FLAT at $96.30 per barrel
Brent North Sea crude: FLAT at $99.57 per barrel
New York – Dow: DOWN 0.7 percent at 30,772.79 (close)
London – FTSE 100: DOWN 0.7 percent at 7,156.37 (close)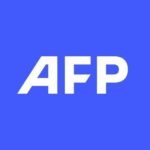 With 2,400 staff representing 100 different nationalities, AFP covers the world as a leading global news agency. AFP provides fast, comprehensive and verified coverage of the issues affecting our daily lives.
IMF agrees to resume Pakistan loan after fuel, tax hikes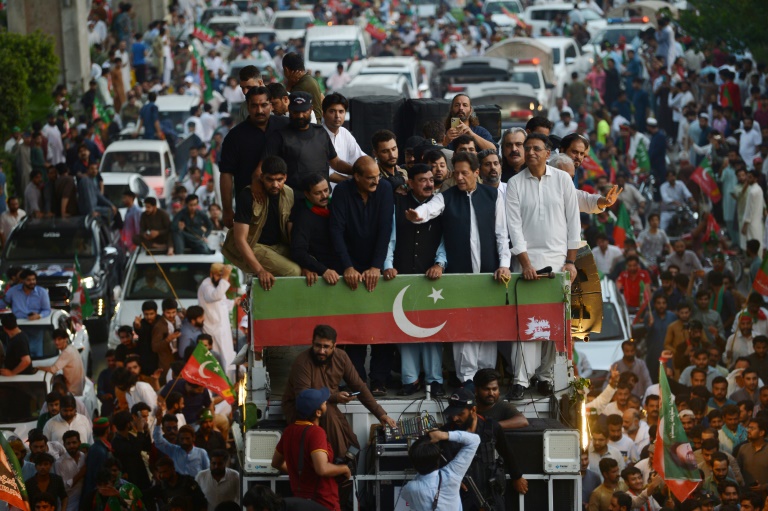 The International Monetary Fund (IMF) said Thursday it had agreed with Pakistan to resume a suspended loan programme that will inject $1.17 billion into the struggling economy.
A statement from the IMF said a "staff level agreement" — which is still subject to board approval — will bring to $4.2 billion the amount dispersed under an extended fund facility (EFF) that could increase to $7 billion and stretch until June next year. 
An original $6 billion bailout package was signed by former prime minister Imran Khan in 2019, but repeatedly stalled when his government reneged on subsidy agreements and failed to significantly improve tax collection.
The new agreement follows months of deeply unpopular belt-tightening by the government of Shehbaz Sharif, which took power in April and has effectively eliminated fuel subsidies and introduced new measures to broaden the tax base.
"Pakistan is at a challenging economic juncture," Nathan Porter, who headed the IMF team, said in a statement, adding external factors and domestic policies were to blame.
Pakistan is desperate for international support for its economy, which suffers from poor revenue collection and dwindling foreign reserves to pay its crippling debt.
The new government has slashed a raft of subsidies to meet the demands of global financial institutions but risks the wrath of an electorate already struggling under the weight of double-digit inflation.
A new coalition government — which came to power after Khan was ousted by a parliamentary no-confidence vote — has said it will make the tough decisions needed to turn the economy around.
Successive administrations blame their predecessors for the country's economic woes, but analysts say the malaise stems from decades of poor management and a failure to tackle endemic corruption and widespread tax avoidance.
In a bid to secure the IMF loan, Prime Minister Sharif has imposed three fuel price hikes -– cumulatively totalling 50 percent -– and raised the cost of electricity to effectively end the subsidies introduced by Khan.
Islamabad has so far received $3 billion from the programme, but with the facility due to end later this year, officials sought an extension until June 2023. 
"It became essential to resume the IMF programme to save the country from default," finance minister Miftah Ismail told the national assembly last month.
"We knew it would damage our political reputation, but still we did it." 
The latest budget has earmarked 3.95 trillion rupees ($18.8 billion) just to service the country's whopping debt of $128 billion.
Agreed policy priorities included steadfast implementation of the budget, the IMF's Porter said in the statement.
Pakistan also agreed to continue power sector reforms, introduce a proactive monetary policy to tackle inflation, strengthen governance, combat corruption, and improve the social security net.
"The authorities should nonetheless stand ready to take any additional measures necessary to meet program objectives, given the elevated uncertainty in the global economy and financial markets," the statement added.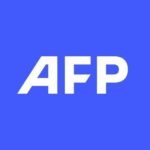 With 2,400 staff representing 100 different nationalities, AFP covers the world as a leading global news agency. AFP provides fast, comprehensive and verified coverage of the issues affecting our daily lives.
UK 'jobs miracle' turns into employers' nightmare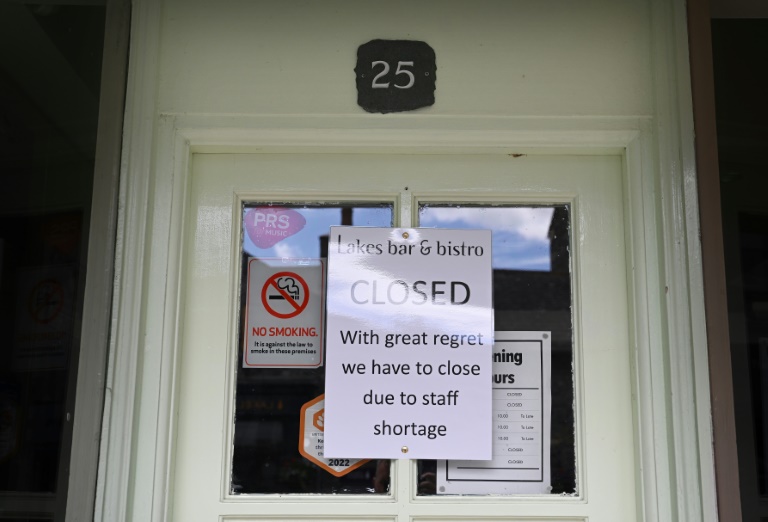 Job vacancies seem to come ten-a-penny in Keswick, a tourist town in England's picturesque Lake District, as the hospitality sector cries out for staff — shortages which are a direct result, critics say, of the coronavirus pandemic and of Brexit.
"Two live-in chef positions available. Excellent rates of pay," reads one advert in a restaurant window.
"Hiring. No experience needed," says another in a fish-and-chip shop.
Britain's ruling Conservative party claims to have engineered a "jobs miracle" since coming to power in 2010, with the national unemployment rate currently standing at 3.8 percent, the lowest level in almost 50 years. 
That is, in fact, better than the International Labour Organization's definition of "full employment" — a jobless rate of five percent.
But for Tony Wilson, director of the Institute for Employment Studies, while the current situation in Britain may be "the best context in 20 years for workers", it is not good for the economy as a whole.
The shortage of workers may be "leading to pay growth and some improvements in employment terms, but it doesn't help the economy at all," he said.
If companies are unable to fulfil their potential then profits and overall growth take a hit, he argued. 
– Low growth –
Indeed, Britain is set to have the lowest economic growth of any Group of Seven country, projections show.
Back in Keswick, Alison Lamont, the 60-year-old co-owner of the Relish cafe, does not have a minute to spare as she juggles serving with taking payments.
Since Covid lockdowns were lifted, the small eatery has switched to takeaway services only. 
There is simply no "time for clearing the tables", says Lamont.
Despite attempts to recruit via social media or simply by word-of-mouth, she cannot find the extra staff needed to run the cafe properly.
Young people "all want to be influencers or work from home", Lamont complains. 
"The main impact on family life is that we don't get weekends together and no time away, we have to work and work and work," she tells AFP, as her husband, who prepares the food upstairs, runs down to bring a sandwich.
Lamont, welcoming each customer like an old friend, says she bought the cafe with her husband around a year before Covid struck.
She struggles to sleep some nights and sees no end to the current situation.
"You can only do this for so long," Lamont says. 
– No luck –
Further up the street, the restaurant at George Hotel was forced to shut for three-and-a-half months this year because it had no chef, costing the business £30,000 ($35,000) a week, a situation that is seen again and again across the UK. 
The owner of a London beauty salon told AFP she had even resorted to using a headhunter, typically used for recruiting senior management positions, to find a beautician — with no luck so far.
In other sectors, airlines such as British Airways and EasyJet are struggling to re-hire the staff they laid off in their thousands at the start of the pandemic. 
The result: mass flight cancellations and a situation that is only set to become worse during the upcoming summer holiday season.
The reasons for Britain's current labour market woes are widely blamed on the country's decision to quit the European Union and on the economic fallout from the coronavirus pandemic. 
"Since the economy reopened… the demand for workers is much higher than the job seekers, especially in low-paid, low-skill sectors" such as cleaning, construction, distribution and warehousing, said Jack Kennedy, UK economist at recruitment group Indeed.
The fallout from Covid has caused almost half-a-million UK workers to leave the labour market, the expert said.
While employment rates in both France and Germany are currently "higher than before the pandemic," in the UK and US "it is still below pre-pandemic levels," said Wilson at IES.
– No Brits –
Seasonal farm jobs — which outgoing Prime Minister Boris Johnson claimed would be filled by Britons following Brexit — remain vacant.
"I don't think it has ever been so difficult," says Derek Wilkinson, managing director of vegetable grower Sandfields Farms in central England.
Prior to Brexit, Britain's agricultural and construction sectors had relied heavily on workers from central and eastern Europe, many of whom have since returned home.
Wilkinson, 55, points out that seasonal labourers must now apply for a special visa, which can take seven weeks to come through. 
According to Indeed economist Kennedy, there is a total shortfall of around 200,000-300,000 European workers, including many Ukrainians who have stayed home to fight in the war against Russia.
With other eastern Europeans going back to home countries that have recently become more prosperous — and Britons themselves showing little inclination to take on such back-breaking work — many employers are having to look further afield for seasonal staff, from the Philippines, South Africa and Uzbekistan.
Wilkinson said that with a shortfall of 120 staff in May, Sandfields Farms would have to let 40,000 kilos of asparagus and 750,000 bunches of spring onions go to waste.
And coupled with Britain's cost-of-living crisis, that means his annual profits this year will be halved.
In order to woo workers, companies are having to offer better pay and conditions.
Wilkinson has renovated 400 mobile homes for seasonal workers, and a restaurant owner in Keswick has purchased a building to house their staff.
Gary Marx, owner of Keswick's George Hotel, has awarded pay rises far above the rate of inflation.
– New perks –
Other firms are offering different kinds of perks. 
Accountancy giant PricewaterhouseCoopers, for example, allows employees to finish work early on Fridays. But some smaller companies are offering massage and aromatherapy treatments to staff, while dozens of other firms are trialling four-day weeks.
All this comes at a time when many Britons are re-thinking their careers completely.
With many workers on precarious contracts, one million people switched jobs in the last quarter, seeking better pay and a better life.
Before becoming pregnant, Lorna Roberts, 26, worked in hospitality. But with the arrival of her baby and the stresses of restaurant work, she moved to retail.
"It started to become more difficult after lockdown," says Roberts, who now sells outdoor gear for Alpkit in Keswick. 
"A lot of people were rude, we were short-staffed constantly," she says, describing how former colleagues suffered panic attacks and breakdowns.
Her new, less stressful job also fits in better with her interest in nature. And Roberts says her hourly wage has also increased. 
"I saw an ad outside and I just thought to pop in and ask," she says, highlighting the ease with which people are able to switch jobs in the current climate.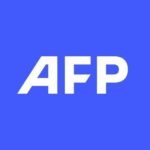 With 2,400 staff representing 100 different nationalities, AFP covers the world as a leading global news agency. AFP provides fast, comprehensive and verified coverage of the issues affecting our daily lives.