French police bust gang selling fake Bordeaux wine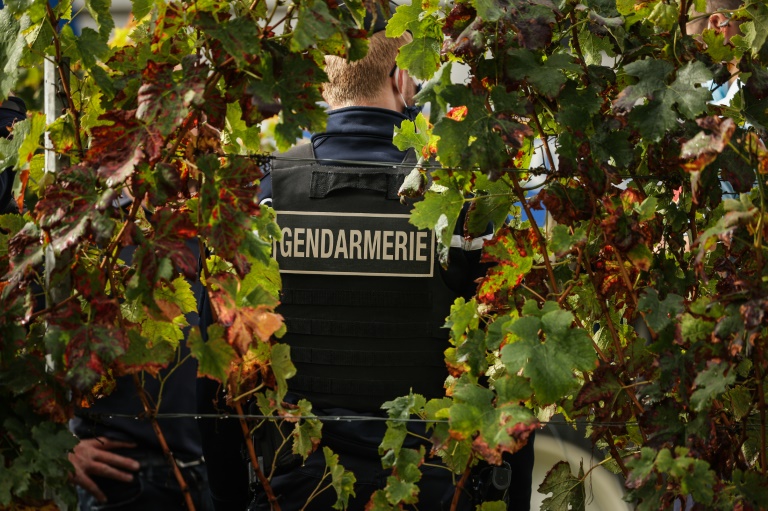 French police have broken up a gang that had allegedly produced hundreds of thousands of bottles of fake Bordeaux wine in an elaborate counterfeiting operation, prosecutors said on Friday.
Officers investigating drug dealing in the southwestern French region discovered printing machinery being used to create the labels for the bottles last September, sparking a wider criminal probe.
It led to the arrest of around 20 people on Monday during an operation in seven different areas of France, with three of them charged with organised fraud, counterfeiting and money laundering.
The main suspect is a winemaker and broker in the Medoc region near Bordeaux who was buying low-grade wine from other areas including Spain, then bottling it up as more expensive local produce, a statement from Bordeaux prosecutors' office said.
"Major orders" had been placed for the wine "destined for supermarkets and foreign countries", the statement added.
Bottling operations were being run at night to avoid detection, it said.
"If the allegations are proven, we hope that the culprits will be heavily punished because these practices undermine the image of Bordeaux wines and those who work properly and respect the rules," the local wine industry body told AFP.
French wine makers, customs and police are constantly on the lookout for cheats who pass off budget plonk as top vintages.
In 2016, police busted a Bordeaux vintner who was blending poor-quality wine with high-end Saint-Emilions, Lalande-de-Pomerols and Listrac-Medocs to sell to major supermarkets under prestigious labels.
The owner of several domains, Francois-Marie Marret, was handed a prison sentence and a fine of eight million euros after being found bringing in cheap wine at night.
In 2010, 12 French winemakers and dealers were convicted of selling millions of bottles of fake Pinot Noir to the US firm E&J Gallo.
Before that, in 2006 legendary Beaujolais winemaker Georges Duboeuf was fined more than 30,000 euros for blending grapes from different vineyards to disguise the poor quality of certain prized vintages.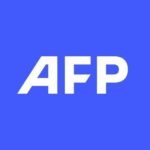 With 2,400 staff representing 100 different nationalities, AFP covers the world as a leading global news agency. AFP provides fast, comprehensive and verified coverage of the issues affecting our daily lives.
Are the days of 'Big Tech' on their way out?
"These are cost-cutting measures, but if you talk to people in tech, they're sort of emotional, cultural resets as well," explains tech reporter Peter Kafka in podcast.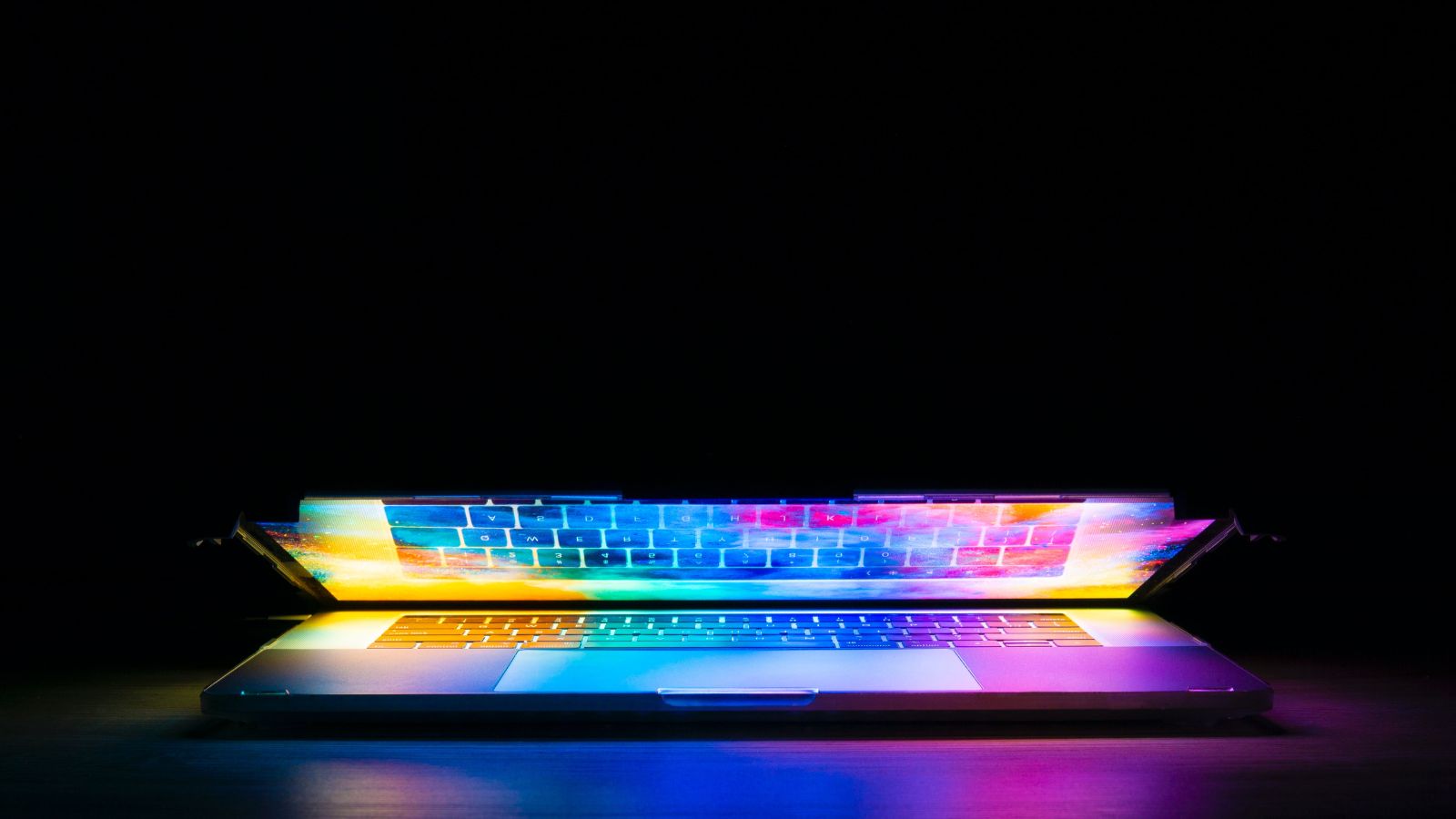 Silicon Valley is having a bit of a rough go lately.
Layoffs at some of the biggest tech companies — 10,000 at Amazon and 11,000 at Meta for starters — have hit the sector hard, and there's an air of downsizing all around. This means that in addition to letting staff go, even all those perks that many startups and long-established companies alike have used to lure top tech talent — think offices with stocked fridges, gyms, and shuttle services — have been reined in.
A recent episode of Vox's podcast Today, Explained dove into what's happening in the tech world, speaking to Peter Kafka, a tech reporter at Recode.
Here are three highlights from the conversation:
On the current landscape as an "existential shift"
I think most people who are working in tech have only been there during boom times. The last real deflation in tech was all the way back in 2000, 2001. There's almost no one working in tech now who was around for that. So if you've been working in tech, you've only known things going up and to the right. You got paid a lot. There were always companies who wanted to hire you away from the company you were at, so you got paid even more. You knew that you could leave Facebook or Google and go to a startup, and if that startup didn't work, maybe it would get bought by Facebook or Google.
And all of that comes to a record-scratch stop this year.
On the lack of growth in the sector
Yes. There's a bigger story that goes back a couple of decades. These tech companies, Google, Facebook, Amazon, and Apple all had crazy, crazy, crazy growth. They were selling tons of ads. They were selling tons of iPhones. They reflected a big change in the way the world used technology. They were at the front of that. They got rewarded for that.
But those companies aren't growing at the same rate anymore. Many of them are pretty old now — or their main product is pretty old. The iPhone is 15 years old. Google's main search ad business is 20 years old. YouTube is 15 years old, more or less.
On the "fable and myth" of Silicon Valley
Yeah. I don't want to be pollyannaish about this because people are losing jobs. And people are going to have a harder time paying rent or mortgages or feeding their families. But it's part real and part fable of Silicon Valley to have this creative destruction where old things get taken down. New, cool things get built in their place. It's part of the fable and myth of Silicon Valley that has a great deal of truth to it as well.
And so there's lots of folks saying, "All right, we're going to go make something new. By the way, we made a bunch of money in the last couple of years, the last 10 years. We can afford to not be working at a Big Tech company for a while. Let's go cast around for a new idea."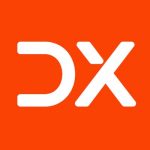 DX Journal covers the impact of digital transformation (DX) initiatives worldwide across multiple industries.
Jobs where you're most likely to be single at 40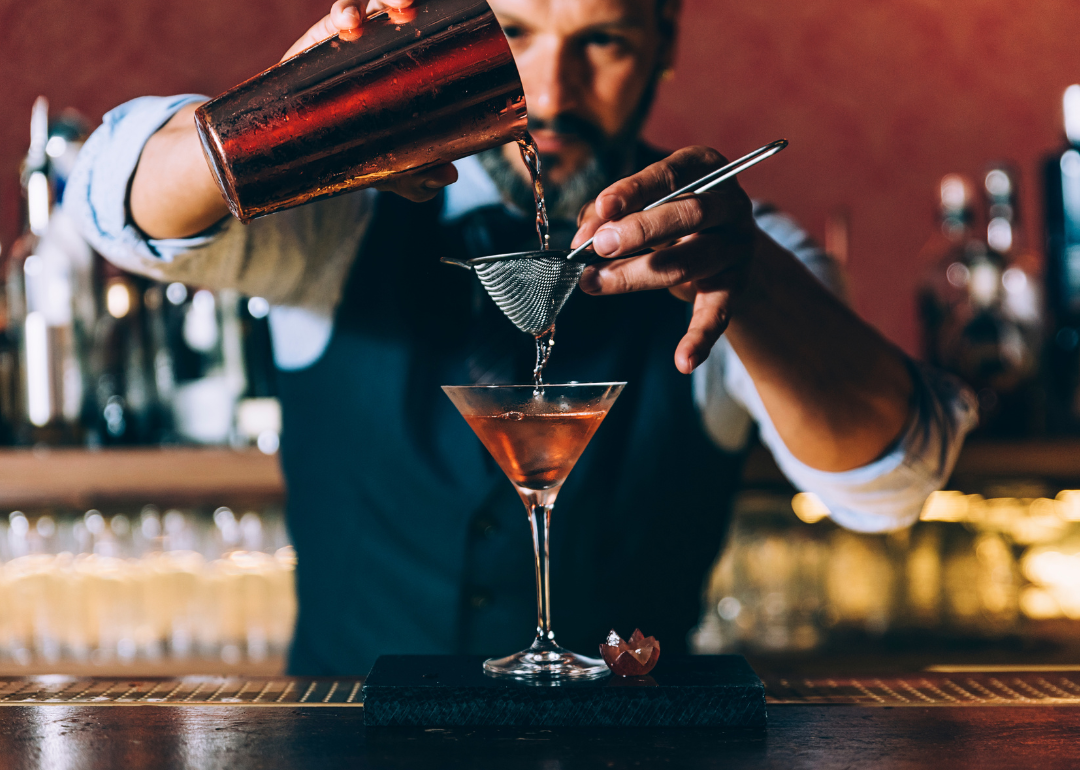 Ever felt like your job was holding you back from meeting that special someone? You may be right.
To determine jobs where you're most likely to be single at 40, Stacker analyzed data from the 2021 American Community Survey, powered by the Census Bureau. The percentage of never-married respondents was calculated by dividing the number of respondents who had never been married by the total respondents for a given occupation; this metric ranks the list.
Similarly, the percentage of single respondents was calculated by dividing the sum of the respondents who reported they were never married, widowed, divorced, or separated into the total respondents for a given occupation. Inevitably, there is overlap between those who said they were never married and those who are considered "single."
Perhaps not surprisingly, many of these occupations are in the service industry, likely because employees in the service industry work long hours, evenings, and weekends and may not have time outside of work to find a partner. However, some blue-collar jobs also made the list.
The reality is that more people than ever are choosing to remain single longer, regardless of occupation. The Centers for Disease Control and Prevention found that the marriage rate fell from 8.2 marriages per 1,000 people in 2000 to 5.1 marriages per 1,000 people in 2020. People delay marriage for numerous, wide-ranging reasons, from feeling unprepared financially to not wanting to settle down.
Meanwhile, the number of unpartnered people continues to grow. The Pew Research Center found in 2019 that nearly 1 in 3 adults between 40-54 were unpartnered, compared to 1990 (almost 1 in 4).
Keep reading to discover the jobs where you're most likely to be single at 40.
You may also like: 50 most physical jobs in America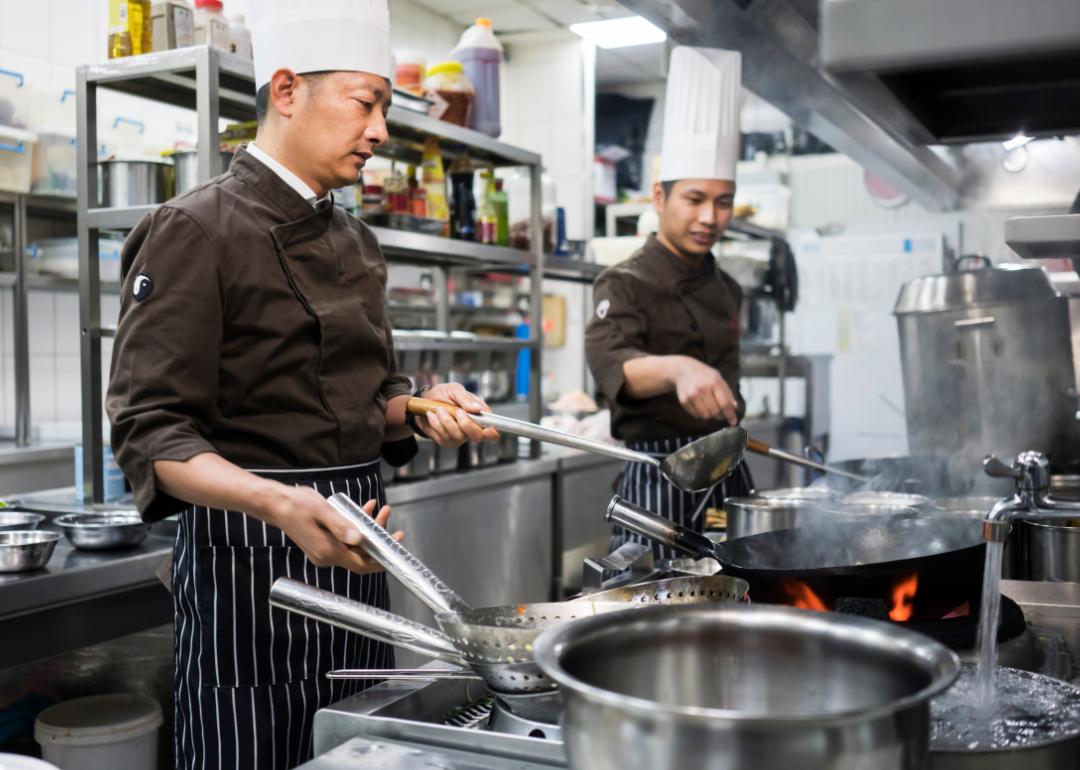 Canva
#30. Cooks
– Percent never married: 56.96%
– Percent single: 70.45%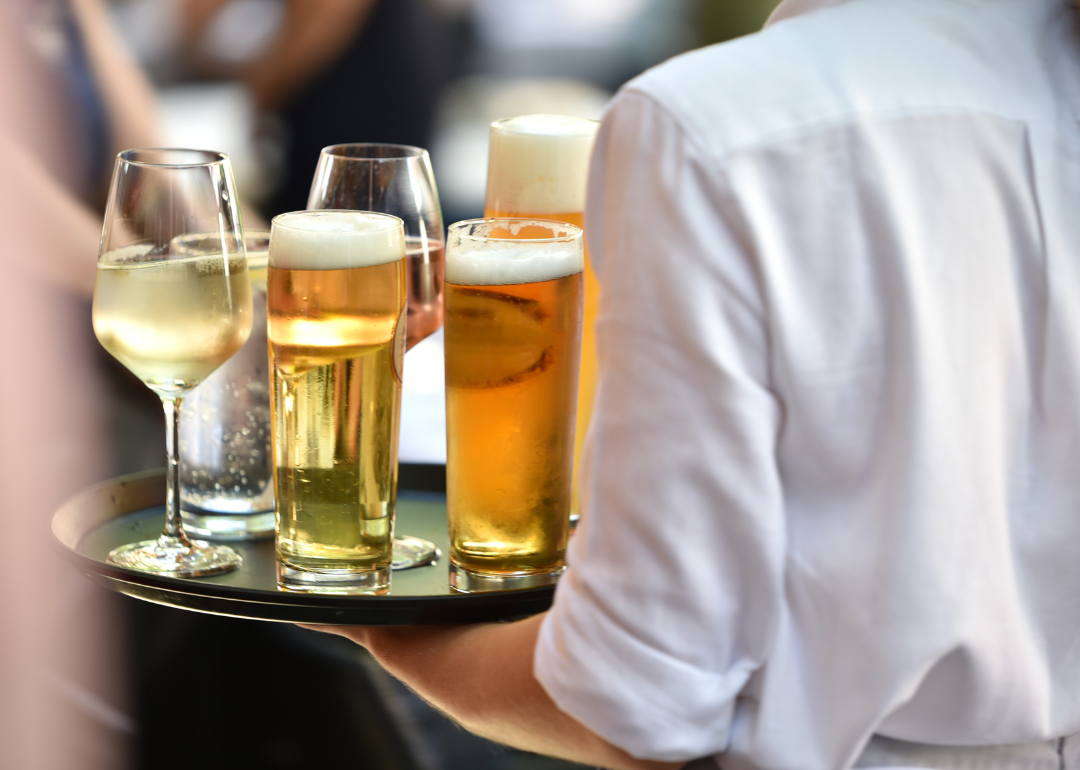 Canva
#29. Food servers, nonrestaurant
– Percent never married: 57.27%
– Percent single: 70.38%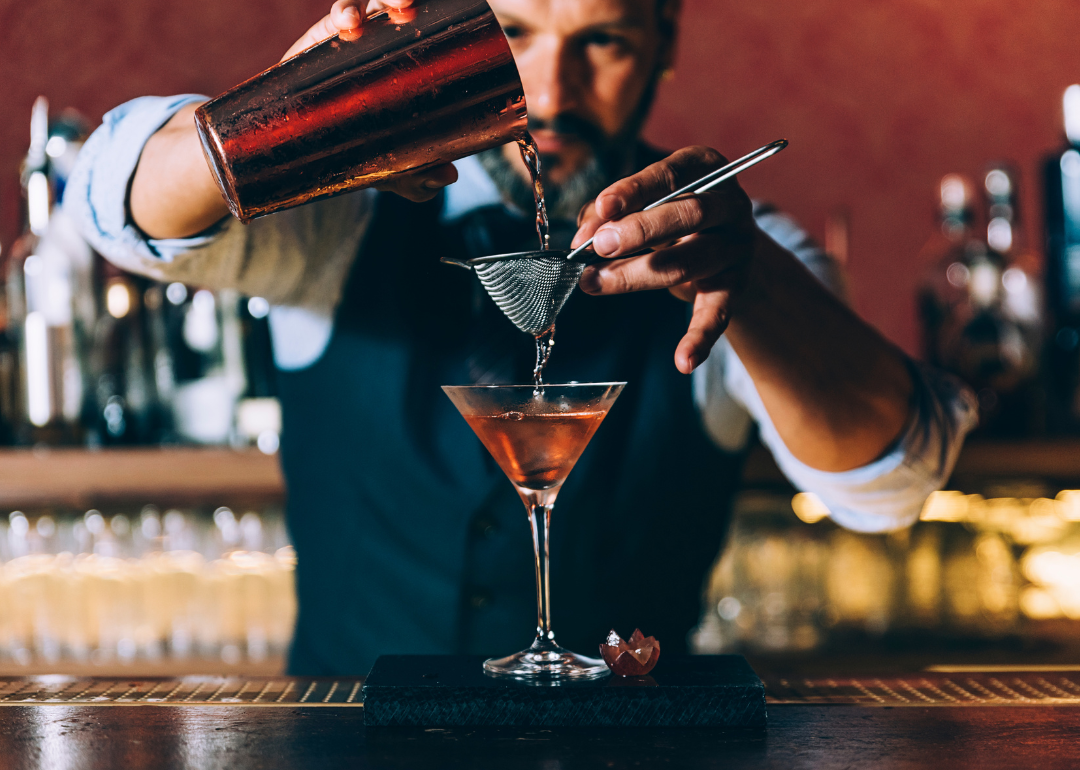 Canva
#28. Bartenders
– Percent never married: 57.5%
– Percent single: 73.1%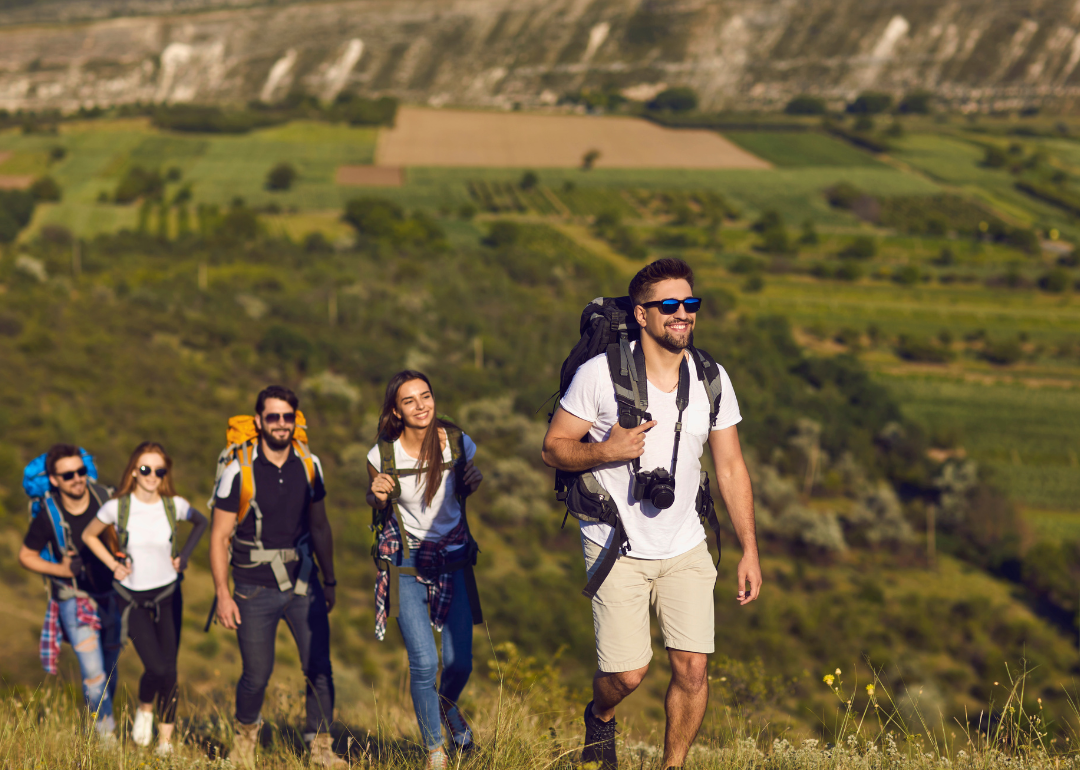 Canva
#27. Tour And travel guides
– Percent never married: 58.19%
– Percent single: 66.59%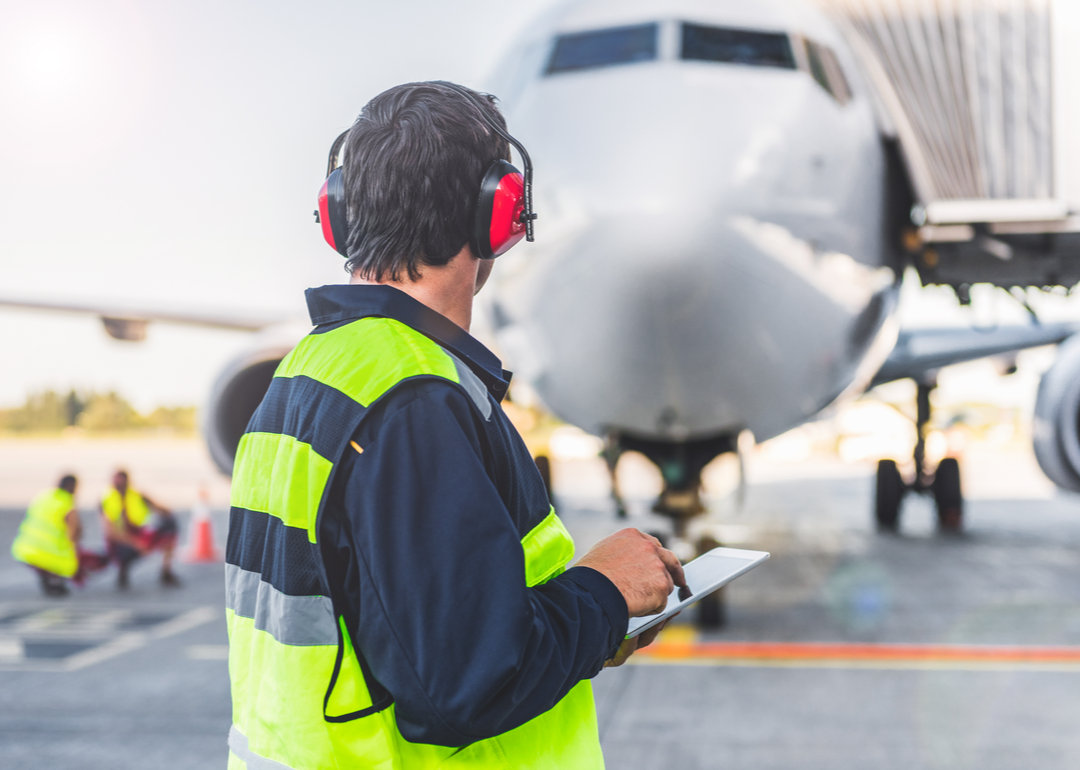 Olena Yakobchuk // Shutterstock
#26. Transportation service attendants
– Percent never married: 58.91%
– Percent single: 69.92%
You may also like: Jobs with the lowest divorce rates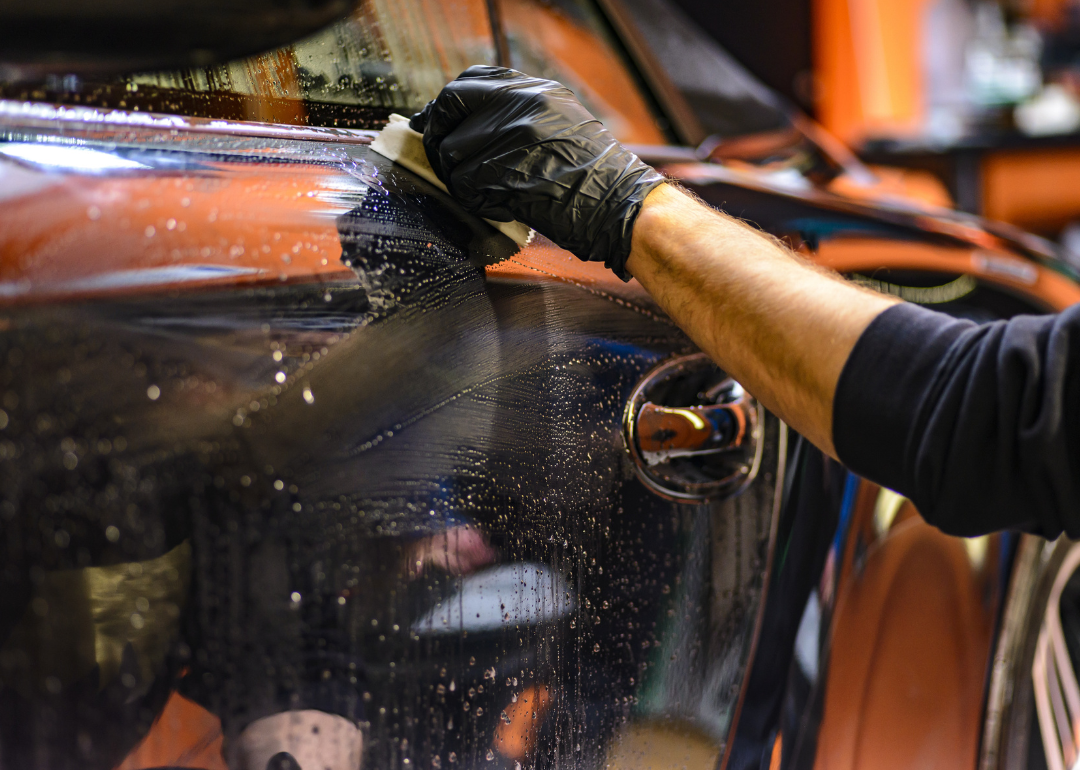 Canva
#25. Cleaners of vehicles and equipment
– Percent never married: 59.14%
– Percent single: 71.05%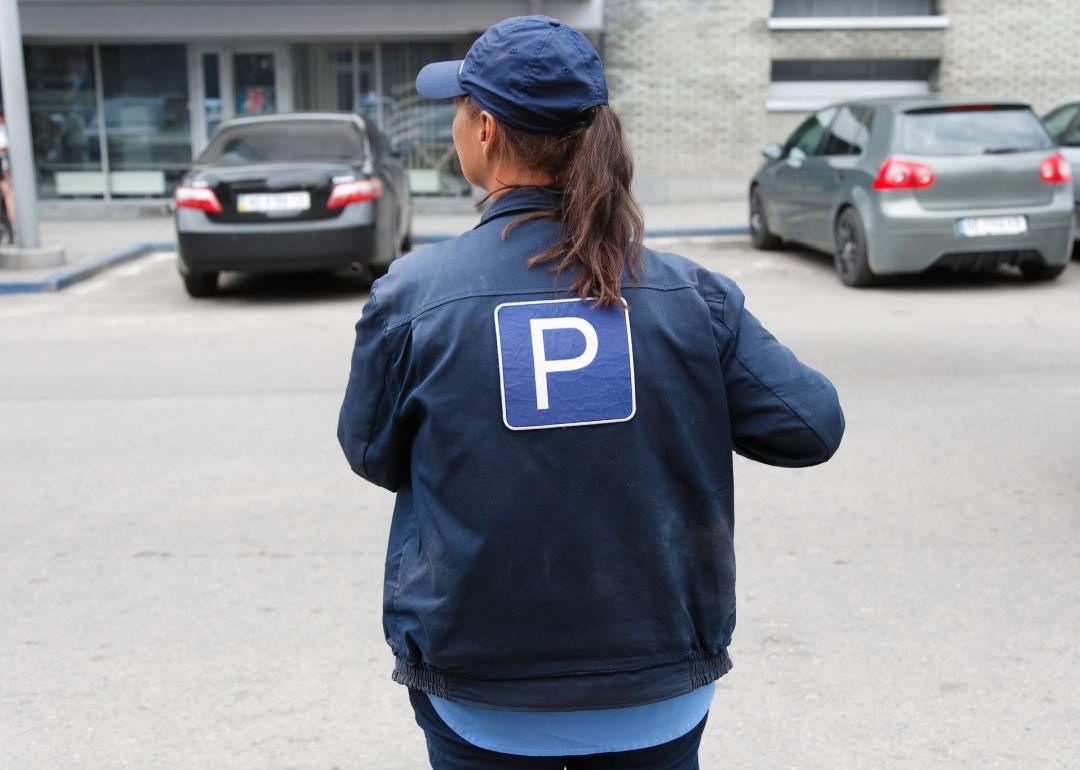 Yevhen H // Shutterstock
#24. Parking attendants
– Percent never married: 59.37%
– Percent single: 70.06%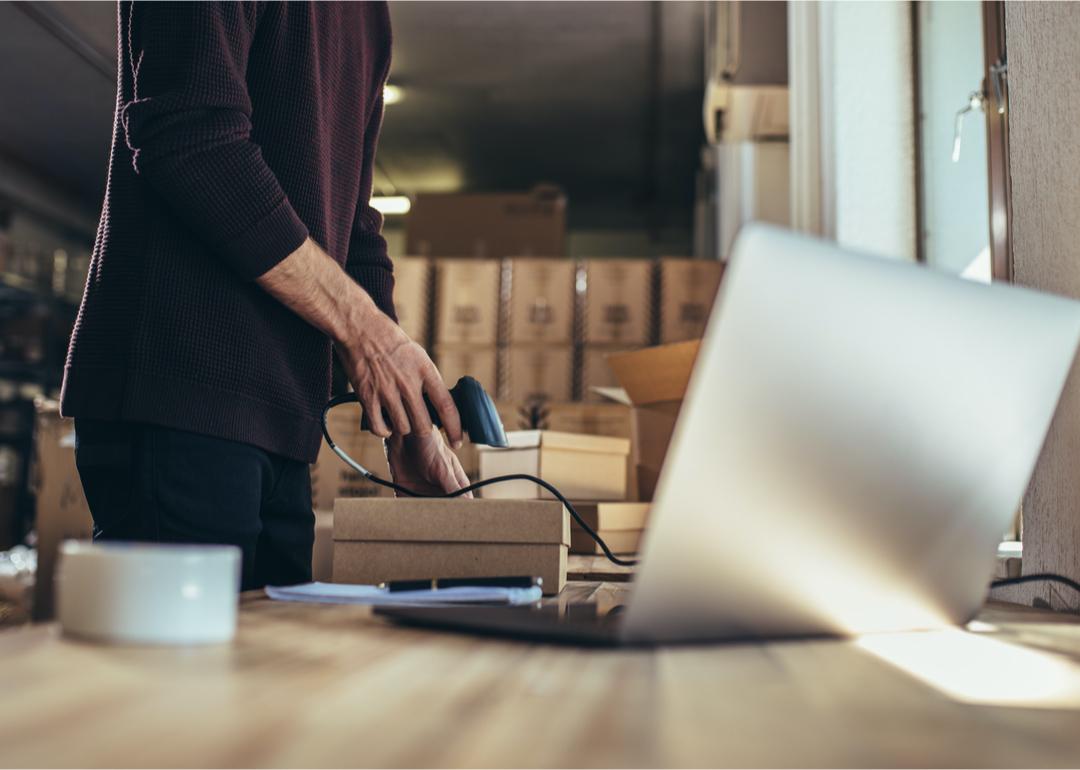 Jacob Lund // Shutterstock
#23. Stockers and order fillers
– Percent never married: 60.3%
– Percent single: 71.93%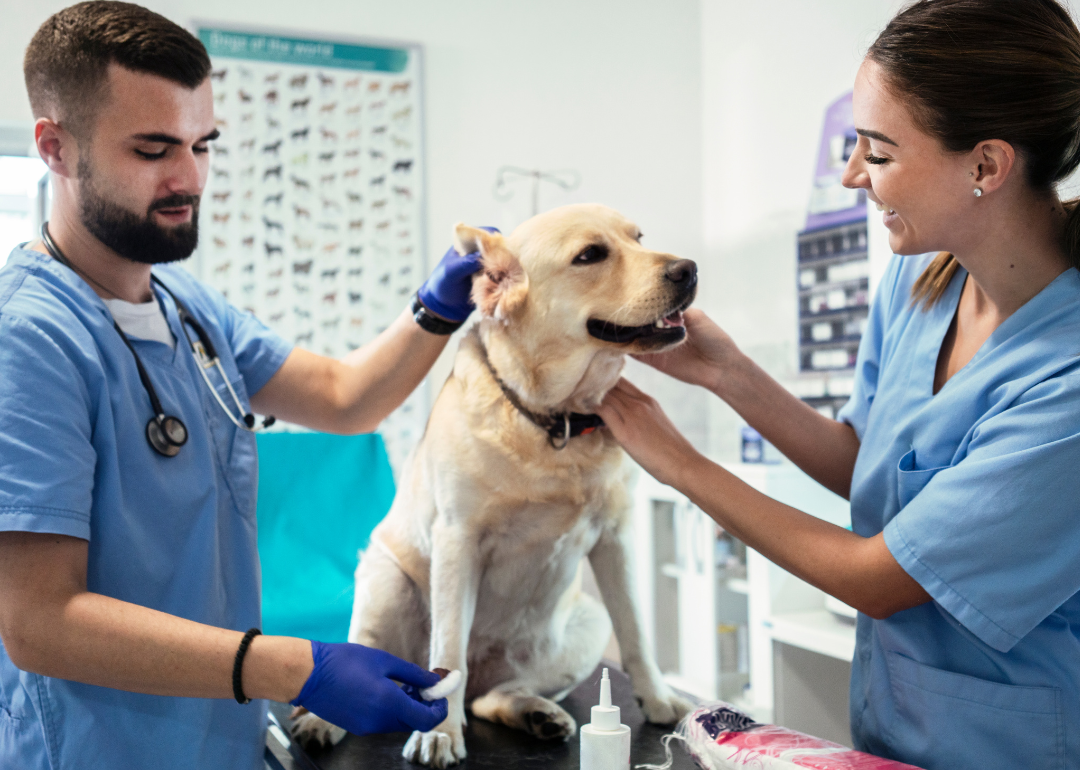 Canva
#22. Veterinary assistants and laboratory animal caretakers
– Percent never married: 60.84%
– Percent single: 67.19%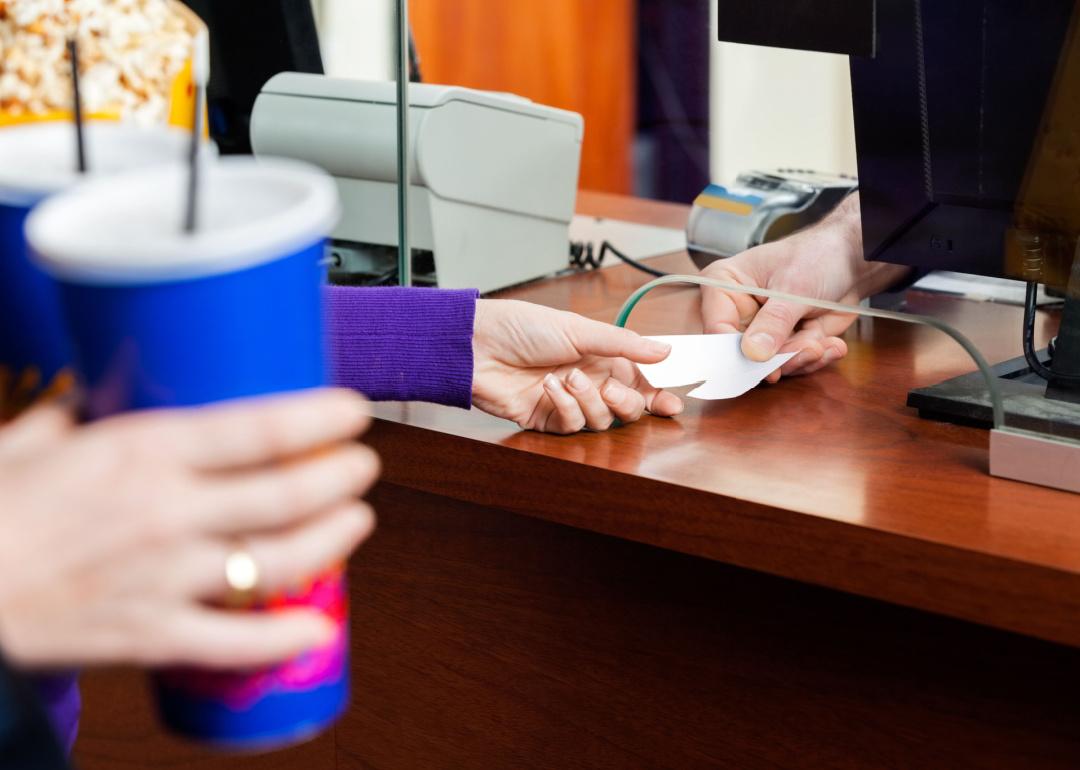 Tyler Olson // Shutterstock
#21. Ushers, lobby attendants, and ticket takers
– Percent never married: 61.38%
– Percent single: 73.53%
You may also like: Former jobs of every Supreme Court justice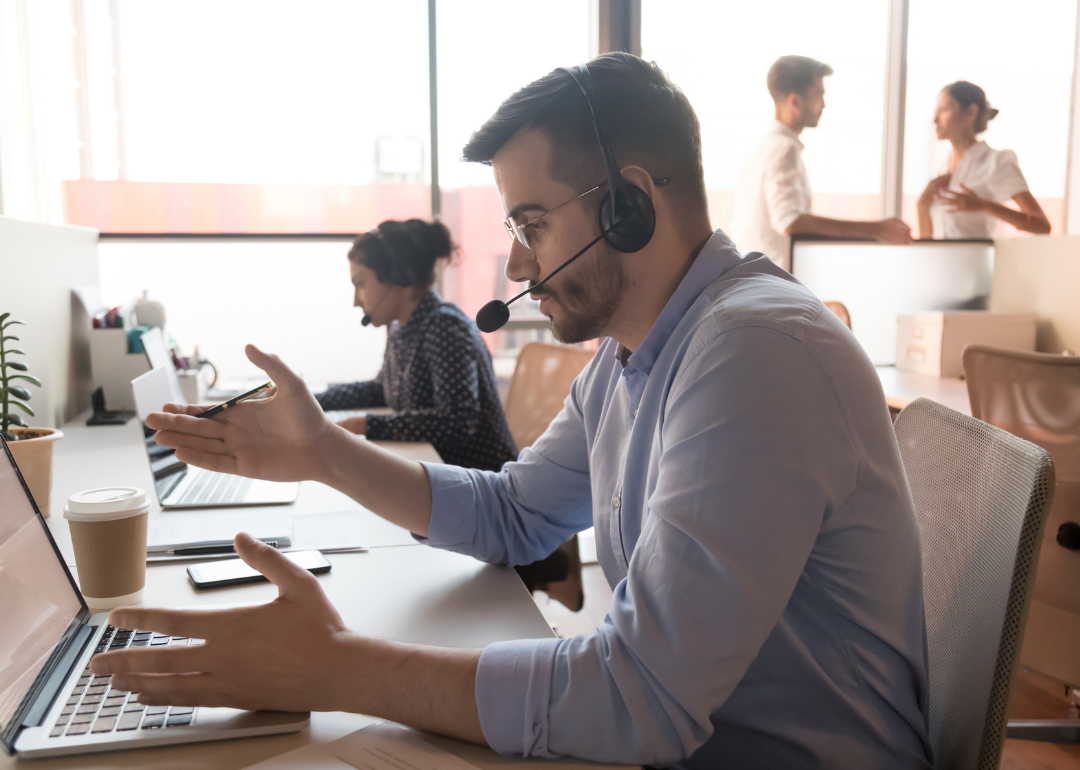 Canva
#20. Telemarketers
– Percent never married: 61.45%
– Percent single: 74.78%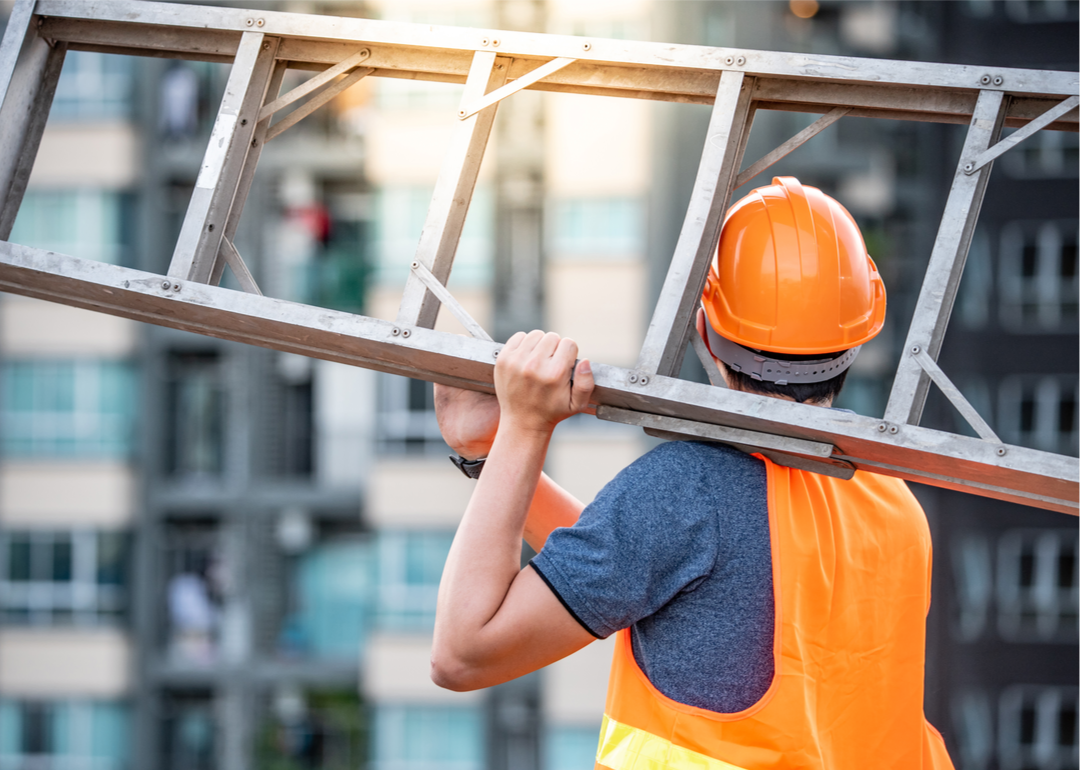 ephyr_p // Shutterstock
#19. Helpers, construction trades
– Percent never married: 62.48%
– Percent single: 70.51%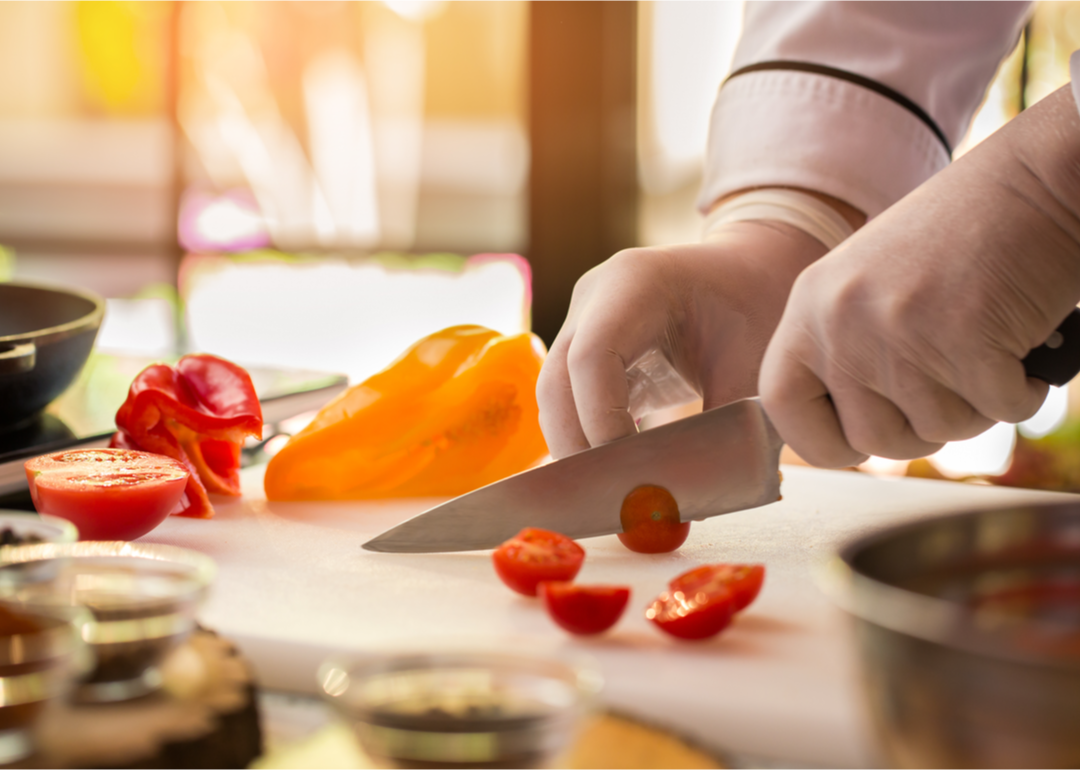 DenisProduction.com // Shutterstock
#18. Food preparation workers
– Percent never married: 62.52%
– Percent single: 75.17%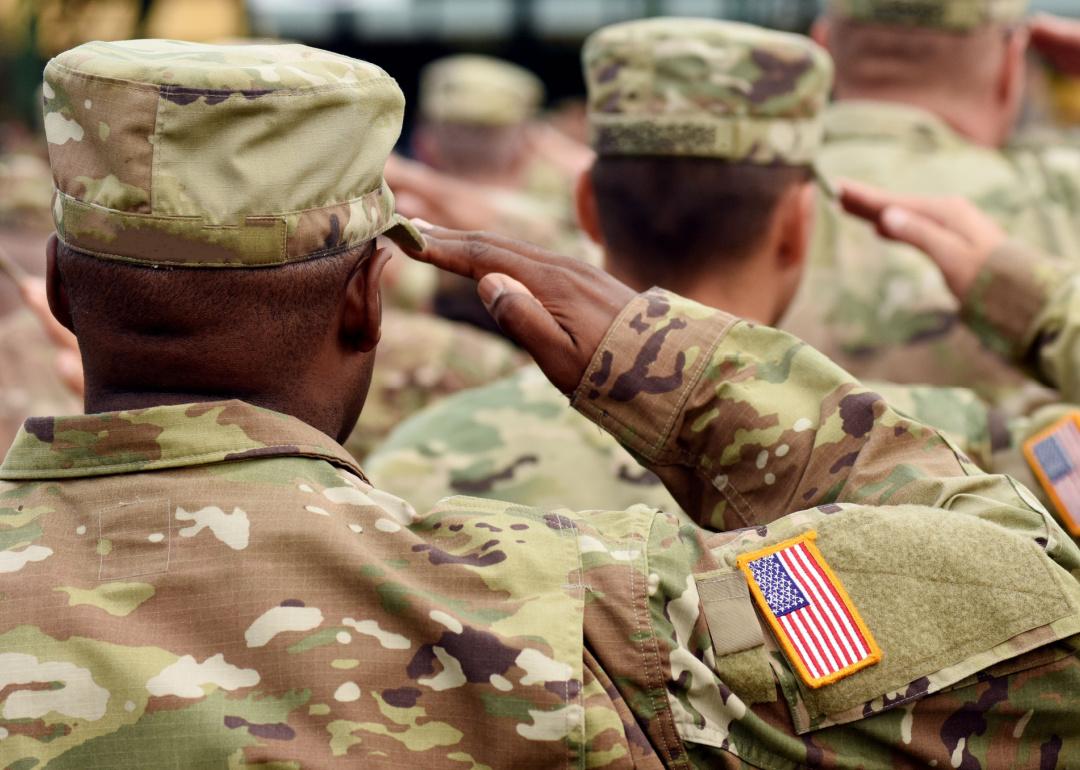 Bumble Dee // Shutterstock
#17. Military-enlisted tactical operations and air/weapons specialists and crew Members
– Percent never married: 62.8%
– Percent single: 67.08%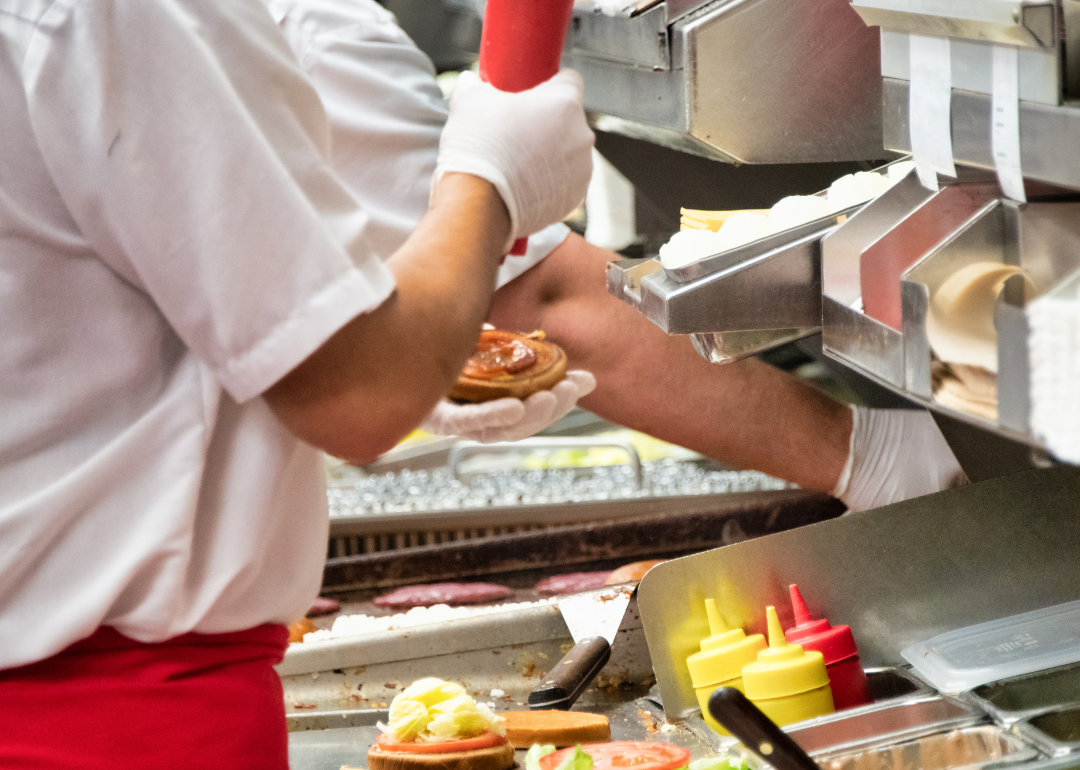 Canva
#16. Food preparation and serving-related workers, all other
– Percent never married: 63.76%
– Percent single: 70.03%
You may also like: The unemployment rate the year you turned 16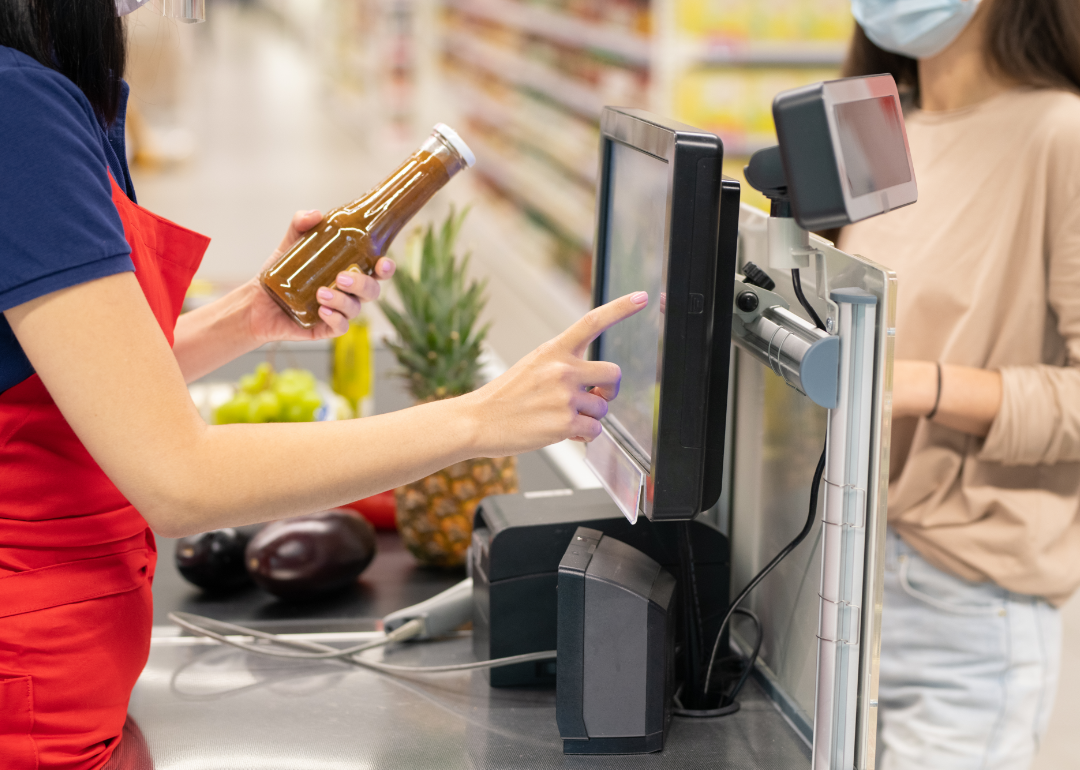 Canva
#15. Cashiers
– Percent never married: 65.88%
– Percent single: 78.08%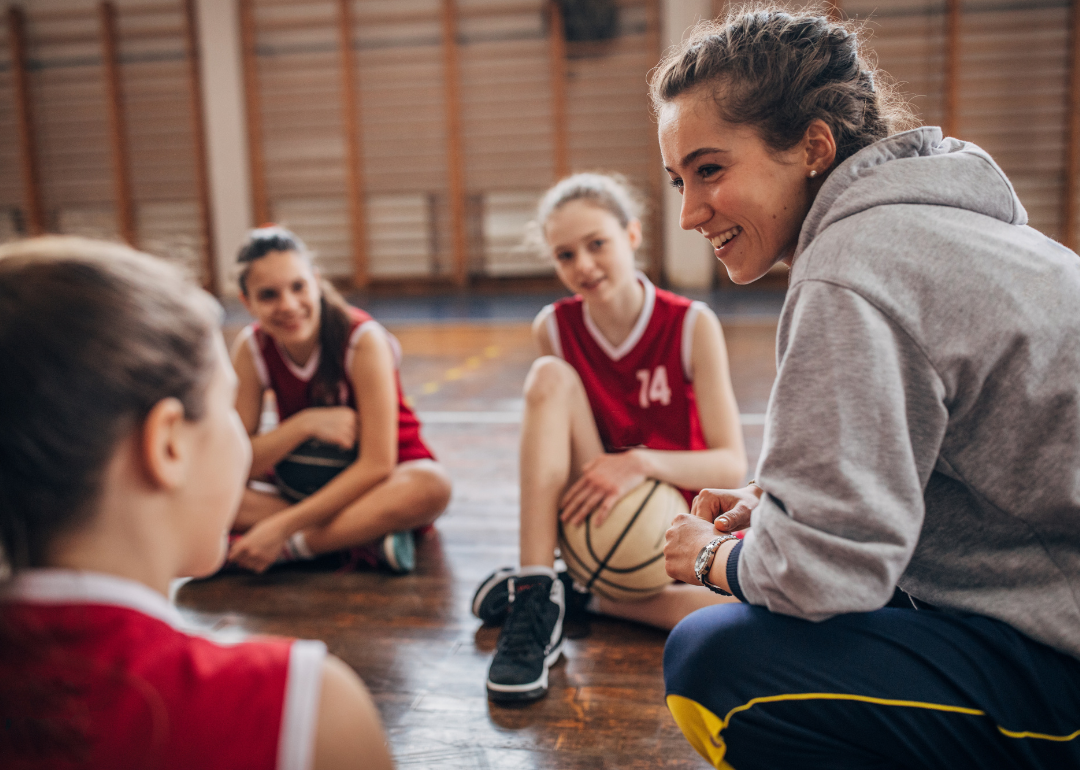 Canva
#14. Recreation workers
– Percent never married: 66.2%
– Percent single: 75.92%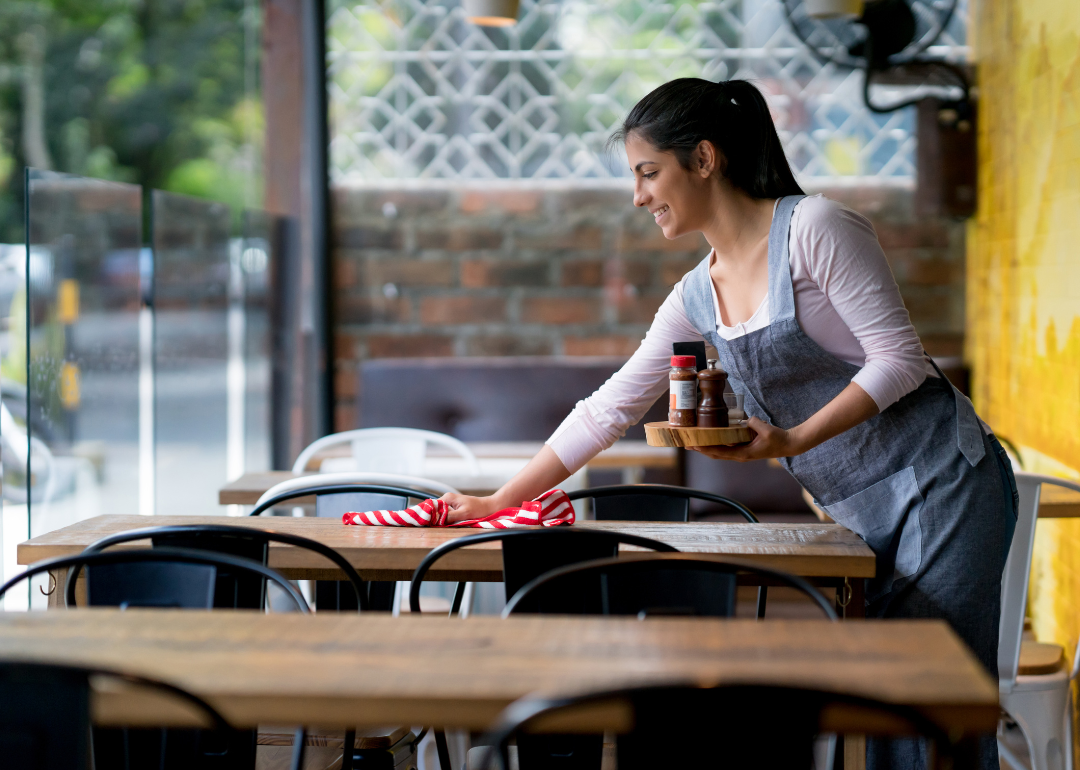 Canva
#13. Dining room and cafeteria attendants and bartender helpers
– Percent never married: 66.83%
– Percent single: 77.07%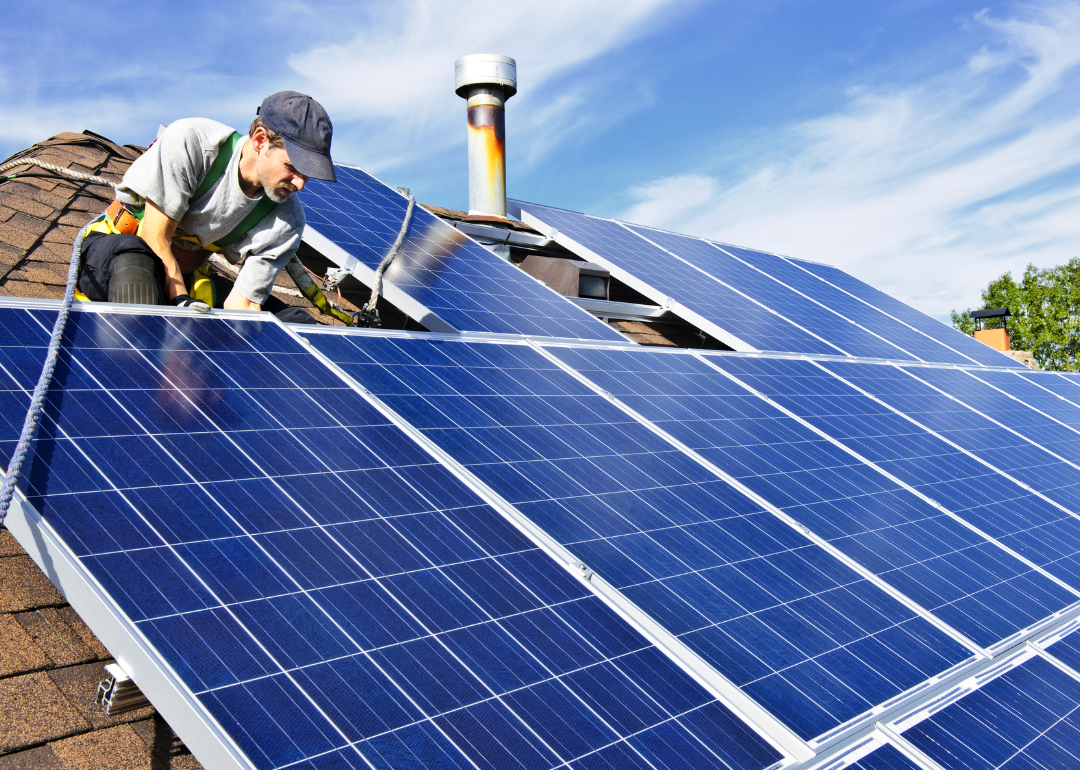 Canva
#12. Solar photovoltaic installers
– Percent never married: 67.%
– Percent single: 76.26%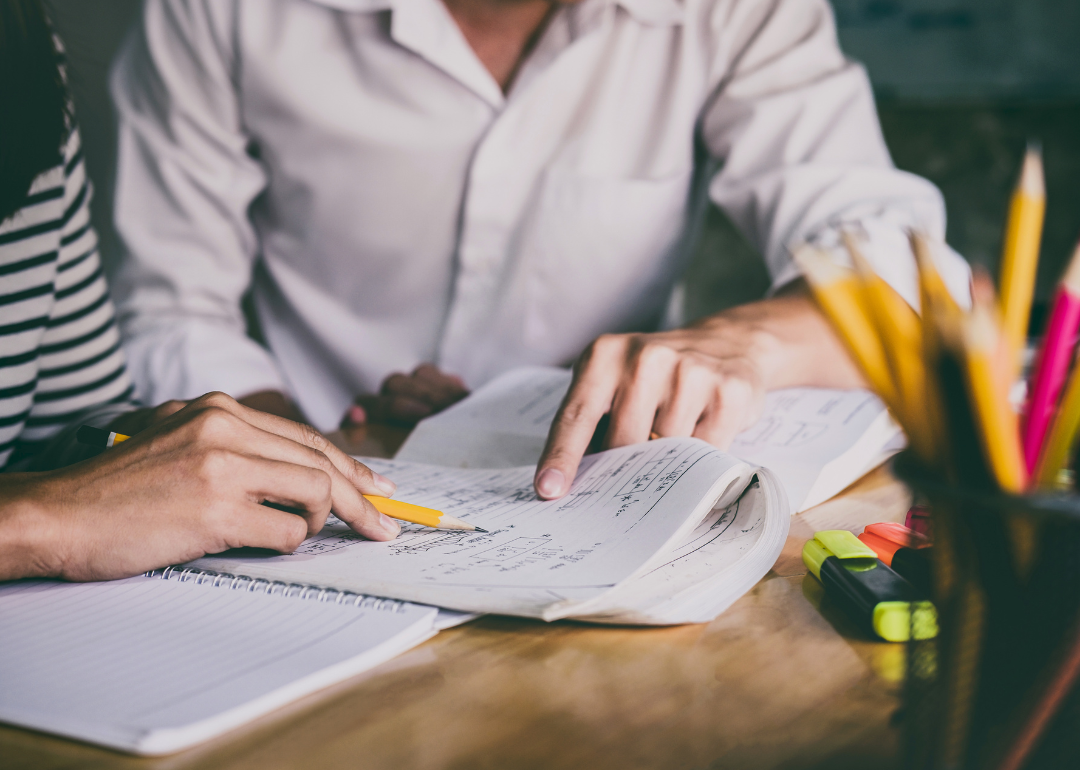 Canva
#11. Tutors
– Percent never married: 67.04%
– Percent single: 72.93%
You may also like: Richest women in America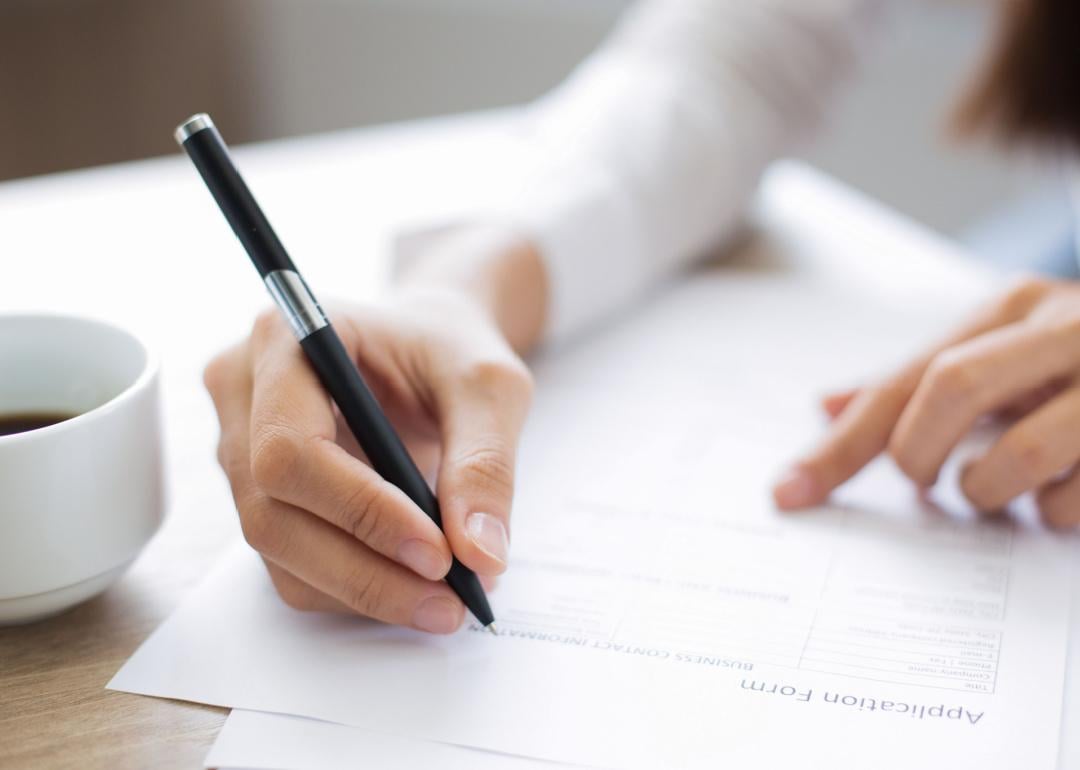 Mangostar // Shutterstock
#10. Unemployed, with no work experience in at the last 5 years or more
– Percent never married: 68.88%
– Percent single: 79.78%
Note: This refers to those unemployed with no work experience in the last five years or earlier or those who never worked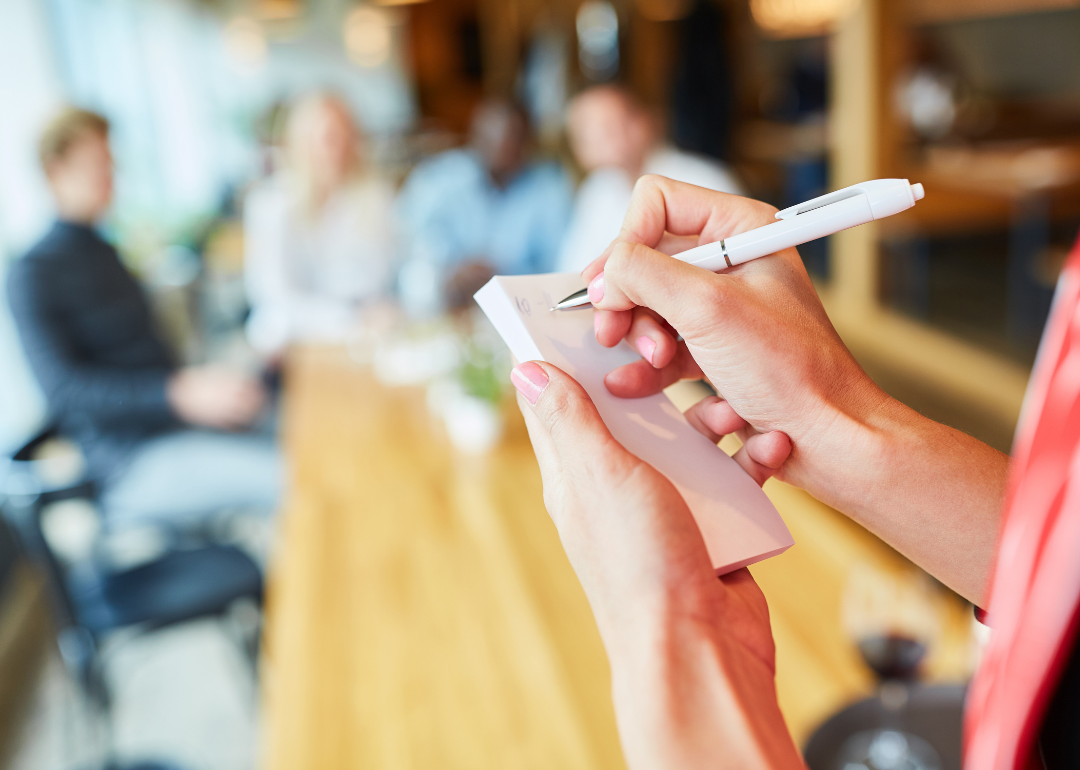 Canva
#9. Waiters And waitresses
– Percent never married: 69.95%
– Percent single: 79.64%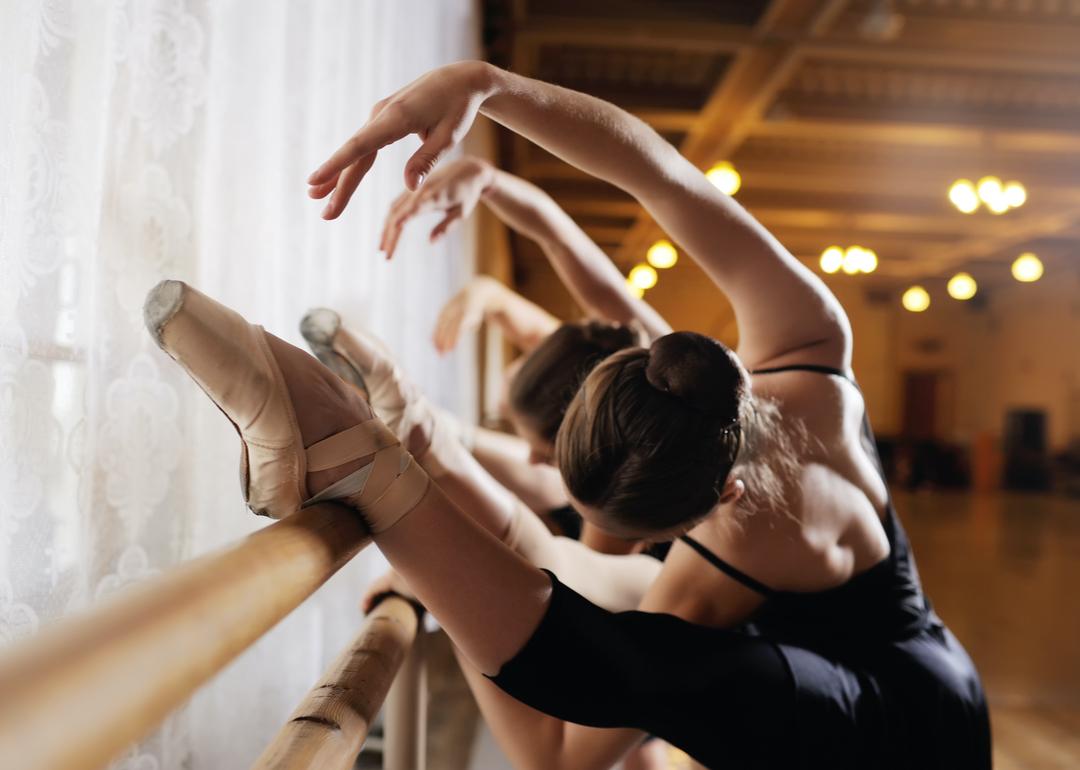 Evgeniy Kalinovskiy // Shutterstock
#8. Dancers And choreographers
– Percent never married: 70.63%
– Percent single: 78.34%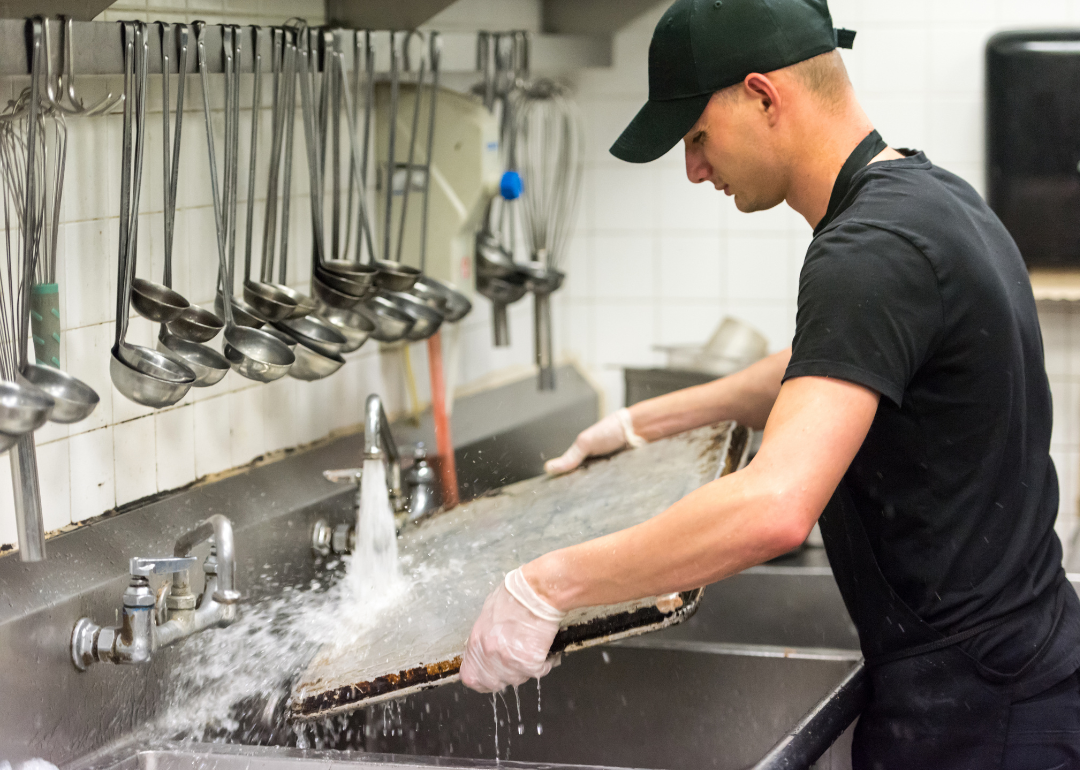 Canva
#7. Dishwashers
– Percent never married: 70.95%
– Percent single: 81.66%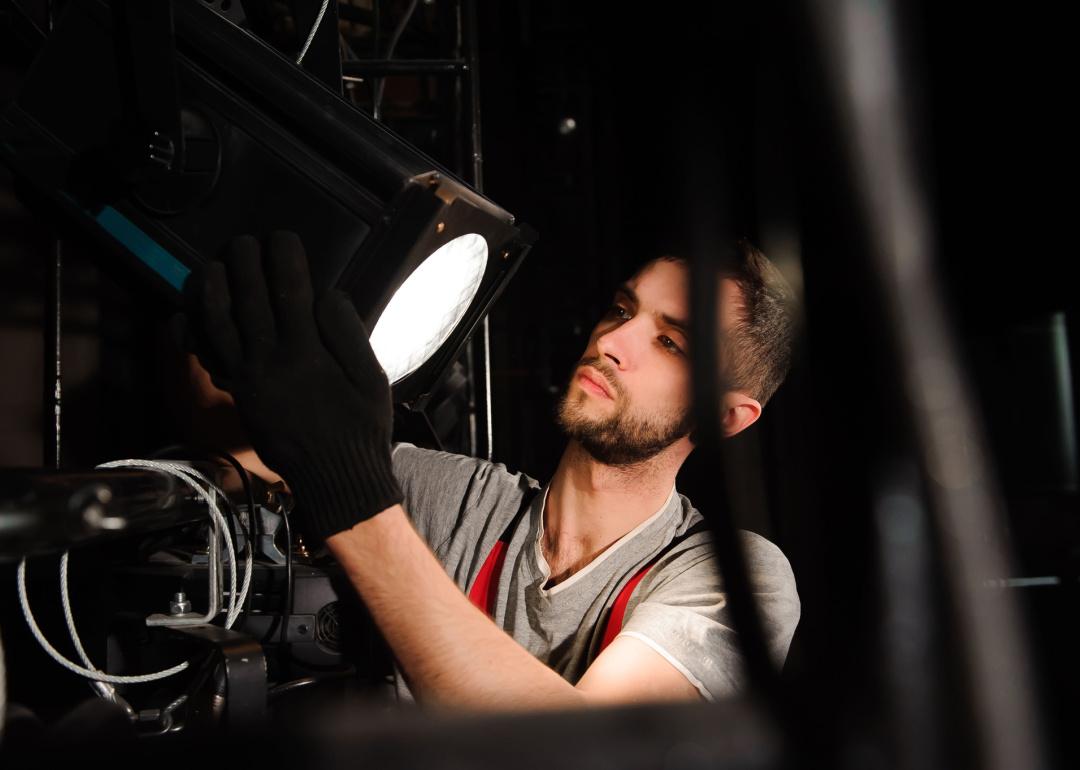 Oleksandr Nagaiets // Shutterstock
#6. Other entertainment attendants and related workers
– Percent never married: 71.16%
– Percent single: 79.38%
You may also like: 5 ways to take the stress out of traveling for work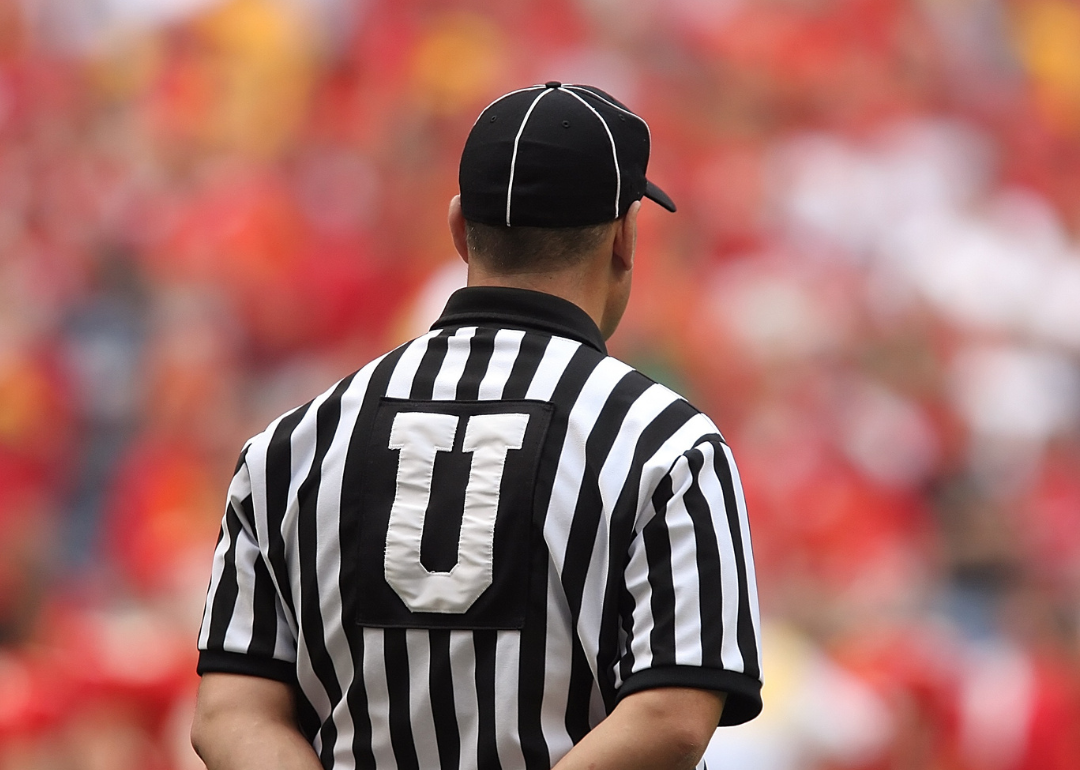 Canva
#5. Umpires, referees, and other sports officials
– Percent never married: 71.62%
– Percent single: 77.28%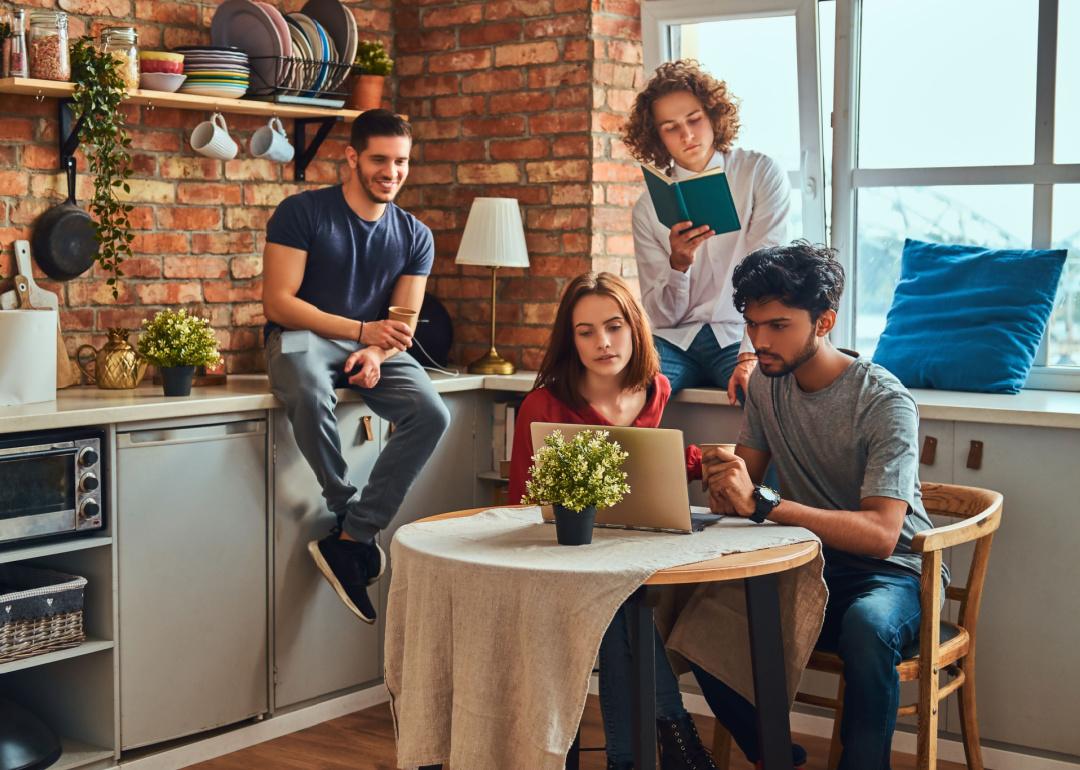 FXQuadro // Shutterstock
#4. Residential advisors
– Percent never married: 80.53%
– Percent single: 87.76%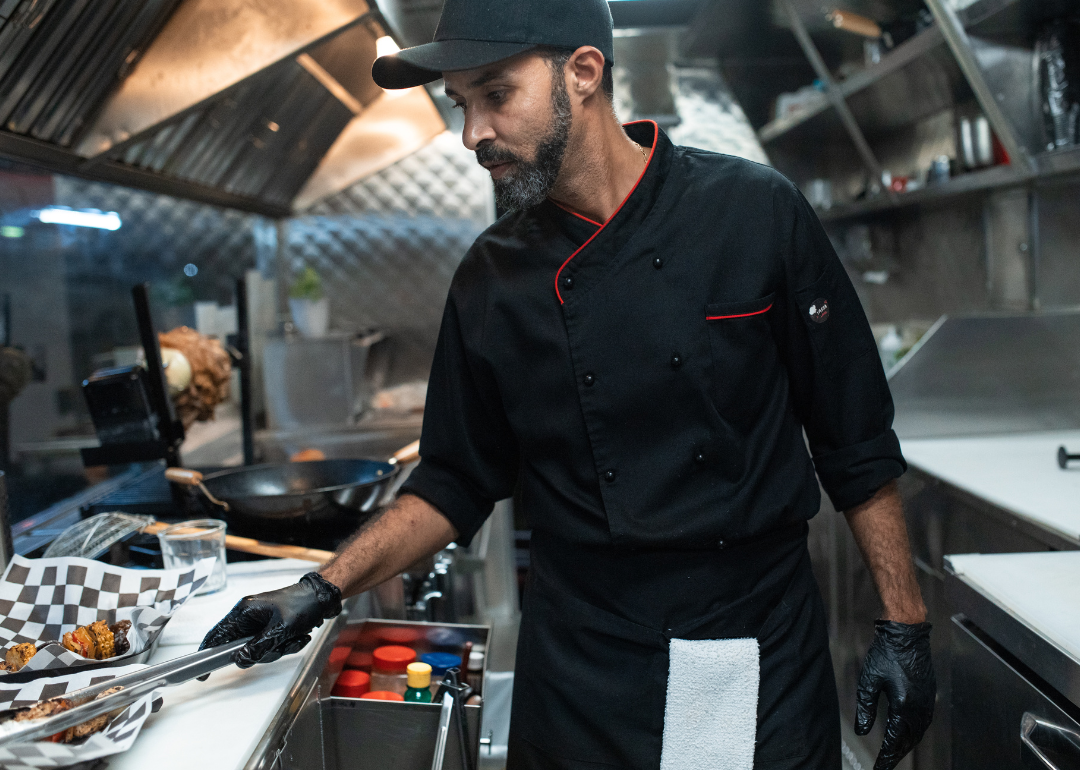 Canva
#3. Fast food and counter workers
– Percent never married: 82.68%
– Percent single: 87.63%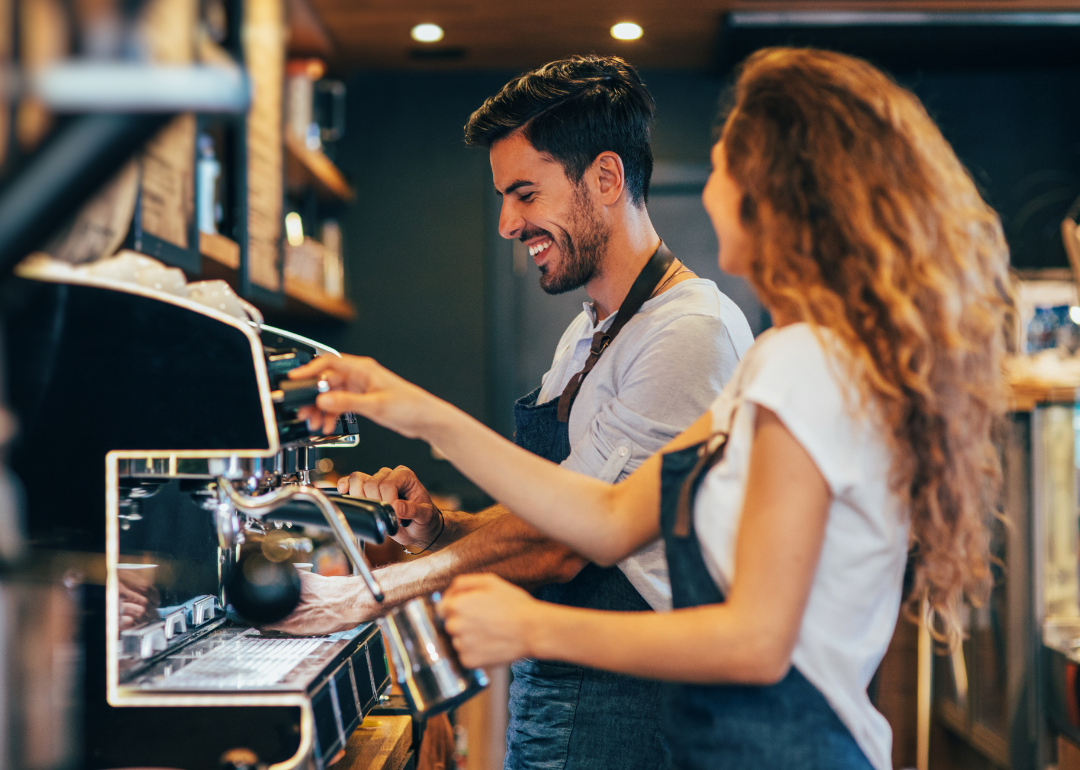 Canva
#2. Hosts And hostesses, restaurant, lounge, and coffee shop
– Percent never married: 83.88%
– Percent single: 89.06%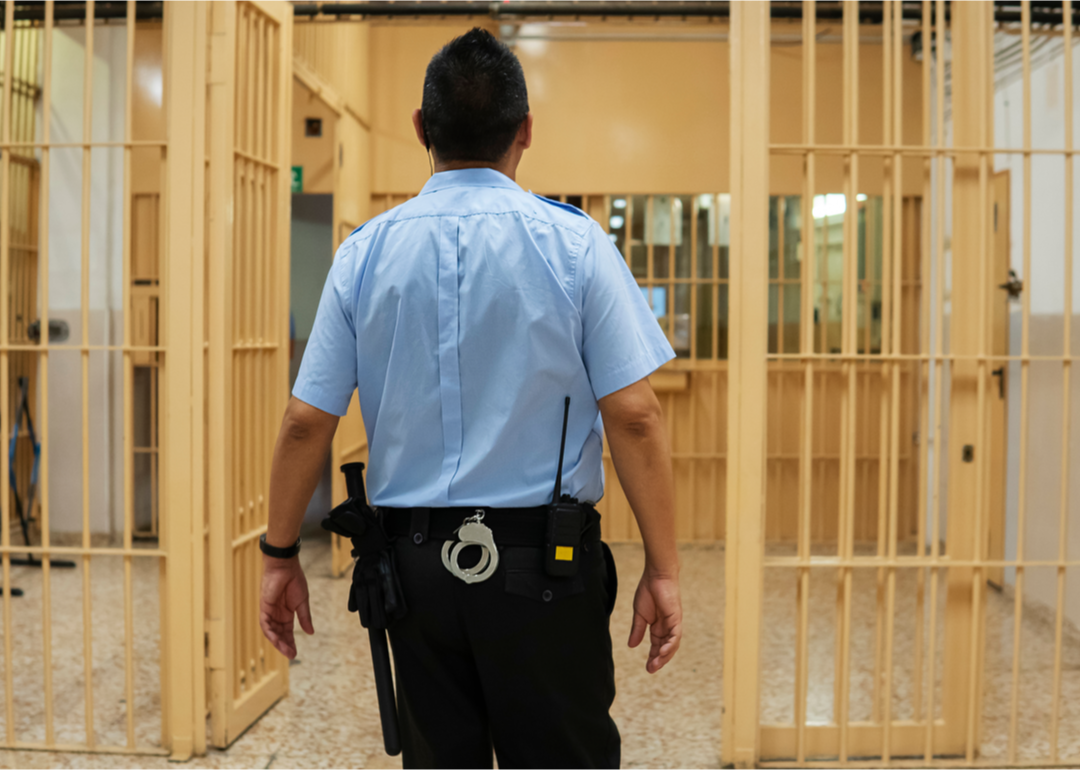 Bigflick // Shutterstock
Protective service workers
– Percent never married: 90.1%
– Percent single: 92.13%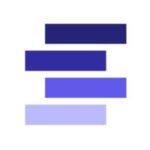 Founded in 2017, Stacker combines data analysis with rich editorial context, drawing on authoritative sources and subject matter experts to drive storytelling.
WeaveSphere: 5 conference highlights
The WeaveSphere tech conference wove together ideas about AI, FinTech, STEM education, innovation in Canada, and more.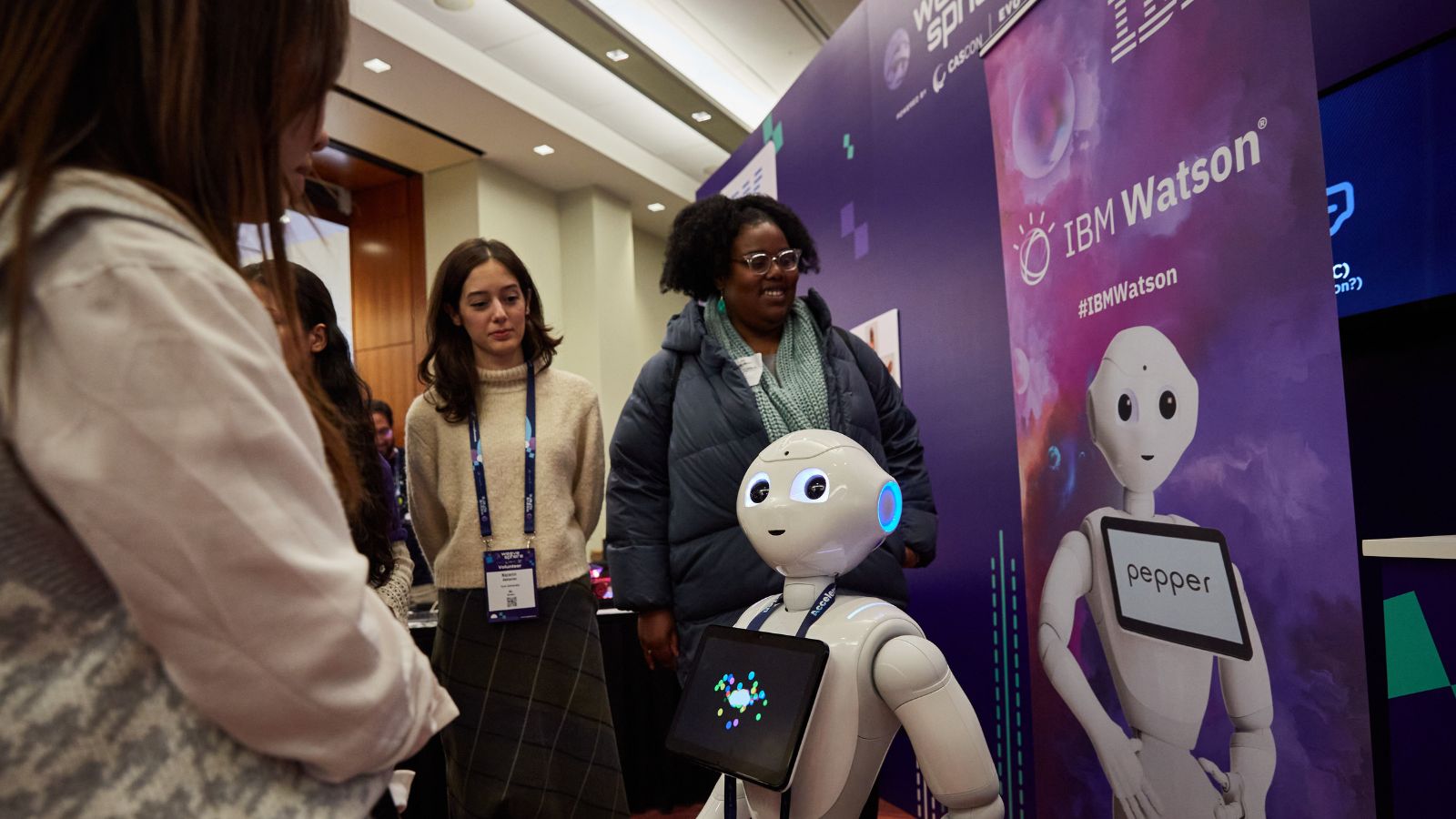 For three days this November, innovation, collaboration, and a whole lot of big ideas were shared among "Weavers" during the WeaveSphere tech conference in Toronto.
"Today is an opportunity for greater connection between the scientific and tech industry, and academia," said Marcellus Mindel of IBM Canada, opening the conference. With innovation the event's core, Mindel added: "let's define innovation, thinking of it as reframing that implements better outcomes."
While lots happened over three days, here are five highlights and takeaways from the event:
1. Thought-provoking keynotes had attendees thinking big
Each day of WeaveSphere kicked off with a keynote, where three speakers brought their insightful ideas to attendees.
Gillian Hadfield shared ideas about AI and regulation
On Day 1, Gillian Hadfield, Professor of Law and director of the Schwartz Reisman Institute for Technology and Society at the University of Toronto, explained where we are today when it comes to regulating artificial intelligence (AI) — and where we need to go next.
While AI makes machines intelligent, Hadfield argued that it cannot, by definition, produce intelligent behaviour if it isn't functioning appropriately and ethically. Machine learning is not the same as standard programming, since machines write the rules. As a result, machines can start solving problems in ways we don't want them to, resulting in regulatory challenges.
How to solve this? Hadfield presented two solutions:
Establish compensation for harm
Design incentives for meeting good and safe behaviour
Dr. William Barry discussed ethics with an AI co-presenter
On Day 2, professor, AI ethicist, and futurist Dr. William Barry talked about a particular problem: what ethical questions might arise when you program a robot?
For starters, how do you determine what information to include or not? Where is the appropriate line?
As a professor, Dr. Barry has been working with robots as teaching assistants in his classroom since 2015, and brought a digital version of Maria Bot (one of his AI assistants) to interact with the audience.
As Dr. Barry explained, he is very strategic when choosing the information from which his assistants learn.
One place Maria won't get access to? Twitter, says Dr. Barry, highlighting it's too much of a risk for an "AI benign" to get access to misinformation. This would distort the ethical perspective that Maria is learning, he said.
While he has programmed her to weed out and to not learn from toxic content — like racism and misogyny — Dr. Barry does work at exposing his AI beings to a wide range of diverse thought and lived experiences. In the end, how ethical an AI being is, is in the hands of the human controlling what they learn, he argued. As a result, they'll ultimately be biased as a result of the specific data sets we provide for them.
Marcel Mitran discussed technology for good
WeaveSphere's Day 3 keynote took a slight turn away from AI.
IBM Fellow, IBM Master Inventor, and CTO for Cloud Platform for zSystems and LinuxONE, Marcel Mitran took to the main stage for a keynote on responsible computing. At the heart of his talk was the argument that technologists need to take a step back and look at what's being done to keep the world safe.
For example, the opportunity for error and bias in the role of facial recognition in public safety, and the fact that our digital footprints — both on a personal level and for enterprise — have grown significantly even in the last year.
As Mitran explained, responsible computing is a systemic, holistic approach addressing current and future computing challenges like sustainability, ethics, and professionalism. It advances the "quadruple bottom line" of people, planet, prosperity, and participation.
2. Insightful sessions had attendees thinking deep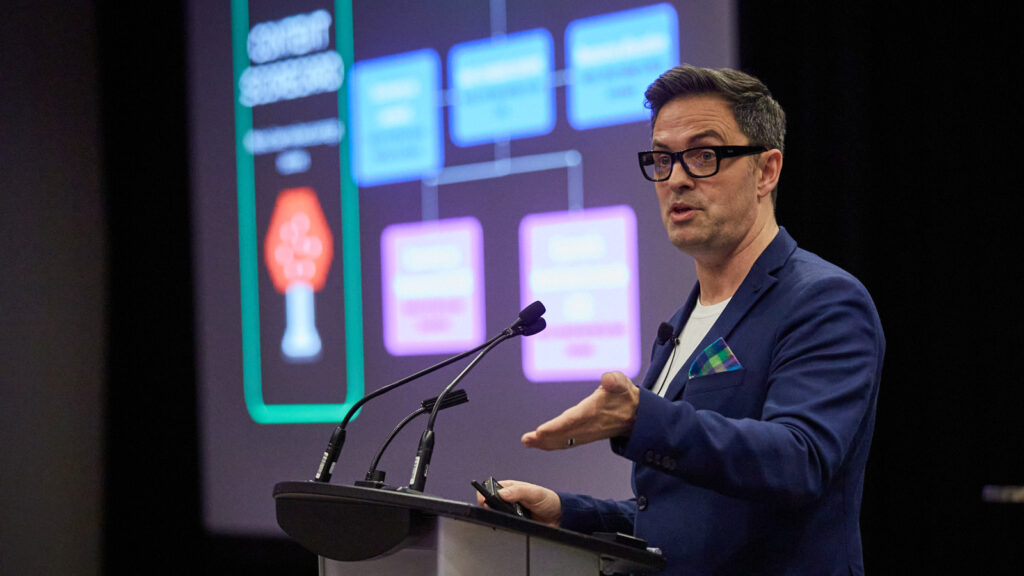 FinTech, cryptocurrency, AI, digital economies, Canada's innovation landscape — there was a large cross-section of topics covered across a variety of workshops, paper presentation, and panel discussions.
Some highlights include:
Chhavi Singh, co-founder of Flyte, asked the question: have you considered using AI to coach your sales staff? Elaborating on the opportunity AI presents to increase sales performance, Singh explained how AI can be used to help understand customer challenges and handle objections and concerns.
COO of wealth management platform OneVest, Jakob Pizzera, outlined the three phases of FinTech. The first (1.0) was in-house sites for basic online banking. Version 2.0 was the "unbundling" of financial services, and the rise of standalone businesses. The last few years has brought FinTech 3.0, with embedded finance — for example making a purchase through Instagram.
WeaveSphere conference chair and R&D specialist Vio Onut answered the question of why we need to care about cyber security. For starters, the potentially very large costs to your organization, and because the massive skills gap of privacy and security experts has created vulnerabilities.
Digital strategist Matt Everson explored what can go with emerging technologies like Web3 and the metaverse. Everson said developers should just start building and drawing on video game virtual markets as a model. He used popular online game EVE Online as an example of how virtual economy design can be translated to other markets.
Lijia Hou, Blockchain Systems Engineer with Draft Kings, explained that three key problems still exist when it comes to blockchain technology. First, investors want to understand how — in a volatile market — to mitigate risk. Second, developers from the traditional software side need a mindset shift when it comes to decentralization. And finally, the tools of decentralization are used differently, and this is not always evident for those unfamiliar with Web3.
3. There was a LOT of interest in STEM education
As part of WeaveSphere's Education Day slate of programming, hundreds of high school and university students had the opportunity to workshop real-life problems from both school and work — all under the guidance of IBM's Design Thinking experts.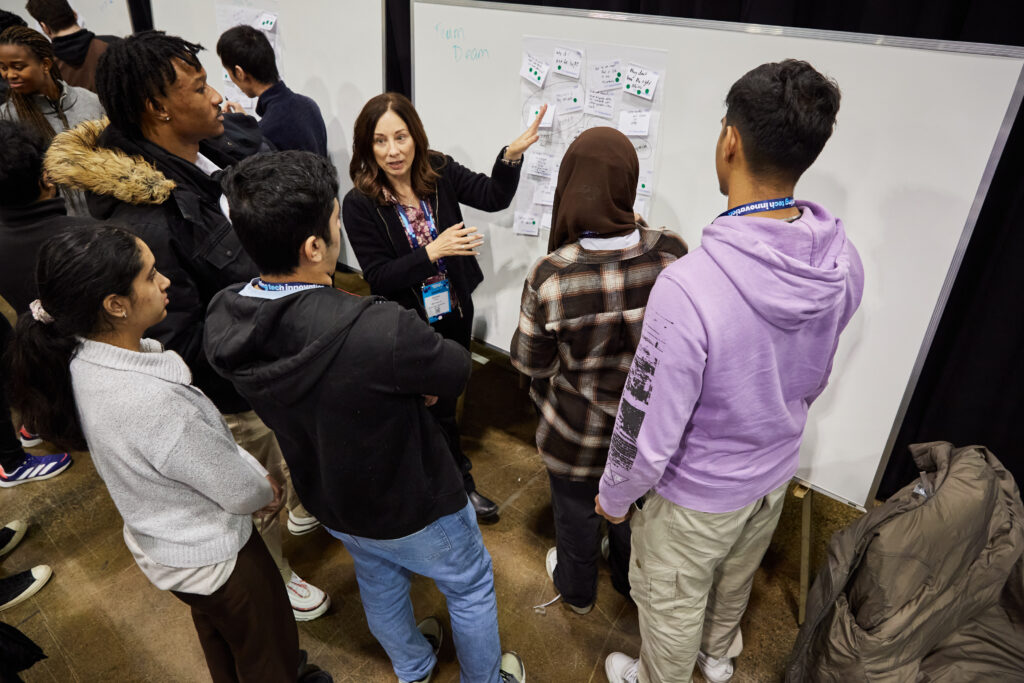 This meeting of next-generation tech talent collaboratively explored Enterprise Design Thinking strategies like As-Is Scenario Mapping, Empathy Mapping, Hills (positioning statements), and Hopes and Fears. This approach to problem-solving works by framing the issue at hand in a human-centric way, centering the end-user in all decision-making.
For Education Day, the problem at hand was helping fourth-year university students find their first job.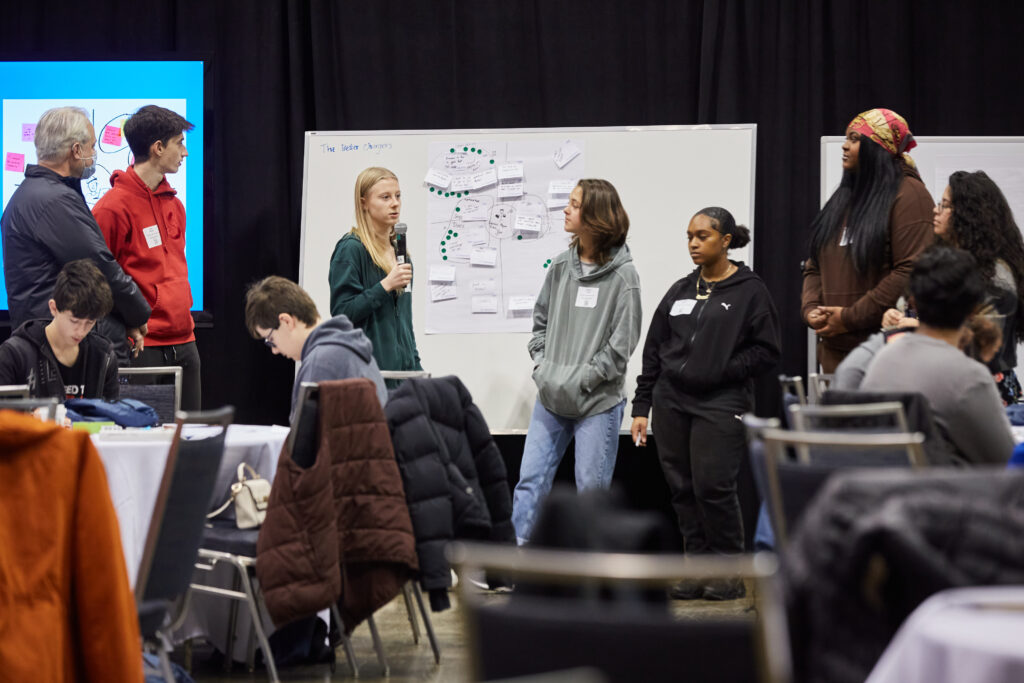 4. There were loads of networking and learning opportunities
One of the best parts of any conference is the opportunity to network and learn from fellow attendees.
In the conference's Innovation Valley section, event sponsors were on-hand to discuss everything from their latest technologies to job opportunities, plus several graduate students were also there to present their research.
Since WeaveSphere is a "meeting of the minds" between tech professionals and students, many undergrads from schools like York University and Mohawk College came to the conference full of questions, ready to absorb everything.
5. WeaveSphere celebrated top tech talent
A big part of WeaveSphere was a celebration of some of the best tech minds in Canada.
During a gala evening at the end of Day 2, the 2022 Developer 30 Under 30 and Tech Titans were awarded to the best of the best among young developers and digital transformation leaders in Canada.
The winners were:
Developer 30 Under 30 winners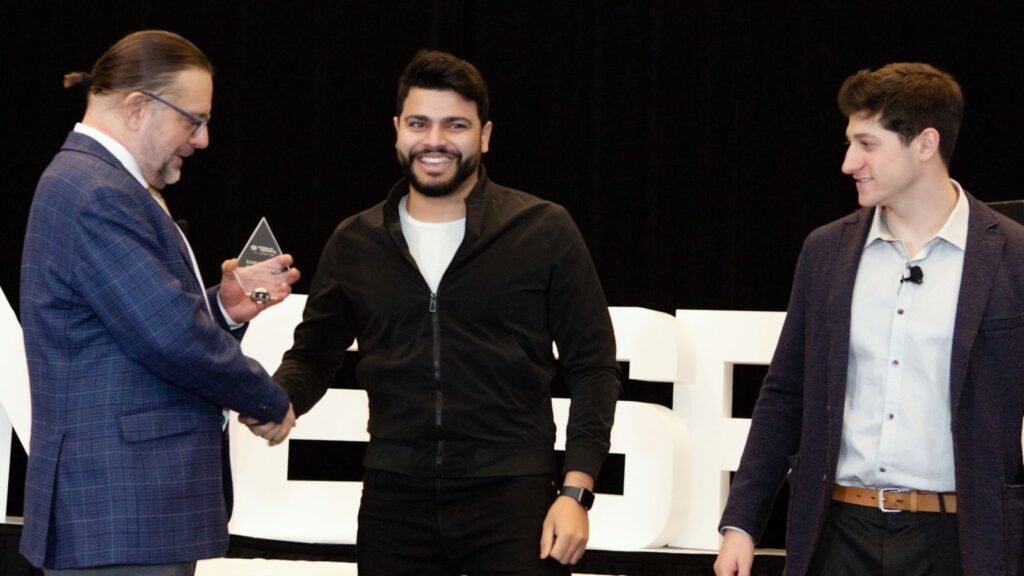 Alexander Newman
Anakha Chellakudam
Anthony Langford
Arshdeep Saini
Aryaman Rastogi
Bohdan Senyshyn
Charlie Mackie
Charmi Chokshi
Colin Lee
Daniel Marantz
Francisco Hodge
Hassan Djirdeh
Jerry Fengwei Zhang
Julia Paglia
Karandeep Bhardwaj
Kathryn Kodama
Khushbu Patel
Lianne Lardizabal
Lucas Giancola
Mathew Mozaffari
Maz Mandi
Oleksandr Kostrikov
Rishab Kumar
Samantha Lauer
Sarah Syed
Stan Petley
Tanmay Bakshi
Tim Romanski
Xiaole Zeng
Yash Kapadia
Tech Titans winners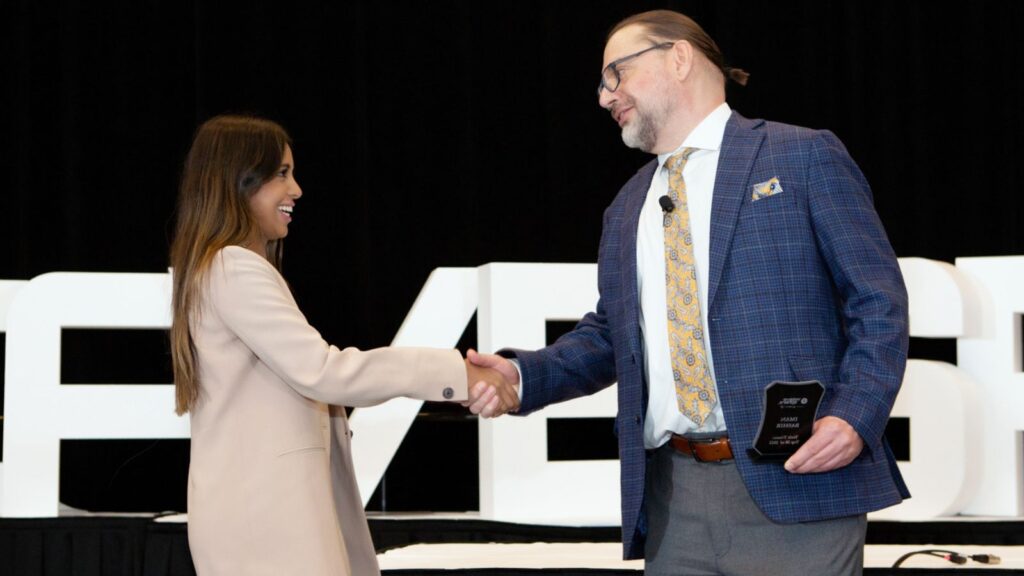 Andrew Dolinski
Ashish Agrawal
Chhavi Singh
Chris Dolinski
Dean Skurka
Demetrius Tsafaridis
Fay Arjomandi
Harish Pandian
Harpreet Gill
Iman Bashir
James Stewart
Len Covello
Manav Gupta
Marcel Mitran
Michelle Joliat
Dr. Mohamad Sawwaf
Omar A. Butt
Peter Zwicker
Ryan McDonald
Dr. William Cherniak
Finally, as WeaveSphere came to a close, the Pitch Stadium opened, hearing from a wide variety of startups.
They came, they pitched, and in the end, Iman Bashir and Nicole Lytle of Craftly.AI, a copywriting assistant that uses AI to generate original content, took home the $50,000 prize to help grow their business.
WeaveSphere was a uniquely collaborative, innovation-focused conference filled with engaging workshops, presentations, and networking opportunities.
---
DX Journal is an official media partner for WeaveSphere. Check out our series of articles from the lead-up to WeaveSphere.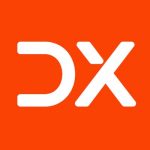 DX Journal covers the impact of digital transformation (DX) initiatives worldwide across multiple industries.