Stellantis ending Jeep production in China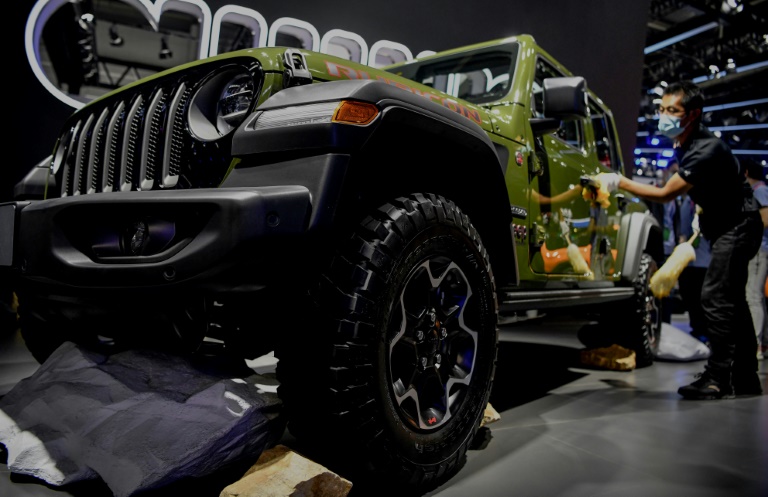 US-European carmaker Stellantis said on Monday it was ending production in China of its Jeep SUV after failing to acquire a majority stake in its joint venture with local firm GAC.
GAC-Stellantis is one of two joint ventures in China embarked on by Stellantis, which was formed in January 2021 last year by the merger of Fiat-Chrysler and PSA.
"Stellantis intends to cooperate with GAC Group in an orderly termination of the joint venture formed in March 2010, which has been loss-making in recent years," the group said.
It said the move was "due to a lack of progress in the previously announced plan for Stellantis to take a majority share" in the business.
The decision to wave goodbye to GAC would show up as "a non-cash impairment charge of approximately 297 million euros ($302 million) in its first-half 2022 results", due out on July 28.
Stellantis said it would henceforth "focus on distributing imported vehicles for the Jeep brand in China".
The group — which also includes the Peugeot, Alfa Romeo and Citroen brands — had hoped to increase its stake in China Guangzhou Automobile Group (GAC) to 50-75 percent.
The move was made possible by a change in Chinese regulations allowing deeper involvement by foreign investors, on condition they obtain Beijing's approval.
Stellantis told AFP its decision to pull out was "not linked" to a decision by the Chinese government.
The group had announced in January that the acquisition of the hoped-for majority stake in the joint venture with GAC was the first step towards streamlining its activities in the world's biggest vehicle market.
GAC protested at the time because the deal had not been signed.
Jeep, which is rolling out electric vehicles, was to be one of Stellantis's main conduits for expanding in China. 
The group reported sales of 152 billion euros ($154 billion) in 2021 and aims to reach 200 billion in 2030. 
Stellantis's main activity in China is the manufacture and sale of Peugeots and Citroens, via a joint venture with local automaker Dongfeng. 
China is also a key market for its luxury Maserati brand and a target for its premium brand DS.
Jeep sold just 20,000 vehicles in China in 2021 and at the end of last year, GAC-Stellantis terminated production at one of its two assembly lines. 
Jeep is now concentrating on offering a wider array of imported electric vehicles.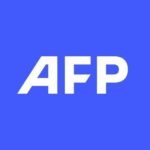 With 2,400 staff representing 100 different nationalities, AFP covers the world as a leading global news agency. AFP provides fast, comprehensive and verified coverage of the issues affecting our daily lives.
Boeing wins $13.5-bn MAX jets deal as Farnborough opens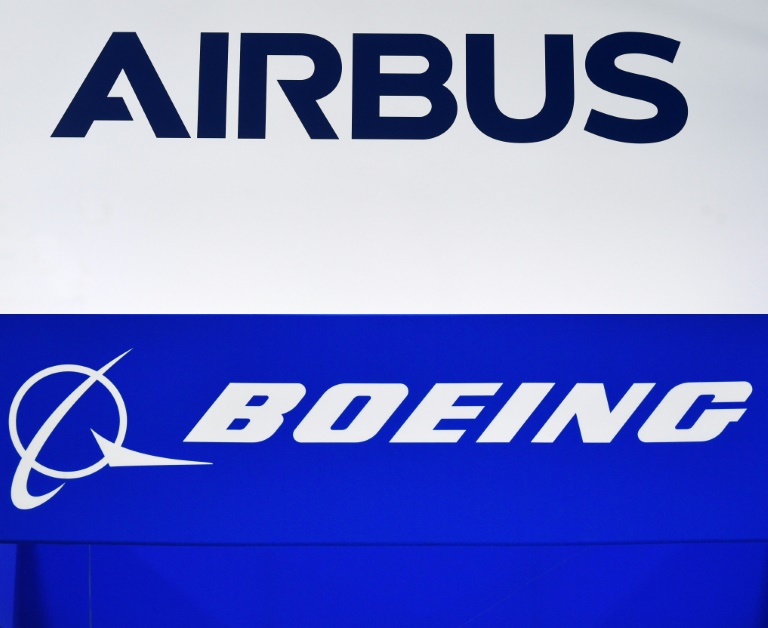 US aerospace giant Boeing on Monday fired the first shot in an orders battle with European rival Airbus at Farnborough airshow, clinching a $13.5-billion deal for 100 MAX planes from Delta Airlines in a huge vote of confidence for the crisis-hit jet.
The deal marks a huge turnaround for the MAX jet which had suffered two deadly crashes in 2018 and 2019.
Outgoing British Prime Minister Boris Johnson meanwhile opened the prestigious five-day event as the avation sector plots its recovery from heavy Covid fallout.
US carrier Delta lodged its first ever order for medium-haul MAX aircraft, with options for 30 more of the fuel-efficient planes as it seeks to replace its ageing fleet and cut damaging emissions.
Boeing revealed also that Japanese airline ANA had agreed to purchase 20 of its smaller MAX 8 jets — worth $2.4 billion — plus two 777-8 freight planes.
– 'More sustainable future' –
"The Boeing 737-10 will be an important addition to Delta's fleet as we shape a more sustainable future for air travel, with an elevated customer experience, improved fuel efficiency and best-in-class performance," said Delta chief executive Ed Bastian.
The news comes as airlines worldwide seek to replace ageing fleets with fuel-efficient planes that emit less carbon dioxide.
The first visitors to Farnborough, southwest of London, were meanwhile hit by scorching temperatures amid Europe's ongoing heatwave.
Defence aerospace companies are also expected to emerge as big winners, with Russia's invasion of Ukraine boosting spending on nations' armed forces.
Russian companies have been banned from Farnborough due to the war.
The event coincides with fast-moving political turmoil in Britain after Johnson's recent announcement that he is stepping down as Conservative party leader, sparking a fractious contest to replace him also as prime minister.
– 'Handing over controls' –
"This government believes in aviation and its power to bring jobs and growth to the entire country," Johnson said Monday as the event opened. 
"After three years in the cockpit… I am now handing over the controls seamlessly to someone else. I don't know who," he added, sparking laughter from delegates.
Johnson also said that the government was "investing massively in defence".
This year's event — one of the world's largest civilian and defence shows — is the first global aviation get-together since the Paris airshow in 2019, before Covid hit.
Farnborough was cancelled in 2020 as the Covid health crisis grounded aircraft and ravaged the sector.
Global air traffic is gradually recovering and in May reached more than two-thirds of its pre-pandemic level, according to the International Air Transport Association.
That recovery has however faced headwinds from rocketing inflation fuelled by historically high energy prices and higher wages, while staff shortages constrain airports and spark flight cancellations.
– Air displays –
Ahead of the event, Britain issued a historic red warning for extreme heat, with southern England temperatures potentially exceeding 40C on Monday or Tuesday for the first time.
It comes as visitors to Farnborough will witness air displays by Britain's Red Arrows and South Korea's Black Eagles, as well as from the US-made F-35 stealth fighter.
Airbus and Boeing are showcasing their latest twin-aisle passenger aircraft, the A350-900 and the 777X.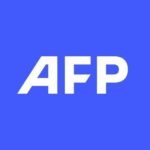 With 2,400 staff representing 100 different nationalities, AFP covers the world as a leading global news agency. AFP provides fast, comprehensive and verified coverage of the issues affecting our daily lives.
Goldman Sachs profits tumble despite strong trading results
Goldman Sachs reported a 48 percent drop in quarterly earnings Monday after setting aside more funds in case of bad loans, but shares rose as it topped analyst estimates.
The US investment bank became the latest financial heavyweight to suffer a decline in second-quarter results as the weakening macroeconomic environment prompts them to hold funds in case of defaults.
Operations were mixed, but Goldman scored a big jump in revenues tied to trading amid volatile markets.
Profits were $2.8 billion for the second quarter following an eight percent slide in revenues to $11.9 billion.
Goldman established $667 million in provisions, a shift from the year-ago period when earnings were boosted by $92 million in reserve releases.
Goldman Chief Executive David Solomon referred in a press release to "increased volatility and uncertainty" in the environment, praising the bank's performance "in these challenging markets." 
Other bank executives last week alluded to similar worries amid rising inflation, the war in Ukraine and other factors, but said the US economy still appeared to be on solid footing for now.
In terms of operations, Goldman suffered a drop in revenues connected to mergers and acquisition advising and loan underwriting. 
The bank's own investments in equities reported a $221 million loss in the period. But Goldman scored an increase in its consumer banking.
Shares rose 3.8 percent to $305.05 in pre-market trading.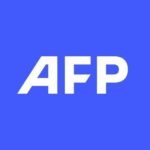 With 2,400 staff representing 100 different nationalities, AFP covers the world as a leading global news agency. AFP provides fast, comprehensive and verified coverage of the issues affecting our daily lives.
Johannesburg transport project digs into wounds of the past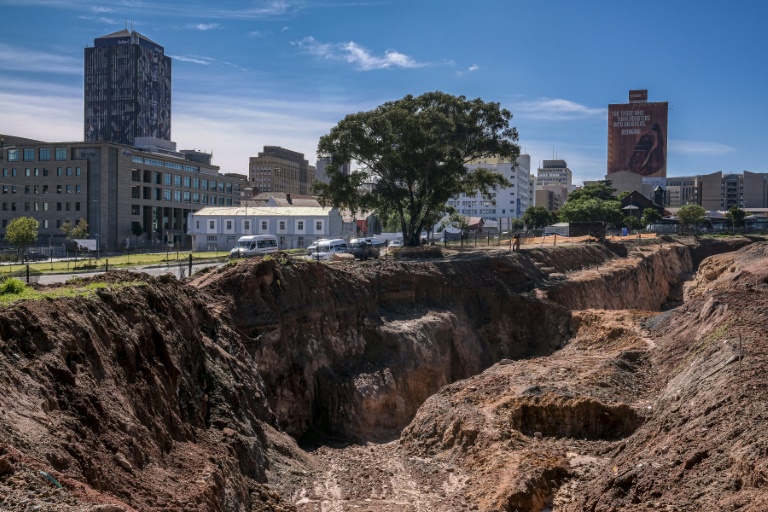 Off Johannesburg's main highway, surrounded by skyscrapers, heavy machinery has unearthed one of the city's original wounds — a deep gash left by the 1880s gold rush. 
The entire city centre is built over tunnels dug by generations of miners who extracted gold from the richest deposits the world has ever discovered. 
The city of around six million grew around cavernous pits and mountainous dumps, which eventually became the physical barriers of racial segregation. 
Now the rather poetic challenge of healing wounds both social and geological has fallen to property developers, who are turning this symbol of division into a bus terminal, connecting the city and the region. 
"This is a gateway site," said Richard Bennett, marketing director for iProp, the company tasked with rehabilitating the site. 
"It will allow the South African populace in Johannesburg and surrounds to gain easy access to public or effective transport."
– Connections –  
In the 1880s, the mine was one of the first places where prospectors dug with pickaxes, and eventually dynamite, hauling the gold 40 metres (130 feet) back up to the ground. 
After the easiest finds were depleted, this crevice — which looks like a canyon in the middle of the city — was simply filled with sand and used as a parking lot. 
The sand has now been hauled off, readying the pit to be refilled with a cement-like material that is to support the construction of a new, large bus terminal. 
The gold once mined there fuelled both fabulous wealth and deep social divides that persist to this day. 
But the future of the city depends on connecting people with better transport and more walkable streets, said David van Niekerk, CEO of the Johannesburg Inner City Partnership, a group working to revive the city centre after decades of official neglect. 
"Mixing is an important concept for the future of this city, and mixing in the widest possible sense," van Niekerk said.
"The vision that I certainly have for this city is to turn it into a walkable city," he added. 
"A city that's walkable is a city that works for everyone, and I'm talking about from the homeless person to the major international corporate investor, and everyone in between."
It's a big challenge in a starkly divided country. 
A World Bank study last year found that the top one percent of South Africans own 55 percent of the nation's wealth. 
The wealth of the poorest half of the country is actually negative — their debts outweigh their assets. 
The top 0.01 percent, or about 3,500 people, own more than the bottom 90 percent, representing 32 million people.
– Miners' suffering –
Much of that inequality stems from the early days of mining, which took a tremendous and largely uncounted toll on the mostly black miners, while a few owners — wealthy whites — pocketed most of the profits.   
"Those early mines were done very chaotically and very hastily. There were no proper plans, and a lot of people died… in rockfalls and such," said author Fred Khumalo. 
His novel "The Longest March" centred on black mine workers in early Johannesburg who lived in compounds where "the conditions were really appalling," he said. 
"People slept on cement blocks. There were no cushions, no mattress whatsoever. The blankets they provided were flimsy, and Johannesburg winters can be cold. People fell sick, and some of them died from exposure." 
As the city braced for war between British and white Afrikaners settlers in 1899, the mines shut down and food supplies were cut off, leading to riots. 
– Segregation –
In later decades, black mine workers who built homes nearby were forcibly removed as the gold digging expanded. 
When apartheid fully took hold, blacks were pushed to designated areas to the outskirts of the city with poor access to transport — and needed a "pass book" to access the city at all. 
Almost three decades after the end of white rule, transport links remain patchy and residents of black townships who can afford it drive cars into the city, clogging its roads.
A new transit hub could help ease some of that traffic, as thousands of commuters would replace the migrant workers who once toiled there. 
"In a way, it's a philosophical level, paying tribute to how those spaces were created in the first place," Khumalo said. 
"The prosperity of this country owes a lot to what happened back then."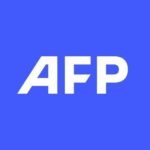 With 2,400 staff representing 100 different nationalities, AFP covers the world as a leading global news agency. AFP provides fast, comprehensive and verified coverage of the issues affecting our daily lives.