VW's new CEO faces twin challenges of Porsche, software problems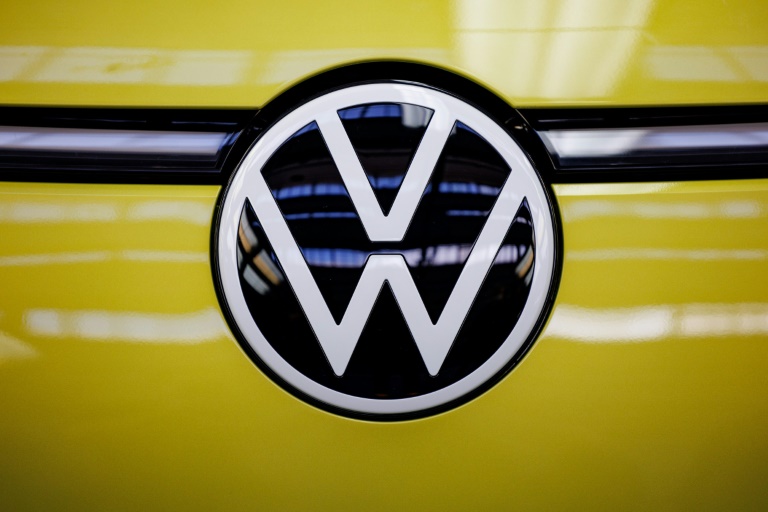 When Oliver Blume ascends to the top job at German automaker Volkswagen in September, he will be faced with taming the challenges that led to the fall of his predecessor, Herbert Diess, last week.
Serial technical troubles at Europe's largest carmaker, as well as fractious relationships with workers' representatives spelled the end of the road for Diess as chief executive, who was ousted in a supervisory board coup.
Blume is moving up from Porsche, VW's premium sports car brand, which is set to go public later this year during a turbulent time for markets.
In his four years at the helm of Volkswagen, 63-year-old Diess steered the legacy carmaker out of its 2015 "dieselgate" emissions-cheating scandal onto an ambitious programme to become the world's biggest electric car manufacturer by 2025.
But difficulties at VW's software arm, Cariad, a pet project of Diess's, have delayed key plans and made it harder to catch up with competitors like US manufacturer Tesla.
Software is the "number-one challenge", said Matthias Schmidt, an auto analyst based in Berlin.
Bringing software development in-house, shedding outside suppliers and keeping control of computing architecture of the car, is difficult to achieve, but has potentially huge financial benefits.
Blume "needs to decide whether he will continue to follow Diess's plan" or make a strategic decision to "buy it in" and "live with the consequence of seeing that potential profit centre vanish", Schmidt told AFP.
"The idea of doing everything in a centralised way will probably be rethought," said German automotive expert Ferdinand Dudenhoeffer.
– Unanimous vote –
In addition to the troubles at Cariad, Diess's position as CEO was weakened by running battles with workers' representatives.
The tendency of Austrian-born Diess to rub people up the wrong way and the proliferation of internal spats were the main reason for his exit, according to a source at the carmaker.
There were no dissenters on the vote to finally eject him, just before the start of the summer holidays.
Diess "had enemies" and was "not liked by the politicians or the works council" represented on the supervisory board, Dudenhoeffer said.
The outgoing CEO's propensity for conflict was "very important" to get the group to face up to its past and find a new direction, he said.
But the task at hand was to carry out the changes Diess had identified as necessary, not to keep bashing heads together, Dudenhoeffer added.
– 'Cooperative' –
Blume is likely to steer clear of the provocative comparisons with US competitors and strongly worded tweets that won Diess few friends.
The new chief, who has spent his entire career at Volkswagen, is more "cooperative" than Diess, who was hired from rival German carmaker BMW, Dudenhoeffer said.
Chief financial officer Arno Antlitz will bring continuity to the top team at Volkswagen, adding chief operating officer to his portfolio of roles.
Blume will "continue Diess's big strategic projects", said Dudenhoeffer, including making VW's own batteries, building a modern factory close to its headquarters in Wolfsburg and developing mobility services with the reacquisition of rental company Europcar.
Blume will take the steering wheel of the group on September 1, while also retaining his CEO role at Porsche, which is set for a stock market entry in the last three months of 2022.
Blume would likely stay at Porsche through the flotation before having to "concentrate on managing the VW group machine", said Schmidt.
The future CEO "will be judged on VW's success in China" and the US, two key markets where Volkswagen has struggled in recent times, said Dudenhoeffer.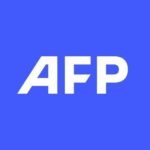 With 2,400 staff representing 100 different nationalities, AFP covers the world as a leading global news agency. AFP provides fast, comprehensive and verified coverage of the issues affecting our daily lives.
China's 'Silicon Valley' tightens rules over Covid flare-up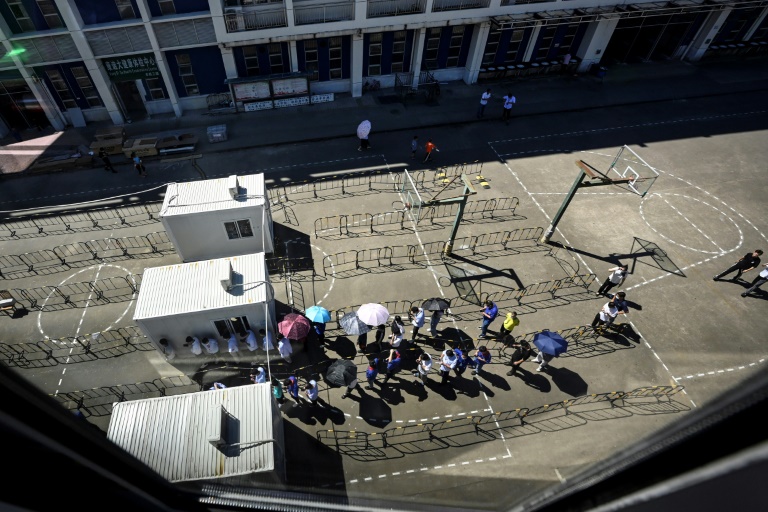 China's biggest tech hub is rushing to stamp out a fresh Covid outbreak, ordering some of the country's biggest manufacturers to operate in a 'closed loop' to reduce infections, state media reported.
The city of Shenzhen, which borders Hong Kong, reported just 19 Covid cases Tuesday as the city's health authority said the risk of "large-scale spread is low".
But Beijing's reluctance to budge from its strict zero-Covid policy had led to daily mass testing for the 13 million residents of Shenzhen for over a week and the closure of at least three subway stations by Tuesday.
Top manufacturers including iPhone maker Foxconn, electric carmaker BYD, drone maker DJI and telecom equipment maker ZTE are among the companies told to operate under a "closed-loop" production system. 
It would restrict movement of employees for seven days, state-run business news site Yicai reported Monday.
The closed-loop operation mode involves control measures such as locking workers within a compound and conducting daily nucleic acid testing. 
Bloomberg News reported Tuesday that a government notice told companies to reduce unnecessary interaction between non-manufacturing staff and factory floors to curb infection.
Health officials had earlier said all cases found in Shenzhen from July 15 were infected with the highly contagious Omicron subvariant BA.2.
While it is expensive and reduces the scale of production, manufacturers — including Tesla's site south of Shanghai in the past — have opted to operate in a closed-loop instead of resorting to full shutdown during local Covid flareups.
Strict virus controls have threatened global supply chains and cooled China's economy with Q2 growth coming in at a dismal 0.4 percent — the weakest growth since the pandemic started.
China reported 976 covid cases Tuesday, with the biggest outbreaks reported in the southern Guanxi region and Gansu province in the northwest.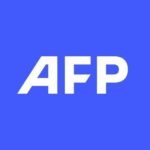 With 2,400 staff representing 100 different nationalities, AFP covers the world as a leading global news agency. AFP provides fast, comprehensive and verified coverage of the issues affecting our daily lives.
Egypt's small farms play big role but struggle to survive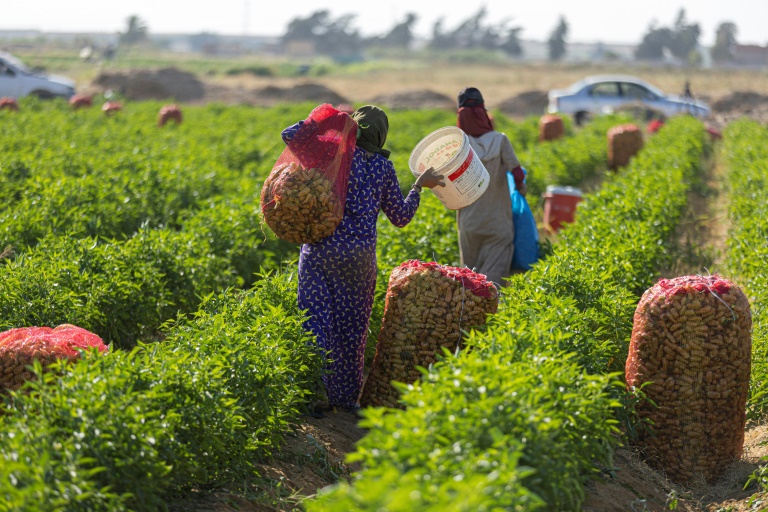 Egyptian smallholders grow nearly half of the country's crops, a lifeline role increasingly important after grain imports were stalled by war in Ukraine — but they are struggling to survive.
Despite their crucial role providing food for the North African nation's 103 million people, smallholders are cash-strapped and indebted, frequently selling their harvests at a loss.
"The farmer is dead, trampled," farmer Zakaria Aboueldahab told AFP, brewing tea on his rented plot of wheat and onions in Qalyubia, 30 kilometres (18 miles) north of Cairo.
"I'm trying to sell my onion harvest but I can't find a market," he said, the remnants of his crop scattered across the soil. "I just want to break even. I don't know how I'm going to pay rent".
His onions would sell in Egypt: but financing, marketing and infrastructure hurdles create massive gaps between supply and demand.
According to the United Nations Food and Agriculture Organisation (FAO), small farms are the "primary producers" of food for domestic consumption in Egypt.
Farmers cultivating less than three feddans (1.2 hectares, three acres ) — an area the size of a football pitch — till 35 percent of arable land.
Yet they produce some 47 percent of Egypt's field crops, the FAO calculates.
Larger farms focus more on exports -– a dynamic that came to a head when Russia invaded Ukraine.
– 'Patriotic duty' –
Egypt, the world's leading importer of wheat, relied on Russia and Ukraine for 80 percent of its imports, providing the flour for Egypt's traditional flat bread.
Ordinary Egyptians eat bread at almost every meal, and Egypt's wheat farmers ramped up production to 40 percent of the country's needs.
"Without the 40 percent of wheat that we produce domestically," rural sociologist Saker al-Nour told AFP, the consequences of the war "would be much worse."
In March, Cairo ordered farmers to grow wheat, calling the "compulsory delivery" orders a "patriotic duty."
By June, farmers had provided more than 3.5 million tonnes, according to the supply ministry, over half the domestic supply goal to August, and equal to the total amount supplied in 2021.
Compulsory crop deliveries were a pillar of president Gamal Abdel Nasser's socialist policies in the 1960s, but those policies were dropped amid the structural adjustment programmes of the 1990s.
With them went the former subsidies on seeds, pesticides, and fertilisers which have steadily shrunk over the decades.
"Instantly, when things got tough, it went back to compulsory delivery, but this time without the services that came with it," Nour said.
To encourage farmers to grow wheat, the government had previously set domestic prices higher than imports.
But the unprecedented surge in global prices undermined that.
– Stronger together? –
"Now I owe money to the pesticide guy, to the fertiliser guy," Aboueldahab said. "So if someone comes along and bids a low price, what am I supposed to do?"
One solution is for smallholders to join together and harness the power of technology.
Entrepreneur Hussein Abou Bakr launched a start-up finance company called Mozare3, 'farmer' in Arabic, which offers farmers financing solutions and agronomy support.
It also helps farmers "become a bloc", in the absence of effective local cooperatives and sets prices "as a form of protection" against market fluctuations.
Nour warns smallholders have "very limited negotiating power, especially when they don't have the storage capacity for their harvest".
But with illiteracy among smallholders at 32 percent, according to the FAO, offline village associations are necessary.
As climate change bites, Nour warns bottom-up approaches are essential.
These associations could, for example, communicate extreme weather events quickly and directly to farmers whose crops are at risk.
These tools exist, the sociologist said. "We just need to make them available to small farmers."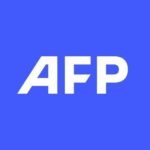 With 2,400 staff representing 100 different nationalities, AFP covers the world as a leading global news agency. AFP provides fast, comprehensive and verified coverage of the issues affecting our daily lives.
Biden presses Congress to pass $52 billion semiconductor subsidies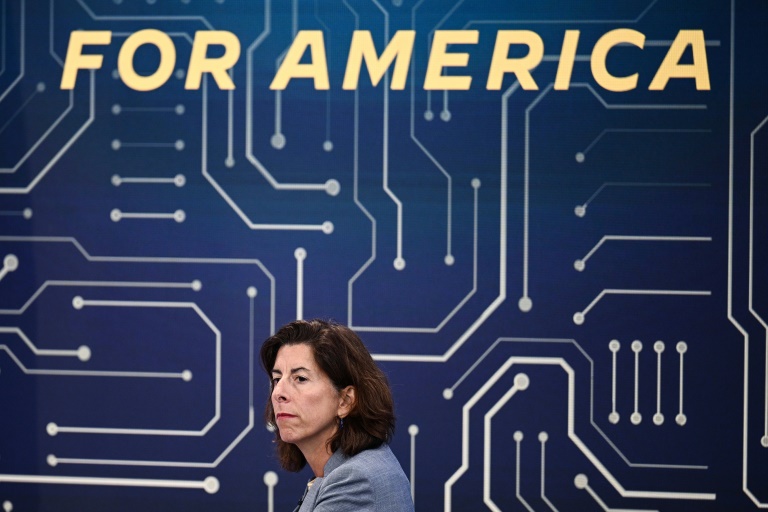 President Joe Biden on Monday pushed Congress to pass a bill providing domestic semiconductor manufacturers with $52 billion in subsidies to cut reliance on foreign sourcing for the vital component.
Speaking to senior economic and national security staff and representatives from manufacturers and a trade union, Biden said government backing for domestic producers means the United States will "be able to stay in the game."
"Congress must pass this bill as soon as possible," he said, citing both the economic and national security "imperative" of securing production of the tiny components needed for everything from smart phones to cars and weapons.
"America invented semiconductors, but over the years we let the manufacturing of those semiconductors go overseas," Biden said. "The United States has to lead the world in production of these chips."
Commerce Secretary Gina Raimondo called the microchips "a cornerstone technology that underpin our entire economy" and warned that the United States has already fallen far behind.
US importers are "utterly dependent on Taiwan for the leading edge chips," she said, while China is already investing heavily in its state-sponsored semiconductor industry.
"It's not possible to have a strong economy and a strong country if we don't make things in America," she said, also calling on Congress to get the spending bill "over the finish line and onto your (Biden's) desk this week. It's vital."
While the microchips are at the heart of everyday technology, including in the booming electric vehicle industry, officials also stressed to Biden the national security implications of a weak supply chain. 
Deputy Secretary of Defense Kathleen Hicks called microchips supply the "ground zero of our tech competition with China," while National Security Advisor Jake Sullivan called "dependence on a limited number of overseas facilities… flat out dangerous."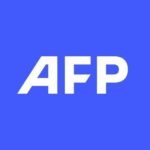 With 2,400 staff representing 100 different nationalities, AFP covers the world as a leading global news agency. AFP provides fast, comprehensive and verified coverage of the issues affecting our daily lives.