These regions have the most incoming venture capital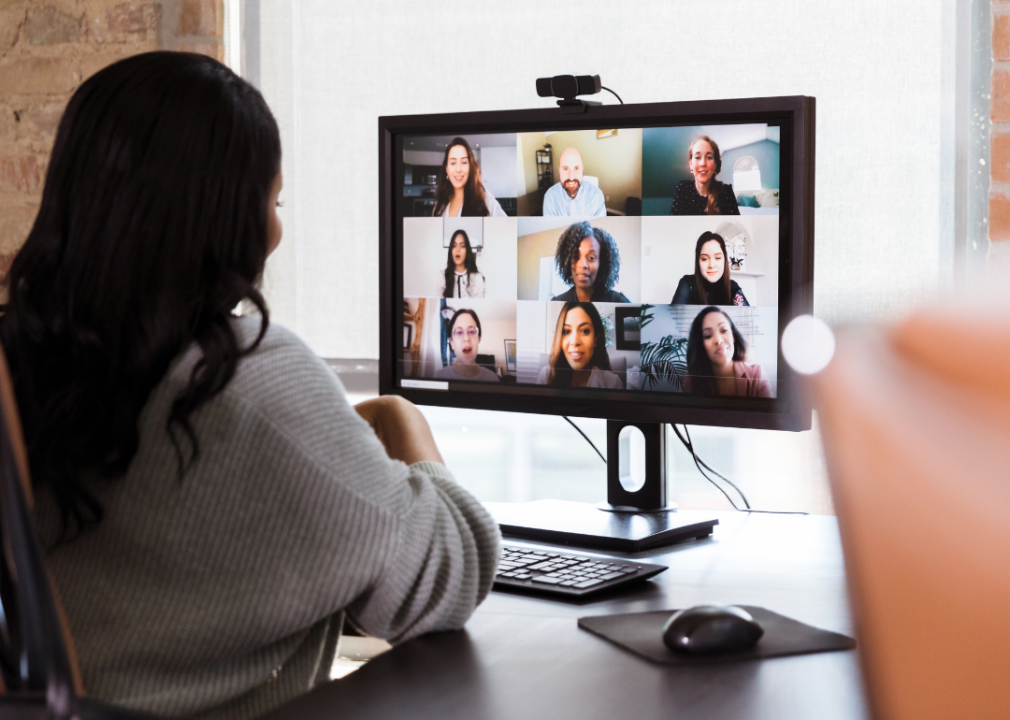 These regions have the most incoming venture capital
Venture capital investment set showstopping records in 2021. Data from the PitchBook-NVCA Venture Monitor shows venture capitalists invested $341.5 billion in U.S. companies—more than double the 2020 amount, which was also a record year for VC.
U.S. startup investing is primarily concentrated in 10 regions. ScOp analyzed PitchBook data to look further into trends in VC investing across those areas over the first half, or H1, of 2022 and the years leading up to it. These 10 regions are combined statistical areas as defined by the Census Bureau, with the exception of Greater Austin (which is a metropolitan statistical area).
Deal sizes and valuations grew fast. In a roundup of 2021 data, PitchBook analyst Cameron Stanfill said incoming investment from corporate venture capitalists and other nontraditional investors drove the growth. Deals also happened faster through virtual meetings, with companies raising funds more often through expedited due diligence.
So far, 2022 hasn't been as explosive, but VC activity is still outperforming the years prior to 2021. Startups raised $144.2 billion as of June 30, compared to $158.2 billion raised in the first half of 2021. That still marks a huge increase over $75 billion raised in H1 2020 and $75.4 billion in H1 2019.
Seed-stage investments were particularly strong in Q2 2022, according to the Venture Monitor report summary. Later-stage companies have had to lower expectations amid the stock market drops, which affect their ability to IPO or to determine prices for private funding rounds.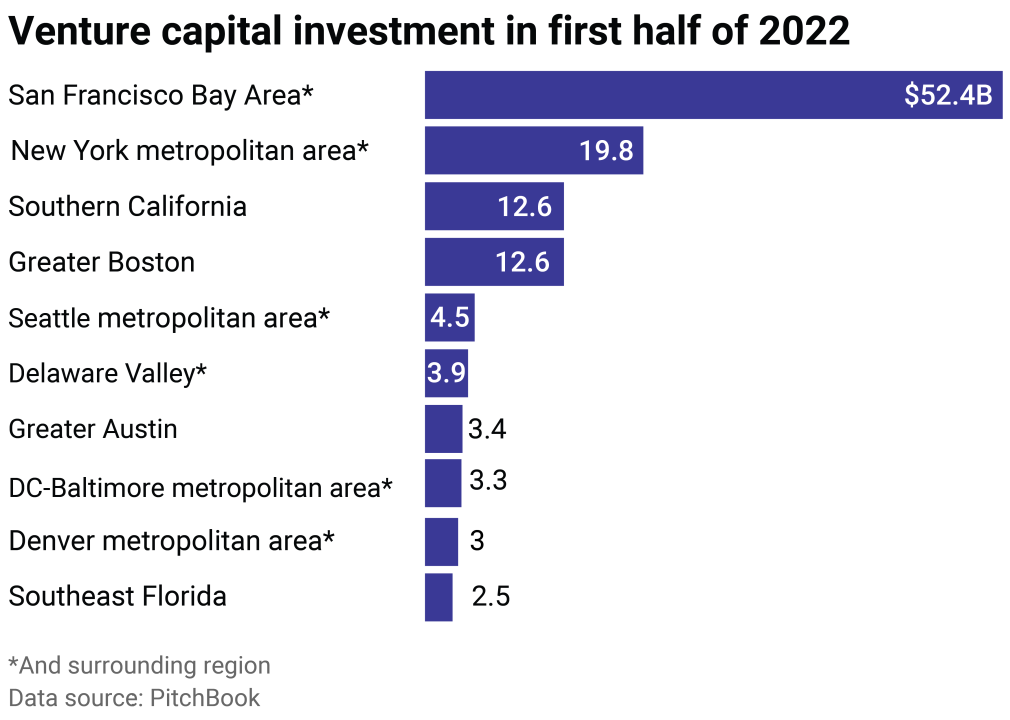 ScOp
Top 10 combined statistical areas for VC investment
The top 10 regions for venture capital investment this year are hubs for technology and other major industries.
As the preeminent leader of the U.S. tech industry, it's no surprise that the San Francisco Bay Area led the way for VC investment in H1. More than a third of VC invested was in this region, according to PitchBook data. Home to industry leaders like Facebook, Google, and Apple, the Bay Area attracts high-tech talent, some of whom branch off to pursue their own ideas and launch new companies. The San Francisco Bay Area is also home to huge venture capital firms, including Y Combinator, which funded more than 200 deals in the region in 2021.
Some of the top Bay Area VC deals in Q2 2022 include software company Remote Technology Inc. ($300 million), sales and payments software company SpotOn Transact Inc. ($300 million), and gene-based treatment startup Kriya Therapeutics Inc. ($270 million).
The New York metro and Greater Boston areas are also established tech centers with a history of relatively high VC investment. Los Angeles is also burgeoning into a major tech hub with rising focus on media and entertainment tech.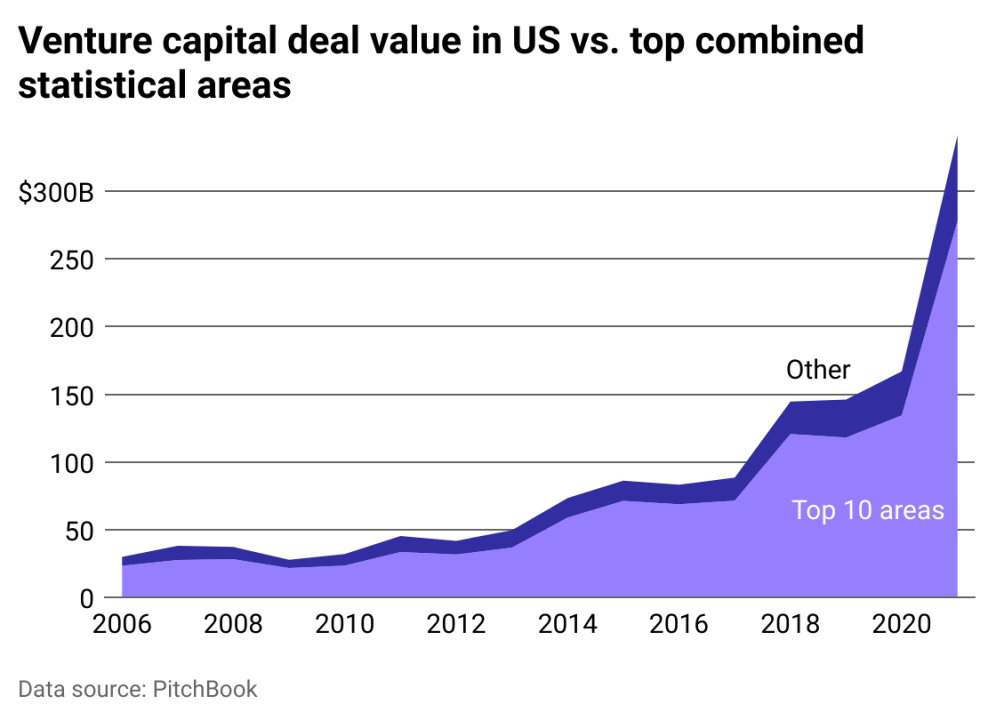 ScOp
US investments concentrated in top cities
Nearly 82% of U.S. venture capital in H1 2022 was invested in the top 10 markets. That figure has been in the low 80s since 2014. Before that, it had mainly hovered around the low-to mid-70s since PitchBook began publishing data in 2006.
Deal concentration has heightened in top markets compared to historical figures. The Bay Area's share was 22% in 1995, increasing to 36% in 2022 so far. The New York metro area grew its share from 3% in 1995 to nearly 14% today. This makes evident that tech isn't yet spreading out as much as some predicted it might in an age of increased virtual meetings and remote work.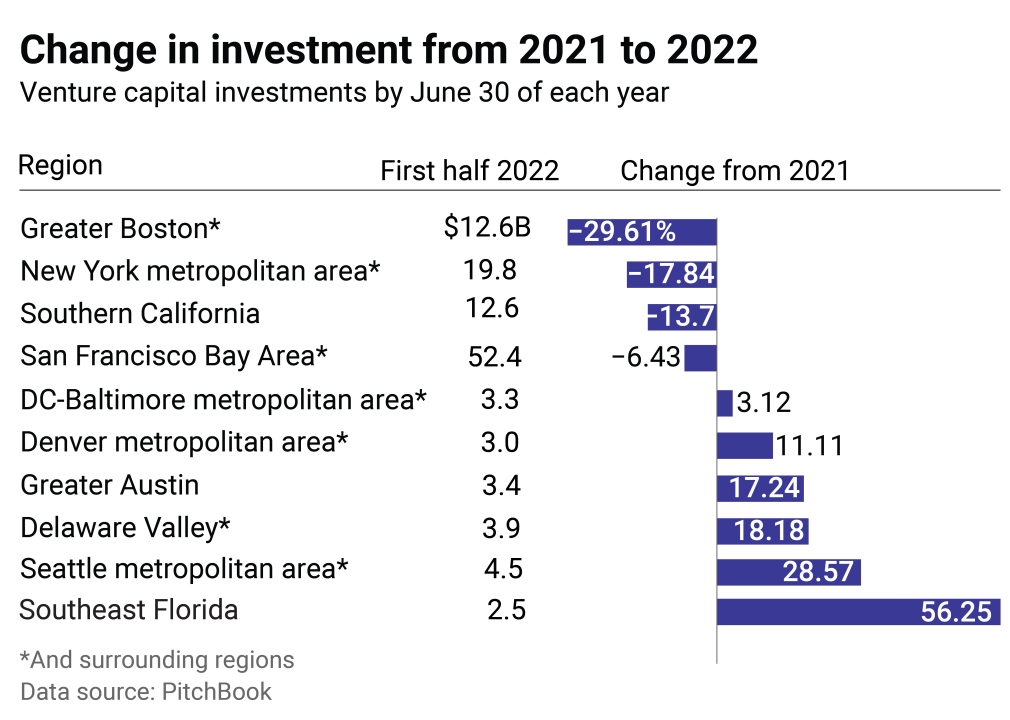 ScOp
Change in investments from last year
In some cities, VC investment actually increased in H1 2022 compared to the same time last year. The four biggest markets all saw VC decreases, but the rest of the top 10 had gains in VC investment.
The largest percent increase occurred in the Southeast Florida region, which grew from $1.6 billion to $2.5 billion. Crypto, blockchain, and Web3 startups drew the most investment in Miami. Close to $1 billion of Florida funds raised were in three mega-rounds, or those greater than $100 million. There was also a mix of funding rounds by companies that were founded in South Florida, and those that recently moved to the area.
The Seattle metro area had the next-highest increase, with startups growing investments from $3.5 billion to $4.5 billion. This combined statistical area is the fifth largest for VC investments in 2022 so far. The Seattle metro region is headquarters to tech leaders including Amazon and Microsoft and serves as a major hub for the likes of Meta, Google, Apple, and others. The hub is known more broadly for its cloud computing expertise. Major local investors include Madrona Venture Group, M12 (formerly Microsoft Ventures), and PSL Ventures—a branch of startup studio Pioneer Square Labs.
This story originally appeared on ScOp and was produced and
distributed in partnership with Stacker Studio.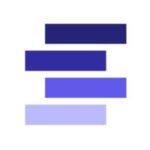 Founded in 2017, Stacker combines data analysis with rich editorial context, drawing on authoritative sources and subject matter experts to drive storytelling.
Electric vehicles zoom into focus at the Detroit Auto Show
North America's biggest auto show back in action after a two-year hiatus.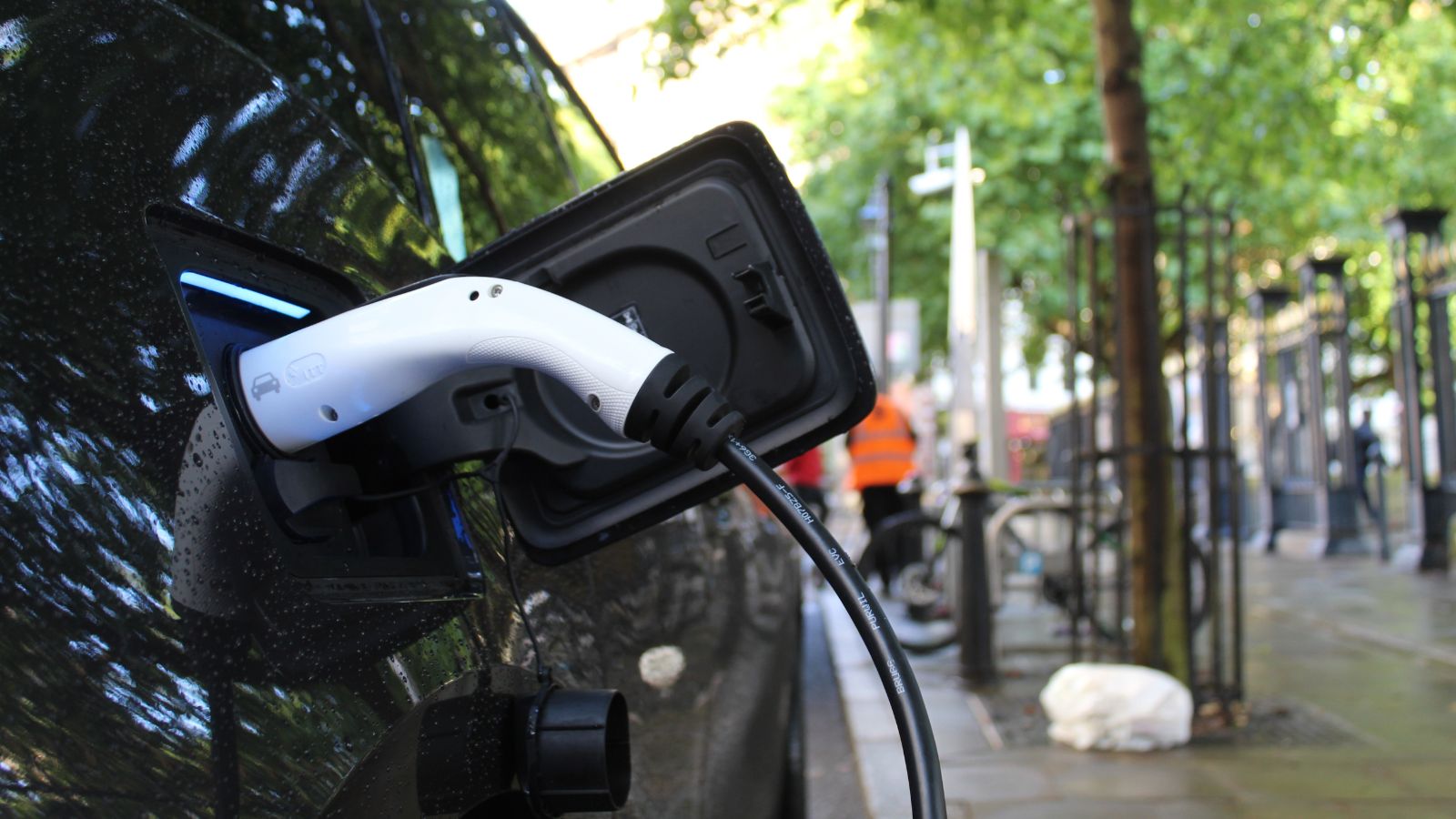 The buzz out of North America's biggest auto show is all about electric vehicles.
The 2022 North American International Auto Show — most commonly called the Detroit Auto Show — returned to in-person action after a two-year hiatus, although for a somewhat scaled-back version. Many automakers — including buzzy EV manufacturers Rivian and international brands like Nissan — were absent from the show. As Bloomberg reports, many automakers have turned to social media, pop-ups, and popular events like the Consumer Electronics Show to make their big presentations.
As we've previously reported, Chrysler, GM, and Ford are all-in when it comes to EVs. The former planning to be an all-EV brand by 2028, and the latter pushing to build 600,000 EVs annually by 2023. In 2021, GM announced an increase in its EV and AV investments through 2025, to $35 billion — a 30% increase from previous-announced plans.
Speaking to CBC News, Chrysler Brand CEO Christine Feuell said "our transition really starts in the next couple of years as we migrate to full electrification." In the works for the automaker is its first battery electric car, planned for 2025. From here, they hit warp speed, with Chrysler looking at a timeline of approximately seven years before they offer only EVs.
Highlights of the 'Big Three' automakers' EV offerings include Ford's F-150 Lightning EV pick-up and Mustang Mach-E SUV; GM/Chevrolet's Equinox EV, Silverado EV Pickup, and new electric version of the Hummer; and Dodge's Charger Daytona SRT, touted as the world's first all-electric muscle car by the U.S. automaker.
As CBC reports, additional electrified highlights of the show include:
Volvo's truck division announced plans for six new electric-powered trucks. They're anticipating transitioning half of its fleet to electric by decade's end.
Plug Zen, a startup based in Detroit, offering a range of charging stations and infrastructure.
Commercial EV company Harbinger debuted its EV platform, which they promote as 'transformative' to the medium-duty industry — "the backbone of the commercial transportation industry," according to CEO John Harris.
The Shyft Group, another commercial vehicle manufacturer, brought its solar and wind powered Blue Arc portable car charger. "Think of it like a mobile gas station," explained Eric Fisher, general manager of Shyft Innovations, to CBC.
US President Joe Biden also made an appearance at the show, hopping behind the wheel of a Chevrolet Corvette Z06 to promote the US government's plan to spend $900M (USD) building a 85,300 km charging station across 35 states. This is part of a previously-announced $1 trillion infrastructure law that also includes a federal EV tax credit.
As Reuters reports, sales of EVs in the US took a leap by 83% in 2021, but represent only about a 3% share of the market.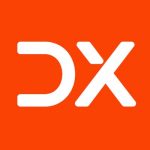 DX Journal covers the impact of digital transformation (DX) initiatives worldwide across multiple industries.
IBM Canada's Centre for Advanced Studies is weaving the perfect storm of innovation
IBM's Marcellus Mindel on how the company's Enterprise Design Thinking and WeaveSphere technology conference are paving the way for new possibilities.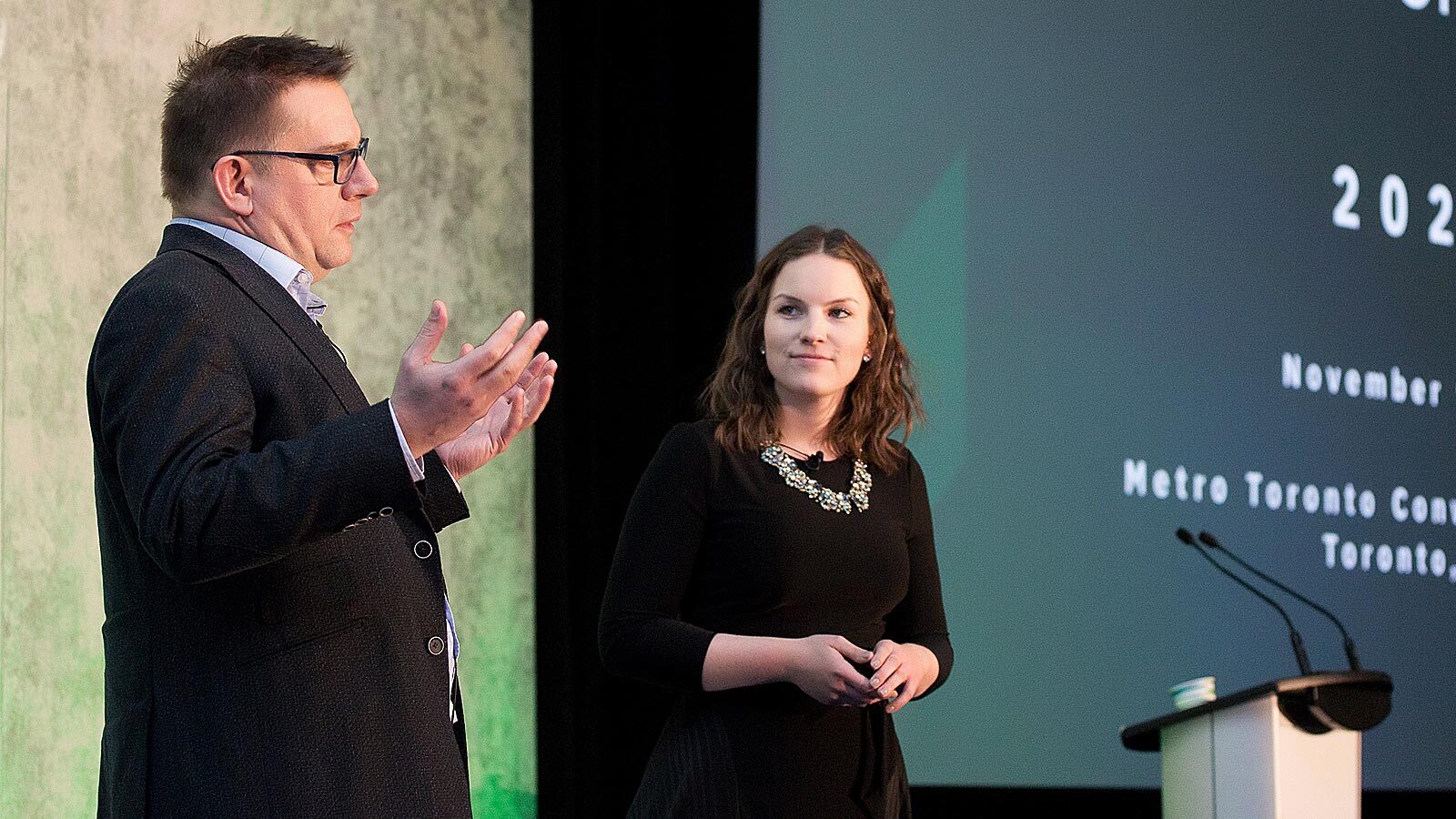 The city council meeting starts with uneventful, routine opening remarks. Then all hell breaks loose, and the shouting begins.
"Our kids cross that street, and these crazy drivers fly up and down it like maniacs," a mother of two young boys yells from the back, pointing around frantically at familiar faces.
"That isn't possible with the unnecessary number of stop signs and lights already on that street," a motorist fires back. "We don't need a new crosswalk. It will clog things up even more."
"You know full well you roll through those signs," a concerned father chirps in response.
This situation is a hypothetical example that Marcellus Mindel calls a thought experiment. He's out to prove a point about the effectiveness of traditional problem-solving techniques. Mindel, who is head of Advanced Studies at IBM Canada, says a design thinking approach can produce different, and often better outcomes.
"With a design approach, you first ask why the kids are going across the street," he says. "Turns out, they're going to after-school activities. And it turns out, there are already after-school activities on the same city block that would be better suited for the kids than crossing a busy street, they just don't know about it."
Mindel continues to iterate on possibilities and ideas in a rapid-fire manner as he runs through scenarios that might resolve the conflict in this fictional scenario. Through all of the ideation, however, he does not suggest a crosswalk is the answer.
If the after-school program is the reason the kids are crossing the road, that's the users' need. If they're crossing because there isn't a closer program, then the solution might be to instead design that.
"If a program doesn't exist close to home, would the same money that was going to be spent on building a crosswalk be better spent creating a new afterschool program on the same block?"
There are multiple solutions to the same problem, but considering the end-user is key to an ideal problem-solving approach.
"I believe this kind of approach can get us to find other ways to solve problems rather than using hierarchy and politics to drive solutions," he concludes.
How Enterprise Design Thinking unlocks innovation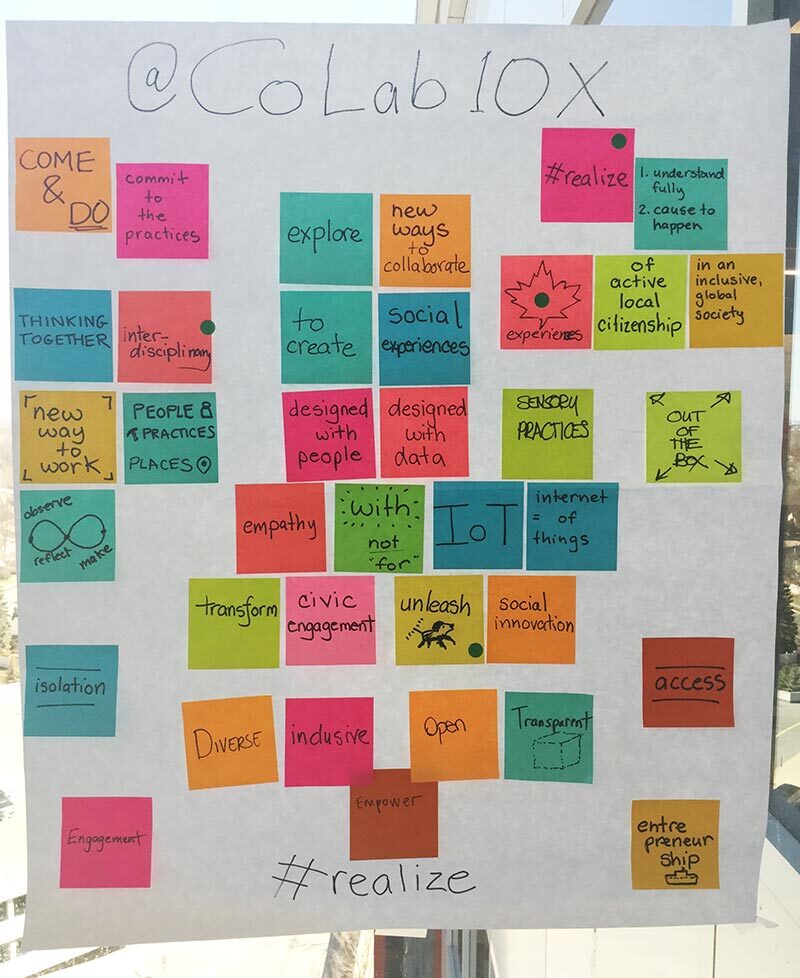 The approach Mindel is referencing is called Enterprise Design Thinking.
Design thinking seeks to address problems by framing the issues in a human-centric way by putting the end-user at the center of all decision-making.
Enterprise Design Thinking puts the process into context in a business environment.
Originally developed by IBM in the early 2010s, Enterprise Design Thinking is a framework that seeks to take the agility and innovation found in smaller startups, and make it possible to achieve within large enterprises where multiple departments and teams of people participate in design exercises. It aims to solve users' problems by catering to the often ambiguous nature of enterprise-level projects where dispersed teams collaborate on big projects with the focus on user outcomes.
And the results of the approach are impressive. Forrester research says that teams who take an Enterprise Design Thinking approach are 75% more efficient, and can turn out products twice as fast.
How design thinking works in practice
To provide an example of how design thinking works in the practical world, Mindel shared a story of a student at Carleton University who wanted to reduce the amount of disposable hot beverage cups that were being used at a campus coffee shop.
With a design thinking process, the first step was to empathize with the students to understand what they were doing, saying, thinking, and feeling, rather than just demand they stop using the cups.
Through the process, they learned that the students sleep in, rush to class, or they're over-tired from studying. As a result, their to-go coffee mug is often dirty, sitting on their car floor, or at the bottom of a morning commute bag.
These students do indeed care about the environment, but user needs were simply getting in the way of the goal of reducing waste.
By looking at user needs and asking questions, Mindel says the group stumbled upon a "wow" moment and solution: What if the coffee shop put a washing station in the line so to-go mugs could be reused and cleaned on the spot, removing the barrier to why reusable mugs were not being used in the first place?
"In hindsight, it is absolutely, totally mind-blowingly obvious. And where I got excited about all this stuff, is that it helped me to rethink what innovation actually means."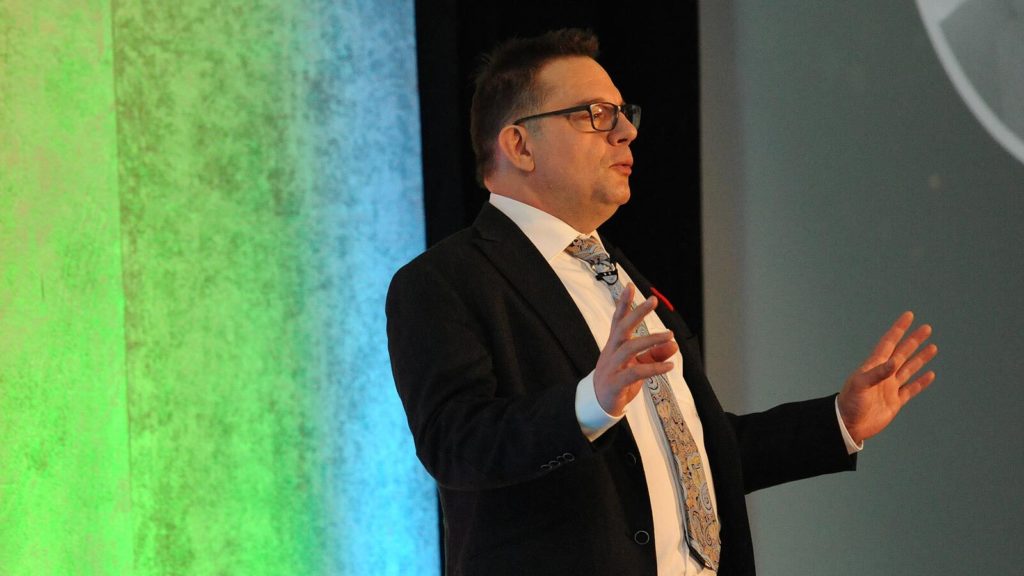 Advancing enterprise innovation
Mindel started his career as a software engineer in Ottawa, and later took on a number of roles managing relationships with academic institutions and research and development labs, before becoming head of the Canadian IBM Centre for Advanced Studies in 2015.
After joining, Mindel began learning more about Enterprise Design Thinking, and the problem-solving and innovation framework lit a fire in him as he looked to lead teams to innovate in new ways.
"What good are improved means, to unimproved ends?" Mindel asks, referencing a famous Henry David Thoreau concept. "A lot of technology research today is about improving the means without asking the question about the ends."
Asking questions, and looking at "the ends" is what he spends every day doing as the leader of IBM's Canadian Advanced Studies team, one of several in a global network that specialize in collaborative research. Today, Mindel leads partnerships between students, educators, and researchers who apply IBM technology to business and societal challenges.
How WeaveSphere became a design thinking epicenter
Creating innovation that matters within a large enterprise is no small task. If you find yourself scratching your head, unsure where to start, your first stop should be the Weavesphere technology conference.
Taking place November 15-17, 2022 in Toronto, WeaveSphere brings together world-class leaders and researchers from a range of disciplines who share insight, ideas, and co-create technology for the future.
The event is hosted by IBM's Centre for Advanced Studies, and Evoke, and it invites everyone — even non-technical people — to attend. Attendees include undergraduate and graduate students, industry leaders, academics, IBMers, and anyone who wants to learn to leverage an enterprise design thinking approach.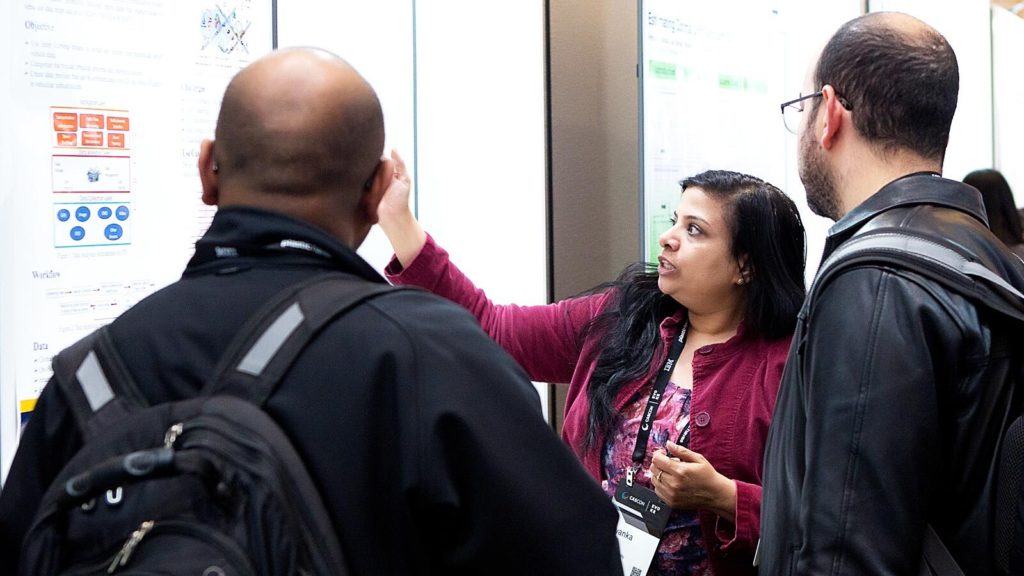 The event is under a new name this year (it was previously called CASCON) but 2022 marks the 32nd year IBM's Centre for Advanced Studies has hosted an industry-leading, award-winning technology conference.
Unlike other technology conferences where audiences sit passively and listen to keynotes and panel discussions, WeaveSphere attendees roll up their sleeves and jump head-first into the innovation pool. Researchers present ideas, industry leaders ask questions, students suggest new ways of approaching a challenge — whatever the scenario, it's practical, and attendees walk away with ideas and real connections to build their future.
What makes the event so successful is how it brings to life the work that Mindel and his team do every day within Advanced Studies, while also inviting a bigger group to the innovation roundtable.
"What we are doing through Enterprise Design Thinking is creating ways to improve the ends, and the means," Mindel says. "We seek to help people enter into a problem space when they don't know what to do, or even what the problem really is, or how to solve it."
He likens the approach to the story of Frodo, a character in Lord of The Rings. Frodo is a Hobbit who volunteers to lead the dangerous, long journey in order to deliver a valuable and important asset (the ring) to Mordor. Frodo doesn't know the way there, and he is not the most obvious first choice to lead the journey, as there are many others who are braver, stronger, and more experienced than he.
In Advanced Studies, and at the WeaveSphere conference, there is an opportunity for anyone to lead and present their ideas to problems. In fact, Mindel says that when many Frodo-like people from a variety of backgrounds write their ideas on sticky notes and put them together on a wall, magic (and true innovation) happens.
That is the essence of WeaveSphere.
It's an opportunity for everyone to get involved in the collaborative process of design thinking, and embark on their own journey into the unknown, to get to a faraway place, without a map.
Digital Journal is an official media partner for WeaveSphere. We will share updates leading up to the event, and we'll be live on location from November 15-17,2022. Join us and get your tickets at weavesphere.co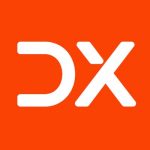 DX Journal covers the impact of digital transformation (DX) initiatives worldwide across multiple industries.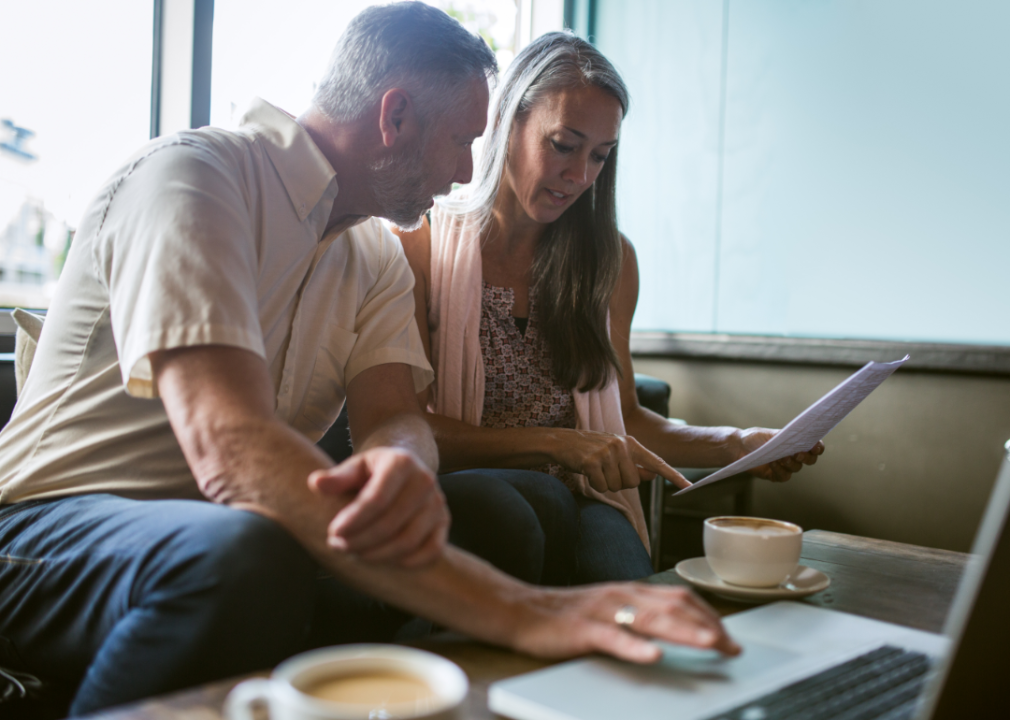 Evolution of the 401(k)
Americans held $7.3 trillion in 401(k) plans as of June 30, 2021, according to the Investment Company Institute. And the typical wealth held in an American family's 401(k) has more than tripled since the late 1980s. With the widespread adoption of 401(k) plans, it might surprise you that they're a relatively new employee benefit—and one that was created unintentionally by lawmakers.
Today, public and private sector employees alike use a 401(k)—or the nonprofit equivalent, a 403(b)—in order to plan for a comfortable retirement. In essence, a 401(k) allows an employee to forgo receiving a portion of their income, instead steering it into an account where the money can grow through investments. Unlike pensions, these retirement plans put more of the planning decisions—and responsibility—on employees rather than the company.
Employers can contribute to an employee's retirement savings by matching the contributions to a 401(k) account up to an amount decided by the employer. 
"The savings comes off the top, so a lot of people don't miss their money when it's going into their 401(k)," Ted Benna, the man long-credited for introducing the 401(k) to corporate America, told Forbes in 2021.
Whether or not that savings that "comes off the top" yields small or large returns is influenced by the employee's age, tolerance for risk as well as market conditions over the lifetime of the account.
To illustrate how Americans' retirement savings have evolved over the decades, Guideline compiled a timeline on the evolution of the 401(k), drawing on research from the Employee Benefit Research Institute, the Investment Company Institute, and legislative records.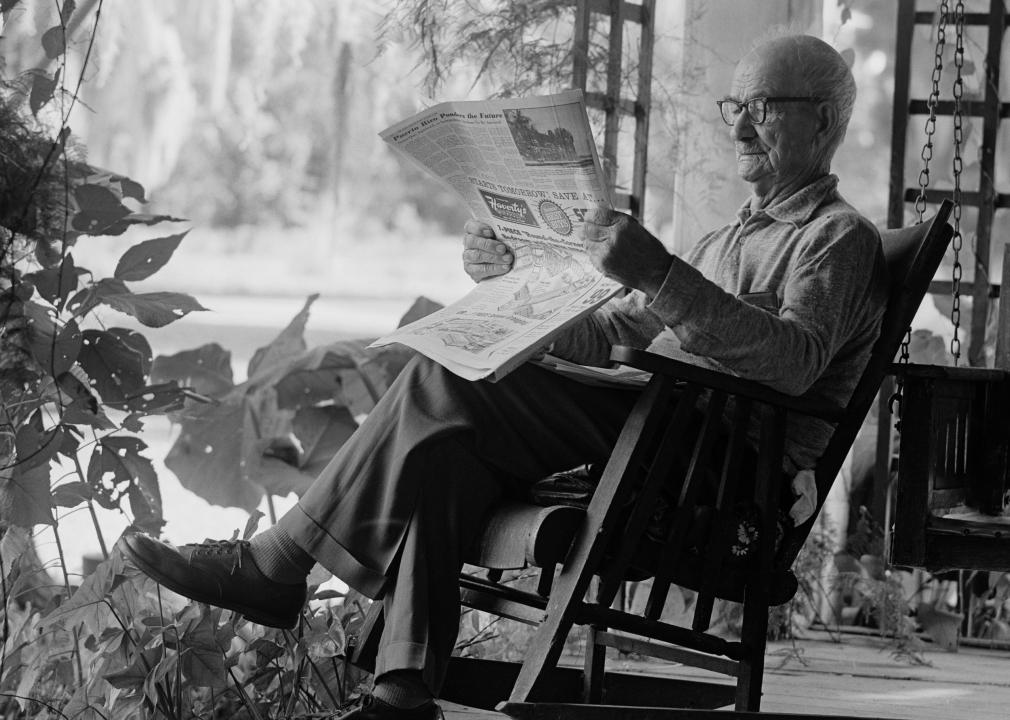 Debrocke/ClassicStock // Getty Images
Pre-1978: First, there were CODAs
Before the mighty 401(k) there were Cash or Deferred Arrangements, commonly known as CODAs.
These arrangements between companies and workers allowed employees to defer some of their income and the taxes they paid on it for a period of time. CODAs were a funding mechanism for stock bonus, pension, and profit-sharing plans.
In 1974, the Employee Retirement Income Security Act (ERISA) was enacted, creating a governmental body that oversaw and regulated company-sponsored retirement and health care plans for workers.
ERISA temporarily halted IRS plans to severely restrict retirement plans through regulation in the early 1970s, according to the EBRI. The act created a study of employee salary reduction plans as well, which the EBRI credits for influencing the creation of the 401(k) later on in the decade.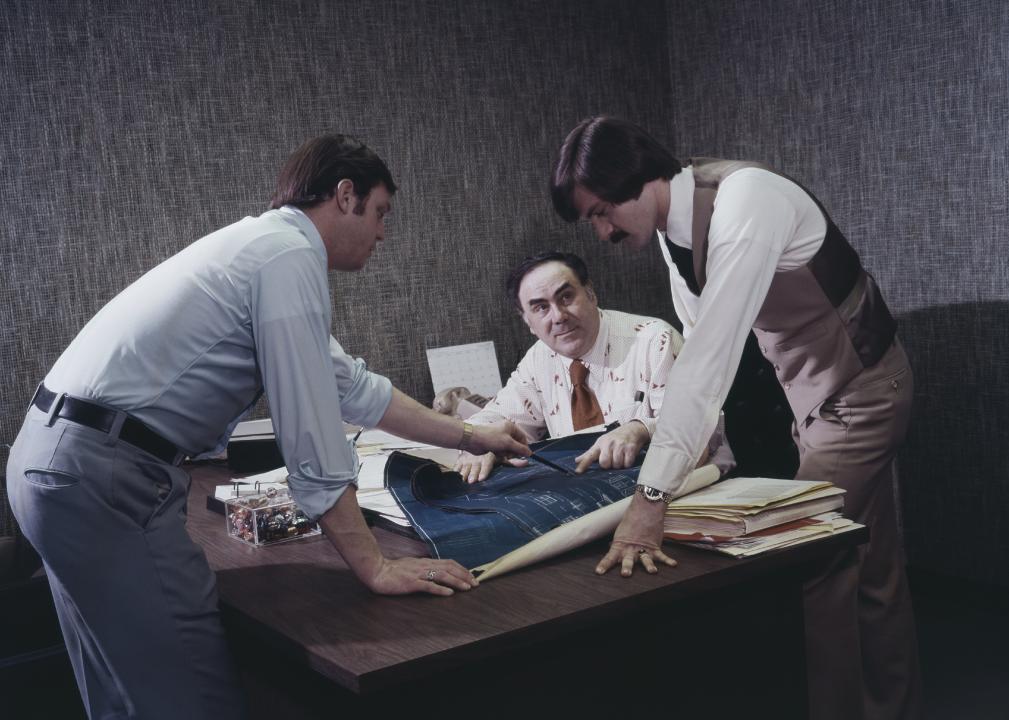 Harold M. Lambert // Getty Images
1978: The Revenue Act of 1978
The modern 401(k) originated in earnest in 1978 with a provision in The Revenue Act of 1978 which said that employees can choose to receive a portion of income as deferred compensation, and created tax structures around it.
Section 401 was originally intended by lawmakers to limit companies creating tax-advantaged profit-sharing plans that mostly benefited executives, according to the ICI. Thanks to the interpretation of the section by businessman Ted Benna, the language evolved into the basis of the modern 401(k), as it enabled profit-sharing plans to adopt CODAs. 
The law was signed by President Jimmy Carter and became effective at the turn of the decade. Regulations were then created and issued by the end of 1981.
The Revenue Act of 1978 not only created the foundation for 401(k) savings plans but also flexible spending accounts for medical expenses and the independent contractor classification as it pertains to how a company pays employment taxes.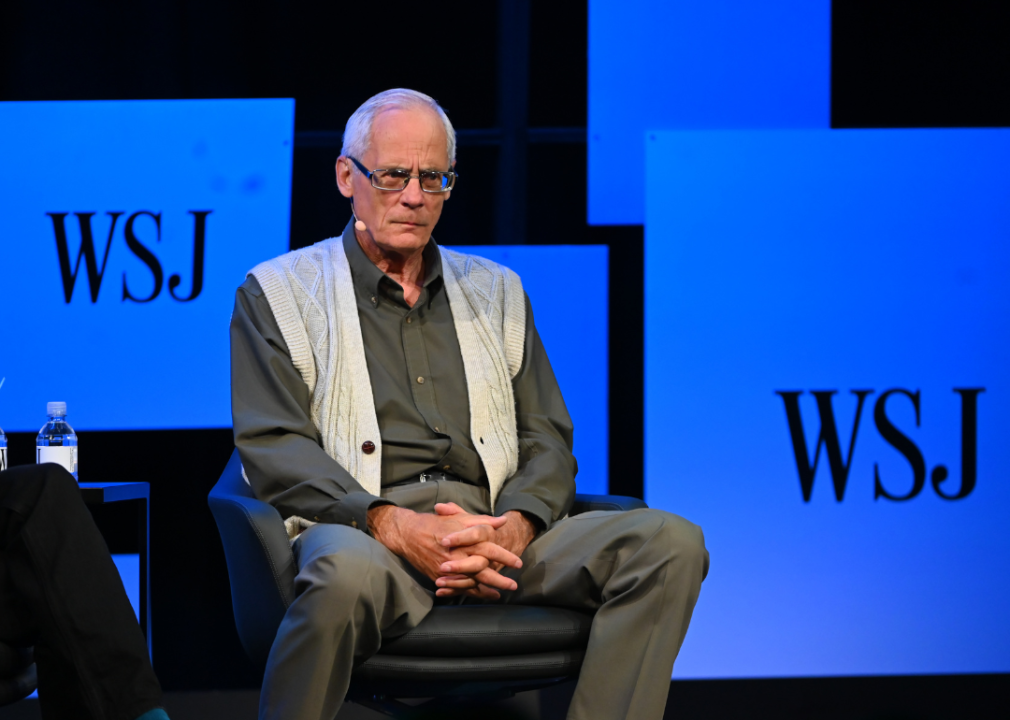 Nicholas Hunt // Getty Images
1980: "Father of the 401(k)" Ted Benna first implements the retirement plan
Ted Benna, pictured above, is popularly known as the "Father of the 401(k)" for his work advocating for companies to adopt plans in accordance with the IRS' new Revenue Act of 1978.
His self-described "aggressive" interpretation of the eponymous 401(k) section within the Act led him to create the first-ever 401(k) savings plan in the U.S. for his consulting company.
Through business connections, Benna was introduced to Treasury officials and provided recommendations as to how 401(k) should be regulated. Ultimately, Benna was able to help steer the success and adoption of the nascent retirement tool.
Today, Benna advocates for laws that would require employers to auto-enroll their workers in 401(k) plans, meaning employers would automatically deduct payroll deferrals unless an employee elects not to participate. One of the biggest downsides to 401(k) plans is actually that more workers don't utilize them sooner in their careers. The earlier a person starts contributing money to one of these retirement accounts, the better positioned they are to significantly grow funds by their target retirement age.
While 68% of private sector American workers had access to employee-sponsored retirement plans in 2021, only about half of all Americans took advantage of one.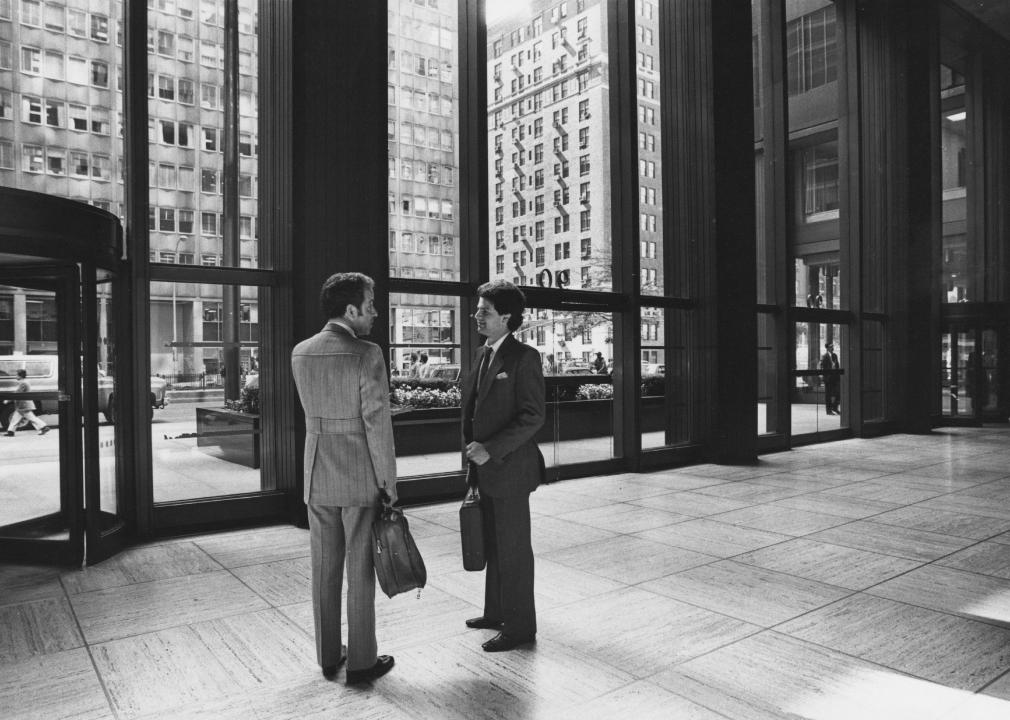 Barbara Alper // Getty Images
1981: IRS clarification leads major companies to adopt 401(k) policies
In the late 1970s, pioneering aviation company Hughes Aircraft was well on its way to becoming the largest industrial employer in the state of California. The company's outside legal consultant Ethan Lipsig was writing letters to Hughes Aircraft, encouraging the company to turn the savings plan it offered employees into a 401(k) plan.
But it wasn't until the IRS issued regulations assuring employers that they could legally defer a portion of payroll compensation to a 401(k) savings account that companies like Hughes, J.C. Penney, Johnson & Johnson, and PepsiCo began offering the plans to workers.
Nearly half of all large employers in the U.S. were offering 401(k) plans to their workers by the end of 1982.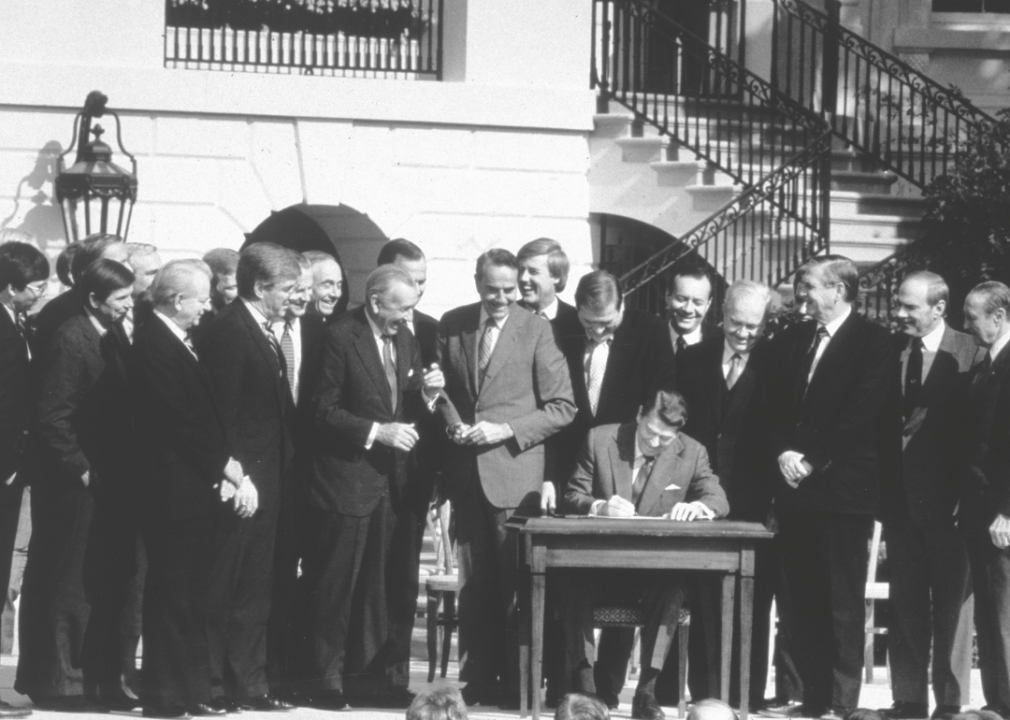 MPI // Getty Images
1984-1986: The Tax Reform Acts of 1984 and 1986
In 1984 and again in 1986 U.S. lawmakers, pictured above, made amendments to the country's tax code sometimes referred to today as the "Reagan tax cuts."
In 1984, laws were amended as part of the so-called Deficit Reduction Act to tighten the rules around deferred compensation, including 401(k) savings plans. The legislation ensured that less highly compensated employees could also benefit from plans—not just the highest paid workers. In a brief published in September 1985, the EBRI expressed concern that Reagan's amendment could jeopardize the popularity of 401(k) savings plans.
The Tax Reform Act of 1986 consolidated tax brackets, lowered federal income taxes, and placed an annual limit on deferred compensation, according to the EBRI. It had the added benefit of "endorsing" the 401(k) as a legitimate retirement vehicle because the Act implemented a 401(k)-type plan for federal employees.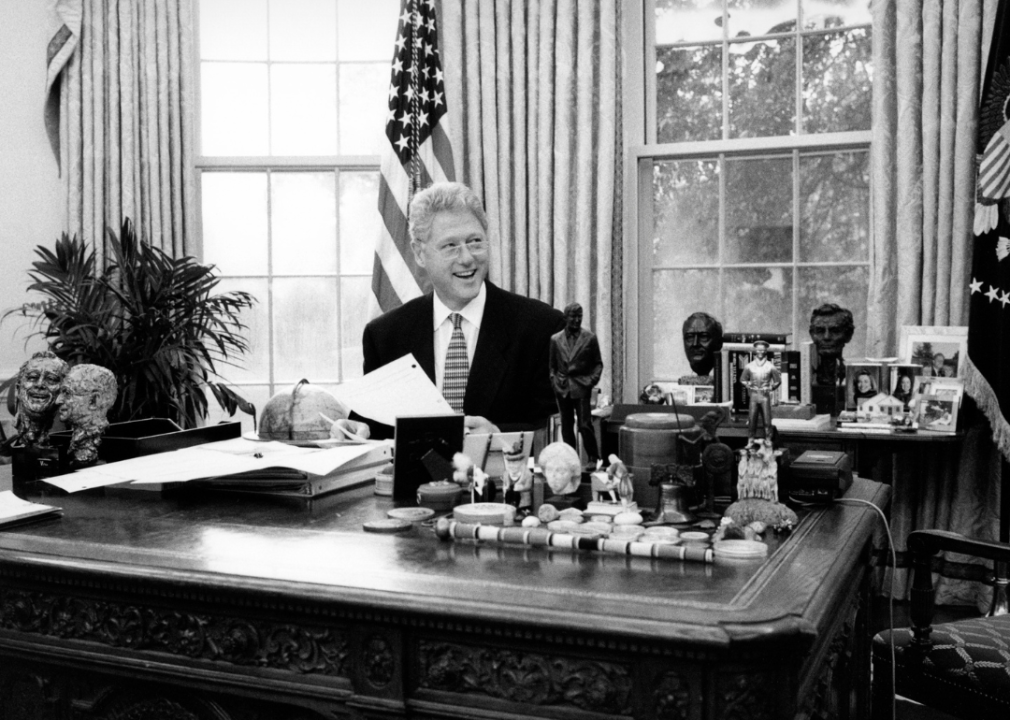 David Hume Kennerly // Getty Images
1996: The Small Business Job Protection Act of 1996
The Small Business Job Protection Act came along in 1996 and simplified retirement programs—called SIMPLE plans—for small businesses. The act signed into law by President Bill Clinton was intended to help make America's small businesses more competitive with large firms.
It specifically made the employer-matching contribution process easier through SIMPLE plans for businesses with fewer than 100 employees. The act also lowered taxes for small businesses, created safe-harbor formulas to eliminate the need for nondiscrimination testing, simplified pensions, and raised the minimum wage.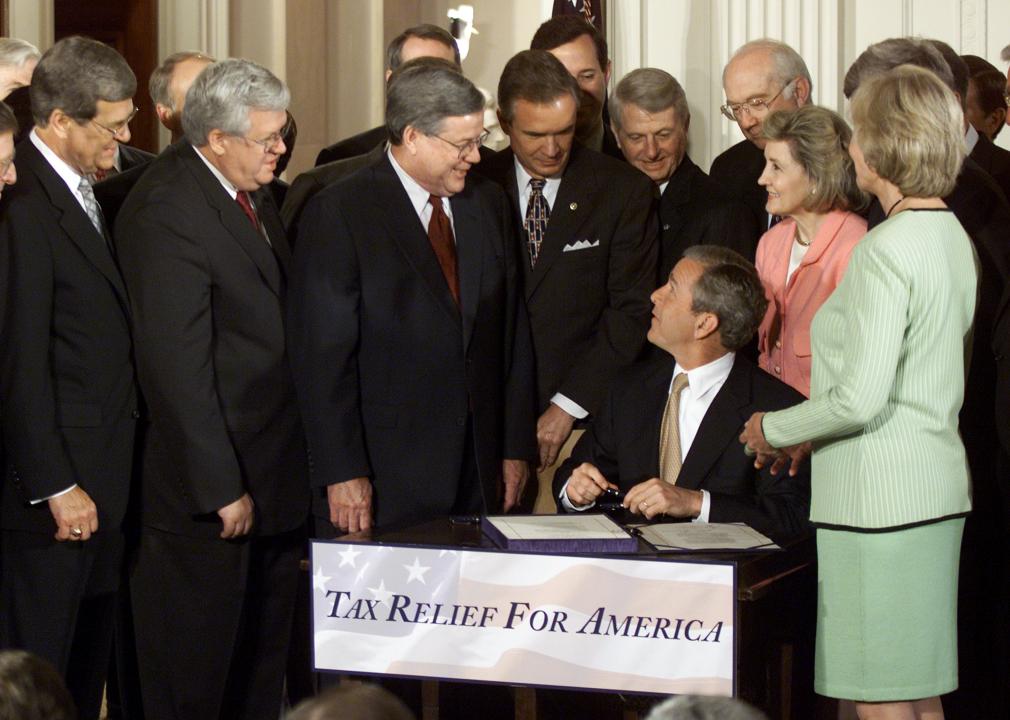 Mark Wilson // Getty Images
2001: The Economic Growth and Tax Relief Reconciliation Act
The Economic Growth and Tax Relief Reconciliation Act paved the way for many changes including allowing catch-up contributions for employees aged 50 and older, requiring faster vesting timeframes for matching contributions, and, perhaps most notably, introducing the Roth 401(k).
Officially launched to the public in 2006, a Roth 401(k) is employer-sponsored like a traditional 401(k). The account holder elects to contribute a portion of their income to the account, and the employer has the option to contribute matching funds.
The difference is that contributions are taxed before they go into the Roth account, which means that the owner doesn't have to pay taxes again when they withdraw from the account after they are aged 59 and a half or older.  At its core, the Roth 401(k) gives the owner the advantage of paying taxes now instead of being taxed on withdrawals later in life when the account is worth more monetarily—or when future tax rates may have increased.
Millennials are more likely to contribute to Roth 401(k)s than older generations, according to a 2019 report from the Transamerica Center for Retirement Studies.
Tom Williams // Getty Images
2022: The Securing a Strong Retirement Act is making its way through Congress
Flash forward to the current day and much has changed about planning for retirement. Pensions have all but disappeared and many Americans continue to redefine what retirement will look like for them — and how to plan ahead for it. In the U.S., people live on average 10 years longer today than they did when the 401(k) was created in 1978, and recent research suggests that generations younger than baby boomers may live longer than their retirement accounts will support them. So it's more important than ever that people stay on top of changes in their retirement planning. As more tools, technology, and resources became available for learning and investing, legislation has also been introduced to help Americans navigate retirement decisions. 
The Senate is currently debating a set of bills collectively referred to as "SECURE 2.0," as they build on the SECURE Act passed in 2019. Among other changes, the 2019 legislation made it so part-time workers could participate in retirement plans and made offering plans more appealing for small businesses that may have been hesitant in the past.
SECURE 2.0 goes further to make employee enrollment in a retirement savings plan like a 401(k) mandatory. It would also alter rules around making late contributions to payments so that Americans older than 50 can contribute even more than previously to their accounts.
This story originally appeared on Guideline and was produced and
distributed in partnership with Stacker Studio.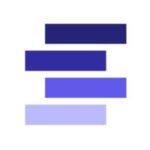 Founded in 2017, Stacker combines data analysis with rich editorial context, drawing on authoritative sources and subject matter experts to drive storytelling.