Whistle blows in Germany for world's first hydrogen train fleet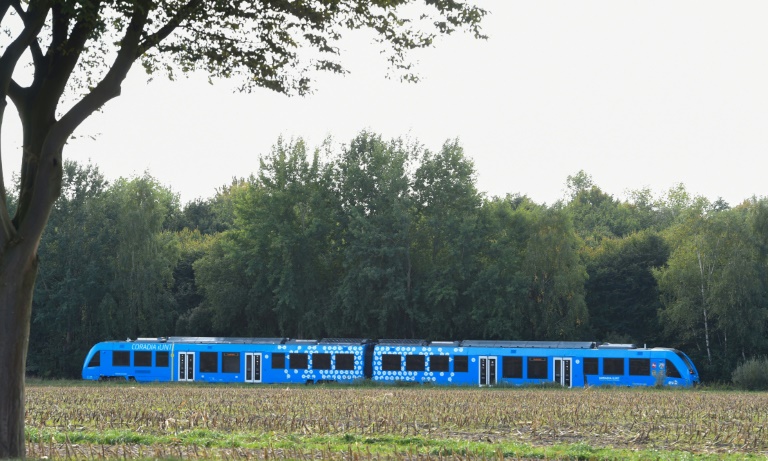 Germany on Wednesday will inaugurate a railway line powered entirely by hydrogen, a "world first" and a major step forward for green train transport despite nagging supply challenges.
A fleet of 14 trains provided by French industrial giant Alstom to the German state Lower Saxony will replace the diesel locomotives on the 100 kilometres (60 miles) of track connecting the cities of Cuxhaven, Bremerhaven, Bremervoerde and Buxtehude near Hamburg.
"Whatever the time of day, passengers will travel on this route thanks to hydrogen", Stefan Schrank, project manager at Alstom, told AFP, hailing a "world first".
Hydrogen trains have become a promising way to decarbonise the rail sector and replace diesel, which still powers 20 percent of journeys in Germany.
Billed as a "zero emission" mode of transport, the trains mix hydrogen on board with oxygen present in the ambient air, thanks to a fuel cell installed in the roof. This produces the electricity needed to pull the train.
– Run for its money –
Designed in the southern French town of Tarbes and assembled in Salzgitter in central Germany, Alstom's trains — called Coradia iLint — are trailblazers in the sector.
The project drew investment of "several tens of millions of euros" and created jobs for up to 80 employees in the two countries, according to Alstom.
Commercial trials have been carried out since 2018 on the line with two hydrogen trains but now the entire fleet is adopting the ground-breaking technology.
The French group has inked four contracts for several dozen trains between Germany, France and Italy, with no sign of demand waning.
In Germany alone "between 2,500 and 3,000 diesel trains could be replaced by hydrogen models", Schrank estimates.
"By 2035, around 15 to 20 percent of the regional European market could run on hydrogen," Alexandre Charpentier, rail expert at consultancy Roland Berger, told AFP.
Hydrogen trains are particularly attractive on short regional lines where the cost of a transition to electric outstrips the profitability of the route.
Currently, around one out of two regional trains in Europe runs on diesel.
But Alstom's competitors are ready to give it a run for its money. German behemoth Siemens unveiled a prototype hydrogen train with national rail company Deutsche Bahn in May, with a view to a roll-out in 2024.
But, despite the attractive prospects, "there are real barriers" to a big expansion with hydrogen, Charpentier said.
For starters, trains are not the only means of transport hungry for the fuel.
The entire sector, whether it be road vehicles or aircraft, not to mention heavy industry such as steel and chemicals, are eyeing hydrogen to slash CO2 emissions.
– Colossal investment –
Although Germany announced in 2020 an ambitious seven-billion-euro (-dollar) plan to become a leader in hydrogen technologies within a decade, the infrastructure is still lacking in Europe's top economy.
It is a problem seen across the continent, where colossal investment would be needed for a real shift to hydrogen.
"For this reason, we do not foresee a 100-percent replacement of diesel trains with hydrogen," Charpentier said.
Furthermore, hydrogen is not necessarily carbon-free: only "green hydrogen", produced using renewable energy, is considered sustainable by experts.
Other, more common manufacturing methods exist, but they emit greenhouse gases because they are made from fossil fuels.
The Lower Saxony line will in the beginning have to use a hydrogen by-product of certain industries such as the chemical sector.
The French research institute IFP specialising in energy issues says that hydrogen is currently "95 percent derived from the transformation of fossil fuels, almost half of which come from natural gas".
Europe's enduring reliance on gas from Russia amid massive tensions over the Kremlin's invasion of Ukraine poses major challenges for the development of hydrogen in rail transport.
"Political leaders will have to decide which sector to prioritise when determining what the production of hydrogen will or won't go to," Charpentier said.
Germany will also have to import massively to meet its needs.
Partnerships have recently been signed with India and Morocco, and an agreement to import hydrogen from Canada was on the agenda this week during a visit by Chancellor Olaf Scholz.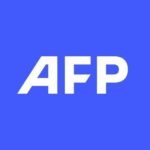 With 2,400 staff representing 100 different nationalities, AFP covers the world as a leading global news agency. AFP provides fast, comprehensive and verified coverage of the issues affecting our daily lives.
Samsung quarterly profits plunge to 8 year low on demand slump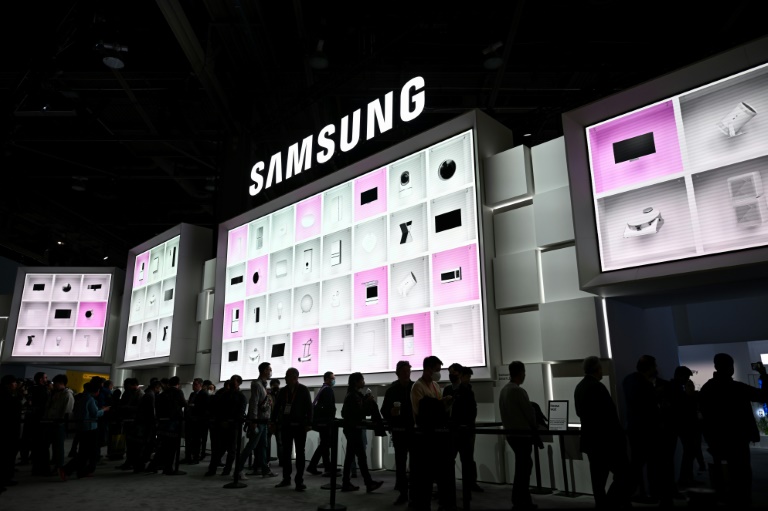 Samsung Electronics said Tuesday that its fourth-quarter operating profits plunged nearly 70 percent, the biggest drop in more than eight years, as the global economic slowdown dealt a blow to electronics and chips sales.
The South Korean tech giant said operating profits for the October to December period slumped to 4.3 trillion won ($3.4 billion), a 69 percent drop from a year earlier.
The drop is in line with the estimate Samsung released earlier this month and marks the company's worst decline in quarterly profits since the third quarter of 2014.
"The business environment deteriorated significantly in the fourth quarter due to weak demand amid a global economic slowdown," Samsung said in a statement.
Sales fell eight percent to 70.46 trillion won from the same period the previous year.
Samsung singled out weak demand for memory chips, saying the sector had been hit hard "as prices fell and customers continued to adjust inventory amid deepening uncertainties in the external environment".
The firm is the flagship subsidiary of the giant Samsung Group, by far the biggest of the family-controlled conglomerates that dominate business in Asia's fourth-largest economy.
The fourth-quarter drop is the second consecutive margin squeeze for Samsung, which saw a 31 percent fall in operating profits in the third quarter year-on-year.
For the full year, Samsung reported 43.38 trillion won in operating profit and a record-high annual revenue of 302.23 trillion won.
– 'Heavy blow' –
Until the second quarter of 2022, Samsung, along with other tech companies, significantly benefited from strong demand for electronic devices — as well as chips that power them — during the pandemic.
But the global economy is now facing multiple challenges, including soaring inflation, rising interest rates and higher energy costs.
Global memory chip revenue dropped 10 percent last year, as electronic equipment manufacturers "started to deplete memory inventory they had been holding in anticipation of stronger demand," according to tech research firm Gartner.
"Consumers also began to reduce spending, with PC and smartphone demand suffering, and then enterprises starting to reduce spending in anticipation of a global recession, all of which impacted overall semiconductor growth," said Andrew Norwood, VP Analyst at Gartner.
The macroeconomic uncertainties are expected to persist in 2023, Samsung said, adding: "the Company anticipates demand to begin recovering in the second half."
"Samsung was dealt a heavy blow with deteriorating external factors, like weaker demand and rising costs," Samsung Electronics vice chairman Han Jong-hee said during CES 2023 in Las Vegas earlier this month, according to the Yonhap News Agency.
"I think this difficult business environment will continue this year as a prolonged economic slowdown and risks in supply chains increase uncertainties."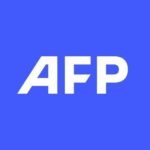 With 2,400 staff representing 100 different nationalities, AFP covers the world as a leading global news agency. AFP provides fast, comprehensive and verified coverage of the issues affecting our daily lives.
US Justice Dept investigating Tesla self-driving features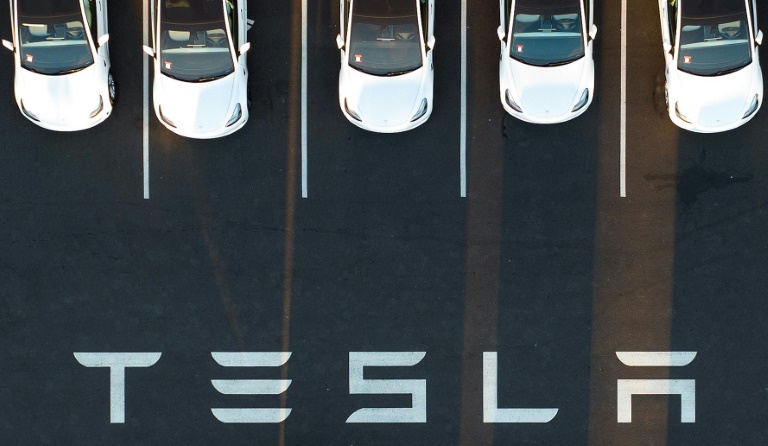 The US Department of Justice has opened an investigation into Tesla's driver-assistance features, the company said Tuesday in a financial document.
The filing comes amid an ongoing National Highway Traffic Safety Administration (NHTSA) review of the electric carmaker's "Autopilot" system.
"The company has received requests from the DOJ for documents related to Tesla's Autopilot and FSD (full self-driving) features," the Securities and Exchange Commission filing said Tuesday.
Tesla CEO Elon Musk has regularly promised that a fully autonomous vehicle is just around the corner, but his cars still only feature "driving assistance" — which helps drivers change lanes or identify stop signs — and not full autonomy that would allow drivers to look away from the road.
The company did not say what exactly the requests were, but according to media reports, the department is looking into whether Tesla's claims about the reliability of its driver assistance systems could leave drivers with a false sense of security.
This is not the first time Tesla's public marketing statements have come under regulatory scrutiny.
On its website, Tesla says its Autopilot and its Full Self Driving Capability options "require a fully attentive driver, who has their hands on the wheel and is prepared to take over at any moment."
But National Transportation Safety Board (NTSB) Chairwoman Jennifer Homendy in 2021 told CNBC that using the term "full self-driving" is "misleading."
And the California Department of Motor Vehicles last year filed a complaint against the company for using advertising language that could make its products seem more capable than they are.
According to a report from Bloomberg, the Justice Department investigation has been opened for similar reasons.
The NHTSA's probe includes investigations into several safety incidents associated with the driver assistance systems.
"To our knowledge no government agency in any ongoing investigation has concluded that any wrongdoing occurred," Tesla said in its Tuesday filing.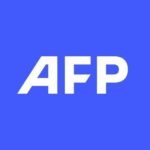 With 2,400 staff representing 100 different nationalities, AFP covers the world as a leading global news agency. AFP provides fast, comprehensive and verified coverage of the issues affecting our daily lives.
Boeing to deliver last 747, the plane that democratized flying
Boeing is set to officially bid farewell to the original jumbo jet, the 747, as it makes its final commercial delivery of an aircraft that democratized flying and serves US presidents.
Thousands of current and former employees will converge Tuesday afternoon at Boeing's factory in Everett, Washington, in the Northwestern part of the United States for a final sendoff celebration in parallel with the delivery of a Boeing 747-8 cargo plane to Atlas Air.
The existing fleet of planes are expected to fly for decades more, but in ceasing 747 production more than 50 years after aircraft's first flight, Boeing is closing a chapter in the history of civil aviation.
The plane's size, flying range and efficacy "made it possible for the middle class to travel outside Europe or the United States at an affordable price, even during the energy shocks of the 1970s," said Michel Merluzeau, director of aerospace and defense analysis at AIR consultancy.
"It opened up the world," Merluzeau said.
Boeing built 1,574 747s in all. But the jet has over time been eclipsed by newer models that fly more efficiently and burn less fuel.
Commercial airlines in the United States have not flown the 747 since 2017.
– Biggest jet for decades –
The 747's origins date to the 1960s, a period when aviation was on the upswing and airports were becoming increasingly busy.
At the urging of Pan American Airways, Boeing began to plan for a jet that could carry significantly more passengers.
Engineers initially conceived of a plane with two fuselages, but dropped that idea due to concerns about evacuating passengers from a second level.
Instead of making the plane taller, the 747 was made wider, Michael Lombardi, Boeing's company historian said of a jet that became the first designed with two aisles.
"This airplane will always be recognized as the queen of the sky," Lombardi said at a recent briefing with journalists.
The 747 runs on four engines and was conceived from the start as a plane that would also carry cargo.
But that imperative required other adjustments, including the need to raise the cockpit above the nose, leading to the 747's iconic "hump."
The 747 remained the biggest passenger plane until the arrival in the 2000s of the Airbus 380.
In the 1980s and 1990s, the 747 was "really the industry's workhorse," with countless trips between destinations like New York, Paris and London, said Merluzeau.
But the arrival of later generations of long-distance jets such as the Boeing 787 Dreamliner and the Airbus 350, which are more fuel efficient than the 747, have remade intercontinental travel, allowing for direct trips between more places and diminishing the dominance of hubs.
The newer planes "have changed flying to what we want, point to point," Lombardi said.
– Heavy hauling –
While Boeing has revamped the 747 more than once, "there are limits to what you can do compared with other options," said Merluzeau.
For the last incarnation of the jet, the 747-8, which was launched in 2005, Boeing sold 48 passenger jets and 107 for cargo.
While Boeing announced in 2020 it would end production of the 747, the legacy fleet is expected to fly for decades more, especially in the cargo sphere.
"The 747 really is unique in its utility for shipping large industrial pieces, like motors for ocean liners and larger oilfield equipment," said Merluzeau, noting the freighter's ability to move more than 130 tons.
The plane of US presidents since 1990, the 747 is also expected to keep up its official duties for the White House for the foreseeable future, with two Air Force One aircraft currently being modified to replace jets now working.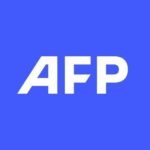 With 2,400 staff representing 100 different nationalities, AFP covers the world as a leading global news agency. AFP provides fast, comprehensive and verified coverage of the issues affecting our daily lives.