EU lawmakers impose single charger for all smartphones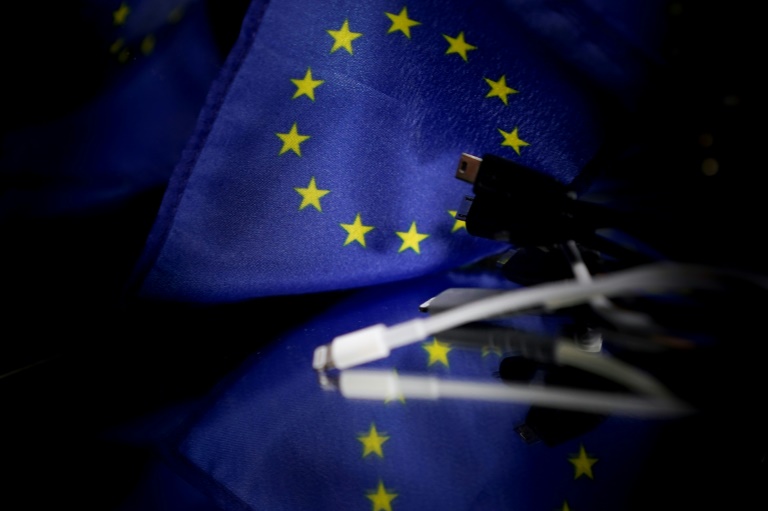 The EU parliament on Tuesday passed a new law requiring USB-C to be the single charger standard for all new smartphones, tablets and cameras from late 2024.
The measure, which EU lawmakers adopted with a vote 602 in favour, 13 against, will — in Europe at least — push Apple to drop its outdated Lightning port on its iPhones for the USB-C one already used by many of its competitors.
Makers of laptops will have extra time, from early 2026, to also follow suit.
EU policymakers say the single charger rule will simplify the life of Europeans, reduce the mountain of obsolete chargers and reduce costs for consumers.
It is expected to save at least 200 million euros ($195 million) per year and cut more than a thousand tonnes of EU electronic waste every year, the bloc's competition chief Margrethe Vestager said.
The EU move is expected to ripple around the world.
The European Union's 27 countries are home to 450 million people who count among the world's wealthiest consumers. Regulatory changes in the bloc often set global industry norms in what is known as the Brussels Effect.
"Today is a great day for consumers, a great day for our environment," Maltese MEP Alex Agius Saliba, the European Parliament's pointman on the issue, said.
"After more than a decade; the single charger for multiple electronic devices will finally become a reality for Europe and hopefully we can also inspire the rest of the world," he said.
– Faster data speed –
Apple, the world's second-biggest seller of smartphones after Samsung, already uses USB-C charging ports on its iPads and laptops.
But it resisted EU legislation to force a change away from its Lightning ports on its iPhones, saying that was disproportionate and would stifle innovation.
However some users of its latest flagship iPhone models — which can capture extremely high-resolution photos and videos in massive data files — complain that the Lightning cable transfers data at only a bare fraction of the speed USB-C does.
The EU law will in two years' time apply to all handheld mobile phones, tablets, digital cameras, headphones, headsets, portable speakers, handheld videogame consoles, e-readers, earbuds, keyboards, mice and portable navigation systems.
People buying a device will have the choice of getting one with or without a USB-C charger, to take advantage of the fact they might already have at least one cable at home.
Makers of electronic consumer items in Europe agreed a single charging norm from dozens on the market a decade ago under a voluntary agreement with the European Commission.
But Apple refused to abide by it, and other manufacturers kept their alternative cables going, meaning there are still some six types knocking around.
They include old-style USB-A, mini-USB and USB-micro, creating a jumble of cables for consumers.
USB-C ports can charge at up to 100 Watts, transfer data up to 40 gigabits per second, and can serve to hook up to external displays.
Apple also offers wireless charging for its latest iPhones — and there is speculation it might do away with charging ports for cables entirely in future models. But currently the wireless charging option offers lower power and data transfer speeds than USB-C.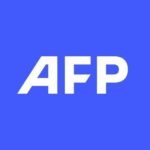 With 2,400 staff representing 100 different nationalities, AFP covers the world as a leading global news agency. AFP provides fast, comprehensive and verified coverage of the issues affecting our daily lives.
Big Tech earnings expected as Meta share price skyrockets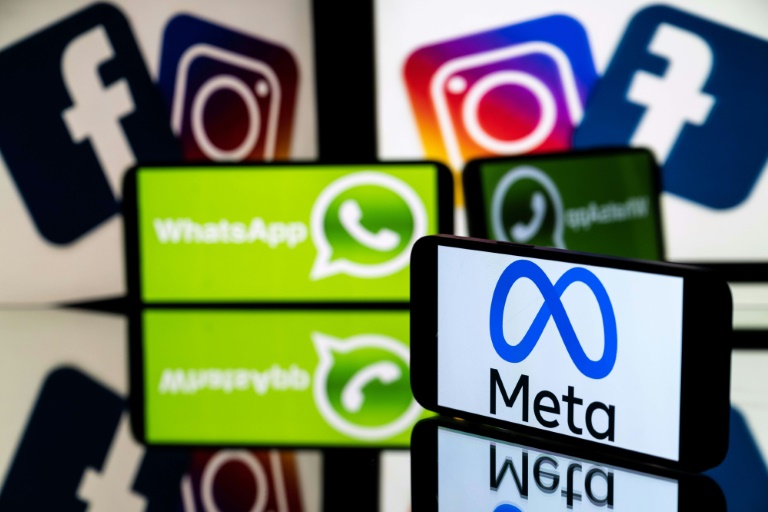 Tech giants Google, Apple and Amazon will report their latest results on Thursday as shares in Meta skyrocketed after the Facebook owner posted a smaller-than-expected slump in sales for 2022.
The results of the world's biggest tech companies follow several weeks of unprecedented layoff rounds in the usually unassailable sector amid pessimism about the economic outlook.
The souring mood followed a long spell of outsized growth during the peak Covid-19 period when consumers went online for work, shopping and entertainment.
Meta as expected on Wednesday said sales fell last year, the first time that occurred on an annual basis since the company went public in 2012.
The social media giant said sales dropped one percent to $116.6 billion, while it also announced that the number of daily users on Facebook hit two billion for the first time.
But CEO and founder Mark Zuckerberg said he was upbeat about the future, pointing to the success of short videos and better delivery of ads after Apple made targeting users harder on the iPhone.
He also assured investors that Meta would take bolder decisions and run a much nimbler operation, hinting at more layoffs.
Shares in Meta jumped as much as 25 percent on Thursday, setting the bar high for the earnings announcements by the other tech giants after markets closed later in the day.
Following in Meta's wake, Google's parent company is expected to also announce a slump in ad sales, which would be only the second quarterly fall in since the search engine giant went public in 2004.
Google, which has long seen itself as an innovation leader, was caught off guard by the sudden rise of user-friendly AI apps such as ChatGPT, which is seen as a potential rival to Google's all-powerful search engine.
CEO Sundar Pichai last month announced a plan to lay off 12,000 people in order to reverse pandemic over-hiring and focus on new areas, especially artificial intelligence.
Apple is the only tech giant that has yet to announce major layoffs in recent weeks and investors will be taking a hard look at how its sales have been affected by China's zero-Covid policy that was only recently lifted.
China remains the key manufacturing hub for iPhones and the drastic restrictions adversely affected Apple's ability to export the iPhone 14 during the key holiday season.
Apple, the world's biggest company in terms of market value, will also be burdened by a drop in smartphone sales worldwide, its key driver for profits.
According to the International Data Corporation, worldwide smartphone shipments declined 18.3 percent year-on-year to 300.3 million units in the fourth quarter of 2022.
Amazon is also expected to report a hit to sales after the company announced a round of layoffs to correct for a hiring binge during the pandemic when business growth ramped up.
Last month, the company said it would let go more than 18,000 employees after the workforce swelled by 800,000 employees during the peak years of the pandemic period.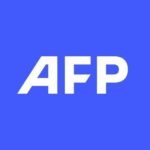 With 2,400 staff representing 100 different nationalities, AFP covers the world as a leading global news agency. AFP provides fast, comprehensive and verified coverage of the issues affecting our daily lives.
Asian markets drift as weak tech earnings dent recovery optimism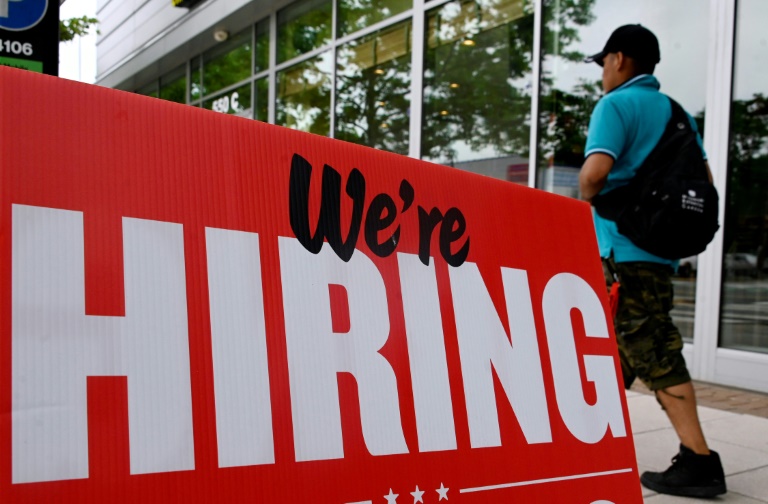 Asian equities were mixed Friday as the optimism over a possible pause in Federal Reserve interest rate hikes again gave way to worries about the global economy as more than a year of monetary tightening kicks in.
Disappointing earnings from Wall Street titans Apple, Amazon and Alphabet — who together are worth almost $5 trillion — indicated higher borrowing costs and elevated inflation were weighing on consumer demand.
The readings came in towards the end of a week when the stocks rally that defined most of January hit the barriers as traders worried that the buying had been overdone and that there were plenty more bumps in the road for the economy.
Those concerns also overshadowed optimism about China's reopening and recovery from nearly three years of zero-Covid policies that hammered business activity.
They also offset the positive mood created by an acknowledgement from the Fed that it was making progress in bringing inflation down from multi-decade highs, fuelling hopes it was nearing the end of its rate hike cycle.
Eyes are now turning to the release of US jobs data later on Friday, which will provide a clearer idea about the state of the world's biggest economy.
"A softer payrolls data, so long as it does not fall off a cliff triggering a recessionary (backlash), could re-engage all the favourite trades of the year," said SPI Asset Management's Stephen Innes.
"Not least, it would provide the most critical evidence to date to suggest that the market's rates pricing is more in line with reality than the Fed's own more subtly hawkish higher for longer signalling."
Wall Street's three main indexes ended broadly higher, with the Nasdaq piling on more than three percent thanks to forecast-beating results from Facebook owner Meta.
However, the after-hours reports from Apple, Amazon and Google's parent firm Alphabet brought investors back down to earth.
Apple said sales dropped more than expected in October-December, Amazon's revenue was hit by weak consumer demand and Alphabet results fell short of estimates.
"The war in Ukraine, inflationary pressures, economic uncertainty and macroeconomic headwinds kept the consumer sentiment weak in 2022 while smartphone users reduced the frequency of their purchases," Harmeet Singh Walia, of Counterpoint Research, said in a report on Apple.
Hong Kong led losses in Asian trade, losing close to two percent, and Shanghai was off more than one percent. Taipei was also down, while Singapore, Seoul and Wellington were flat.
Still, Tokyo, Sydney, Manila and Jakarta rose.
Futures in the Nasdaq and S&P 500 were both deep in the red.
On currency markets, the euro and pound lost further ground after weakening Thursday despite the European Central Bank and the Bank of England hiking interest rates more than the Fed.
Crude prices ticked slightly higher a day after suffering more selling pressure on concerns about the economic outlook and demand, with US stockpiles rising last week more than expected.
"Oil's in a bit of a limbo as the market awaits tangible signs of China's oil demand recovery," Vandana Hari, of Vanda Insights, said.
– Key figures around 0230 GMT –
Tokyo – Nikkei 225: UP 0.4 percent at 27,518.75 (break)
Hong Kong – Hang Seng Index: DOWN 1.9 percent at 21,547.50
Shanghai – Composite: DOWN 1.2 percent at 3,245.90
Dollar/yen: UP at 128.67 yen from 128.62 yen on Thursday
Euro/dollar: DOWN at $1.0898 from $1.0918
Pound/dollar: DOWN at $1.2218 from $1.2225
Euro/pound: DOWN at 89.18 pence from 89.21 pence
West Texas Intermediate: UP 0.1 percent at $75.97 per barrel
Brent North Sea crude: UP 0.2 percent at $82.29 per barrel
New York – Dow: DOWN 0.1 percent at 34,053.94 (close)
London – FTSE 100: UP 0.8 percent at 7,820.16 (close)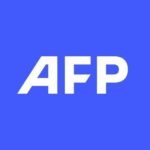 With 2,400 staff representing 100 different nationalities, AFP covers the world as a leading global news agency. AFP provides fast, comprehensive and verified coverage of the issues affecting our daily lives.
Mexico invites foreign investment in clean energy transition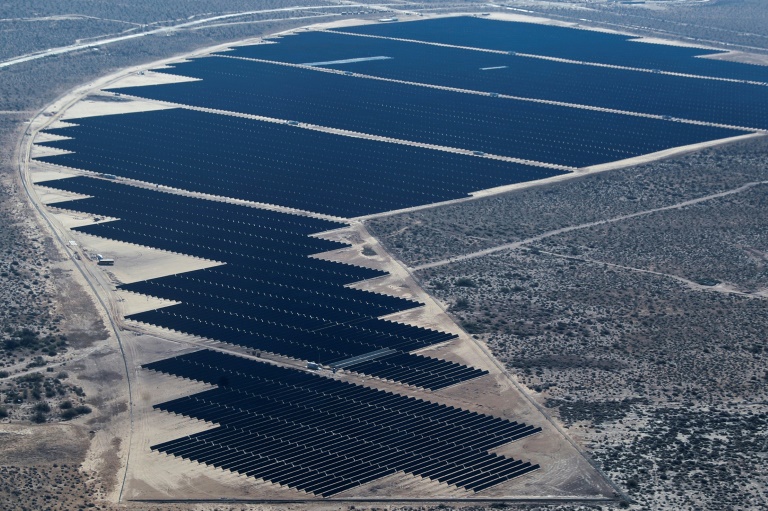 Mexico welcomes investment by all countries in its clean energy projects, its foreign minister said on Thursday, launching a diplomatic charm offensive amid international concerns over controversial power reforms.
Several dozen ambassadors were taken on a visit to a giant solar park being built in Puerto Penasco in the desert in northern Mexico using photovoltaic panels made in China.
"We want to invite all the countries of the world, all the companies of the world" to "participate, invest, be part of the future of Mexico," Foreign Minister Marcelo Ebrard said.
The first phase of the solar plant is due to be inaugurated in April by President Andres Manuel Lopez Obrador, according to officials.
Once completed, the park will be able to supply 1.6 million electricity users, thanks to an estimated investment totaling $1.6 billion, according to state power provider CFE.
Mexico pledged at the COP27 climate talks in Egypt in November to strengthen its emissions-cutting efforts as part of a $48 billion renewable energy investment scheme with the United States.
The Latin American nation previously committed to cutting greenhouse gas emissions by 22 percent from the business-as-usual levels by 2030, but will increase that to 35 percent, Ebrard said at the time.
The Mexican-US collaboration in renewable power comes despite tensions between the neighbors over Lopez Obrador's efforts to boost the state's role in the energy sector.
Mexico faces a formal trade complaint from Washington and Ottawa, which say the reforms hurt foreign investors and favor polluting fossil fuels over clean energy.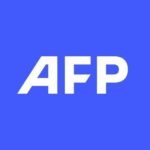 With 2,400 staff representing 100 different nationalities, AFP covers the world as a leading global news agency. AFP provides fast, comprehensive and verified coverage of the issues affecting our daily lives.