University and college students get a leg up thanks to IBM Canada's upskilling curriculum
How Lila Adamec and IBM Canada have worked with higher education to deliver 3,000 microcredentials since 2018.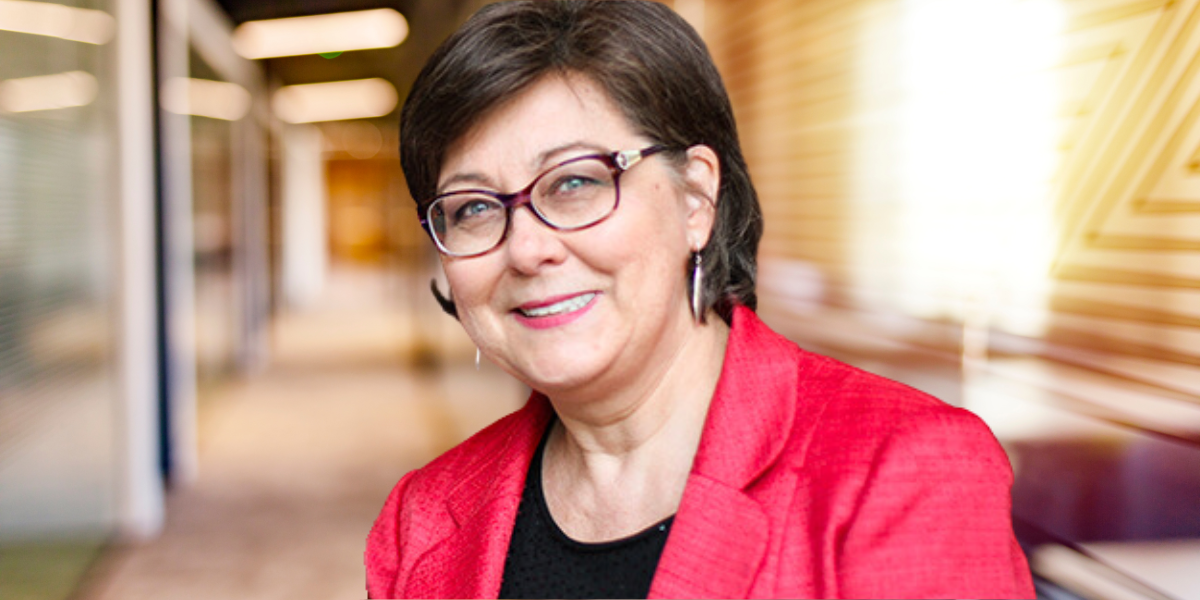 Everywhere you turn, in nearly every industry, there are labour challenges.
In manufacturing 82% of businesses are looking for help, and for the first time since 2015 there are more jobs available than there are people.
In Ontario the Chamber of Commerce reports that 60% of its members are having trouble filling roles in health care, retail, construction, tourism, and financial services.
And despite recent layoffs with technology companies, a 2021 Information and Communications Technology Council report forecasts 11% of all employment in Canada will be in the digital economy by 2025, requiring 250,000 more people to fill roles.
Labour shortages are being fuelled by a growing number of people retiring, combined with a decline in immigration during the pandemic. The problem is exacerbated by a mismatch between available jobs and skills. Digital transformation — especially the rush to digital-first initiatives during the COVID-19 pandemic — has meant that technology and related jobs are in high-demand. A whopping 80% of businesses surveyed by KPMG say they need more workers with digital skills.
So where does one look to help fix the talent shortage and skills gap?
Education.
"Upskilling, reskilling, and teaching students digital and technical skills is going to be a critical step in meeting growing demand in Canada," says Lila Adamec, Leader of Academic Integration and Innovation at IBM Canada Lab. "Young students have a huge opportunity to help lead a new digital generation, and many skilled people already in the workforce can look to have their skills upgraded to learn more about cloud, or AI, or analytics, for example."
Adamec has been working on this problem for years.
In 2017 she developed a program at IBM to address this skills gap. The approach her team took was to deliver turnkey curriculum solutions to universities across Canada. Essentially a "complete curriculum solution" as Adamec calls it, IBM provides higher-ed institutions with a complete toolkit, including curriculum material, access to IBM's enterprise software, tests, and microcredentials. The curriculum is designed to address skills gaps commonly found in the tech sector by delivering and providing learners with "skill security."
"With the gig economy, skill security is important, so that you can move from one gig to the next," Adamec says. "Or if you need to upskill in an area or level up your education, and quickly get the skills you need. So much of this is becoming an agile service offering."
With this solution, everyone wins: students get upskilling potential, and colleges and universities meet academic criteria with a curriculum that's approved by government ministries and professional associations.
Adamec rolled out the Learn@IBM program in 2018, and since then it's been adopted by dozens of institutions including York University, Mohawk College, Bow Valley College, SAIT, NAIT, Holland College, and Vanier College, to name a few. Classes are often filled to capacity or over-subscribed, and students credit the courses for helping them land their dream jobs.
Since its rollout, Adamec says IBM Canada has delivered more than 3,000 microcredentials to students who have taken their courses.
Meeting the needs of higher education
The education space has undergone a radical transformation in the last five years. First because of evolving student needs and increased demand for newer tech-focused curriculum, then because the pandemic forced a rethink of how and where people attend post-secondary institutions.
While the hybrid classroom is now more commonplace, colleges and universities still face pressure to deliver curriculum that is in line with what students need in today's workforce, and that is a real challenge.
This stems from the fact that a university or college course needs to be approved by a government ministry, which can take years. The process typically requires at least one full-time person to prepare a curriculum for ministry approval, and it can cost more than $1 million per course when all is said and done. As a result, some colleges and university programs opt for a standardized approach so students achieve a minimum set of skills that correspond to the industry or sector.
It's no wonder that many professors will teach the same material, without extensive updates, for 5-7 years.
When Adamec designed the Learn@IBM program, she knew it had to meet ministry approval, it needed to provide students with real-world skills that are current, and it had to be done faster and cheaper than traditional means.
Adamec and her team positioned IBM to be more of a business partner than just a solutions provider. With on-staff personnel who develop course curriculum for higher ed, academic partners don't need to bear the cost or burden of full-time staff to manage curriculum development. And because IBM has a team of technical experts, the enterprise-level software offering can be paired with curriculum to deliver a cutting-edge, up-to-date learning experience.
These academic solutions are updated frequently, and delivered to universities at a huge cost savings, functioning more like a Software as a Service (SaaS) offering. By flipping the standard, slower model of curriculum development on its head, Adamec and her team deliver subscription-based, digital solutions that'll help schools and learners better access tech skills to fill a desperate workforce need.
Bringing the classroom to WeaveSphere
With huge success across the Canadian academic landscape, Adamec will bring the Learn@IBM experience to the WeaveSphere technology conference happening in November.
Attracting industry leaders, academics and developers, WeaveSphere is an innovation event taking place Nov 15-17 in Toronto.
As part of the conference's Education Day, developed by Adamec, high school, undergraduate, and graduate students will have the opportunity to participate in a full day bootcamp on Design Thinking, a problem-solving methodology that first identifies the end result and stakeholders. Even more, students will earn an IBM MyLearning microcredential at the end of the course. The course will be open twice, with 80 spots each session.
"We are excited about giving students and academics the opportunity to weave ideas and research with challenges of the business world," says Adamec. "With Enterprise Design Thinking, everyone is welcome to the problem-solving table and we find these moments are incredible opportunities for young people to engage with, and learn from people in the workforce."
The WeaveSphere Education Day and IBM's Design Thinking course allows students to leverage a valuable learning experience that'll give them a leg up in both their professional and personal lives.
"It's the type of course that is open to all learning disciplines," she elaborates. "Whether you're in finance, liberal arts, tech, engineering, medicine — whatever you're studying, you don't have to be an IT guru to do Design Thinking."
And it's these opportunities that make WeaveSphere an impactful experience for students. The opportunity to 'weave' with and learn from experts and industry leaders is, simply put, unforgettable.
As student and passionate "weaver" Ali Hamdy explained, "it was cool having a voice among people who are way more experienced than me and way more educated than me. And it was cool for them to actually sit down and listen to me and respond."
Interested in earning a Design Thinking microcredential? Visit WeaveSphere for more information and to register for Education Day.
---
DX Journal is an official media partner for WeaveSphere. We will share updates leading up to the event, and we'll be live on location from November 15-17,2022. Join us and get your tickets at weavesphere.co.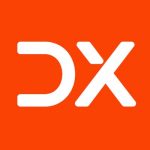 DX Journal covers the impact of digital transformation (DX) initiatives worldwide across multiple industries.
mesh conference goes deep on AI, with experts focusing in on training, ethics, and risk
The mix of topics is a major part of the appeal. So is the opportunity to have genuine conversations.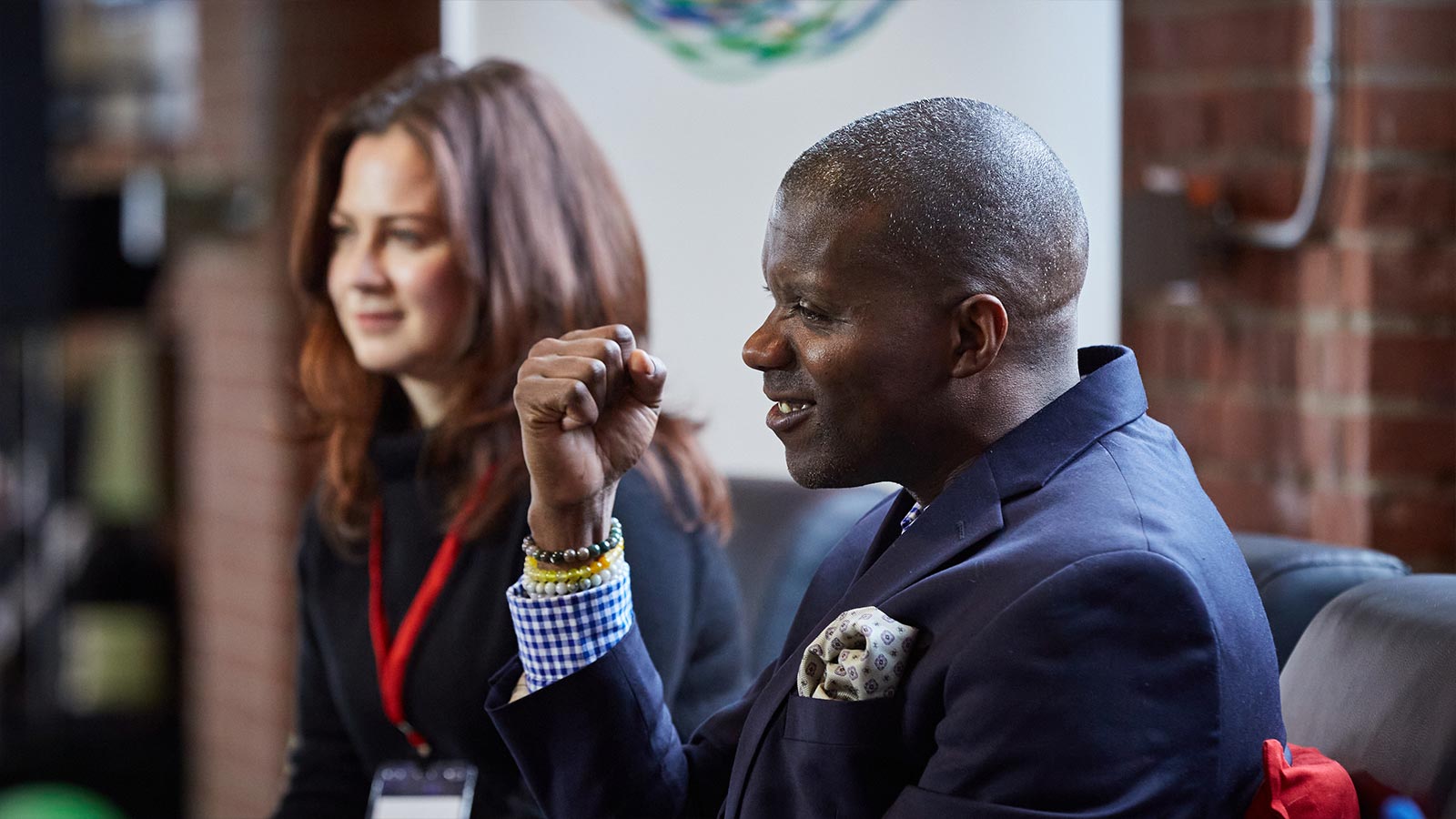 The mix of topics is a major part of the appeal. So is the opportunity to have genuine conversations with senior leaders, and doers, across so many industries for two days.
Day one of the mesh conference was all about navigating innovation, privacy policies, and diversity in a tech-driven world, and day two was all about artificial intelligence (AI) and its impact on media, marketing, business and society.
AI is everywhere, but this day hit different.
"I sat beside a marketer this morning who said he came to mesh because he was interested in the topics, but that he also knew lots about the subject matter so he wasn't sure how much he'd take away," said mesh attendee, Sarah Coleman who travelled from Calgary to see mesh in Toronto.
"But after a full day of talks, he said to me that he was totally surprised by the cross-industry perspectives shared, and he walked away from the first day with thoughts he had never considered. For me, that's the biggest value of mesh and it's why I travelled across the country for my second mesh conference this year."
Day two opened up with a frank discussion about the training of artificial intelligence (AI) and data sources with Elena Yunusov, AI strategy and marketing leader with the Human Feedback Foundation.
Yunusov recently started the foundation to crowdsource the human feedback layer that's missing from private AI models. Private models will continue and make decisions we won't agree with, she said, but open source initiatives offer the chance for more innovation and better-informed applications.
"We should have more say about how AI is shaped and developed," said Yunusov.
There are a handful of models influencing us in ways we may not understand. But the Human Feedback Foundation is a small, but mighty open-source project trying to make AI less toxic and more empathetic.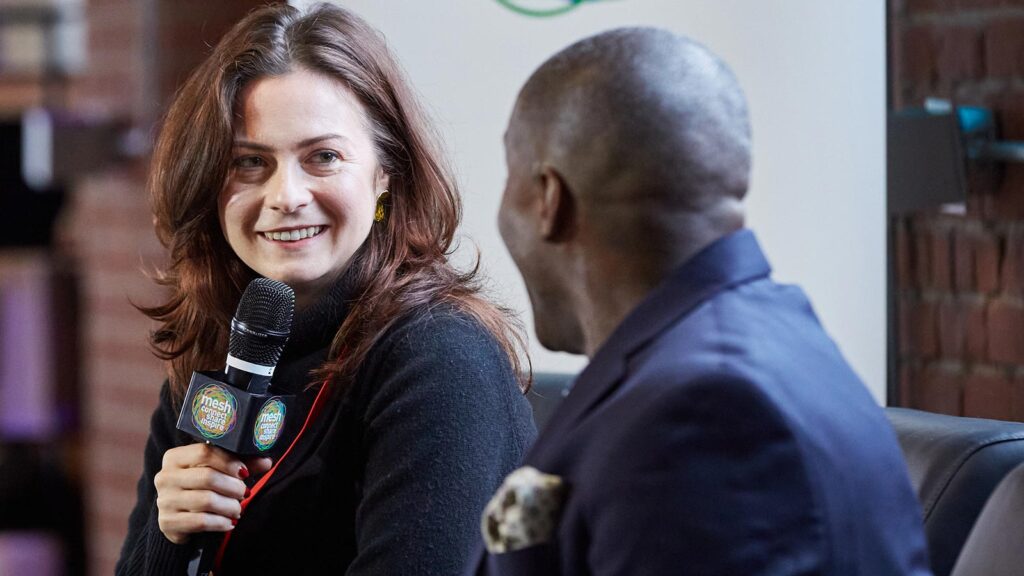 Use human feedback to bring the human voice back into data
After opening remarks, Yunusov continued the AI discussion with Darnel Moore, founder and CEO of Distinct.ly, who sees technology as a tool to connect with people. "We need a way for people to see each other and for businesses to see those people," said Moore.
Businesses just want to see the data point — not its context. But cognitive bias tells us that time, place, and situation influences people's decisions, so the data means nothing without context.
Moore said somewhere along the line people became a bug, rather than a feature, for businesses and that needs to change.
"It's important to get yourself out of the loop of data and buzzwords," he Moore.
It's hard when you're driving hard and fast not to attach yourself to buzzwords. But it's not about pitching, selling, or moving your product — it's about connecting with people.
Both Yunusov and Moore expressed puzzlement around the anxiety many people have around AI handling routine tasks.
"Machinery is levelling human beings up from the mundane," said Moore. People can now be more creative and learn in ways that weren't possible before, he added.
"We have agency in this and the tools we never had before to get us to the next stages of that journey," added Yunusov.
We're living through a bit of a reckoning in tech, she notes. Things are going to change, but how they change should be up to us.
"Change is part of the human experience and we're just doing it with different tools now," said Yunusov.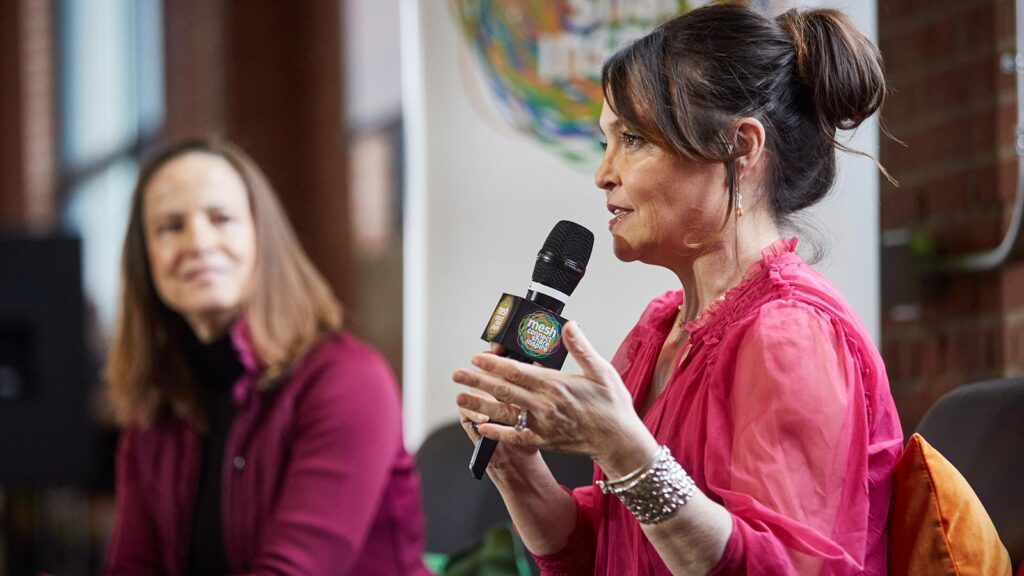 AI is a very divisive concept
Rika Nakazawa, global vice-president with NTT's New Ventures and Innovation team, joined mesh fresh from COP28's World Climate Summit in Dubai where there were two camps — one that believed AI is going to be the end of our ability to attain sustainability goals, and the other that thought it would bring the dawn of a new horizon.
Amy Peck, founder and CEO of EndeavorXR, agreed. On one end of the spectrum, it's the great saviour. We'll be able to leverage it and achieve all our goals, she said. On the other end is the doom and gloom.
Peck said business leaders need to start understanding data better, urging for bias-free data to be the foundation for AI training algorithms. We're equal in our humanity, said Peck, so we must learn to embrace our differences rather than vilify them.
"AI is an overnight success, 80 years in the making," said Nakazawa. "There's nothing artificial about artificial intelligence."
It's all made — binary code is mimicking our brain.
"We have to retrain ourselves to work with AI and not just hand over our tasks to AI," Peck said.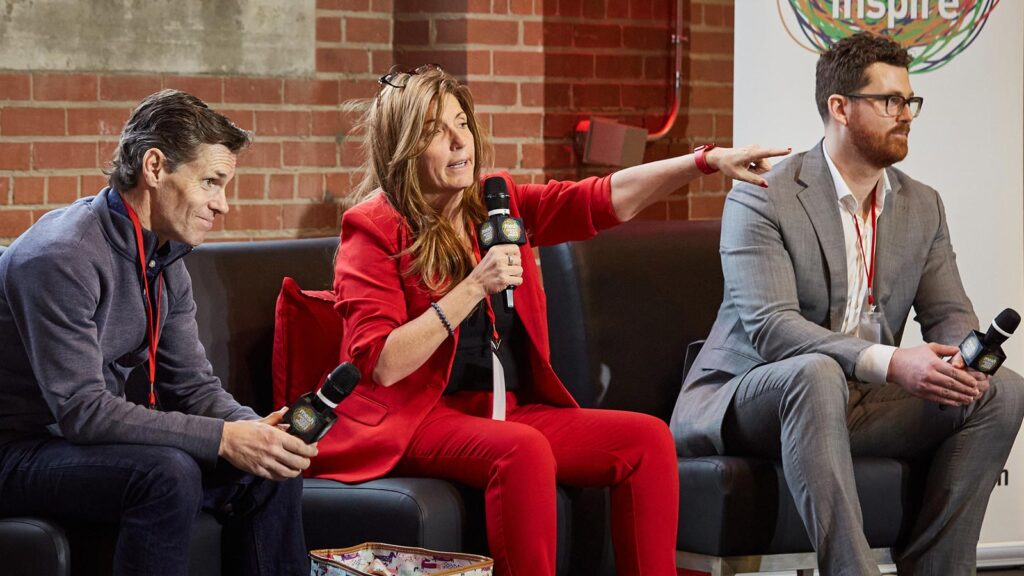 We needed to manage and prevent food waste
For this event, the mesh conference partnered with Second Harvest to ensure unused food served at lunch would not go to waste. Using Second Harvest technology, unused packaged lunches were donated to a local charity.
"It's the eHarmony of food," joked Lori Nikkel, CEO of Second Harvest during a fireside discussion.
Nikkel was joined by Winston Rosser, VP of Food Rescue Operations at Second Harvest, who demoed the technology built to help conquer food insecurity and food redistribution.
Rosser explained that the app connects a variety of donors, from small retailers to major grocery stores, with local, non-profit charities who need food. Before the platform was built, huge trucks were sent to pick up 20 lbs of food from a grocer and take it across the city — an option that was not sustainable. Now, donors can easily connect with one of more than 61,000 charities via the platform.
Rosser also shared some startling stats:
58% of all the food produced in Canada is lost or wasted, mostly ending up in landfill.
3.9 million Canadians are food insecure.
Only 4% of food businesses were donating food.
Since the launch of the app, Second Harvest has flipped everything on its head. In 2016 the organization rescued nine million pounds of food, but after the app was deployed, that number skyrocketed — in 2022, nearly 75 million pounds of food was rescued in 2022. Last year Second Harvest kept food worth $234 million out of landfill.
When asked why there's so much food waste to begin with, Nikkel offered a sober response: "We don't value food," she said, adding that we've commoditized food to the point where we don't value it like we used to. An example: many people will buy food in a two-for-one deal even if they don't need it, and oftentimes it's simply thrown out.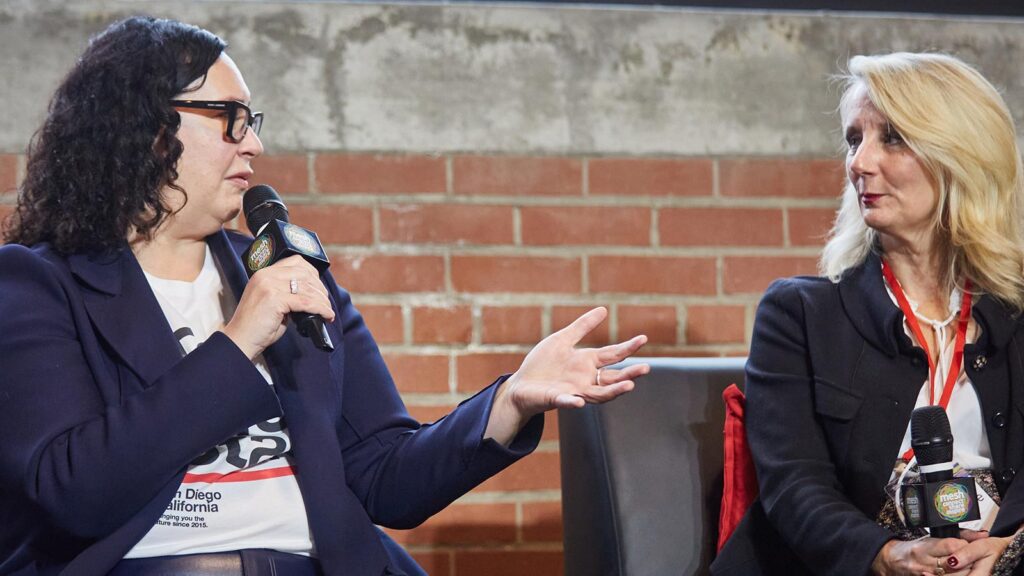 Adoption requires sponsorship within the organization
Afternoon discussions on day two of the mesh conference also looked at laggard industries, and professionals who can be resistant to change.
Colleen Pound, founder and CEO of Proxure, and Mary Jane Dykeman, managing partner at INQ Law, talked about the difficult task of integrating AI in law and healthcare — two industries that can be averse to technological innovation.
"Their aversion creates a lot of white space to work in," said Pound, adding that progress looks like evolution rather than revolution.
Dykeman agreed, adding that change in situations like this often takes a foothold when a series of low-risk initiatives are the starting point. Ultimately, they can lead to larger transformations.
In addition, privacy and data security are major issues for both industries that need to be managed first, Pound said. Data management is the starting point.
"Better data and better processes drive better business outcomes," Pound said.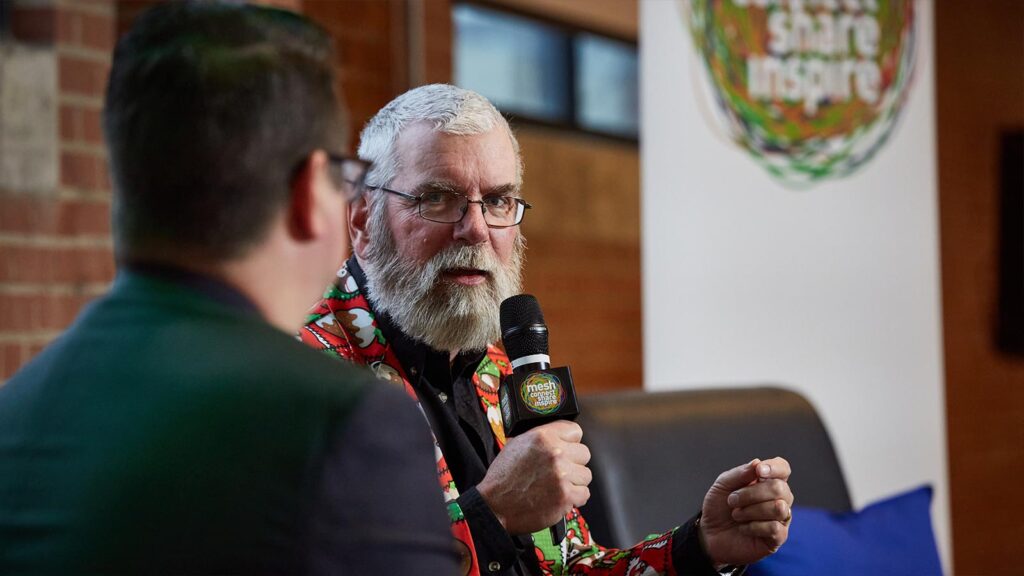 AI is what you make it
The day's closing panel included a conversation on AI in media, featuring mesh co-founder and media pundit, Mathew Ingram.
Ingram joked that he would be terrified if he was starting his journalism career today. As the chief digital writer for the Columbia Journalism Review, Ingram noted that distributing information is easier today, but distributing disinformation is also easier.
"The quality of the disinformation doesn't matter," Ingram said, saying people believe disinformation because they want to believe it.
"A nine-year-old could think of a more plausible conspiracy theory than some of the ones I've seen people believe," he said.
Chris Hogg, president and founder of the content marketing firm Digital Journal Group (DJG), said he sees B2B content marketing rolling back to what high-quality journalism used to offer. Hogg said success can now require businesses to produce less content, and instead focus on quality and distribution to stand out and drive results.
The fireside discussion also looked at the risks AI poses to the media industry.
AI may not always be able to make things better, but it has great applications as a technology to support journalists.
"It's a tool that you can use and do things that help you and are valuable," said Ingram, noting that transcription, story idea generation, and automating mundane tasks are big benefits offered by AI.
While there are considerable risks with OpenAI's accuracy, deep fakes, and fake AI content, Ingram said the technology is still important.
"I'm a big believer in the power of individuals to change things," he said. "There are things we thought would be inconsequential, but have changed the world, for better or worse."
–
Join us next year in Calgary for the mesh conference, June 11-12, 2024. The two-day event then returns to Toronto the week of October 21, 2024.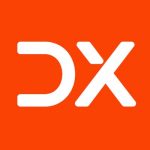 DX Journal covers the impact of digital transformation (DX) initiatives worldwide across multiple industries.
mesh conference hits Toronto this week — here's what's in store
This week, innovators and digital transformation leaders from across North America will gather at the Symes in Toronto for the mesh conference.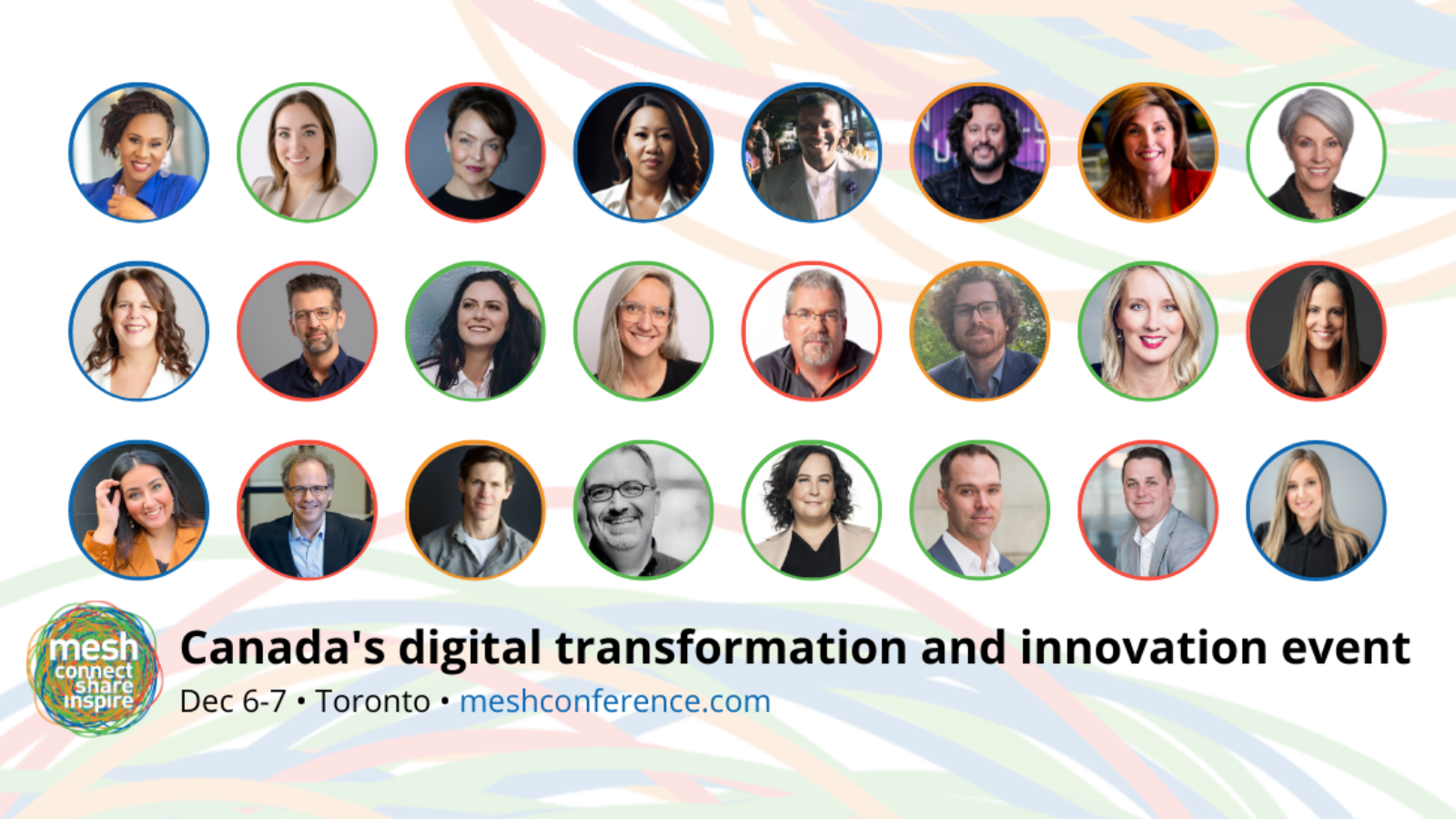 This week, innovators and digital transformation leaders from across North America will gather at the Symes in Toronto for the mesh conference. With a focus on four threads — business, media and technology, society, and marketing — mesh will connect, share, and inspire others to think about changing how we think, organize, operate and behave.
The mesh conference differs from your typical transformation and innovation event in part thanks to two simple rules: no slide decks and canned presentations, and no pay-to-play sessions. The result? Lively sessions where the audience is encouraged to engage with speakers throughout.
The theme for this edition is "Human-powered, tech-enabled." Speakers and attendees will explore the pivotal role of technologies in augmenting human capabilities to improve workplace diversity, enhance competitiveness, and even turn back time on human-induced environmental damage through "de-extinction".
The full mesh speaker lineup
Over the course of two days, more than 20 speakers will take part in the Toronto event on December 6-7, 2023. The full run-of-show, with speakers and sessions, includes:
Canada's digital policy has gone off the rails. What should the engaged community be doing?
Dr. Michael Geist (Canada Research Chair in Internet and E-Commerce Law, University of Ottawa) will join Tyler Chisholm (clearmotive marketing) to discuss the Meta ban on news, Google's newly announced search policy around news (backed by $100 million for the industry) and podcasting regulations. Dr. Geist will explain why he has described the law as a "total policy disaster" and an "epic policy blunder" by the government. On the heels of his testimony before the CRTC, he'll share his insights on what we might expect next and what engaged communities should be doing. Gain a greater understanding of the policy landscape and its impact on how we live and work.
---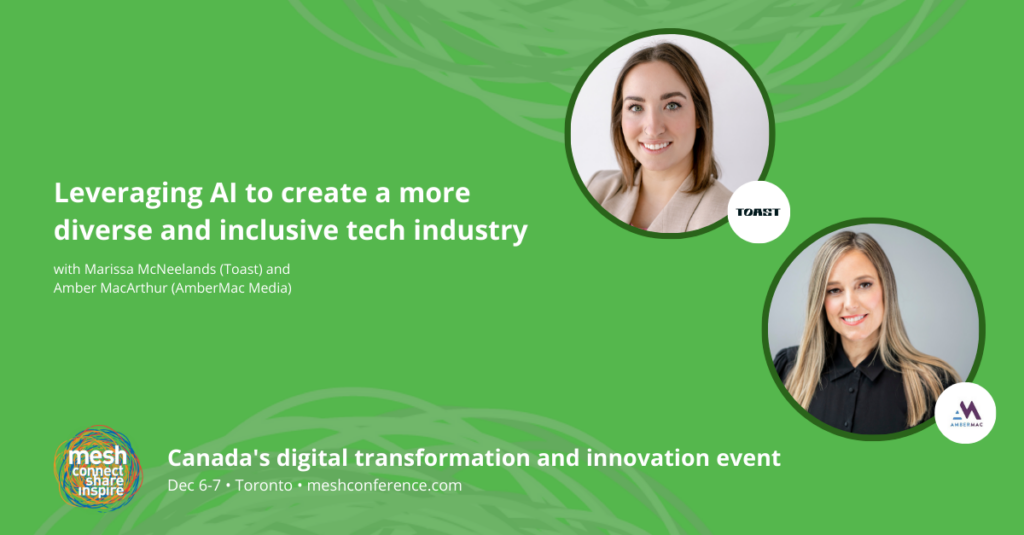 Leveraging AI to create a more diverse and inclusive tech industry
Marissa McNeelands (CEO of Toast) will be joined by Amber Mac to discuss how her company works to eliminate gender bias in tech hiring. TOAST, Canada's first female-focused talent partner, uses a unique AI-driven recruitment tool to help organizations diversify their tech teams and support women in tech careers. This session will explore the role that data and algorithms could play in fostering a more inclusive workforce.
---
AI, Creativity, and Inclusivity: Empowering Tomorrow's Marketing Leaders
This panel explores how AI and creativity can foster economic empowerment through tech skills training and career growth. The panel will delve into the impact of AI on marketing, the importance of diversity and inclusivity in its design, and the role of continuous education. The session aims to understand economic empowerment through tech skills training, career growth, and a nurturing environment. Features Natalie Black (Mia), Liberty White (CHOZEN MEDIA), Prieeyya Kaur Kesh (Mia), and Anne-Marie Enns (Mia)
---
Innovating for Canada's Competitive Edge
Join Dana O'Born (Council of Canadian Innovators), Tracey Bodnarchuk (Canada Powered by Women), and Stuart MacDonald (Narrative Fund) as they discuss the future of Canadian competitiveness through the lens of innovation and transformation. This session will explore the technology and energy industries and why innovation is a team sport. Looking at both growing and transitioning sectors, they will explore how Canada can leverage its strengths and overcome challenges to maintain a competitive edge in the global market and create a sustainable, prosperous future.
---
Why 'de-extinction' is vital to fighting climate change
Join Ben Lamm (CEO of Colossal) and Chris Hogg (DJG) for a riveting discussion on de-extinction and its role in combating climate change. Could the woolly mammoth, the Tasmanian tiger, and the dodo bird be agents of change? Learn about Colossal's groundbreaking work in reviving extinct species and how this contributes to biodiversity restoration. We will delve into the technology behind halting extinction, preserving animal DNA, and reversing human-induced environmental damage. Explore how de-extinction can restore lost ecosystems, increase biodiversity, and contribute to environmental sustainability. This session promises to spark insightful discussions on the future of biotech and environmental conservation.
---
AI in Marketing: Magic Wand, Double-Edged Sword or Pandora's Box
Darnel Moore (Distinct.ly) will be joined by Elena Yunusov (Human Feedback Foundation) to explore customer marketing strategies in the context of AI. We will delve into how AI can personalize content at scale and analyze customer behaviour while highlighting the importance of human insight and intervention in marketing. Have we crossed the line when the computer tracks, predicts and influences customer behaviours? Where and when is it best to deploy machine learning and AI in your marketing strategy? At what point in the process is it still best for humans to drive the process? How do we ensure that AI supports the customer journey and that the tools we deploy do not undermine an authentic, transparent relationship? Join us as we aspire to find where the balance is best placed between AI tools and human intention, avoid repeating the mistakes of social media and aim to harness the power of AI responsibly.
---
The Almighty AI: Friend or Foe for the Sustainability Agenda?
While headlines are dominated by the thrill and alarm of the rise in Artificial Intelligence applications and utility across industries, they have overshadowed another existential hot topic: Sustainability and ESG. This fireside chat will examine AI's role in the Sustainability agenda for communities, businesses, and national states, and in what ways leaders across sectors are taking action today for impact tomorrow. We might even imagine new kinds of futures where artificial and collective intelligence collide in this unique chat forum. Features Amy Peck (EndeavorXR) and Rika Nakazawa (NTT).
---
Amplifying Community Actions: Case Study of the Second Harvest Food Rescue App
Lori Nikkel (CEO of Second Harvest) and Winston Rosser (VP, Second Harvest) will join Mark Evans (Marketing Spark) to discuss their innovative approach to combating food waste and insecurity, particularly during the COVID-19 pandemic and its aftermath. They'll share how their technology platform has facilitated partnerships between food donors and non-profits, enabling them to scale the redistribution of surplus food from coast to coast to coast. Learn about the increased efficiency that allowed them to connect 5,600 donors with 3,400 non-profits–rescuing 24 million pounds of food, averting 79.3 million pounds of greenhouse gases, and saving 13.2 billion litres of water in the last year alone.
---
AI & Procurement: The Intersection of Innovation, Risk and Law
Join Colleen Pound (CEO of Proxure), Mary Jane Dykeman (INQ Law) and David Potter (Vog) for an enlightening session on the transformative role of AI and technology in professional services. They will delve into how these tools are levelling the playing field, particularly in procurement and legal services. Colleen, with her expertise in automation and predictive analytics, will shed light on procuring AI solutions. Mary Jane, a seasoned health and data lawyer, will discuss the legal and risk management aspects of AI adoption. This session promises a rich blend of insights from the tech startup and healthcare sectors.
---
What the chaos at OpenAI, misinformation, and fake AI journalists mean for our future
Join Mathew Ingram (CJR) and moderator Chris Hogg as they explore the chaos that has been the world of AI this year. From executive shakeups, to fast-vs-slow AI, to misinformation and deepfakes, this session will explore the current state of AI and what it means for our future.
---
Digital Journal is an official media partner of the mesh conference. Learn more and get tickets to the mesh conference, happening December 6-7 in Toronto, at meshconference.com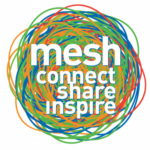 mesh is Canada's digital transformation event experience. Taking place in Calgary and Toronto, mesh aims to create a digital transformation network and event experience that helps organizations and leaders determine what to do, how to do it, and how to be successful. Learn more at meshconference.com
AI is taking the world by storm — unless you're in finance, Gartner survey finds
61% of finance leaders aren't using AI and Gartner explores why in their latest survey.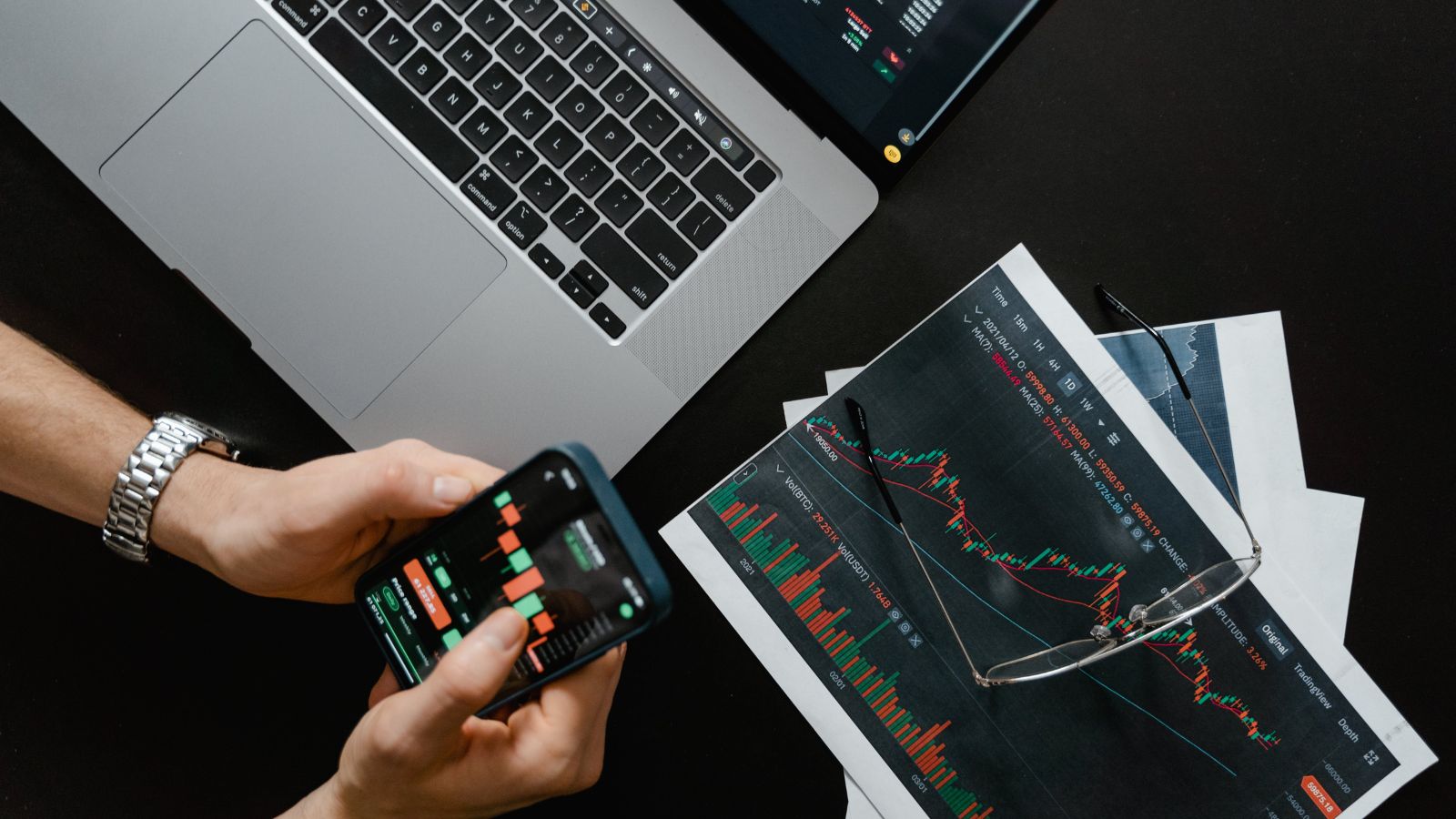 We've seen plenty of studies, industry updates, and tech investments pointing to an AI revolution in virtually every industry, especially IT and customer service.
But one Gartner survey shows a lag in AI adoption by the finance industry. The technology research and consulting firm conducted a survey of 130 finance leaders and noticed "limited" AI implementations:
"Despite AI's potential, most finance functions' AI implementations have remained limited. As they begin to chart out a plan for how best to prioritize that additional investment, CFOs should partner with their finance leadership teams to compare their current progress against their peers' and identify concrete recommendations from early adopters on how best to accelerate AI use in their function."
Marco Steeker, Senior Principal, Gartner Finance Practice
Here are a few highlights from the report:
Most finance leaders using AI are only in early stages
Gartner found that only 8% of finance organizations are using AI in production, which is much less than the 20% in other areas like HR, real estate, and procurement. This speaks to finance being over two times behind in AI use compared to the rest of the departmental functions. Additionally, a mere 1% of finance leaders say they're in the scaling phase.
Finance leaders prioritize other initiatives over AI
The survey asked respondents why they haven't used AI in primary finance functions, and the majority of answers included these four reasons:
Lack of technical capabilities
Low-quality data
Insufficient use cases
Other priorities
The latter reason felt the most problematic within finance leaders' perspectives:
"What this perspective underappreciates is that AI can be a critical enabler of finance leaders' "other priorities," such as more dynamic financial planning or close and consolidation efficiency."
Marco Steeker, Senior Principal, Gartner Finance Practice
A recent Dye & Durham report suggests AI could help stabilize the financial sector as interest rates and economic indicators sway by offering efficiency, cost reduction, and accuracy — but the hesitancy remains. Their report also found that a majority of skilled professionals, including lawyers, doctors, and financiers, express discomfort with incorporating AI into their services.
Existing AI use in finance varies across different functions
The Gartner survey found that finance departments don't use AI for one main function across the board. Instead, it's use cases are varied and include:
Accounting support
Anomaly/error detection
Financial analysis
Learn more about the Gartner survey here.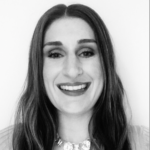 Veronica Ott is a freelance writer and digital marketer with a specialization in finance and business. As a CPA with experience in the industry, she's able to provide unique insight into various monetary, financial and economic topics. When Veronica isn't writing, you can find her watching the latest films!