At Web Summit, 'Bored Apes' emerge from swamp but remain murky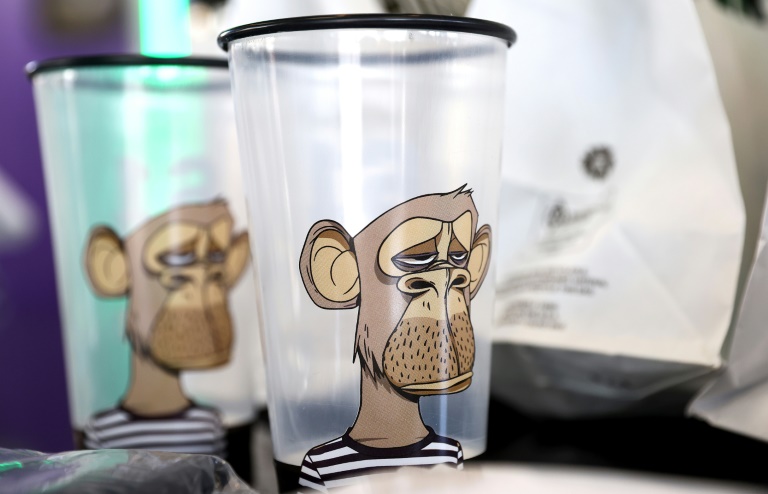 With a blast of "Break on Through" by The Doors and a flashy video of cartoon apes careening around a fantasy landscape, the boss of one of crypto's most secretive companies took to the stage on Thursday.
Nicole Muniz, CEO of Yuga Labs, had a tough mission at the Web Summit tech conference in Lisbon –- to explain what exactly the "Bored Ape Yacht Club" (BAYC) offers the world.
BAYC is a set of 10,000 auto-generated images of cartoon apes sporting various expressions and accessories, with a back story about them living in a swamp.
Enthusiasts have shelled out many millions in trading the images, which come in the form of digital tokens known as NFTs.
Celebrity owners range from Justin Bieber to Madonna and Gwyneth Paltrow.
But Muniz was keen from the off to sketch out a wider concept of the company, tying it to "web3" –- an imagined future for the internet that has cryptocurrencies at its heart.
"We need to be thinking about how we can help onboard the next 100 million people into web3," she told the audience.
"That's really a true mission for us in this company."
Her wider focus was unsurprising as interest in NFTs has dropped off a cliff.
Trading volumes crashed by 97 percent between January and September, according to Dune Analytics.
Yet Yuga Labs has a notional value of $4 billion and its apes are among only a handful of NFTs that still sell -– one fetched $450,000 last week.
– NFT 'community' –
The company has been an enigma since it burst on to the scene last year.
Its founders tried to stay anonymous but BuzzFeed News revealed their identities in February.
The Web Summit was supposed to play host to Muniz and co-founder Greg Solano in one of their most high-profile public appearances.
But he pulled out just a couple of hours before his talk.
"Hey Lisbon Apes, not feeling well at all and need to skip my panel at WebSummit today," he tweeted.
"Glad I got to meet so many of you last night though."
Ironically, it was this sense of "community" in the real world that was flagged by Muniz as one of the secrets of BAYC's success.
"I was talking to an ape last night and they were talking about being at ApeFest," she said, referring to meet-ups the fans host in New York.
"You're living and breathing these communities. These people are your friends."
– 'Unclear' licences –
Yet on the face of it, the conceptual framework of Muniz's pitch is the same as almost every other NFT project.
She talked of community, promised a big new multi-player game and envisaged a world where NFTs would somehow be the keys to a magical online world.
"We have a vision of a future where people can own these assets –- whether they're NFTs or digital collectibles, whatever you want to call them," she said.
"You can take them where you want, you can build on them and monetise."
She claimed BAYC was unique in offering owners full intellectual property rights to do whatever they like with their NFTs and cited the Bored & Hungry restaurant chain, which has an ape on its logo.
But a recent report by the specialist website Galaxy.com said BAYC's licensing agreement did not give the buyers any IP ownership, describing the terms as "unclear and potentially misleading".
The authors speculated that high-profile ape-related projects had probably negotiated separate deals.
Muniz said ultimately it was her mission to make it easier for people to understand "web3" and enter its world.
But even the title of her talk — "NFTs, metaverses and the road to Web3 Disney" — was no clearer at the end than it had been at the start.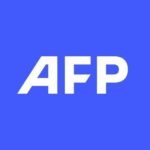 With 2,400 staff representing 100 different nationalities, AFP covers the world as a leading global news agency. AFP provides fast, comprehensive and verified coverage of the issues affecting our daily lives.
EU, Google want 'voluntary' AI rules: commissioner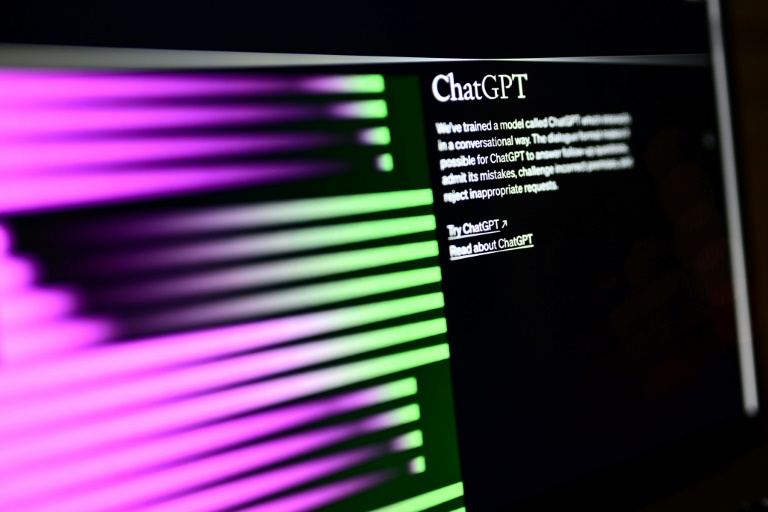 The EU and Google want voluntary rules on AI before a new law comes into force in the bloc to regulate the rapidly advancing technology, the bloc's industry commissioner Thierry Breton said Wednesday.
"We agreed that we cannot afford to wait for the AI law to come into force and to work together with all AI developers to introduce a voluntary pact," Breton told AFP after holding talks with Google CEO Sundar Pichai in Brussels.
Although the European Union's executive arm first proposed a law to regulate AI in 2021, the issue has taken on greater urgency since ChatGPT, a chatbot created by OpenAI in the United States, burst onto the scene with all its dizzying developments.
The European Parliament is due to back the draft law next month before negotiations formally begin with the EU's 27 member states to agree on a final version.
The EU is racing to be the first to regulate the risks that come with AI's deployment.
Breton said that even if the EU adopted the law by the end of the year, it would start to apply "at the earliest by the end of 2025".
The concerns over AI are an ever-growing list, from disinformation to copyright over images, sound and text.
Breton added that he wanted to engage a "large number of players, whether European or non-European" to discuss the voluntary rules.
"We already see some general rules. Many things could be implemented without going through the law," he said, giving examples including ensuring that AI-generated images contain labels saying they were produced by AI.
The EU parliament's text included bans on biometric surveillance, emotion recognition and AI predictive policing systems.
It also seeks to put generative AI systems such as ChatGPT and Midjourney in a category requiring special transparency measures, such as notifications to users that the output was made by a machine, not a human.
Some tech firms have welcomed regulation.
Last week, OpenAI's CEO Sam Altman testified before a US Senate panel and called on Congress to impose new rules on big tech to mitigate the dangers that can arise from AI.
The G7 group of nations last week also announced they would launch discussions this year on "responsible" use of the technology with a working group to tackle issues from copyright to disinformation.
European Commission Vice President Margrethe Vestager said on Tuesday that officials from the United States and the EU would discuss the issue at an EU-US Trade and Technology Council (TTC) meeting in Sweden next week.
"We can talk about this within the TTC in a way that will help the G7 process to be as concrete as possible," she told reporters.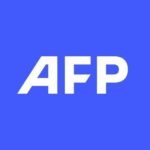 With 2,400 staff representing 100 different nationalities, AFP covers the world as a leading global news agency. AFP provides fast, comprehensive and verified coverage of the issues affecting our daily lives.
German chip charge could short-circuit on myriad challenges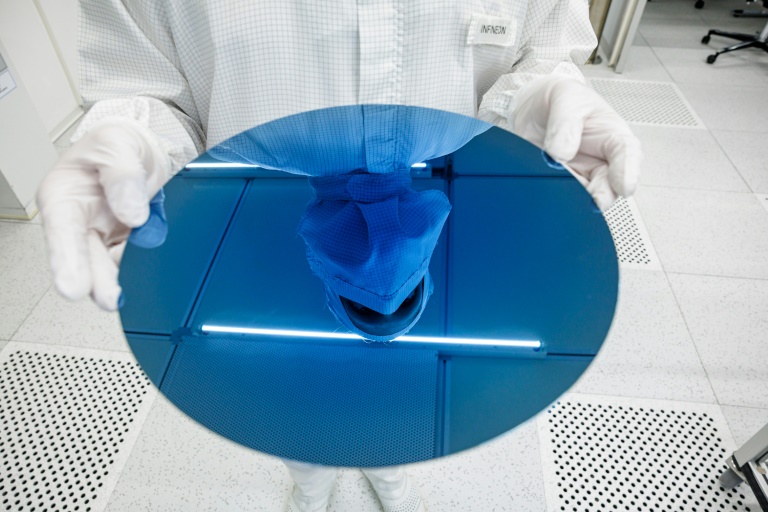 Germany is seeking to lead a European charge to boost chip production with a series of mega-investments but the drive faces challenges ranging from high energy prices to subsidy rows and worker shortages.
When the pandemic sent semiconductor demand surging and snarled global supply chains, Western nations long reliant on Asia to produce their chips cheaply got a nasty shock as they faced sudden shortages.
The European Union was jolted into action, and is rolling out a plan to double the bloc's share of global chip production to 20 percent by 2030, and mobilise billions of euros in investment.
Industrial powerhouse Germany — whose carmakers were among firms hit hard by the shortages — is hoping to lead the European renaissance, with major investments announced in recent times, including from Intel, Infineon, Bosch and Wolfspeed.
Taiwanese tech giant TSMC, one of the world's leading chip companies, is also considering to build its first European plant in the eastern city of Dresden.
At the groundbreaking this month for a new Infineon chip factory in Dresden, Chancellor Olaf Scholz said semiconductors were "often referred to as the petroleum of the 21st century".
Chips, used to power everything from smartphones to fighter jets, were the one component "on which almost everything else depends," he added.
Infineon plans to invest about five billion euros ($5.4 billion) in the plant. It is due to open in 2026, and create up to 1,000 jobs in Dresden, the state capital of Saxony, already home to a dense network of chip companies.
– Soaring costs –
Not every project has been running so smoothly, however.
Intel announced with great fanfare in March last year plans to build a massive chip plant in the city of Magdeburg, with initial investment of 17 billion euros, the centrepiece of the US firm's European investment drive.
But after inflation surged following Russia's invasion of Ukraine, the project has been delayed, with construction — originally supposed to start in the first half of 2023 — not yet under way.
The company is reportedly pushing for higher government subsidies to cover the impact of higher costs.
Asked about the reports, Intel said that "much has changed" since the project was announced.
"Geopolitical challenges have become greater, semiconductor demand has declined, and disruptions in the global economy have resulted in increased costs, from construction materials to energy," the company said in a statement.
Germany's economy ministry said the government was currently discussing measures to "close the cost gap of the planned project, which has increased significantly in recent months".
For Germany's chip ecosystem, another major challenge is finding enough workers.
In occupations that are particularly key for the chip industry, there is currently a shortage of 62,000 skilled workers, according to a study from the German Economic Institute in December.
Europe's "Chips Act", agreed on by the European Parliament and EU member states last month, aims to mobilise more than 43 billion euros in public and private investments.
As well as Germany, investments have been announced elsewhere in the bloc, including a new plant in France built by French-Italian chipmaker STMicroelectronics and US-based GlobalFoundries.
– 'No self-sufficiency' –
The continent has much lost ground to make up — its share of global chip manufacturing capacity fell from 44 percent in 1990 to nine percent in 2020, according to a study from the US-based Semiconductor Industry Association and Boston Consulting Group.
Europe also faces competition from the United States, which is shelling out large sums to promote domestic production, while Japan and South Korea have vowed to spend billions on developing production.
However, some fear that spending billions of euros in public money on chip production is misguided, given Europe is likely to remain heavily dependent on semiconductors produced elsewhere.
"If we enter into a subsidy race, then we end up paying a lot of money and are not necessarily any safer," Clemens Fuest, president of Germany's Ifo institute, recently said on broadcaster ARD.
And industry players believe the semiconductor supply chain — which involves many different companies, providing different services — is destined to remain globalised.
"All big economies are trying to strengthen the semiconductor industry in their territories," Infineon CEO Jochen Hanebeck told reporters on an earnings call this month.
While dependencies can be dialled back, there will be "no self-sufficiency for any countries or regions," he added.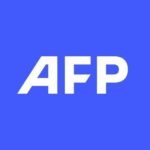 With 2,400 staff representing 100 different nationalities, AFP covers the world as a leading global news agency. AFP provides fast, comprehensive and verified coverage of the issues affecting our daily lives.
Apple to spend billions of dollars on US-made 5G tech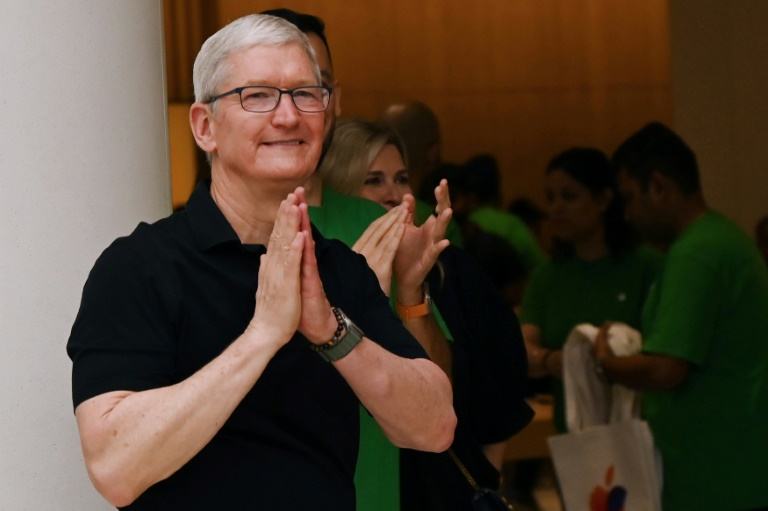 Apple on Tuesday announced a multi-billion-dollar collaboration with US tech firm Broadcom to make "cutting edge" components for wirelessly connecting to high-speed 5G telecom networks.
The iPhone maker did not specify exactly how many billions of dollars it would put into the Broadcom alliance, but said it is part of a commitment to invest in the US economy.
"We're thrilled to make commitments that harness the ingenuity, creativity, and innovative spirit of American manufacturing," Apple chief executive Tim Cook said in a statement.
"All of Apple's products depend on technology engineered and built here in the United States, and we'll continue to deepen our investments in the US economy because we have an unshakable belief in America's future."
The alliance will include designing and manufacturing sophisticated radio frequency components and other "cutting-edge wireless connectivity" parts in the United States, according to Apple.
"5G technology is shaping the future of next-generation consumer electronics — and Apple is spending tens of billions of dollars to develop this field in the United States," the company said.
Apple is on pace to meet a commitment it made in 2021 to invest $430 billion in the US economy over the course of five years, according to the Silicon Valley technology titan.
It said those investments include money put into data centers, capital projects and suppliers.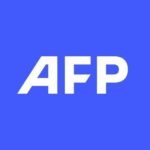 With 2,400 staff representing 100 different nationalities, AFP covers the world as a leading global news agency. AFP provides fast, comprehensive and verified coverage of the issues affecting our daily lives.