Americans spend $179 on fuel each month—here's how to spend less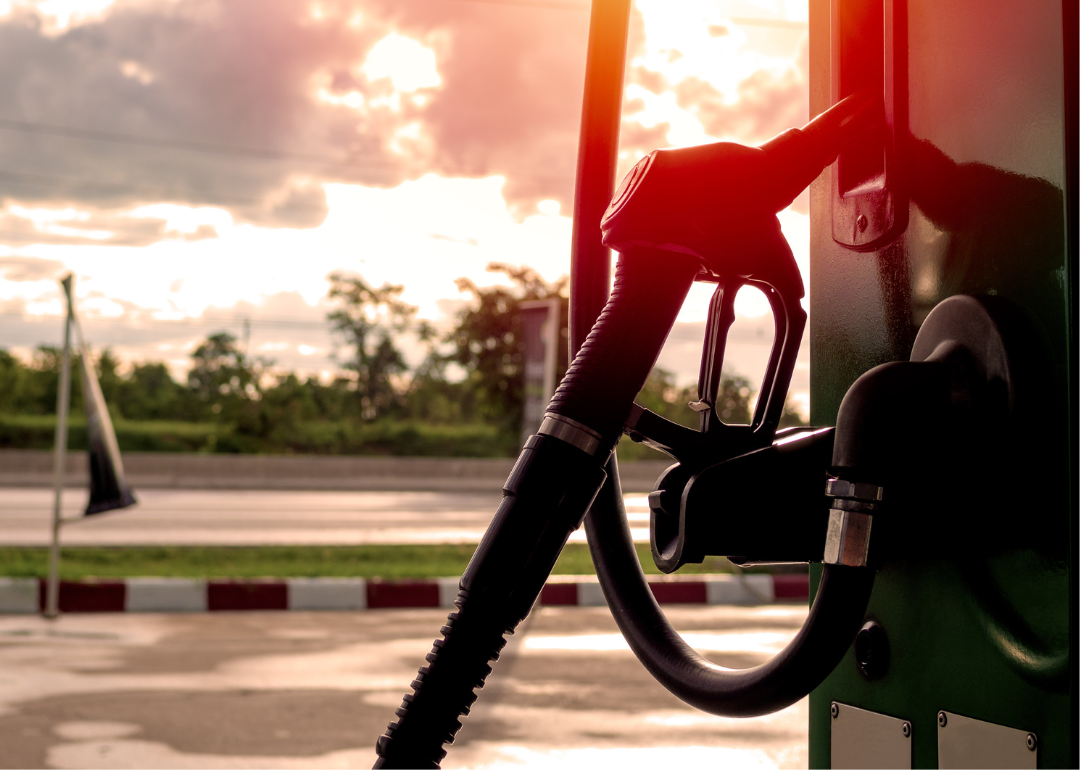 Owning a vehicle comes with a whole host of costs—from insurance and maintenance to parking and tolls. And if the past year has proven anything, it's that another cost associated with vehicle use—namely fuel—can fluctuate wildly, putting further strain on your bank account for an already costly necessity.
CoPilot looked into the Bureau of Labor Statistics' Consumer Expenditure Surveys to see how much Americans spend on fuel for their vehicles and used sources from insurance companies, transportation fleet managers, and government agencies to determine some ways to lower that expenditure.
On average, Americans spent $179 per month (or $2,148 annually) on gasoline, other fuels, and motor oils in 2021, accounting for around 3% of overall annual expenses. In terms of finding decisive ways to cut that cost, one front-of-mind idea might be to consider an electric vehicle. EVs are gaining in popularity, the major automakers are investing heavily in an electric future, and the government incentivizes most EV buyers.
While switching to a car with better fuel economy, such as a hybrid or fully electric vehicle, can lead to big reductions in monthly fuel expenses, hybrids and EVs often cost more than their gasoline-only counterparts, and the fuel savings may not offset that difference for a number of years. What's more, the infrastructure EVs depend on for charging remains in something of a developmental stage, making them a limited alternative to gas-powered vehicles—at least for now.
There are approximately 250 million cars and trucks on U.S. roadways; less than 1% are electric. So for those either not in the market for a new vehicle or simply content to stick with the reliability of gasoline-powered travel, the following list offers a wide range of suggestions, best practices, and easy lifestyle adjustments that can reduce the monthly costs associated with fueling a personal vehicle.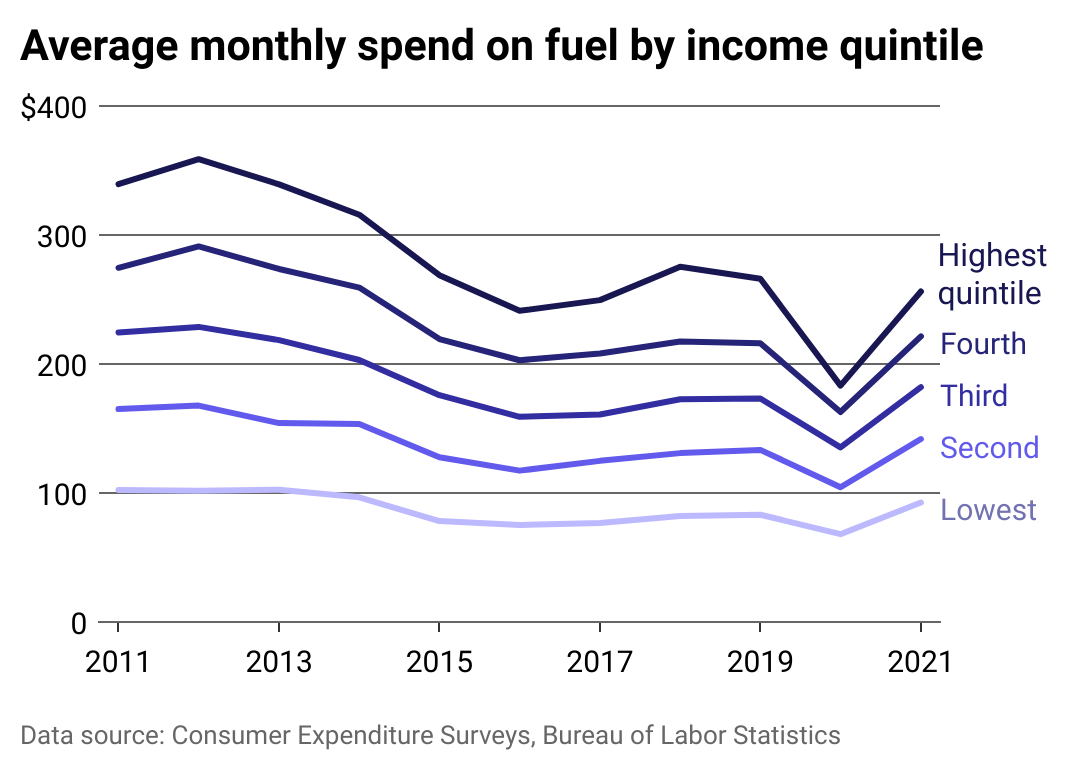 CoPilot
Wealthy households spend more than twice as much on gasoline
Even as gas prices were at their highest since 2014 (adjusted for inflation), spending on fuel in 2021 increased from 2019 levels by only $54 per year on average. And while the drastic reduction in driving brought on during the height of the COVID-19 pandemic in 2020 had a great impact on fuel spending that year, it does not seem to have extended to significantly changed habits in the following year—driving in 2021 dropped by only 1% when compared with 2019 levels.
Though average spending on fuel in 2021 was high, the lack of an even more dramatic increase due to high gas prices can be attributed mainly to the steady rise in the fuel efficiency of vehicles over the past decade.
Another important consideration raised by this is whether or not the burden of those fuel expenses is felt equally across income levels. Bureau of Labor Statistics data suggests it does not. For those in the lowest income quintile, spending on fuel represented 3.6% of total expenses. The burden decreased for each subsequent income bracket; in the highest quintile, it represented just 2.4% of total costs.
While this disparity might seem minimal when considering the upper limit of the lower quintile's household earnings is just over $27,000, and the lower limit (or floor) of the highest quintile is $141,000, that 1.2% difference comes starkly into focus.
So while the increase in the fuel economy of newer cars seems to have a relative equalizing force on fuel expenses when taken on average, income disparity implies that those in lower income quintiles do not reap the benefits of those improvements in automotive engineering.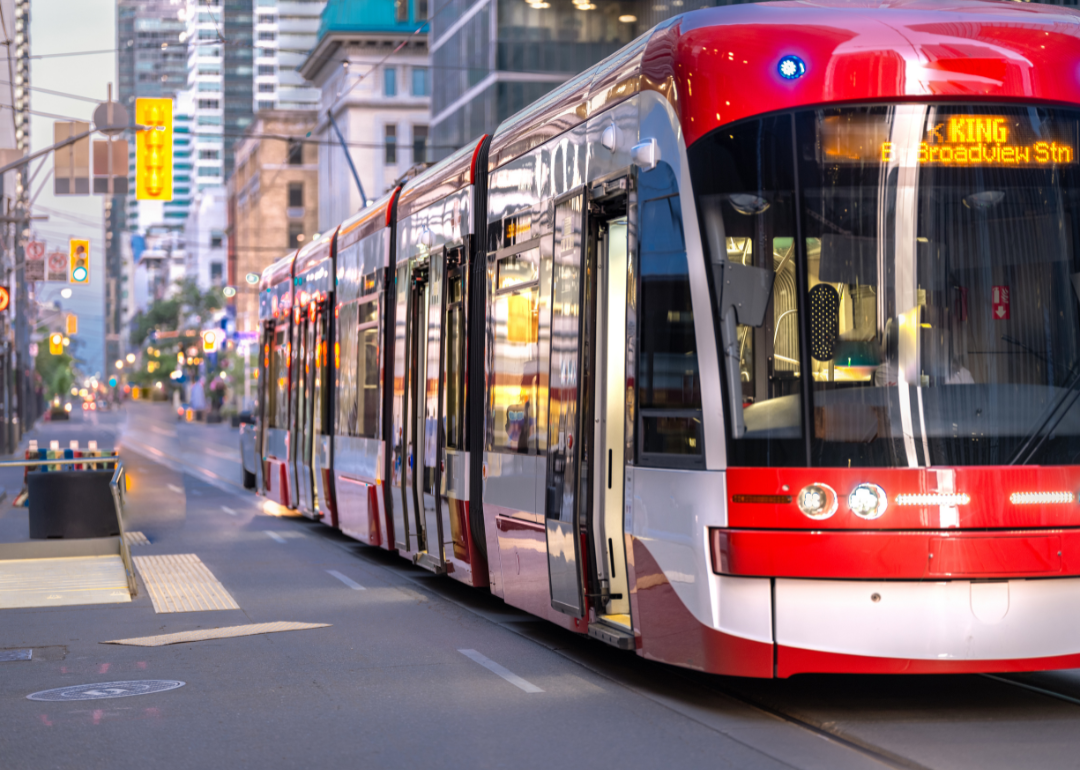 Canva
Consider alternative forms of transportation
From their walkability to the accessibility and affordability of public transit, urban areas such as cities offer residents, especially those living in city centers, alternatives to using personal vehicles to get around. This isn't just beneficial to their health and that of the environment; it also helps people reduce fuel costs.
Overall, those who live in urban areas spent $3,303 less on transportation than those in rural areas in 2021. Fuel expenses accounted for roughly 13% of transportation costs, meaning even those who owned cars in urban areas spent on average $39 less per month on fuel than those in rural settings.
This is not to say, however, that rural or micropolitan areas cannot take advantage of alternative forms of transportation. Small towns across the U.S. have begun to see the value in investing in bike-share programs, using its infrastructure funding to add bike-protected lanes on their streets. This is especially true in smaller college towns, where foot and bike traffic tends to be high.
So whether it's via bike, scooter, or sneakers, tackling short-distance trips by means other than your vehicle can translate to more cash in your pocket.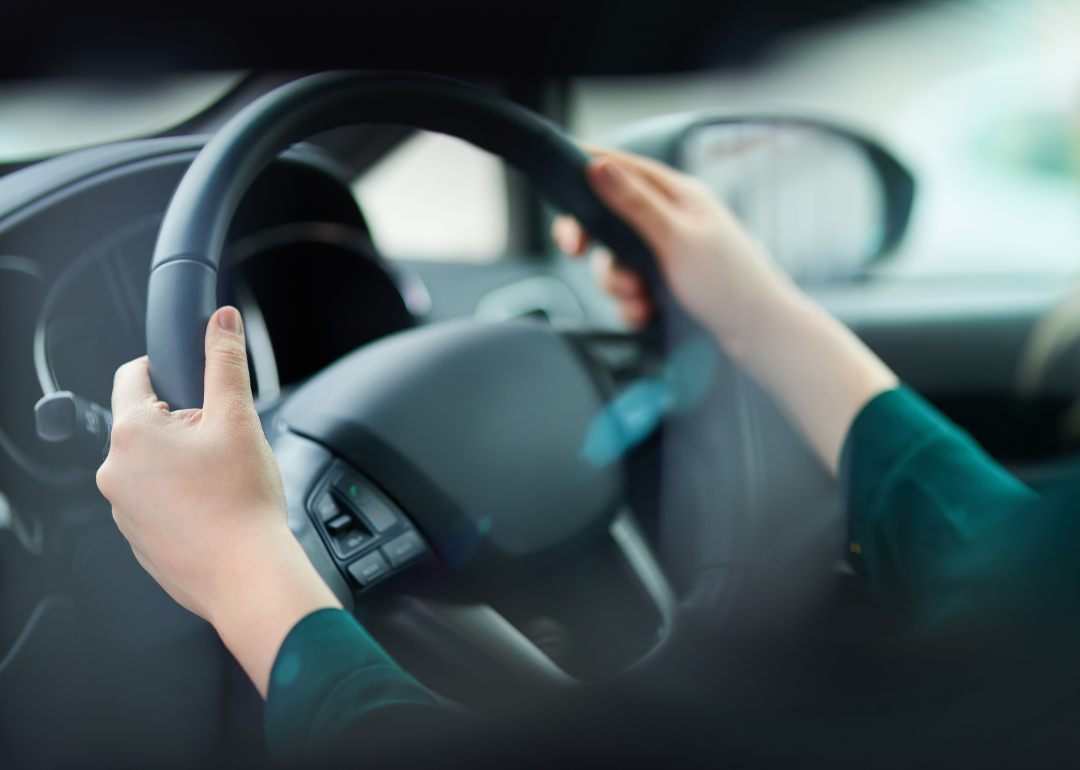 Canva
Keep a close eye on how you're using your vehicle's features
The data is clear: Sensible driving makes a meaningful impact on the efficiency of your car.
Frequent braking and acceleration, fast driving, and A/C overuse are a few habits that can increase the overall cost of travel in your vehicle. Using A/C during hot weather can reduce fuel economy by more than 25%, according to the Department of Energy. Parking your car in shade, rolling down your windows at low speeds, and preemptively letting hot air out of the cabin as you begin your journey are a few ways to decrease the impact of heat and make your car more comfortable A/C-free.
The power of a car's acceleration is something many, if not most, drivers love, and many car buyers put a particular value on speed capability when making their decision. For most vehicles, however, speeding also comes at a cost. For every 5 mph above 50, the cost per gallon of gas increases, depending on your vehicle's make, model, and year.
Suppose you are driving a 2020 Ford F-150 4WD (incidentally, the bestselling truck in the U.S. since the late 1970s); the difference between going 65 mph and 80 mph is approximately $1 per gallon of gas—meaning what it costs you per 100 miles to hit the highway at 80 is equivalent to the price of an additional gallon of gas or more. Considering the average person drives 13,476 miles per year, keeping to the lower speed (on average) translates into more than $440 in fuel savings.
Coupled with the 15%-30% decrease in fuel economy brought on by frequent braking and acceleration, maintaining steady speeds, accelerating and braking gently, using cruise control, and leaving ample space between your car and the one in front of you can cut your fuel costs while also keeping you safer on the road.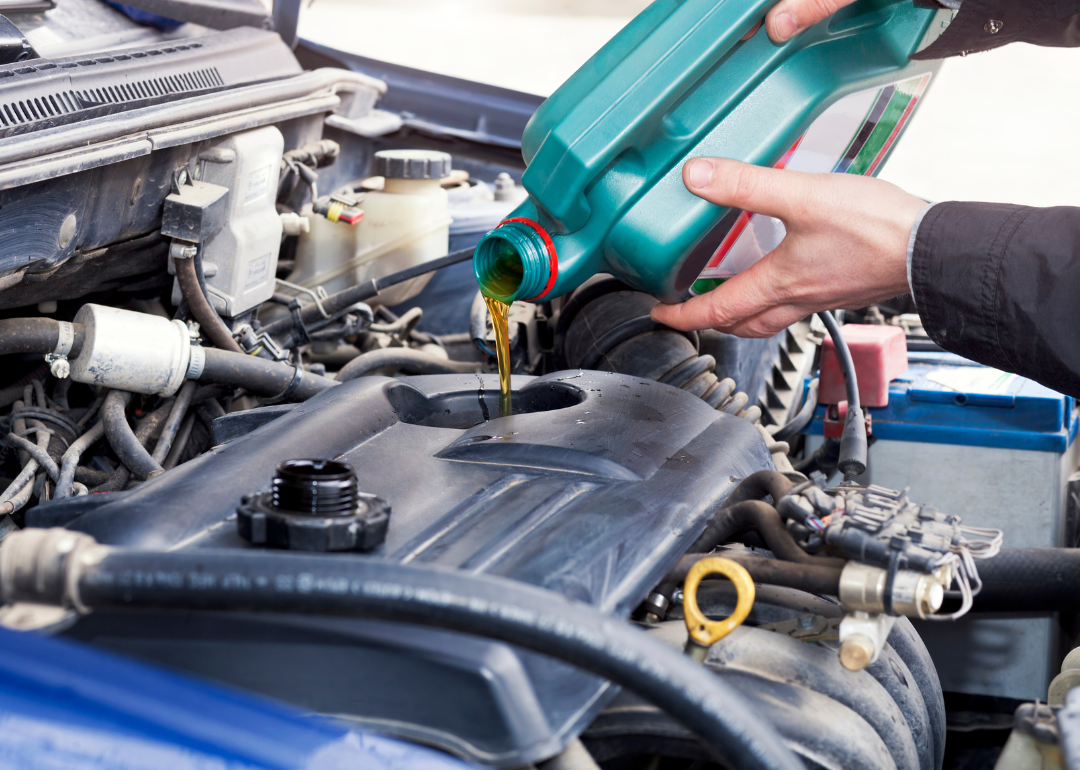 Canva
Properly maintain your vehicle
In addition to benefiting its life span, properly maintaining and organizing your vehicle can lead to a small but mighty decrease in monthly fuel expenses.
Keeping your tires inflated to recommended levels, reducing excess weight, and using the recommended grade of motor oil all benefit fuel economy, according to the DOE.
Moreover, and as per basic physics, your car's fuel use is greatly impacted by aerodynamics; so, while it might seem handy to keep that cargo pod on your roof, or that bicycle rack on your bumper, it can decrease your car's efficiency by as much as 8% when you're just tooling around town and as much as 25% on the interstate.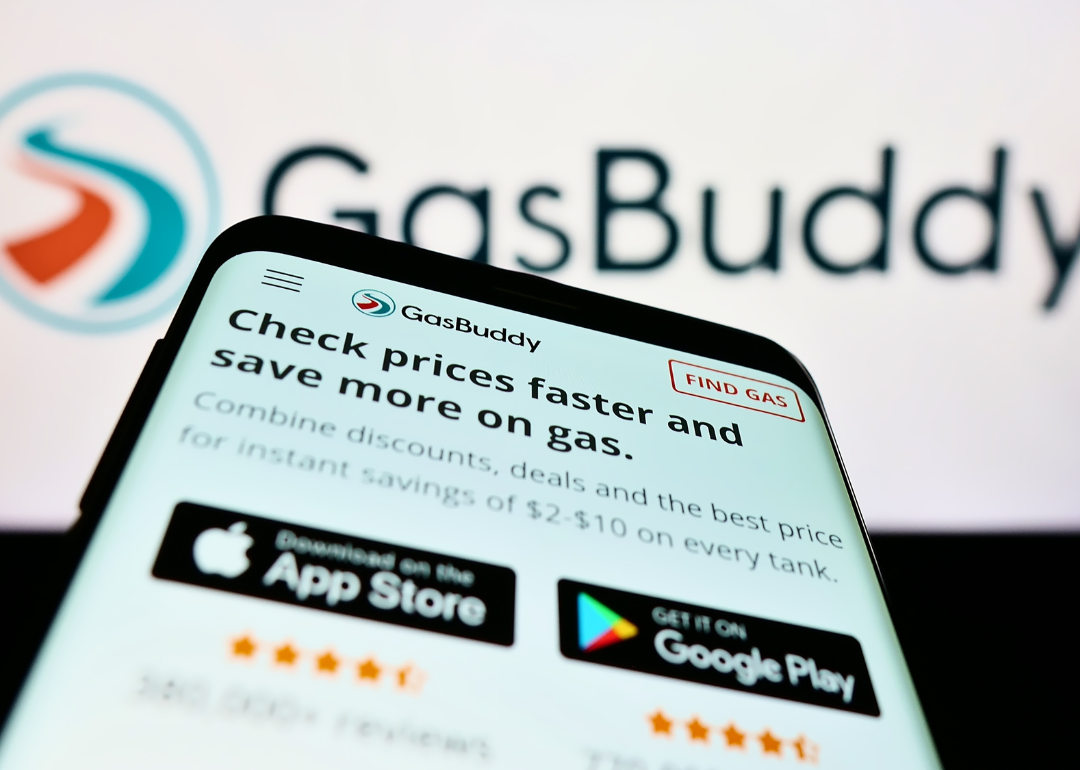 T. Schneider // Shutterstock
Purchase fuel with purpose
An ongoing myth is that premium fuels will make your car more efficient. While they won't hurt your vehicle's performance, premium fuel makes no difference for most cars.
There are ways to get more out of your gas purchases through grocery store, gas station, and credit card reward and money-back programs. If you know your habits well enough, you'll be able to make such programs worthwhile. As per capita gas consumption has hovered in the 350-450 gallon range over the past 20 years, using such programs can translate to big savings.
One of the more effective ways to minimize the price of gas is by using apps and services that, when combined with a little forward planning, allow you to chart out your gas refuels at stations you know will have favorable prices.
Gas prices can fluctuate wildly within a relatively small area. Apps like GasBuddy are built specifically to help you plan around gas price variance and minimize its impact on long trips or high monthly usage. Most navigation tools like Waze or Google Maps also come with built-in gas price features as well.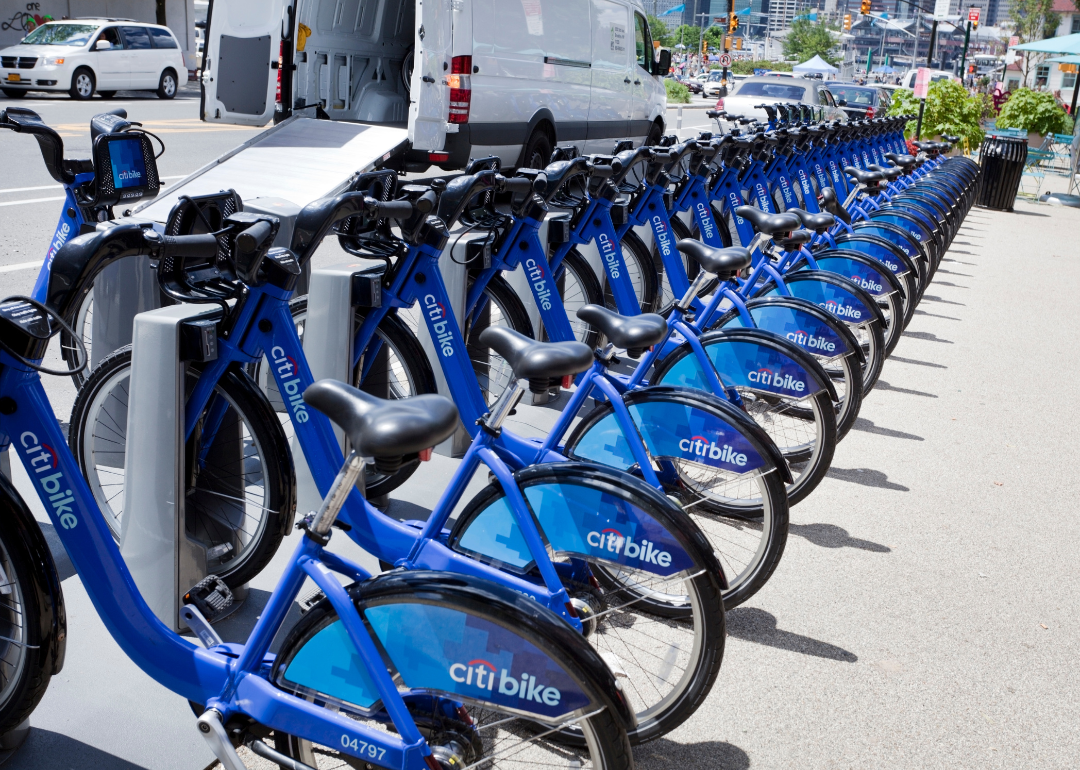 Canva
Avoid driving altogether
This might seem a rather extreme recommendation, but even if you don't live near public transit, there are still ways you can reduce the time you spend driving and, therefore, the amount you spend on driving.
Carpooling even a few times a week can lead to many positives, including a decreased carbon footprint and lower fuel expenses. Moreover, carpooling is often supported by corporate incentive programs, so it's worth looking into at your place of work.
Other options to reduce your reliance on a personal vehicle include riding a bike or e-bike, walking when possible, reducing the number of cars in your household, and coordinating your errands to minimize individual car usage. These alternatives can make a substantive difference not only for your budget but for your health and well-being as well.
Finally, the easiest way to lower your spending on fuel is to spend no money on fuel whatsoever. If you're able to consider ditching your car entirely, the widespread availability of ride-share and taxi services and car rental agencies can help fill your personal transportation needs when and if they arise.
This story originally appeared on CoPilot and was produced and
distributed in partnership with Stacker Studio.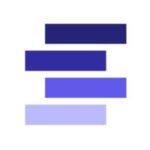 Founded in 2017, Stacker combines data analysis with rich editorial context, drawing on authoritative sources and subject matter experts to drive storytelling.
Robots are starting to deliver takeout orders. Are they here to stay?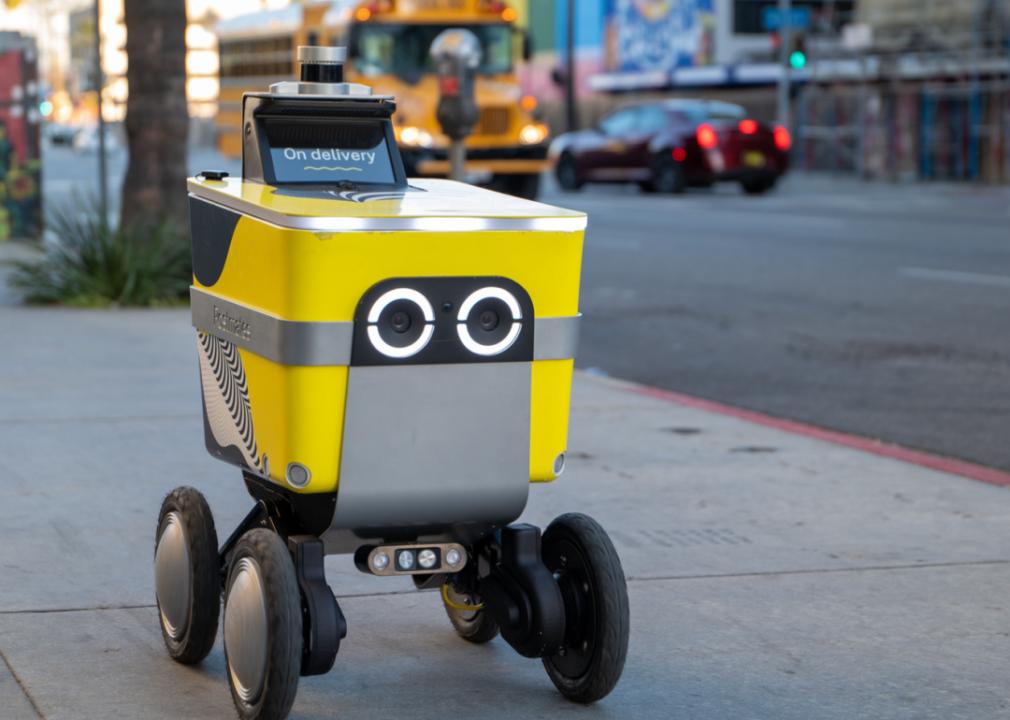 In a March 2023 Deloitte survey, 47% of Americans said they would order from a restaurant that delivers food with a drone or an autonomous vehicle. That's up 3 percentage points from the company's 2021 survey about restaurant trends.
In that first survey, researchers noted there was "massive uncertainty in the industry, and many worried that restaurant patronage might never recover" from the COVID-19 pandemic. It found that two-thirds of consumers believed they would not immediately return to their pre-pandemic restaurant habits.
In 2023, most restaurant customer behavior is back to normal—though some changes have blended into the industry's practices. Task Group analyzed the state of autonomous delivery systems, both nationally and internationally, to measure the progress of this technology post-pandemic.
As with other industries, technology has helped maximize efficiency and improve customer satisfaction. Business owners learned new service methods, marketing strategies, and technical terminology. Food delivery skyrocketed during lockdowns, making greater strides in restaurant efficiency and, in some cases, profits. Many restaurant owners connected apps that allowed customers to order without talking to a human to state-of-the-art delivery systems that don't require a driver.
Restaurants and transportation companies in North America and Europe are experimenting with new automated delivery techniques that can reduce their costs as long as they do not compromise customer satisfaction. And consumers are ready—but how soon will it become standard practice?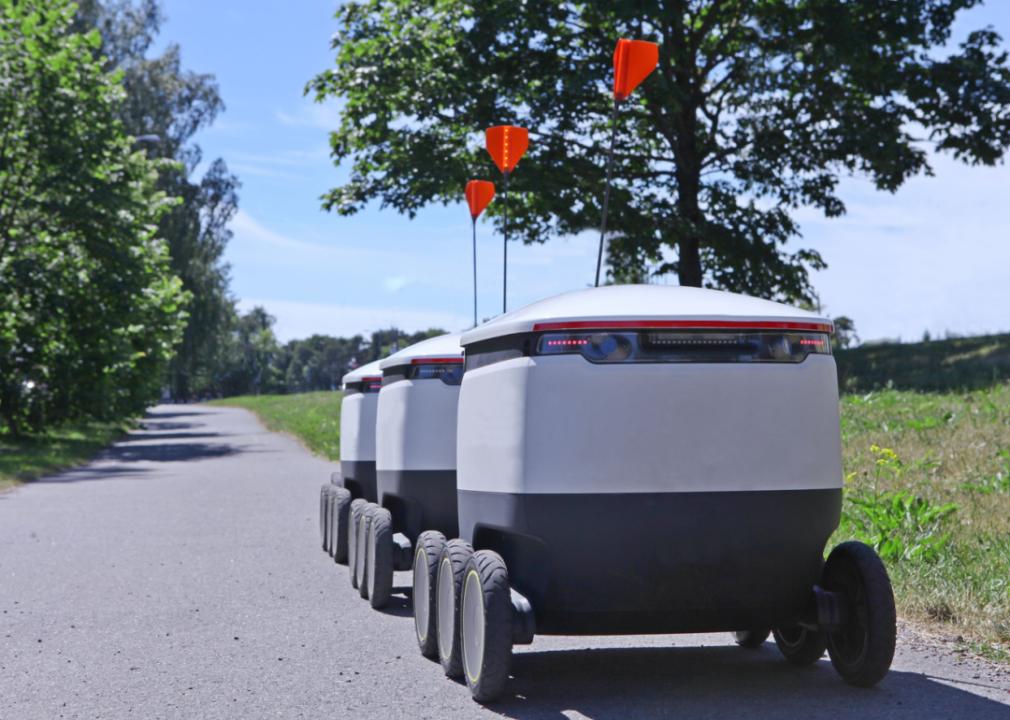 Julija Sh // Shutterstock
What are drones and sidewalk delivery vehicles?
The robots most commonly used in the food delivery industry are aerial drones and wheeled autonomous delivery vehicles that travel along sidewalks to reach customers.
Drones are classified by how they generate lift—with fixed wings, rotors, or a combination—by how they're used, such as food delivery, and what equipment they have on board, including batteries and cameras.
In the U.S., the Federal Aviation Administration regulates drone use. The agency requires pilots to be certified—and bans drones within five miles of airports.
For many years, the FAA stood in the way of companies seeking to use drones for deliveries, but in 2019, the agency agreed to allow uncrewed delivery flights beyond the pilot's line-of-sight by UPS and Wing Aviation, owned and operated by Google's mothership Alphabet. Since then, the agency has approved drone delivery operations for several companies, including Amazon and Walmart.
According to a study published by the Harvard Kennedy School in 2022, autonomous delivery vehicles are not the future. They're already here. Self-driving machines about the size of a large cooler are already traveling down our sidewalks and crosswalks to deliver various packages.
Policymakers question how these vehicles will work and interact with people and other vehicles in already congested and chaotic urban environments. The Harvard researchers believe these vehicles "offer the promise of less congestion and greener shipments," but also "raise concerns about safety and use of road and sidewalk infrastructure."
While the debate continues, the manufacturers of these robots continue to advance their technology, including using machine learning to improve navigation, efficiency, and safety.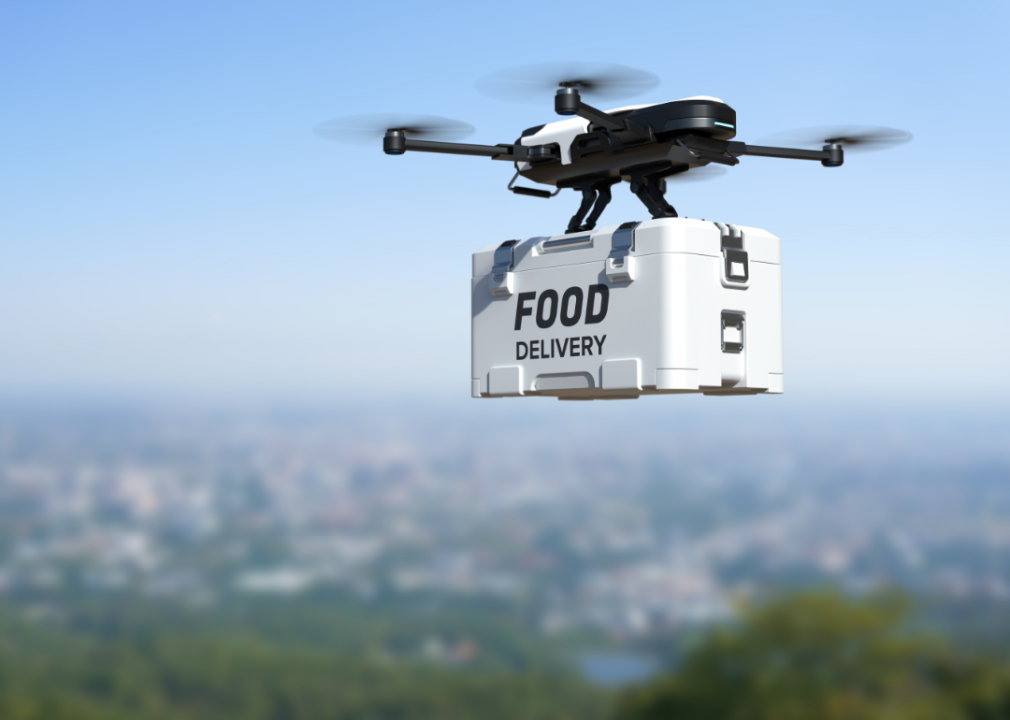 Canva
How far off are drone or sidewalk deliveries?
Estonia-based delivery startup Bolt, working with Starship Technologies, has been trialing sidewalk deliveries in Estonia, the U.K., and the U.S. and plans to formally launch robot deliveries later this year in as many as 500 cities in 45 countries.
Bolt's main competitor, Uber, signed a deal in 2022 with autonomous vehicle startup Nuro "to test driverless food deliveries" in Mountain View, California, and Houston, Texas. Before the agreement, Uber ran a pilot program for sidewalk delivery in Los Angeles, while Nuro delivered Domino's pizzas in specific areas of Houston for a year. 
Story editing by Jeff Inglis. Copy editing by Kristen Wegrzyn.
This story originally appeared on Task Group and was produced and
distributed in partnership with Stacker Studio.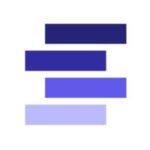 Founded in 2017, Stacker combines data analysis with rich editorial context, drawing on authoritative sources and subject matter experts to drive storytelling.
AI "superusers" seek education, fun, and productivity with generative AI
A look at two separate studies by Sparktoro and Salesforce on people's generative AI use.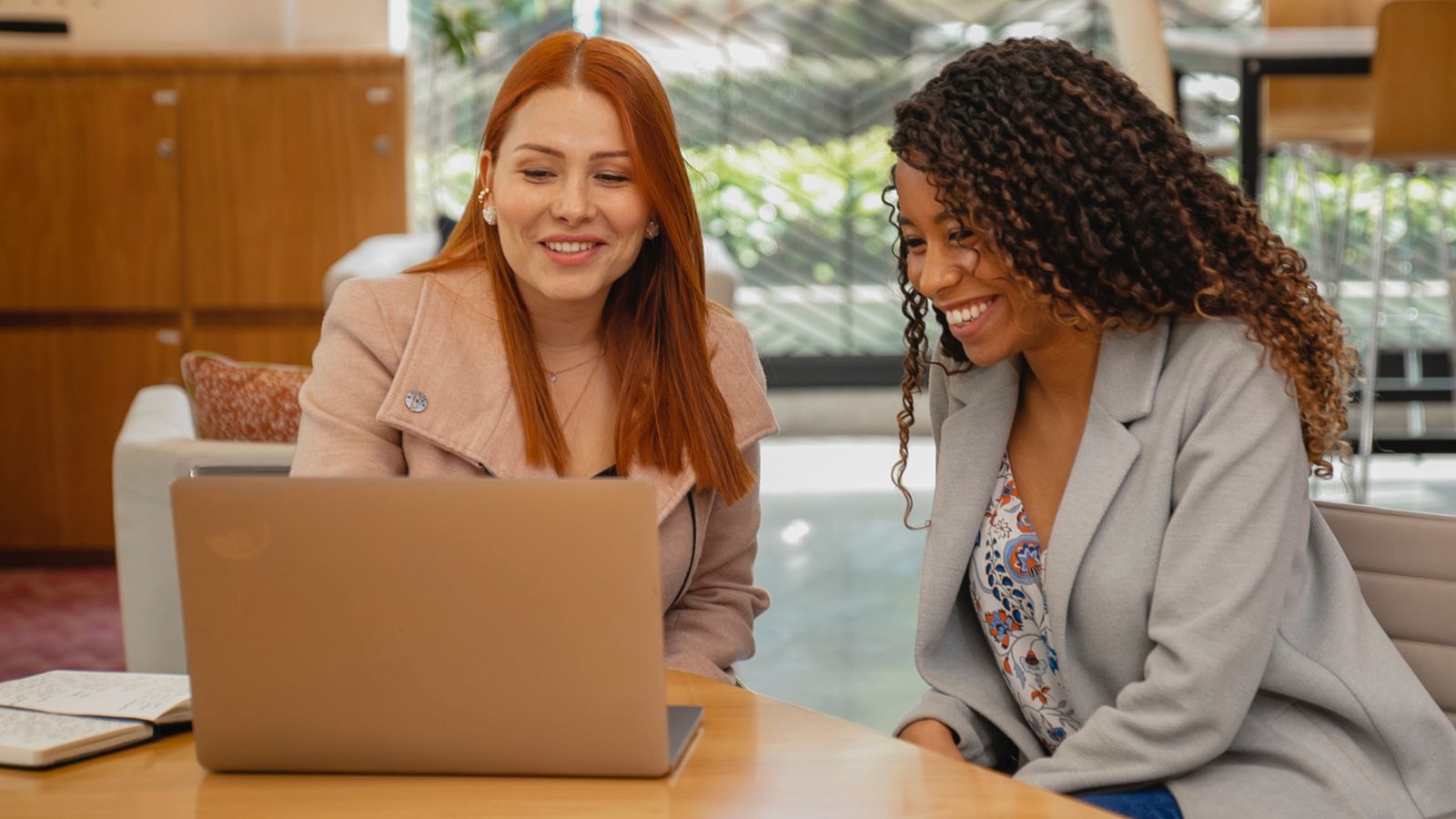 Maybe it was through your job. Or simply out of curiosity.
With the rise of generative AI, you've probably tried out ChatGPT or a similar tool. But how often are people using these? More interestingly, what motivates them? Both Salesforce and SparkToro sought to find out with two separate studies.
Here are highlights from each report and how they compare:
Work automation and educational pursuits top priorities for AI users
Both Salesforce and SparkToro can agree on this. SparkToro highlighted professional use of the platform as at an "all-time high," then ranked categories of interest across over 4,000 ChatGPT prompts with these in the top 5:
Programming: 29.14%
Education: 23.30%
Content: 20.79%
Sales and Marketing: 13.47%
Personal & Other: 6.73%
Salesforce found that 75% of generative AI users are motivated by streamlined work communications and task automation. The second highest topic of interest? Technically "messing around" (38%), though a close third was learning and education (34%). Both SparkToro and Salesforce posit that education doesn't just include homework or university coursework—users also use tools like ChatGPT to develop knowledge of other desired educational topics.
Younger generations more likely to use AI than older ones despite general decline in usage
Salesforce surveyed 4,000 people to find out how they use generative AI and what their demographics are. Turns out, most "superusers" — aka those who use the tool every day — are Millennials or Gen Zers (65%). Plus, 70% of the Gen Z participants surveyed said they use generative AI.
Still, SparkToro notes an overall decline in generative AI use regardless of age. After studying monthly traffic data on OpenAI provided by Datos, SparkToro found overall traffic fell by nearly 30%.
Users ask ChatGPT to write, create, and list
These were the top three common words in SparkToro's assessment in ChatGPT prompts. However, they also share a notable prevalence of the words "game" and "SEO in prompts as well. Other words less commonly used yet enough to come up in the results included judge, SaaS pricing, curriculum, employment, and employer.
Read the SparkToro report here and the Salesforce report here.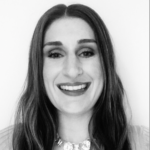 Veronica Ott is a freelance writer and digital marketer with a specialization in finance and business. As a CPA with experience in the industry, she's able to provide unique insight into various monetary, financial and economic topics. When Veronica isn't writing, you can find her watching the latest films!
Trends in AI ethics before and after ChatGPT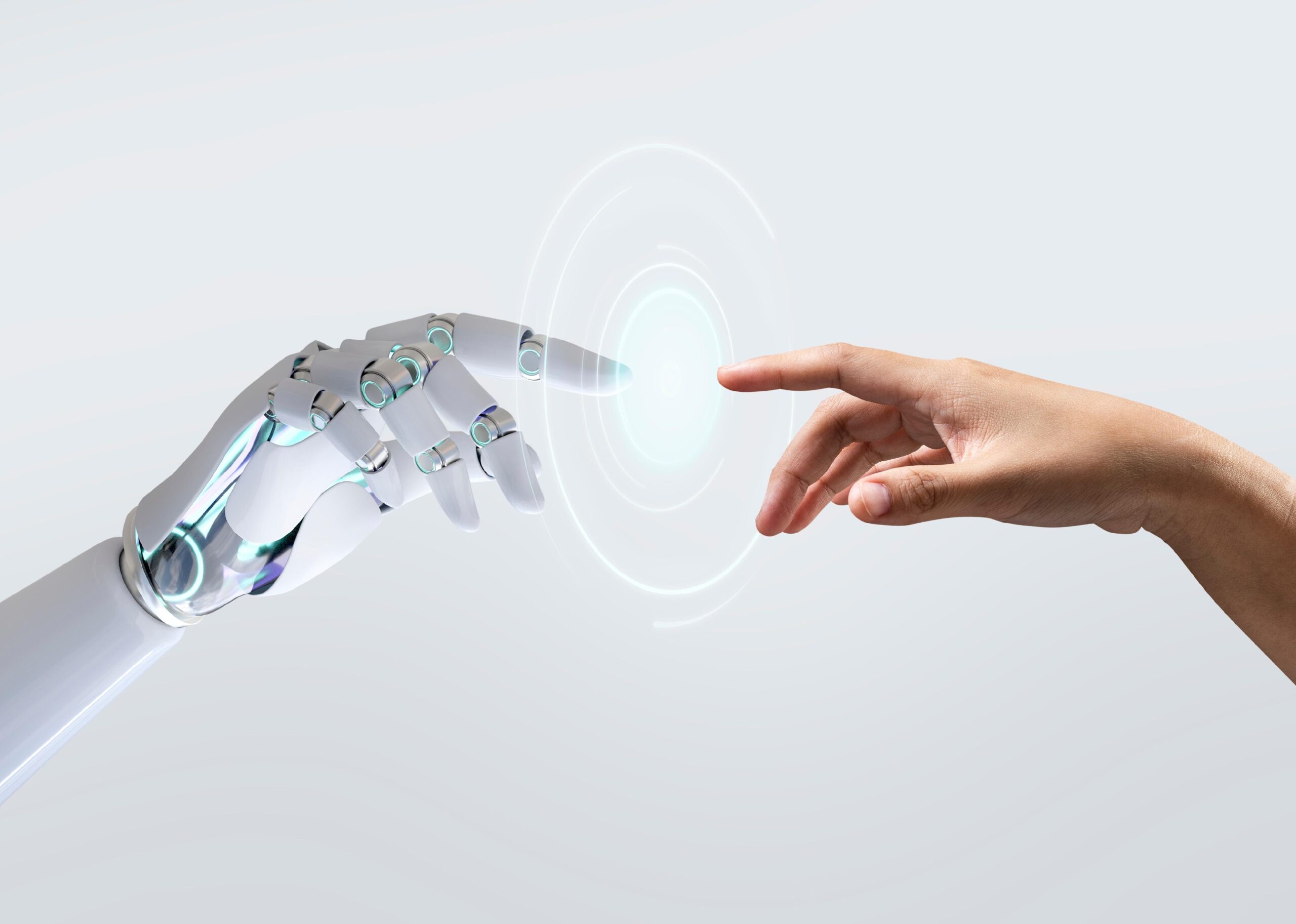 Computational systems demonstrating logic, reasoning, and understanding of verbal, written, and visual inputs have been around for decades. But development has sped up in recent years with work on so-called generative AI by companies such as OpenAI, Google, and Microsoft.
When OpenAI announced the launch of its generative AI chatbot ChatGPT in 2022, the system quickly gained more than 100 million users, earning it the fastest adoption rate of any piece of computer software in history.
With the rise of AI, many are embracing the technology's possibilities for facilitating decision-making, speeding up information gathering, reducing human error in repetitive tasks, and enabling 24-7 availability for various tasks. But ethical concerns are also growing. Private companies are behind much of the development of AI, and for competitive reasons, they're opaque about the algorithms they use in developing these tools. The systems make decisions based on the data they're fed, but where that data comes from isn't necessarily shared with the public.
Users don't always know if they're using AI-based products, nor if their personal information is being used to train AI tools. Some worry that data could be biased and lead to discrimination, disinformation, and—in the case of AI-based software in automobiles and other machinery, accidents and deaths.
The federal government is on its way to establishing regulatory powers to oversee AI development in the U.S. to help address these concerns. The National AI Advisory Committee recommends companies and government agencies create Chief Responsible AI Officer roles, whose occupants would be encouraged to enforce a so-called AI Bill of Rights. The committee, established through a 2020 law, also recommended embedding AI-focused leadership in every government agency.
In the meantime, an independent organization called AIAAIC has taken up the torch in making AI-related issues more transparent. Magnifi, an AI investing platform, analyzed ethics complaints collected by AIAAIC regarding artificial intelligence dating back to 2012 to see how concerns about AI have grown over the last decade. Complaints originate from media reports and submissions reviewed by the AIAAIC.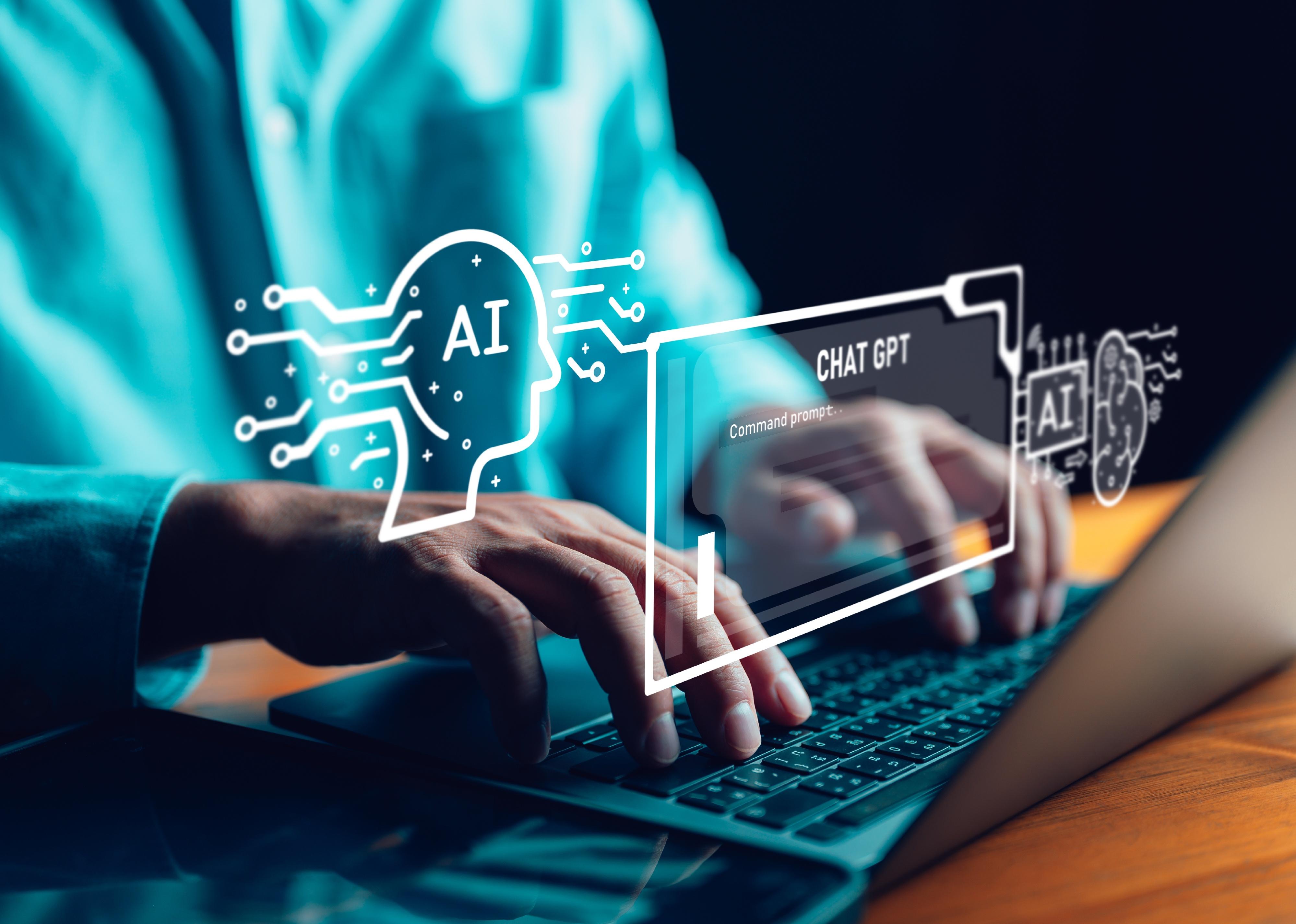 SomYuZu // Shutterstock
A significant chunk of the public struggles to understand AI and fears its implications
Many consumers are aware when they're interacting with AI-powered technology, such as when they ask a chatbot questions or get shopping recommendations based on past purchases. However, they're less aware of how widespread these technologies have become.
When Pew Research surveyed Americans in December 2022, and asked if they knew about six specific examples of how AI is used, only 3 in 10 adults knew all of them. This includes understanding how AI works with email services and organizing your inbox, how wearable fitness trackers utilize AI, and how security cameras might recognize faces. This low understanding of how AI manifests in daily life contributes to Americans' attitudes toward this technology. Pew found that 38% of Americans are more concerned than excited about the increase of AI.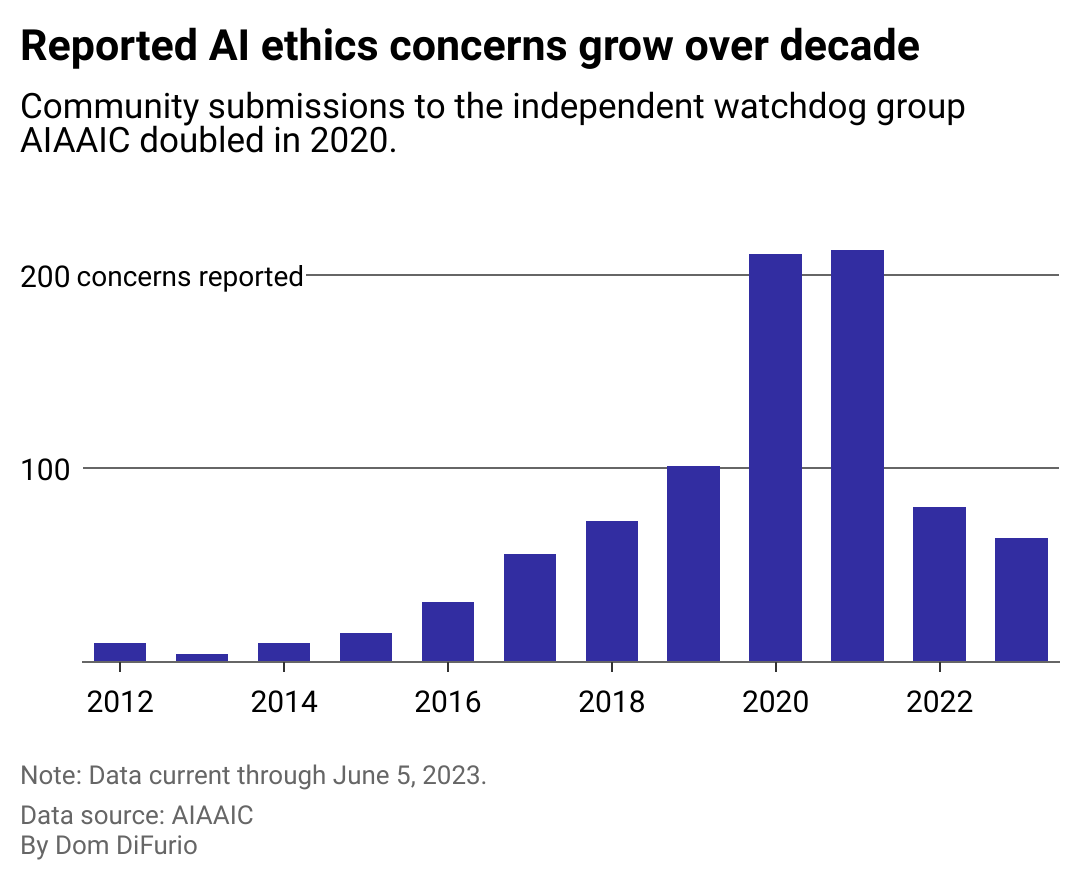 Magnifi
As AI works its way into consumer tech, concerns grow to a fever pitch
Concerns about AI initially focused on social media companies and their algorithms—like the 2014 Facebook study when the company's researchers manipulated 700,000 users' feeds without their knowledge, or algorithms spreading disinformation and propaganda during the 2020 presidential election.
The viral adoption of ChatGPT and multimedia creation tools in the last year have fueled concerns about AI's effects on society, particularly in increasing plagiarism, racism, sexism, bias, and proliferation of inaccurate data.
In September 2022, an AIAAIC complaint against Upstart, a consumer lending company that used AI, cited racial discrimination in determining loan recipients. Other complaints focus on a lack of ethics used in training AI tools.
In June 2023, Adobe users and contributors filed an AIAAIC complaint about Adobe's Firefly AI art generator, saying the company was unethical when it failed to inform them it used their images to train Firefly.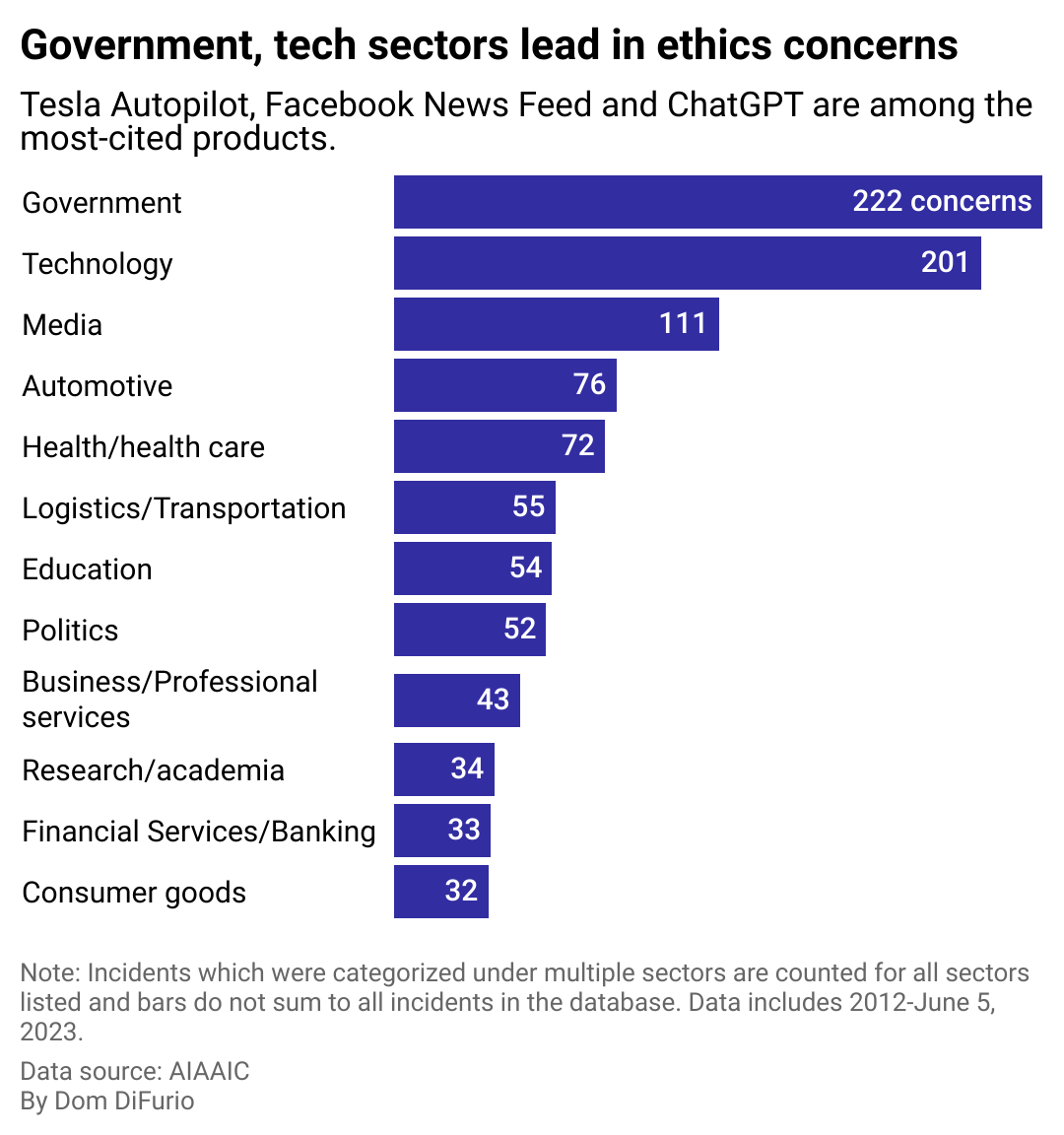 Magnifi
Government, technology, and media emerge as leading industries of concern
While the AIAAIC data set is imperfect and subjective, it's among the few sources to track ethical concerns with AI tools. Many of the government agencies that have embraced AI—particularly law enforcement—have found themselves on the receiving end of public complaints. Incidents such as facial recognition technology caused wrongful arrests in Louisiana, for example, and a quickly scrapped 2022 San Francisco Police Department policy that would allow remote-controlled robots to kill suspects.
Not surprisingly, many citizens and organizations have concerns about technology companies' use of AI in the rise of chatbots. Some involving ChatGPT and Google Bard center around plagiarism and inaccurate information, which can reflect poorly on individuals and companies and spread misinformation.
The automotive industry is another sector where major players like Tesla leverage AI in their sprint toward autonomous vehicles. Tesla's Autopilot software is the subject of much scrutiny, with the National Highway Traffic Safety Administration reporting the software has been connected with 736 crashes and 17 fatalities since 2019.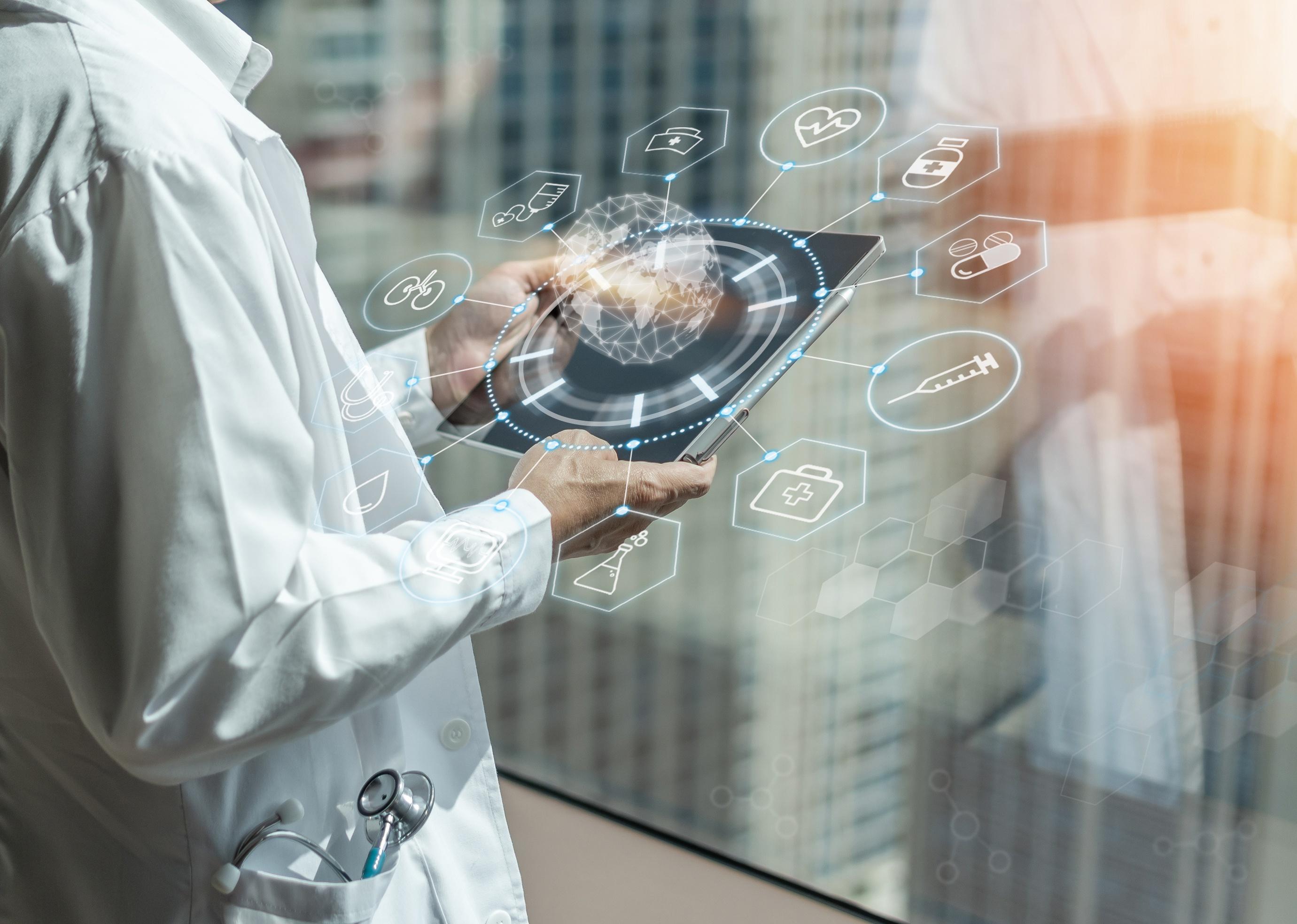 Chinnapong // Shutterstock
The optimistic case for AI's future is rooted in the potential for scientific, medical, and educational advancements
As the federal government works toward legislation that establishes clearer regulatory powers to oversee AI development in the U.S. and ensure accountability, many industries ranging from agriculture and manufacturing to banking and marketing are poised to see major transformations.
The health care sector is one field gaining attention for how AI changes may signficantly improve health outcomes and advance human society. The 2022 release of a technology that can predict protein shapes is helping medical researchers better understand diseases, for example. AI can help pharmaceutical companies create new medications faster and more cheaply through more rapid data analysis in the search for potential new drug molecules.
AI has the potential the benefit the lives of millions of patients as it fuels the expansion of telemedicine and has the potential to aid in expanding access to health care; assist with diagnosis, treatment, and management of chronic conditions; and help more people age at home while potentially lowering costs.
Scientists see potential for creating new understandings by leveraging AI's ability to crunch data and speed up scientific discovery. One example is Earth-2, a project that uses an AI weather prediction tool to forecast extreme weather events better and help people better prepare for them. Even in education, experts believe AI tools could improve learning accessibility to underserved communities and help develop more personalized learning experiences.
In the financial sector, experts say AI warrants a considerable number of ethical concerns. Gary Gensler, the head of the US Securities and Exchange Commission, told the New York Times that herding behavior—or everyone relying on the same information, faulty advice, and conflicts of interest could spell economic disaster if not preempted. "You're not supposed to put the adviser ahead of the investor, you're not supposed to put the broker ahead of the investor," Gensler said in an interview with the New York Times. To address those concerns, the SEC put forward a proposal that would regulate platforms' use of AI, prohibiting them from putting their business needs before their customers' best interests.
Story editing by Jeff Inglis. Copy editing by Kristen Wegrzyn.
This story originally appeared on Magnifi and was produced and
distributed in partnership with Stacker Studio.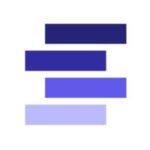 Founded in 2017, Stacker combines data analysis with rich editorial context, drawing on authoritative sources and subject matter experts to drive storytelling.