Asian markets rise as Fed eases fears over huge rate hike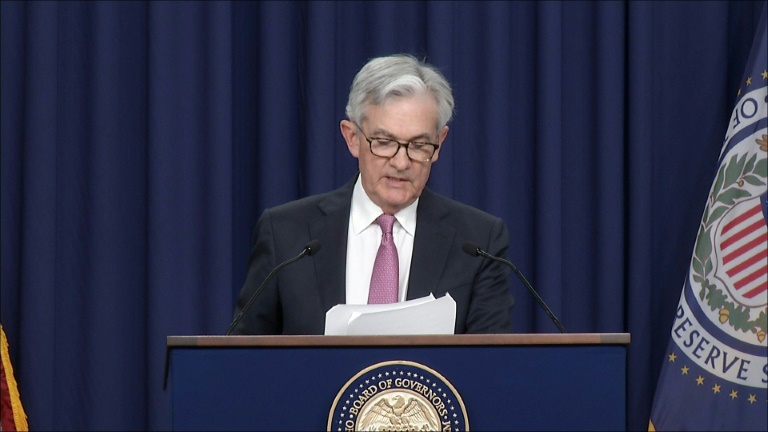 Asian markets rallied Thursday following a Wall Street surge after the Federal Reserve played down chances of a huge interest rate hike in the near future, while oil extended gains as the European Union moved to ban imports from Russia.
US central bank officials announced an expected half-point lift in borrowing costs — the biggest since 2000 — as part of its battle to rein in inflation, while unveiling a timetable to offload its vast bond holdings.
However, traders were given some much-needed cheer when boss Jerome Powell said a 75 basis-point rise, which had been flagged by many observers, was not "not something the committee is actively considering".
While he flagged more 50-point hikes to come, the news fuelled a rally on Wall Street, where all three main indexes piled on around three percent thanks to a surge in tech firms, which are most susceptible to higher rates.
"This was a reflection of relief, as investors came into the meeting fearful that the committee would be overly aggressive in tightening monetary policy," said Clara Cheong, of JP Morgan Asset Management.
She added that if inflation began showing signs of slowing, it could allow the Fed to be less aggressive as it treads a fine line between containing prices and nurturing the pandemic economic recovery.
"It remains to be seen if the Fed can pull off this fine balancing act and orchestrate a soft landing, but for now we believe that the US economy is in a strong enough position to weather higher rates," Cheong said.
"There is still, however, a risk that an overly aggressive approach can run the risk of tipping the economy into a mild recession in 2023."
The gains in New York filtered through to Asia, where Shanghai advanced after returning from a long break while Hong Kong, Sydney, Singapore, Taipei, Manila and Wellington were also up.
"Removing some of the uncertainty is helpful in getting some of the cash that has been on the sideline back into the markets, whether it's bonds or equities," Erin Gibbs, of Main Street Asset Management, told Bloomberg Television.
The Fed hike was the latest by a central bank around the world and comes ahead of an expected lift by the Bank of England later Thursday.
Still, analysts warned there was only so much banking officials could do to bring inflation under control as the spike was also being fuelled by supply chain problems caused by China's Covid-related lockdowns and surging energy costs, particularly oil.
And crude extended Wednesday's big gains after the European Commission proposed a gradual ban on Russian crude over Moscow's invasion of Ukraine.
That was compounded by data showing stockpiles shrinking and a weaker dollar caused by lower expectations for US rate hikes.
"The oil market will remain tight going forward, and now that a peak in the dollar is in place, crude prices should have extra support here," said OANDA's Edward Moya. 
– Key figures at around 0230 GMT –
Hong Kong – Hang Seng Index: UP 1.1 percent at 21,094.52 
Shanghai – Composite: UP 0.7 percent at 3,067.58
Tokyo – Nikkei 225: Closed for a holiday
Brent North Sea crude: UP 0.1 percent at $110.27 per barrel
West Texas Intermediate: UP 0.1 percent at $107.91 per barrel
Euro/dollar: DOWN at $1.0619 from $1.0625 on Wednesday
Pound/dollar: DOWN at $1.2623 from $1.2632
Euro/pound: UP at 84.13 pence from 84.06 pence
Dollar/yen: UP at 129.23 yen from 129.05 yen
New York – Dow: UP 2.8 percent at 34,061.06 (close)
London – FTSE 100: DOWN 0.9 percent at 7,493.45 (close)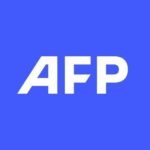 With 2,400 staff representing 100 different nationalities, AFP covers the world as a leading global news agency. AFP provides fast, comprehensive and verified coverage of the issues affecting our daily lives.
Bosphorus sea trade unaffected by Ukraine war, sanctions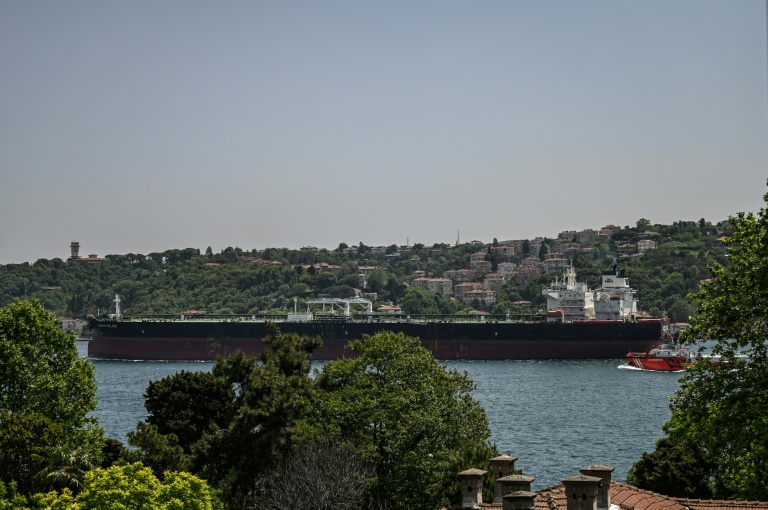 At the gates of the Black Sea, trade is in full swing as freighters and oil tankers sail from the heart of Istanbul to Russian and Ukrainian ports. 
Just after the Russian offensive in Ukraine on February 24 and the first Western sanctions, the largest vessels of international companies plying on these waters were replaced by smaller ships.
The total number of ships on the route remains around the pre-war level of 40,000, according to experts.
"Russia shamelessly steals Ukrainian grain and sends it overseas from Crimea, including to Turkey," said Vasyl Bodnar, Ukraine's ambassador to Ankara.
"In May alone, we counted at least 10 passages including two round trips from three vessels flying the Russian flag… Not to mention those that we would have collectively missed."
From his terrace overlooking the Bosphorus, Yoruk Isik has been a passionate observer of ship movements on this key waterway between the Black Sea and the Mediterranean for a decade now.
While swiftly condemning the Russian offensive in Ukraine, Turkey positioned itself as a neutral mediator and refused to join Western sanctions against Moscow. 
Although Ankara has banned the passage of military vessels through its straits of the Dardanelles and Bosphorus since late February under the Montreux Treaty of 1936, it is not legally entitled to intercept commercial ships or to search them, a diplomatic source said in Ankara.
"We don't follow the ships on their way out of the Straits. We monitor them 10 kilometres before they enter and 10 kilometres after they leave," the source said on condition of anonymity.
Elizabete Aunina, a researcher at Amsterdam University, said: "If we look at the vague words of the Montreux treaty it leaves a lot up for interpretation. 
"It did not foresee that merchant vessels could be carrying stolen goods… Turkey has before showed a certain commitment to stick to the very basic interpretation of the Convention as a way to also protect itself from entering deeper into the conflict".
The European Union imposed an embargo on Russian imports but tankers flying the Greek or Maltese flags are seen sailing through the Bosphorus up to the Black Sea to the Russian ports. 
– Maritime corridors – 
Thanks to real-time tracking applications, a strong network of observers, Russian and Ukrainian activists and satellite images, no vessel escapes Isik's radar. 
"We can see from end to end, where the ship is getting loaded by the ship," he said. 
Some freighters loaded the wheat in Ukrainian ports under Russian blockade such as Odessa, Chornomorsk or Mariupol, he said. 
The destination?  Syria — where Russia retains an operational base — and then Lebanon or Egypt.
Isik also identified a flotilla of old Turkish boats, "never seen before in the area" suddenly appearing under a flag of convenience in the Russian port of Novorossiysk — "likely under contract with the Russian government".
He lists a few names: Kocatepe (now Tanzanian), Barbaros (Equatorial Guinea), Hizir (Malta) and Sampiyon Trabzonsport (Cameroon).
Russian Foreign Minister Sergei Lavrov will visit Turkey on Wednesday to discuss a possible establishment of "sea corridors" — although Ukrainian wheat is being covertly exported to Russia's benefit, according to experts. 
"This is the information we get but we cannot stop, or check, or question the intention of any cargo ship except if we feel a threat to  Turkish peace or security," the diplomatic source said. 
But for Isik who keeps the list of cargo ships belonging to the Russian defence ministry and those of private companies operating on its behalf, "what is happening is unacceptable".
– EU mulling tighter sanctions –
Before the war, Ukraine was on track to becoming the world's third biggest exporter of wheat and many countries in Africa and the Middle East depend on it.
"If Russia exports Ukrainian products, nobody authorises Turkey to stop the vessels," said Yucel Acer, professor of international law at the University of Ankara, adding "unless there is a United Nations resolution" — a futile move as long as Russia holds a veto power in the Security Council.
Without openly admitting it, the European Commission has found holes in the current sanctions regime and is preparing to tighten the screws again, said a source in Brussels.
These foresee a new set of sanctions targeting Moscow plans to deprive the European operators of their insurance if their vessels are caught red-handed.
"Most of these vessels are covered by European and British insurance: with this new package, they will no longer be able to use them," said the source.
"This should have a significant impact."
But Turkey could do more, said Aunina, from Amsterdam university.
"Following the annexation of Crimea, Turkey technically banned ships from Crimea in its ports: This could be done as well!"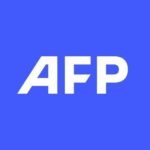 With 2,400 staff representing 100 different nationalities, AFP covers the world as a leading global news agency. AFP provides fast, comprehensive and verified coverage of the issues affecting our daily lives.
Spain eyes crackdown on video game 'loot boxes'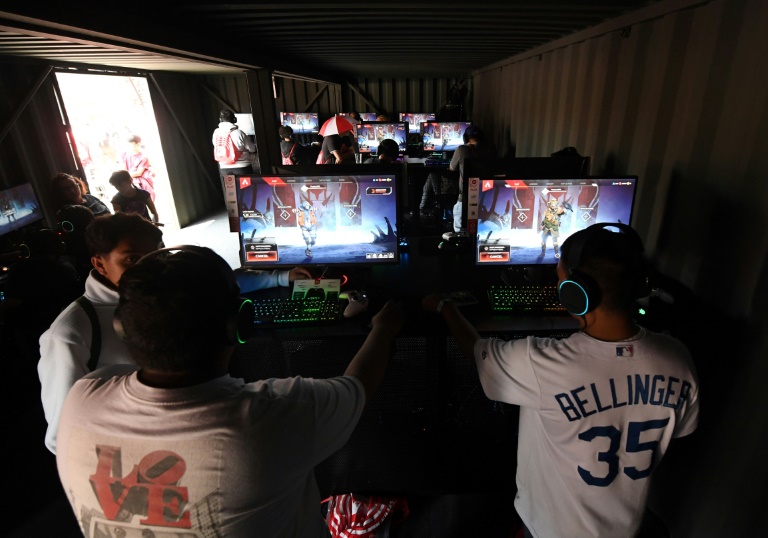 Spain's government will within days present a draft bill to regulate video game "loot boxes" for which users must pay, a minister said Friday, warning of the addiction risks for youngsters. 
An increasingly common feature in many video games, "loot boxes" are caches of virtual weapons and equipment which a player can buy to increase their prowess or status within the game.
But not all boxes contain useful tools and gamers can only see what's inside after paying, prompting widespread criticism for encouraging behaviour similar to that associated with gambling.
"We have drawn up a very specific law which we will present in the coming days" that will regulate the sale of such content, Spain's Consumer Affairs Minister Alberto Garzon told Radiocable. 
"It is like gambling… because it involves compulsive consumption behaviour which provokes a series of issues for players, from stress to financial bankruptcy," he told the independent radio station.
"At the end of the day, these are sums which pile up and can lead to gambling addiction," Garzon said. 
Such features were aimed above all "at the under-18 age group, where in 2021, up to 30 percent admitted they had paid significant amounts of money to obtain such rewards" within a game, he said, citing health ministry statistics. 
The age ratings for such games "don't take into account the danger posed by this feature, so parents could buy a game for a 13-year-old, for example, without being aware it includes an element which, in real life, could not be bought by anyone under 18," he explained. 
– 'Predatory' –
In April, PEGI, the European body that issues age ratings for video games, introduced a labelling change that requires gaming companies to say if a game includes "paid random items" — a form of optional in-game purchases.
Many other countries have also been struggling with the controversial question of "loot boxes" although few have taken steps to regulate them. 
On Tuesday, 20 European consumer groups threw their weight behind a Norwegian Consumer Council (NCC) report on loot boxes that described them as "exploitative and predatory", with the groups demanding better regulation of the video game industry. 
"The sale and presentation of loot boxes often involve exploiting consumers through predatory mechanisms, fostering addiction, targeting vulnerable consumer groups and more," the NCC's head of digital policy Finn Myrstad said in a statement. 
Gaming companies often used "highly problematic practises to increase their own revenue" through features that "manipulate consumers to spend large sums of money through aggressive marketing, exploitation of cognitive biases, and misleading probabilities", the report found. 
In Europe, only Belgium and the Netherlands have banned loot boxes after directly associating them with gambling. 
In a statement issued in response to the government's move, the Spanish Association of Video Games (AEVI) said it "rejects any association with gambling" and insisted on the sector's right to "self-regulation".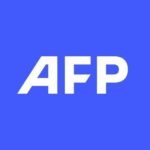 With 2,400 staff representing 100 different nationalities, AFP covers the world as a leading global news agency. AFP provides fast, comprehensive and verified coverage of the issues affecting our daily lives.
GM unit Cruise to deploy driverless taxis in US first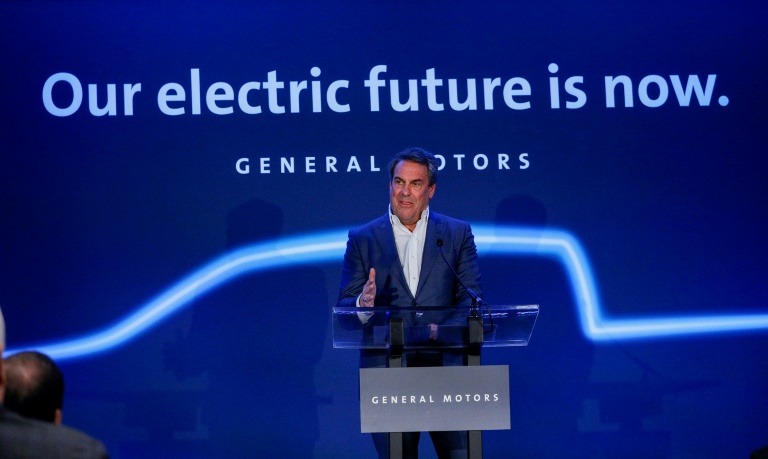 General Motor's autonomous vehicle unit Cruise says it will deploy driverless taxis in San Francisco in a first for a major US city.
Cruise announced the plans for a ride hailing service using self-driving electric cars after the California Public Utilities Commission (CPUC) issued it a permit to give rides without anyone in the driver's seat.
"This means that Cruise will be the first and only company to operate a commercial, driverless ride-hail service in a major US city," chief operating officer Gil West said in a blog post late Thursday.
"We'll begin rolling out fared rides gradually."
The permit allows Cruise to use its fleet of 30 electric, autonomous cars in a taxi service in some parts of San Francisco.
The robotaxis are not to go faster than 30 miles per hour (48 kilometers per hour) and have a green light to only operate between late morning and early evening, barring foul weather such as thick fog or heavy rain, the CPUC permit states.
"Crossing the threshold into commercial operations isn't just big news for Cruise alone," West said.
"It is a major milestone for the shared mission of the (autonomous vehicle) industry to improve life in our cities."
Self-driving, electric car services promise to reduce pollution, and save people time and money, West added.
San Francisco police earlier this year faced an unprecedented problem when an officer stopped a car that was driving at night with no headlights on, only to discover there was no one inside. 
The vehicle, it turned out, was a self-driving Cruise car, and the police officer's encounter was captured by a passerby, who posted video on social media.
Cruise took to Twitter to say that the self-driving car "yielded to the police vehicle, then pulled over to the nearest safe location for the traffic stop, as intended. An officer contacted Cruise personnel and no citation was issued."
Cruise explained that the headlights were turned off due to human error.
Founded in 2013, Cruise has developed software that allows cars to drive themselves completely autonomously. 
General Motors owns the majority of shares in the company, valued at more than $30 billion thanks to investments by companies such as Microsoft, Honda and Walmart. 
Cruise rival Waymo last year expanded its robotaxi service to riders in San Francisco, but has "specialists" at the steering wheels to take over driving if needed.
The move expanded a Waymo ride-hailing program which has been operating in Phoenix, Arizona since 2017.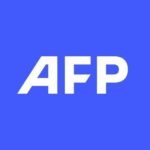 With 2,400 staff representing 100 different nationalities, AFP covers the world as a leading global news agency. AFP provides fast, comprehensive and verified coverage of the issues affecting our daily lives.