BoE set for fresh rate hike as inflation soars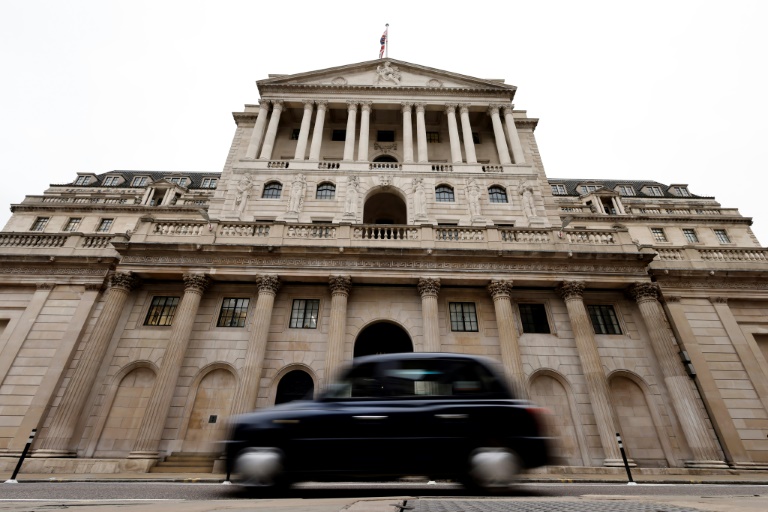 The Bank of England is on Thursday expected to raise interest rates for a fourth time in a row to contain runaway inflation that is causing a cost-of-living crisis. 
Economists widely forecast that the BoE will hike its main borrowing cost by a quarter point to one percent — which would be the highest level since the global financial crisis in 2009 — at a regular policy meeting.
The decision comes as Britons on Thursday head to the polls in local elections, seen as a mid-term test for embattled Prime Minister Boris Johnson.
It also follows the US Federal Reserve's decision Wednesday to raise interest rates by half a percentage point to contain inflation on the other side of the pond.
Central banks worldwide are raising rates, with inflation sitting at the highest levels in decades.
Prices are soaring as economies reopen from pandemic lockdowns, and in the wake of the Ukraine war that is fuelling already high energy costs.
"A 25 basis-point rate hike from the Bank of England's Monetary Policy Committee (MPC) on Thursday looks like a foregone conclusion, and so investors' focus will be on any hints about further increases in borrowing costs in the upcoming meetings," noted City Index analyst Fawad Razaqzada.
– Recession risk –
BoE Governor Andrew Bailey insists that the central bank is seeking to tackle high inflation while avoiding Britain falling into recession.
He recently warned that an erosion to workers' salaries owing to high inflation would cause a slowdown in growth.
Britain's annual inflation rate stands at the highest level in three decades.
It surged to 7.0 percent in March from 6.2 percent in February, official data showed.
And the Bank of England has predicted that UK annual inflation could reach double figures by the end of the year.
"If there's an advanced economy that's more at risk of falling into a recession, it's the UK," noted Deutsche Bank economist Sanjay Raja.
"Limited fiscal support to offset record-breaking energy price rises, tax rises, and a sizeable cost-of-living crisis shrinking real disposable incomes at a historic rate, all mean that the MPC will want to carefully calibrate its next moves going forward."
Britons' cost-of-living has soared further in recent weeks following a tax hike on UK workers and businesses in addition to a fresh surge in domestic energy bills.
The UK economy is set to grow by 3.7 percent this year, the International Monetary Fund recently forecast.
That was sharply down on an IMF estimate of 4.7 percent given in January, one month before Russia's invasion of Ukraine.
As the Covid-19 pandemic began in early 2020, the BoE slashed its key interest rate to a record-low 0.1 percent and also pumped massive sums of new cash into the economy.
OPEC+ eye modest supply boost as demand dented by China Covid rules
OPEC+ members meeting on Thursday are expected to agree a marginal increase in oil production, bolstered by risks to demand amid coronavirus restrictions in China. 
Russia's invasion of Ukraine has also added to supply concerns, which have increased with Europe's announced moves on a potential Russian oil embargo.
Prices soared on Wednesday, with Brent North Sea crude closing above $110 a barrel, its highest level in two and a half weeks. 
But analysts said the new surge would not shake the 13 members of the Organization of Petroleum Exporting Countries (OPEC), led by Riyadh, and their 10 partners led by Moscow. 
"It is likely that OPEC will stick with its plan despite ongoing instability relating to the Russia-Ukraine conflict," XTB analyst Walid Kudmani told AFP, citing "prospects of falling demand due to widespread lockdowns seen in China as a result of rising Covid cases". 
As in previous months, the cartel is likely to open the taps at 432,000 barrels per day for June, a strategy begun in the spring of 2021 when the economy began recovering after the drastic cuts imposed amid the shock of the pandemic. 
The talks will begin with technical discussions at the ministerial committee meeting at 1100 GMT in Vienna, the headquarters of the cartel. 
– China, grounds for 'caution' –
Largely spared for two years, China in recent weeks has been battling its worst coronavirus outbreak since the spring of 2020 which has strained its zero-Covid strategy. 
Beijing on Wednesday closed dozens of metro stations and residents fear their city will be locked down, as is already the case in Shanghai, the country's largest city with 25 million people. 
"The slowing activity in China is certainly a factor that will justify their decision to stay pat, faced with the mounting international pressure to increase production to address the worsening global energy crisis," Ipek Ozkardeskaya, an analyst at Swissquote bank, told AFP.
This is "a reason to remain cautious," said Fawad Razaqzada, analyst at City Index and Forex.com.
As for the new economic sanctions planned against Russia, they are not expected to move the needle for the moment. 
In its sixth package of sanctions, the European Commission calls for a ban on all Russian oil, crude and refined, transported by sea and pipeline by the end of 2022, European Commission President Ursula von der Leyen told the European Parliament.
– 'Huge impact' –
That prospect threatens supply in an already tense European market.
While unanimity among the 27 EU member states is required for the sanctions to go forward, Hungary, which is highly dependent on Russian deliveries, rejected the project in its current form.
"If it (the EU) manages to convince its members to ratify the plan… then this will have a huge impact on Russian oil exports," Razaqzada said.
But once again the OPEC+ alliance, anxious to remain united and avoid upsetting Moscow, will "certainly not save the day," Ozkardeskaya said.
"The cartel made clear that the Ukraine war — that impacts the Russian exports — is not cause for concern," she said.
Stephen Innes, an analyst at SPI Asset Management, said OPEC+'s wait-and-see approach was "increasingly untenable" and "contrary to its mission statement".
"(It's) why they have fallen under constant criticism for being slow and technically unprepared to react to recent developments in global markets," he said.
But does OPEC+ really hold the key to price stabilisation? Between a lack of investment in oil infrastructure in some member countries and operational problems, the cartel regularly fails to meet its production quotas.
Shareholder sues Netflix over subscriber slip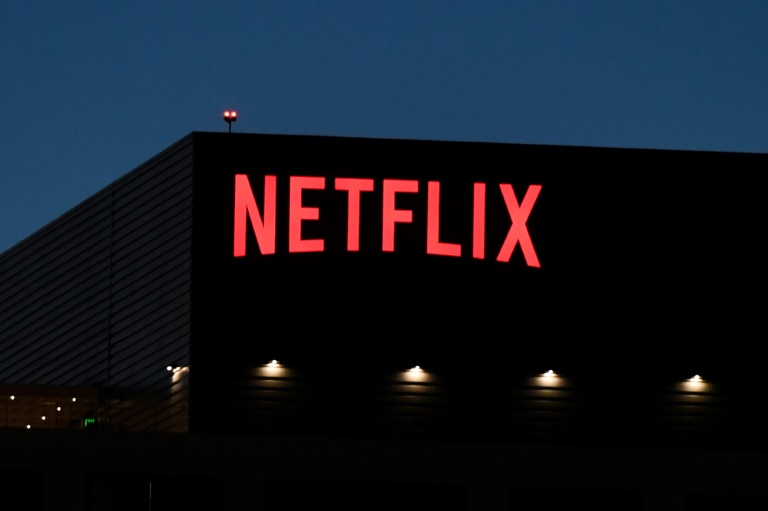 A Netflix shareholder is seeking class action status for a lawsuit accusing the streaming television titan of not making it clear that subscriber numbers were in peril.
A disclosed drop of just 200,000 users — less than 0.1 percent of its total customer base — was enough to send shares plunging after Netflix announced quarterly earnings in April.
The company anticipates a much larger drop in the current quarter — of around two million net subscribers.
The suit filed Tuesday in federal court in San Francisco accuses top executives at Netflix of not telling investors that subscriber growth was slowing due to people sharing accounts and competition ramping up in the market.
"Defendants' positive statements about the company's business, operations, and prospects were materially false and/or misleading and/or lacked a reasonable basis," read the suit filed by lawyers at Glancy Prongay & Murray on behalf of a shareholder.
Netflix did not immediately reply to a request for comment.
Executives at the company said on an earnings call that they are focused on combating the 100 million households who watch Netflix for free thanks to shared passwords.
"When we were growing fast, it wasn't the high priority to work on," co-founder Reed Hastings admitted. "And now we're working super hard on it."
Chief operating officer Gregory Peters said Netflix wasn't trying to shut down sharing, "but we're going to ask you to pay a bit more to be able to share."
In March, Netflix put out word that it is testing charging a fee to subscribers who share their accounts with people who don't live in the same home.
Competition in the streaming television market meanwhile has intensified, particularly from Disney+, with the cost of producing coveted original shows climbing as well.
To attract viewers, Netflix is preparing cheaper subscriptions that include advertisements — which it expects to roll out in the next couple years.
The Los Gatos, California-based company has long defended its no-ads model, which set it apart from competitors such as Disney+, HBO Max and Apple.
For Pivotal analyst Jeff Wlodarczak, streaming "appears nearly fully penetrated globally post-Covid," and the companies now must set their sights on converting pirates into subscribers, gaining greater market share from each other and driving up prices."
The suit filed Tuesday is seeking to represent everyone who owned Netflix shares in the six months ending April 19, 2022, and is asking for unspecified cash damages as well as compensation for financial losses.
Drone swarms can now fly autonomously through thick forest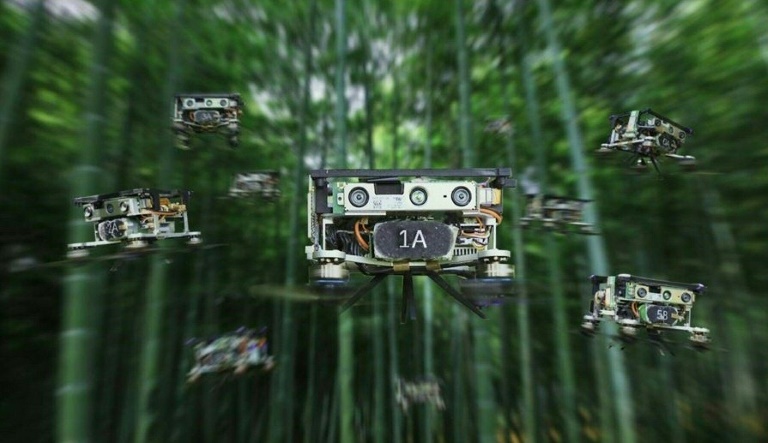 A swarm of 10 bright blue drones lifts off in a bamboo forest in China, then swerves its way between cluttered branches, bushes and over uneven ground as it autonomously navigates the best flight path through the woods.
The experiment, led by scientists at Zhejiang University, evokes scenes from science fiction — and the authors in fact cite films such as "Star Wars," "Prometheus" and "Blade Runner 2049" in the opening of their paper published Wednesday in the journal Science Robotics.
"Here, we take a step forward (to) such a future," wrote the team, led by Xin Zhou.
In theory, there are myriad real world applications, including aerial mapping for conservation and disaster relief work. But the technology has needed to mature so that flying robots can adapt to new environments without crashing into one another or objects, thus endangering public safety.
Drone swarms have been tested in the past, but either in open environments without obstacles, or with the location of those obstacles programmed in, Enrica Soria, a roboticist at the Swiss Federal Institute of Technology Lausanne, who was not involved in the research, told AFP.
"This is the first time there's a swarm of drones successfully flying outside in an unstructured environment, in the wild," she said, adding the experiment was "impressive."
The palm-sized robots were purpose-built, with depth cameras, altitude sensors and an on-board computer. The biggest advance was a clever algorithm that incorporates collision avoidance, flight efficiency and coordination within the swarm.
Since these drones do not rely on any outside infrastructure, such as GPS, swarms could be used during natural disasters. 
For example, they could be sent into earthquake-hit areas to survey damage and identify where to send help, or into buildings where it's unsafe to send people.
It's certainly possible to use single drones in such scenarios, but a swarm approach would be far more efficient, especially given limited flight times. 
Another possible use is having the swarm collectively lift and deliver heavy objects.
There's also a darker side: swarms could be weaponized by militaries, just as remote-piloted single drones are today. The Pentagon has repeatedly expressed interest and is carrying out its own tests.
"Military research is not shared with the rest of the world just openly, and so it's difficult to imagine at what stage they are with their development," said Soria.
But advances shared in scientific journals could certainly be put to military use.
– Coming soon? –
The Chinese team tested their drones in different scenarios — swarming through the bamboo forest, avoiding other drones in a high-traffic experiment, and having the robots follow a person's lead.
"Our work was inspired by birds that fly smoothly in a free swarm through even very dense woods," wrote Zhou in a blog post.
The challenge, he said, was balancing competing demands: the need for small, lightweight machines, but with high-computational power, and plotting safe trajectories without greatly prolonging flight time.
For Soria, it's only a matter of a few years before we see such drones deployed in real-life work. First, though, they will need to be tested in ultra-dynamic environments like cities, where they'll constantly come up against people and vehicles. 
Regulations will also need to catch up, which takes additional time.