Hoppy and glorious: brewery bets on queen's jubilee beer rush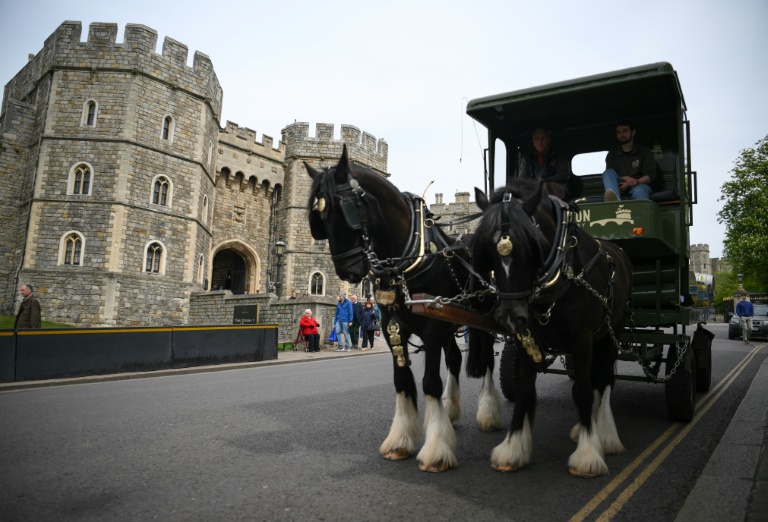 Draught horses Albert and Ivan trot down the streets of Windsor, hauling a barrel-laden cart as pubs stock up on beer ahead of Queen Elizabeth II's Platinum Jubilee and a hoped-for influx of visitors.
The two Shire breeds with black coats and feathered hooves stop to unload their cart, which later this month is set to carry Castle Hill, a beer created specially to mark the queen's 70 years on the throne.
"We call it Castle Hill because when the queen first came to the throne, the ascension was announced on the Castle Hill at Windsor," explains Will Calvert, director of the Windsor & Eton brewery, which is bathed in the sweet smell of malt and hot water.
Brewed with barley from the royal farm and hops from England and New Zealand — the two extremes of the Commonwealth which the queen heads — Castle Hill is "a very nice refreshing beer for drinking outdoors in the summer for the Jubilee" he says.
Calvert's brewery has been honoured with the "royal warrant", meaning they supply the royal household, and will start distributing their one-off Jubilee brew closer to the festivities.
The United Kingdom will mark the reign of its longest-serving monarch from June 2-5, with street parties, concerts and parades.
Britons will get two days off work and pubs will be allowed to stay open longer.
In Windsor, just west of London, a parade, fireworks and a giant picnic within the famed castle's park are planned. The town centre is bedecked with British Union flags and banners announcing the festivities.
"I think we're going to be very busy especially if the sun is shining," said Denisa Hucinova, 35, who manages The Boatman pub on the banks of the River Thames, just below the castle.
"We expect to have lots and lots of tourists and every local person will come here."
"We're looking forward to that. This is a great celebration. 70 years — it's amazing, isn't it? I'm glad that this day comes and that we can all witness it," she said, after putting the barrels away and patting the horses.
For the town's shops and pubs, the four days of festivities should provide plenty of business after the lean years of the pandemic.
"The years of Covid were difficult for our business as they were for anybody in hospitality in the UK and around the world," said Calvert.
"Occasions like this are good for us, because they give us a chance to trade and showcase our beers and get out to the world."
– 'More customers' –
Tourists have returned to Windsor, but with less money, laments Muthucumara Samy Kesavan, manager of the House of Gifts souvenir shop, perfectly positioned just metres (yards) from the castle.
"Business after the pandemic is slightly picking up, it is not normal yet. It is still very quiet," he said, hoping the jubilee will bring in a wave of customers. 
"The spending is not normal yet but we hope it will improve. Especially in a month or so."
Inside his shop, the queen's face is printed on tea towels, cloth bags, T-shirts and tea cups. 
Mugs honouring the queen's grandson Harry, who married Meghan Markle at Windsor in 2018, are on sale at a reduced price, unwanted by customers since he left royal life and moved to the United State.
The queen remains by far the most popular royal, according to opinion polls and souvenir shop sales.
"I like her very much. I love her," said Kesavan. 
"And I saw her a few times, once in Windsor and a couple of times in London".
The British public still adores the queen, in the twilight of her reign, despite scandals that have engulfed her family, including her son Andrew's association with deceased paedophile Jeffrey Epstein.
"She's marvellous, she's built a whole life for the country and the people of the country," said Sandra Pinder, 61. "She worked so hard, there is nobody like her."
"All the tours she's done to promote the country and she does bring a lot for tourism," said Pinder, accompanying her granddaughter to see the Changing of the Guard at Windsor.
"We love the queen. We all love the queen in the family… She's 96 years old now. The proof is in the pudding, as we say in England."
Romania Black Sea port becoming Ukrainian export hub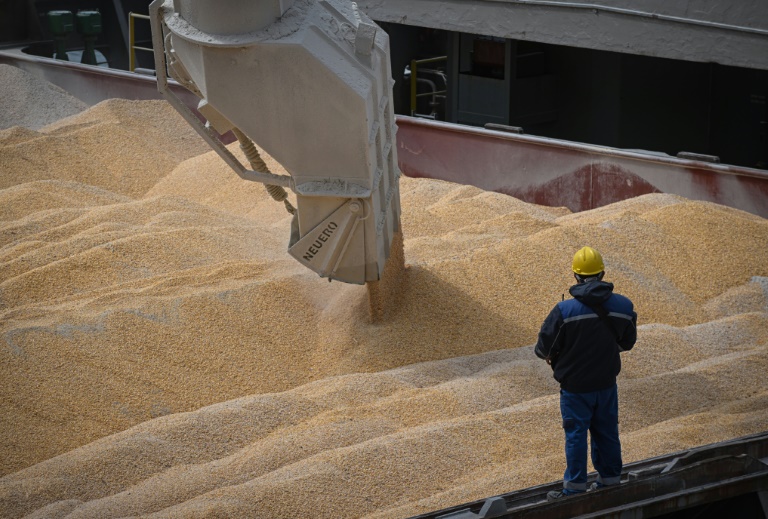 Like a giant elephant trunk, a huge hose sweeps above the hold of a ship in Romania's Black Sea port of Constanta, spilling tons of corn into the vessel before it sets sail.
Russia's blockade of Ukraine's seaports has forced the country's exporters to look for alternatives to move their precious cargo.
So now the country's grain is loaded onto trains, lorries or barges in the small Danube ports of Reni and Izmail in the southwest, for transport to the Romanian port.
Russia's invasion of Ukraine has transformed Constanta into a vital maritime export hub for Ukraine's crops.
Before the war, Ukraine exported 4.5 million tonnes of agricultural produce per month through its ports -– 12 percent of the world's wheat, 15 percent of its corn and 50 percent of its sunflower oil.
"We need to make sure the grain gets to consumers' tables without delay to avoid the risk of famine," said Viorel Panait, chief executive of Comvex, which handles Constanta's bulk raw materials.
"We hope to accelerate the pace… because, given the unfortunate situation that our Ukrainian neighbours are going through, we must help them as much as we can," he told AFP.
– 'Opportunity' –
Neighbouring Bulgaria said this week it was willing to help export Ukrainian grain from its Black Sea port of Varna — and is getting to work upgrading its infrastructure.
In the meantime, Constanta is moving the cargo as fast as it can. 
The Lady Dimine, the ship being loaded with corn, is the second grain vessel since last week to moor at Pier 80, bound for Portugal once loaded.
The first ship, loaded with 70,000 tonnes of Ukrainian corn, left Constanta last Friday, and a third is scheduled in six days.
That first ship, carrying a 70,000-ton cargo, took 49 trains or barges to fill up, said Panait.
Loading such vessels in a port that was not properly equipped would mean thousands of trucks clogging up the roads, he added.
Even before Russia's invasion of Ukraine, Constanta had overtaken France's Le Havre last year to become Europe's hub for grain exports, said the port's director, Florin Goidea.
Now, he said: "Our goal is to ship the goods as quickly as possible and thus support the Ukrainian economy."
His office offered a breathtaking view of the work at the dockside, bristling with cranes and ship loaders.
"The war in Ukraine is a challenge but also an opportunity," Goidea said.
– Projects in pipeline –
To meet that challenge, Romania's government has come up with two projects to unblock road traffic and facilitate the flow of cargo to the port.
First, it plans by the end of the year to have fixed up 95 railway lines dating back to the communist era, blocked for years by hundreds of rusting wagons.
The 200-million-lei (40 million euros) project should allow Constanta to match or even beat the record of 67.5 million tonnes of goods in transit recorded in 2021, said Goidea.
The transport ministry is also seeking bids for work to re-open a five-kilometre (three-mile) railway line, more than 200 kilometres to the north of Constanta.
That line would connect Giurgiulesti in Moldova — wedged between Romania and Ukraine — to Galati on the Danube, in eastern Romania.
That short crossover is crucial, as they share the same railway track gauge used in the former Soviet Union, making it easier to transport goods.
The renovation of the track is planned for this summer.
At Constanta meanwhile, traffic in the other direction has stalled. 
Dozens of wind turbine parts that had been bound for Ukraine lie abandoned along one of the congested roads.
"There is no one left to send them to," said a port employee.
Asian markets rise as Fed eases fears over huge rate hike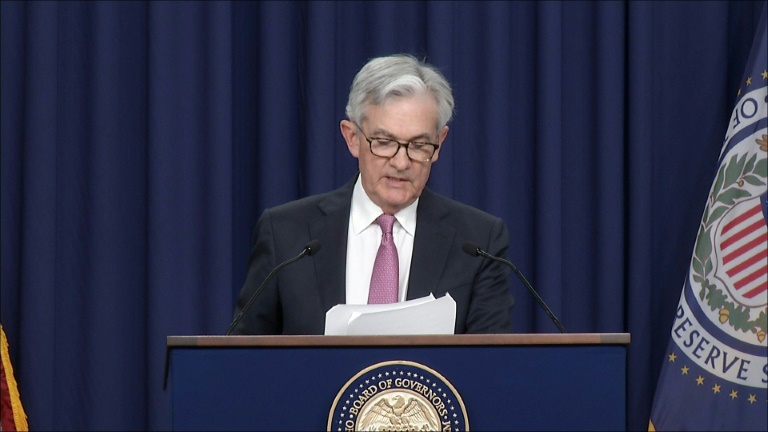 Asian markets rallied Thursday following a Wall Street surge after the Federal Reserve played down chances of a huge interest rate hike in the near future, while oil extended gains as the European Union moved to ban imports from Russia.
US central bank officials announced an expected half-point lift in borrowing costs — the biggest since 2000 — as part of its battle to rein in inflation, while unveiling a timetable to offload its vast bond holdings.
However, traders were given some much-needed cheer when boss Jerome Powell said a 75 basis-point rise, which had been flagged by many observers, was not "not something the committee is actively considering".
While he flagged more 50-point hikes to come, the news fuelled a rally on Wall Street, where all three main indexes piled on around three percent thanks to a surge in tech firms, which are most susceptible to higher rates.
"This was a reflection of relief, as investors came into the meeting fearful that the committee would be overly aggressive in tightening monetary policy," said Clara Cheong, of JP Morgan Asset Management.
She added that if inflation began showing signs of slowing, it could allow the Fed to be less aggressive as it treads a fine line between containing prices and nurturing the pandemic economic recovery.
"It remains to be seen if the Fed can pull off this fine balancing act and orchestrate a soft landing, but for now we believe that the US economy is in a strong enough position to weather higher rates," Cheong said.
"There is still, however, a risk that an overly aggressive approach can run the risk of tipping the economy into a mild recession in 2023."
The gains in New York filtered through to Asia, where Shanghai advanced after returning from a long break while Hong Kong, Sydney, Singapore, Taipei, Manila and Wellington were also up.
"Removing some of the uncertainty is helpful in getting some of the cash that has been on the sideline back into the markets, whether it's bonds or equities," Erin Gibbs, of Main Street Asset Management, told Bloomberg Television.
The Fed hike was the latest by a central bank around the world and comes ahead of an expected lift by the Bank of England later Thursday.
Still, analysts warned there was only so much banking officials could do to bring inflation under control as the spike was also being fuelled by supply chain problems caused by China's Covid-related lockdowns and surging energy costs, particularly oil.
And crude extended Wednesday's big gains after the European Commission proposed a gradual ban on Russian crude over Moscow's invasion of Ukraine.
That was compounded by data showing stockpiles shrinking and a weaker dollar caused by lower expectations for US rate hikes.
"The oil market will remain tight going forward, and now that a peak in the dollar is in place, crude prices should have extra support here," said OANDA's Edward Moya. 
– Key figures at around 0230 GMT –
Hong Kong – Hang Seng Index: UP 1.1 percent at 21,094.52 
Shanghai – Composite: UP 0.7 percent at 3,067.58
Tokyo – Nikkei 225: Closed for a holiday
Brent North Sea crude: UP 0.1 percent at $110.27 per barrel
West Texas Intermediate: UP 0.1 percent at $107.91 per barrel
Euro/dollar: DOWN at $1.0619 from $1.0625 on Wednesday
Pound/dollar: DOWN at $1.2623 from $1.2632
Euro/pound: UP at 84.13 pence from 84.06 pence
Dollar/yen: UP at 129.23 yen from 129.05 yen
New York – Dow: UP 2.8 percent at 34,061.06 (close)
London – FTSE 100: DOWN 0.9 percent at 7,493.45 (close)
BoE set for fresh rate hike as inflation soars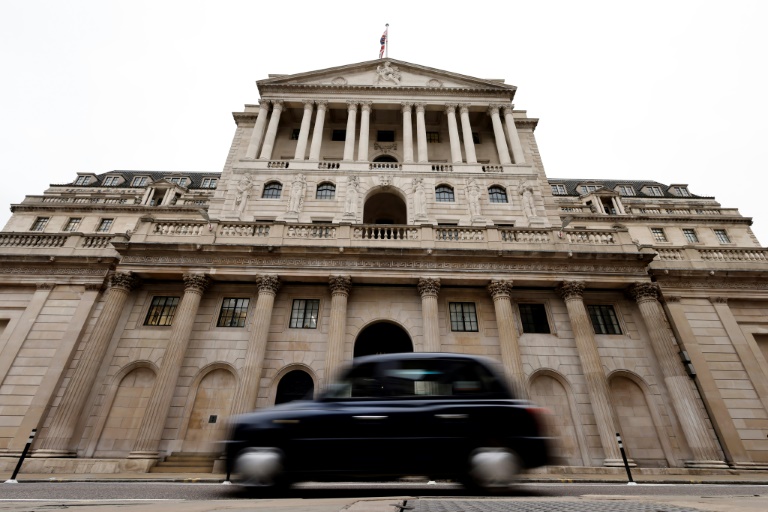 The Bank of England is on Thursday expected to raise interest rates for a fourth time in a row to contain runaway inflation that is causing a cost-of-living crisis. 
Economists widely forecast that the BoE will hike its main borrowing cost by a quarter point to one percent — which would be the highest level since the global financial crisis in 2009 — at a regular policy meeting.
The decision comes as Britons on Thursday head to the polls in local elections, seen as a mid-term test for embattled Prime Minister Boris Johnson.
It also follows the US Federal Reserve's decision Wednesday to raise interest rates by half a percentage point to contain inflation on the other side of the pond.
Central banks worldwide are raising rates, with inflation sitting at the highest levels in decades.
Prices are soaring as economies reopen from pandemic lockdowns, and in the wake of the Ukraine war that is fuelling already high energy costs.
"A 25 basis-point rate hike from the Bank of England's Monetary Policy Committee (MPC) on Thursday looks like a foregone conclusion, and so investors' focus will be on any hints about further increases in borrowing costs in the upcoming meetings," noted City Index analyst Fawad Razaqzada.
– Recession risk –
BoE Governor Andrew Bailey insists that the central bank is seeking to tackle high inflation while avoiding Britain falling into recession.
He recently warned that an erosion to workers' salaries owing to high inflation would cause a slowdown in growth.
Britain's annual inflation rate stands at the highest level in three decades.
It surged to 7.0 percent in March from 6.2 percent in February, official data showed.
And the Bank of England has predicted that UK annual inflation could reach double figures by the end of the year.
"If there's an advanced economy that's more at risk of falling into a recession, it's the UK," noted Deutsche Bank economist Sanjay Raja.
"Limited fiscal support to offset record-breaking energy price rises, tax rises, and a sizeable cost-of-living crisis shrinking real disposable incomes at a historic rate, all mean that the MPC will want to carefully calibrate its next moves going forward."
Britons' cost-of-living has soared further in recent weeks following a tax hike on UK workers and businesses in addition to a fresh surge in domestic energy bills.
The UK economy is set to grow by 3.7 percent this year, the International Monetary Fund recently forecast.
That was sharply down on an IMF estimate of 4.7 percent given in January, one month before Russia's invasion of Ukraine.
As the Covid-19 pandemic began in early 2020, the BoE slashed its key interest rate to a record-low 0.1 percent and also pumped massive sums of new cash into the economy.